Why the improbable runs of Fernandez and Raducanu feel repeatable
We just witnessed the most improbable major final of the Open era.
Two teenagers, one a slight-of-frame Canadian ranked 73rd in the world and the other a 150th-ranked British qualifier playing in just the second Grand Slam main draw and fourth tour-level event of her career, played for the US Open title Saturday. The latter, 18-year-old Emma Raducanu, beat the former, 19-year-old Leylah Fernandez, in a high-quality final that was closer than the 6-4, 6-3 scoreline would suggest.
Along the way, Fernandez beat three top-five seeds, including defending champ Naomi Osaka, plus a former world No. 1 and three-time Slam winner in Angelique Kerber, all in grueling three-set battles. Raducanu, meanwhile, won every set she played, from her three qualies through her seven-match slalom through the main draw. Only once did she even lose more than four games in a set, and that came in the second round of qualifying. She's not only the first qualifier, man or woman, to win a Slam (none had ever even reached a final) but also just the fifth woman in the last decade to win a major without dropping a set.
It's become commonplace in women's tennis for young players to make out-of-left-field runs at big events. The past half-decade is peppered with them, from Monica Puig at the 2016 Olympics to Jelena Ostapenko at the 2017 French Open to Bianca Andreescu at basically every tournament she played in 2019 to Sofia Kenin and Iga Swiatek at the first two majors in 2020. The follow-ups for those players have been a decidedly mixed bag. None have yet managed to replicate those breakthrough successes.
That shouldn't necessarily come as a surprise. Winning seven straight matches (let alone 10, as Raducanu just did) is a mountain of a task, especially in today's stacked women's field. Doing so once, even at a young age, certainly offers no guarantee of doing it again. For those upstarts, things change fast. Pressure and expectations are ratcheted way up, while opponents see you coming and gain a better sense of how to attack you.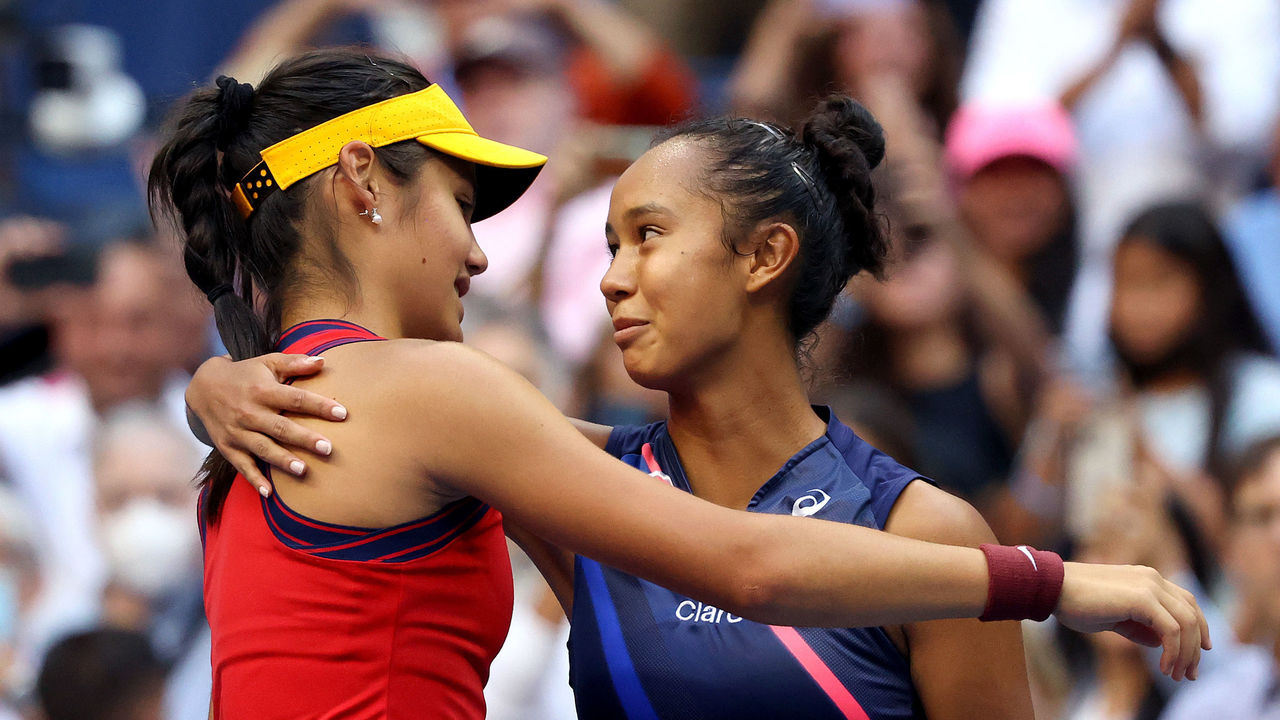 There's a quote that jumps to mind every time a young player emerges from out of nowhere to do something nobody believed possible. It was spoken by a 28-year-old Timea Bacsinszky after losing her French Open semifinal to an unseeded, just-turned-20 Ostapenko in 2017.
"She's 20 - not afraid of anything," Bacsinszky said of the eventual champ. "She doesn't measure maybe what she's doing right now. She probably doesn't care. She's just hitting it the same. Best example is the match point: I mean, I serve very well wide; she's, like, hitting as hard as she can down the line from nowhere. I mean, who tries that, seriously? I mean, it's like 1 out of 10. But she does it. So, we'll see if she does it at 28 years old."
We tend to think of young players as being disadvantaged by their lack of experience, but Bacsinszky framed it (not incorrectly, based on Ostapenko's subsequent struggles) as a boon. How do you weigh the benefits of having been there before against the feeling of having nothing to lose, no expectations, no scars from past disappointments, no way to contextualize what you're trying to accomplish?
Depending on your perspective, then, the poise and moxie Fernandez and Raducanu exhibited in big moments throughout the tournament either belied or highlighted their inexperience. They looked entirely unaffected by the moment all the way up to their oft-mesmerizing final. Fernandez, in particular, seemed to only get better as the stakes got higher and the points became more precious over the course of the tournament. She hit daring shots and exuded calm confidence while her far more experienced and accomplished opponents melted down.
But, while expectations are about to change in a big way, and that can certainly have an impact on their play moving forward, Fernandez and Raducanu feel a bit more resistant to sudden regression. These aren't Ostapenkan ball-bashers who swing away with abandon and just happened to land a whole bunch of go-for-broke shots for two red-hot weeks. They're calculated tacticians who won with consistency, diligent point construction, and a calibrated blend of offense and defense. They move extremely well, and they're rock-solid off both wings. It's tough to punch too many holes in their games, which makes their respective runs feel less like flashes in the pan than precursors to more success.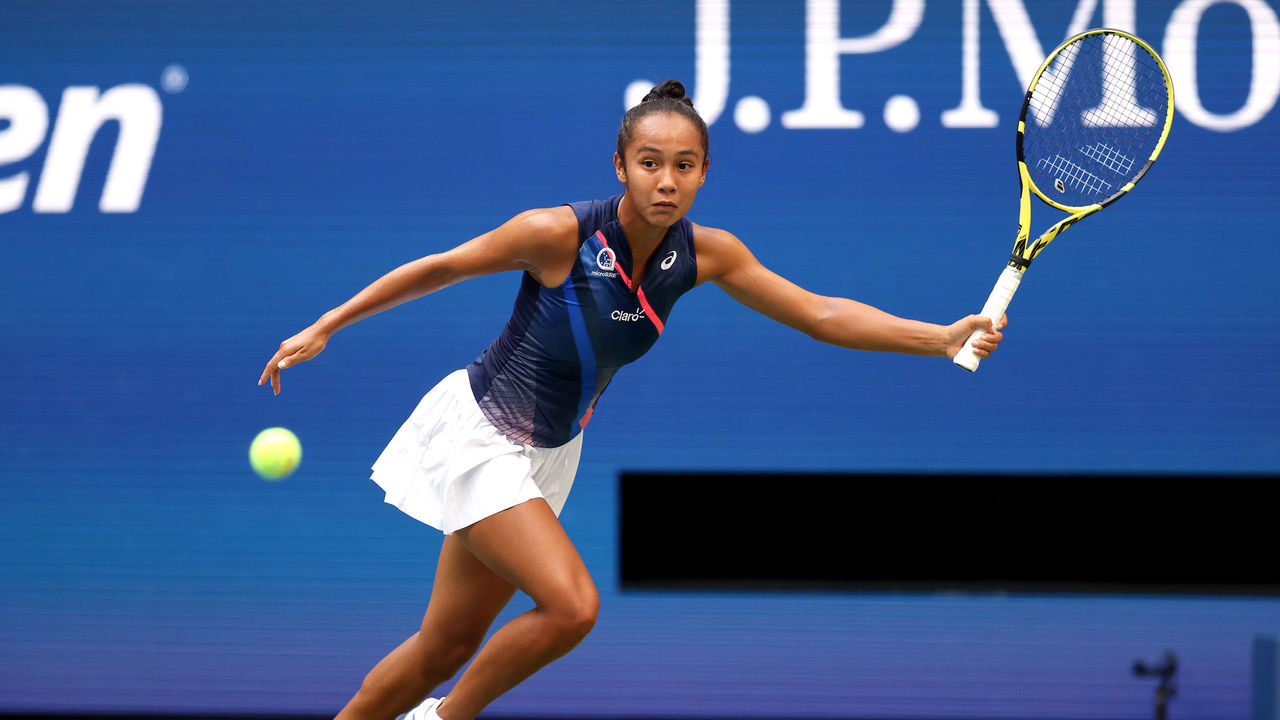 While both players like to hug the baseline and take the ball on the rise, Fernandez has demonstrated a bit more risk tolerance, which may foretell more variance in her future results. But she mitigates that risk with her impeccable timing, and she gives herself a leg up in court-position battles with her ability to absorb pace, often hitting crouching groundstrokes a la Kerber or Aga Radwanska.
She also generates a good deal of her own pace despite her small frame. Even against some of the game's biggest hitters in Osaka and Aryna Sabalenka, she was frequently out on the front foot, dictating points and changing the direction of the ball with ease. It says a lot about the adaptive nature of her game that she was able to beat those two powerhouses and also two elite grinders in Kerber and Elina Svitolina back-to-back-to-back-to-back.
The biggest development in New York was her service game, which once stood as her biggest weakness and most likely roadblock to meaningful success at the pro level. For two weeks at least, she turned it into something resembling a weapon. Though double faults remained a bit of an issue, she was able to amp up the pace on her first serve and spot her second well enough to win over 50% of those points in the tournament.
Her offense has never looked this good; she attacked opponents' serves with newfound gusto, stepping well inside the court and cracking return winners on the regular; she demonstrated a delicate touch on her drop shots and a propensity for acute angles. But Fernandez's calling card is her defense - relentless, fast, and anticipatory - which allowed her to drag her opponents through protracted rallies that exasperated and unwound them. Coaxing mistakes from the other side of the net is a real skill, and no one at the US Open did that better than Fernandez.
Despite being the less experienced player, Raducanu had already been further at a major than Fernandez. Making her main-draw debut as a wild card at Wimbledon earlier in the summer, she cruised to the fourth round (again without dropping a set) before being forced to retire due to breathing difficulties. In other words, she's still yet to lose a completed match at a Slam.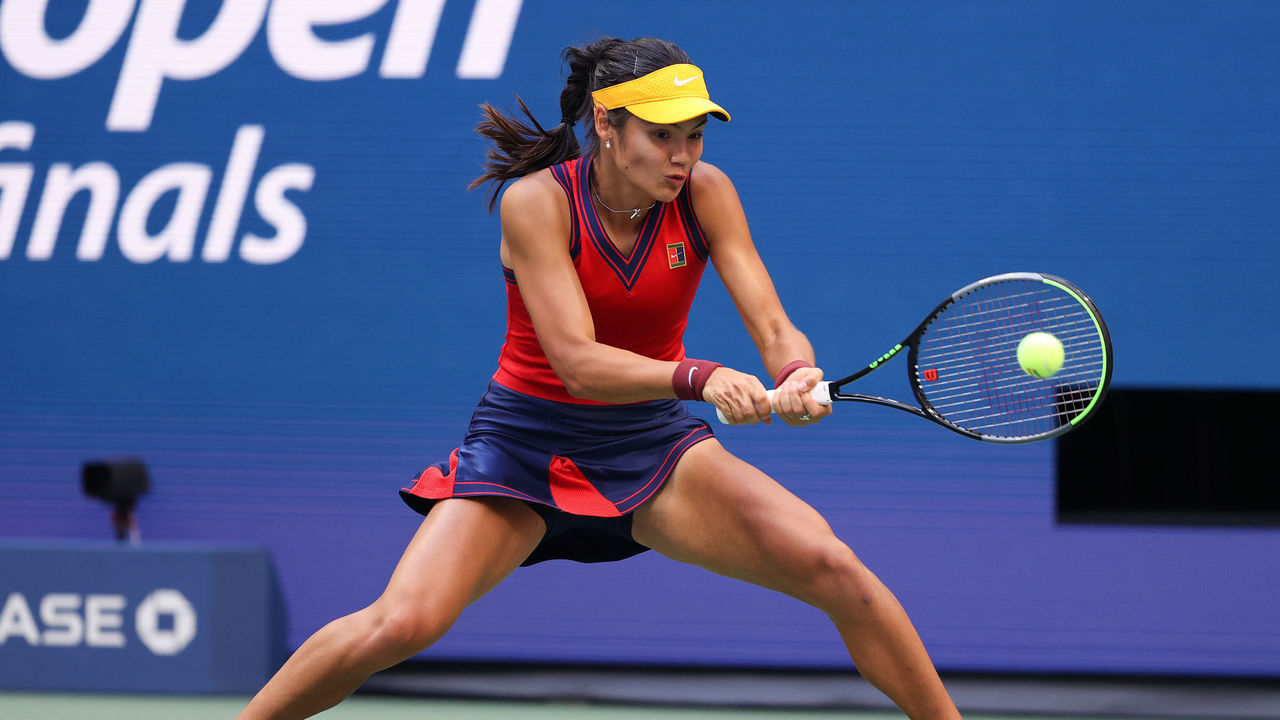 She shares plenty of traits with Fernandez, but she's bigger and more naturally powerful, which allows her to hit with a bit more margin. For two weeks in Flushing Meadows, her tennis was astonishingly clean. She hit deep, punishing groundstrokes, showing off a searing backhand that she ripped cross-court with particular zeal. She peppered the deuce corner with that shot, yo-yoing opponents out to the tramlines and back.
Her return game was even more vicious than that of Fernandez, and in the final it caused the Canadian's unexpectedly strong serve to finally crack. Raducanu's own serve isn't huge, but it is precise. She landed 72% of her first serves in the tournament, the best mark of any player to make it through the first week. Her defense is defined by economy of movement, with no wasted steps and clairvoyant shot preparation. It was rare to find her scrambling desperately after a ball because she always seemed to know where it was going. She never gave the impression of being anything but completely in control.
It's easy to succumb to recency bias in sports. Given the recent trends we've seen in women's tennis and how hard it's been for most players to back up their initial breakthroughs, skepticism is warranted and expectations should absolutely be tempered. These are, after all, barely college-aged young women who are still in the process of figuring themselves and their games out. So it's almost alarming, when taking all that into consideration, how repeatable these runs feel.
Follow-up success may not come right away. It's more likely, in fact, that consistent results are still a long way off. But based on how they played this past fortnight, it will come as a real surprise if Raducanu and Fernandez don't become steady fixtures near the top of women's tennis in the coming years. As things stand, they've already moved into the top 30.
We've seen what they can do at 18 and 19 years old. We'll see if they do it at 28.
Comments
✕
Why the improbable runs of Fernandez and Raducanu feel repeatable
  Got something to say? Leave a comment below!