Australian Open preview: Storylines to watch, tournament predictions
WILLIAM WEST / AFP / Getty
The 2020 tennis season will kick into full gear in Melbourne with the start of the Australian Open. Here, theScore's Gianluca Nesci and Devang Desai highlight the biggest storylines and make their predictions for the first Grand Slam of the year.
Storyline: Air quality concerns in Australia
Should this tournament be taking place at all?
Amid the bushfires that have ravaged parts of Australia, serious concerns have been raised over the air quality in Melbourne after players were adversely affected during the qualifying portion of the competition. Australian Bernard Tomic required medical attention when he had trouble breathing and Dalila Jakupovic was forced to retire from her qualifying match after a coughing fit.
"I just couldn't breathe," Jakupovic said of the smoke, which has arrived from fires roughly 100 miles east of Melbourne. "I couldn't walk, so I just went down (on the ground) because I couldn't stand up straight. After that, I had a panic attack because I couldn't get air. It was very hard."
Organizers were fiercely criticized for their apparent lack of preparation, as qualifying matches were initially allowed to go ahead before the decision was eventually made to delay action.
Though the likes of Roger Federer have tried to assuage fears, and while a policy has been put in place that gives the tournament referee power to start or stop matches, this is surely not the last we've heard on this front. - Nesci
Prediction: Multiple matches are delayed throughout the tournament over air quality issues.
Storyline: Nole going for No. 8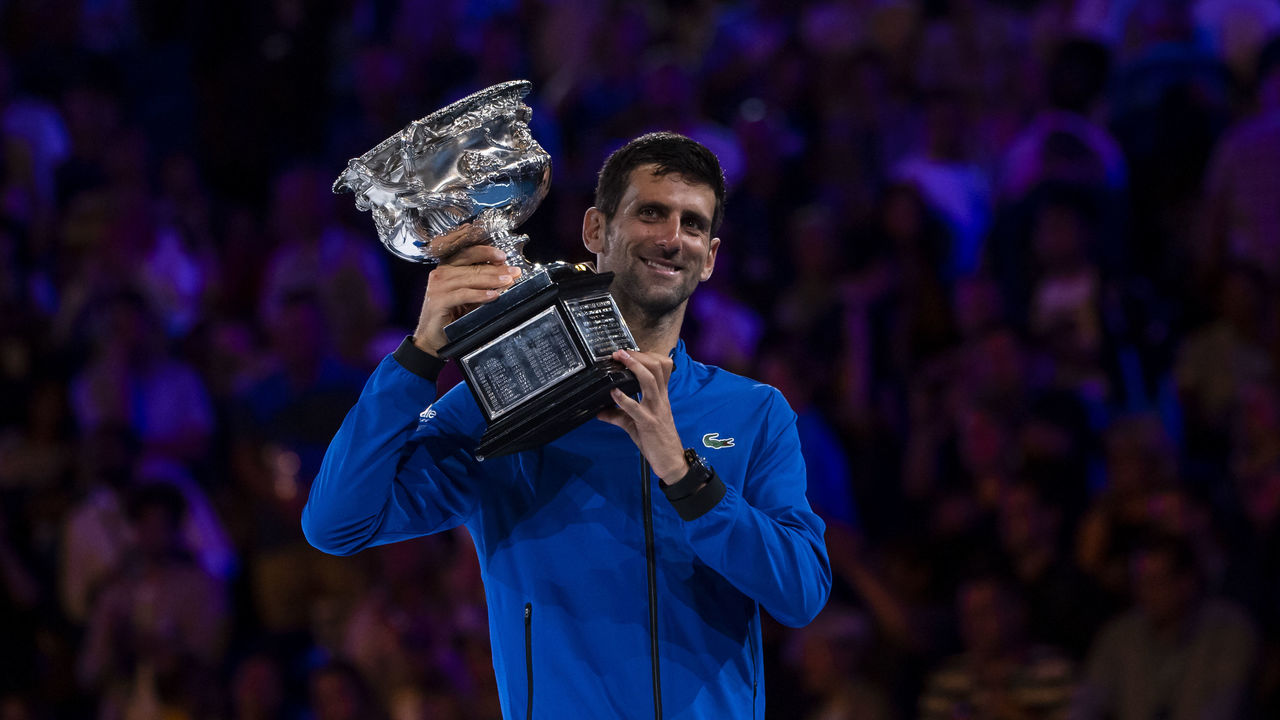 Can anybody stop Novak Djokovic?
The Serb, who brushed Rafael Nadal aside in straight sets during last year's final, owns a record seven Australian Open men's singles titles after capturing six of the past nine tournaments in Melbourne. As usual, fellow icons Nadal and Federer figure to provide the stiffest competition, but Djokovic, who's fresh off beating the Spaniard en route to helping Serbia win the inaugural ATP Cup, is once again the undisputed favorite.
Nadal, whose relative struggles in Australia are no secret - it's the only Grand Slam he's failed to win more than once - hasn't beaten Djokovic on a hard court since the US Open final in 2013. Indeed, it's Federer, likely refreshed after skipping the aforementioned ATP Cup, who could pose the greatest threat.
Regardless, this is absolutely Djokovic's tournament to lose. Barring an unforeseen off day from the indomitable 32-year-old, it's difficult to envision anything other than Nole inching ever closer to Federer's career record by hoisting his 17th Grand Slam trophy. - Nesci
Prediction: Djokovic cruises to his eighth Australian Open title.
Storyline: Another shot at 24 for Serena
Serena Williams made history at the 2017 Australian Open, beating sister Venus in the final while eight weeks pregnant.
Since that triumph, Serena has lost four Grand Slam finals, all in straight sets. She remains one trophy away from Margaret Court's record of 24 Grand Slam titles, and it's begun to feel like this is one honor the GOAT won't capture.
However, there are reasons for hope.
The 38-year-old Williams blitzed the field in Auckland, dropping only one set on the way to winning her 73rd singles title. The past offseason with coach Patrick Mouratoglou was spent refining the tools she'll need when her serve is no longer the weapon it's been throughout a glittering career. Her Australian Open draw, while not great, is still manageable, with tennis fans already penciling in a potential quarterfinal match against Naomi Osaka. She's been close before, but Serena will get it done in Melbourne this time. - Desai
Prediction: Williams finally wins her 24th Grand Slam singles title.
Storyline: What should we expect from Federer?
It wasn't the most earth-shattering of statements, but to hear it from his mouth was still jarring.
"I think the way it's going, obviously, Rafa and Novak will win more," Federer said when asked about his Grand Slam singles record. Federer's lead has never felt more unsafe, with Nadal trailing by one and Djokovic, the youngest of the three, only four behind.
They will pass him, but Federer seems at peace with the inevitable outcome. What that means for his game is uncertain, but a free-flowing Roger with nothing to lose has been seen in Melbourne before, back in 2017 when he stunned the tennis world with major No. 18 after a long injury layoff. Can he do it again in 2020?
Djokovic is looming on Federer's side of the draw, so the answer is probably no, but that doesn't mean we won't be treated to another enthralling match between two all-time greats. - Desai
Prediction: Federer is dispatched by Djokovic in the semifinals, but he goes down swinging.
Storyline: Home cooking for Barty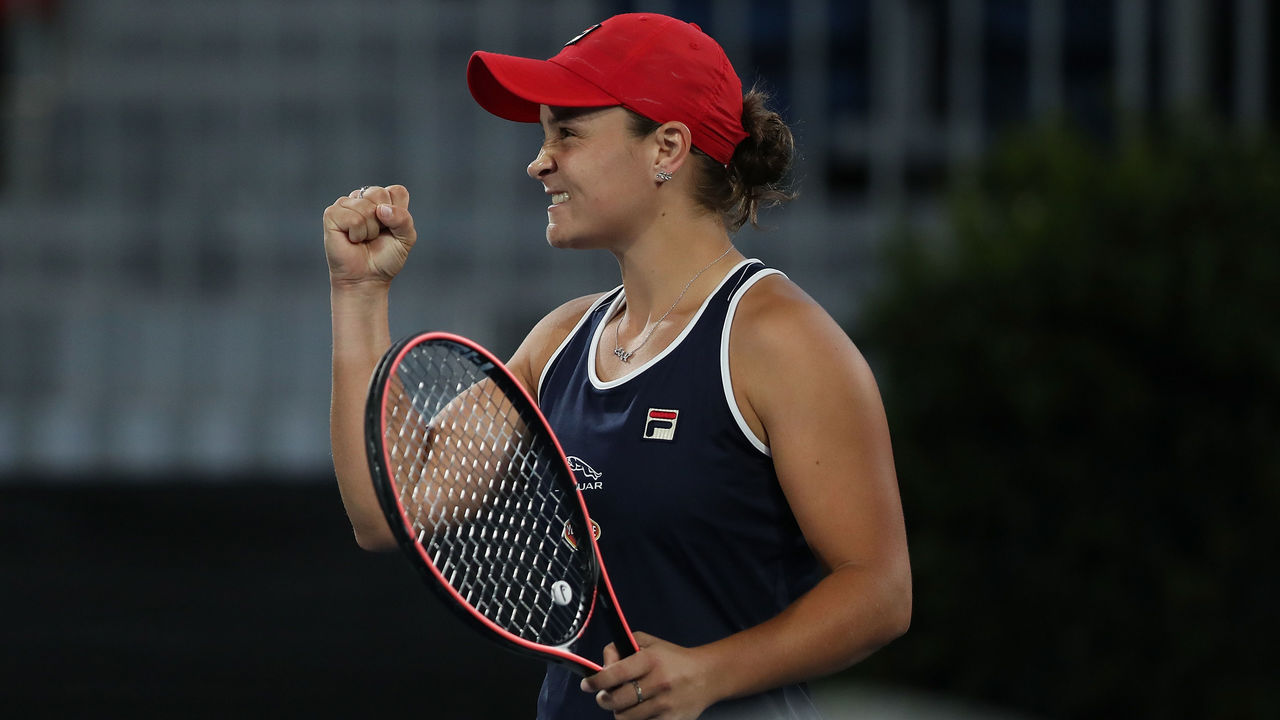 It's been 42 years since an Australian last won a singles title in Melbourne, with Christine O'Neil's victory in 1978 still the most recent opportunity for the Aussie crowd to celebrate a hometown champion.
This year, world No. 1 Ashleigh Barty is looking to end that drought.
The 23-year-old, who captured her maiden Grand Slam title at last year's French Open, solidified her top ranking with a win at the season-ending WTA Finals in November. She'll certainly be the fan favorite in the coming weeks, but whether that's a blessing or a curse remains to be seen.
"I can't wait to play in front of the Aussie crowd again and go out there and give it my all," Barty, who reached the quarterfinals of the tournament in 2019, said last month.
"Regardless of whether I win or lose, I think the Aussie public loves when Australians come out and do give it a crack. That's what I can promise - I'll go out there and give it my best and then whatever happens, happens."
Barty, who opened 2020 by falling to American qualifier Jennifer Brady in Brisbane last week, will be under immense pressure in Melbourne. - Nesci
Prediction: Barty overcomes early nerves to make a deep run but loses in the semifinals.
Storyline: Can Medvedev keep soaring?
Daniil Medvedev is coming off quite a year.
No player won more ATP Tour-level matches than the sinewy Russian did last year. He took home a career-best four titles in 2019 and reached nine finals, which included his spellbinding five-set loss to Nadal in the showpiece match at the US Open, where he went from villain to hero with the New York crowd.
There have been plenty of false dawns in men's tennis during the immutable Big Three era, but right now, the 23-year-old Medvedev looks like the most credible threat to end the Grand Slam dominance of Djokovic, Nadal, and Federer.
Those three icons have combined to win 14 of the last 16 titles in Melbourne, 12 consecutive Grand Slams, and a whopping 55 of 66 majors going back to Federer's 2003 triumph at Wimbledon. No active male player under the age of 30 has captured a Grand Slam, with Medvedev coming the closest before his rousing comeback bid against Nadal ultimately fell short at Flushing Meadows.
Crucially seeded No. 4 after Russia's strong showing at the ATP Cup, Medvedev can avoid playing two of the aforementioned trio before the semifinals in Melbourne. - Nesci
Prediction: After another round of playful banter with the crowd, Medvedev reaches the semifinals, where he's once again beaten by Nadal.
Storyline: Osaka ready for monster season
2019 was a really strange year for Osaka.
It started magnificently with her second Grand Slam title and her ascension to No. 1 in the world. What followed was a journey into the abyss. Osaka parted ways with coach Sascha Bajin and proceeded to struggle mightily. Comments made to the press indicated the 22-year-old was dealing with personal issues that were impacting her on-court performance.
Osaka then appointed her father as coach following the US Open, and something changed. Impressive wins over Bianca Andreescu and Barty culminated in a China Open title. She was having fun on the court again, and as we've seen so often in tennis, that matters.
A date with Serena in the quarterfinals may derail a repeat in Melbourne, but Osaka is primed to return to the pinnacle of the sport in 2020. - Desai
Prediction: Osaka loses a three-set match to Serena in the quarterfinals.
Storyline: Next step for Shapo?
Andreescu is hurt and Genie Bouchard didn't qualify, but Leylah Annie Fernandez will carry the Canadian flag in the women's main draw. The 17-year-old is destined for big things on the court and this is only the beginning.
On the men's side, there are some options. Milos Raonic remains dangerous on any hard court thanks to an all-time great serve, but his best days are behind him. Felix Auger-Aliassime looked to have turned a corner in Adelaide, where he lost to the game's hottest player, Andrey Rublev, in three tough sets, but he still has work to do. Vasek Pospisil will never be short on effort, but a deep run would be truly shocking.
Denis Shapovalov will be the Canadian to watch in Melbourne. He's been excellent since the tail end of the 2019 season and he began 2020 with memorable matches against Stefanos Tsitsipas, Alexander Zverev, and Djokovic.
Can Shapo register that type of performance consistently over five sets? That's the next step for the 20-year-old, who's primed for a place in the top 10. A meeting with Federer in the fourth round could serve as the "he's ready" moment we've been anticipating. - Desai
Prediction: Fed takes out Shapo in the fourth, but the match goes five sets.
Comments
✕
Australian Open preview: Storylines to watch, tournament predictions
  Got something to say? Leave a comment below!