American stars of new Olympic sports step into Tokyo spotlight
Getty Images / Photo illustration by Nick Roy / theScore
When Carissa Moore won the World Surf League's 2019 championship, the fourth of her Hall of Fame career, she posed with the trophy in front of the Duke Kahanamoku statue at Waikiki Beach. Cameras clicked, preserving her achievement for posterity like Kahanamoku was memorialized in bronze.
Moore, 28, was gearing up to represent the United States and her home state, Hawaii, at surfing's Olympic debut. Kahanamoku was a swimmer who sped to five Olympic freestyle medals, three of them gold, between 1912 and 1924 - and balancing on a board was his side hustle. Kahanamoku toured American and Australian shores to exhibit the skill, enchanting crowds but failing to convince the IOC to add surfing to its summer slate.
Decades later, Moore learned to ride Waikiki's waves. As she mastered the fundamentals that Kahanamoku taught globally, she heard that this Hawaiian icon was kind and compassionate. His statue's arms stretch wide as if to welcome beachgoers regardless of their sex, race, or beliefs.
"I think that's a beautiful way to live," Moore said. "I just hope to use Duke as inspiration and spread a little bit of love and aloha when I'm at the Olympics."
Moore is among hundreds of rookie Olympians set to compete at the Tokyo Games in a first-time event. Delayed a year by the pandemic, skateboarders, sport climbers, karate athletes (known as karateka), and 3-on-3 basketball players finally get to show an audience of billions what they're about. (Freestyle BMX and women's Madison are new to the cycling docket, while baseball and softball return following a 13-year absence.)
Ahead of Friday's opening ceremony, theScore spoke to the Americans who headline three of these events about their paths to the games, their podium goals, and the stylishness of their chosen competition. (Said Moore, "There's a little bit more attitude or self-expression in each one of them.") Pioneers of these sports never went to the Olympics, and active stars turned their first ollies or air reverses long before such a dream became attainable.
"It's going to be crazy: me representing skating as a whole, me representing my people as a whole," U.S. Olympic skateboarder Zion Wright said. Viewers, he said, "are going to really open their eyes to it and know this stuff is possible."
The 'all-in' skater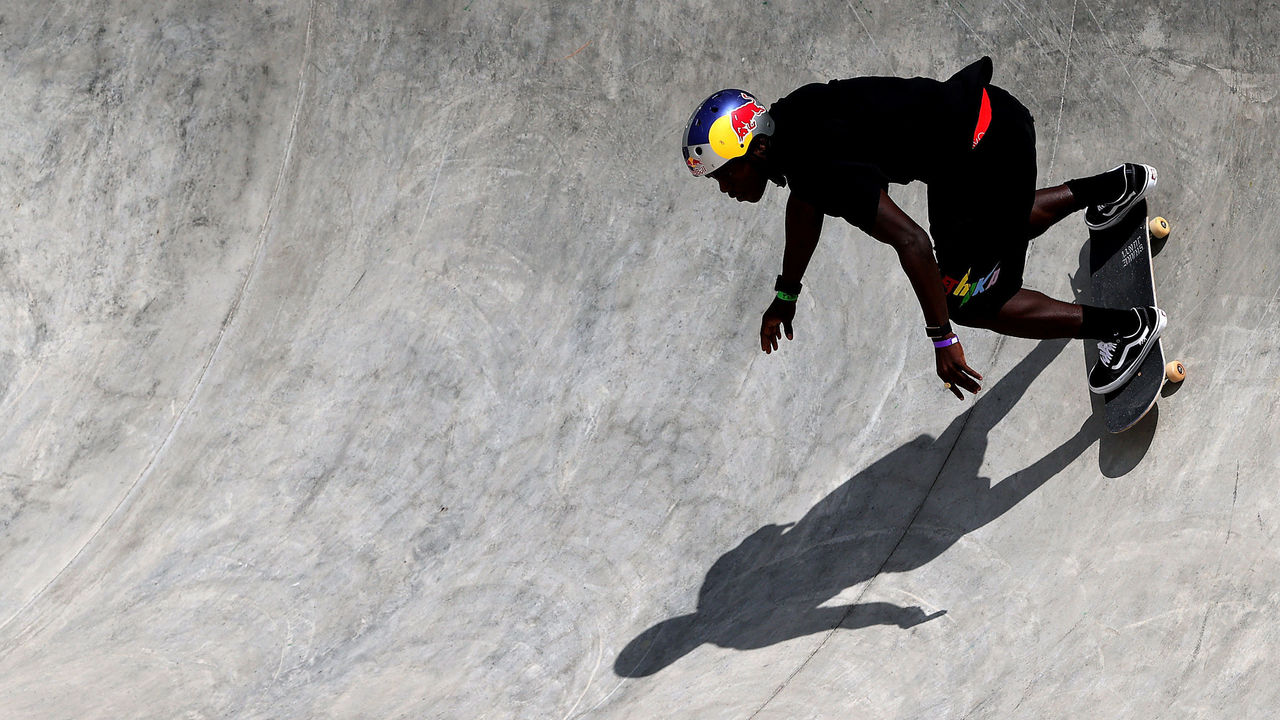 Mustafa Wright shook his son awake around 4 a.m., about the time he left home in Jupiter, Florida, to deliver the Sun Sentinel newspaper. Ten years old and hooked on skateboarding, Zion Wright rode daily at the Abacoa Skate Park after school, craving broader exposure. One night a sweet trick won him $60 in a contest. He offered it to his dad as gas money to take him to a showcase in Tampa.
Citing bills to pay, Mustafa said he couldn't spare the time. Then he changed his mind. Ditching work and sacrificing sleep, the Wrights drove 200 miles across the state and got face time with event organizer Ryan Clements, Zion Wright's eventual manager. Clements rewarded the effort, Zion's performance, and Mustafa's energy on the sideline with a $500 travel voucher.
This wasn't the breakthrough that enabled Zion, 22, to go pro; that would be his move to California, skateboarding's "mecca," at 16 to pursue top competition and major sponsorship deals. Chalk it up instead as a formative moment, the day his Olympic potential materialized.
"My dad did what he had to do and got us there," Wright said. "Look what happened from that."
Wright is one of 12 Americans readying to skate at Tokyo's Aomi Urban Sports Park, also the venue for sport climbing and 3-on-3 basketball. Olympic skateboarding is split into two disciplines: street and park. Street skaters scale benches, curbs, handrails, slopes, and stairs, aiming to wow the judges with moves that are challenging, original, and seamlessly executed. On hollow and curvy park courses, aerial grabs and spins are the main attraction.
Wright is a park skater whose style has been labeled all-terrain. He grew up skating street too, negotiating the ground and inclines as he learned the value of being versatile. He's a Black man on a diverse U.S. squad in a sport where thinking differently on the board is a virtue. Personality shapes everyone's approach.
"I just go in all-in," Wright said.
Such was the case in Iowa this May. Needing to win the Dew Tour competition in Des Moines to qualify for the Olympic team, Wright opened and punctuated his final run with a levitating backside 540 that event broadcasters deemed otherworldly.
Clutch, too: His score for the run of 91.04 wound up five points clear of the runner-up. Skateboarding is genial and close-knit, and Wright's opponents couldn't help but grin and cheer.
At Dew Tour, Wright got to chatting with Manny Santiago, a childhood idol turned colleague and friend. Gap-toothed from an early-career tumble, Santiago is 35 years old, Puerto Rico's premier men's street skater, and a new Olympian himself. In Iowa, this elder statesman and Wright reminisced about their journeys to date, feeding off each other's energy as talk turned to Tokyo.
"We just stuck to this path of skating," Wright said, "and this is what it's brought to us."
The 3-on-3 convert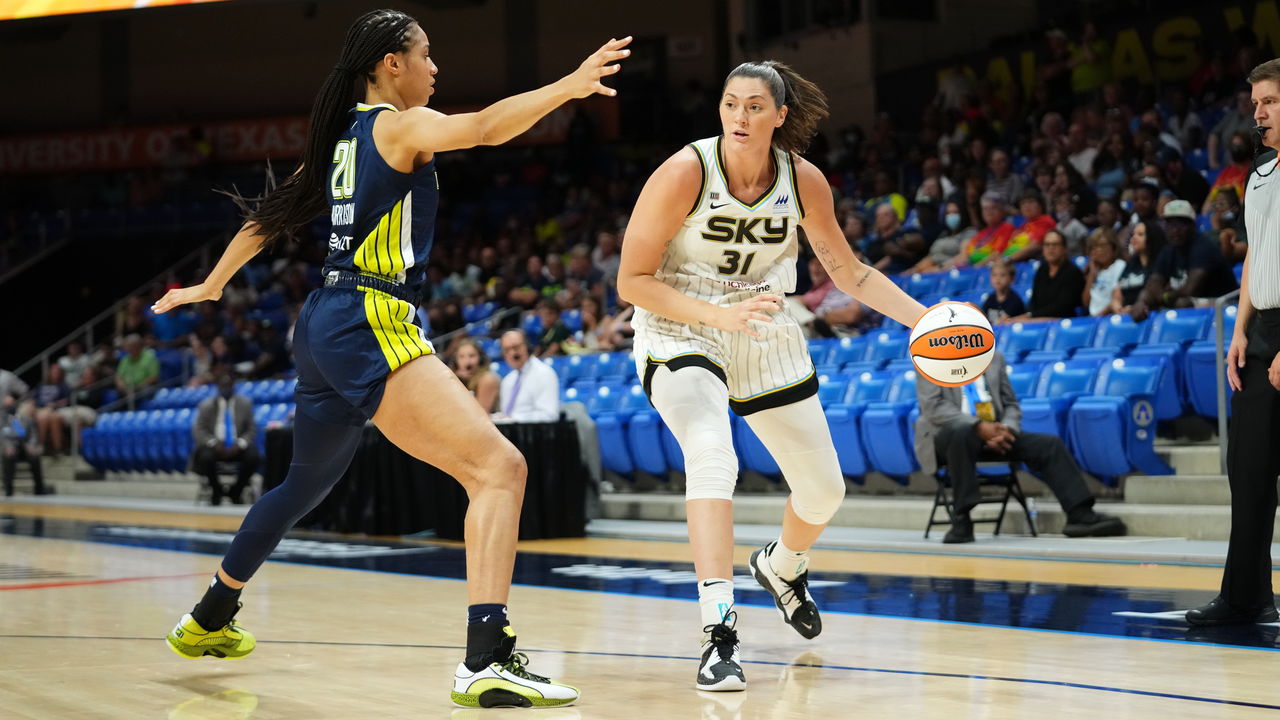 Twenty-nine years, 49 games, and six full tournaments have elapsed since the United States dropped a women's basketball contest at the Olympics. This is at five-on-five, where WNBA talent inevitably trumps all resistance by the fourth quarter or sooner.
This logic doesn't govern 3-on-3, the half-court offshoot of James Naismith's familiar game. America is beatable when a mere six players take the court. The Czech Republic, Russia, Italy, and China have won the last four women's 3-on-3 World Cups; the U.S. earned one bronze medal in that span. Serbia is the world's dominant men's power. The U.S. men failed to qualify for Tokyo's eight-team event.
Instead, American medal hopes sit with the likes of Stefanie Dolson, 29, the Chicago Sky's 6-foot-5 starting center. Twice a WNBA all-star and college national champion at UConn, Dolson's a versatile big who debuted for the national 3-on-3 side two months ago. U.S. women's program director Carol Callan handpicked her for the role, aware that Dolson was a long shot to crack the country's loaded main roster.
"She knew it was just another opportunity (for me) to make the Olympics," Dolson said.
Her 3-on-3 teammates fit the same profile: not superstars, but plenty accomplished nonetheless. Kelsey Plum and Jackie Young are recent No. 1 overall draft picks. Allisha Gray was the WNBA's rookie of the year in 2017. Gray and Young won college national titles, too. Plum is Division I basketball's all-time leading women's scorer, the product of pouring in 3,527 points (25.4 per game) in four seasons at Washington.
Dolson, Gray, Plum, and Katie Lou Samuelson - a late scratch from the Tokyo squad due to health and safety protocols - went 12-1 in May over back-to-back international tournaments, a tune-up event in France followed by the Olympic 3-on-3 qualifiers in Austria. To cap win No. 12, Plum spotted Dolson rolling to the hoop against Spain for the layup that booked their Japan trip.
Operating with a 12-second shot clock, 3-on-3 games end after 10 minutes or once the winner reaches 21 points. Buckets from inside the arc and free throws count for one point; long-range makes are worth two. Players coach themselves in-game, though the U.S. team trains under Duke head coach Kara Lawson, the former WNBA guard and Boston Celtics assistant. Everyone has to be able to shoot, pass, cut, rebound, drive and guard in isolation, and play all-out for minutes at a time.
"We create a lot of mismatches," Dolson said about the Americans recently, before Young replaced Samuelson on the Olympic roster. "Kelsey Plum is going to be quicker than most of the people (she plays against). I'm bigger than most of the people. And then Allisha Gray can just score."
Defensive strategy differs from five-on-five. 3-on-3 defenders switch a lot but rotate and help less; if a teammate gets beat, conceding the layup is preferable to permitting a kick-out and open shot for double the points.
The short, quick games induce stress, but a party atmosphere prevailed at the Austrian qualifiers, where R&B and hip-hop hits boomed during play. Dolson's mom and Sky teammates texted her while she was at the event, awed by the action's pace and physicality.
"People are beating each other up," Dolson said. "Which I think is more fun to watch."
The surfing legend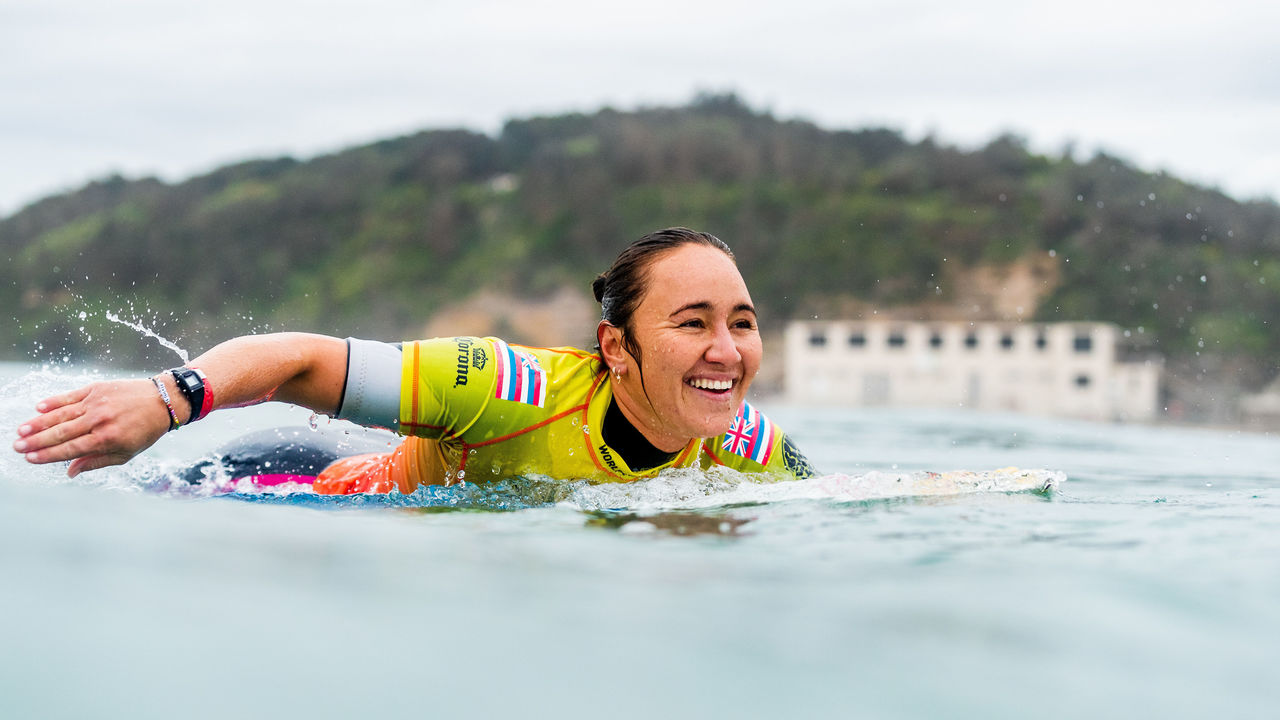 Jan. 4, 2016, was Carissa Moore Day in Hawaii, the mayor of Honolulu's tribute to a hometown success story. Friends and family gathered at the beach to fete her. The celebration ought to be annual, Moore said with a smile in a recent interview, listing the rituals that people could follow.
"I would hope that everyone would go out surfing," Moore said. "Do something nice for someone else. Spread a little aloha and eat some good food. And take a nap."
Few surfers are as decorated as Moore. As an 18-year-old second-year pro in 2011, she became the youngest person to clinch world surfing's season title, which she won again in 2013, 2015, and 2019. The Surfing Hall of Fame inducted Moore into its ranks when she was 21. That was seven years ago, a while before the IOC decided to add surfing to its Tokyo programming.
Unlike Hall of Fame invitations in other sports, Moore's nod didn't signal that her career was over or declining. Indeed, her dominance withstood the World Surf League's yearlong COVID-19 pause. Still the WSL's reigning champion, Moore leads the 2021 standings with two events to go, both of which follow the Olympics. Tokyo teammate Caroline Marks, a 19-year-old Floridian who was the WSL's second-place finisher in 2019, is sixth on the current leaderboard.
Three months ago in Newcastle on Australia's east coast, Moore seemed to stun herself by nailing a 270-degree air reverse, which one commentator hailed as a signature moment in the sport's history. The degree of difficulty is extreme, all the more so when the clock's ticking on a 30-minute surfing heat.
"You're working with a wave - a canvas, a ramp that's always changing. You're also disconnected from your board, so the timing has to be really precise," Moore said.
About her Newcastle trick, she added, "To (land it) in competition, wearing a jersey in front of people under pressure, made it really cool. But there's a lot of women right now that are very capable of doing that same maneuver."
Moore's Olympic opposition includes the Australian megastar Stephanie Gilmore - with whom she's split 11 of the last 13 world titles - but not Tyler Wright, WSL champ the other two years. Post-viral fatigue sidelined Wright for much of 2019, opening space for world No. 3 Sally Fitzgibbons to claim Australia's second and final berth. France's Johanne Defay and Tatiana Weston-Webb of Brazil loom as medal threats in the 20-surfer field.
Tokyo doesn't border the ocean, so Olympic surfing will take place 60 miles to the southeast at Tsurigasaki Beach, on whichever four days between Saturday and July 31 that wave and wind conditions are deemed suitable. A surfer gets half an hour to attempt as many moves as she can manage, and judges rate each one out of 10 based on factors such as variety and innovation. Her two best runs per round comprise her score.
Waves at Tsurigasaki are generally smaller and weaker than most WSL stops, which'll affect how these Olympic first-timers match up with one another and the tide. Equipment prep - shaping a surfboard ahead of time so that it generates good speed - is paramount, Moore said. Same goes for spontaneity, a core trait in a sport where each swell is unique and Mother Nature punishes the inflexible.
All a podium favorite can do is lock into the moment, read the ocean from atop her board, and react.
"I don't know what's going to happen in Tokyo. I don't know what I'm going to do. It's what the wave allows," Moore said. "But I like to think that I have a nice control over my foundation. I think I do a nice job of combining my speed and my power and the flow. And hopefully that looks nice to the viewer."
Nick Faris is a features writer at theScore.
Comments
✕
American stars of new Olympic sports step into Tokyo spotlight
  Got something to say? Leave a comment below!