Ranking the NHL's divisions ahead of 2023-24
Ethan Miller / Getty Images Sport / Getty
Buckle up, everyone. The tense scraps for wild-card spots and heavyweight bouts for the top place in each division are almost upon us. Ah, we missed the gut-wrenching anxiety and excitement that the hockey season brings.
We know nothing comes easy in the NHL, but we've gone ahead and ranked the divisions anyway, going from weakest to strongest.
4. Central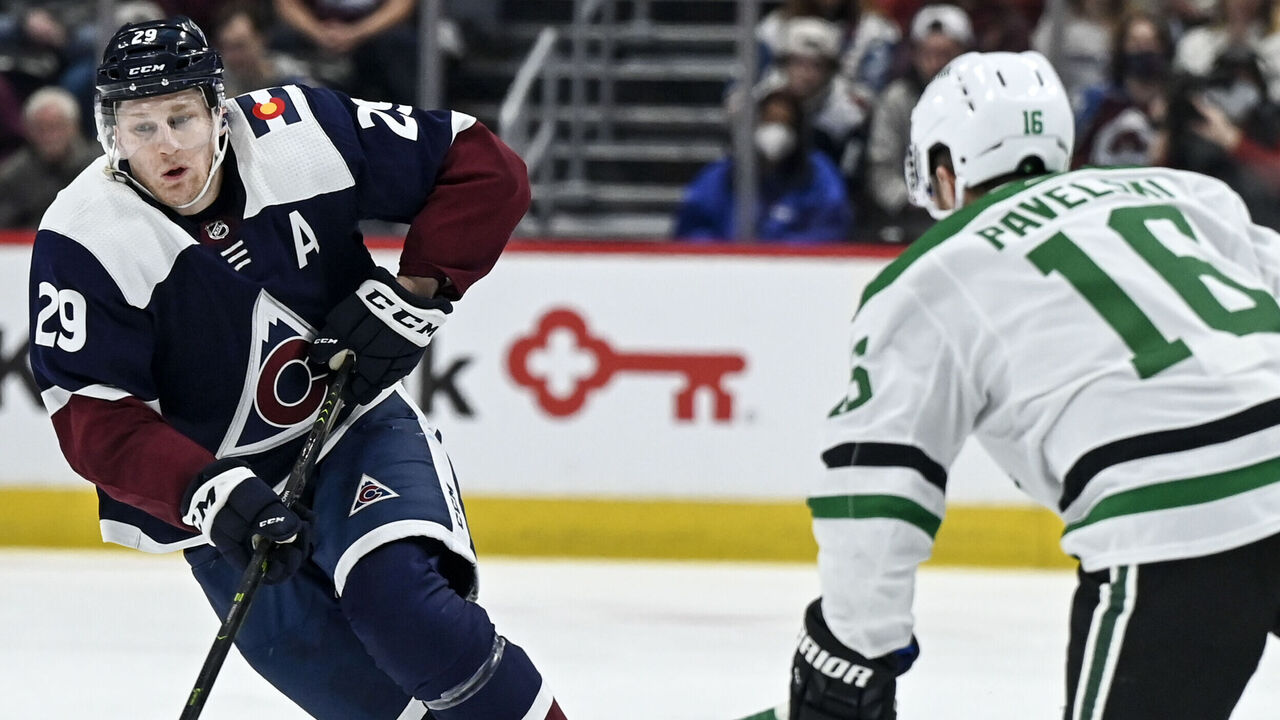 | Team | 2022-23 Record | Goal Diff. | Playoffs |
| --- | --- | --- | --- |
| Avalanche | 51-24-7 | +54 | Lost in 1st round |
| Stars | 47-21-14 | +67 | Lost in conference finals |
| Wild | 46-25-11 | +21 | Lost in 1st round |
| Jets | 46-33-3 | +22 | Lost in 1st round |
| Predators | 42-32-8 | -9 | Did not qualify |
| Blues | 37-38-7 | -38 | Did not qualify |
| Coyotes | 28-40-14 | -71 | Did not qualify |
| Blackhawks | 26-49-7 | -97 | Did not qualify |
There's no debate about who the top two squads are in the Central. The Avalanche and Stars both project to be fearsome contenders in 2023-24.
Colorado finished one point ahead of Dallas for the No. 1 spot in the division last season despite an inordinate number of injuries to key players. The Avalanche had to retool parts of their lineup this summer and will once again be without Gabriel Landeskog, but the mere presence of Nathan MacKinnon, Mikko Rantanen, and Cale Makar makes them the favorites to finish atop the division for a third straight year. The Stars already checked all the boxes you need to go Cup chasing - a dynamite top line (Joe Pavelski, Roope Hintz, Jason Robertson), a stud defenseman (Miro Heiskanen), and a great goalie (Jake Oettinger) - but they got even scarier by adding Matt Duchene, who fell into their lap after the Predators bought him out.
Minnesota sits in the Central's next tier. The Wild will in all likelihood take the third spot, but they are really feeling the constraints from the pricey Zach Parise and Ryan Suter buyouts from two years ago. With around $14.7 million in dead cap space, Minnesota could only add Pat Maroon this summer with the team basically stuck in a holding pattern.
The drop-off from here ranges wildly, which is why we put the Central in the No. 4 spot. The Jets are listing toward hot-mess territory after another inconsistent campaign and could get even worse if they move on from pending unrestricted free agents Mark Scheifele and Connor Hellebuyck during the season. Plenty of noise is expected to surround the team again, but that's becoming the norm for Winnipeg. The Predators are difficult to predict after an interesting first offseason under GM Barry Trotz where they parted ways with Duchene while adding the likes of Ryan O'Reilly and Luke Schenn. Depending on how things shake out, we could see both teams in the race for a wild-card spot, but it won't be easy given the stiff competition from the Central's Western Conference counterparts.
The Blues had a midseason fire sale in 2022-23, and now only six players remain who won the Stanley Cup in 2019: Robert Thomas, Brayden Schenn, Sammy Blais, Colton Parayko, Robert Bortuzzo, and Jordan Binnington. St. Louis had a quiet summer, adding just Kevin Hayes, Oskar Sundqvist, and Mackenzie MacEachern, and the club may be stuck outside the playoff picture again if the likes of Thomas, Binnington, Parayko, and Jordan Kyrou don't step up.
Finally, for the first time in what feels like forever, the Coyotes and Blackhawks will at least be exciting to watch, albeit not as surefire playoff threats. Arizona has more potential to surprise, though, after adding a large new cast of players, including Jason Zucker and Matt Dumba, not to mention youngster Logan Cooley. 2023 first-overall pick Connor Bedard, meanwhile, will make sure the media spotlight shines bright on Chicago all season.
3. Pacific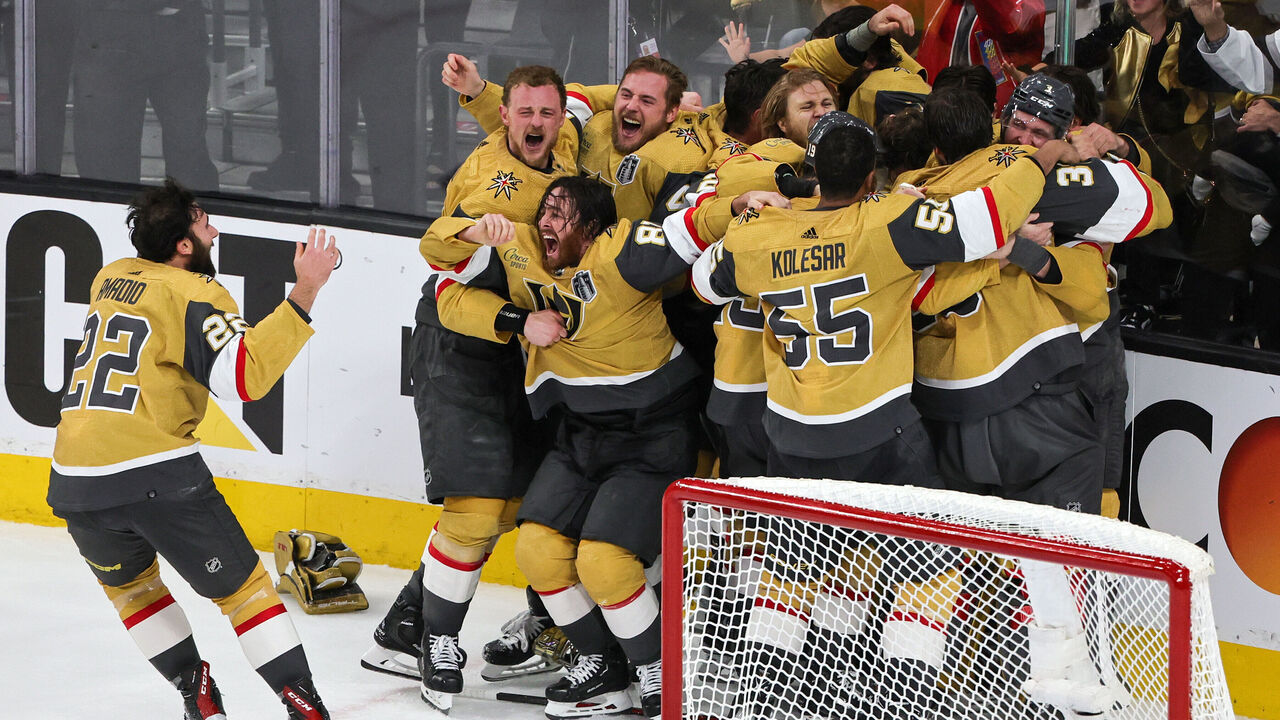 | Team | 2022-23 Record | Goal Diff. | Playoffs |
| --- | --- | --- | --- |
| Golden Knights | 51-22-9 | +43 | Won Stanley Cup |
| Oilers | 50-23-9 | +65 | Lost in 2nd round |
| Kings | 47-25-10 | +23 | Lost in 1st round |
| Kraken | 46-28-8 | +33 | Lost in 2nd round |
| Flames | 38-27-17 | +8 | Did not qualify |
| Canucks | 38-37-7 | -22 | Did not qualify |
| Sharks | 22-44-16 | -87 | Did not qualify |
| Ducks | 23-47-12 | -129 | Did not qualify |
There's a thin margin separating the Pacific and the No. 2 division on this list, but we ended up giving the bronze to the reigning Stanley Cup champions and Co.
The Golden Knights will be virtually the same team as last year - sans Reilly Smith, Laurent Brossoit, Phil Kessel, and Teddy Blueger - which certainly isn't a wrong move given they're just three months removed from lifting Lord Stanley's Mug. The Oilers are the other major threat in the Pacific thanks to Connor McDavid and Leon Draisaitl. Our money is on Vegas and Edmonton duking it out for the top spot.
The Kings, meanwhile, are an interesting case. They boast a fearsome one-two-three punch down the middle in Anze Kopitar, Pierre-Luc Dubois, and Phillip Danault, but you can't say the same about their goalies. The trio of Pheonix Copley, Cam Talbot, and David Rittich doesn't feel structurally sound, especially in a division that features two of last season's top-five offenses.
The first one is easy to guess - Edmonton led the league with 325 goals. The Kraken, however, ranked fourth with 289 while rebounding from their abysmal inaugural season. Seattle got it done by committee thanks to strong team chemistry and was largely able to keep the gang intact this summer. Like the Kings, goaltending is the Kraken's biggest concern, with much of the responsibility riding on Philipp Grubauer's shoulders.
There are a couple of wild cards in the mix out west, too. The Canucks revamped their defense by buying out Oliver Ekman-Larsson and bringing in Carson Soucy and Ian Cole. That should help goalie Thatcher Demko, who struggled last season, but we aren't rushing to pencil Vancouver into a playoff spot. No one can be certain what the Flames will look like - any number of Noah Hanifin, Elias Lindholm, and Mikael Backlund could still be moved - but a shift away from ex-coach Darryl Sutter's hard-nosed style could positively impact Calgary's place in the standings.
Finally, we've got a pair of stragglers in California. We think the Ducks are going to be better than they were last season, but the Sharks will be worse. San Jose finally moved on from reigning Norris Trophy winner Erik Karlsson, while Anaheim improved its ranks by being active on the veteran UFA market with the additions of two-time Stanley Cup champion Alex Killorn and heavy defenseman Radko Gudas.
2. Atlantic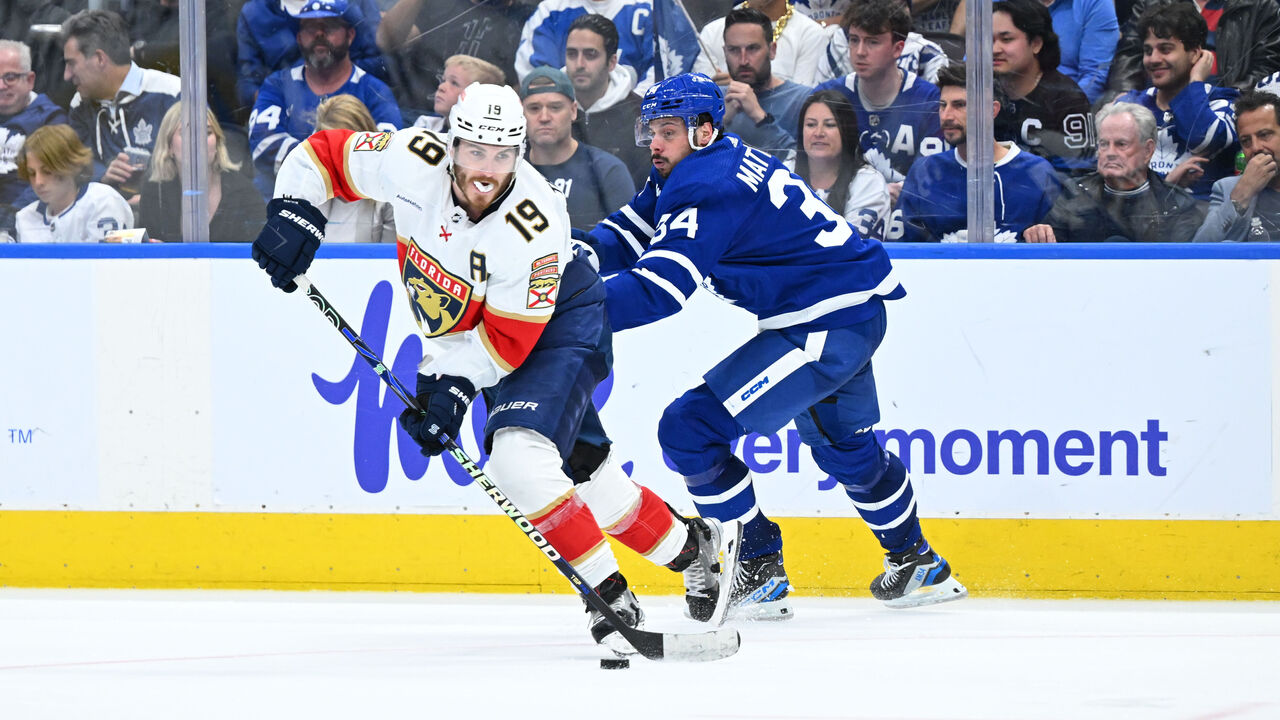 | Team | 2022-23 Record | Goal Diff. | Playoffs |
| --- | --- | --- | --- |
| Bruins | 65-12-5 | +128 | Lost in 1st round |
| Maple Leafs | 50-21-11 | +57 | Lost in 2nd round |
| Lightning | 46-30-6 | +29 | Lost in 1st round |
| Panthers | 42-32-8 | +17 | Lost in Stanley Cup Final |
| Sabres | 42-33-7 | -4 | Did not qualify |
| Senators | 39-35-8 | -10 | Did not qualify |
| Red Wings | 35-37-10 | -39 | Did not qualify |
| Canadiens | 31-45-6 | -75 | Did not qualify |
It feels like the Atlantic Division is usually a lock for the No. 1 spot, but not this time. This isn't to say that it isn't filled with heavyweights, it's just that a few of the usual suspects have taken a step back.
The Bruins were dealt not one but two crushing blows after the retirements of Selke Trophy king Patrice Bergeron and David Krejci. Barring any other moves, Boston is entering the season with Charlie Coyle and Pavel Zacha as its top two centers. That's quite the drop-off for the reigning Presidents' Trophy winners, but they still boast at least one bona fide star in each of their position groups thanks to David Pastrnak, Charlie McAvoy, and Linus Ullmark. The Bruins' spot in the playoffs isn't guaranteed, but this team can still compete.
The Lightning, meanwhile, saw their point percentage dip below the .600 mark for the first time since 2016-17 last season, and they're at risk of a further slide after a tight salary-cap situation forced them to lose key supporting players in Killorn, Maroon, Ross Colton, and Corey Perry. Staying in Florida, the Panthers are coming off a miracle run to the Stanley Cup Final, which was astounding given the way they struggled in the regular season. We project the Cardiac Cats to come back down to earth a little bit in 2023-24, with the main determining factor being Sergei Bobrovsky; Matthew Tkachuk may be confident that Bobrovsky will be the same game-breaking goalie he was last spring, but we aren't as convinced. Florida will also be without top defensemen Aaron Ekblad and Brandon Montour to start the season.
Rounding out the Atlantic's typical top dogs are the Maple Leafs, who could very well be the most realistic option to take the No. 1 spot at this point. Toronto is returning with its talented-yet-much-criticized core, but new GM Brad Treliving has altered his team's identity by injecting some "snot" in the form of Ryan Reaves, Max Domi, and Tyler Bertuzzi.
Now this is where the division starts to get really interesting. The Sabres, Senators, and Red Wings could all conceivably force their way into the playoffs after making strides in 2022-23. Buffalo was just one point away last year, and the young group is hungry to take the next step, while Ottawa is hoping new No. 1 goalie Joonas Korpisalo will have better luck getting the club over the hump. Detroit was the furthest from the postseason picture of the trio last season but made the most additions this summer, including Alex DeBrincat, J.T. Compher, Jeff Petry, and Shayne Gostisbehere.
Finally, the Canadiens ... are there. Someone has to finish eighth in the division, and we assume it'll be them.
1. Metropolitan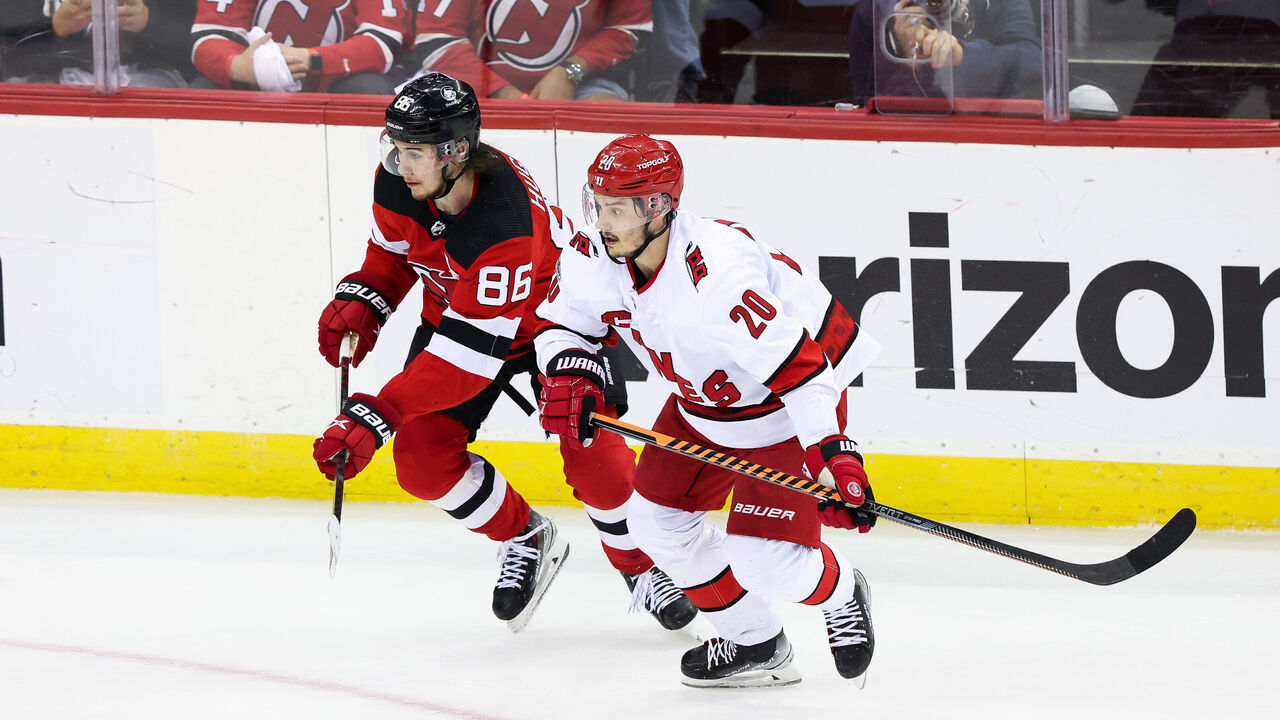 | Team | 2022-23 Record | Goal Diff. | Playoffs |
| --- | --- | --- | --- |
| Hurricanes | 52-21-9 | +53 | Lost in conference finals |
| Devils | 52-22-8 | +65 | Lost in 2nd round |
| Rangers | 47-22-13 | +58 | Lost in 1st round |
| Islanders | 42-31-9 | +21 | Lost in 1st round |
| Penguins | 40-31-11 | -2 | Did not qualify |
| Capitals | 35-37-10 | -10 | Did not qualify |
| Flyers | 31-38-13 | -55 | Did not qualify |
| Blue Jackets | 25-48-9 | -116 | Did not qualify |
The Eastern Conference is stacked, and we predict the Presidents' Trophy will head to the Metropolitan Division.
This isn't a hot take: If it weren't for the Bruins having a historically good campaign, the Hurricanes would've been the league's best regular-season squad last year. However, don't count out the Devils. Only one point separated New Jersey and Carolina in the standings, and neither team took a step back this summer. The Hurricanes added gritty forward Michael Bunting, who gained experience playing with elite talent in Toronto, and they added to the league's best defense corps by bringing in Dmitry Orlov. The Devils will be getting a full season with Timo Meier, and they added Tyler Toffoli, who led the Flames with 34 goals and 73 points last season.
We have the Rangers pencilled into the No. 3 spot in the Metropolitan Division simply because it would take a gargantuan effort by new head coach Peter Laviolette and his squad to supplant the Canes or Devils. New York will be good again, buoyed by goalie Igor Shesterkin, top defense pair Adam Fox and Ryan Lindgren, and a strong forward group featuring Artemi Panarin, Mika Zibinejad, and Chris Kreider. The Islanders didn't change at all following a first-round exit at the hands of the Hurricanes, but they'll go as Ilya Sorokin goes. He could very well drag them into the playoffs again.
Similar to the Atlantic, the Metro's middling, non-playoff teams from last year will draw plenty of intrigue. The Penguins heavily underperformed in 2022-23, but new GM Kyle Dubas did his part to ensure Sidney Crosby and Co. will be back in the dance this spring by reeling in reigning Norris Trophy winner Erik Karlsson. As for Pittsburgh's biggest rivals, we refuse to believe the Capitals will be as injured as they were in 2022-23, so a return to the postseason for Washington is viable. Helping the Caps' case is Max Pacioretty, who, like many others on the team, will be looking to rebound from an injury-riddled campaign.
We have hope for one of the Metro's 2022-23 bottom-feeders. The Blue Jackets will have top defenseman Zach Werenski back, and they made some intriguing additions on the back end with Damon Severson and Ivan Provorov. Hopefully, they can make life easier for goaltender Elvis Merzlikins, who had a hell of a time last season. We don't, however, have hope for the other bottom-feeder. At least top prospect Cutter Gauthier should be fun for Flyers fans to watch if he comes over once the NCAA season ends.
Comments
✕
Ranking the NHL's divisions ahead of 2023-24
  Got something to say? Leave a comment below!