23 predictions for the 2022-23 NHL season
A handful of shocking signings and blockbuster trades over a brief stretch of time - oh yeah, the shortened offseason generated countless storylines for NHL fans. To preview the much-anticipated 2022-23 season, here are 23 predictions. Some are complete long shots, while others are pretty realistic.
1. Hurricanes win Cup over Avalanche
Carolina isn't getting nearly enough buzz as a Stanley Cup favorite. General manager Don Waddell's offseason haul of Brent Burns, Max Pacioretty, Paul Stastny, Ondrej Kase, and Dylan Coghlan was significant. (Unfortunately, Pacioretty is out for the first half of the year.) Free agent Vincent Trocheck was the only departing player of note. Youngsters Andrei Svechnikov, Seth Jarvis, Martin Necas, and Jesperi Kotkaniemi have extra gears to activate; surely at least two of them will level up. The back end is elite. And, assuming that Frederik Andersen and Antti Raanta can stay healthy, the goaltending is in pretty good shape. Might as well tack on another Canes prediction: Rod Brind'Amour will win his second Jack Adams Award in three years. Book it.
2. Klingberg flipped to contender at deadline
John Klingberg somewhat surprisingly signed for only one year two weeks into free agency. It seems more likely than not that Ducks GM Pat Verbeek, who appears to be approaching the rebuild with a healthy dose of patience, will trade the right-shot defenseman for futures ahead of the deadline. Klingberg's contract includes a modified no-trade clause that says he can't be dealt before Jan. 1, but after that date, he must submit a 10-team no-trade list. I simply don't see Klingberg's and Anaheim's timelines as compatible over the long term.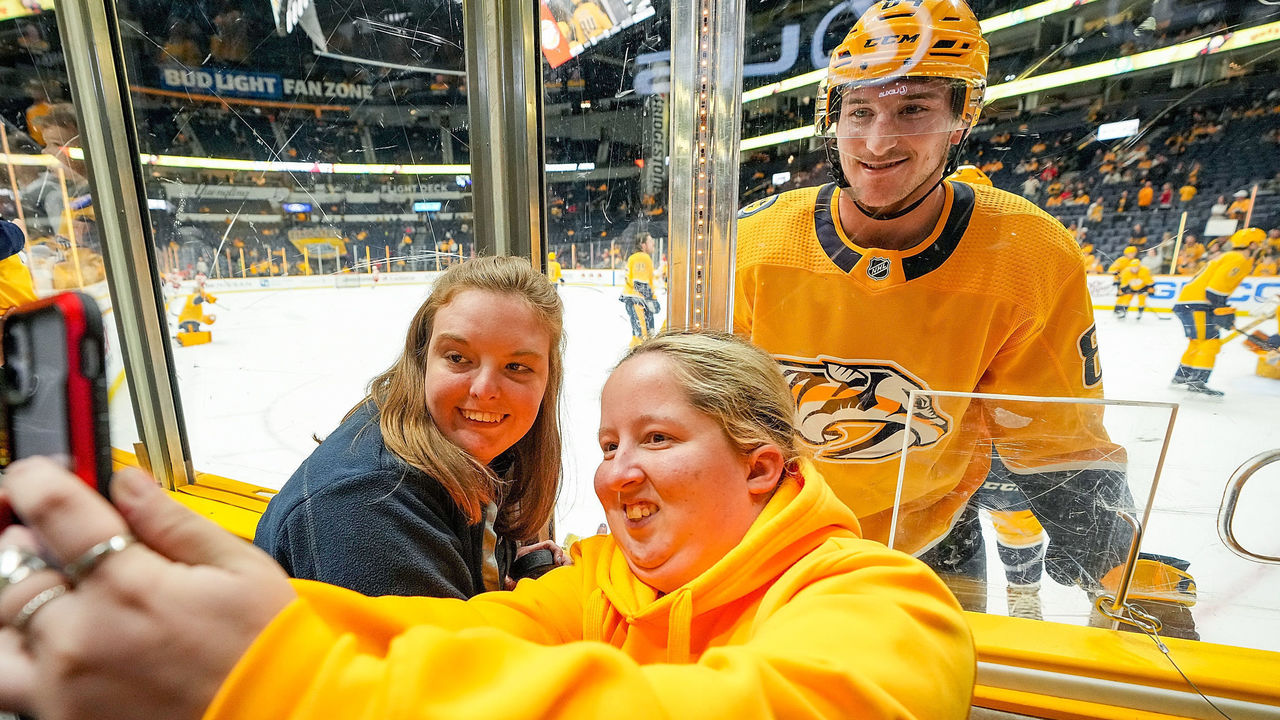 3. Jeannot becomes NHL's best bargain
Connor McDavid is arguably the NHL's best bargain. But if we're talking about squeezing value out of inexpensive contracts (salary-cap hit of under $1 million, entry-level deals excluded), the place to look is CapFriendly's league-wide cost-per-point ranking. Last year, Michael Bunting, Mason Marchment, Nicolas Roy, Tanner Jeannot, and Travis Boyd were the top five. This season, with his cap hit still at just $800,000, the Predators' Jeannot will take over the No. 1 spot. He brings so much to the table. Four others on non-ELC deals and making less than $1 million who could challenge Jeannot as the best bargain: Alexander Edler (Kings, $750K), Klim Kostin (Blues, $750K), Mark Giordano (Maple Leafs, $800K), and Bunting (Leafs, $950K).
4. Coyotes' move to ASU provides boost
Unquestionably, playing home games in Arizona State's 5,000-seat arena is embarrassing for the Coyotes and the league. But Mullett Arena, which should be intimate, loud, and a generally unique setting for an NHL game, will provide the team with that elusive home-ice advantage. Sure, the novelty will wear off in future seasons, but in the short term, the rebuilding Coyotes should get a minor boost.
5. Penguins get over goalie yips
A brief recap of the Penguins' goaltending woes in recent postseasons: In 2021, promising young starter Tristan Jarry was unexpectedly terrible, posting an .888 save percentage in six games. In 2022, both Jarry and backup Casey DeSmith were injured, thrusting the club's third-stringer, spicy-pork-loving Louis Domingue, into action in the first round. It became Pittsburgh's fourth straight first-round exit despite Jarry returning for Game 7. If the hockey gods aren't cruel, Pittsburgh will get over its goalie yips in 2023. Jarry, to put it lightly, is due for a bounce-back in the playoffs. Last year he was excellent in the regular season, then encountered bad luck. No way that happens again.
6. Fiala builds on breakout season
For years, Kevin Fiala had been one of the most frustrating young players in the NHL. He would occasionally flash a tantalizing skill set but could never maintain any kind of season-long consistency. Until last season, that is, when he bagged 33 goals and 52 assists in 82 games for the Wild. Fiala, a crafty winger from Switzerland, was then traded to the Kings this offseason. Anze Kopitar and Adrian Kempe have been his preseason linemates - not bad, eh? I think the frustrating times are in the rearview mirror, and Fiala, who's under contract with Los Angeles until 2029, will produce at a similar rate in 2022-23.
7. Avalanche don't miss a beat post-Kadri
Nazem Kadri is a tremendous player who had a fabulous 2021-22 season. The Avalanche are better with him than without him. But the fact that coach Jared Bednar has Evan Rodrigues, J.T. Compher, and Alex Newhook as options to replace Kadri as the second-line center is an important bit of context. Any of those three can step in and be 75% of Kadri with increased ice time and better linemates. Colorado's core pieces, from Nathan MacKinnon to Cale Makar to Mikko Rantanen and so on, are so superior to most of the cores in the league that the team can lose Kadri and not miss a beat. As an aside, watch for lesser-known winger Logan O'Connor to become a reliable, point-producing middle-six NHLer this season.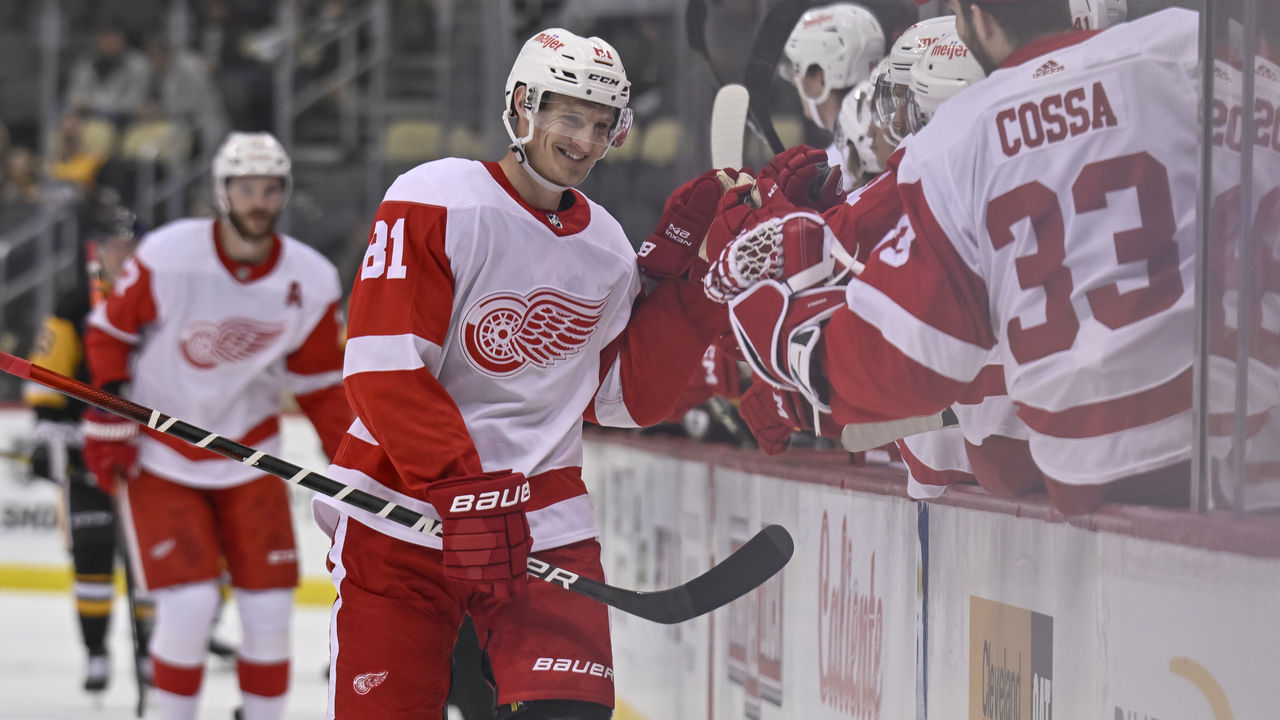 8. Wings greatly improve, narrowly miss playoffs
There was a clear divide between the top four and bottom four teams in the Atlantic last year. Buffalo, Detroit, Ottawa, and Montreal finished with 75, 74, 73, and 55 points, respectively, well below the playoff cutline. Coming out of a busy summer, it's clear the Canadiens aren't ready to climb the standings, while the Red Wings, Senators, and Sabres are all prepared to take a sizeable step forward. Of those latter three, Detroit seems to have the best chance of challenging for a playoff spot in the Eastern Conference. The additions of veterans Ville Husso, Andrew Copp, David Perron, Dominik Kubalik, Ben Chiarot, and Olli Maatta will turn this rebuilding club into something respectable. Look for a healthy Jakub Vrana to break out offensively, too.
9. Same 16 teams make playoffs
I know: This is the most boring take possible. Yet, when I look at last year's standings and ponder the state of each team heading into this season, I don't see any clear-cut changes to the playoff group. In the East, the Islanders, Blue Jackets, and/or Devils could conceivably move up. The same goes for rebuilding teams like the Red Wings, Sabres, and Senators. But who's losing their spot? The Bruins? The Capitals? I'm not ready to give up on either squad being in the East's top eight next spring. In the West, the Golden Knights and Canucks have playoff aspirations, but I really liked the Predators' summer; Pete DeBoer teams are always competitive so the Stars are probably safe; and every other 2021-22 playoff club is either rising or still super strong.
10. McDavid scores 50 goals for first time
While hoisting the Stanley Cup remains priority No. 1 for McDavid, bagging 50 goals can't be too far behind for a guy who's eclipsed 100 points five times and racked up multiple scoring titles and MVP honors. His goals-per-game rate has moved in the right direction every year of his career, and he finished 2021-22 with 44 tallies in 80 games. Scoring 50 is a fresh challenge, and it feels inevitable in the same way Sidney Crosby popping 50 did.
11. Hakstol is first head coach fired
The Kraken's inaugural season wasn't pretty: The 60-point team finished 28th in goals for and 24th in goals against. The bar is low. If Seattle doesn't make progress in Year 2, though, coach Dave Hakstol could be an easy fall guy. That's not to say GM Ron Francis will make a panic move if things don't go as planned in October. But he should probably do something to send a message to players and fans if the season spirals. Hakstol, whose best years have been behind a college bench, was an odd hire at the time, so perhaps Francis cuts his losses here. Otherwise, there aren't many other obvious candidates to be the first head coach fired. D.J. Smith in Ottawa? Lindy Ruff in New Jersey?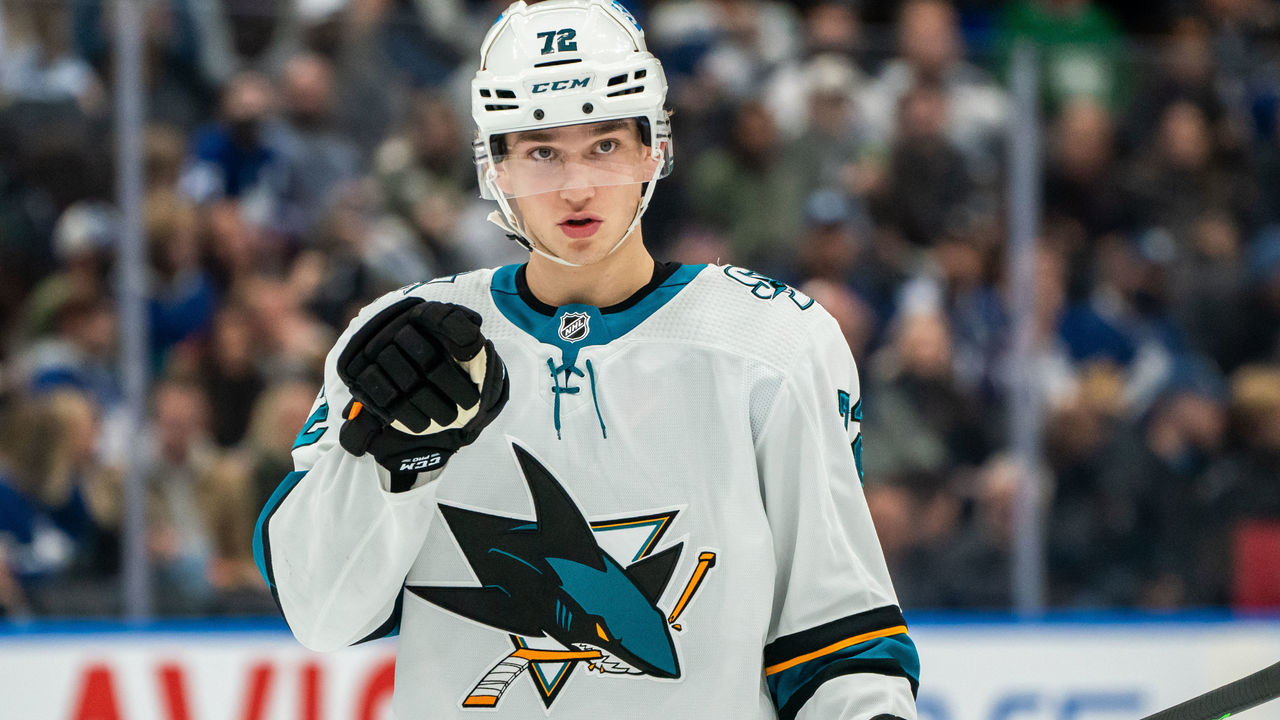 12. Eklund finishes top three in Calder voting
There's usually one unexpected contender for the Calder Trophy - a rookie who quickly sheds the "dark horse" label, gains steam at midseason, and finishes top three in voting. (Think Michael Bunting last year and Jason Robertson in 2020-21.) William Eklund will be that guy this season. The creative two-way Sharks forward didn't garner preseason buzz like Owen Power or Matty Beniers, but he'll have ample opportunity to produce if he can nab a permanent spot in San Jose's top six. Veteran Logan Couture could use a winger with offensive punch and energy. Eklund, who turns 20 next week, fits the bill.
13. Eichel records 100 points for first time
Jack Eichel's start in Vegas wasn't ideal; the Golden Knights were ravaged by injuries to close out last season. It's easy to forget that Eichel is an offensive powerhouse, and with his neck healed and something to prove, the 2015 No. 2 overall pick is primed for a gigantic season. While it would be a sizeable jump from his career high of 82, Eichel recording 100 points isn't an outrageous idea. This is his first full season on a highly competitive team, and he's armed with all the motivation in the world.
14. Dorion wins GM of the Year
You shouldn't overthink some predictions. While the Flames made the biggest splashes of the offseason, the Senators were the consensus winners of the summer. Pierre Dorion reeled in Alex DeBrincat, Claude Giroux, and Cam Talbot through the trade market and free agency, then locked up Tim Stutzle on an eight-year extension. I liked the Tyler Motte signing, and props to Dorion for retaining only 25% of Matt Murray's cap hit in a summer trade with Toronto. If Ottawa makes the playoffs, Dorion is probably the no-brainer pick for GM of the year. Even if they don't, he has enough depth players to flip at the deadline for assets to keep the good vibes going.
15. Miller becomes household name
The growth of Alexis Lafreniere and Kaapo Kakko as it relates to the Rangers' chances of winning the Cup is deservedly attracting a lot of attention. However, don't sleep on K'Andre Miller's potential impact. The 22-year-old defenseman's early career has been overshadowed by the presence of Adam Fox, Ryan Lindgren, and partner and team captain Jacob Trouba. Miller has two seasons of top-four minutes under his belt now, and he's set to make a statement in Year 3. As a 6-foot-5, 215-pounder who can skate like the wind and handle the puck with ease, Miller is a rare blue-liner. If he doesn't ascend into household-name territory, I'll be shocked.
16. Michkov will not be a top-five pick in 2023
Based solely on what he brings to the ice, Matvei Michkov is, at worst, a top-three player in the 2023 draft. He will be a highlight-reel goal-scorer in the NHL one day - somebody who brings fans of all stripes out of their seats. However, three factors are working against Michkov ahead of the draft. One, the 17-year-old forward is signed with a KHL team through 2026. Two, Russia's war on Ukraine may deter teams from drafting Russians in the appropriate slot. Three, another half-dozen elite prospects will be available after presumptive No. 1 pick Connor Bedard goes off the board.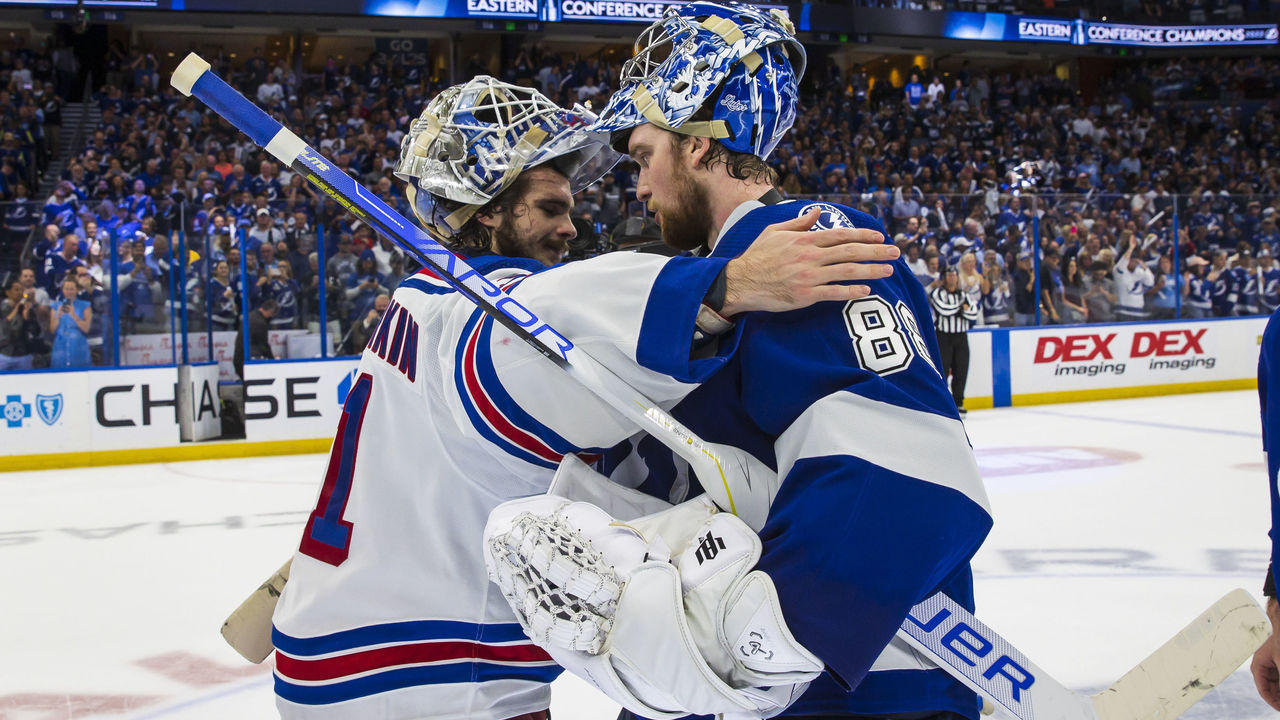 17. Shesterkin overtakes Vasilevskiy as top goalie
Poll 10 keen hockey observers on the best goalie in the world right now and you'd probably get six votes for Andrei Vasilevskiy and four for Igor Shesterkin. It's tight. But by the end of the season, I believe the results will flip to 6-4 or 7-3 for Shesterkin. The Rangers netminder, who received 29 of 32 first-place votes for the Vezina Trophy last year, is a rock star at only 26 years old. There's no doubt he'll continue his ascent this season. That's not to suggest that Vasilevskiy, 28, is due to drop off - he'll continue to be spectacular. It's just that Shesterkin is rising.
18. Boldy leads sophomores in points
Yes, Matt Boldy - who finished 10th in rookie scoring last year - will break through and collect more points than his peers. The 21-year-old Wild forward quietly paced 2021-22 rookies in points per game (0.83 in 47 contests) while skating for only 15:23 a night (Lucas Raymond, Trevor Zegras, Dawson Mercer, and Cole Caufield saw between 16:30 and 18:09). Boldy's an incredibly smart player. He's poised with the puck, too, and he won't get pushed around at 6-foot-2 and 201 pounds. And, if the preseason is any indication, the Massachusetts native should get plenty of touches on the power play.
19. Leafs start playoffs with Samsonov in net
Anybody claiming to be confident about a prediction involving the Maple Leafs, particularly the club's goaltending, is playing with fire. Toronto enters the season with two projects - Matt Murray and Ilya Samsonov - and neither is a sure thing. I'll go with Samsonov, the 2015 first-round pick who fell out of favor with the Capitals. The highly motivated young Russian will outperform Murray in the early stages of the regular season and solidify himself as the No. 1 by midseason. Samsonov won't take complete control of the crease or appear in an exorbitant number of games. But he will start Game 1 of the playoffs.
20. Cale Makar wins second consecutive Norris
We're spoiled with high-end defensemen. In predicting this year's Norris Trophy winner, one could easily tap a past recipient such as Victor Hedman, Roman Josi, or Adam Fox, or someone who'll be in the conversation for years, such as Moritz Seider, Charlie McAvoy, or Aaron Ekblad. But Cale Makar's 2021-22 season for the Avalanche - Norris, Conn Smythe, Stanley Cup - was so phenomenal that if anybody's going to repeat, it's him. The dude's an award voter's dream: He's incredibly entertaining to watch, puts up a ton of points, and defends very well. Makar would be the first D-man to go back-to-back since Nicklas Lidstrom won three straight trophies coming out of the 2004-05 lockout.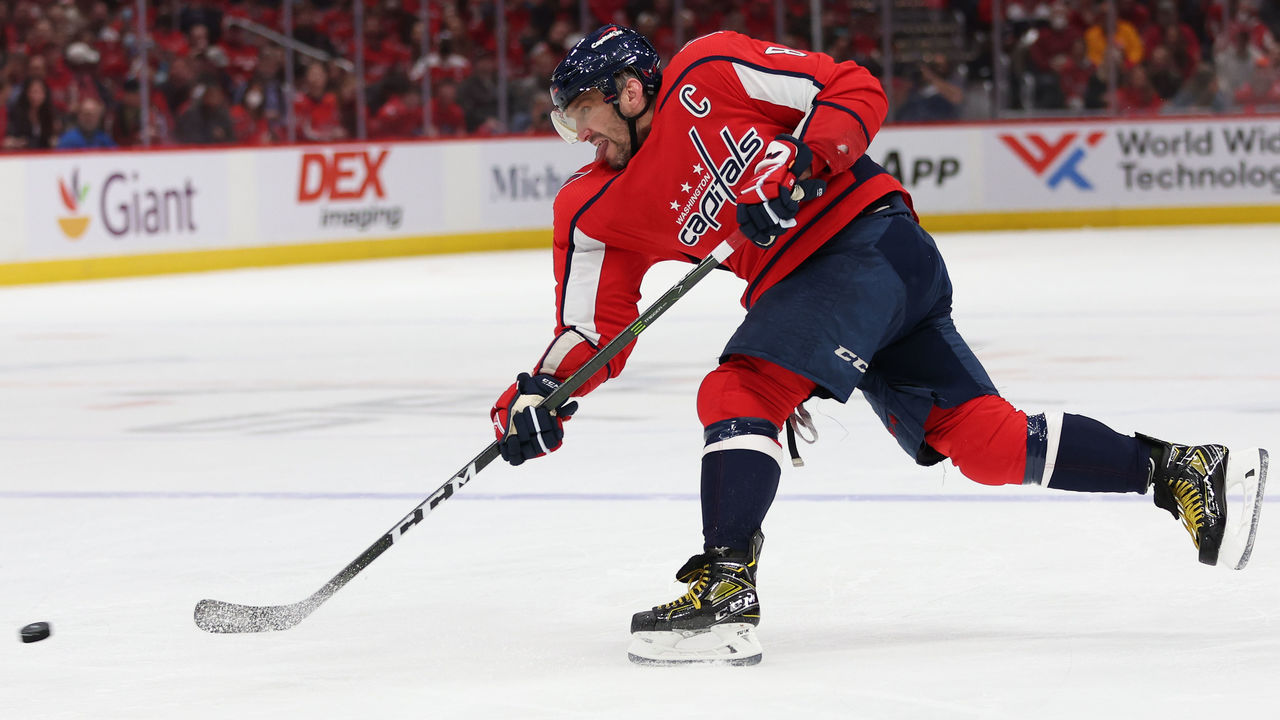 21. Ovechkin scores 40, keeps record within reach
Alex Ovechkin's career consists of 12 seasons of 46 or more goals and five of 38 or fewer. In two of those less productive seasons, he was limited to 48 and 45 games due to a lockout and the pandemic. So predicting that Ovechkin will "just" score 40 goals is betting against history. My logic for doing so is simple: Ovechkin will slow down at some point, and while I'd love to see him snipe 50 every season for the next 10 years, I think 2022-23 may be the start of his decline. He's given himself such a head start in the race to break Wayne Gretzky's all-time goals record that 40 would bring him to 820, or 75 from setting a new record. Ovechkin could pot 75 in his sleep over the remaining three seasons of his deal. He'll be OK if he "only" gets 40 this year.
22. League save percentage dips to .905
The league save percentage has been on a downward slope for the past eight seasons, sliding from .915 in 2014-15 to .907 in 2021-22. And I'm guessing this year it'll hit .905 for the first time since 2006-07. There will be a course correction at some point over the next handful of years once the goaltending fraternity figures out how to shift the power dynamic. (They always find a way.) But that trend reversal isn't coming just yet. Brimming with skill from top to bottom on every roster, the NHL will be infused with extra offensive punch in 2022-23, driving the SV% down further.
23. Fleury reaches 1,000 career games
Martin Brodeur, Roberto Luongo, and Patrick Roy are the only netminders to have appeared in 1,000 NHL games. Marc-Andre Fleury enters his 19th season 61 games away. The NHL favors sharing the load at the position now, and just five goalies appeared in 60 or more games last year. So this prediction is a bit of a stretch. However, the universally beloved 37-year-old, who prefers lots of crease time, should start 55-60 games for the Wild. Fleury will presumably relieve unproven backup Filip Gustavsson a few times along the way, too, bringing him within striking distance of 1,000. I say he gets there.
John Matisz is theScore's senior NHL writer. Follow John on Twitter (@MatiszJohn) or contact him via email (john.matisz@thescore.com).