The NHL appears to be making progress in determining the parameters of its eventual return, as Sportsnet's Elliotte Friedman reported Wednesday that the league and the players' union are working toward a 24-team playoff format based on points percentage within conference standings.
Details are limited, and the proposal still needs team and player approval before the league can move forward. We do know that under this structure, the top four seeds in each conference would get byes, while teams seeded fifth through 12th would be placed in conference brackets and clash in best-of-five, play-in series.
The winners of theses play-in series would each advance to face a corresponding top-four seed in a best-of-seven clash. For example, the winner of the clash between No. 5 and No. 12 would play the No. 4 seed, while the winner of No. 8 versus No. 9 would play the team atop the conference standings.
It's different, but it's playoff hockey. After months of uncertainty, we'll surely take what we can get. With a faint light beginning to appear at the end of the tunnel, let's explore which of the potential play-in series would be the most intriguing.
Penguins (5) vs. Canadiens (12)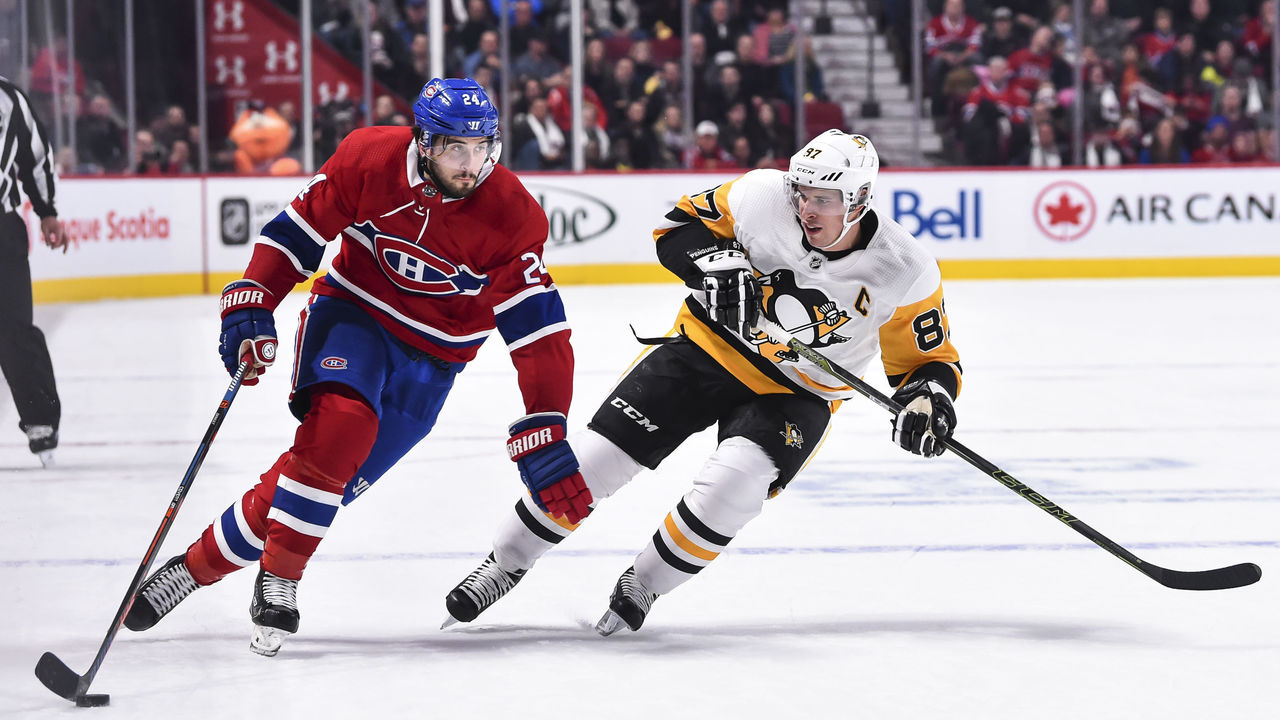 | PIT | Stat | MTL |
| --- | --- | --- |
| 40-23-6 (.623) | Record (PTS%) | 31-31-9 (.500) |
| plus-28 (7th) | Goal diff. | minus-9 (24th) |
| 19.9% (16th) | PP% | 17.7% (22nd) |
| 82.1% (10th) | PK% | 78.7% (19th) |
| 51.97% (7th) | xGF% (5-on-5) | 54.01% (2nd) |
This is a major mismatch based on season stats, as the Canadiens have the fewest points of any team that would qualify under the expanded format. They do, however, possess the ultimate X-factor: goaltender Carey Price. He's far removed his 2015 MVP form, but the 32-year-old is still capable of winning games by himself. He also owns a combined .922 save percentage over his last three playoff appearances. Could he get hot enough to win three of five games? We're certainly not ruling it out.
The Penguins, meanwhile, are always one of the last teams anyone wants to meet in the playoffs. They're dangerous at even strength, and their lack of power-play success so far this season is not indicative of the top unit's talent. Sidney Crosby and Evgeni Malkin are as potent as ever, and Pittsburgh, after being ravaged by injuries all season, should finally be able to ice a healthy roster following a lengthy layoff. That's a scary thought for the rest of East's playoff teams.
Flames (8) vs. Jets (9)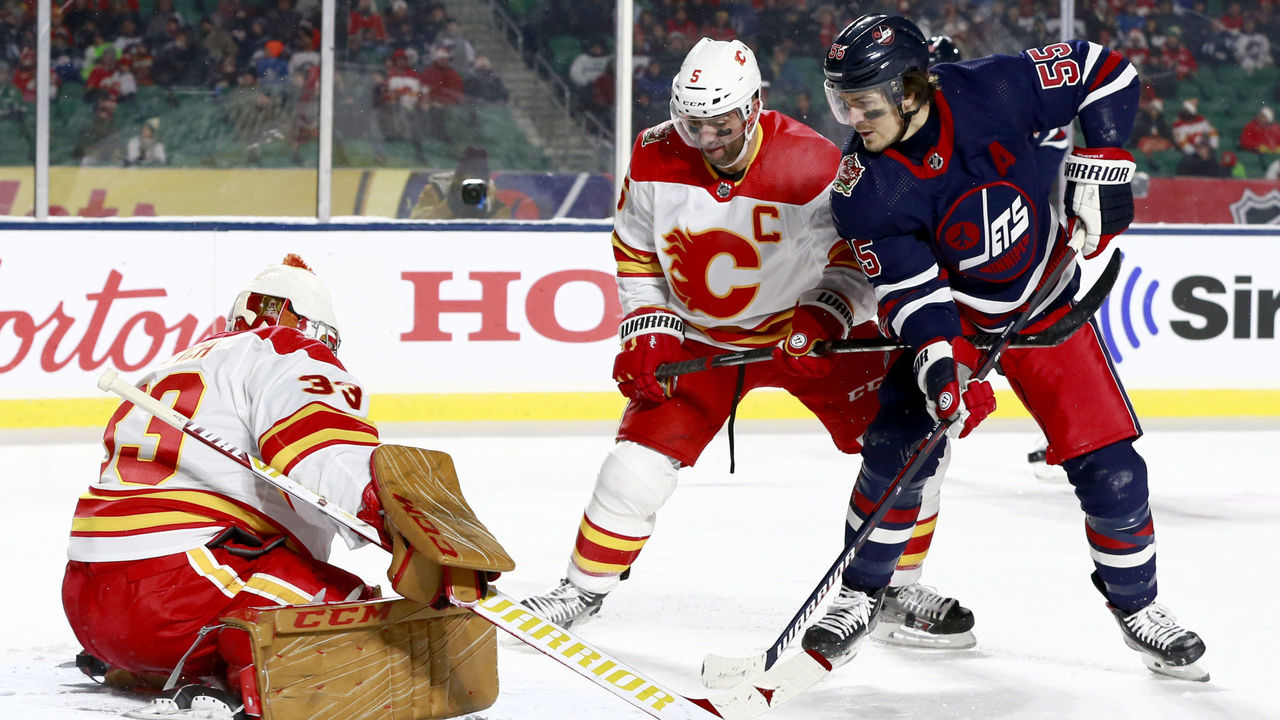 | CGY | Stat (rank) | WPG |
| --- | --- | --- |
| 36-27-7 (.564) | Record (PTS%) | 37-28-6 (.563) |
| minus-5 (21st) | Goal differential | plus-13 (10th) |
| 21.2% (12th) | PP% | 20.5% (15th) |
| 82.1% (8th) | PK% | 77.6% (22nd) |
| 50.35% (16th) | xGF% (5-on-5) | 43.57% (31st) |
It's a shame this potential series would have to proceed without fans, as Calgary and Winnipeg boast some of the most electric playoff atmospheres in the sport. Still, spectators or not, this series, on paper, projects to be one of the most tightly contested of the play-in tournament.
The Flames and Jets have both ridden highs and lows all season, with each team battling bouts of inconsistency and weaknesses in certain areas of the roster. That said, Calgary and Winnipeg both have multiple game-breakers capable of dominating a shortened series. How will Matthew Tkachuk set the physical tone after going months without agitating anybody? Can Blake Wheeler and Mark Scheifele outduel Johnny Gaudreau and Sean Monahan? Will Connor Hellebuyck's Vezina-calibre regular-season form carry over after such a lengthy hiatus?
Let's hope we find out.
Maple Leafs (8) vs. Blue Jackets (9)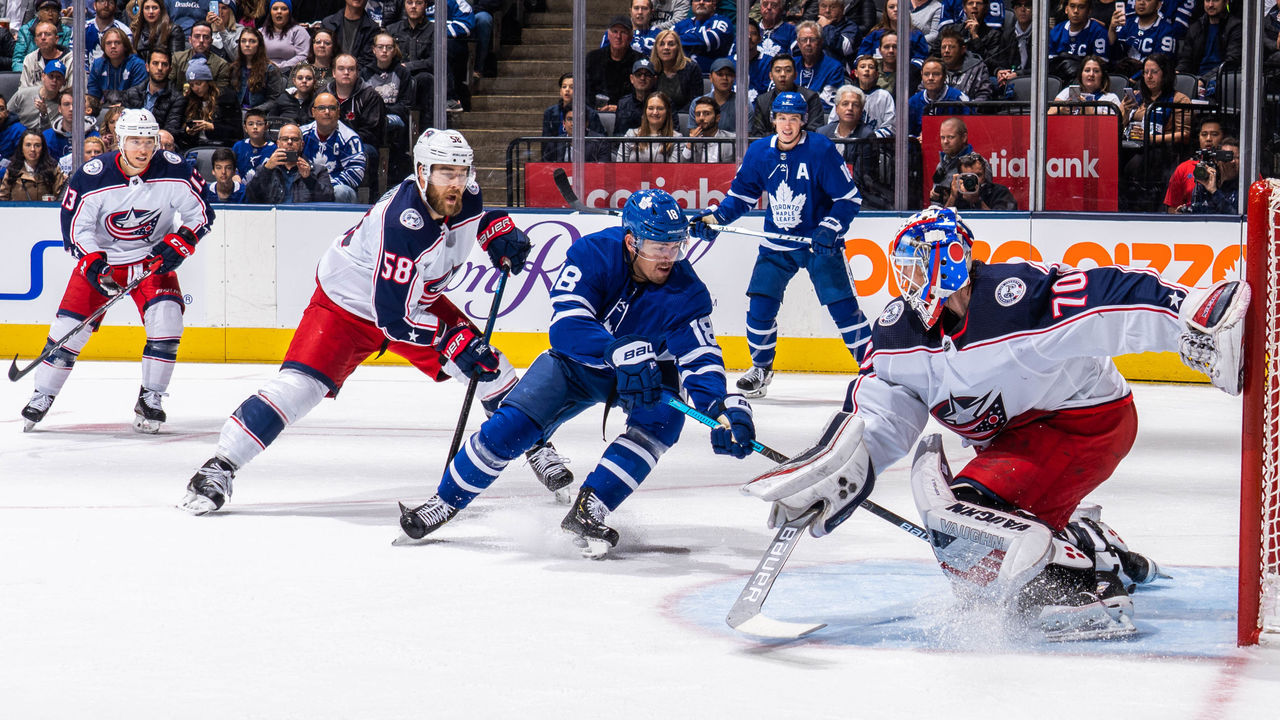 | TOR | Stat (rank) | CBJ |
| --- | --- | --- |
| 36-25-9 (.579) | Record (PTS%) | 33-22-15 (.579) |
| plus-11 (12th) | Goal differential | minus-7 (23rd) |
| 23.1% (6th) | PP% | 16.4% (27th) |
| 77.7% (21st) | PK% | 81.7% (12th) |
| 51.54% (12th) | xGF% (5-on-5) | 51.92% (9th) |
The Maple Leafs and Blue Jackets could not be further apart in terms of roster construction. One team is built around a deep group of star forwards primed to outscore anybody, while the other is a relentlessly hard-working group always ready to systematically frustrate opponents. Yet here they are, essentially deadlocked in the Eastern Conference standings and on the verge of a potential playoff meeting. Which team's style is better suited to a shortened series with virtually no margin for error?
After Game 7 losses in back-to-back seasons at the hands of the Boston Bruins - who would, of course, face the winner of this series - Toronto's 2019-20 campaign has been all about playoff progress since Day 1. The players made no mistake promoting that narrative, either, often looking disengaged for long stretches of underwhelming regular-season play. Perhaps the arrival of the postseason could be the jolt the Maple Leafs need to finally resemble the contenders many expected them to be.
The Blue Jackets, on the other hand, surprisingly hung around the playoff picture despite losing major star power last offseason. Columbus improbably rode some white-hot goaltending to stay in the mix, but the team should get Seth Jones, Cam Atkinson, and potentially Josh Anderson back from injury in time for the playoffs. In addition to those reinforcements, we all know head coach John Tortorella will have his crew ready to play. Just ask the 2019 Tampa Bay Lightning.
Oilers (5) vs. Blackhawks (12)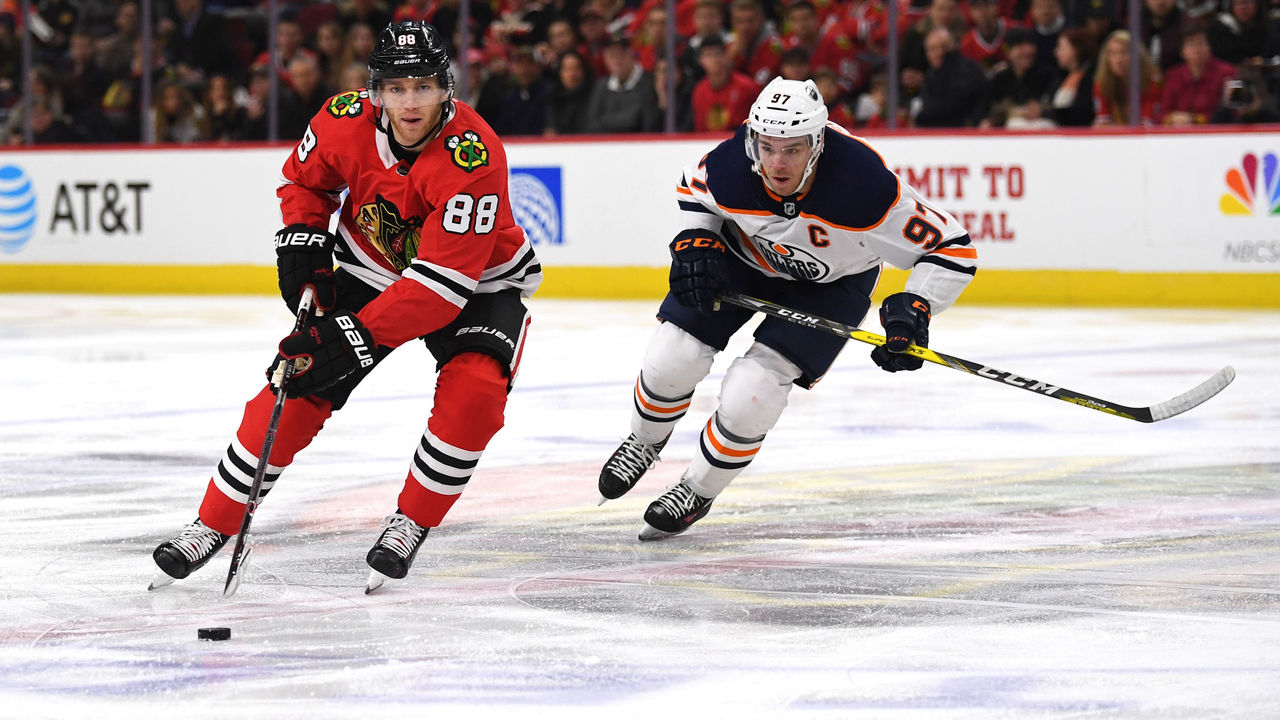 | EDM | Stat (rank) | CHI |
| --- | --- | --- |
| 37-25-9 (.585) | Record (PTS%) | 32-30-8 (.514) |
| plus-8 (14th) | Goal differential | minus-6 (22nd) |
| 29.5% (1st) | PP% | 15.2% (28th) |
| 84.4% (2nd) | PK% | 82.1% (9th) |
| 48.51% (22nd) | xGF% (5-on-5) | 46.93% (27th) |
First things first: The Blackhawks should be extremely grateful if the playoffs are indeed expanded. Chicago had lost six more games than it won before the league halted play, and the squad wasn't particularly impressive in any team metrics. There are major revenue implications in including the Windy City's hockey-mad market in any playoff format, so we'll let it slide and just enjoy the show. Plus, the slight possibility of Patrick Kane and Jonathan Toews catching lightning in a bottle for one last deep playoff run is incredibly intriguing.
But the real reason to get excited about this matchup is Connor McDavid playing in meaningful games. The world's most dynamic player has only 13 playoff contests under his belt since the Oilers drafted him in 2015, and it's fair to assume the hockey world is ready to watch him perform on the biggest stage, even if it's not under the traditional format. Watching him and Leon Draisaitl - the NHL's leading scorer at the time of the pause - go on a run in the wide-open Western Conference would be a treat.