VANCOUVER - Matt Boldy isn't the type of person to lose perspective. He isn't wrapped up in what others say about him. Rarely does he sacrifice time and energy on what's out of his control.
That disposition went out the window at around 6 p.m. Pacific time this past Friday. With the 2019 NHL Draft well underway, the moment had finally overwhelmed the 18-year-old sitting in Row 8, Seat 103 in Section 117. His left foot started tapping the Rogers Arena floor.
The Anaheim Ducks were on the clock with the ninth overall selection. General manager Bob Murray had Matt visit the team's hotel Thursday for an 11th-hour fitness test. Could the power forward from the U.S. National Team Development Program be off to California?
Tap, tap, tap. Tap. Tap, tap. Tap.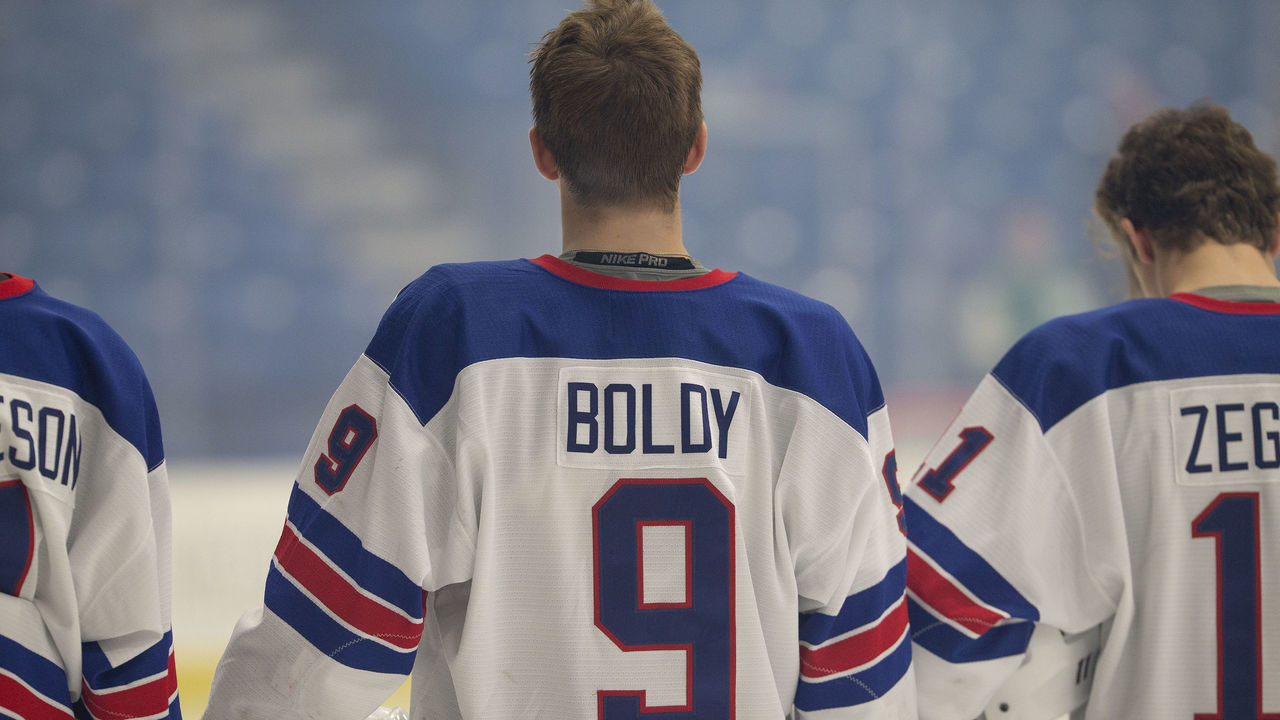 Murray stepped up to the mic and announced Anaheim had selected someone from the NTDP … Trevor Zegras, one of Matt's close friends. Murray's delivery, however, was a tease. So many prognosticators had Matt pegged as a top-10 selection. Was he going to fall?
At No. 10, the Vancouver Canucks snagged forward Vasily Podkolzin. The Arizona Coyotes were next after trading up to get the 11th pick. Around this time, Brian Bartlett, Matt's adviser, visited Row 8 to take the temperature of the Boldys' entourage, and pass along some intel: If the camera operators camp out nearby, that's a positive sign.
Arizona picked blue-liner Victor Soderstrom, leaving the door open for Minnesota Wild GM Paul Fenton, a Massachusetts native, to draft the highest-ranked kid from the state. The cameras remained close.
Tap, tap, tap. Tap. Tap, tap. Tap.
"With our selection," Fenton began, "from the U.S. team, national development program, we select Matt Boldy."
Dressed in a brand-new grey suit, a blue tie, and brown shoes, Matt rose with a veiled smile. He turned to his left to hug his mom Jenn and stepdad Bryan Gruttadauria, then shifted to his right for embraces with his brother Mike, stepmom Emily, dad Todd, and Bartlett.
Jenn's necklace caught on one of Matt's suit buttons, but only for a millisecond. Viral mom-son moment averted. Matt was now free to trot down the steps of Section 117 and onto the draft floor as the walk-up song he chose, "All I Got" by rapper Hendersin, played on the PA system. He took extra caution on the stairs, afraid he'd make a fool of himself.
Commissioner Gary Bettman extended his right hand at the top of the main stage, locking eyes with Matt to deliver that life-changing greeting: "Welcome to the NHL."
At the Sandman Hotel around 10 p.m., the tension of draft night had dissipated. Matt's anxiety disappeared once he heard Fenton utter his name. Adrenaline, on the other hand, was still running high.
"I'm still in shock. It hasn't completely sunk in yet," Matt said, his phone vibrating and his face imprinted with a grin. "I remember being on stage, seeing everything and really feeling it then. Looking out at all of those people, the tables. It's crazy. I've waited so long for this, and it's finally happened."
From a couple of lounge chairs in the lobby, Matt and his brother fired off replies to the messages they'd received throughout the night. When Matt turned his phone back on, he had roughly 150 new texts.
Matt was one of eight players from the NTDP's under-18 squad picked in the first round, a feat that doubled the NHL record for most players taken from one team on the opening night of draft weekend. Jack Hughes was selected first overall, Alex Turcotte fifth, Zegras ninth, Matt 12th, Spencer Knight 13th, Cam York 14th, Cole Caufield 15th, and John Beecher 30th. On Saturday, another nine went in Rounds 2-7. Minnesota also selected teammate Marshall Warren, and Patrick Moynihan, Matt's childhood friend and "one of my favorite kids in the world," would join Hughes in New Jersey.
"We're all brothers," Matt said of the dominating 2001-born group. "I think that's where a lot of our success came from. We battled in practice and bonded well off the ice."
Later, Matt bumped into John Wroblewski, head coach of the NTDP's under-18 squad, in the media area of the rink. Wroblewski got choked up as he told Matt how proud he was, and what a tremendous fit the Wild will be.
But when Matt showed up for the first day of NTDP duty in spring 2017, Wroblewski says he was a "deer in the headlights," looking like "a kid who might have had some buyer's remorse."
"I am amazed that he became a 12th overall pick after watching him at tryout camp," Wroblewski said, shaking his head in pleasant disbelief. "I will say this: I saw brilliance in his game. I thought the NTDP would be perfect for him. Come to this environment. Be challenged. Grow. Get into your old man's frame, and then grow as a young individual. Become a leader. And he nailed it."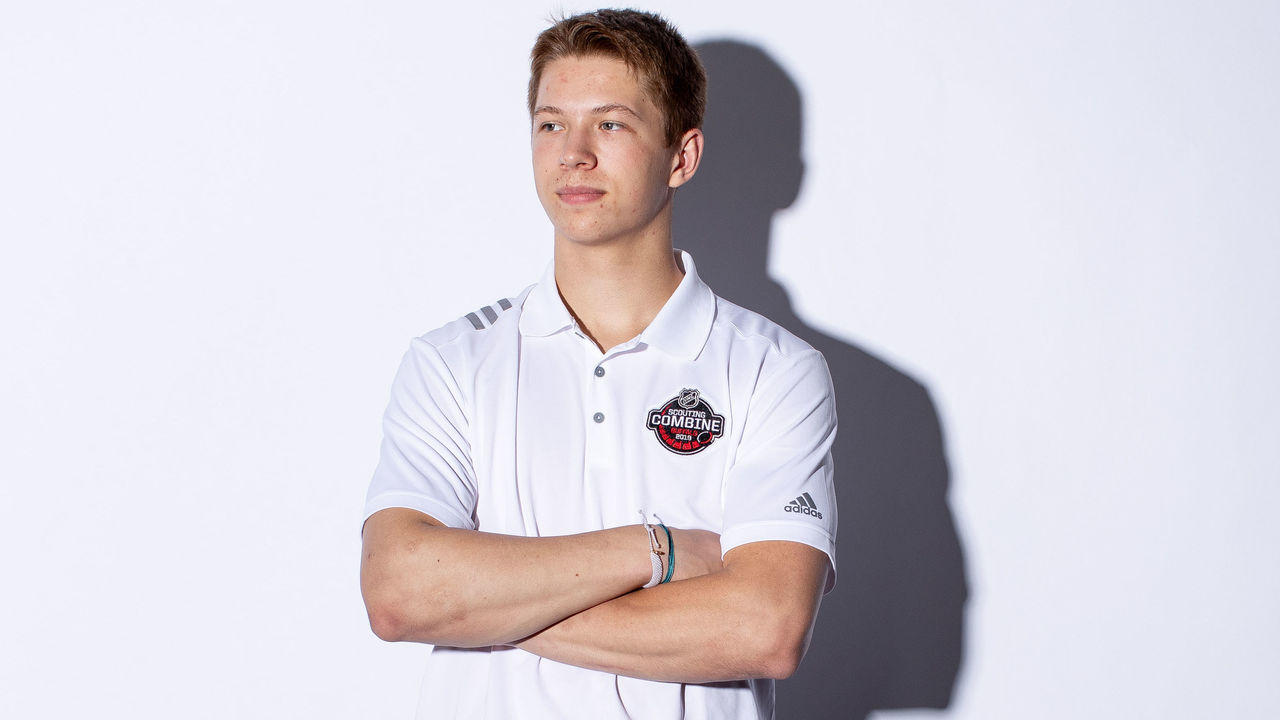 Wroblewski likes to compare Matt to Marian Hossa, the potential Hall of Famer. He's not necessarily projecting a similar career arc, but Matt's playing style - he's a rangy power forward with good puck skills, tremendous hand-eye coordination, and a 200-foot game - matches up well. Especially now that Matt has filled out to 6-foot-2 and 196 pounds, growing four inches and adding 46 pounds over a two-year period.
"The puck continuously progresses up the ice in a predictable fashion with him," Wroblewski said. "It's predictable when he's on the ice, which is such a unique thing. He has the skill, you see him perform highlight-reel acts on the ice, but ... there's a subtle touch to his attack as well. It's built on momentum and driving possession."
Matt, who can play center or the wing, bagged a cool 33 goals and 48 assists in 64 games for the NTDP this season. The results would have been more impressive had he found a spot on the first power-play unit. Like his personality, there's very little stress in Matt's game. Instincts trump rigidity.
"It's a unique style. It doesn't have a lot of pizzazz, but he comes at you, through you, around you, inside out," Fenton said following the first round, labeling Matt's release "phenomenal" and his game "complete."
"Matty sees the game like it's a game," said his skating and skills coach, Stride Envy's Adam Nicholas. "He sees the game as a fun opportunity for him to showcase his talents. He plays free. ... That to me is so special."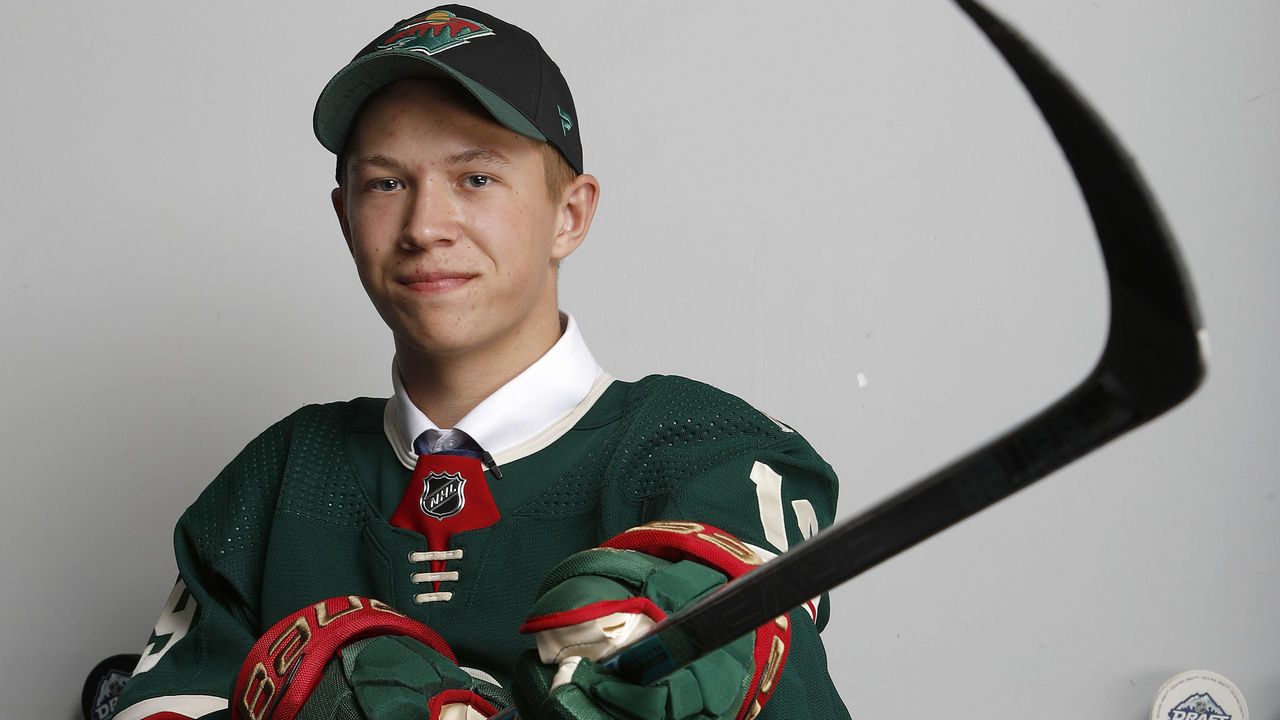 Matt won MVP of the All-American Prospects Game last September at the Xcel Energy Center. He also knows Wild forwards Jordan Greenway, a former NTDP player, and Boston native Ryan Donato. Beyond that, the Boldys have no ties to the state of Minnesota or the Twin Cities.
But now that he's officially part of an NHL family, Todd, who grew up on the Terry O'Reilly Boston Bruins, has understandably jumped on the Wild bandwagon. He says he's always loved the logo, which is now emblazoned on his new green hat.
Saturday afternoon, Jenn was still floating, amazed both by her little boy's accomplishment and the rush of congratulatory messages in her phone. "I didn't know I had that many friends," she said.
With the benefit of hindsight, Todd found a comparison for the family's draft experience.
"I relate it to a wedding," Todd said. "You build up, you build up, you build up. And then it's like, 'Oh my God, it's over.' And you can breathe again."
Like a proud dad on his son's wedding day, Todd's mind flashed through the years. "Watching him grow up, everything he's been through, it's finally come to fruition," he said. "You reflect back on all the people who helped him along the way … Influences, coaches, families, it's really just overwhelming."
As the younger of two Boldy boys, Matt was at the mercy of Mike and his friends in Millville, a small southern Massachusetts town 30 minutes northwest of Providence, R.I.
If he wanted to join the neighborhood street-hockey brigade, fine, but he'd have to strap on goalie pads. Matt did what younger brothers do: He nodded, squared up, and tried to impress the older kids by facing slap shot after slap shot. Soon enough, Matt wasn't just tolerating the position; he was hooked on it.
Though he had shown early signs of being a strong forward, Matt wanted to give netminding a chance, and he lined up between the pipes for three or four games on the ice.
When Matt was 6 or 7 years old, Todd asked what his sporting aspirations were.
"Play in the NHL," Matt replied.
"How many goalies are on a team?" Todd asked.
"Probably three."
"How many forwards?"
"Twelve-ish."
"Exactly."
Goalie experiment over.
It was far from the last time Matt leaned on one or both of his parents for support and advice. Todd and Jenn separated when Matt was about a year old, but the family remains close.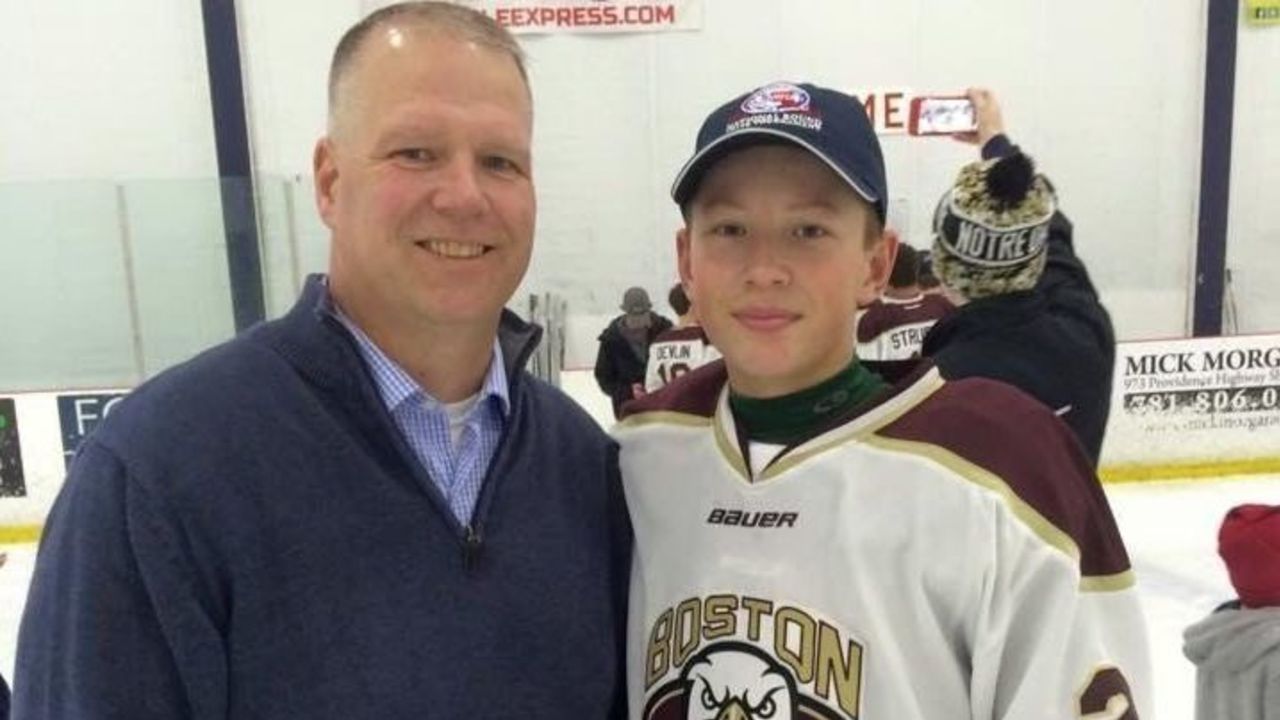 For Matt, it was a no-brainer to include not only his brother, parents, girlfriend, and grandma in his draft weekend entourage, but his stepparents. All of them contributed to his growth from street-hockey goalie to Wild first-rounder - and by all accounts a level-headed, kind, goofy person off the ice.
Jenn, who's worked as a bartender at a local restaurant for more than 20 years, has always been Matt's No. 1 fan. She's also been the chauffeur to and from arenas, baseball diamonds, lacrosse fields, and golf courses for both boys. (Mike is an athlete, too. He'll be a senior on Keene State College's club hockey team this fall and is a scratch golfer in his free time.)
Todd has been a police officer since 1994. He started off as a patrolman and became a detective with the City of Attleboro in 2012. For the past three years, he's been assigned to the U.S. Drug Enforcement Administration, where he helps take down high-level dealers.
"We got two kilos of cocaine and four kilos of heroin the other night," Todd said of a recent DEA bust. "To me, it's making a difference in society. You're not going to stop it. If you can make a dent and if you can help someone who's an addict get down the right path, to me that's a good career."
Todd's influence on the Boldy brothers is evident. With the help of Jenn and the stepparents, they've been wired to attack life a certain way: Show respect, have a purpose, work your butt off. "He has a reason for everything he does, which is probably because he is a cop," Mike said. "As a kid, you don't see that. But as you get older, you're like, 'Oh, OK.'"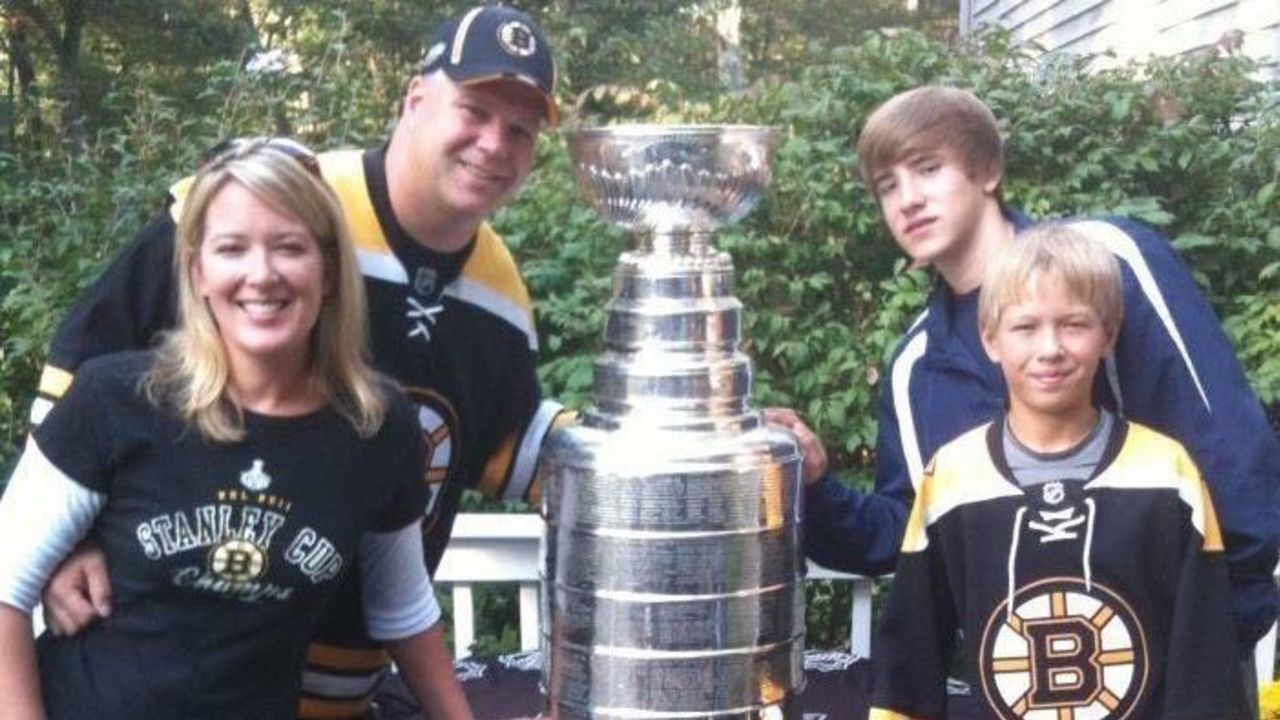 Before pursuing law enforcement, Todd played linebacker for the University of Maine and American International College. He was once a hot-shot 18-year-old in the public eye, too.
"In my senior year in high school, the biggest thing I learned is that people are going to come up to you and talk to you when you're an athlete," Todd said. "What are they going to take away? Are they going to say that kid's a cocky asshole, or are they going to say that he's a respectable young man? That's really what I tried to instill in the boys.
"Let them walk away saying Matt Boldy's a better person than he is a hockey player."
At the tail end of their time inside Rogers Arena, the Boldy entourage flooded into Minnesota's team suite on the second floor. There, most of the organization's movers and shakers officially met the Wild's next great hope.
Someone had already booked Matt's flight to Minneapolis-Saint Paul, which put Jenn at ease. Todd hit it off with Fenton, whose father was a police chief in Massachusetts. The Boldys felt at home. Everybody filled up on sushi, chips and dips, and chicken fingers.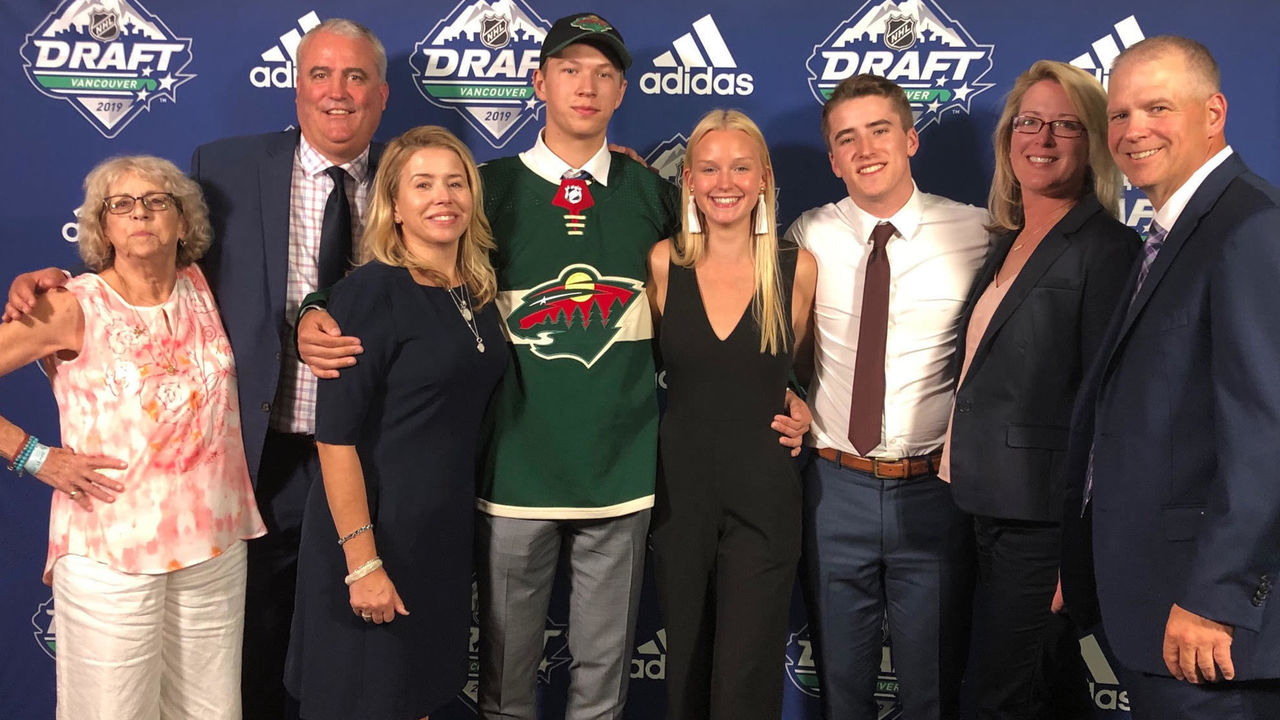 The only thing missing from the night was the presence of Jenn's late father Edward. The Vietnam War veteran died in 2009 at the age of 62. He had chronic lymphocytic leukemia and bullous lung disease.
Matt and Mike have vivid memories of playing catch with Edward, who lived in an in-law suite in the boys' childhood home. "Even though he's not here physically," Matt said, "he's definitely looking over us."
Among the trophies and memorabilia Matt's collected over the years are two special pieces. The first is a photo of Matt as a young player with messages from Edward and others. One part reads: "Greatness Awaits, Love Pa." The second is a letter he wrote in the eighth grade addressed to his older self. It lists prep-school hockey, Boston College, and the NHL as his core goals.
"The first thing they tell you about hockey," Jenn said, "is that if you join hockey don't expect your kid to make the NHL."
Matt partied with his NTDP teammates Saturday, then caught an afternoon flight to Minnesota on Sunday. Development camp, his first appearance in front of Wild fans, opens Tuesday. The future is demanding his attention.
"Being with my family, enjoying the moment with them," Matt said, "that's what will stick with me five years from now."
John Matisz is theScore's national hockey writer.