When Colin Felix was a toddler in the early 2000s, nothing got his legs moving quite like Skittles.
His hockey-loving parents would use the candy as motivation inside the glass at Hollydell Ice Arena in Sewell, N.J., the former practice facility of the AHL's Philadelphia Phantoms. Little Colin eventually figured out that taking shortcuts to mom and dad led to a quicker payday.
"Colin realized if he let go of the boards and cut across the middle he'd get the Skittles faster," Kim Felix recalled in a recent interview, laughing at her son's lightbulb moment. "That was pretty much how he ended up learning how to skate."
Seventeen years later, Colin finds himself only 11 miles away from Hollydell at the Philadelphia Flyers' development camp in Voorhees, N.J., a five-day showcase for 41 prospects that began Tuesday morning. It's an opportunity for Colin, an undrafted blue-liner about to enter his sophomore season at the University of Massachusetts, to showcase himself to the Flyers' higher-ups - some of whom he's known his entire life.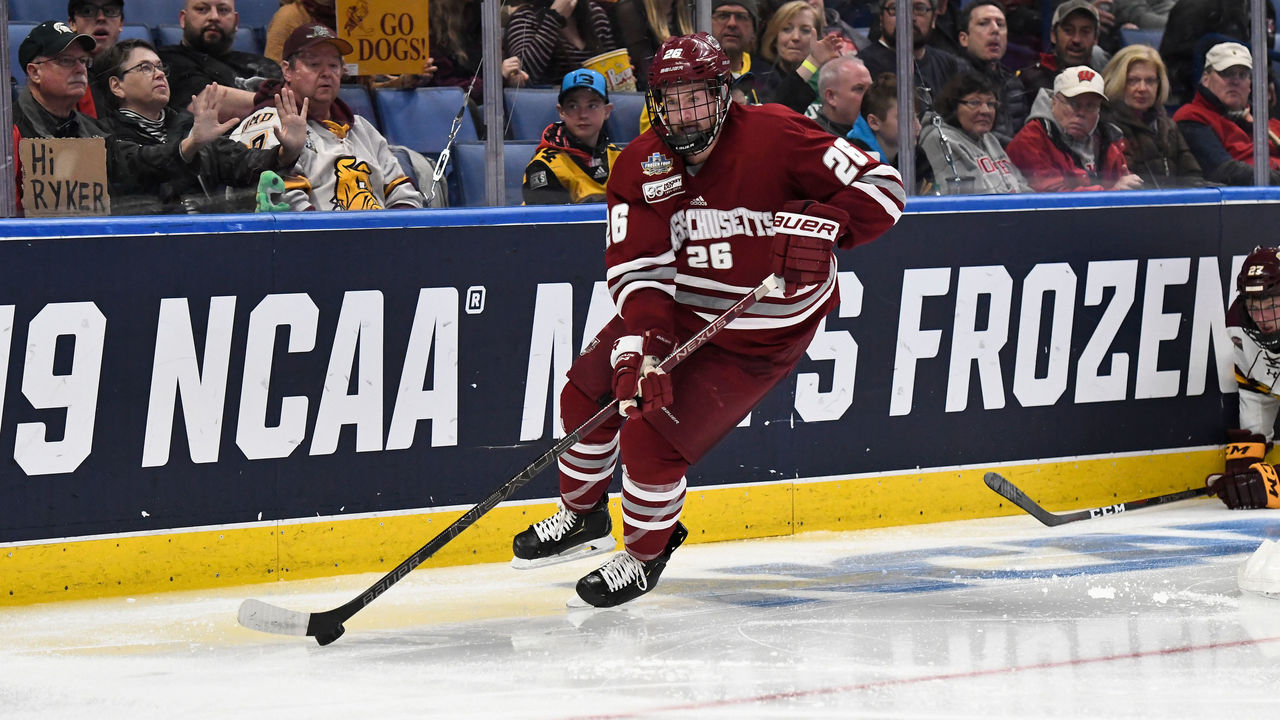 Colin, 20, and his brother Colby, 17, were part of the organization's inner circle as kids. Their father, Chris Felix, was the Phantoms' head athletic trainer for almost a decade. Chris died in March 2017 from the effects of squamous cell carcinoma, a type of skin cancer. He was 47 years old.
Kim, beaming with pride, says her husband would get a kick out of Colin's presence at Flyers camp. Hanging around the organization was an integral part of his upbringing.
"It's full circle, you know?" Colin said. "You almost can't even explain it. It feels like it happened for a reason, as crazy as that sounds."
Little Colin would high-five players, bump fists with coaches, and get a cookie from longtime executive Paul Holmgren. In the trainer's room, he would sit on a vacant medical table and try to participate in adult conversation. Former Phantoms captain John Slaney - who briefly lived with the Felix family, inspiring Colin to play defense and wear No. 26 - remembers Colin asking if he was OK minutes after Slaney got his teeth knocked out. Back home, Colin walked around wearing a helmet with a visor, chinstrap undone, just like the pros in warmup.
Colin was invested in the sport at a young age partly because his dad - a gregarious, kind, and hard-working family man nicknamed "Cat" - was all-in on hockey, the Flyers, and basically everybody he crossed paths with.
Originally a trainer for the New York Rangers' AHL affiliate, Chris took a job in Philadelphia in 1996. He worked primarily for the AHL team during the regular season and then the NHL squad in the postseason, until 2004. The Phantoms won the 1998 Calder Cup with Chris on staff and, after Scott Stevens laid a thunderous hit on Eric Lindros in the 2000 Eastern Conference Final, he was one of the staffers who helped Lindros down the hallway to the dressing room.
Chris was admired not only for his thoroughness as a trainer, but for his commitment to the players' well-being. He would sing karaoke on the road with them one night and act as their confidant the next. "My dad would get phone calls from guys at like 2 a.m. who just wanted to talk because they were going through a breakup," Colin said. "You can tell he made an impact on so many lives. It wasn't about just hockey for him."
"If you met Cat, you didn't forget him," said Flyers equipment manager Derek Settlemyre, who worked with Felix for years. "There's not a chance you'd ever forget him. Full of life, full of personality, so funny."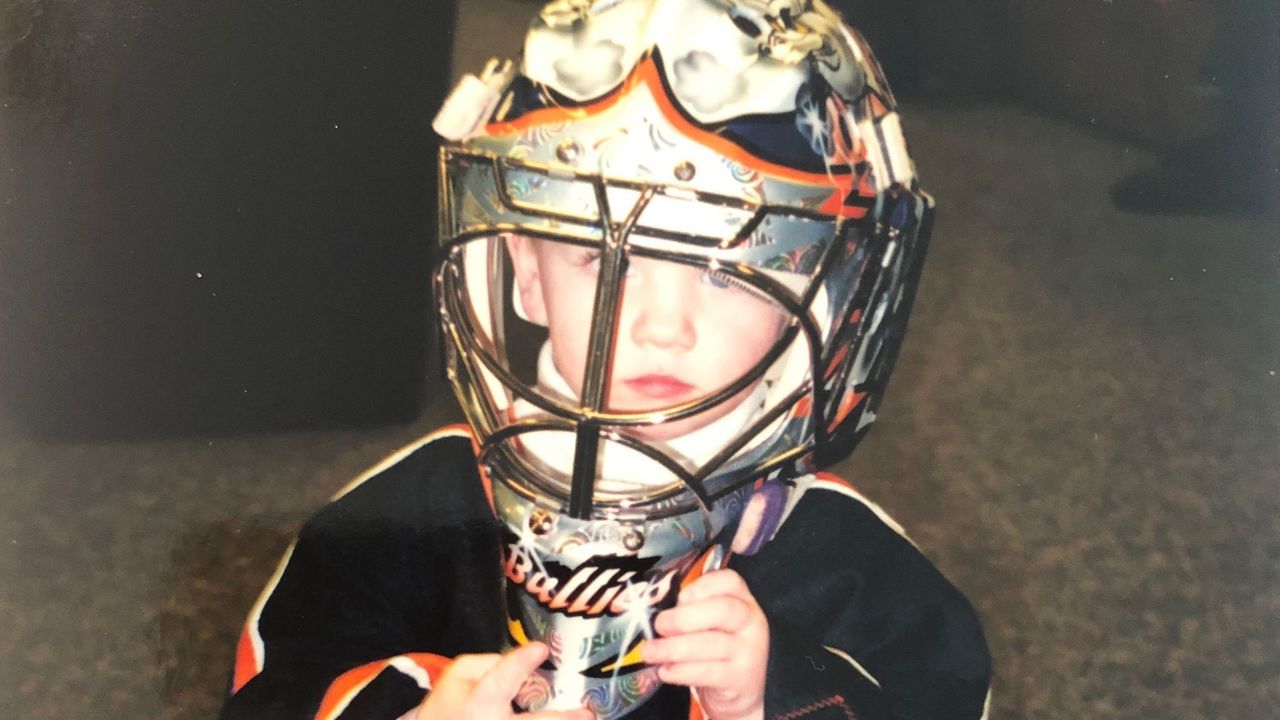 Since his father's death, Colin has leaned on former members of the Flyers organization to guide him through his hockey career. Goalie Neil Little, now a pro scout for the Florida Panthers, picked up the phone when Colin needed fatherly advice two years ago. Stuck in roster limbo, he had bounced around between three USHL teams in a short span, "basically living out of my car for three-to-four weeks," Colin said. "I had no idea where I was going to end up."
"I just said, 'Go for it,'" Little recalled. "That's what I tell a lot of kids who are looking for advice. Don't look at the big picture. Just do it and give your all, and good things happen to good people. I really believe that."
Colin eventually found a home with the Madison Capitols. From there, the 6-foot-1, 194-pounder posted 27 points in 56 games. That 2017-18 USHL campaign set the table for a memorable first season at UMass in which Colin, superstar Cale Makar, and the Minutemen went all the way to the NCAA championship final.
"He's probably what you'd call a stay-at-home defenseman," said Kjell Samuelsson, a former Phantoms assistant coach who now works in player development for the Flyers. "He's hard to play against, can move the puck fairly well. He needs to upgrade his skating if he wants to move on after college, but the year he had, he did well."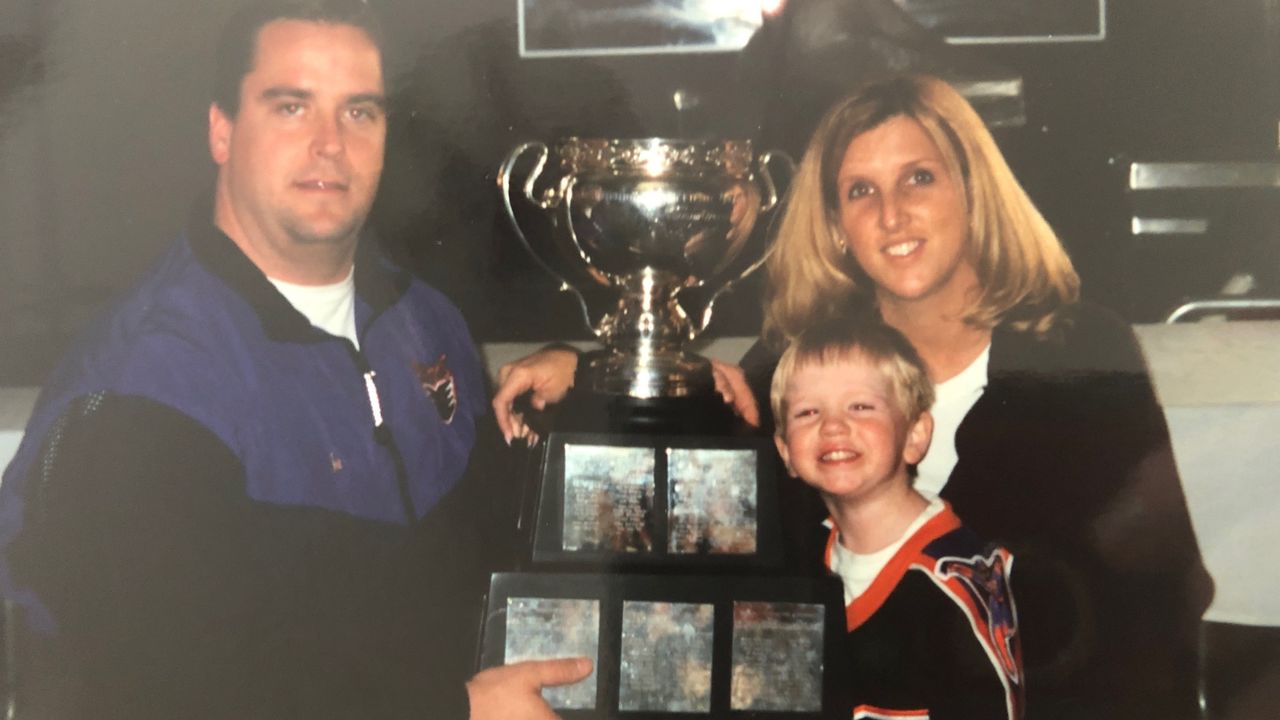 Chris was alive when Colin committed to UMass, but he never had the chance to take a campus visit. Colin kept his dad in his thoughts during that memorable run this past spring. And, thanks to Chris' connection to the Flyers, he was able to find comfort and fulfillment in connecting with young rink rats.
"There's this little kid named DJ whose family lives an hour from the rink, and he comes to every game," Colin said. "I'll go up and talk to him, toss him a puck here and there. His eyes are big. He just loves to watch the game. I can see myself in him, you know? He has no idea what else is going on, he's just happy to be there. Just like me in those Philly days."
Colin majors in economics at UMass and takes his studies seriously. While he is determined to play pro hockey, he's well aware of the percentages. Medical sales, his dad's second career, is an option.
"Obviously pro is the final step, but my dad really harped on using hockey to get a scholarship and better myself," Colin said. "One day hockey is going to run out and he wanted to make sure I had something to fall back on."
In a quiet one-on-one moment days before Chris' passing, Colin made sure his dad knew how grateful he was for what he had done for him - from skating lessons at Hollydell to dressing room visits in Philly, minor hockey to prep school to junior hockey, and everything life had thrown at him outside the rink.
Colin was college-bound, chasing his dreams with a backup plan in place.
"I was like, 'Dad, man, you set me up.'"
John Matisz is theScore's national hockey writer.