NFL Power Rankings - Week 4: Every team's best newcomer
Photo illustration by Julian Catalfo / theScore
The NFL Power Rankings are selected by a panel of theScore's football editors.
This week, we identify the best new face on each team three games into the season.
1. Miami Dolphins (3-0)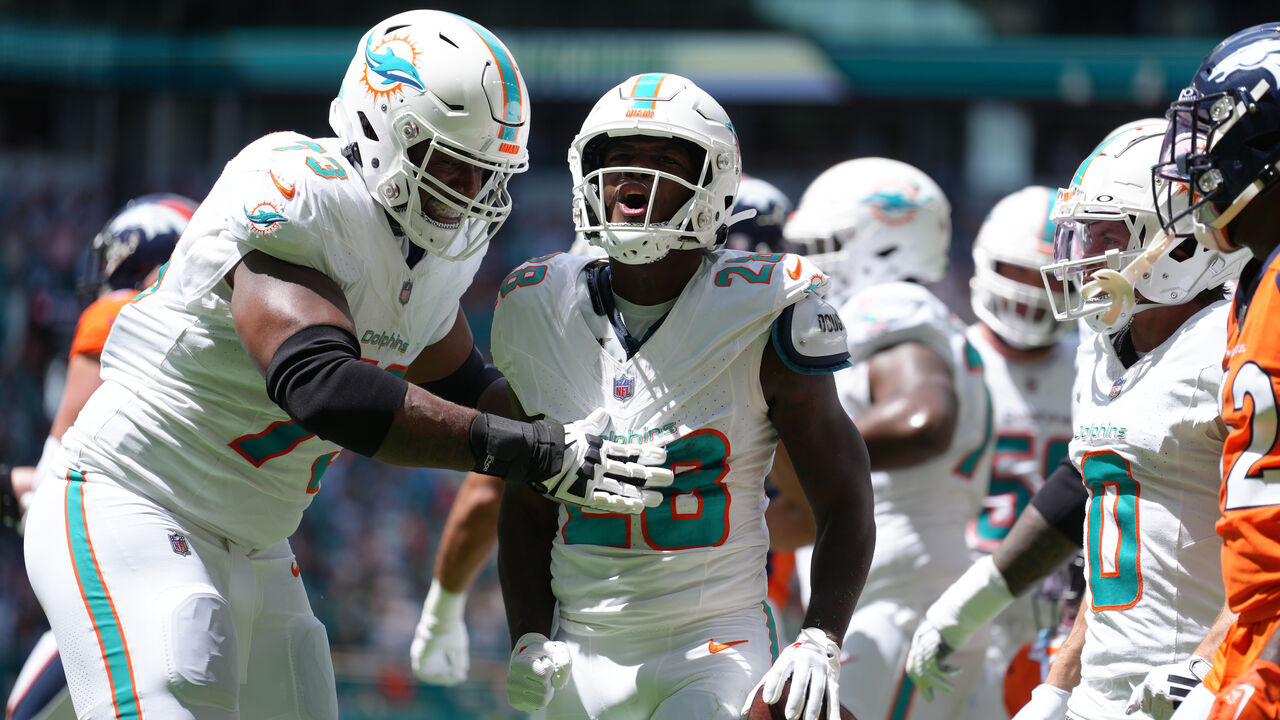 Previous Rank: 4
De'Von Achane didn't have an impact on Miami's first two games, but the rookie running back showed how valuable he can be in Week 3. He racked up 233 scrimmage yards and four touchdowns to help the Dolphins earn a historic win.
2. San Francisco 49ers (3-0)
Previous Rank: 2
Javon Hargrave is already showing why San Francisco gave him an $84-million deal this past offseason. Hargrave has amassed two sacks and is PFF's third-best interior lineman after three weeks.
3. Philadelphia Eagles (3-0)
Previous Rank: 3
There was no doubting Jalen Carter's talent heading into the draft. The Georgia product had a sack and two tackles for loss entering Monday night, where he added another half sack and helped force a fumble.
4. Kansas City Chiefs (2-1)
Previous Rank: 5
With 10 catches so far this season, Rashee Rice leads all Kansas City wide receivers in that category. The second-round rookie, who's caught 108 yards and a touchdown, also tops the team with seven receiving first downs.
5. Buffalo Bills (2-1)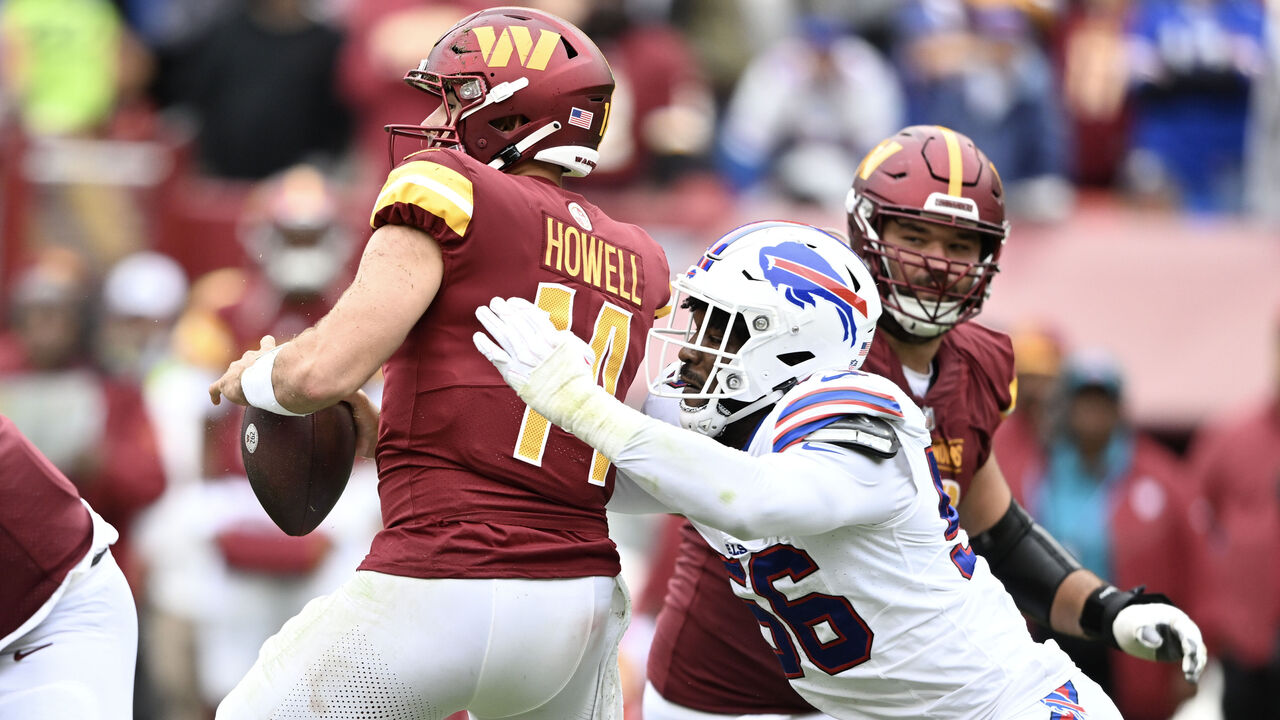 Previous Rank: 7
Pass rush was an area of concern for the Bills in the offseason with Von Miller still sidelined due to injury. However, edge rusher Leonard Floyd has been solid since joining the team in June, having recorded a team-high 3.5 sacks.
6. Dallas Cowboys (2-1)
Previous Rank: 1
The offseason trade for cornerback Stephon Gilmore became even more important for Dallas after Trevon Diggs recently suffered a season-ending injury. Gilmore isn't in his prime anymore, but the 2019 Defensive Player of the Year still gives the Cowboys a veteran corner with solid coverage skills.
7. Baltimore Ravens (2-1)
Previous Rank: 6
It's easy to see why Baltimore used a first-round pick on Zay Flowers, who's been a big part of the club's offense this season. He's the only Ravens player with over 15 targets, 10 receptions, or 150 receiving yards so far.
8. Cincinnati Bengals (1-2)
Previous Rank: 8
Cincinnati returned plenty of starters from last year, but Orlando Brown Jr. has been a solid addition. The mammoth left tackle has mostly kept Joe Burrow's blindside clean.
9. Seattle Seahawks (2-1)
Previous Rank: 9
Bobby Wagner's return to Seattle is one of the NFL's best storylines this year. Although the Seahawks' defense is still a work in progress, the 33-year-old is PFF's 11th-best linebacker and has already racked up 33 tackles.
10. Detroit Lions (2-1)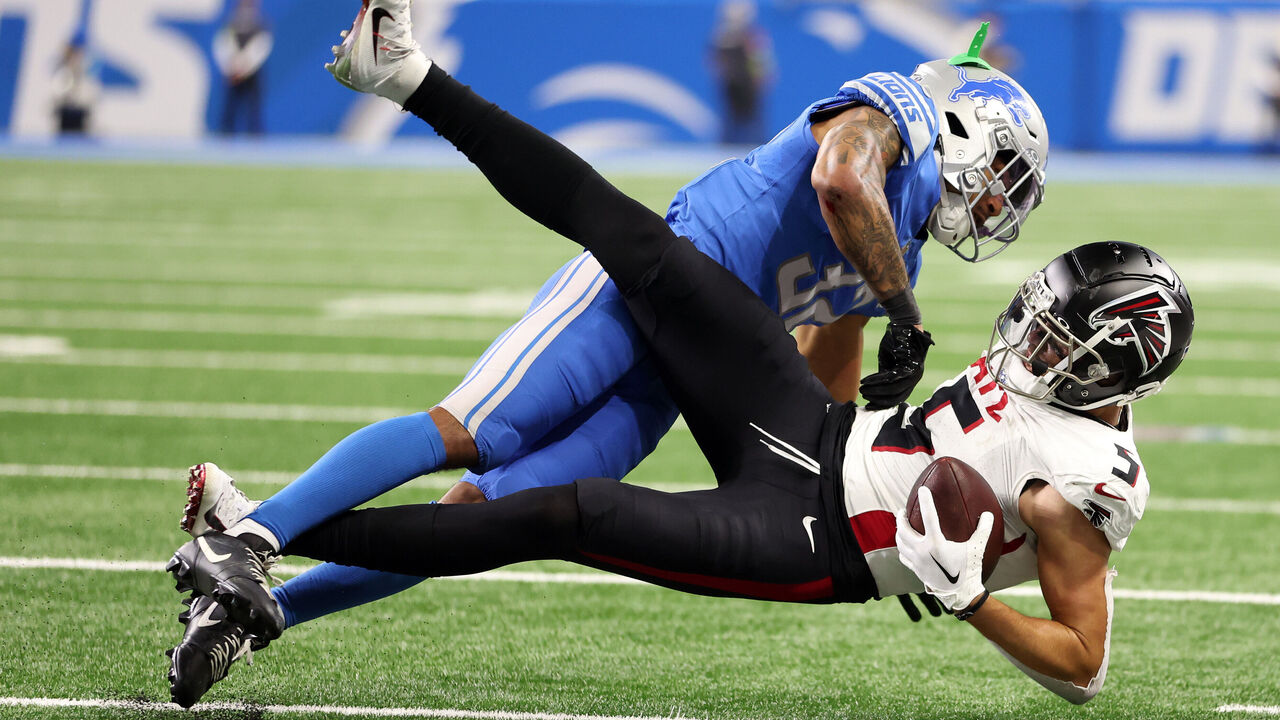 Previous Rank: 10
As expected, landing defensive back Brian Branch in the second round is starting to look like a big steal for the Lions. He leads the team with three tackles for loss, three pass breakups, an interception, and a defensive touchdown.
11. Cleveland Browns (2-1)
Previous Rank: 12
Don't let Za'Darius Smith's zero sacks fool you. The veteran edge rusher has taken some attention off Myles Garrett while helping the Browns boast one of football's premier defenses. Smith ranks second on the team with nine pressures.
12. Los Angeles Chargers (1-2)
Previous Rank: 16
The Justin Herbert-led Chargers offense looks better with coordinator Kellen Moore, as it ranks third in passing yards and fifth in points so far. More importantly, the club has scored a touchdown in 66.7% of its red-zone trips in 2023, up from 53.2% last year.
13. Pittsburgh Steelers (2-1)
Previous Rank: 15
The Steelers made Cole Holcomb the face of their linebacker overhaul this offseason. So far it's worked out as Holcomb has already forced more turnovers than the entire position group last year.
14. Jacksonville Jaguars (1-2)
Previous Rank: 11
Things have cooled off since Calvin Ridley exploded for eight catches, 101 yards, and a touchdown in Week 1, but the receiver continues to be given opportunities. Ridley has seven or more targets in all 3 games this year.
15. Atlanta Falcons (2-1)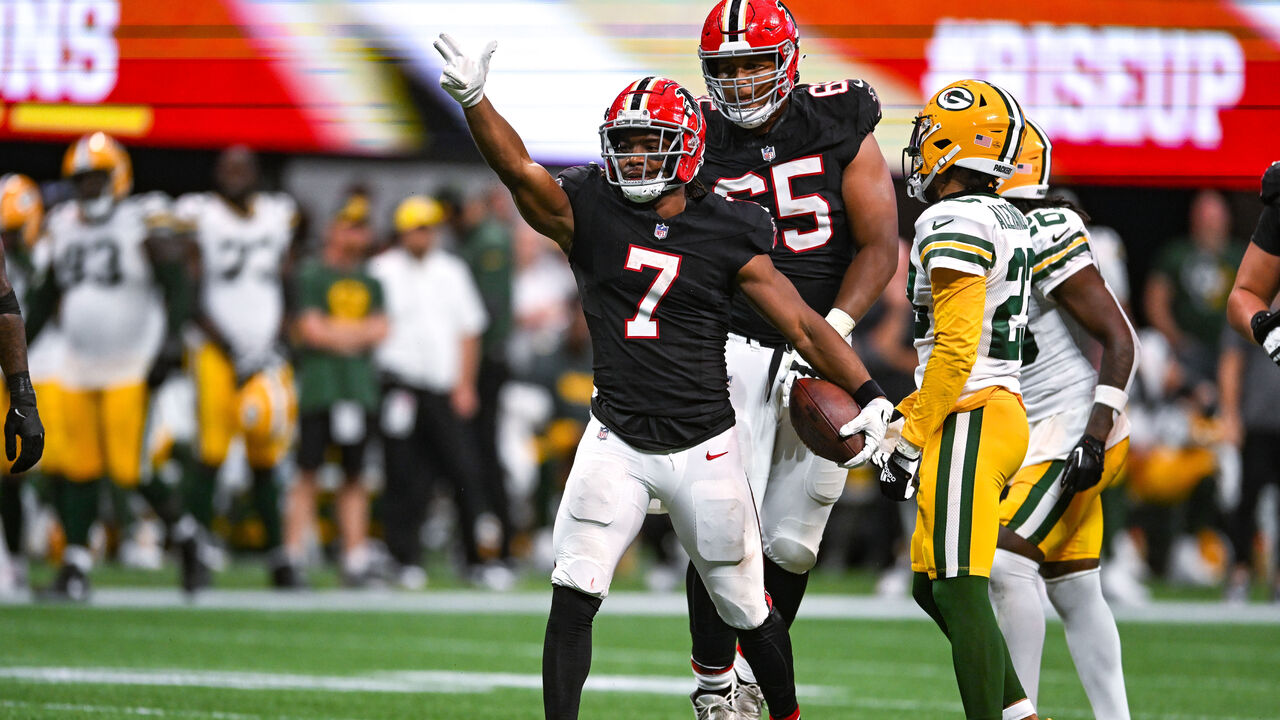 Previous Rank: 17
Bijan Robinson is averaging over 100 scrimmage yards per game and 5.9 yards per touch, but we'd be remiss to not mention Jessie Bates and his three interceptions, too.
16. Green Bay Packers (2-1)
Previous Rank: 19
Everyone knew the Packers needed to add weapons in the offseason, and it's looking like Jayden Reed is a good one. The rookie wideout has nine catches for a team-high 148 yards. He's also scored a pair of touchdowns.
17. New Orleans Saints (2-1)
Previous Rank: 13
Quarterback stability has been difficult for the Saints to find in the post-Drew Brees era, but Derek Carr looks to be providing exactly that. New Orleans giving up a 17-0 lead against the Packers after Carr left the team's Week 3 game highlights his importance.
18. Indianapolis Colts (2-1)
Previous Rank: 27
New head coach Shane Steichen has put Anthony Richardson in a position to succeed so far. Richardson has 279 passing yards and 75 rushing yards, and he's been responsible for four of the team's seven touchdowns despite missing Week 3 with a concussion.
19. Washington Commanders (2-1)
Previous Rank: 18
The game against the Bills was ugly, but Eric Bieniemy looks like he could be one of the offseason's best hires. Bieniemy has found ways to get Brian Robinson going often, with the tailback currently sixth in rushing.
20. New England Patriots (1-2)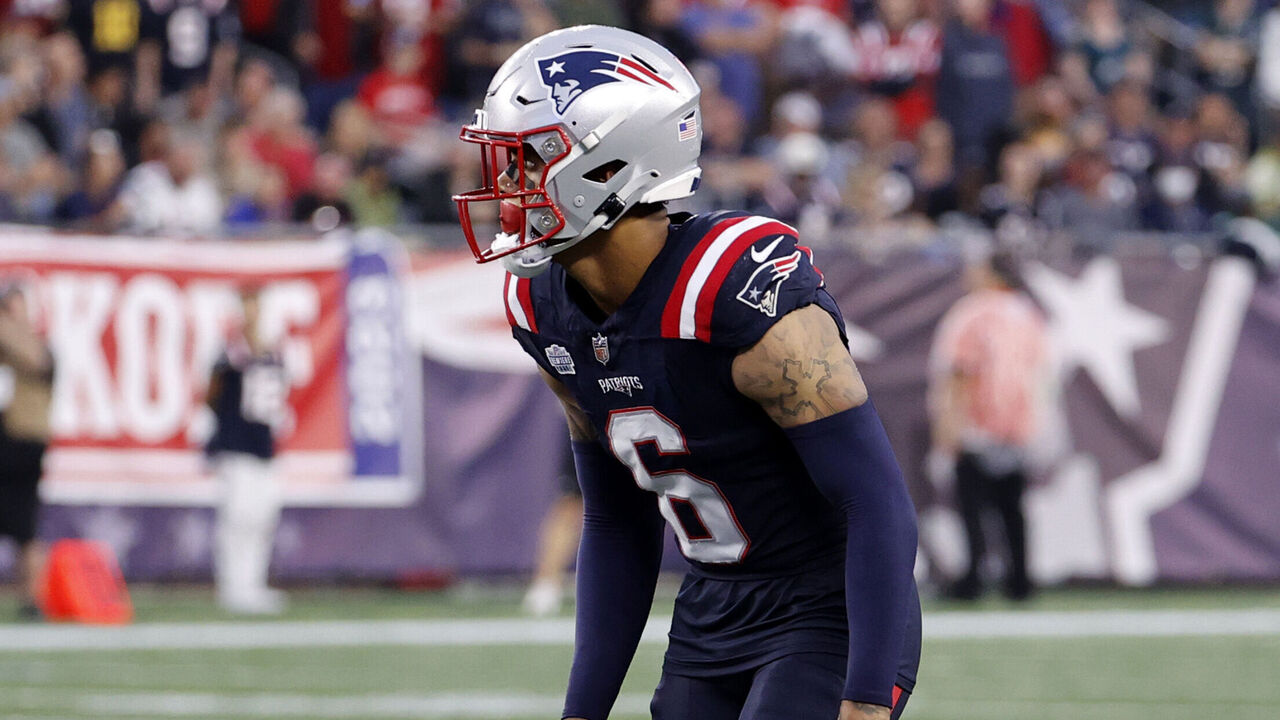 Previous Rank: 25
Christian Gonzalez has been outstanding for the Patriots thus far. The rookie corner has an interception, three pass breakups, a sack, and an 84.4 PFF grade.
21. Tampa Bay Buccaneers (2-1)
Previous Rank: 22
Baker Mayfield has been a pleasant surprise at the game's most important position. His statistical production hasn't been remarkable, but his toughness and grit have helped the Bucs pick up a pair of early wins.
22. New York Jets (1-2)
Previous Rank: 14
Joe Tippmann made his first career start in Week 3 and played 100% of the team's snaps. The rookie center didn't allow a sack, hit, or pressure, per PFF. The Jets have lacked that kind of consistency on the offensive line for seemingly forever.
23. Los Angeles Rams (1-2)
Previous Rank: 23
If the Rams are throwing the ball, the pass is probably going to Puka Nacua. The fifth-round pick has already posted 30 receptions, shattering the record for the most catches through a player's first three career games.
24. New York Giants (1-2)
Previous Rank: 20
Despite investments in the wide receiver position, Darren Waller is operating as the team's top pass-catcher. The tight end leads the Giants in targets (20), receptions (12), and yards (132).
25. Tennessee Titans (1-2)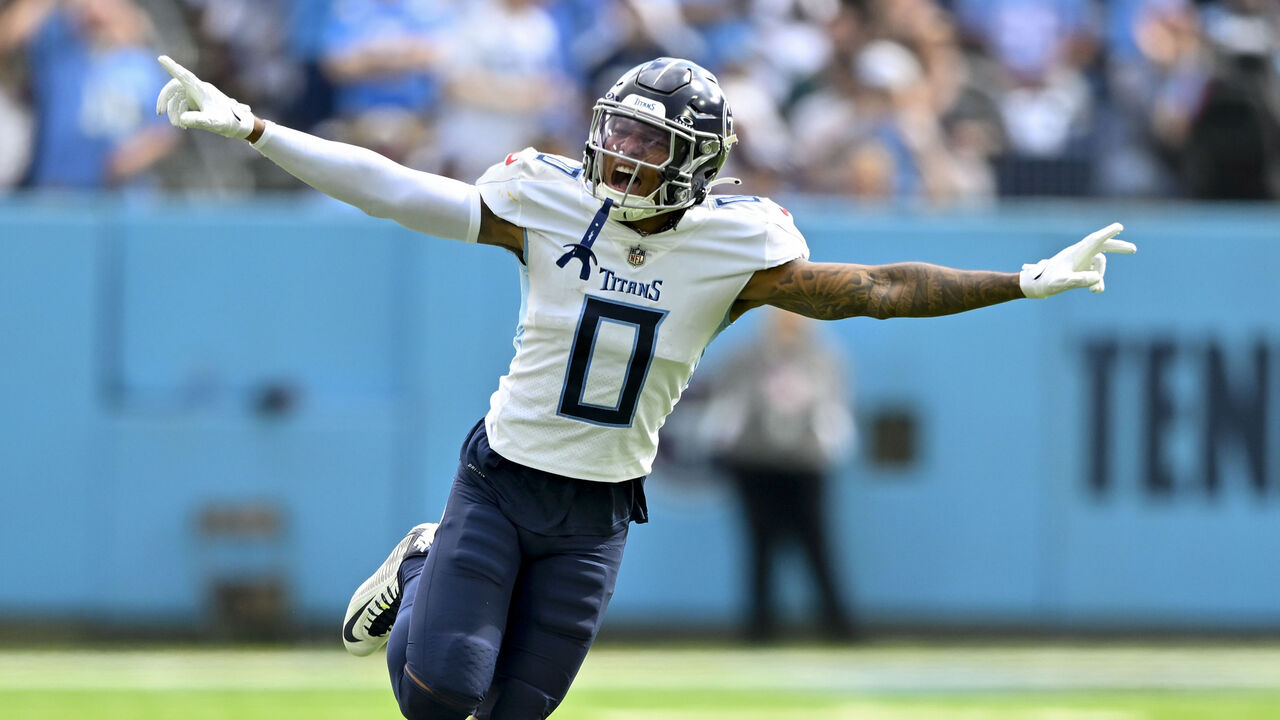 Previous Rank: 21
Cornerback Sean Murphy-Bunting has been a playmaker in an otherwise lackluster secondary. The 26-year-old has three pass breakups, two forced fumbles, and an 84.1 coverage grade, per PFF.
26. Minnesota Vikings (0-3)
Previous Rank: 24
Despite the Vikings' winless start, Jordan Addison has looked like an excellent No. 2 wide receiver. He's hauled in 13 catches for 185 yards and two touchdowns thus far.
27. Houston Texans (1-2)
Previous Rank: 30
The future is suddenly bright in Houston. C.J. Stroud has been the best rookie passer through three games, and it's not particularly close. The Texans got a good one.
28. Arizona Cardinals (1-2)
Previous Rank: 31
New offensive coordinator Drew Petzing has been a key factor in Arizona's surprisingly competitive start. He's done a much better job than former head coach Kliff Kingsbury at creating opportunities for his playmakers.
29. Las Vegas Raiders (1-2)
Previous Rank: 26
Jakobi Meyers has been one of the few bright spots amid an otherwise frustrating start for the Raiders. He's in a position to feast as the WR2 opposite Davante Adams.
30. Carolina Panthers (0-3)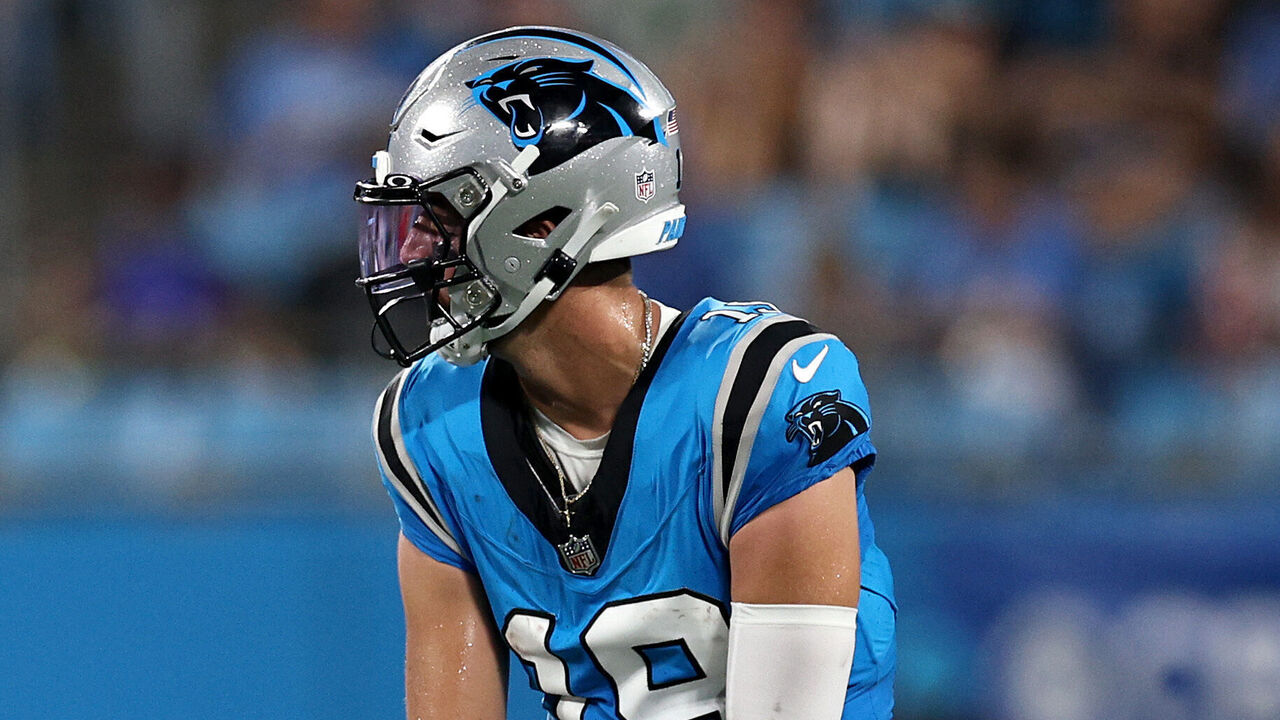 Previous Rank: 28
The Panthers should've done a better job of surrounding their rookie quarterback with playmakers, but Adam Thielen is doing his part. His 11-catch, 145-yard performance last week confirmed that he's still a reliable playmaker.
31. Chicago Bears (0-3)
Previous Rank: 32
D.J. Moore has easily been Chicago's best and most important newcomer through three games. Whether this offense finds a way to utilize him properly is a different matter.
32. Denver Broncos (0-3)
Previous Rank: 29
Rookie wideout Marvin Mims Jr. is already establishing himself as Denver's best vertical target. His kick return touchdown was the lone positive from an embarrassing 70-20 loss in Miami.