10 takeaways from NFL Week 8
L to R (Getty Images): NurPhoto/Icon Sportswire/Justin Casterline
Sunday Rundown recaps the most important developments from the day's action and examines their significance moving forward.
Saints should make a move at QB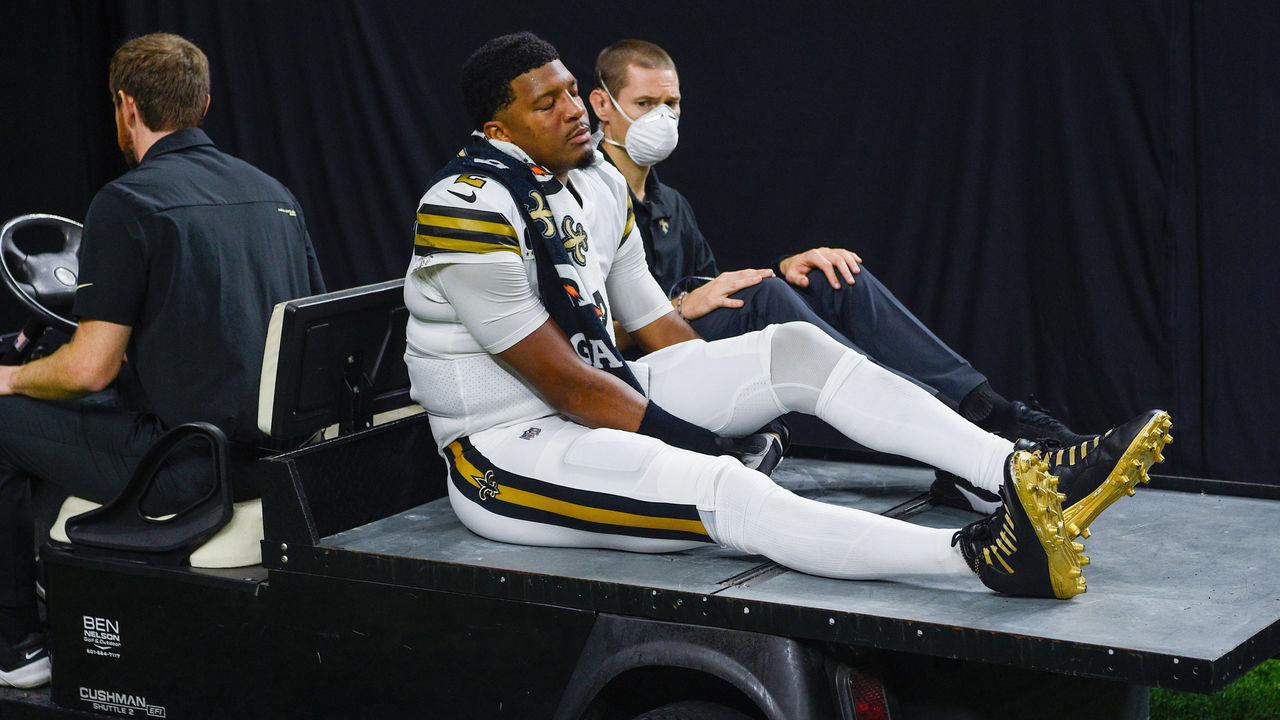 The Saints improved 5-2 with an incredible win over the Buccaneers despite losing Jameis Winston in the 2nd quarter to a knee injury. Unfortunately, as Sean Payton revealed postgame, the injury appears to be a significant one.
Knocking off the defending champs with Trevor Siemian under center showed just how much talent this team has all over the field. If Winston remains out long-term, simply turning to Siemian as the starter - or Taysom Hill when he returns from a concussion - feels like wasting the club's potential.
New Orleans should be looking outside the organization for a quarterback who can help them get to and compete in the playoffs. Maybe that's Cam Newton - he could run all the plays this offense has designed for Hill, but also brings far more ability as a passer. Drew Brees seems committed to retirement, but is Philip Rivers?
Or if the Dolphins end up trading for Deshaun Watson before Tuesday's deadline, which has been an on-and-off rumor for weeks, perhaps the Saints could get really creative and trade for Tua Tagovailoa. Who's to say he wouldn't make good on his first-round draft status playing under Payton?
Either way, New Orleans can't afford to sit back. The overall quality of the roster and coaching staff gives them a solid floor no matter who is leading the offense. If the Saints want to compete in January, they'll need to go find a signal-caller who gives them a higher ceiling.
Big night for Cowboys
There couldn't have been many people betting on the Cowboys to win Sunday night after it became clear that Dak Prescott wouldn't be available against the Vikings. And yet, Dallas has continued to roll to 6-1.
Dropping this game was a huge letdown from Minnesota, for sure, but it's also a statement from Dallas. No longer a one-dimensional team carried solely by the quarterback, the defense's offseason makeover has ensured that the unit does its part, too.
Beating the Vikings with Cooper Rush under center is further proof - if you needed any - that this Cowboys squad is a legitimate Super Bowl contender. The NFC has its fair share of powerhouses, but this is a team that, when Dak gets healthy, nobody will want to come up against in January.
Fields thrives without Nagy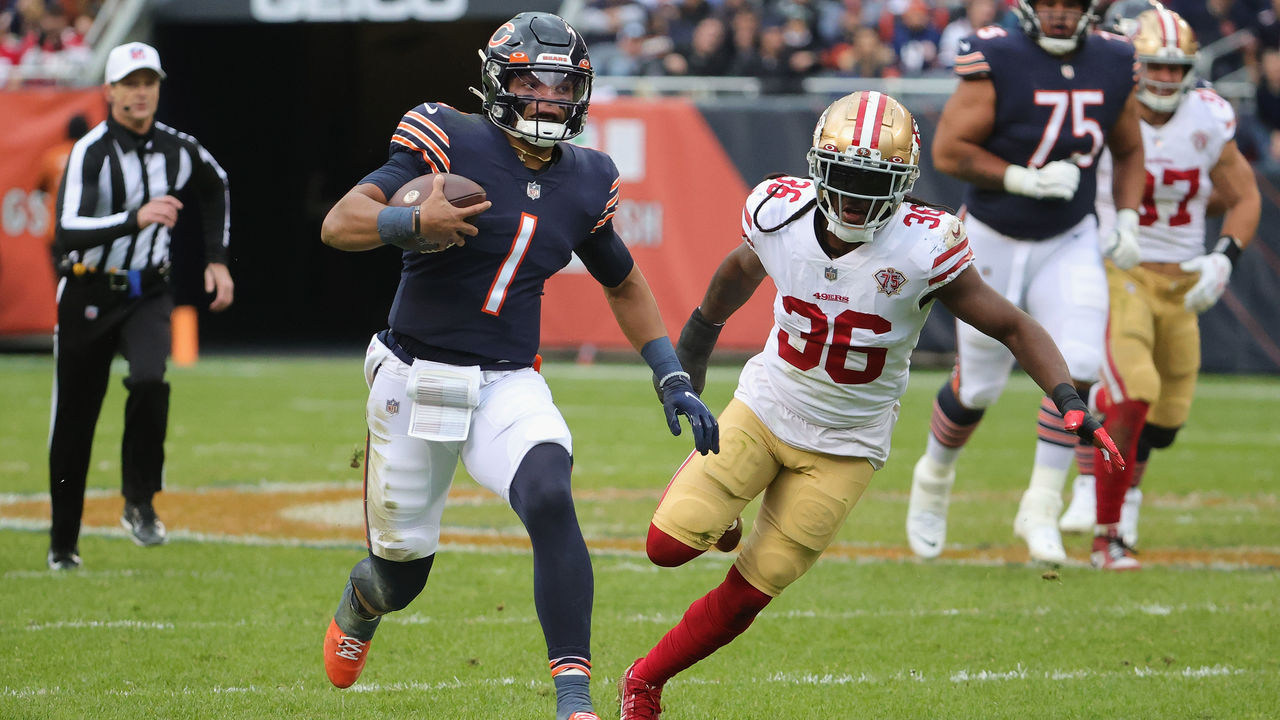 Sunday's game against the 49ers was far and away Justin Fields' best performance as a pro. Not only was he in control as a passer, completing 70.4% of his attempts on the day, but he also finally started to make big plays on the ground, racking up 103 rushing yards and one truly ridiculous touchdown scamper.
Credit for this performance, of course, goes to Fields himself. His underwhelming overall productivity overshadowed his early flashes, but this performance demonstrated why he was such a highly-touted prospect coming out of Ohio State.
The coaching factor is also worth noting here. After Matt Nagy's frustrating usage of Fields early on - most notably, not taking advantage of his athleticism - the head coach's absence left Bill Lazor in full control of the offense this week. Is it a coincidence that this game was when the Bears finally utilized their rookie quarterback in the best way suited for his skill set?
Fields' development is the top priority - he's the reason Chicago has such a bright future. If Nagy's offense has been holding him back to this point, that tells you everything you need to know about the direction the Bears should be going this offseason.
Titans are for real
Remember when the Titans looked like they had forgotten how to play football as the Cardinals ran them off the field in Week 1? What about when the lowly Jets celebrated their first win at the hands of Tennessee in Week 4? Give Mike Vrabel and Co. a heap of credit because those same Titans dispatched the Colts for their fourth straight win and now hold the No. 1 seed in the AFC.
Plenty of factors have contributed to Tennessee's turnaround, none more significant than turnover differential. The Titans had two takeaways with seven giveaways over their 2-2 start and have nine takeaways and four giveaways through their four-game win streak - a stretch that includes victories over the Chiefs and Bills.
Tennessee was particularly opportunistic in Week 8, forcing Carson Wentz into a pick-6 in the fourth quarter and another interception in overtime to set up Randy Bullock's game-winning field goal.
Derrick Henry is undeniably the Titans' most valuable player, but Indianapolis limited him to 2.4 yards per carry. But it didn't even matter - Tennessee once again found a way to win, and this time, it was A.J. Brown dominating to the tune of 10 catches for 155 yards. This team can win in all different kinds of ways. It's time to start believing.
Bengals' D a concern?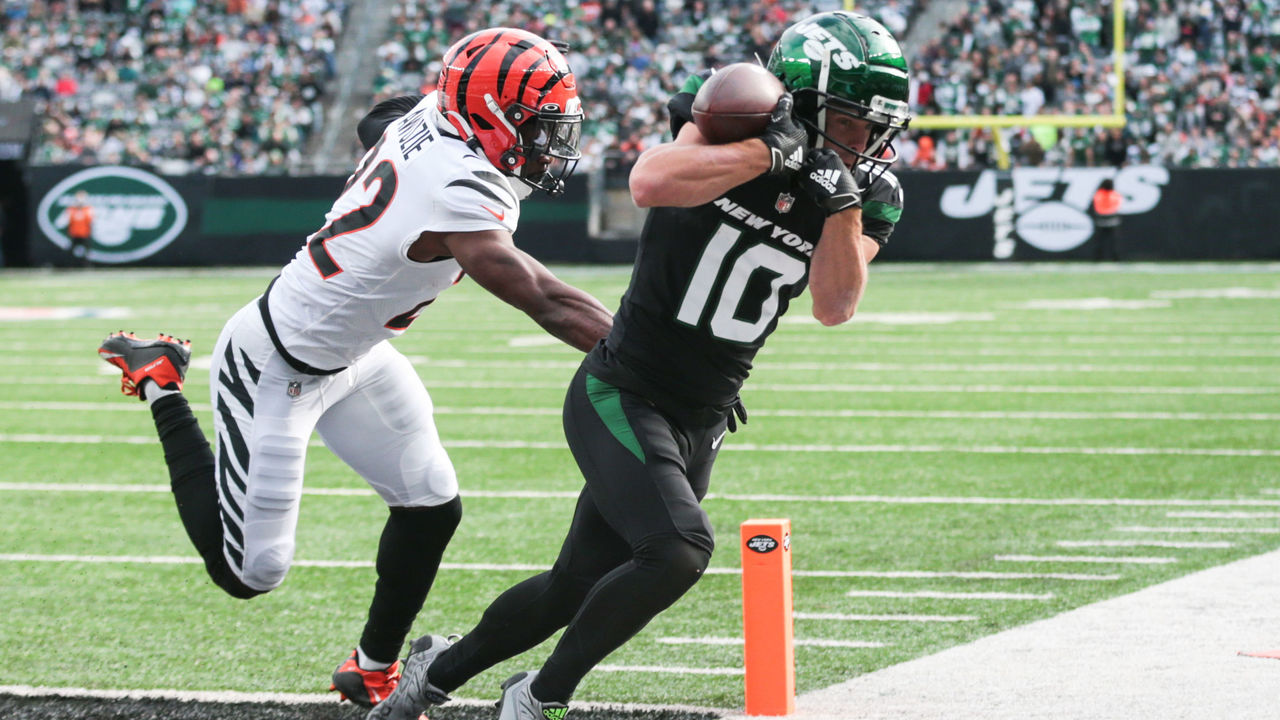 The Bengals hype train hit a major roadblock this week with an embarrassing loss to the one-win Jets.
Any good squad can have a bad game, and that may well prove to be what this was. But Cincinnati's defense allowing Mike White to join Cam Newton as only the second quarterback in NFL history to throw for 400-plus yards in his first start is a major red flag.
With Joe Burrow coming along as expected and Ja'Marr Chase putting together one of the best rookie wideout campaigns we've ever seen, there's little doubt that the Bengals can score with everyone. But if the defense exceeding expectations to this point was just an early-season mirage, the chances this team has of competing in a loaded AFC would plummet.
Is the defense most like the one we saw in a Week 7 blowout win over the Ravens? Or is it the unit that looked lost against one of the NFL's worst offenses and a passer making his first start? The future is bright regardless, but the answer to that question will probably determine how far Cincinnati can go this year.
Lions on 0-17 watch
Dan Campbell's Lions have at times been far more competitive than many expected. Detroit hung in there against Baltimore in Week 3, ultimately losing on a record-long field goal from Justin Tucker, and even gave the Rams a game last week in the first matchup against Matthew Stafford.
But after a disastrous performance in a 44-6 loss to the Eagles on Sunday, the Lions are now eight contests into the season without a win, and things don't get any easier with the Steelers and Browns up next after their bye.
Admirable as Detroit's initial efforts may have been, getting throttled at home by a bad Philadelphia squad highlighted all the concerns that created such low expectations for this team in the first place. The talent just isn't there, on either side of the ball, at this very early stage of a full-scale rebuild.
The Lions are already one of just two NFL franchises to finish a campaign 0-16. Priority No. 1 for the second half of the season is to make sure they don't become the first-ever 0-17 club.
Carson giveth, Carson taketh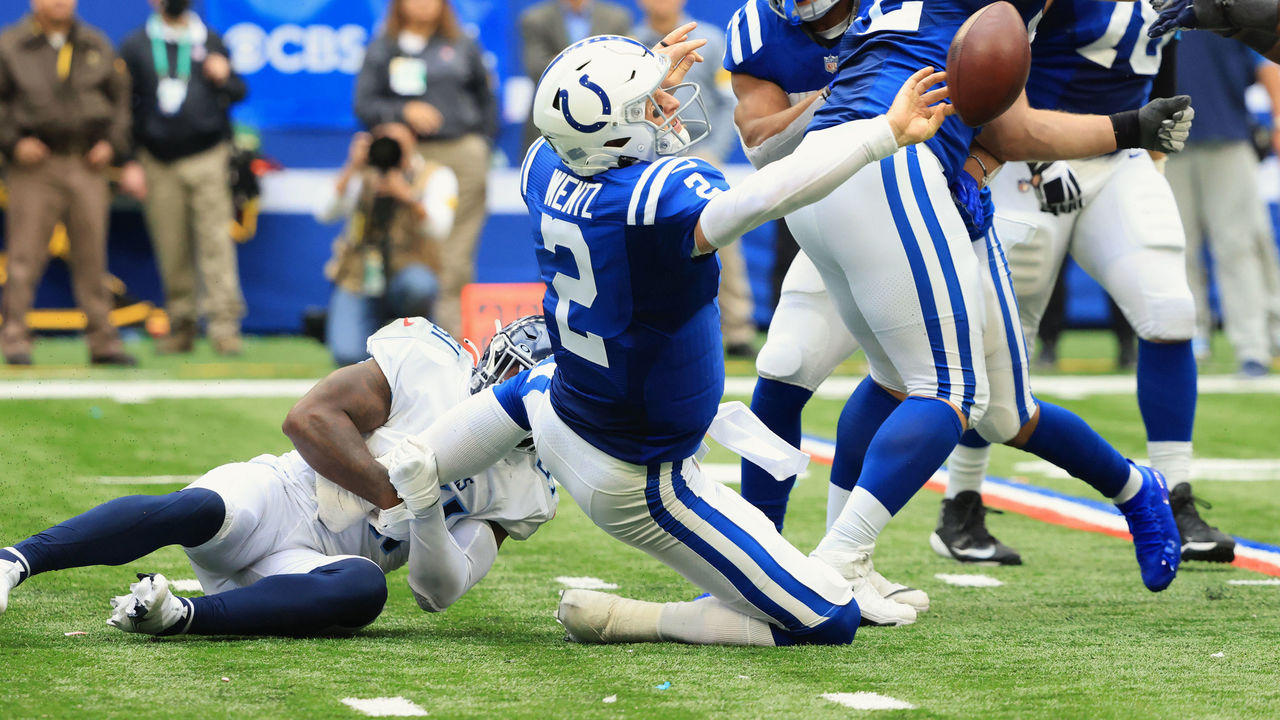 Carson Wentz has done some good things in his first campaign with the Colts. In many ways, he's a much better field general than we saw toward the end of his stay with the Eagles.
Decision-making is still an issue, however - that's been the case even if his 14-1 TD-INT ratio coming into this week gave the impression that he was taking better care of the ball. Raw interception numbers don't account for risky passes that should have been picked off but weren't.
Wentz just didn't get away with those ill-advised throws against the Titans, and it probably cost his side a crucial divisional win. An all-time bad blunder from his own end-zone gave Tennessee a walk-in pick-6 late in the fourth quarter. And even after Indianapolis fought back to force overtime, a terrible interception in the extra frame set the Titans up for the game-winning field goal.
The Colts are still alive at 3-5, but they need more from Wentz. And if they don't get it soon, it'll be time to start discussing whether to even let him reach the snap count condition that would convert the draft pick traded to Philly from a second-round selection to a first.
Belichick has the Chargers' number
Dean Spanos presides over the Chargers, but Bill Belichick reminded the SoFi Stadium crowd that he owns their team. The 69-year-old picked up his 11th win in 14 meetings with the franchise as the Patriots' head coach - including postseason results - and moved to 7-0 since 2008.
Belichick has gotten the better of four different sideline bosses - Norv Turner, Mike McCoy, Anthony Lynn, and Brandon Staley - and two star quarterbacks in Philip Rivers and Justin Herbert throughout the streak. He's used three different quarterbacks - Tom Brady, Cam Newton, and Mac Jones - to get those seven victories.
Last year, New England capitalized on special-teams gaffes and shut out Los Angeles 45-0. The Bolts weren't as self-destructive this year, but Belichick got what he wanted nonetheless.
Young's sophomore slump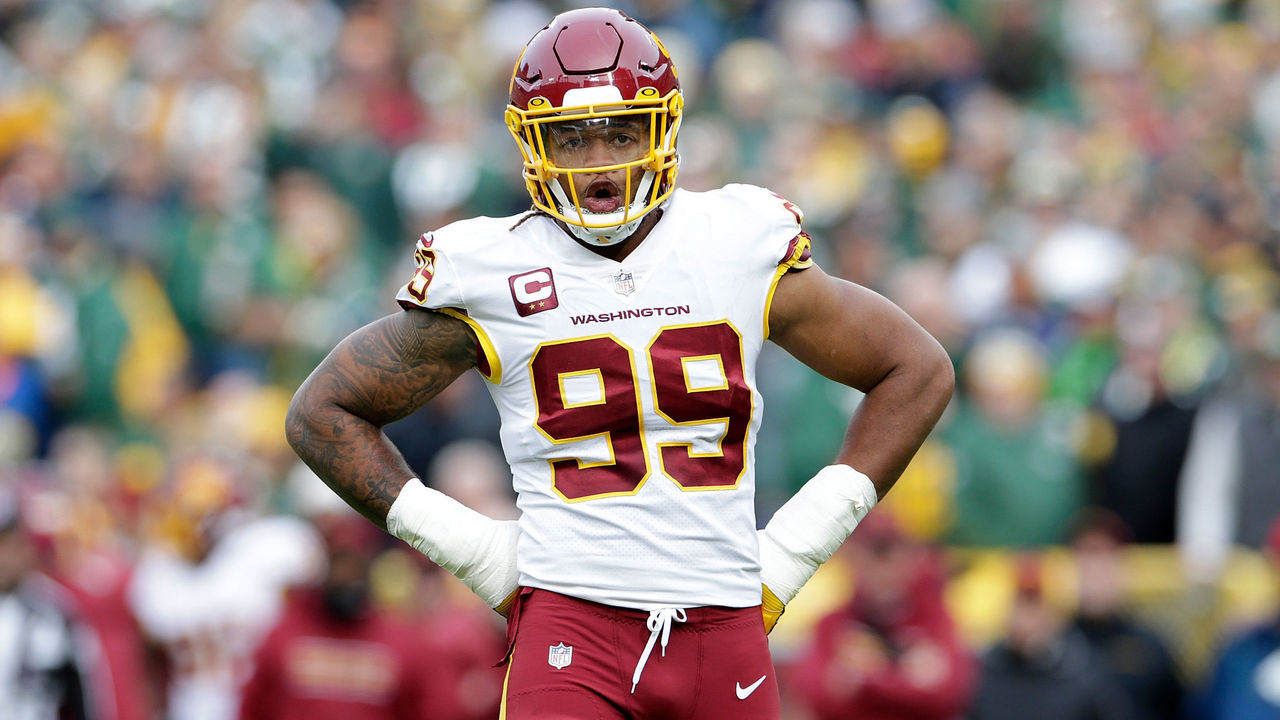 Heralded edge rusher Chase Young, the runaway winner of the 2020 Defensive Rookie of the Year award, is on pace to finish his sophomore campaign with a mere three sacks. It's been a far less fruitful second season for Young, who has only 1.5 sacks through eight contests in 2021.
There is still time for Young to snap out of his sophomore slump. After all, he only had two more sacks last year at the same point of the campaign. But last year, Young was dominating opponents even when he wasn't collecting sacks. The 22-year-old's consistency had us touting Young as the NFL's next great pass-rusher, following in the footsteps of Von Miller, Khalil Mack, Myles Garrett, and most recently, T.J. Watt.
While he did force a fumble against the Broncos, Young went another week without a sack and was held without a single QB hit. Washington has been one of the most disappointing teams in the league, and Young has been a big part of the letdown.
Eagles finally run the ball
It only took the Eagles seven games of inexcusably treating the offense like it was a high-powered passing attack to realize that running the ball might actually be a good idea. Better late than never?
Don't get us wrong - nobody is calling for an old-school mentality of establishing the run no matter what. But when you constantly put games squarely on the shoulders of a young passer - mostly with poor results - and essentially abandon what has been a quietly efficient ground game, you're doing it wrong.
Here's hoping Philly's 44-6 win over Detroit - in which Jalen Hurts and a committee of running backs combined for 46 carries, 236 yards, and four touchdowns - opened the club's eyes to this reality. The Eagles' offensive line can dominate opponents on the ground, and keeping the team out of third-and-long situations is only going to help Hurts as a quarterback.
Next up for Philly is a home matchup against the Chargers, and L.A. may have the worst run defense in the NFL. Let's see if the Birds can stick to what worked so well this week and take advantage.
Comments
✕
10 takeaways from NFL Week 8
  Got something to say? Leave a comment below!