Hopkins, Ramsey among players criticizing NFL's latest vaccine push
Warning: Tweet contains coarse language
The NFL once again updated its vaccination rules Thursday, announcing any game that can't be rescheduled due to a COVID-19 outbreak among unvaccinated players will result in the responsible club forfeiting the contest.
That announcement immediately drew reactions from several players across the NFL, but the most emphatic response came from DeAndre Hopkins.
The Arizona Cardinals' star wide receiver stated in a since-deleted tweet that the NFL's latest update is making him question his future in the league.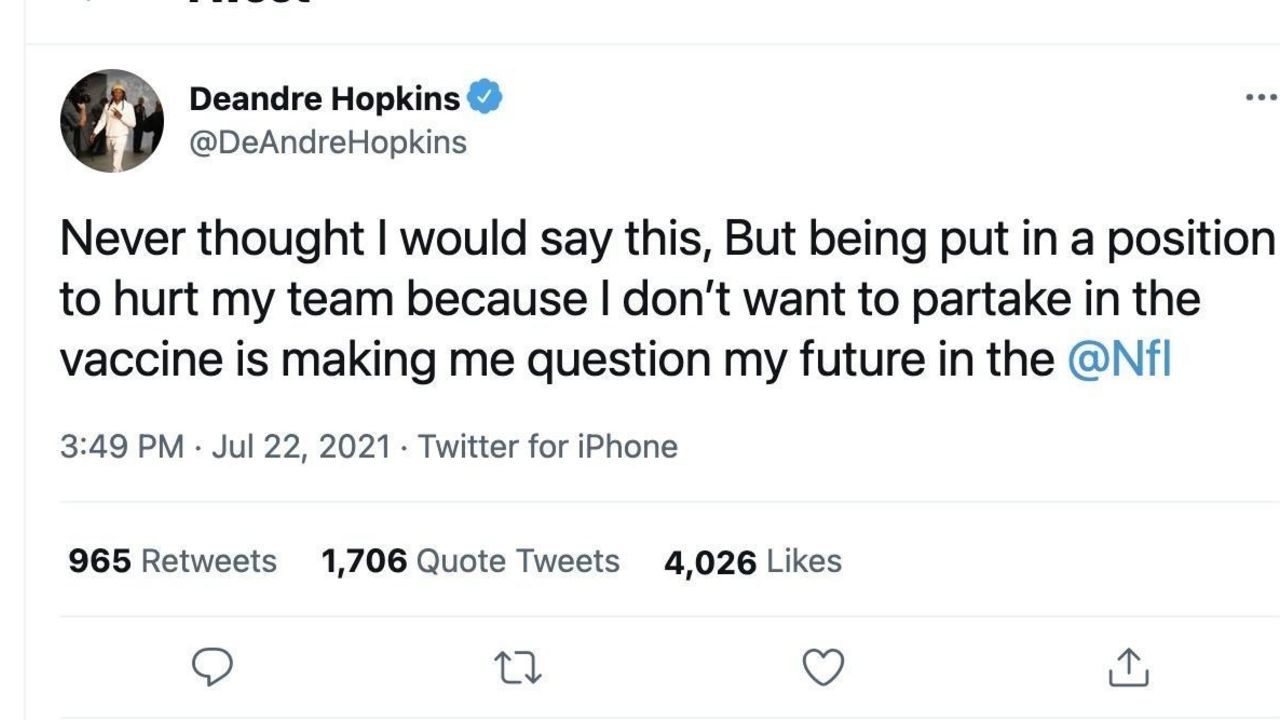 Hopkins shared a cryptic post soon after deleting his initial tweet.
However, in a third tweet, he seemingly suggested he doesn't intend to call a premature end to his playing days despite his reservations.
Los Angeles Rams cornerback Jalen Ramsey said he doesn't agree with the idea of "pressuring" players to get vaccinated.
Tampa Bay Buccaneers running back Leonard Fournette tweeted that he was against the COVID-19 vaccine in a post that was deleted moments later.
New England Patriots pass-rusher Matt Judon and Buffalo Bills wide receiver Stefon Diggs also publicly reacted to the protocol changes.
The deadline for players to opt out of the 2021 NFL campaign passed on July 2 without any players deciding to sit out. Over 60 players opted out of last season.
The league and players' association have eased rules for vaccinated individuals. Changes to their COVID-19 protocols include eliminating daily testing and quarantine following exposure to the virus.
Comments
✕
Hopkins, Ramsey among players criticizing NFL's latest vaccine push
  Got something to say? Leave a comment below!