Fantasy: 7 players who will lead you to a title in 2021
James Gilbert / Getty Images Sport / Getty
Find positional rankings, additional analysis, and subscribe to push notifications in the NFL Fantasy News section.
No fantasy manager's draft plan should rigidly classify any player as a "must-have," but it's wise to enter yours with a shortlist of names you hope to add to your team. Below are seven players who will be key to winning a fantasy title this season.
You shouldn't expect to get them all - that's probably impossible - but you'll greatly increase your odds of achieving fantasy glory this season if you build your draft around selecting at least a few of the players on this list.
More in this series
Players who will lead you to a title
Matthew Stafford, QB, Rams
The Rams took the first big injury hit of the year when news broke that sophomore running back Cam Akers suffered a season-ending Achilles tear. However, don't let that dampen your outlook on Sean McVay's offense now that he has a proven quarterback under center.
In the three years since being hired as head coach, McVay was handcuffed to Jared Goff - a subpar passer who needed to be treated like a puppet on the field. And despite the limitations of his signal-caller, McVay still got back-to-back 4,600-yard efforts out of him before a difficult 2020 campaign forced a change.
Enter Stafford, who sits 16th on the NFL's all-time list for career passing yards and passing touchdowns. The longtime Lions starter gives the Rams a quarterback who can diagnose defenses on his own while making any throw required.
The former first overall pick also excels at play-action, which his new club features heavily in their offense, and he won't be afraid to push the ball downfield.
Goff's yards per attempt declined annually, falling to 7.2 during his final run in Los Angeles. By contrast, Stafford has been over 7.7 in three of the last four campaigns. The 33-year-old is also a couple of Matt Patricia-coached seasons removed from three straight top-10 fantasy seasons.
He'll have a chance to get back to that range with the Rams, where he's surrounded by talented pass-catchers like Robert Woods, Cooper Kupp, and Tyler Higbee. The team also filled out their depth chart with intriguing options like promising second-year wideout Van Jefferson, field-stretching veteran DeSean Jackson, and rookies Tutu Atwell and Jacob Harris.
Losing Akers could even force McVay to lean more on Stafford's arm. Though dual-threat QBs are a coveted fantasy asset, older pocket passers Aaron Rodgers and Tom Brady both finished as top-eight fantasy starters in 2020 thanks to big touchdown totals. Stafford has a similar upside as a locked-in QB1 who could take this offense to new heights.
ADP: 9th round (QB10)
Antonio Gibson, RB, Washington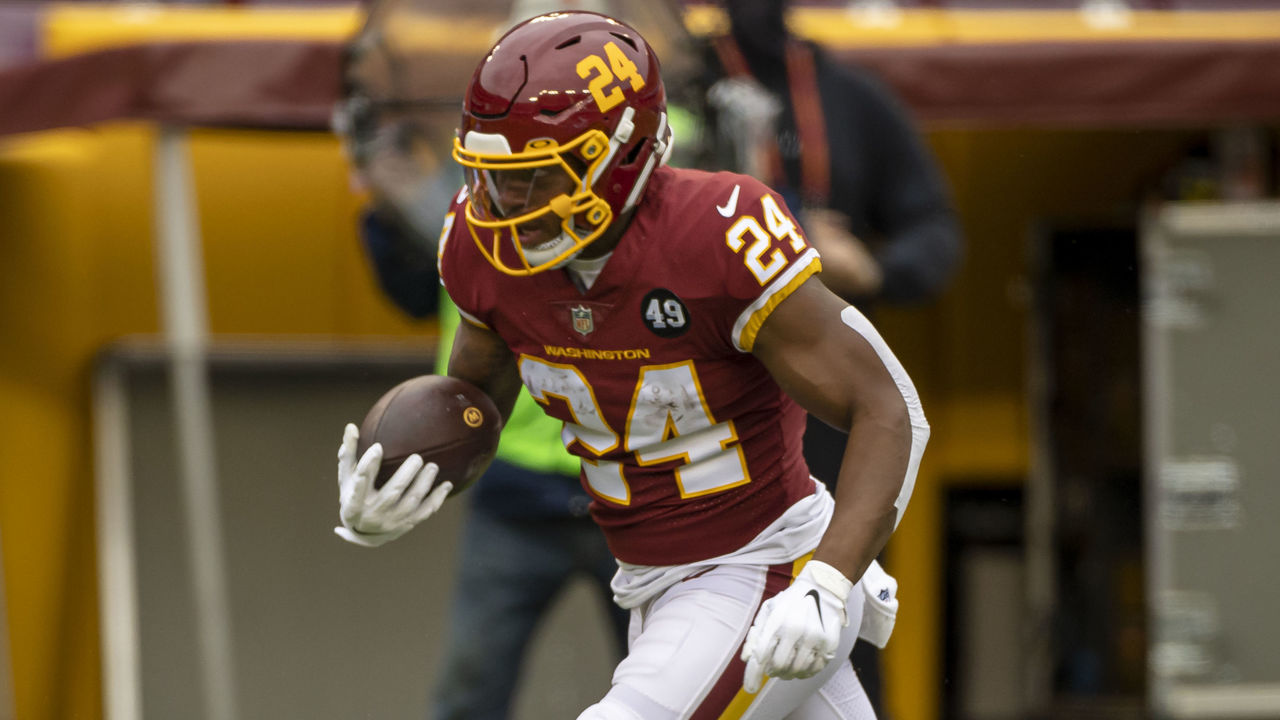 There were questions when Gibson entered the NFL last season about whether he could transition to being a pro back after logging only 33 carries in college.
Heading into his second year, no one is wondering about that anymore.
The third-rounder established himself as Washington's lead ball carrier during his rookie campaign and delivered 795 rushing yards and 11 touchdowns on just 170 carries.
Despite Washington limiting his passing-down reps in an attempt to aid his development, the former Memphis wideout still caught 36 passes for 247 receiving yards. Most of the receiving work fell to journeyman J.D. McKissic, who ended the year with 80 receptions and 589 yards on 110 targets.
It's easy to envision many of those targets going Gibson's way this year, and the team has expressed a desire to have him run more routes moving forward, according to ESPN's John Keim.
There aren't many backs who possess Christian McCaffrey-like upside, but Gibson has that potential in his range of outcomes. Perhaps an even more apt comparison would be David Johnson, who flashed in his rookie season before ultimately erupting as a sophomore with 2,118 yards from scrimmage and 20 total touchdowns.
There are other signs pointing in Gibson's favor, as well. Washington made strides to improve its offensive line, signing Charles Leno Jr., drafting Samuel Cosmi, and trading for Ereck Flowers.
The club brought in more weapons in the passing game, including Curtis Samuel, Dyami Brown, and Adam Humphries. And most importantly, it upgraded at quarterback, replacing risk-averse Alex Smith with Ryan Fitzpatrick.
That should brighten the outlook for the entire offense and could make Washington a contender if its defense emerges as one of the best units in the league, as many expect.
If it wasn't for a Week 13 toe injury, we might already be viewing Gibson as a top-five fantasy back. After all, he accounted for 240 yards and four touchdowns in the two games prior to getting hurt.
A healthy Gibson will be a problem for opponents in 2021, and fantasy managers need to be aggressive about getting him on their rosters before that breakout occurs.
ADP: 2nd round (RB12)
Chris Carson, RB, Seahawks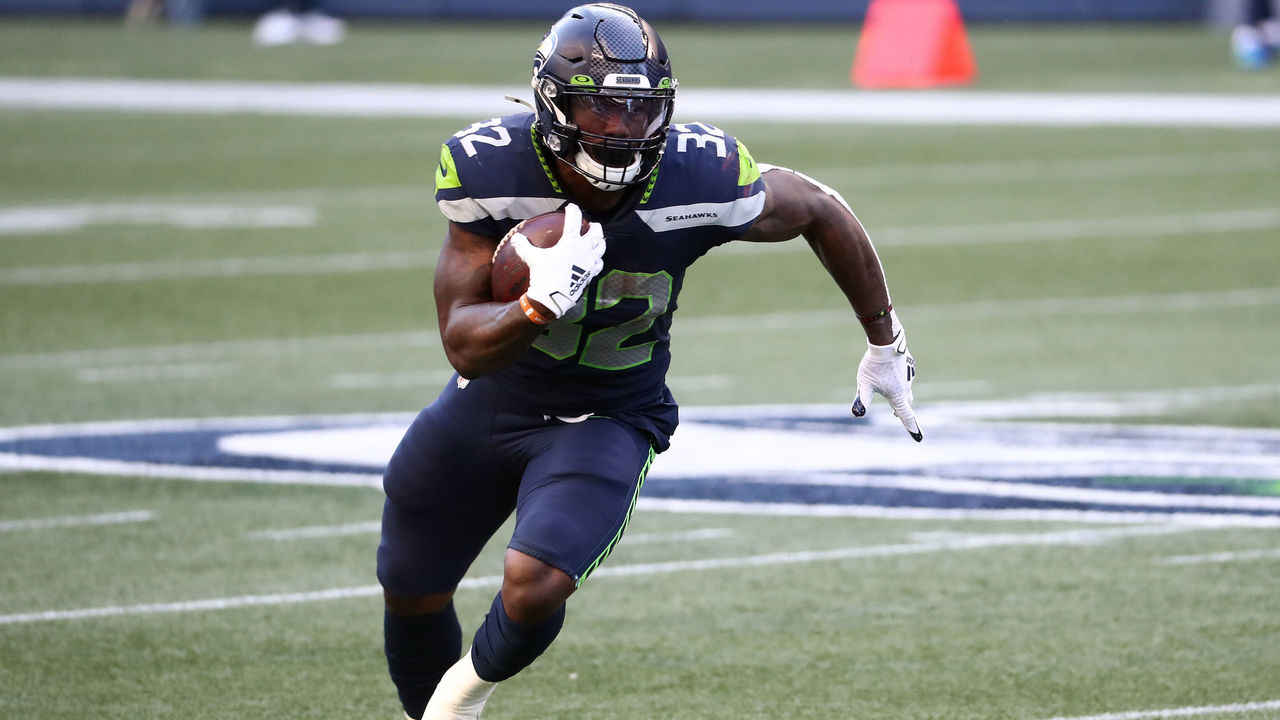 With the Seahawks constantly emphasizing their plan to run the ball, it's shocking Carson doesn't get more love from fantasy managers.
His first season as Seattle's lead back came in 2018 when he accumulated 1,314 yards from scrimmage, 20 catches, and nine touchdowns.
He bested those numbers in 2019, totaling 1,496 yards with 37 grabs and another nine scores.
Even in an injury-shortened 2020 campaign, Carson still found the end zone nine times, matched his career-high 37 receptions, and averaged over 80 yards per contest, which put him on pace for 1,291 yards had he played a full 16-game slate.
The 26-year-old has been a top-16 fantasy back on a per-game basis in each of the last three years, yet you can draft him in the fourth round.
Rashaad Penny's availability for the season can't be counted on after undergoing another knee surgery that kept him sidelined for OTAs. Alex Collins and DeeJay Dallas are nice backups, but not the type of players who will threaten Carson's workload.
It's almost insulting how Seattle's star runner has been perennially underrated. Don't let that happen in your draft.
ADP: 4th round (RB19)
Keenan Allen, WR, Chargers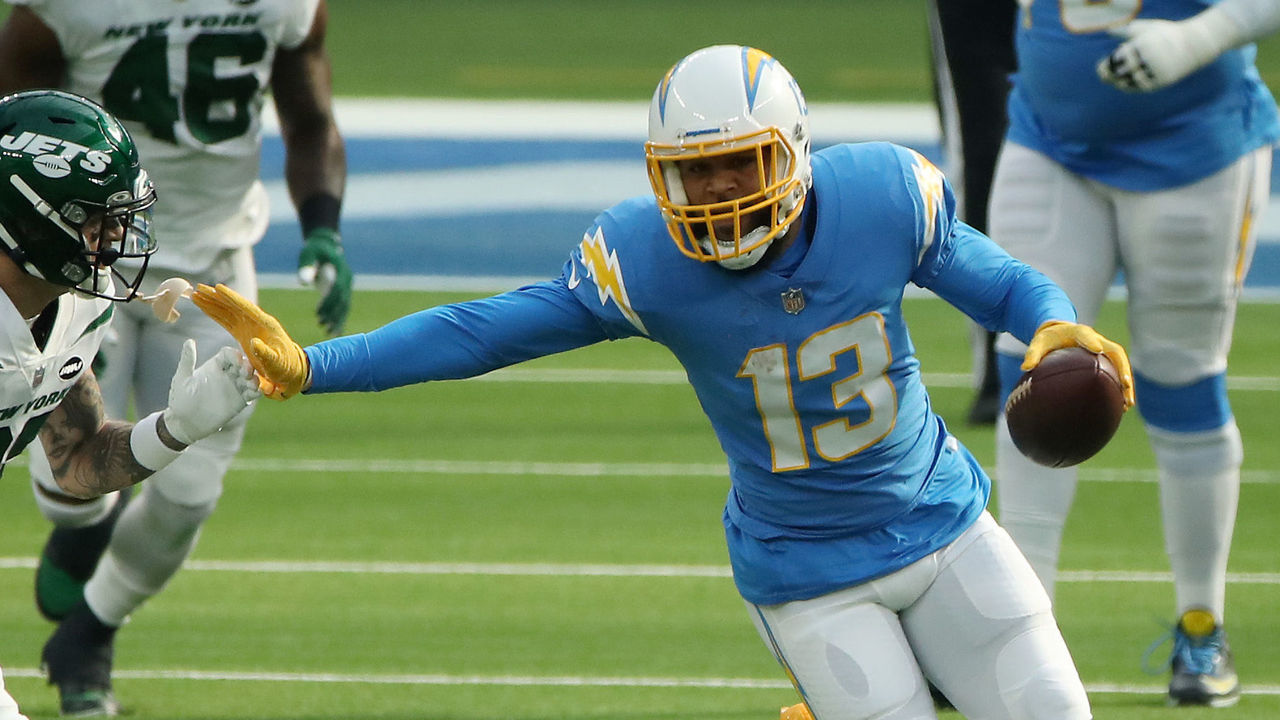 The last season of Hard Knocks gave us a sneak peek into what was coming from the Justin Herbert-Keenan Allen connection.
"My job is to get you the ball. I am your assistant," is what Herbert told his top wideout, and that's exactly what he did.
Allen poured in his fourth consecutive campaign with at least 97 receptions, and it would have been his fourth straight with at least 1,100 yards had he not missed two games during the year.
The 29-year-old tied his career-high eight touchdowns and averaged the seventh-most fantasy points per game (17.5) among receivers.
It's been a remarkable stretch for Allen, who shows no evidence of slowing down.
For their part, the Chargers are doing everything they can to help Herbert repeat and grow off his outstanding debut season - including fortifying the offensive line with first-round tackle Rashawn Slater and free-agent center Corey Linsley.
The case for Allen is so open and shut that there isn't much more that needs to be said about him. There are no guarantees in fantasy football, but Allen is as close as it comes, and you can take him in the third round of most drafts.
ADP: 3rd round (WR10)
Robert Woods, WR, Rams
Woods has appeared on this list multiple times and for good reason.
Last year, we outlined how he has essentially been a top-15 fantasy receiver every season since joining the Rams in 2017.
He finished as the WR14 (2020), WR14 (2019), and WR11 (2018) over the last three campaigns. He was also on pace for 75 receptions, 1,041 yards, and seven touchdowns in 2017 - which would have him flirting with top-15 fantasy stats - but was limited to just 12 outings that year.
However, like a few of the other names above, Woods has been undervalued at every turn.
You'd think that would change now that he's catching balls from Matthew Stafford in a Rams offense that projects to have one of the league's better passing attacks. Surprisingly, that's not the case, as his fourth-round ADP makes him a value yet again.
After proving himself while suffering through worse quarterback play, he's about to be paired with the best passer of his career - making him a strong bet to return another top-15 season and perhaps even crack the WR1 ranks.
ADP: 4th round (WR16)
Laviska Shenault, WR, Jaguars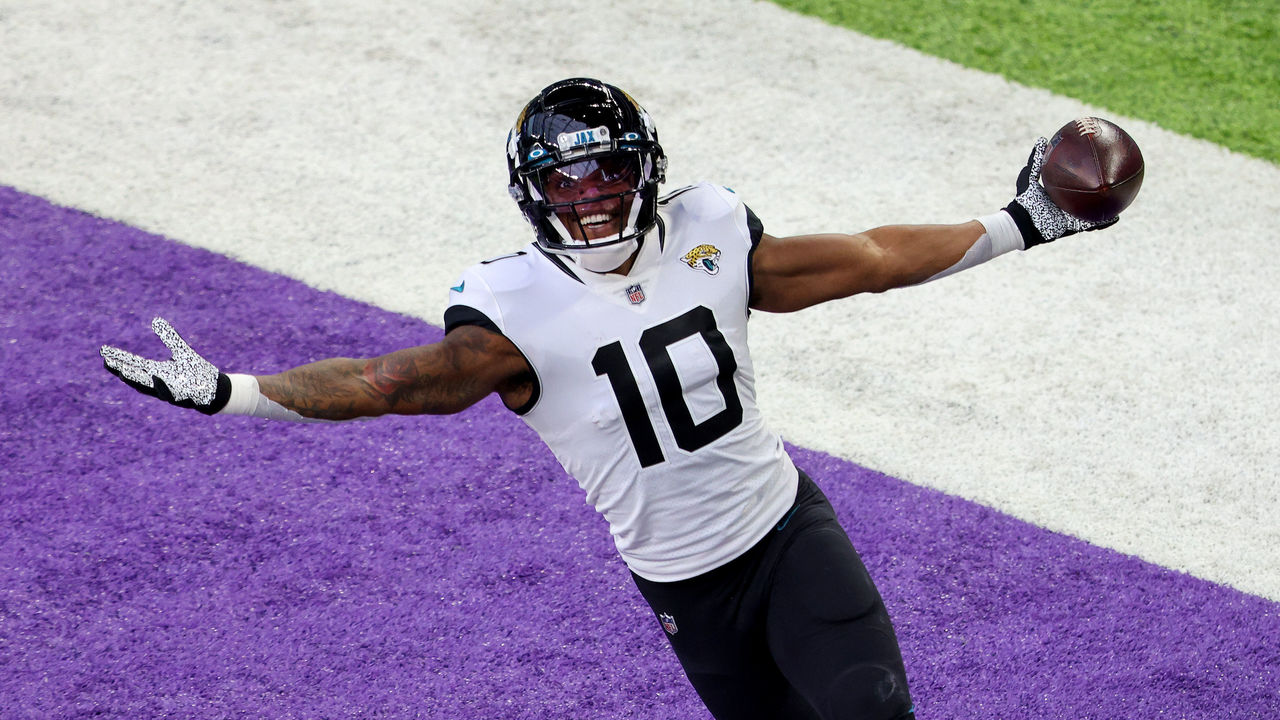 During the lead-up to the 2020 NFL Draft, we had Shenault listed outside the top tier of receiver prospects in a section titled "underhyped."
Though there was no denying his physical attributes and versatility, it was his durability that made us reluctantly push him down. As we highlighted in the article, his talent warranted consideration as an eventual top-24 fantasy receiver in the right offense ... if he could stay on the field.
Shenault appeared in 14 games as a rookie in a weak Jaguars offense, catching 58 passes for 600 yards and five touchdowns while adding another 91 yards on the ground.
He routinely flashed the explosive and dynamic playmaking ability that made him so enticing as a prospect, and the arrow was definitely pointing up for the 22-year-old wideout when the Jags eventually secured the first overall pick.
That drumbeat has only gotten louder since the arrival of quarterback Trevor Lawrence.
Beat writers gushed over Shenault's practice performances in the spring, even calling him the best skill position player on the field. And new offensive coordinator Darrell Bevell expressed an interest in developing Shenault as a pure wide receiver.
Incumbent D.J. Chark may have a 1,000-yard season on his resume, but it's Shenault who has the higher ceiling of the two.
When you factor in the one- or two-round discount that comes with Shenault, it's an easy choice for who to draft this year.
Be ahead of the crowd and take advantage of the Jaguars' new No. 1 receiver being available in the eighth round ... he won't be there much longer.
ADP: 8th round (WR41)
Darren Waller, Raiders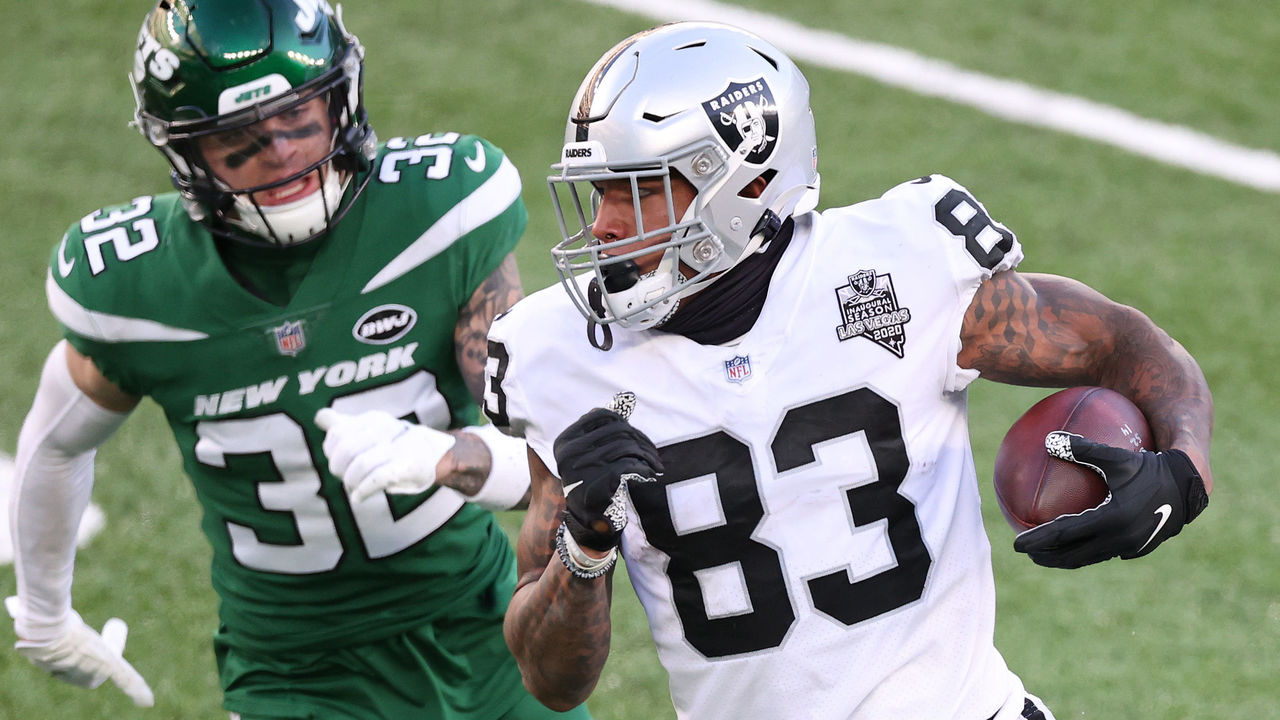 The more drafts you participate in, the more you realize how much better your rosters look when you pay up for an elite tight end in the early rounds.
It can be hard to talk yourself into forgoing a star running back or receiver in favor of Travis Kelce, Darren Waller, or George Kittle (maybe even Kyle Pitts), but you'll be happy you did.
There isn't much convincing to do when it comes to Waller. Though Kelce's mind-blowing 2020 numbers overshadowed the Raiders' de facto top receiver, his season was nearly as impressive.
While Patrick Mahomes' best friend averaged 20.9 fantasy points per game, Waller posted 17.4, with Kittle at 15.6 and the next closest being Mark Andrews at 12.2.
Let's take a moment to let that sink in. Waller gave you a five-point per game advantage on any non-elite tight end.
His 9.1 targets per game were ninth best across the league and placed him in rarified air among the NFL's top receivers.
He also showed us there might be another level of production for him to reach down the stretch with stat lines of 13-200-2, 7-75-0, 9-150-1, 5-112-0, and 9-117-1 over his final five games.
It's understandable if you don't want to use a first-round pick on a tight end, which is what it requires to get Kelce. Meanwhile, Kittle has more target competitions this year and Pitts is an unknown.
Instead, snag the sure thing in Waller at the Round 2-3 turn and enjoy the edge that gives you all season long.
ADP: 2nd round (TE2)
More in this series
Players who will lead you to a title
Comments
✕
Fantasy: 7 players who will lead you to a title in 2021
  Got something to say? Leave a comment below!