2021 NFL Draft prospect rankings: Linebackers
theScore's Dan Wilkins breaks down the top linebacker prospects in the upcoming 2021 NFL Draft as part of a position-by-position series rolling out throughout April.
Top 50
QB | RB | WR | TE | OL
EDGE | DL | LB | CB | S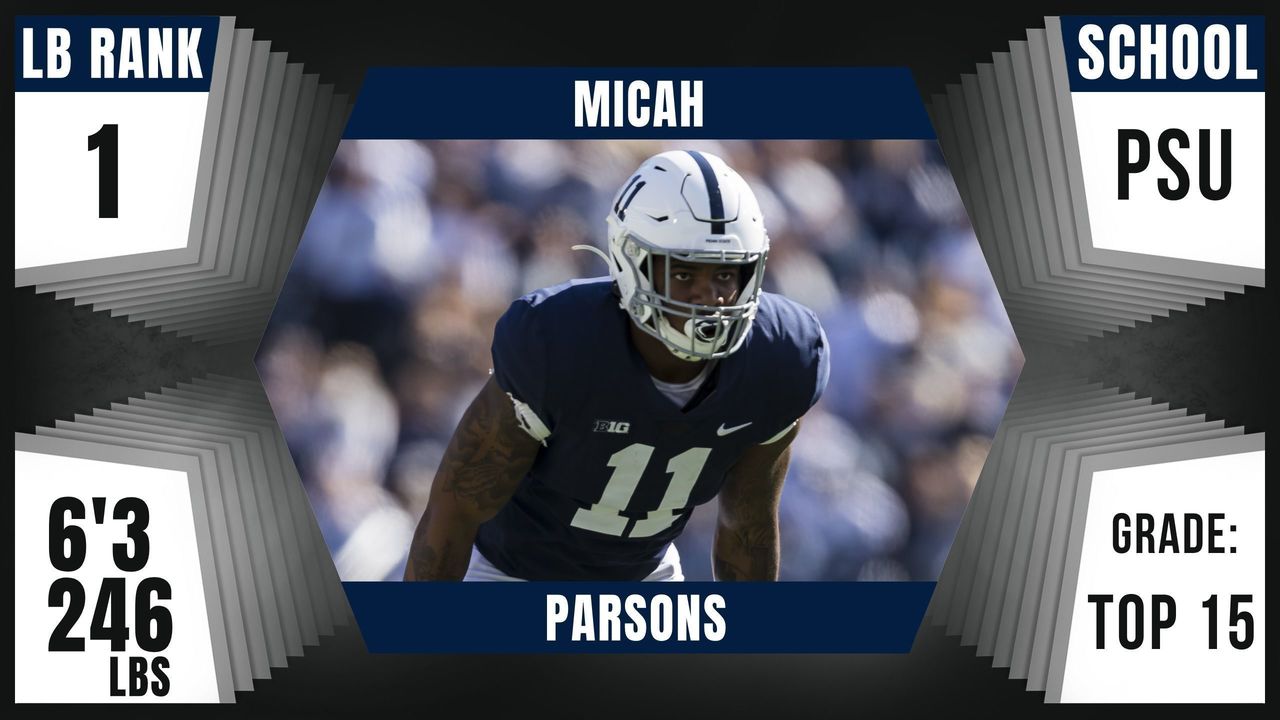 Key stats (2019): 109 tackles, 14 tackles for loss, 5 sacks
An elite prospect built to dominate today's game, Parsons is one of the most talented linebackers we've seen make the jump to the NFL in the past several years. He's an explosive athlete, as demonstrated when he put on a show at Penn State's pro day, and a sound defender capable of making a major impact both against the run and pass. Where he's unique, and unlike most off-ball linebackers, is in his ability to get after the quarterback, either on a blitz from the second level or lined up as an edge rusher. Parsons is the kind of game-wrecker any defensive coordinator would love to have.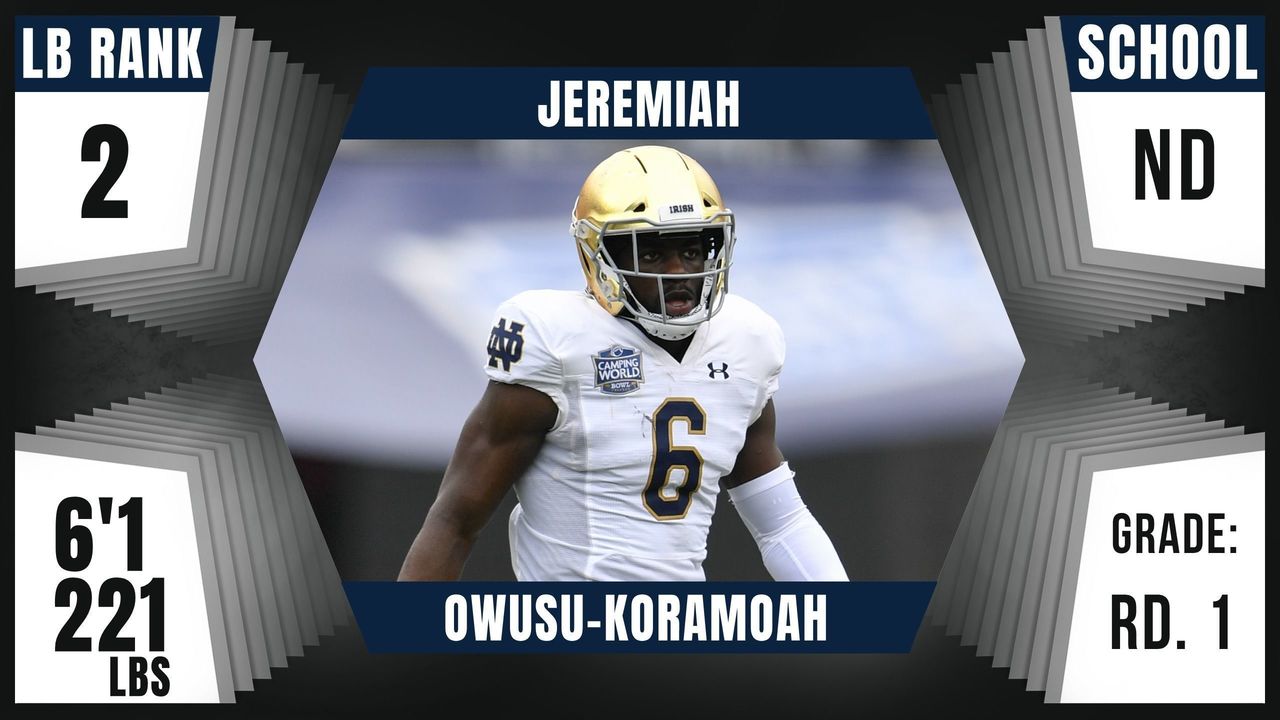 Key stats: 62 tackles, 11 tackles for loss, 1.5 sacks, 1 INT
Owusu-Koramoah will face questions about his size at the next level, and there's no doubt his game could benefit from adding some strength to his frame. But everything about his skill set screams potential star. The Notre Dame product is an athletic freak who can be used all over the field, either chasing down run plays sideline-to-sideline or making his presence felt in coverage. While he may not play over the slot as often as he did in college, a linebacker taking that role tells you everything you need to know about his rare movement skills. Owusu-Koramoah could be the answer to the athletes dominating the league from the tight end position.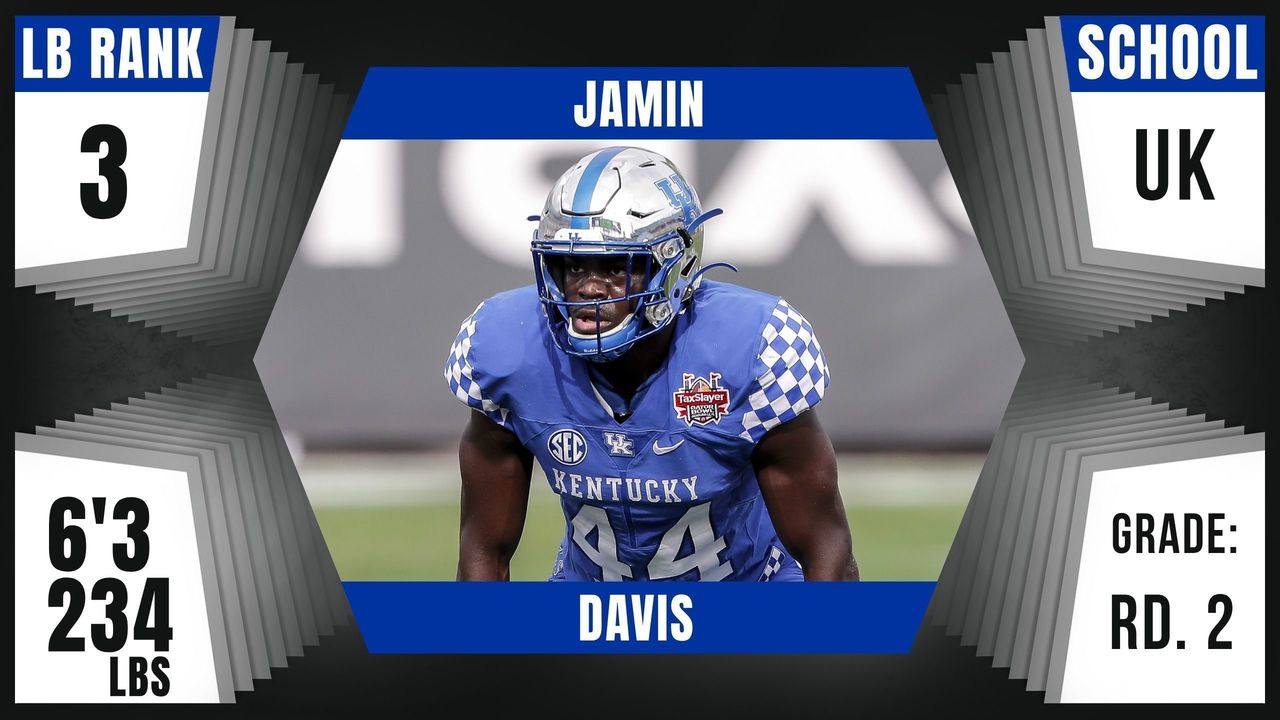 Key stats: 102 tackles, 4 tackles for loss, 1.5 sacks, 3 INTs
Another rare athlete who's all over the field, Davis has a high ceiling at the next level. He'll need to translate those movement skills to greater responsibilities in coverage, and he'll require more power to take on NFL offensive linemen, but it shouldn't take long for his physical gifts to win out. His quickness and ability to work through bodies in between the tackles will give blockers fits, and his pursuit speed allows him to make plays on the outside that others can't. Given the necessary time, Davis could be a force.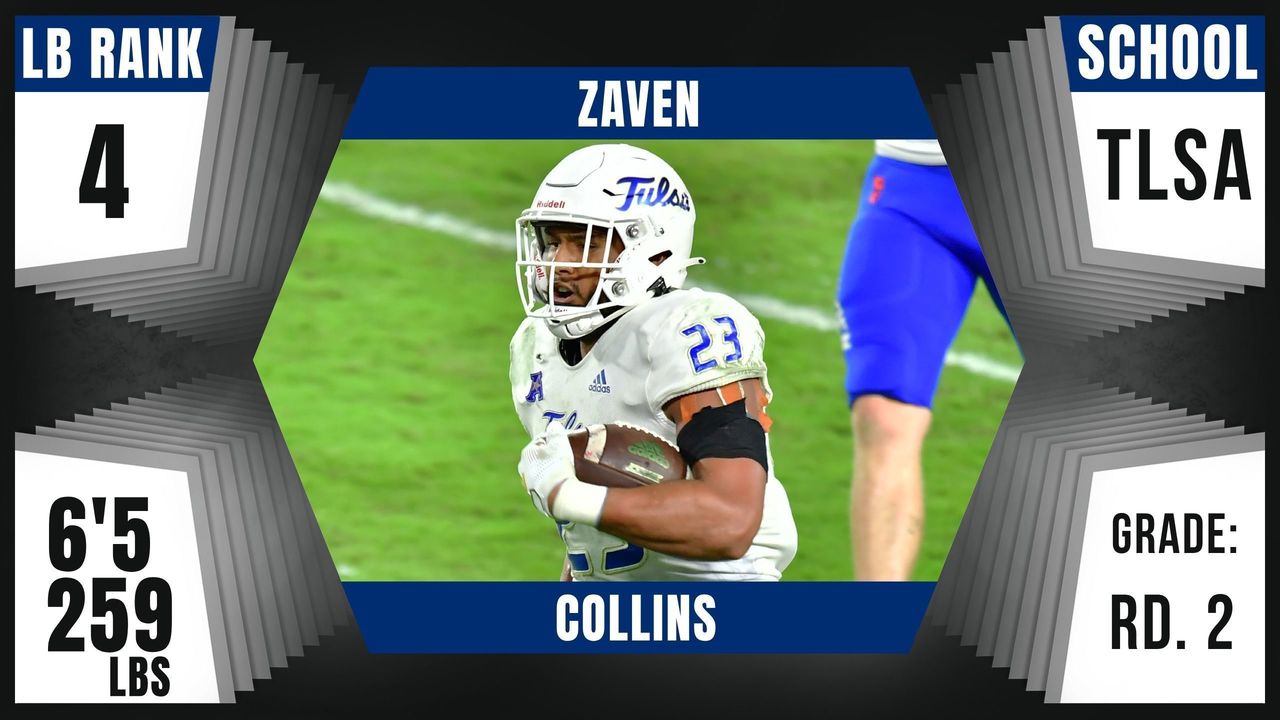 Key stats: 54 tackles, 7.5 tackles for loss, 4 sacks, 4 INTs
A massive off-ball linebacker with the ability to key, diagnose, and explode downhill, Collins would be a notable prospect for his upside in the run game alone. Add in the fact that his instincts also show up in the passing game, and he just may be the perfect blend of old school and new. Collins' physicality doesn't match his frame at this point, but that's something that can be addressed at the next level. If NFL coaching and training programs help his play strength and technique when it comes to taking on blocks, the sky is the limit.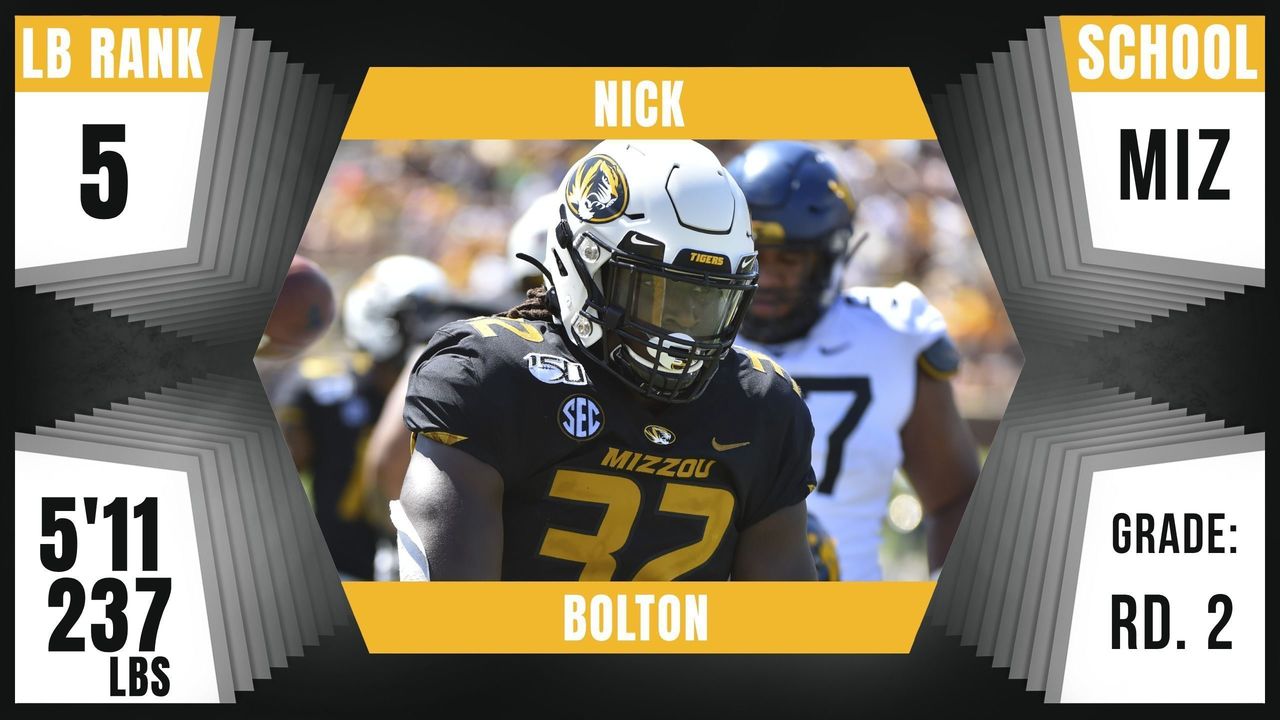 Key stats: 95 tackles, 8 tackles for loss, 2 sacks
Something of a throwback linebacker, Bolton's calling card is getting downhill and destroying the opponent's running game. His processing ability puts him at an advantage from the jump, and his explosiveness often results in him finishing the play at or around the line of scrimmage. Bolton's athleticism is more about straight-line burst than it is change of direction, making it difficult to envision him having any consistent impact in man coverage downfield. However, his feel for the game shows up when he's dropping into zones. He could be a high-level starter in a system that takes that into account and lets him do what he does best.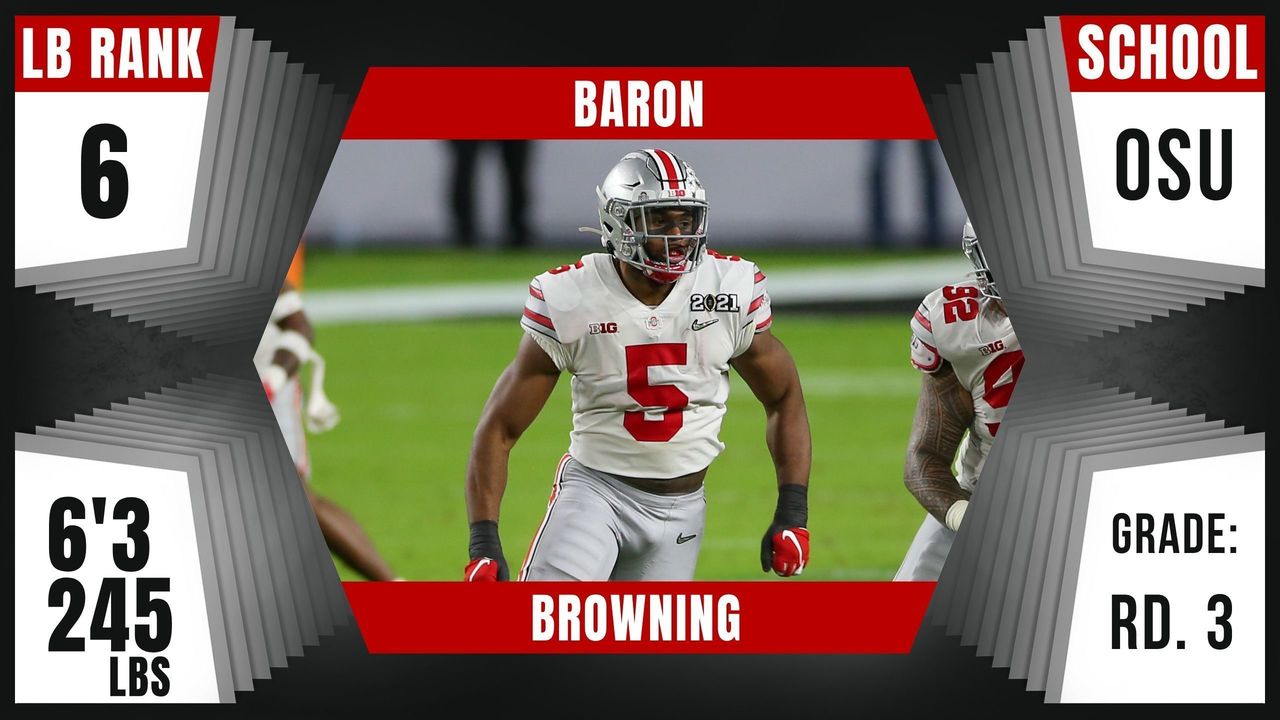 Key stats: 29 tackles, 3 tackles for loss, 1 sack
Browning's rare athleticism can't be overlooked. He has the frame and strength to hold his own against blockers between the tackles, and there's no question about his unique ability to get out in space. While the Ohio State standout needs to develop in coverage, he's unique in that he can shift down and get after the quarterback from the edge. If Browning's instincts and coverage abilities improve, he could be a valuable defensive chess piece at the next level.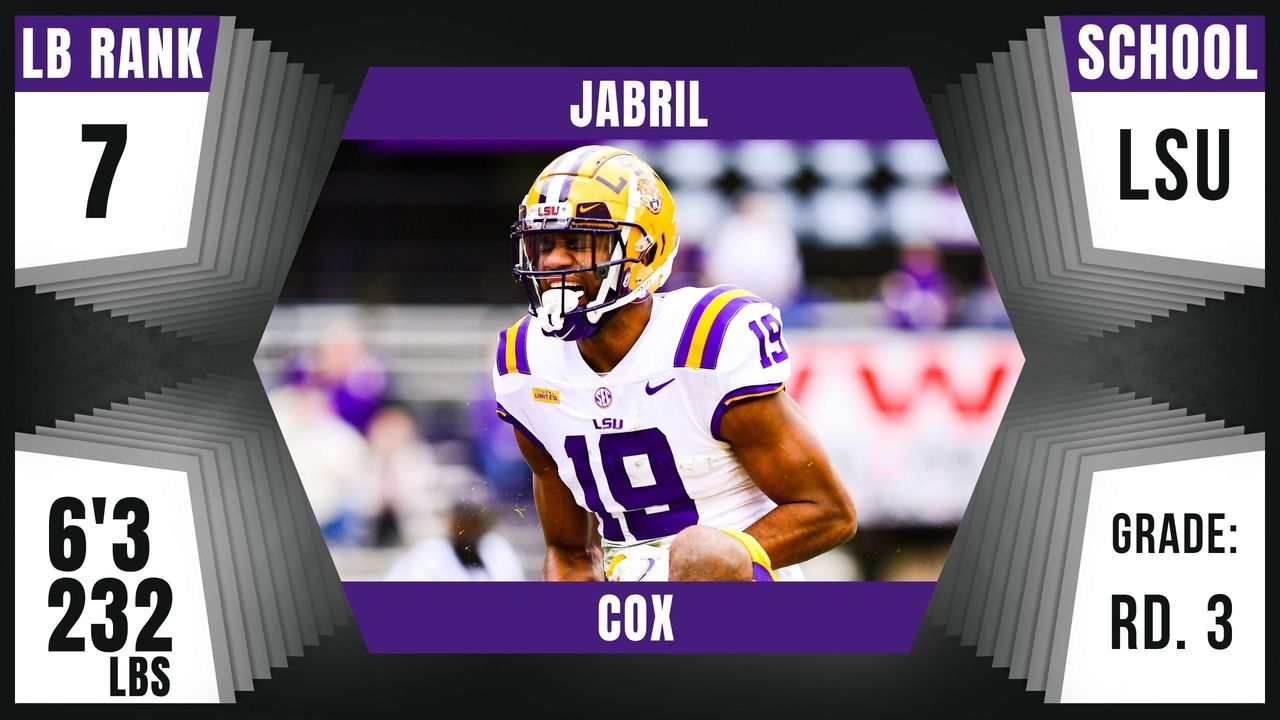 Key stats: 58 tackles, 6.5 tackles for loss, 1 sack, 3 INTs
Cox is the type of linebacker who may have been seen as a project, or even a player playing out of position, as recently as 10 years ago. Now, there's a clear path for him to make an early and long-lasting impact, regardless of how much he progresses as a run defender. One of the premier coverage linebackers in this class, Cox can be utilized as a matchup piece against tight ends and pass-catching running backs. There just aren't many linebackers who are this fluid in their movements turning and running in man-to-man. That's where he'll make his money, but there's also potential for an every-down role if he's afforded the necessary time to develop.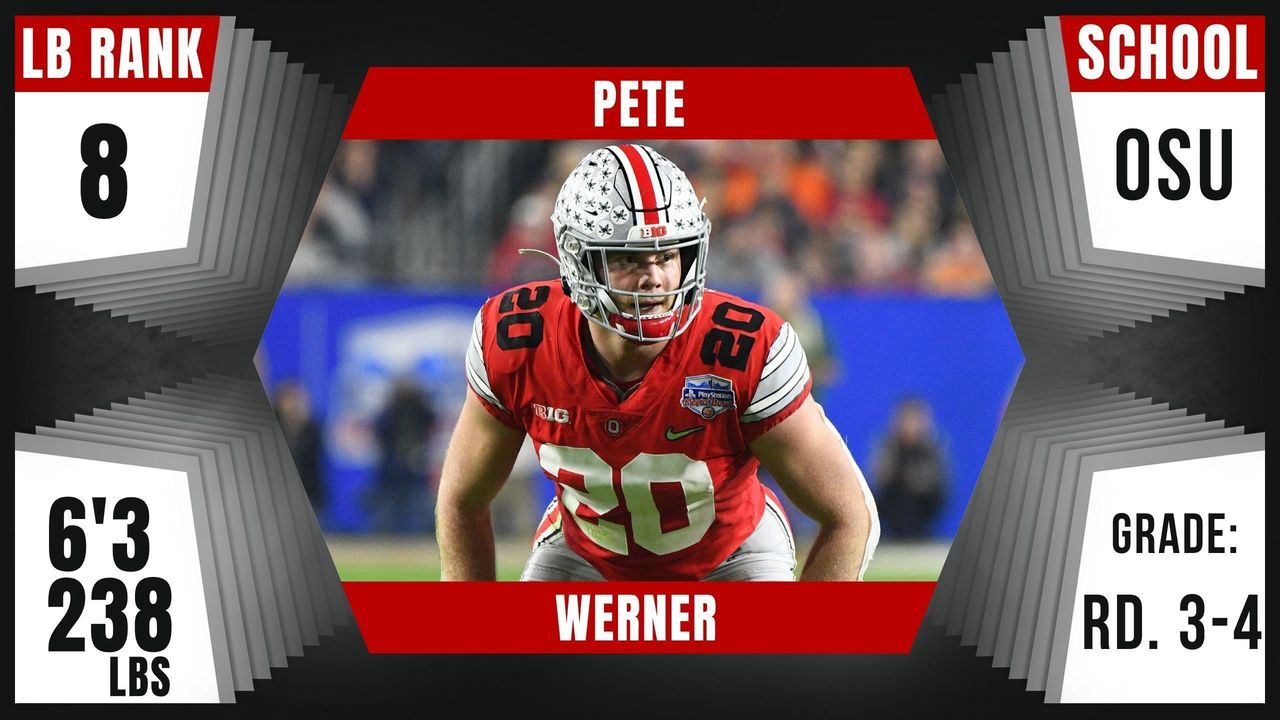 Key stats: 54 tackles, 2.5 tackles for loss, 1 sack
Werner is a solid prospect who could fit in at any off-ball linebacker spot. That versatility will be a major selling point, but don't sleep on his natural skills, either. His ability to diagnose constantly puts him in a position to make a play, and he has the burst to finish. It's unclear how his physicality will play against linemen at the pro level, so he could benefit from NFL training programs, but the technique to get off blocks and the short-area quicks to slip right by them should translate. And with the movement skills to hold up in coverage, Werner should be primed for an every-down role.
Other notable prospects
Chazz Surratt (North Carolina)
Dylan Moses (Alabama)
Cameron McGrone (Michigan)
Derrick Barnes (Purdue)
Comments
✕
2021 NFL Draft prospect rankings: Linebackers
  Got something to say? Leave a comment below!