2021 NFL Draft prospect rankings: Edge
theScore's Dan Wilkins breaks down the top edge prospects in the upcoming 2021 NFL Draft as part of a position-by-position series rolling out throughout April.
Top 50
QB | RB | WR | TE | OL
EDGE | DL | LB | CB | S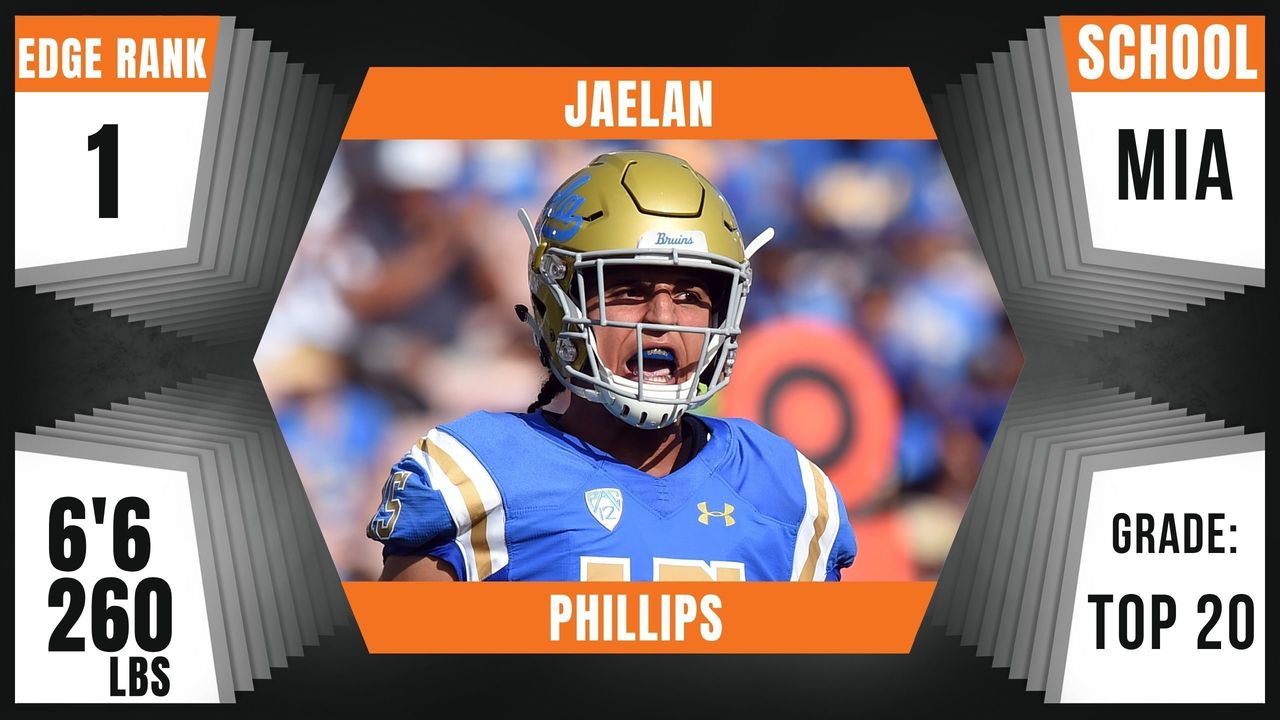 Key stats: 8 sacks, 15.5 TFLs, 45 tackles
Phillips is this year's clear No. 1 edge defender and a slam dunk first-rounder in virtually any draft class based on talent alone. The Miami product makes the jump to the NFL after demonstrating nearly everything you want to see from a pass-rusher, with a pro-ready tool belt of rush moves, the athletic ability to execute against top competition, and the run-game impact to have an every-down role from Day 1. The injury history is no doubt a factor here, with several ailments leading to his medical retirement at UCLA in 2018 before he restarted his career with the Hurricanes the following year. But if teams are comfortable with his background, there's little reason not to love everything about Phillips' potential at the next level.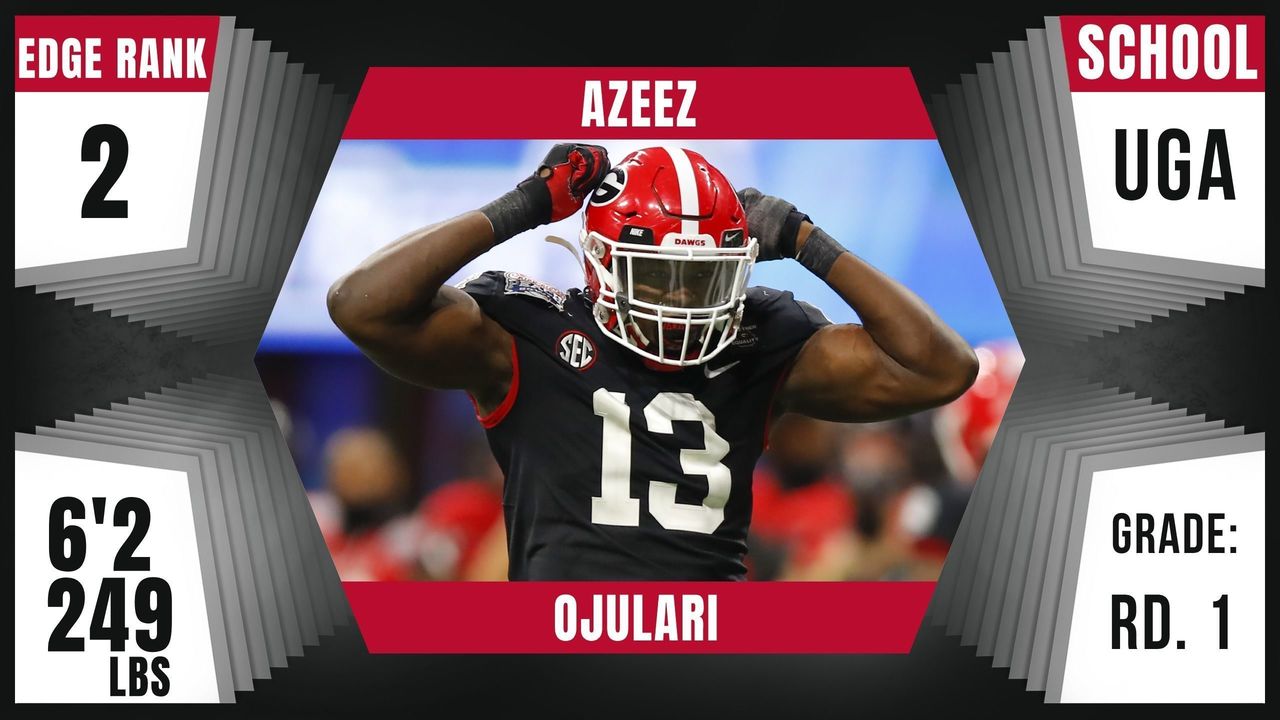 Key stats: 9.5 sacks, 12.5 TFLs, 31 tackles
There shouldn't be much reservation about Ojulari's transition to the NFL level after he's exhibited all the traits desired of a speed rusher off the edge. The athletic profile will continue to give offensive tackles fits to the outside, as his get-off and ability to bend the edge alone are lethal. But that's not the only way the Georgia standout wins. With a solid arsenal of rush moves and the plan necessary to set up his opponent, he does more than just run the arc. Ojulari's ceiling and overall effectiveness as an every-down player will depend on his ability to add to his frame, but there's certainly room to grow, and he's already far more physical than you might expect. Ojulari should be an instant-impact speed rusher with the upside for much more.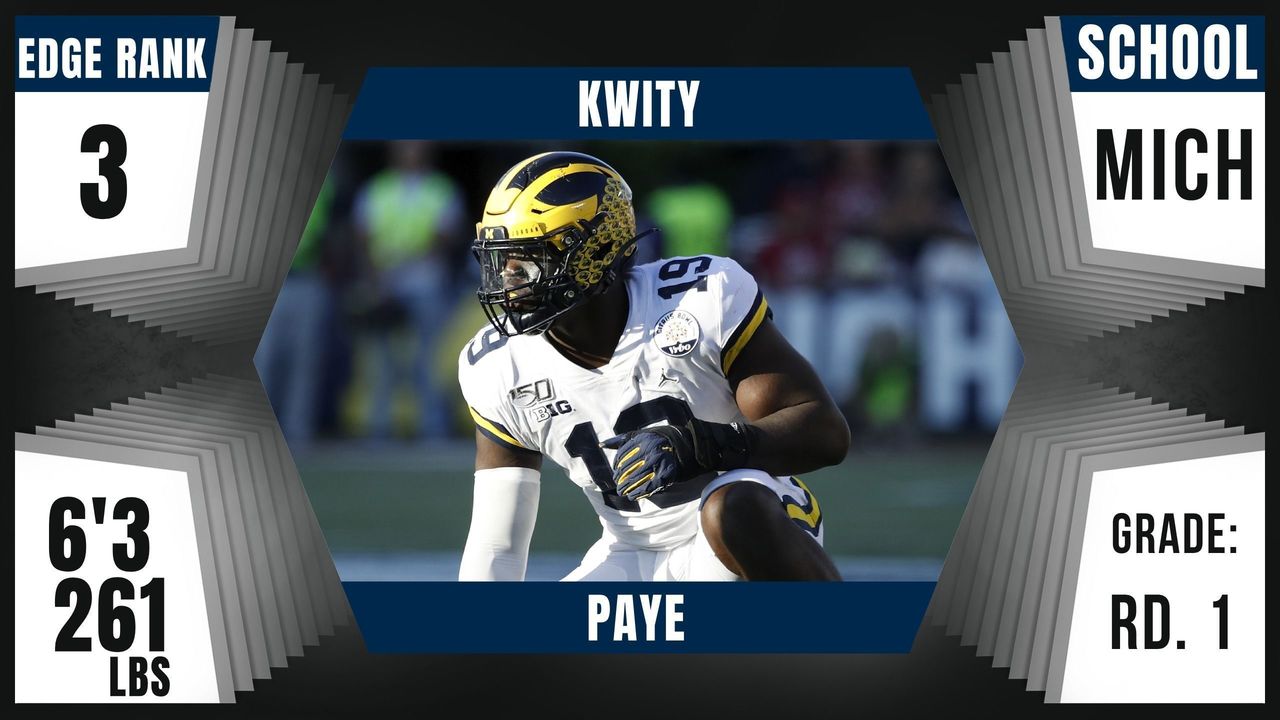 Key stats (2019): 6.5 sacks, 12.5 TFLs, 50 tackles
Paye has as much upside as any edge defender, and perhaps as much as any defensive player overall, in this talented class. The question is, how accurately can you project an ascent based on his rare athletic traits - and to be clear, we're betting on it quite a bit. Paye's movement ability is ridiculous, his effort is outstanding, and he had some truly dominant flashes at Michigan. Some patience will be required, as the pass-rush repertoire is still a work in progress, but there's plenty of reason to believe that NFL coaching and a full-time role more suited to his skill set on the edge will get the absolute most out of physical gifts that you just can't teach.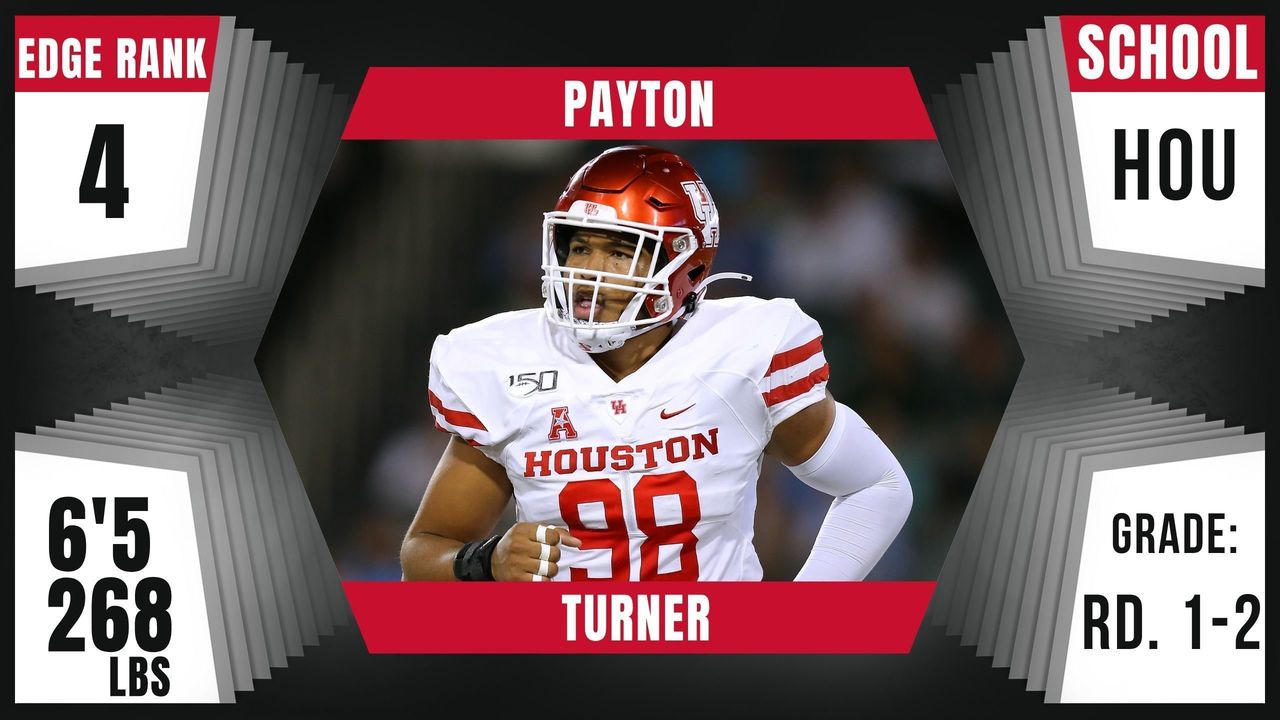 Key stats: 5 sacks, 10.5 TFLs, 25 tackles (5 games)
Turner may not have the name recognition like some of the other top talents in this year's group of edge defenders, but that ought to change. With an outstanding frame, rare lateral movement skills for a player of his size, and the handwork to keep himself clean at the point of attack, his potential is through the roof. The Houston product played at a lower level of competition, which is a factor in his evaluation, but the traits are what they are. If coaching at the next level can help him to master the finer points of pass-rushing - namely adding counter moves to his arsenal - Turner could have an incredibly bright future.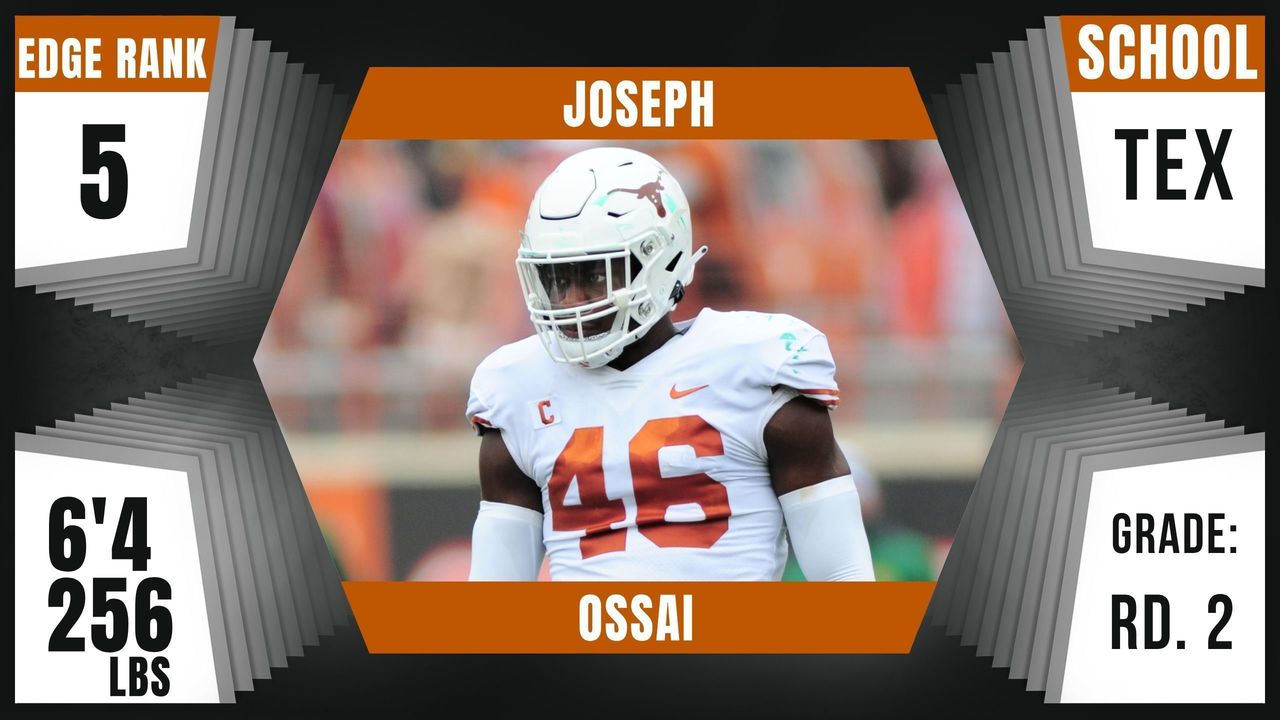 Key stats: 5.5 sacks, 15.5 TFLs, 55 tackles
Ossai, who's still new to the edge after beginning his college career as an off-ball linebacker, is early in his development. Evaluators can take that fact one of two ways, but in this case, it just makes everything he's already shown that much more impressive. The Texas standout is a problem for offensive tackles who can't match the athleticism he demonstrates getting upfield, and the hand usage - in tandem with those movement skills - should allow him to develop a more extensive arsenal of rush moves as he gains more experience. Ossai will have to get stronger against the run to play consistently on early downs, but in today's NFL, the pass-rush is what it's all about. He should have no trouble making a quick impact in that department.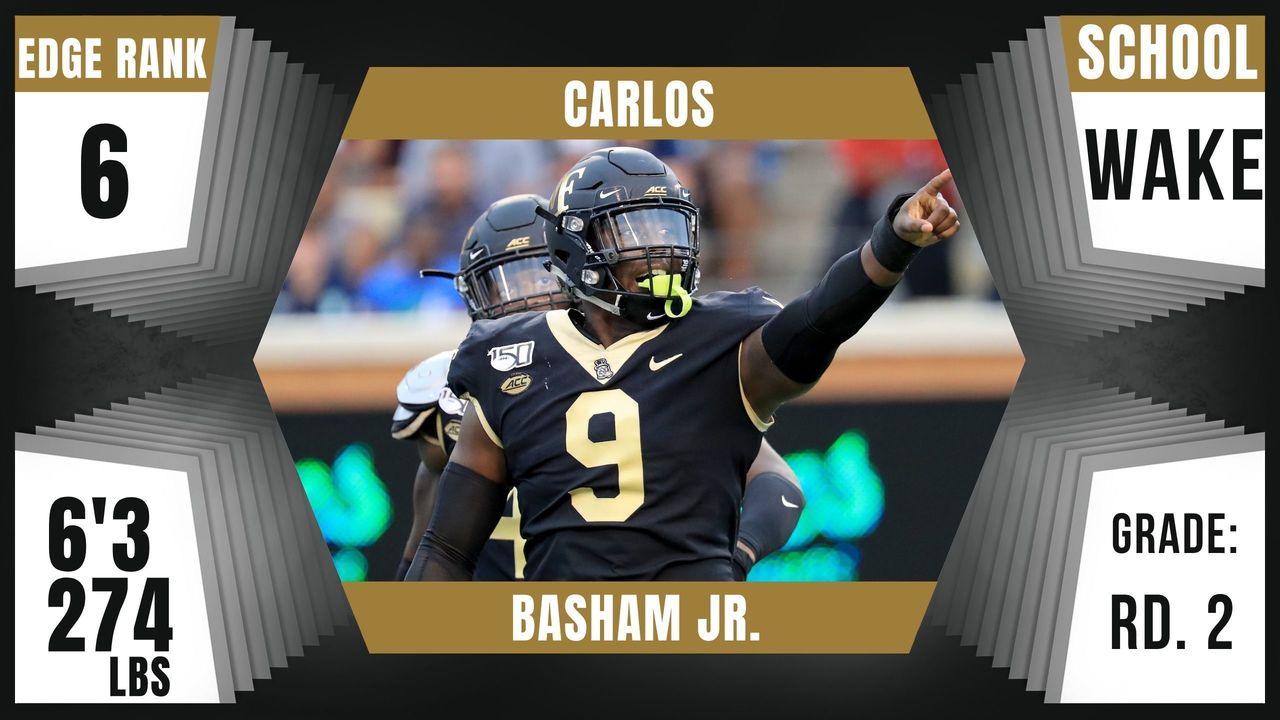 Key stats (2019): 10 sacks, 18 TFLs, 57 tackles
Basham enters the NFL with an incredibly high floor as an advanced rusher in terms of technique and nuance. It's not often that a player at this stage already has such an impressive collection of rush moves, both off the snap and working counters on second-reaction efforts. The Wake Forest alum will win plenty of reps with his handwork, pass-rush plan, and effort alone. Basham's athletic profile may limit his upside on the edge in some respects, as he may not have the speed and cornering ability to win to the outside regularly, but that's where his versatility comes into play. The power element of his game allows him to shift inside on passing downs, where his athleticism will play up against guards.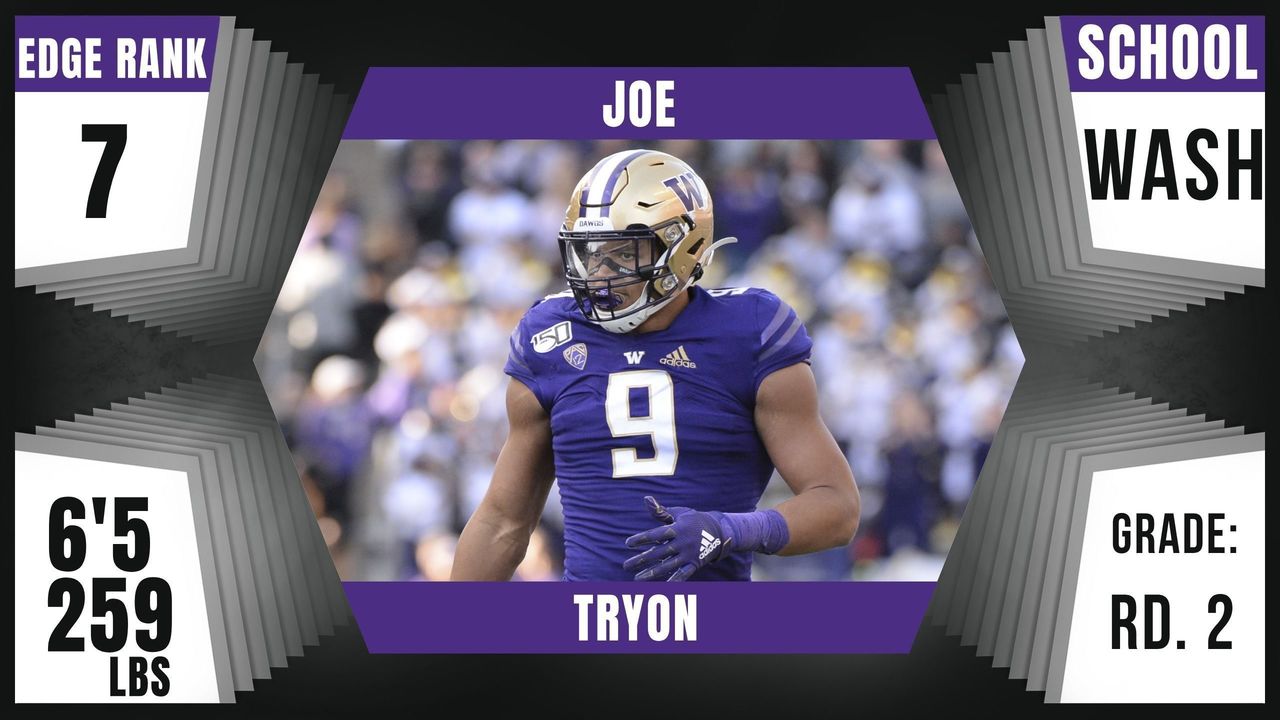 Key stats: 8 sacks, 12.5 TFLs, 41 tackles
Tryon is a powerful player who can be a major challenge for any opponent that doesn't pack a punch of their own. With explosiveness off the ball and the ability to convert his speed into an effective bull rush, he regularly collapses the pocket from the outside. That power shows up in the running game, too, where he sets a strong edge and is able to shed blockers to make a play on the ball. If Tryon can add to his rush repertoire and improve on the ability to win a rep when his first effort is nullified, he could end up with some impressive sack production to go with his three-down profile.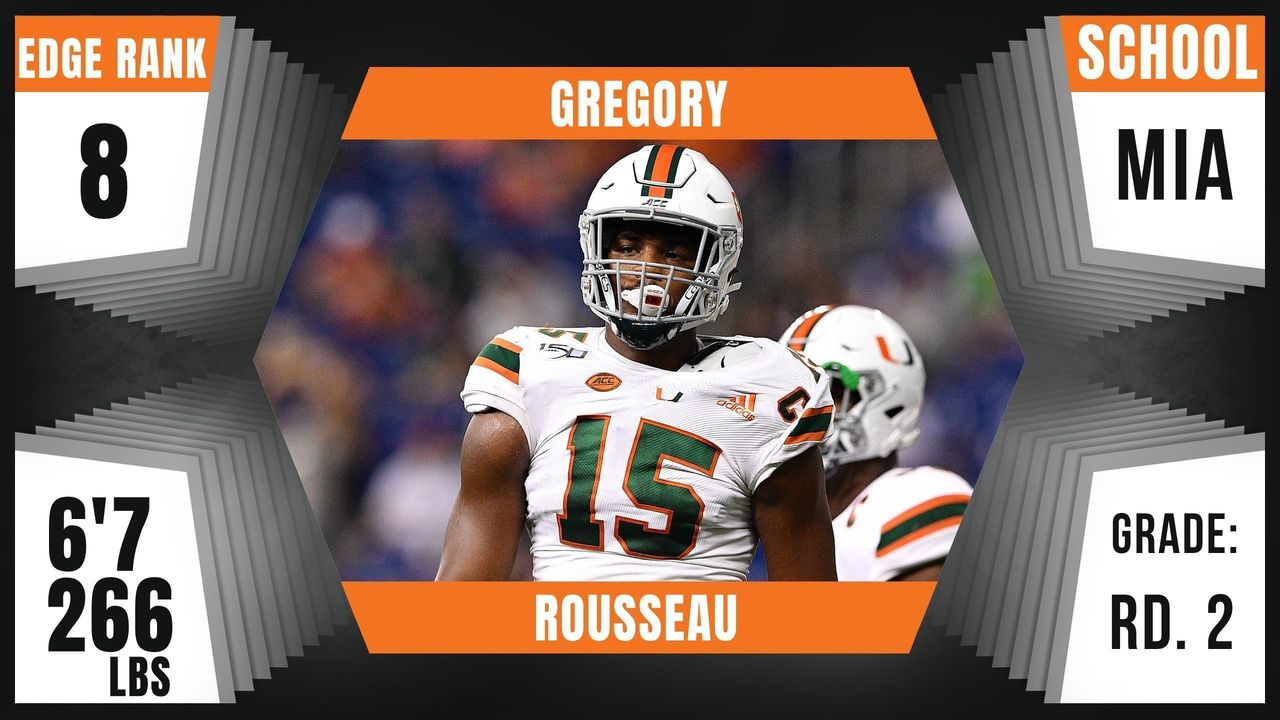 Key stats (2019): 15.5 sacks, 19.5 TFLs, 54 tackles
It's easy to dream about the upside that comes with Rousseau's impressive frame and athletic ability, especially after he dominated to the tune of 15.5 sacks in 2019 - his first and only extended experience at defensive end. And he may only just be getting started. Because Rousseau lacks the ability to get upfield and win on the outside of offensive tackles, he profiles as a base 4-3 end who can kick inside and line up against guards in obvious passing situations, where he did the majority of his damage during a brief but spectacular college career. If afforded the time to get stronger, improve against the run, and further develop his pass-rush repertoire, the Pro Bowl potential is there.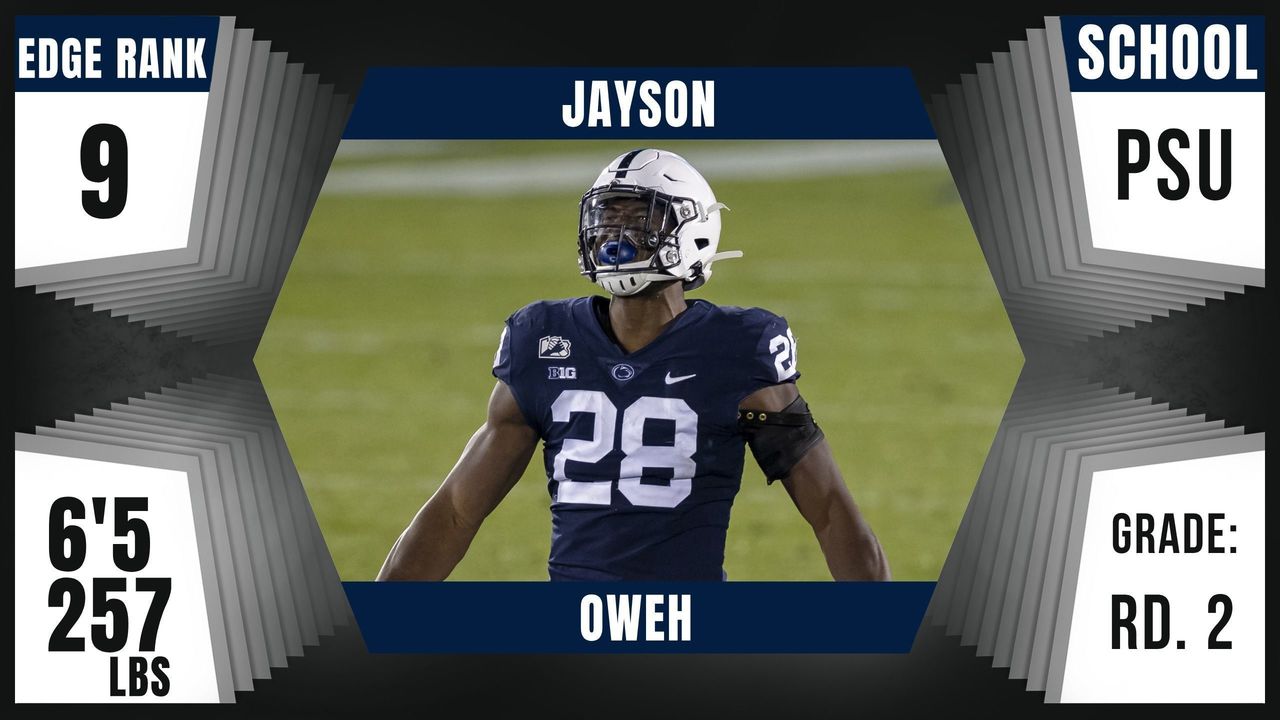 Key stats: 0 sacks, 6.5 TFLs, 38 tackles
Athleticism is a must for edge players in today's NFL, and Oweh checks those boxes in just about every way imaginable. His freakish abilities were on full display at the Penn State Pro Day, where he ran a 4.39-second 40-yard dash, posted wildly rare explosion scores with his jumps, and showed similarly unbelievable short-area quickness with his shuttle and 3-cone times. The technical aspects of his game are still a work in progress, and he'll need to get stronger for the next level, so his new team may need to be patient. But the draft is a long-term game, and Oweh is about as intriguing of an upside pick as you can make. With a little time to develop, he could be a superstar.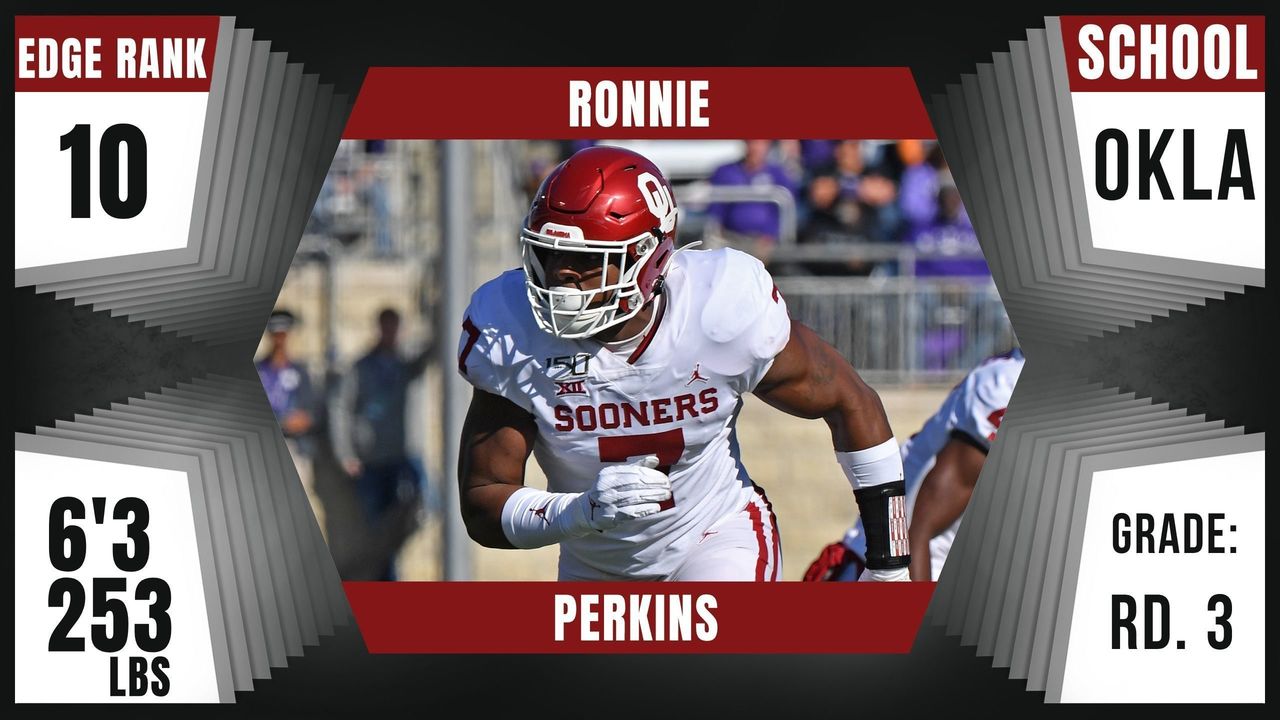 Key stats: 5.5 sacks, 10.5 TFLs, 23 tackles
Perkins is a technically sound pass-rusher ready to hit the ground running at the next level. The Oklahoma product wins in several ways off the edge, running the arc with speed, using his hands to keep himself clean, and demonstrating nuance to set up his moves and execute. While he may lack the size and length desired of an every-down player, the fact that the NFL's becoming more of a pass-heavy league plays right into his wheelhouse. Even if Perkins is limited to a passing-down role early on, that's more than enough for him to go out and do what he does best.
Other notable prospects
Dayo Odeyingbo (Vanderbilt)
Quincy Roche (Miami)
Janarius Robinson (Florida State)
Rashad Weaver (Pitt)
Patrick Johnson (Tulane)
Comments
✕
2021 NFL Draft prospect rankings: Edge
  Got something to say? Leave a comment below!