2021 NFL Draft prospect rankings: Wide receivers
Photo illustration by Nick Roy / theScore
theScore's Mike Alessandrini and Dan Wilkins break down the top wide receiver prospects in the upcoming 2021 NFL Draft as part of a position-by-position series rolling out throughout April. Also included for offensive skill players is fantasy analysis from theScore's Justin Boone.
Top 50
QB | RB | WR | TE | OL
EDGE | DL | LB | CB | S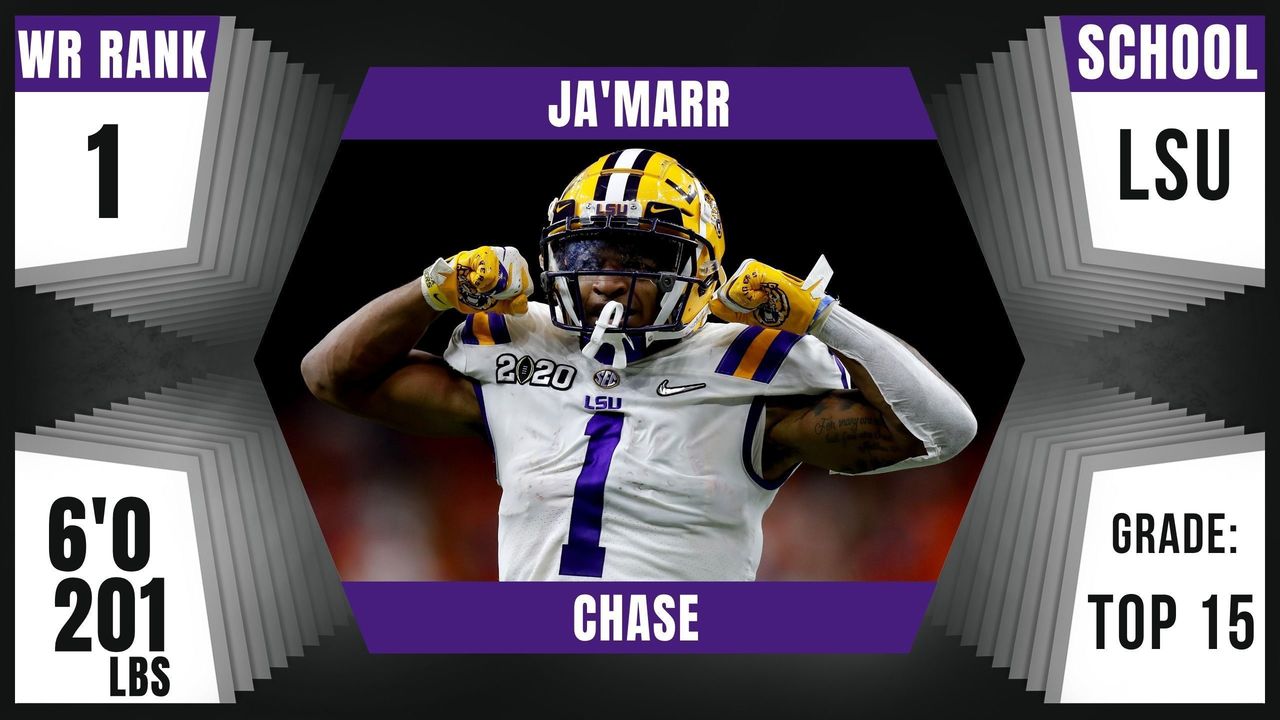 Key stats (2019): 84 receptions, 1,780 yards, 20 TDs, 21.2 YPC
Chase is our No. 1 receiver in this class after posting one of the most productive seasons in college football history. If you want to get picky, you could take issue with his rise really only being a one-year sample, as the LSU star opted out of the 2020 season amid the pandemic. But that would be pretending we haven't already seen everything we need to see. Chase is a proficient route-runner who wins at the catch point and after the catch, with the physicality that cornerbacks just can't match. And a phenomenal Pro Day performance likely took care of any concerns about his athletic upside. Chase is the complete package, and he should quickly emerge as a high-volume top target while producing at all levels of the field.
Boone's fantasy spin: Chase has all the makings of a potential superstar at the next level. He offers a combination of elite traits and monster production. In 2019, he outproduced college teammate Justin Jefferson, who went on to have one of the best rookie seasons we've ever seen by a wideout. Chase is a slam-dunk prospect with all the measurables to be a WR1 in fantasy for a long time.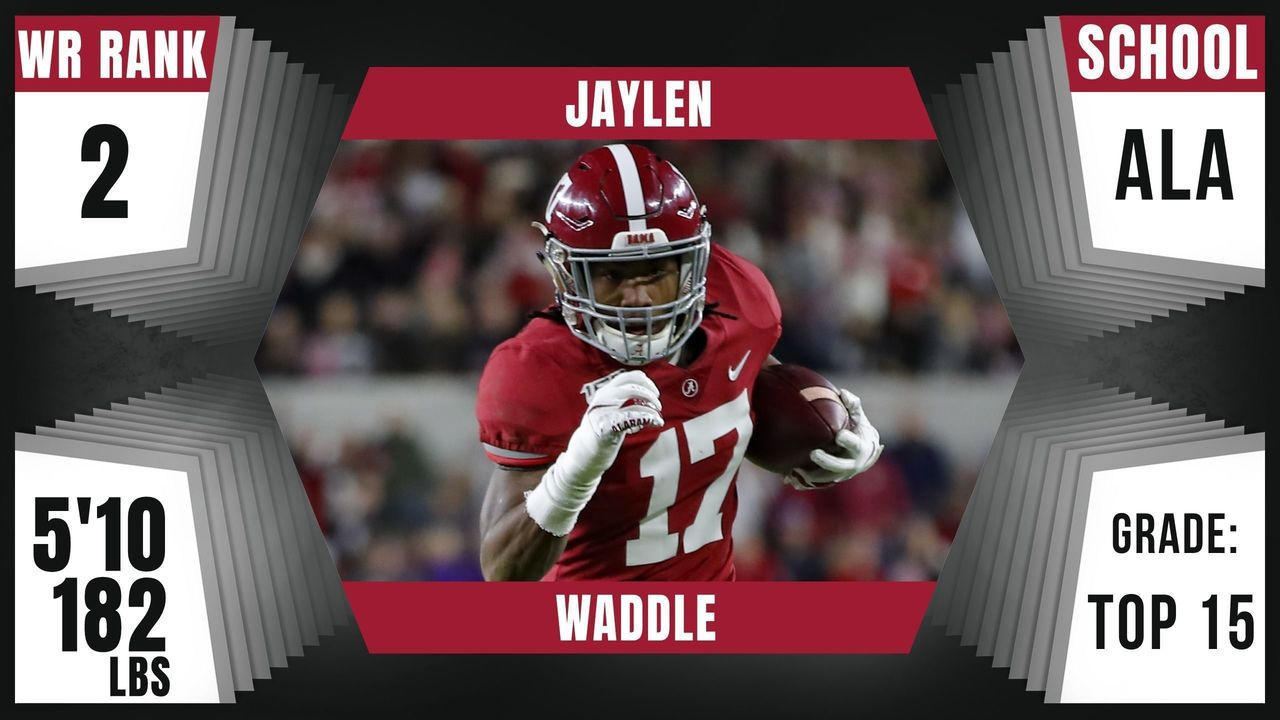 Key stats: 28 receptions, 591 yards, 4 TDs, 21.1 YPC
Waddle brings a level of deep-play ability that none of his peers in the 2021 class offer. But teams would be wise not to label him purely a speedster, as he's a much more complete player. With pure explosiveness in and out of breaks and an other-worldly release off the line of scrimmage (making him dominant even in press coverage), Waddle doesn't just separate - he leaves defenders in the dust. The talented wideout plays bigger than his listed size, producing on contested targets while displaying great ball-tracking ability. He's an ideal featured weapon for the modern NFL game.
Boone's fantasy spin: While it's become an overused tendency to compare feisty, fast wideouts to Tyreek Hill, Waddle might be the closest thing we've seen to the Chiefs star in recent years. The 22-year-old flashed as an explosive playmaker with impressive body control while in a stacked Alabama receiving corps. He'll likely go off the board in the first half of Round 1. Projecting Waddle to come close to Hill's success in the pros is a tough bet to make, but the rookie's ceiling could easily land him inside the top-24 fantasy receivers in a year or two.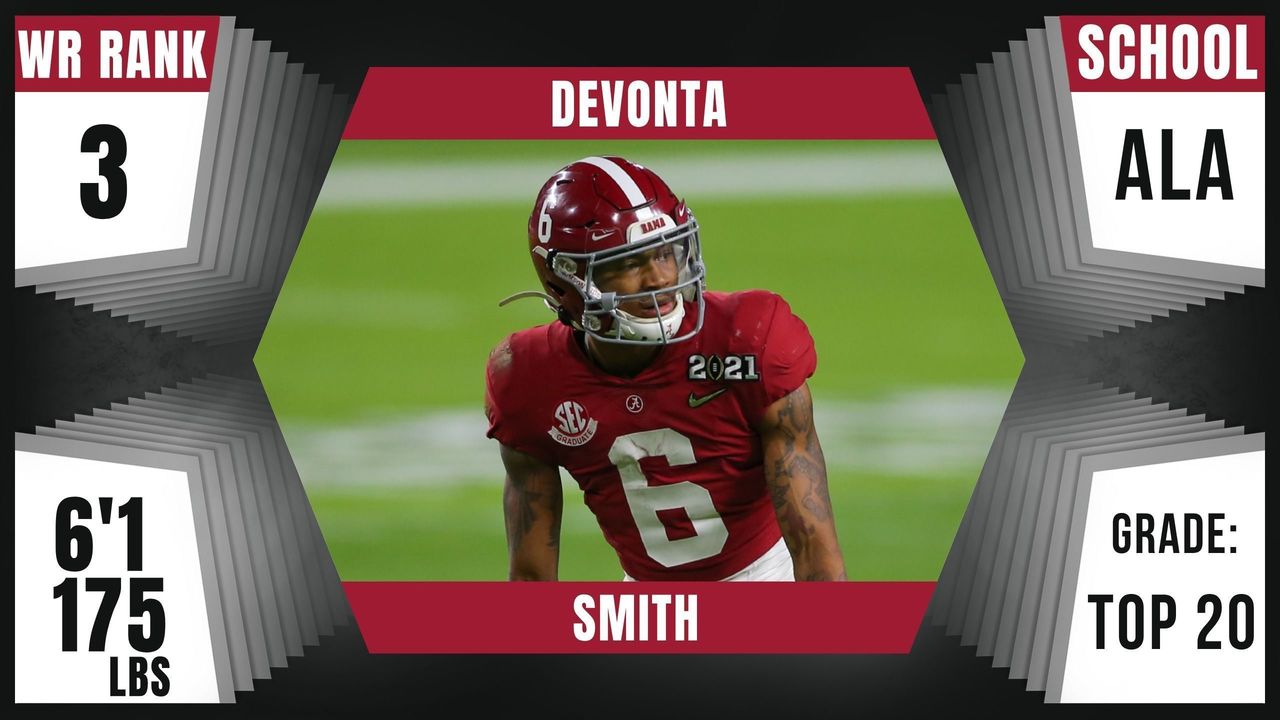 Key stats: 117 receptions, 1,856 yards, 23 TDs, 15.9 YPC
Smith is a fantastic prospect after consistently being the most productive player on an Alabama team filled with first-round pass-catchers, and becoming the first receiver to win the Heisman Trophy in 29 years. Questions about his slender frame are valid, as the history for 170-pound wideouts isn't great. But everything else about his game still screams future Pro Bowler. Smith effortlessly creates separation through his athleticism and nuanced route-running, and anything he may lack in size and physicality is more than compensated for at the catch point. His consistent results are truly ridiculous at his size as he high-points the ball and wins over defenders. Any team overthinking the weight factor here may come to regret it before long.
Boone's fantasy spin: The debate about Smith's weight will follow him for a while unless he comes out of the gate early and silences his critics. Though his size doesn't doom him to being an eventual bust, it forces us to adjust our outlooks for him as an NFL talent despite his immense numbers in college. With the limited high-end success of players with his build, the 22-year-old may profile better as a quality No. 2 option in a pro offense, increasing the degree of difficulty for him to emerge as a fantasy stud.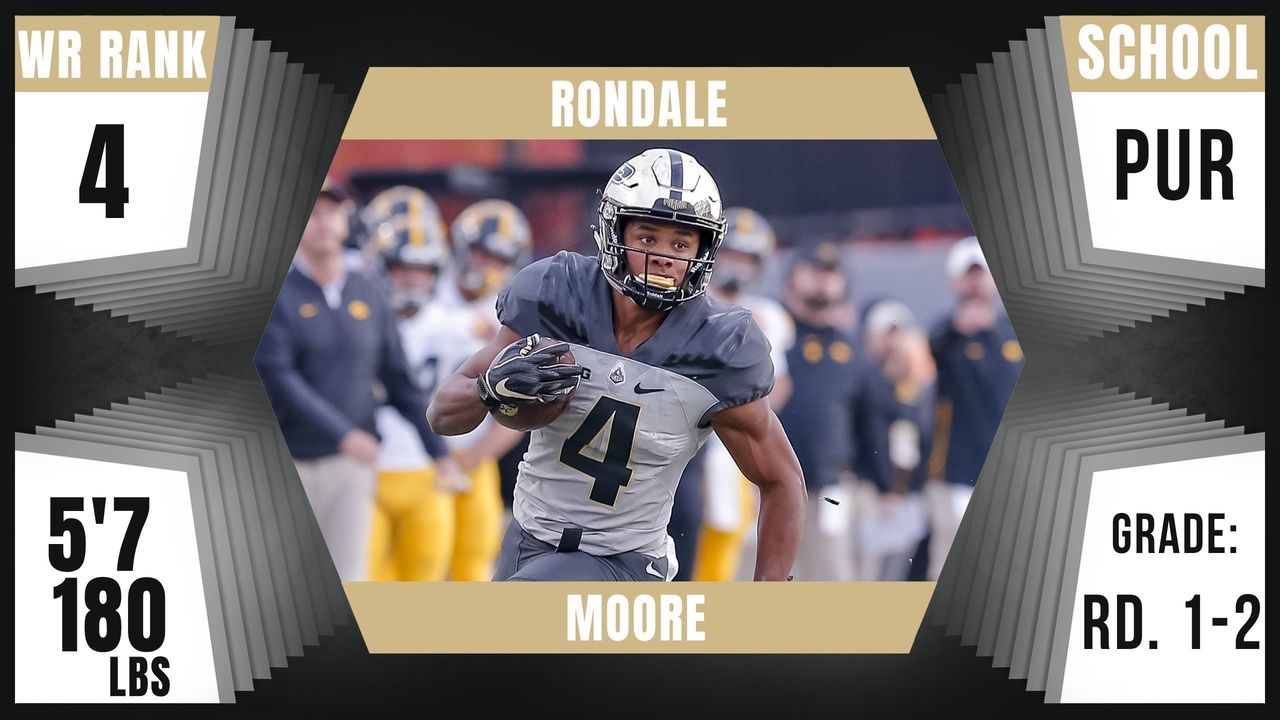 Key stats (3 games): 35 receptions, 270 yards, 1 TD, 7.7 YPC
Standing 5-foot-7 and 180 pounds, Moore doesn't fit the mold of a No. 1 receiver by any stretch of the imagination. However, his raw traits are so rare that we'd bet on the 20-year-old developing into a top-tier playmaker. With speed, ball skills, and athleticism you simply can't teach, Moore can succeed early in his career while separating downfield and creating chunk yardage after the catch. Opposing coaches will be up all night trying to figure out how to slow him down, as he can win any matchup in space. More so than his size concerns, Moore's biggest NFL hurdle will be staying healthy.
Boone's fantasy spin: It's been two years since Moore broke onto the college scene with a 114-catch, 1,258-yard, 12-touchdown freshman campaign. Unfortunately, his appearances have been limited since and you can't evaluate his fantasy potential without wondering whether durability will be an issue. While he may have proved he's healthy at the moment with a 4.29 40-yard dash at his pro day, he'll be a risky selection for both NFL and fantasy GMs.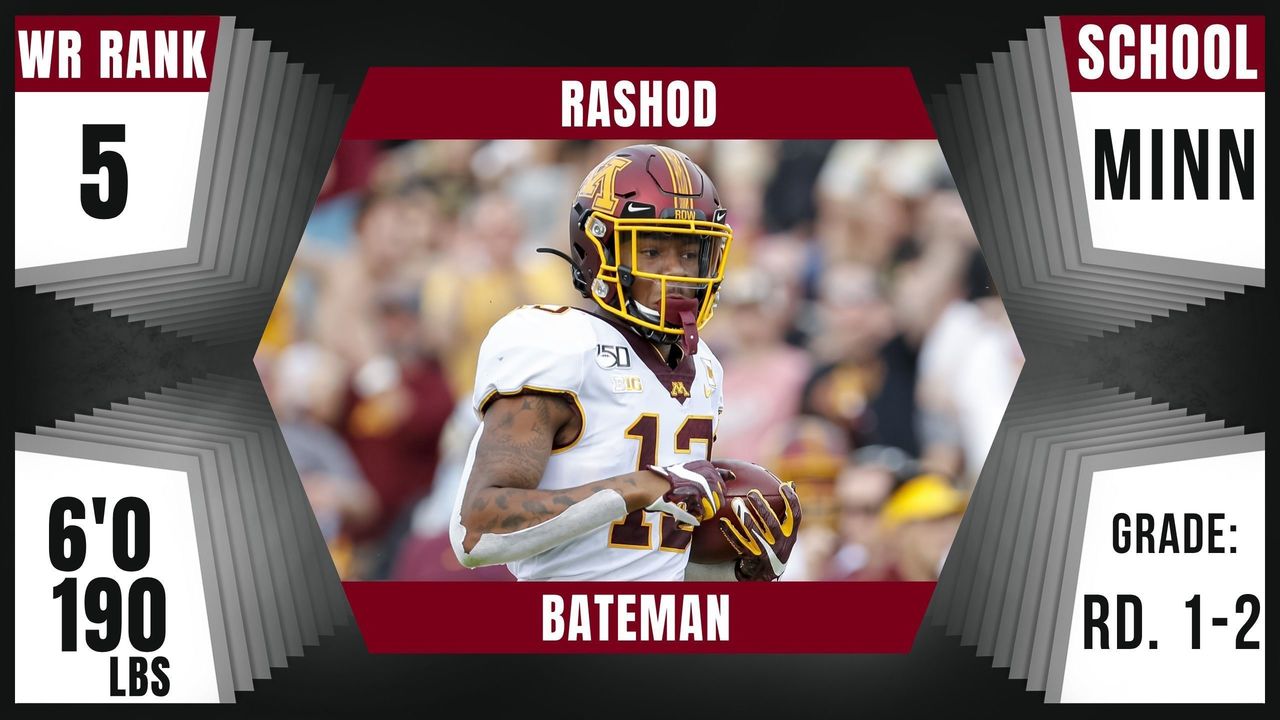 Key stats (5 games): 36 receptions, 472 yards, 2 TDs, 13.1 YPC
One of the easiest prospects to evaluate in the 2021 receiver class, Bateman offers a plethora of transferable skills that will surely make him successful. He's explosive, creates after the catch, is a polished route-runner, and the pass-catcher produced in every offensive alignment with the Golden Gophers. Bateman is as smooth as it gets, and he's strong enough to win with physicality despite not possessing elite size. While a few drops show up on tape and he'll never be a top-tier NFL athlete, it's easy to love Bateman's game because of his tools.
Boone's fantasy spin: Bateman has risen up my rookie rankings almost every time they get updated. You might be let down if you focus solely on his 2020 performances, but the prior two years of tape show a versatile receiver capable of excelling in the pros. Projecting rookie targets prior to the draft is nearly impossible, but Bateman has the characteristics of an eventual top-24 fantasy wideout who can overachieve right away if he slips to the second round.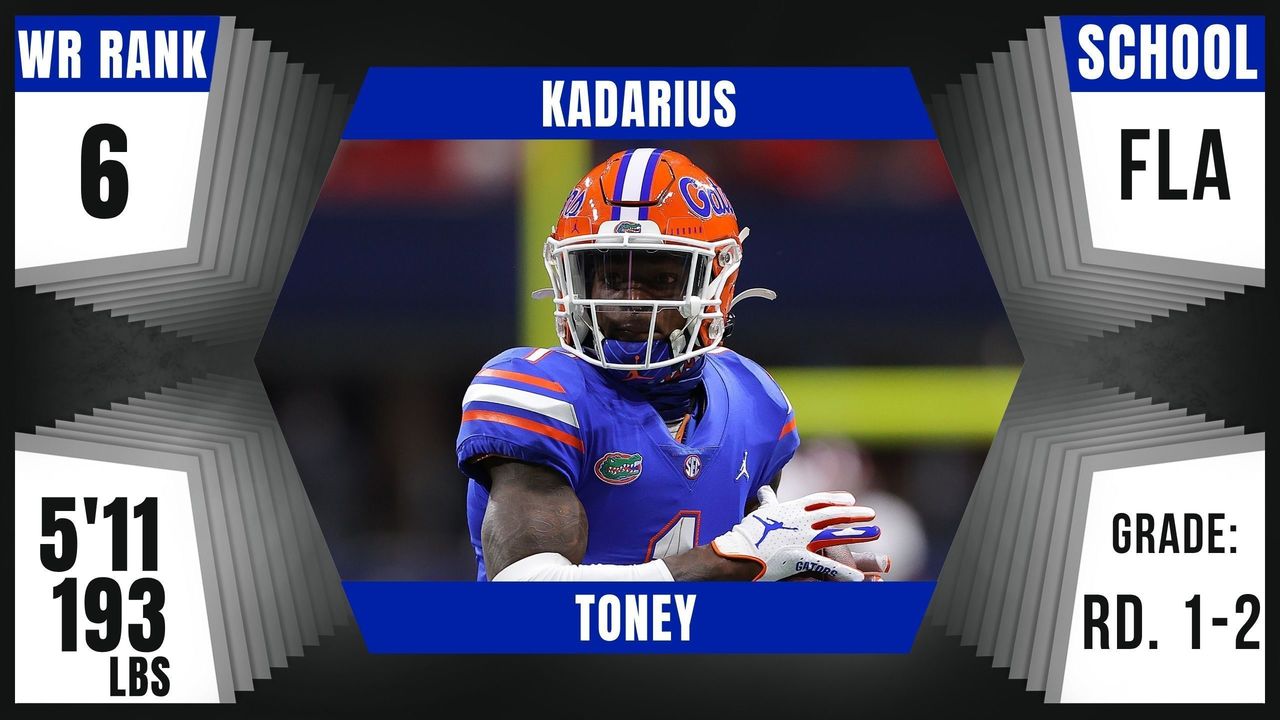 Key stats: 70 receptions, 984 yards, 10 TDs, 14.1 YPC
Toney is an electric playmaker built for today's NFL. While there will be some patience required as he develops, route refinement can be taught. Everything else he brings to the position is his natural skill, most notably the burst and quickness Toney uses to dominate in space. The Florida standout should be an impact player from Day 1, immediately emerging as a game-breaker who can make things happen with schemed-up touches. His upside will go through the roof as he refines and expands his route tree.
Boone's fantasy spin: Toney is an explosive yet fluid athlete who's easy to become enamored with when you consider his potential. He plays the game with confidence - as he should - since most players struggle to keep up with his ability to rapidly change course. With his draft capital expected to be in the first two rounds, the 22-year-old should be given every chance to expand his skill set, but big fantasy numbers might not come right away. He projects as a rotational weapon early on, so be patient if you're investing in him as a rookie.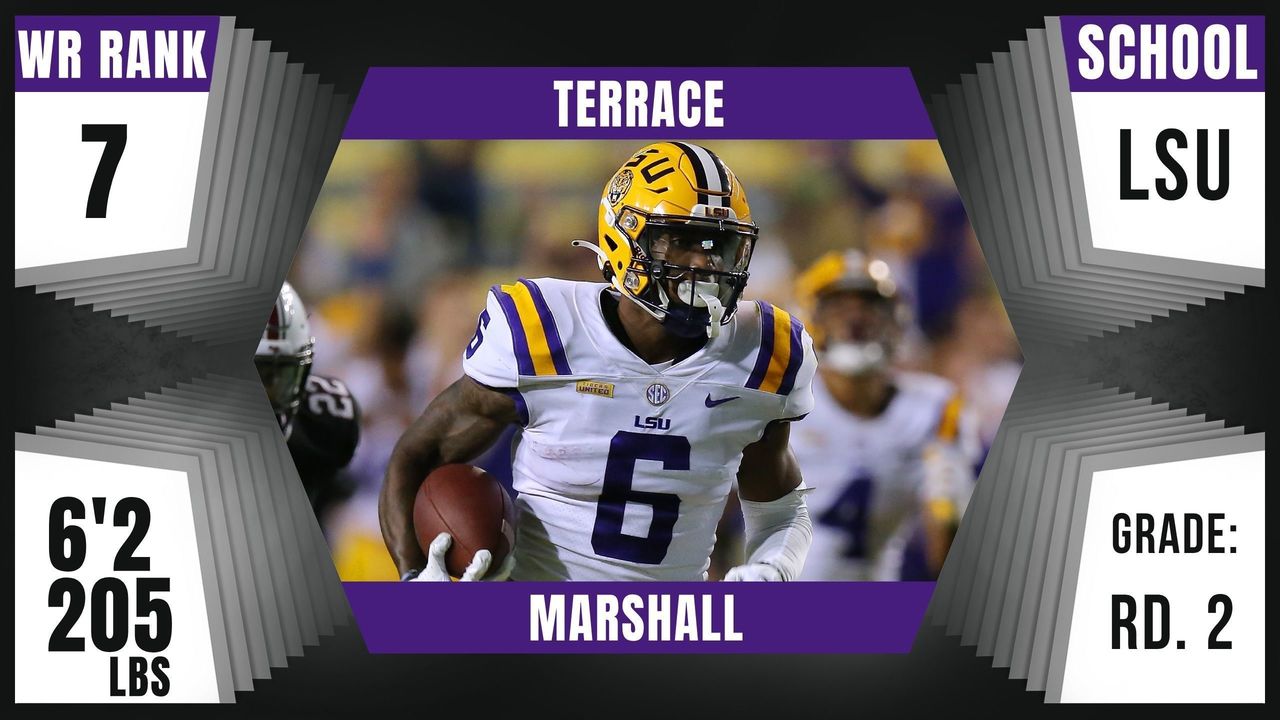 Key stats: 48 receptions, 731 yards, 10 TDs, 15.2 YPC
Teams searching for untapped potential should look no further than Marshall. The LSU product is dripping with upside due to his unique blend of size and speed that coaches can utilize out wide or in the slot. Marshall's excellent ball-tracking skills and massive catch radius also make him a weapon on deep routes and in the red zone. He's not the most physical receiver yet, and his route running requires a bit of work. But Marshall can develop into a dangerous playmaker. He's still only 20, and his physical gifts are too intriguing to overlook.
Boone's fantasy spin: Though not a refined prospect yet, Marshall brings an enticing package of attributes as a smooth-moving long-strider who can challenge defenses vertically or pick up big chunks after the catch. His ability to line up anywhere in the formation should intrigue fantasy managers. After all, many questioned Justin Jefferson's ability to play on the outside after the majority of his snaps came out of the slot at LSU, and look how that turned out. Marshall may not have the same ceiling as his former teammate, but he's still oozing with fantasy potential.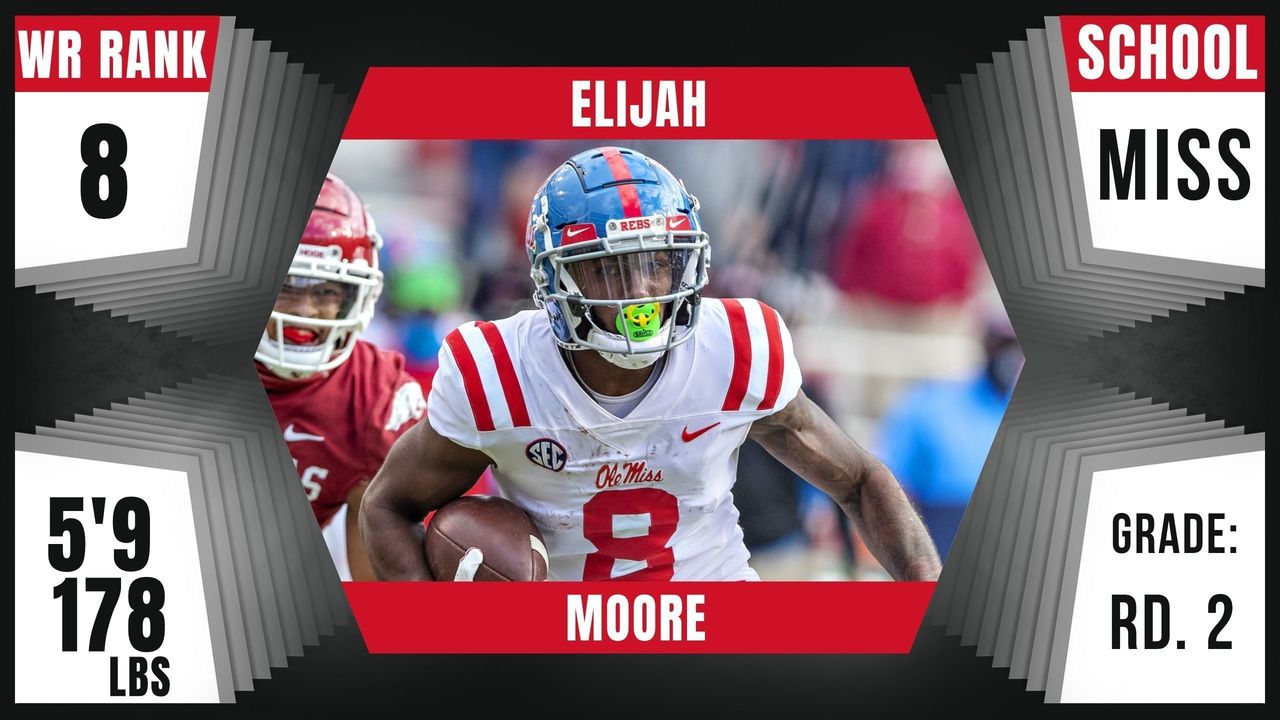 Key stats: 86 receptions, 1,193 yards, 8 TDs, 13.9 YPC
Moore isn't getting nearly the attention he deserves in this stacked receiver class. With the route-running skill to separate, the speed to beat defenses over the top, and the ability to make big plays after the catch, there's no shortage of ways the Ole Miss product can make an impact. His size will always work against him while perhaps limiting Moore to the slot, but he'll still make an impact from there in today's NFL. Whether a team gets the ball in his hands underneath or is asking him to take the top off the defense, Moore is a dangerous talent who can elevate his unit.
Boone's fantasy spin: Smaller slot wideouts tend to scare me in terms of projecting their fantasy value at the next level. However, Moore makes up for his size with a competitive nature as well as a willingness to battle at the catch point and for yards after the grab. Though he has the speed to threaten deep, he's not a true downfield burner, instead offering a more varied skill set from the slot. If he can carve out a consistent target share, Moore will be a fantasy factor in time.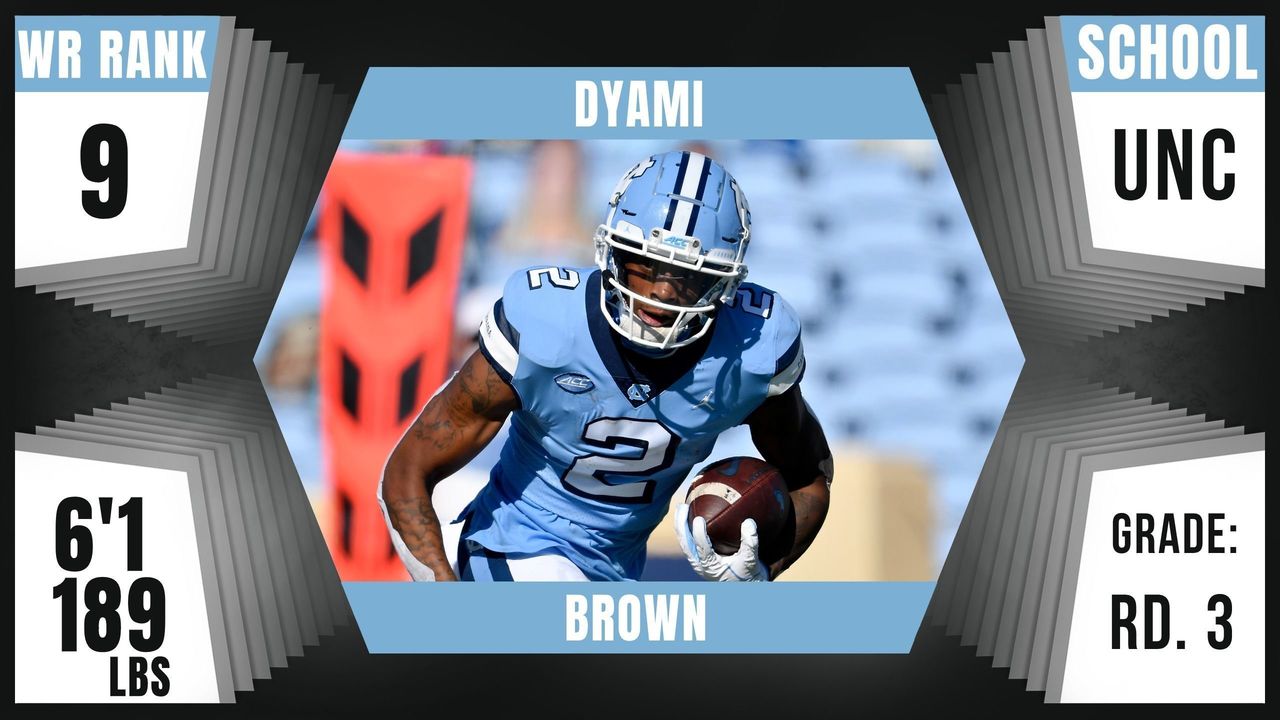 Key stats: 55 receptions, 1,099 yards, 8 TDs, 20 YPC
Brown thrived at North Carolina while consistently burning defensive backs on deep routes. That deep-ball role is one he'll be asked to play in the pros, too, though there's upside for a more well-rounded game with additional coaching. Brown possesses the football intelligence to beat zone coverage, and the physicality to triumph against man coverage downfield. He's also already smart enough to vary speeds during his route while trying to fool cornerbacks. The First-Team All-ACC selection is a big play waiting to happen, and an ideal target for teams that miss out on the class' top wideouts.
Boone's fantasy spin: The further we go down the list, the more we begin looking at players who will be deployed as complementary NFL wideouts. Brown doesn't have the chops to become a true top target, but he could ascend into a No. 2 role with a strong nose for the end zone. He's more of a project than most of the players we've covered so far, and because of that need for development, fantasy managers might not see a return on investment for a couple years.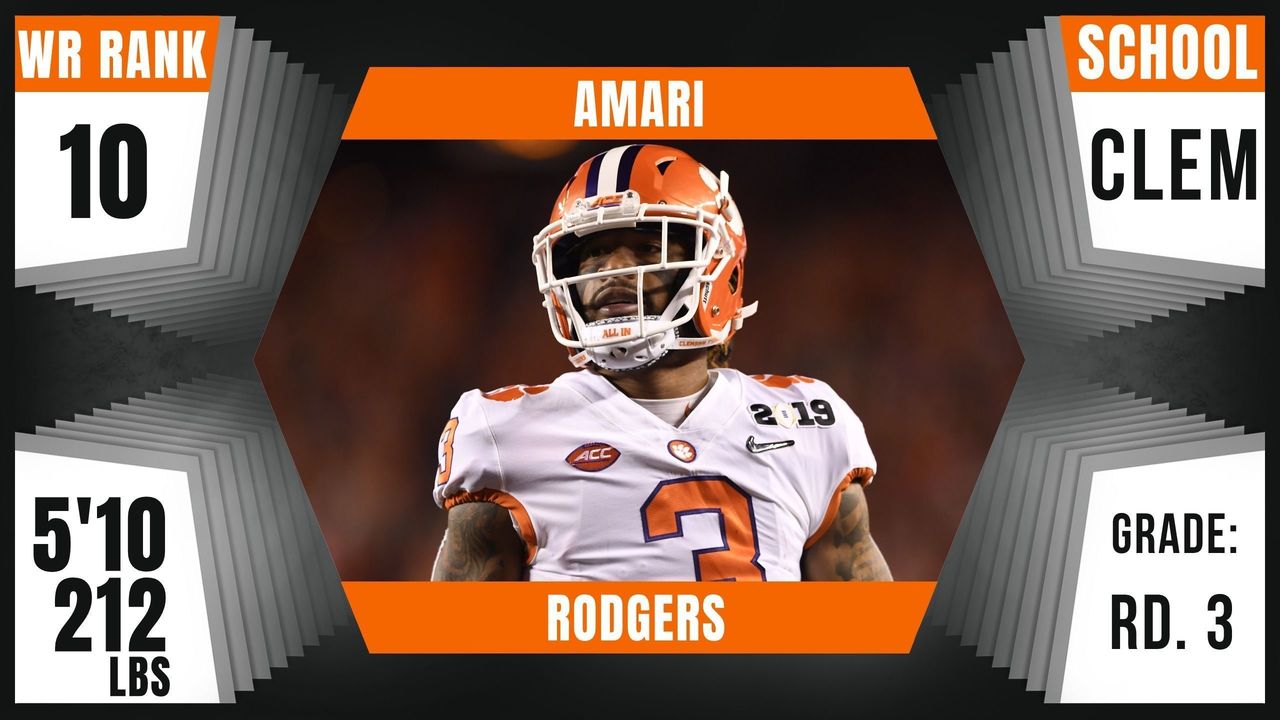 Key stats: 77 receptions, 1,020 yards, 7 TDs, 13.2 YPC
The latest in a long line of pro-ready Clemson wideouts, there's a lengthy career ahead of Rodgers as a slot playmaker. While size limits his upside in some respects, the ease with which he creates separation by setting up defenders in his routes should lead to production at all levels of the field. And when he gets the ball underneath, defenses can't sleep on his athleticism. Rodgers consistently creates impact plays after the catch by getting upfield and making defenders miss. He could easily outperform the lower draft position that comes due to lacking the profile of a true No. 1 target.
Boone's fantasy spin: Rodgers is an interior receiver with the body of a running back and the ability to pile up yards with the ball in his hands. The concern is how much of his production came from Clemson's scheme. His fit in the NFL isn't even clear after he took some snaps as a running back at his pro day. The versatility is desirable, but it makes you question whether he'll ever earn the kind of volume needed to be a fantasy starter out of the slot.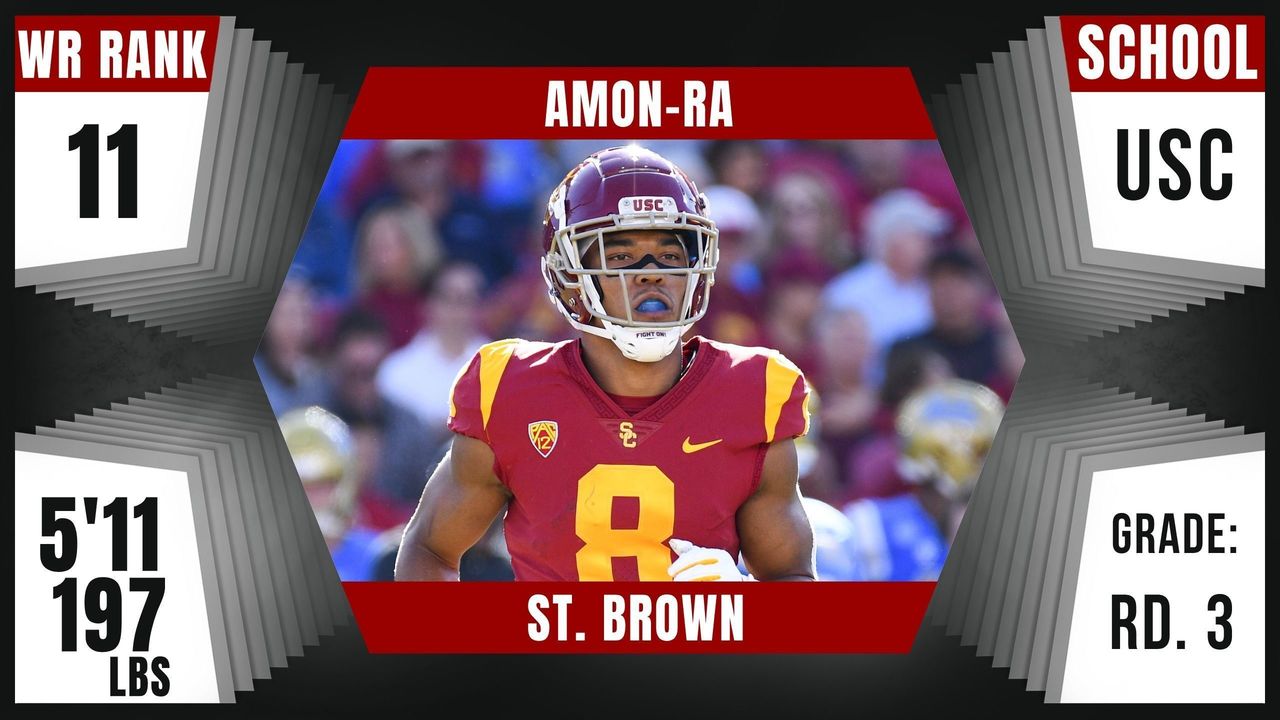 Key stats: 41 receptions, 478 yards, 7 TDs, 11.7 YPC
The definition of a reliable possession receiver, St. Brown could thrive as a short-to-intermediate target in an offense that utilizes a quick-hit passing approach. He separates with clean releases and quality vision at the top of his routes, and the ability to adjust to the ball and compete at the catch point provides upside, too. Average athleticism caps his big-play potential, as he'll likely never be a major playmaker vertically. But the consistency he'll offer as an underneath target should lead to plenty of Day 2 value.
Boone's fantasy spin: The draft community is undervaluing St. Brown. That makes his comparison to Tyler Boyd even more apt. Boyd has consistently beat expectations as a pro and likely would've had a third straight 1,000-yard season in 2020 had Joe Burrow stayed healthy. St. Brown could have similar success as a strong route-runner in a quality offense.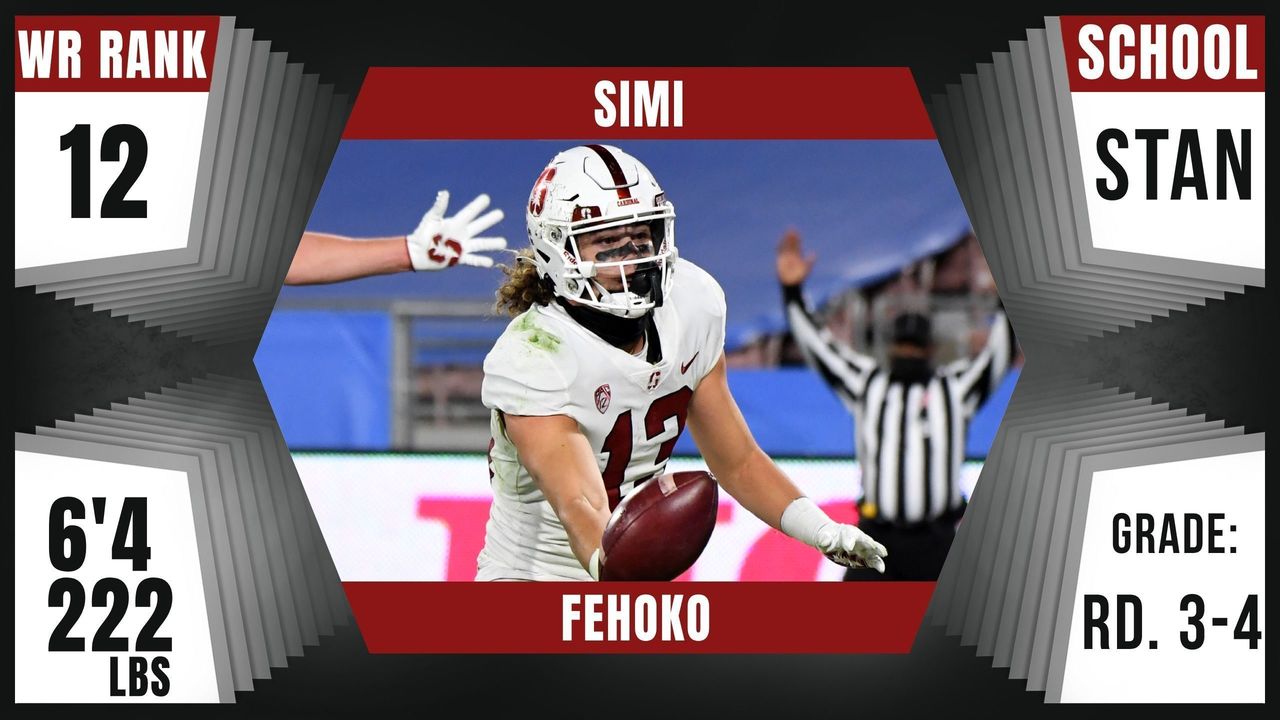 Key stats: 37 receptions, 574 yards, 3 TDs, 15.3 YPC
It's time to learn Fehoko's name if he's unfamiliar to you. After running a 4.42 40-yard dash and registering a 6.86-second three-cone time at 222 pounds, the Stanford product showed he's a truly rare physical specimen. Fehoko's final collegiate game featured a glimpse at his untapped potential, as he burned UCLA for 16 catches, 230 yards, and three touchdowns. The physical wideout has showcased his impressive tools, but with just 16 career games and four starts to his name, he still needs to develop. However, if Fehoko's NFL team refines his route-running, look out.
Boone's fantasy spin: Fehoko is the definition of a dart throw. He has very limited college stats, aside from that outlier performance in his final outing. That's not to say he won't continue to evolve and emerge as a difference-maker in the pros, but receivers lacking a proven production profile tend to fail more often than not at the next level. Still, Fehoko is sure to be a fan favorite with his massive frame, above-average athleticism, flowing locks, and big-play ability. In an era where every prospect tends to be overhyped, Fehoko is a true fantasy sleeper.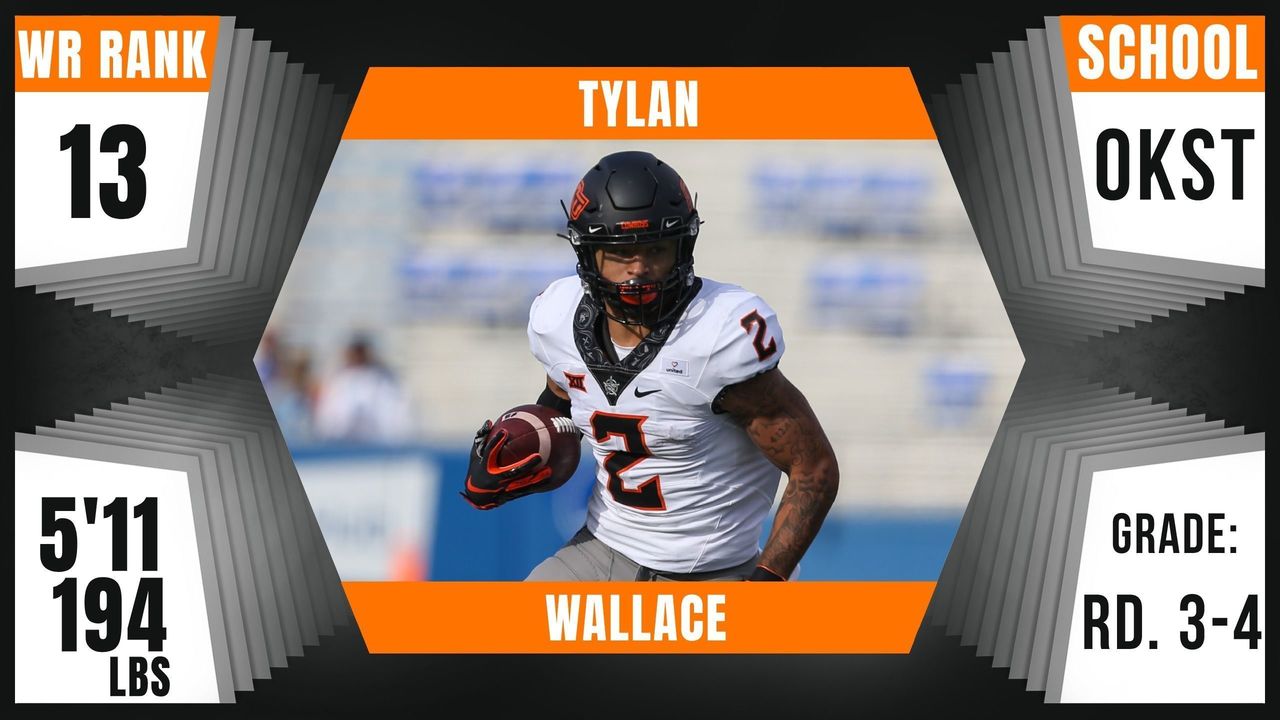 Key stats: 59 receptions, 922 yards, 6 TDs, 15.6 YPC
Wallace is always ready to erupt and produce a spectacular play. With the speed to beat defenses deep and the athleticism to win over the top in contested situations, he's loaded with upside as a vertical playmaker. Wallace will need schemed-up free releases until he gets stronger and improves against press coverage. His route-running at other areas of the field will need work too, so his long-term development is key. But his flashes of downfield brilliance make Wallace appealing, especially at a time when teams are leaning heavily on deep shots.
Boone's fantasy spin: Wallace's tape makes you envision him outdueling corners every Sunday. He's shown good hands and an ability to survive contact both during and after the catch. While his 4.48 40 wasn't as fast as some hoped, he's proven himself as a downfield threat. There are enough appealing traits here to remain hopeful he can make a fantasy impact down the road.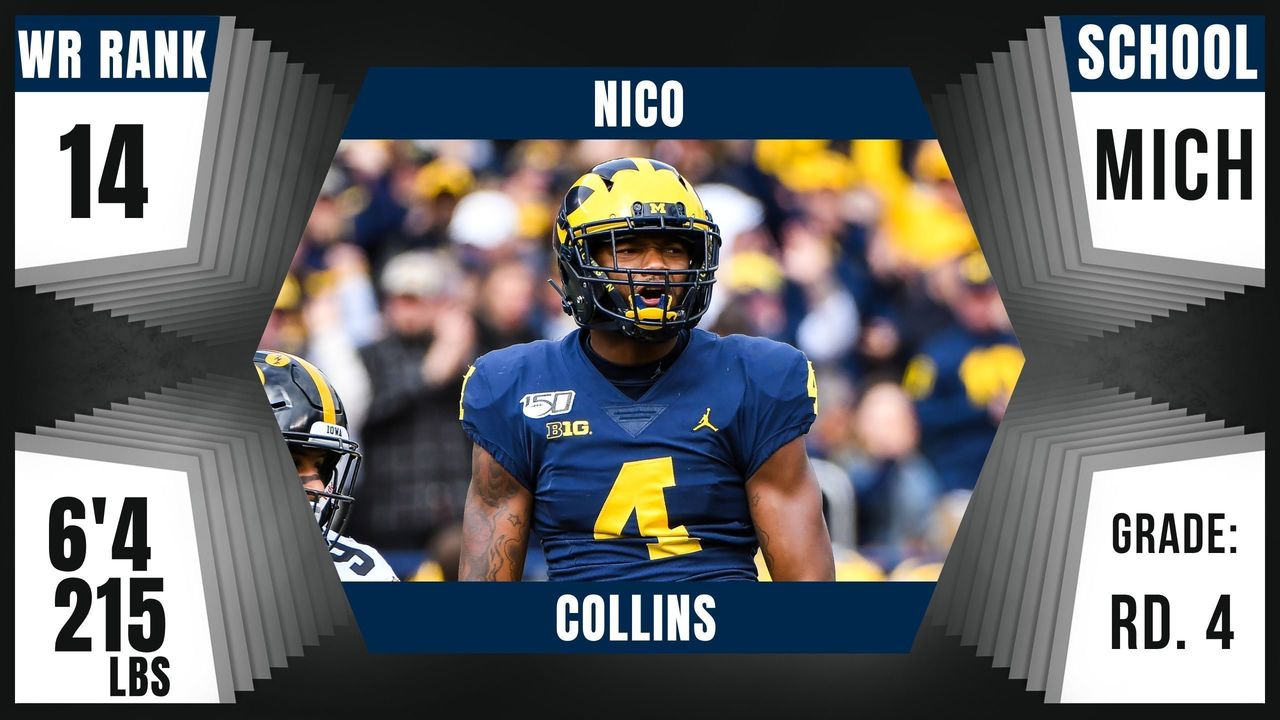 Key stats (2019): 37 receptions, 729 yards, 7 TDs, 19.7 YPC
Getting excited about Collins and his NFL outlook is easy. Michigan receivers are always tough to evaluate because the team's offense caps their opportunities. But there's actually not as much uncertainty here as one may expect. Collins is the rare big-bodied contested-catch darling who also possesses vertical speed. He's limited in other areas, and Collins may not move well enough laterally to separate on in/out-breaking routes. But he still offers incredible value with his rare and specific skill set. As a receiver who's too big for most cornerbacks, and too fast for those closer to his size, Collins has the potential to be a matchup nightmare.
Boone's fantasy spin: Collins is another development prospect, so keep your fantasy expectations in check. His best long-term path to production will be as an Alshon Jeffery-style outside receiver who's unlikely to post big yardage totals but makes his presence felt in the red zone.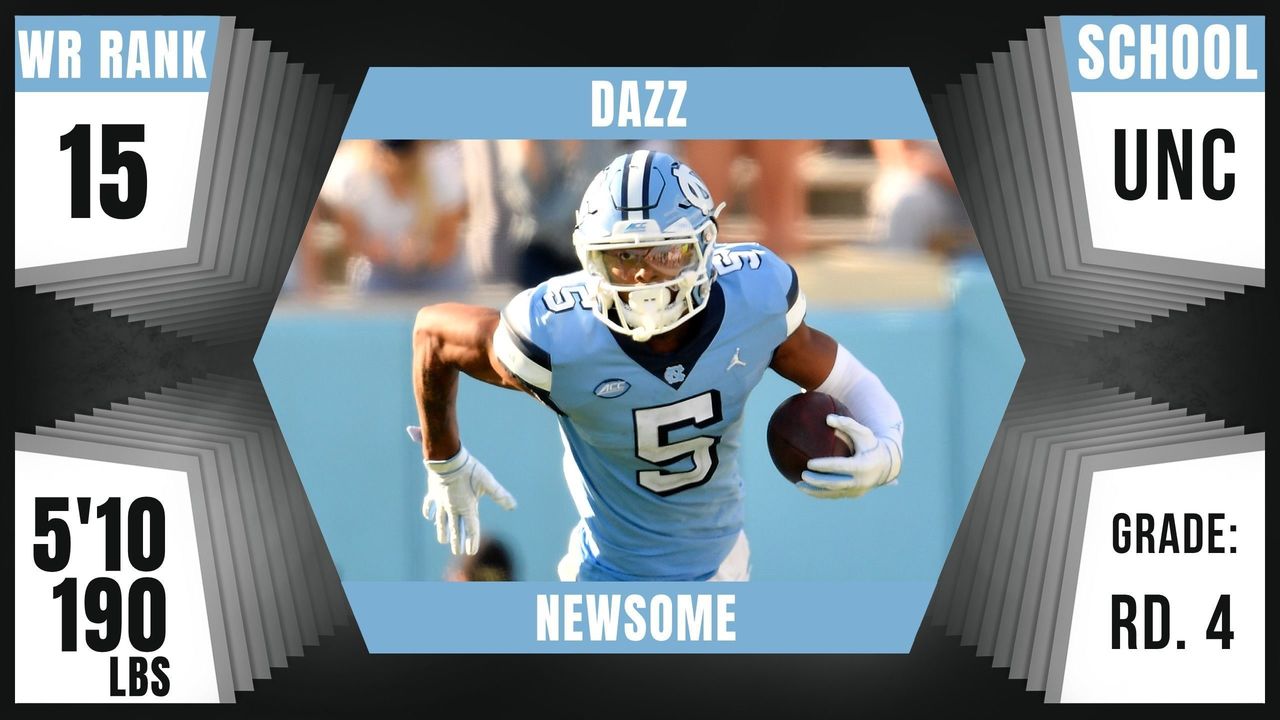 Key stats: 54 receptions, 684 yards, 6 TDs, 12.7 YPC
Newsome won't win through pure speed and athleticism. He's the quintessential slot receiver with shifty route-running skills and a willingness to get dirty up the middle. The former Tar Heel also offers running back-style balance after contact that he showed off while consistently breaking tackles in college. You know what you're getting with Newsome, which many teams will value. He likely won't develop into a go-to receiver, but his tape suggests a career as a dependable secondary weapon is well within reach.
Boone's fantasy spin: Newsome has a lot of work ahead to refine his skills, but there's no reason he can't grow into a hefty slot role in the NFL. He'll need to expand his route tree and become more efficient with his movement - sometimes he runs a little out of control, as if his upper and lower body are moving at different speeds. Though you shouldn't normally place your fantasy chips on a developmental slot receiver, Newsome is someone worth keeping on your radar.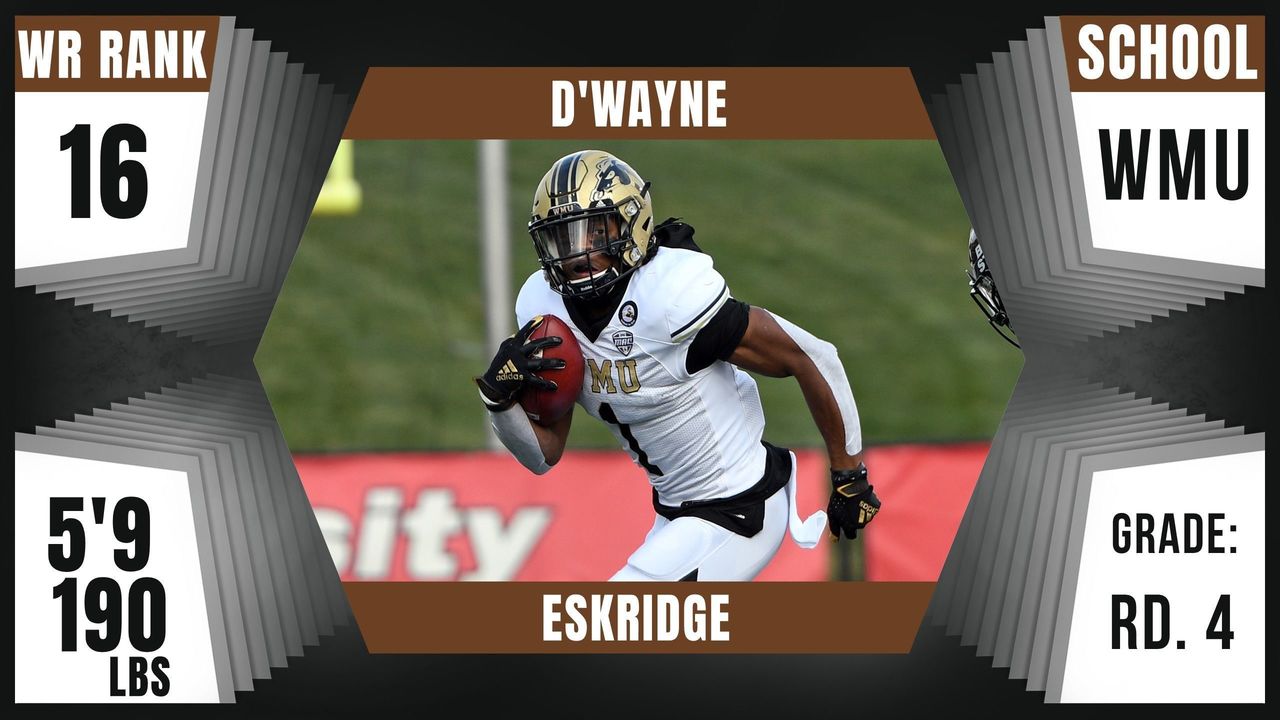 Key stats: 33 receptions, 768 yards, 8 TDs, 23.3 YPC
Eskridge is a home-run hitter. Teams design plays around this kind of receiver, as he's at his best after the catch with his impressive athletic ability. He's not just a one-trick pony, though. Eskridge also demonstrates the talent to separate downfield and track the ball deep, making him a chunk-play weapon. Every other skill requires some projection, but that won't matter much if he's giving defenses fits after the catch underneath and getting behind the secondary on vertical routes. There also isn't a need to worry too much about the jump in competition because Eskridge's athleticism will translate.
Boone's fantasy spin: Eskridge's big-play ability is undeniable after he averaged 23.3 yards per reception during his final season at Western Michigan, including touchdowns on eight of his 33 catches. While the 24-year-old's immediate path to playing time might be on special teams, the tools are there for him to carve out a regular role on offense. He's the kind of dynamic talent dynasty managers should be filling the end of their bench with.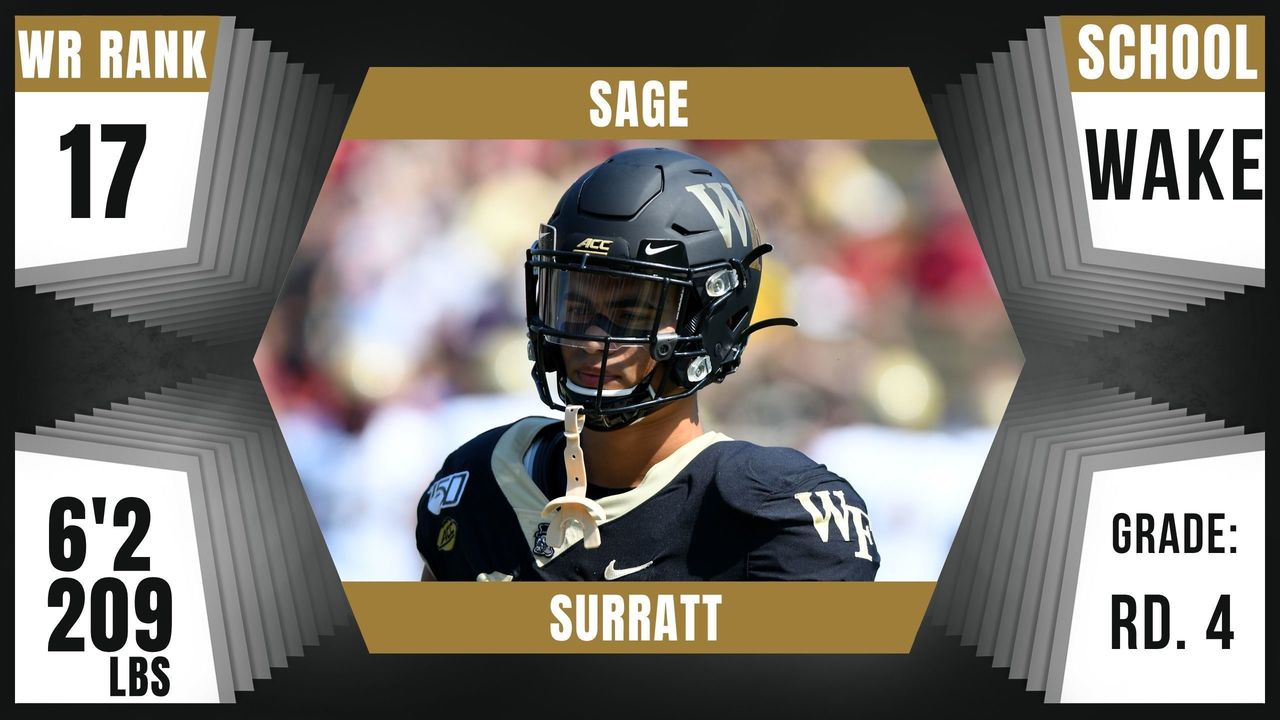 Key stats (2019): 66 receptions, 1,001 yards, 11 TDs, 15.2 YPC
Surratt is a prospect of polar opposites. On one hand, his lack of speed and explosiveness will make a handful of teams wary, as he won't be burning NFL cornerbacks on deep routes. However, Surratt may be the most physical receiver in the 2021 class, and he makes a living hauling in contested targets. His ball tracking, reliable hands, and body control are seamlessly transferable skills, making him a red-zone weapon and key-down contributor. Just don't ask Surratt to do much more.
Boone's fantasy spin: Surratt is the type of slower big-bodied wideout that can often have issues translating their college success into the pros. A year off didn't help his outlook, either. Perhaps a team will find a way to use him as a slot wideout, but we said similar things about J.J. Arcega-Whiteside and he's struggled to get on the field. If you're looking for deeper dart throws, Surratt isn't it.
Other notable prospects
Cade Johnson (South Dakota State)
Jaelon Darden (North Texas)
Ihmir Smith-Marsette (Iowa)
Seth Williams (Auburn)
Cornell Powell (Clemson)
Comments
✕
2021 NFL Draft prospect rankings: Wide receivers
  Got something to say? Leave a comment below!