What we learned from Friday's blockbuster NFL draft trades
Abbie Parr / Getty Images Sport / Getty
The San Francisco 49ers, Miami Dolphins, and Philadelphia Eagles combined to make two blockbuster trades Friday that will change the landscape of the NFL draft in 2021 and beyond.
First, the 49ers made a splash by trading up with the Dolphins, moving from No. 12 to No. 3 in the first round of the 2021 draft. Miami then immediately flipped the No. 12 pick and additional compensation to Philadelphia for No. 6 overall.
What does it all mean? Glad you asked:
49ers make their move at QB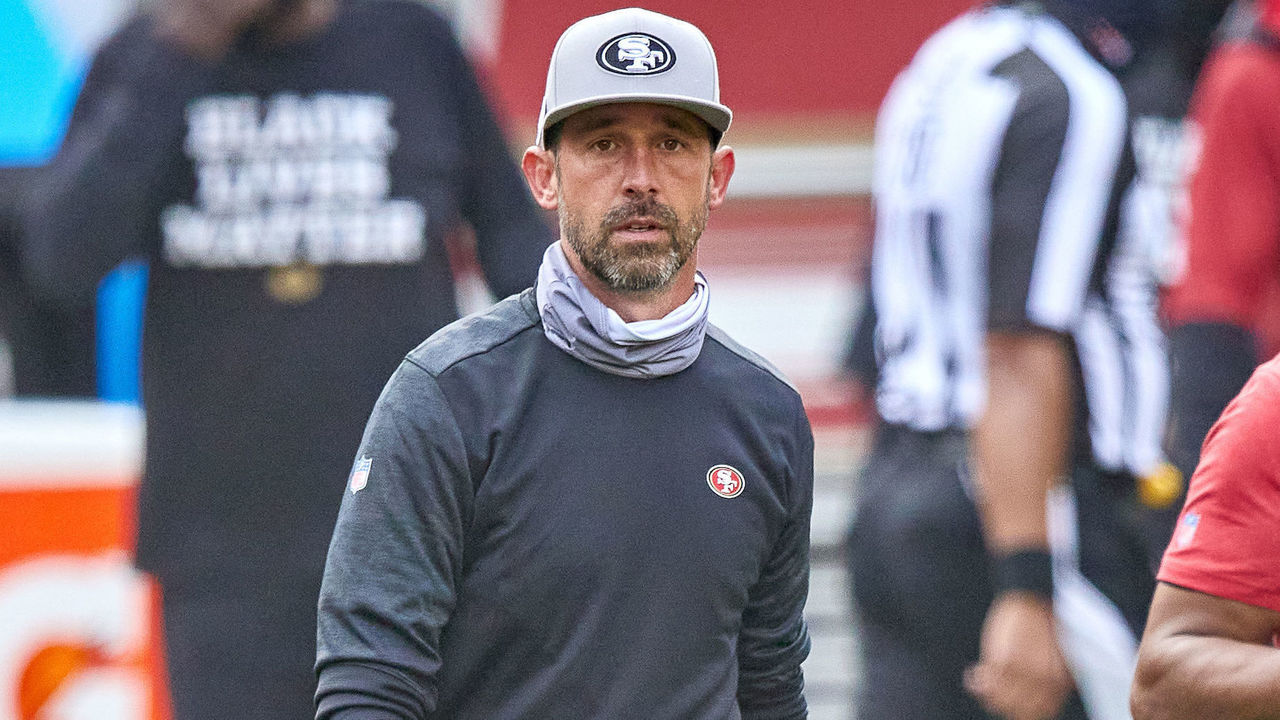 Jimmy Garoppolo is fine. A well-built team can win with him, as the NFC-champion 49ers proved just one year ago. But he isn't the type of quarterback who will be the reason a team wins. And that's OK. But in the modern NFL, having that kind of player makes all the difference in the world.
So when the 49ers saw their opportunity to move up and get a potential game-changer at the most important position in the sport, they pounced. Make no mistake: Any move of this magnitude - one that sends multiple future first-round picks the other way - is for a quarterback. It's a significant price to pay to jump up just nine spots, but it won't seem like it if San Francisco hits on this pick.
Assuming Trevor Lawrence and Zach Wilson are the first and second overall picks, respectively, the 49ers will find themselves choosing between Justin Fields and Trey Lance at No. 3 (barring an unexpected pivot to Alabama's Mac Jones). If they choose Lance, which would be a Josh Allen-esque swing on rare physical traits, the idea that the 49ers will stick with Garoppolo as their starter through the 2021 season, as they reportedly claim, makes some sense. Lance could use the time to develop after limited experience at a lower level of competition in college.
If Fields is the pick, though, it's tough to see Garoppolo sticking around much longer (New England Patriots reunion, anyone?). Fields is better suited to a quick transition to the NFL, and his dynamic skill set - similar to that of a young Robert Griffin III but more advanced in the passing game - is a particularly strong fit for San Francisco's offense. Remember what RG3 did as a rookie with Washington under the 49ers head coach Kyle Shanahan? There would be no sense in wasting a year of Fields' first contract when all signs in terms of both ability and fit seem to indicate the Ohio State standout is capable of playing right away.
Whoever the 49ers select, it's clear they were no longer going to be satisfied with the high floor of a great system propping up average quarterback play. Shanahan wants a player who can take his offense to the next level, and he's about to get one.
Dolphins stay crafty
The Dolphins essentially picked up an extra first-round pick to move back three spots in the opening round. They started at No. 3, traded down to No. 12 for two additional first-rounders, then gave up one first to climb from No. 12 to No. 6.
That's the type of creativity - or wizardry - Chris Grier has demonstrated throughout his five-year tenure as Miami's general manager. In 2016, he traded the No. 8 pick for Kiko Alonso, Byron Maxwell, and the No. 13 pick, which he used on Laremy Tunsil.
A few years later, he dealt Tunsil, Kenny Stills, and a fourth-round choice to the Houston Texans for two first-round picks - including the No. 3 choice in 2021 - a second-rounder, and two players.
This time, he made two blockbuster trades that netted his team an additional first-rounder and third-rounder while keeping Miami near the top of the board. Needless to say, the Dolphins are stocked with premium draft picks over the next few years.
The tricky part will be turning those selections into quality players. The Dolphins drafted Tua Tagovailoa, Austin Jackson, and Noah Igbinoghene in the opening round last year, and the jury is very much still out on all three. But when it comes to stockpiling premium picks, no team has been craftier than the Dolphins since Grier came to town.
Eagles reloading for the future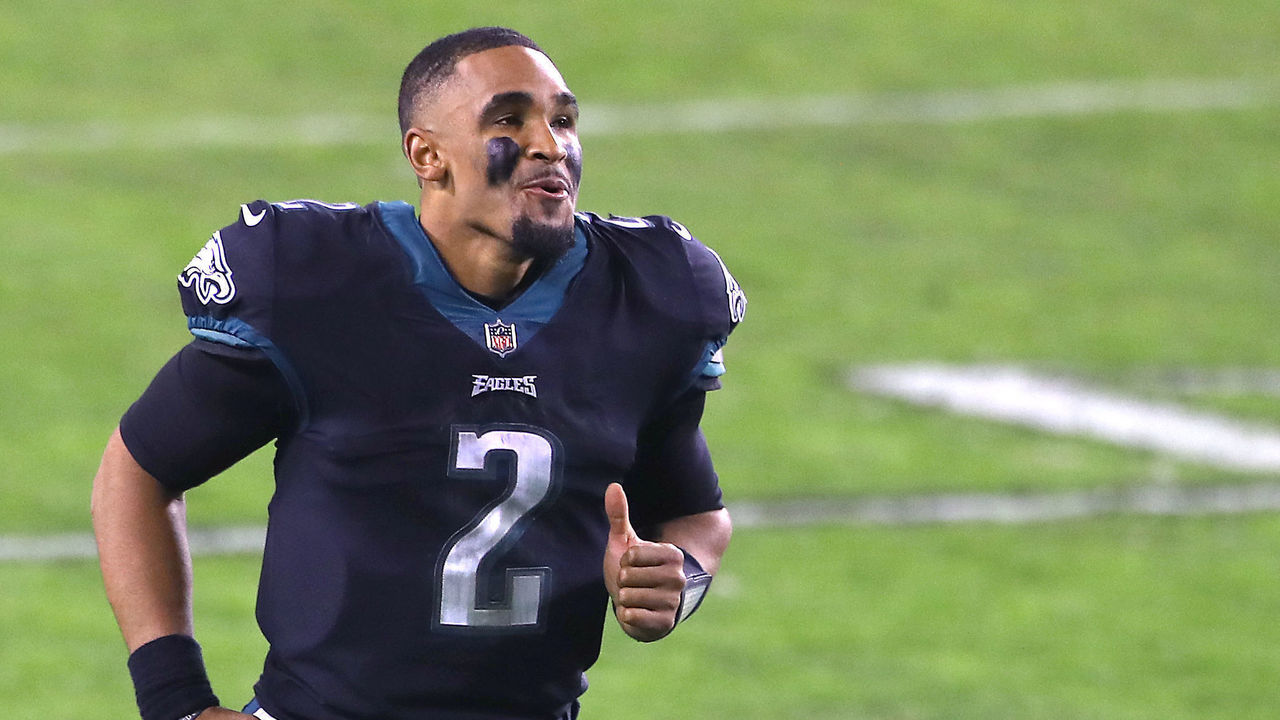 If there was any doubt, the Eagles have officially become Jalen Hurts' team. They were reportedly reluctant to rule out drafting a quarterback at No. 6 when they traded Carson Wentz, but after moving down a half-dozen spots in a deal with the Dolphins, it's clear they're content moving forward with the 22-year-old at the helm.
Philadelphia will still have an opportunity to reel in a significant prospect at No. 12, so it's not like it can't add to the roster in the near term. The team has several needs and can comfortably take the best player available regardless of position.
In a perfect world, Hurts soars in his sophomore campaign, allowing the Eagles to use their extra first-round choices from the Dolphins and potentially the Indianapolis Colts (pending a trade condition) to add other foundational pieces in 2022. Philadelphia needs a youth movement in the worst way, and three first-round picks in one year can take care of that in a hurry.
The real beauty of this trade, though, is that the Eagles have positioned themselves to do whatever they want in the 2022 draft. If Hurts falters in 2021, they can use their excess capital to move up and take another quarterback a year from now. If they want to climb the board for a non-quarterback in 2022, they'll have the resources to do so.
No matter how things play out from here, the Eagles have a path back to long-term contention, which is something they didn't appear to have at the end of a colossally disastrous 2020 season.
Sweepstakes for QB4
All eyes are now on Atlanta at No. 4, and this is where things could get really interesting. With three straight quarterbacks likely coming off the board to open the draft, there will suddenly be just one of the consensus top four passers remaining.
Whether it's Fields, Lance, or Wilson, the Falcons could (and perhaps should) take that quarterback. Matt Ryan isn't getting any younger, and there's no telling when the team will have another opportunity to draft a premium quarterback prospect. But will Atlanta actually do it?
One factor to consider here: The Falcons recently restructured Ryan's contract in a way that likely ties him to the club for the next two years. Even with the cap expected to rise next year, a $40-million dead-money hit to part ways ahead of the 2022 season would be a lot to swallow. And that begs the question: If Atlanta wasn't planning to have Ryan at quarterback for the next two years, would it really have backed itself into a corner like this? Maybe, but it's entirely possible the Falcons aren't taking a quarterback. And that's where the trade scenarios become fascinating.
There are three teams slated to pick late in the top 10 (the Detroit Lions, Carolina Panthers, and Denver Broncos) and one in the teens (the Patriots) that should be interested - and aggressive - in moving up to draft one of the top four quarterbacks. The Falcons can sit back, let the bidding war commence, and wait to see just how enticing the offers get. With several teams involved and Atlanta standing to benefit from the haul of draft picks such competition can create, the No. 4 spot is a good bet for the first blockbuster trade of Day 1.
Bengals sitting pretty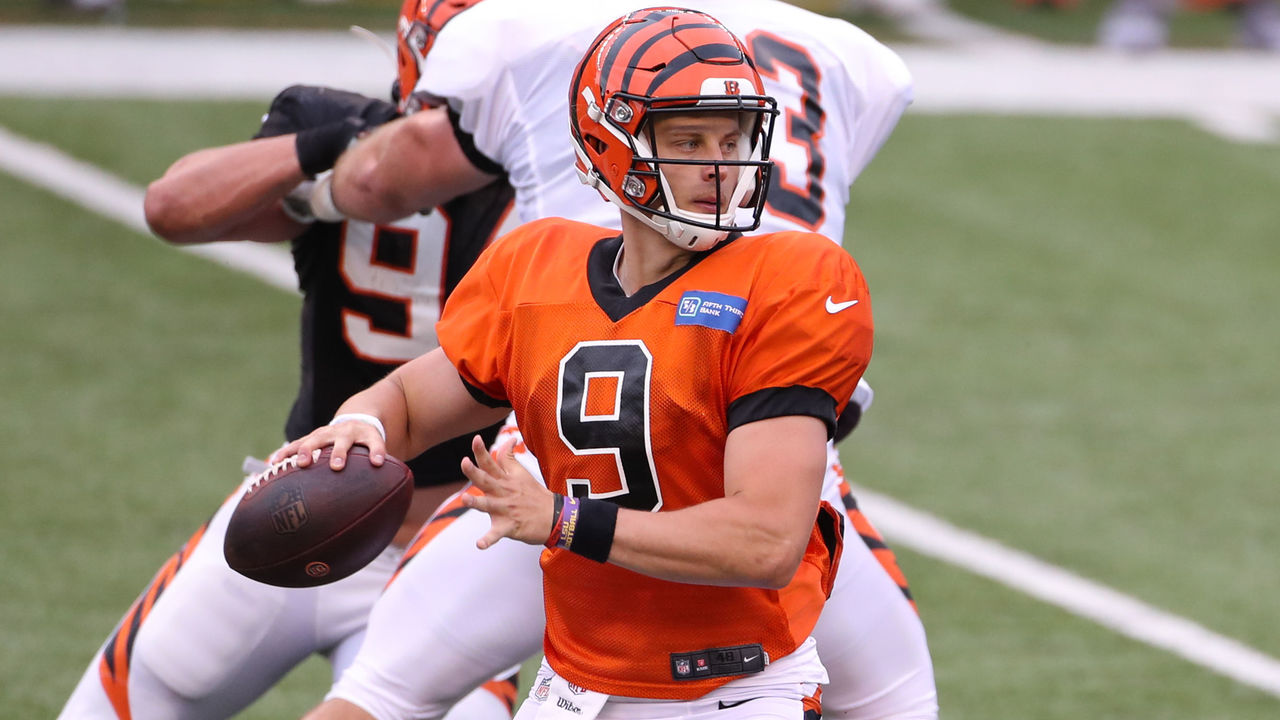 Each of the teams involved in Friday's trades is presumably thrilled with its return, but it's worth noting just how well the Cincinnati Bengals made out without doing anything themselves.
Assuming the No. 4 pick will be used on a quarterback - either by the Falcons or by another team trading up - the Bengals will be left with their choice of the best non-quarterback in the draft at No. 5.
That means that on the offensive line - a pressing need when it comes to protecting Joe Burrow - Cincinnati would have its pick of Penei Sewell and Rashawn Slater. Ja'Marr Chase, Jaylen Waddle, and DeVonta Smith would all figure to be in play if the Bengals opt for a receiver, as would Kyle Pitts, a truly unique tight end prospect with the ability to line up and dominate anywhere on the field.
Whatever direction the team chooses to go, Cincinnati really couldn't have drawn up a better scenario for streamlining its rebuild one year after landing a franchise quarterback. The Bengals' foundation on the offensive side of the ball is about to get a massive boost.
Comments
✕
What we learned from Friday's blockbuster NFL draft trades
  Got something to say? Leave a comment below!