2021 NFL Draft prospect rankings: Running backs
Photo illustration by Nick Roy / theScore
theScore's Mike Alessandrini and Dan Wilkins break down the top running back prospects in the upcoming 2021 NFL Draft as part of a position-by-position series rolling out throughout April. Also included for offensive skill players is fantasy analysis from theScore's Justin Boone.
Top 50
QB | RB | WR | TE | OL
EDGE | DL | LB | CB | S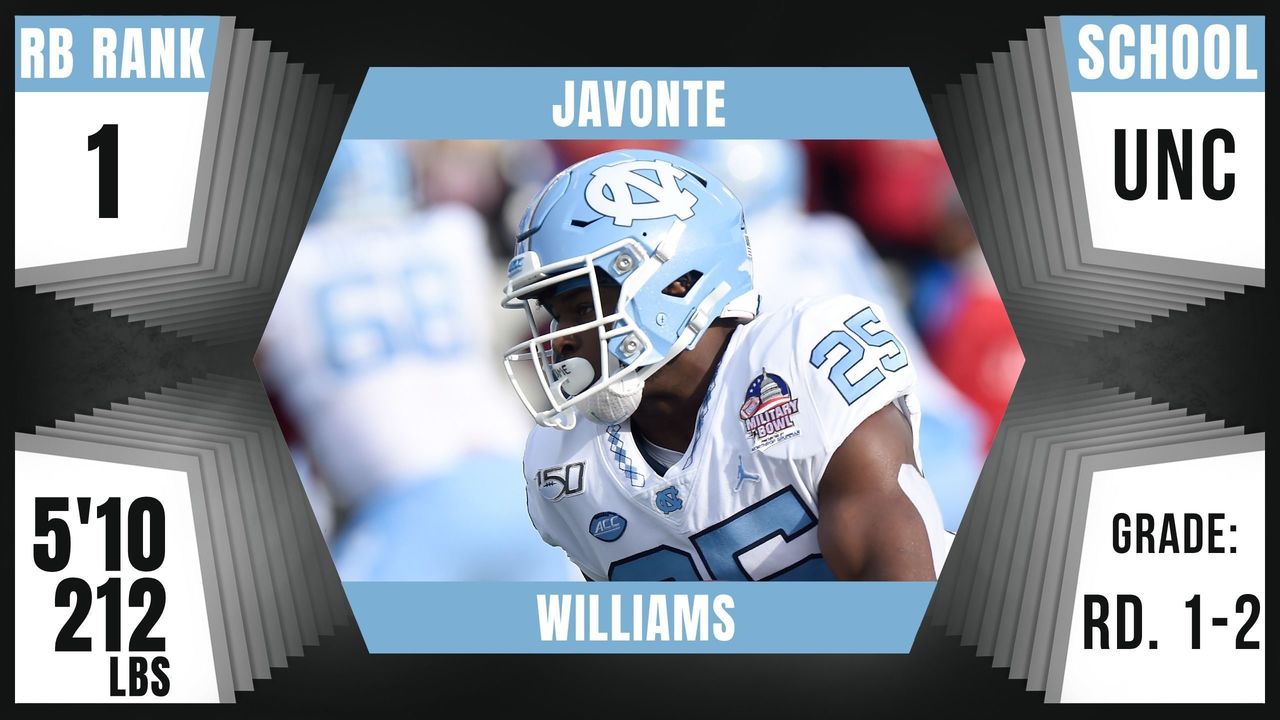 Key stats: 1,140 rushing yards, 305 receiving yards, 22 TDs, 7.3 YPC
Williams probably doesn't crack the top three running backs in his class based on national name recognition. But everything about his all-around game makes him a slam-dunk pick as our top player in this year's talented group. Williams is dripping with upside as a natural runner who can read what's unfolding in front of him and either make defenders miss or effortlessly work through contact. He also offers the combination of receiver skills and pass-protection ability that can keep him on the field as an every-down contributor from Day 1.
Boone's fantasy spin: While this year's running back crop might not be as deep as last season's class, there are three prospects who will warrant strong consideration in the early rounds of your draft - Williams is among them. He's not the top ball carrier on my board - Travis Etienne and Najee Harris have more upside - but Williams is the youngest of that trio.
The 20-year-old's outstanding contact balance and tackle-breaking ability are reminiscent of David Montgomery's college career, and he projects to be a similar runner as a pro. Williams' limited production as a pass-catcher could also make him comparable to Montgomery, who's only been featured in the Bears' passing game due to injuries. Unless a team is willing to give Williams a workhorse role, his fantasy ceiling could be capped as a solid RB2.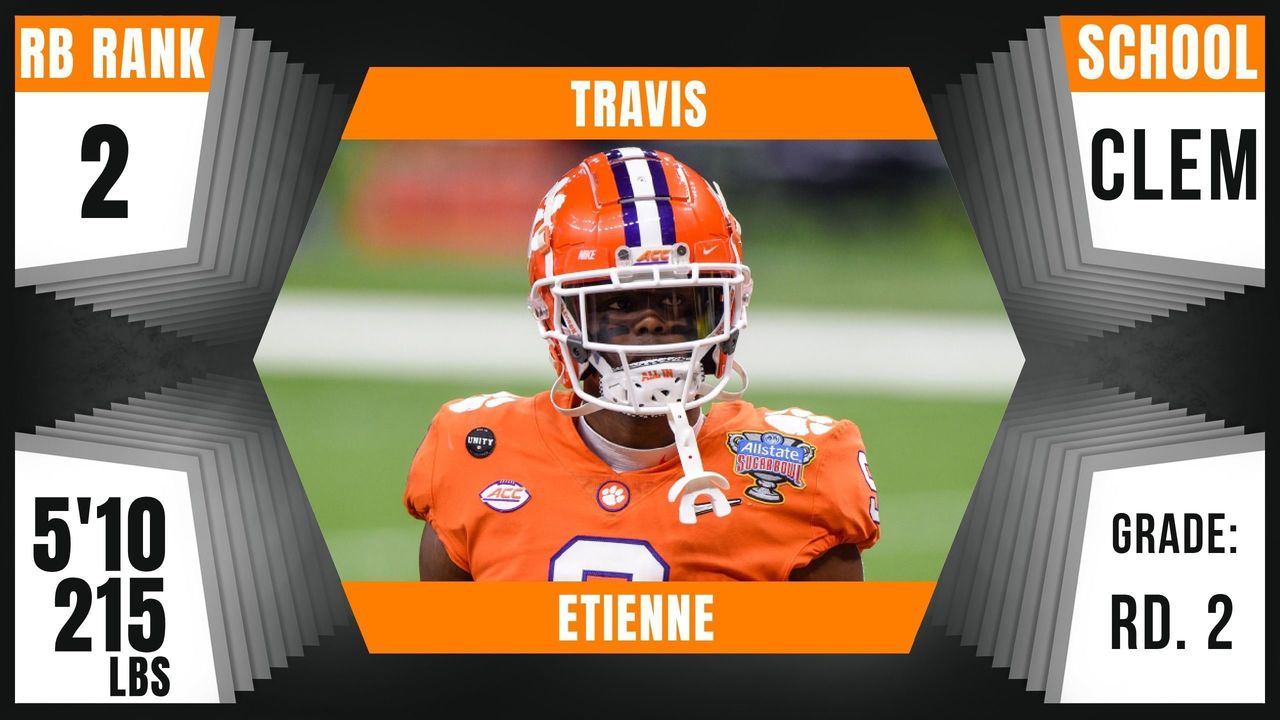 Key stats: 914 rushing yards, 588 receiving yards, 16 TDs, 5.4 YPC
After an accomplished collegiate career, Etienne heads to the pros as one of the most dynamic skill-position players in his class. The ACC's all-time leading rusher is capable of scoring on every touch as a legitimate receiving weapon who possesses a unique burst. While he likely won't be a traditional running back due to his unpolished vision, Etienne can avoid tackles in the open field with his contact balance and quickness. NFL teams aren't going to hand the former Clemson star 20-plus carries per contest, but that's not his game. Give him the ball in space and reap the benefits.
Boone's fantasy spin: Etienne's decision to return for another year at Clemson might have been beneficial for his development, but it also seemingly led draft evaluators to search extra hard for flaws in his game. Thorough analysis is important, just don't talk yourself out of a player with the potential to be elite at the next level.
Aside from the need to improve as a pass-protector, this Alvin Kamara clone checks most boxes, including breakaway speed and a receiving resume that features 85 grabs and 1,020 yards over the last two seasons. If you have concerns about his NFL workload, just know that Kamara was a top-three back in average fantasy points scored per contest last year despite only surpassing 15 carries in two outings. Etienne could be a top-five fantasy RB in the right offense.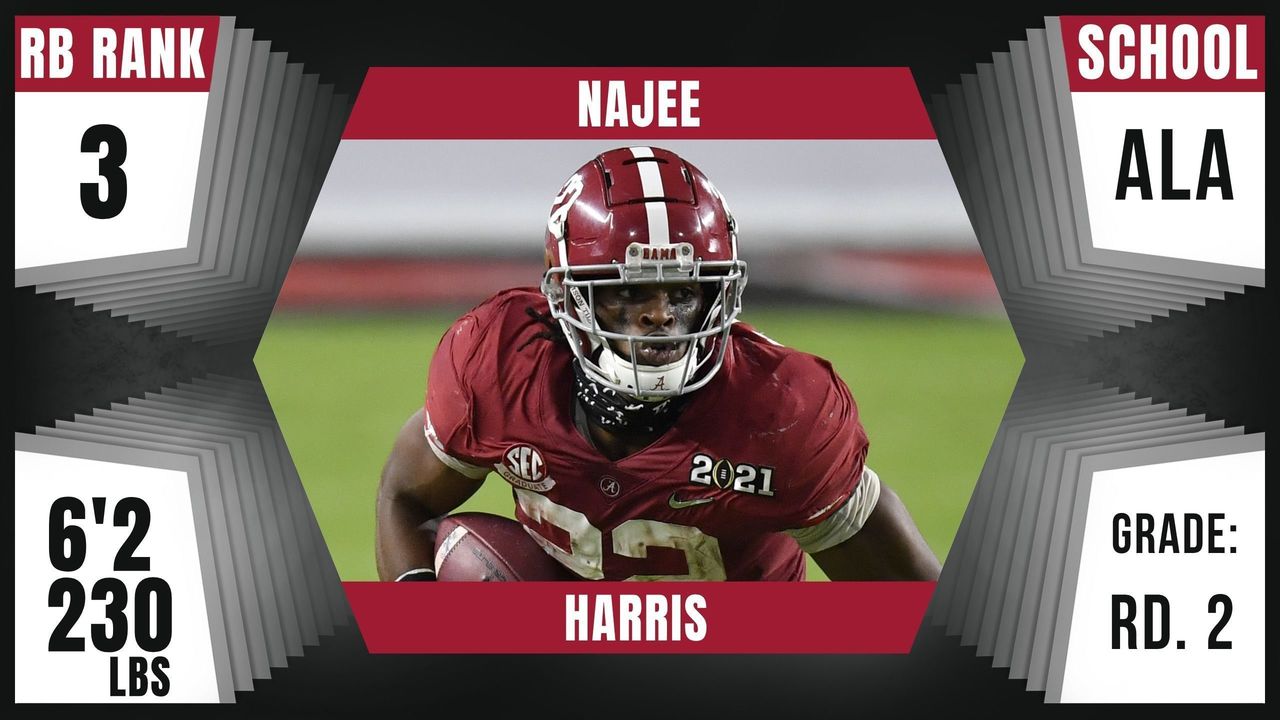 Key stats: 1,466 rushing yards, 425 receiving yards, 30 TDs, 5.8 YPC
One could reasonably brand Harris as a physical runner just by looking at his build. You wouldn't necessarily be wrong - he has the ability to run through tackles and wear down defenses. But the Alabama standout sets himself apart with his vision and ability to create additional yards through anticipation and rarely seen lateral movement for a player of his size. As a fluid receiver out of the backfield, he has the potential to fill a true every-down role. While a lack of home run speed may limit Harris' big-play upside, everything else he does screams feature back.
Boone's fantasy spin: Do Alabama running backs give you pause in the NFL draft? It's understandable if they do after guys like Trent Richardson and Eddie Lacy burned fantasy managers in the past. The good news is that Harris - holder of the Crimson Tide records for career rushing yards and rushing touchdowns - appears to be a little closer to Derrick Henry and Josh Jacobs in terms of pro potential. The 23-year-old is ready to be deployed as a lead back who can handle work on all three downs and thrive near the goal line. There's RB1 upside here, especially if he lands in a high-scoring offense.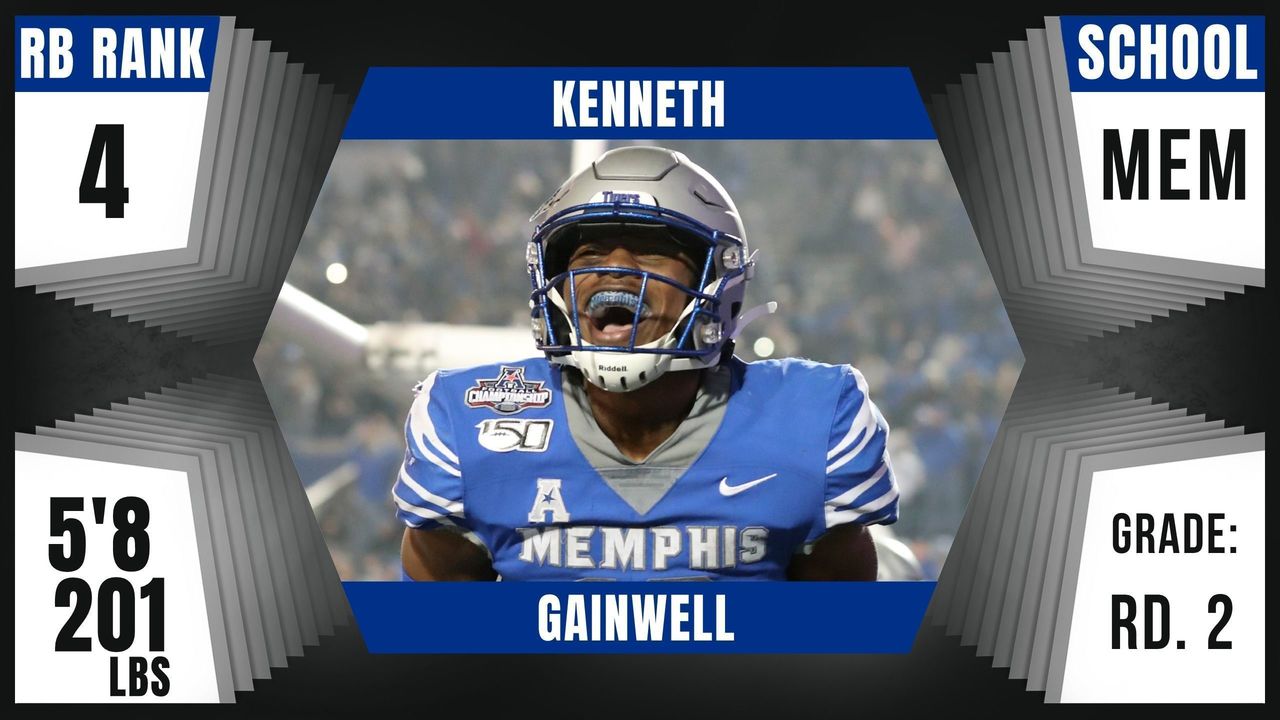 Key stats (2019): 1,459 rushing yards, 610 receiving yards, 16 TDs, 6.3 YPC
Somewhat overlooked after opting out of the 2020 season, Gainwell offers a unique skill set that sets him apart from other running backs in this class. The versatile playmaker often lined up as a slot receiver at Memphis, dominating opposing linebackers and safeties with savvy route running. Gainwell will be valued by NFL clubs as a result, though he doesn't currently possess enough size or vision to play every down in the backfield. Still, there's plenty of elusiveness and burst for him to be a dynamic offensive chess piece early on.
Boone's fantasy spin: Since opportunity is everything for fantasy running backs, landing spots will have a major impact on this group's outlook for 2021 and beyond. A smooth runner and quality pass-catcher like Gainwell could see his stock soar if he lands on a team with a wide-open depth chart, but he'll have to overcome his size. The lack of a more traditional running back build reduces his odds of becoming a high-volume producer in fantasy.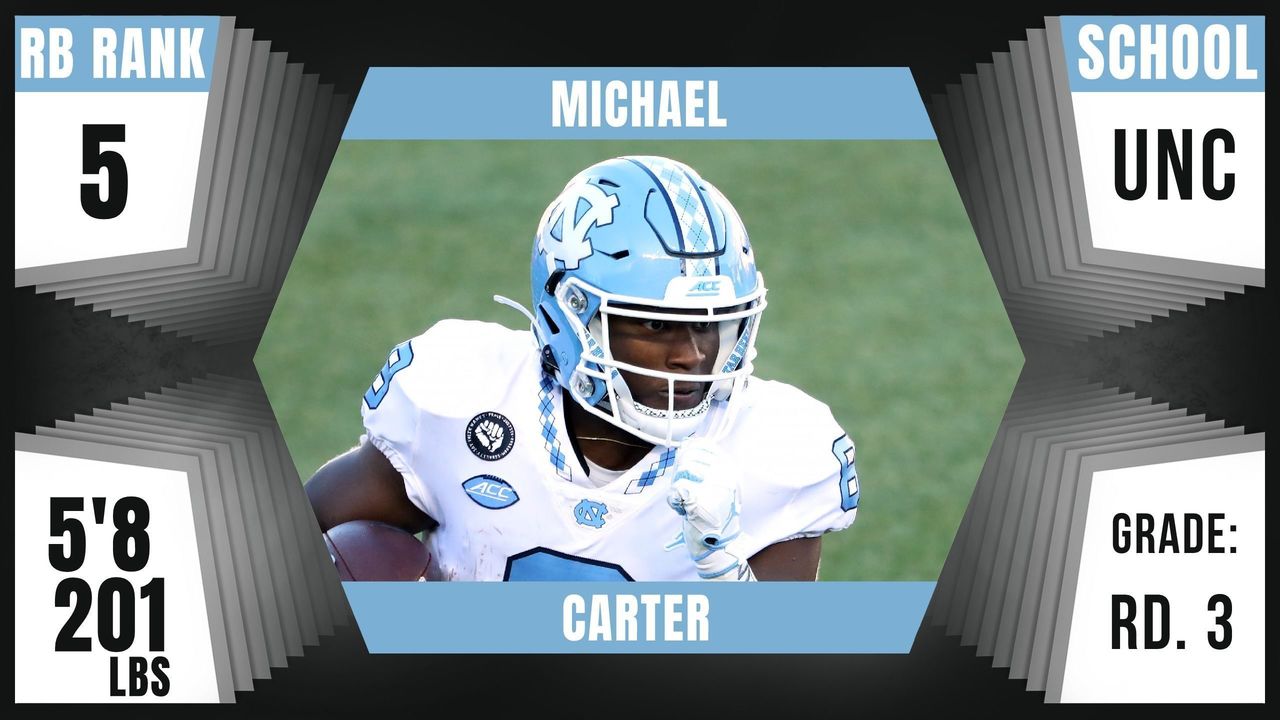 Key stats: 1,245 rushing yards, 267 receiving yards, 11 TDs, 8 YPC
Carter possesses nearly every trait you'd want in a young running back. He's quick and elusive in the open field, he displays excellent body control, and he has plenty of experience as a pass-catcher out of the backfield. His route running and hands are among the best at the position in his class. However, the former Tar Heel's size may prevent him from being a true NFL workhorse. Height deficiencies aside, Carter is a talented prospect who plays hard on every snap. He could be a mid-round steal who consistently wins matchups against opposing linebackers.
Boone's fantasy spin: There's a reason why Carter split touches with Javonte Williams at North Carolina, and it's the same reason he'll likely find his way into a committee in the pros - his size. A creative NFL coordinator will love adding a versatile weapon like Carter, but fantasy managers shouldn't invest too much in a back who profiles as an inconsistent committee member like Devin Singletary.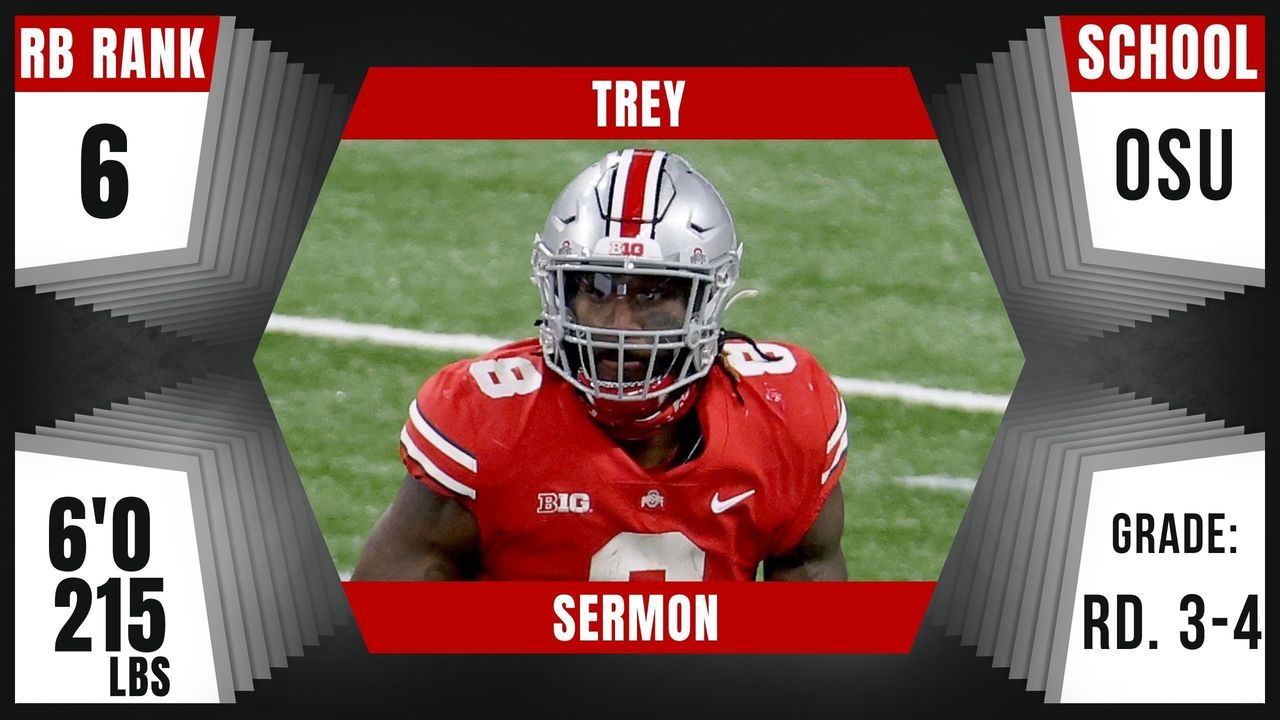 Key stats: 870 rushing yards, 95 receiving yards, 4 TDs, 7.5 YPC
Sermon won't be a favorite of those looking for freak athletes in the backfield or high-volume players in the passing game, but we can't overlook the value of a gifted natural runner. Regardless of Sermon's production at Ohio State, he has incredible vision and instincts as the play develops as well as the ability to run through tackles. He may need to be paired with a passing-down specialist, but the value he'll provide on early downs could make him look like a steal on draft weekend.
Boone's fantasy spin: As standard fantasy leagues slowly disappear more and more each season, the value of early-down backs is also on the decline. That's important to keep in mind with Sermon. His virtually non-existent receiving role makes him the kind of back that's normally best avoided in fantasy drafts. Aside from superstars like Derrick Henry and Nick Chubb, 13 of the top-15 fantasy backs in 2020 had at least 30 receptions.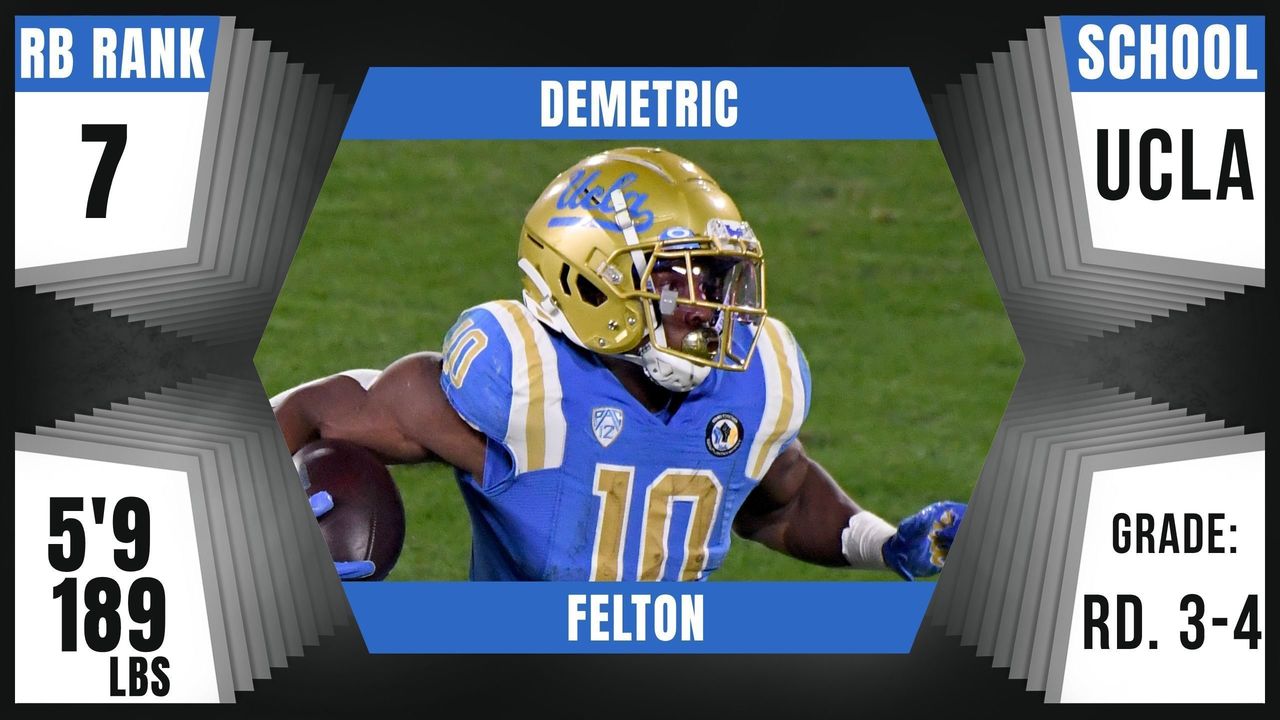 Key stats: 668 rushing yards, 159 receiving yards, 8 TDs, 5.1 YPC
Operating primarily as a slot receiver from 2017-2019, Felton shifted to running back last season but didn't lose his ball skills. With a burst in and out of breaks and soft hands, the UCLA product profiles as a versatile offensive weapon on third down early on. His size and vision represent legitimate concerns, so a full-time role in the backfield may never be in his future. Teams would be wise not to discount Felton for his measurables, though. Matchup-winning tailbacks are all the rage - put him in a committee and give him the ball.
Boone's fantasy spin: Felton will be an intriguing piece of a real-life NFL offense if he's paired with a playmaker who's excited by his unique skill set. Unfortunately, profiles like his rarely emerge as fantasy assets. Whether he's used as a gadget back or a slot receiver, you should be aiming for a player with higher upside.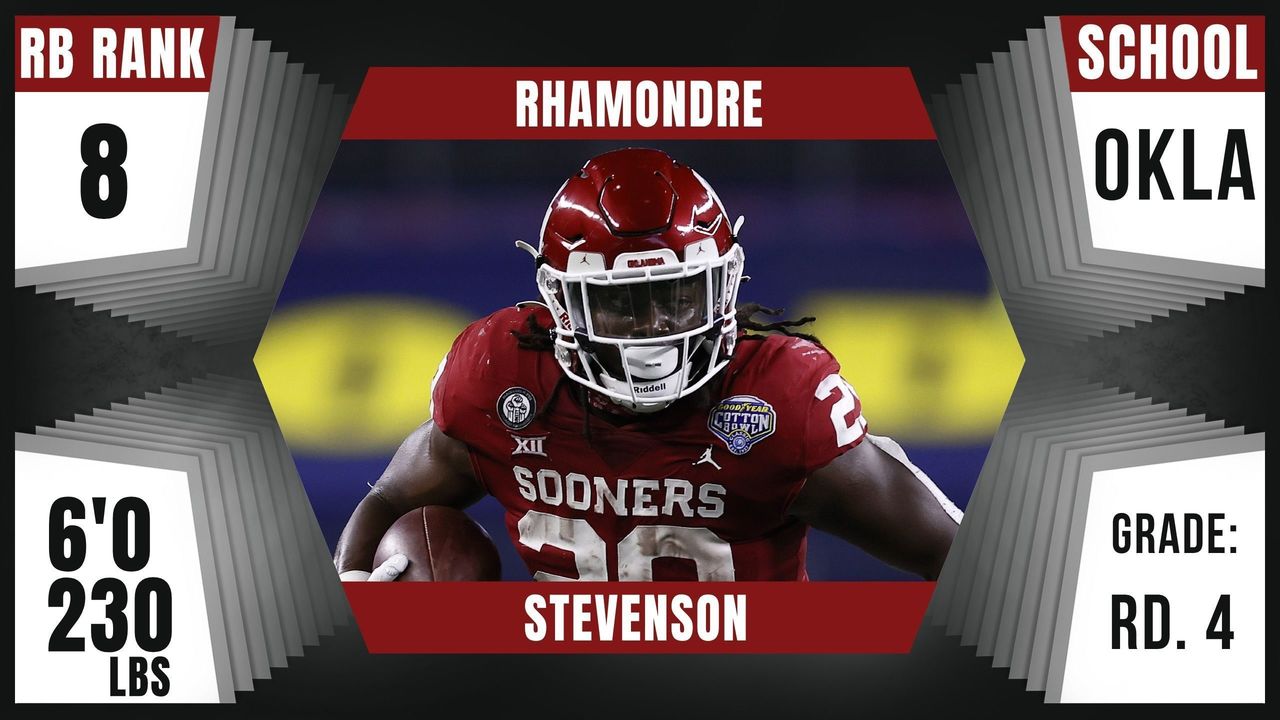 Key stats: 665 rushing yards, 211 receiving yards, 7 TDs, 6.6 YPC
Something of a unicorn at the running back position, Stevenson is a big-bodied runner who's just as nimble as he is physical. He'll shed feeble tackle attempts but he'll also make plenty of defenders miss with his vision, instincts, and lateral movement. The Oklahoma product won't offer a lot of receiving production, but he won't have to if his run-game impact is anything like what he flashed in college.
While Stevenson's collegiate production is a small sample size that could be used against him, some NFL teams may not see it that way. For a running back, and particularly one who figures to be welcoming a lot of contact, turning pro after only 165 carries could be seen as a plus, as it gives him more tread on the tires.
Boone's fantasy spin: A running back in a fullback's body, Stevenson is a tank covered in pads. Unlike Trey Sermon, Stevenson showed more as a pass-catcher in college and might be able to expand that area of his game in the pros. Whenever we're talking about backs going outside the first few rounds, we have to acknowledge their landing spot will be key to early fantasy success. But Stevenson has enough enticing traits to keep him on your fantasy radar.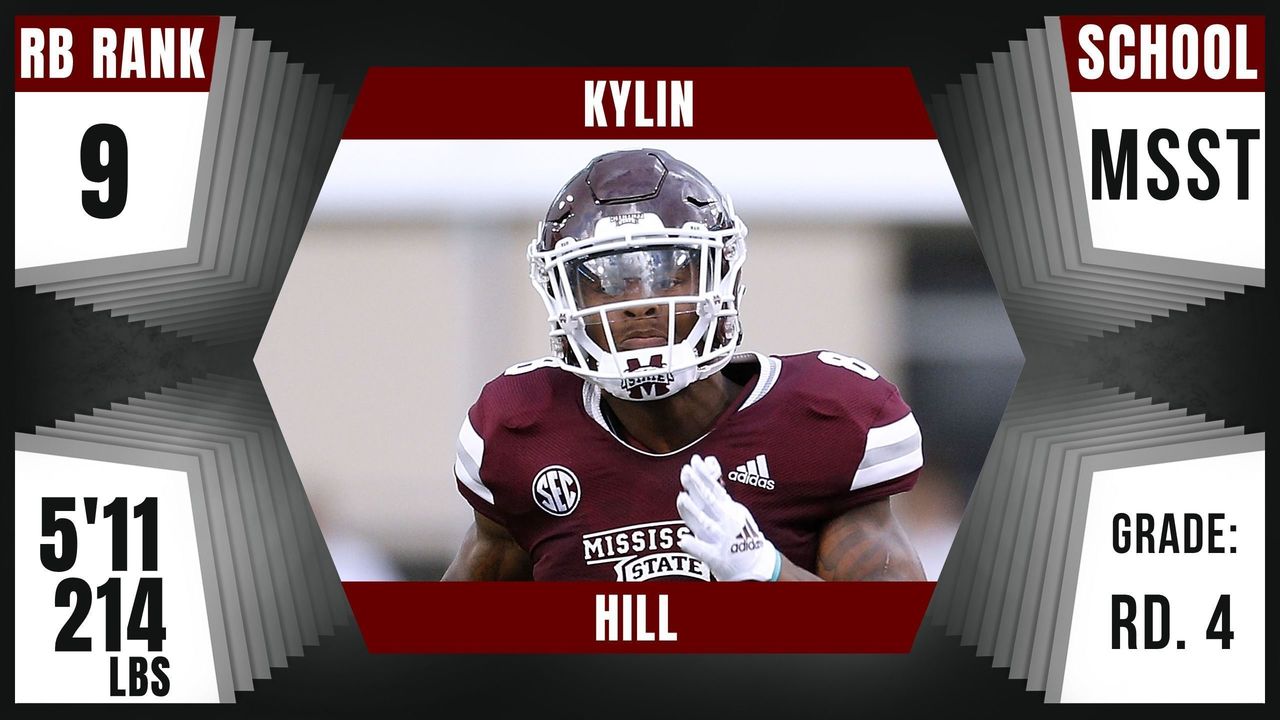 Key stats (3 games): 58 rushing yards, 237 receiving yards, 1 TD, 3.9 YPC
It's easy to overlook Hill after a three-game campaign and November opt out. However, you'd be wise not to do so. The shifty back displayed consistent explosiveness, strength, and tackle-breaking skills during his three previous seasons before growing as a pass-catcher under Mike Leach in 2020. Hill won't be an every-down player as a rookie, but he'll be an asset on third downs with sure hands and reliable pass-blocking prowess. He's a diamond in the rough.
Boone's fantasy spin: Hill is just one year removed from a 1,530-yard, 11-touchdown campaign. If you believe some of the reports out there, NFL teams haven't forgotten about that breakout season. He's a long shot like any mid- to late-round pick, but he deserves to be on the list of running backs we'll revisit after the draft to see who they'll be competing against for touches in training camp.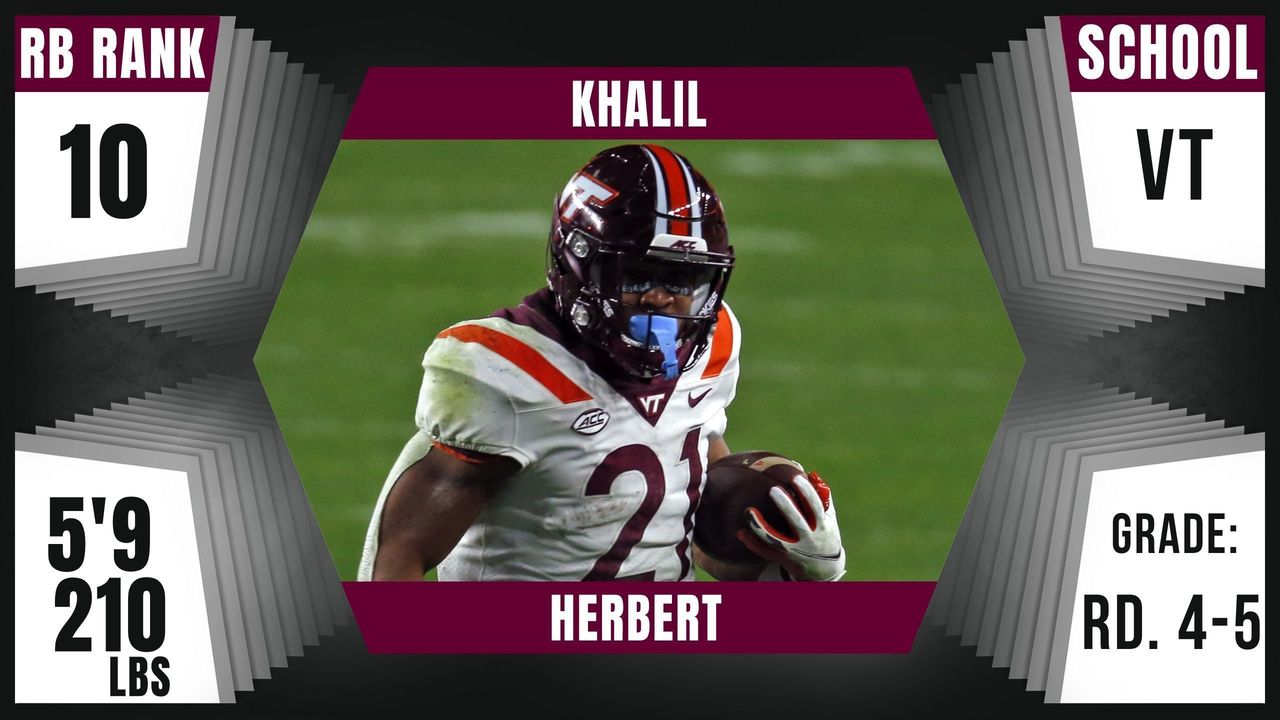 Key stats: 1,183 rushing yards, 179 receiving yards, 9 TDs, 7.6 YPC
Herbert may not have any physical traits that separate him from his peers, but there's a lot to like about his upside as a natural runner at the next level. He's a reliable and intelligent runner who could thrive as part of a zone scheme thanks to his expert vision and ability to leverage blocks to get the most out of a play. Herbert would be best utilized as a part of a committee where he can shoulder the load on early downs before giving way to a back with a skill set more tailored to obvious passing situations.
Boone's fantasy spin: With an average athletic profile, Herbert will be very scheme dependent at his next stop. Though his chances of rising to fantasy starter status are slim, the Steelers, Dolphins, Cardinals, Falcons, and even Jets could offer a legitimate opportunity for any running back picked on Day 3.
Other notable prospects
Jermar Jefferson (Oregon State)
Chuba Hubbard (Oklahoma State)
Pooka Williams (Kansas)
Gerrid Doaks (Cincinnati)
Jaret Patterson (Buffalo)
Comments
✕
2021 NFL Draft prospect rankings: Running backs
  Got something to say? Leave a comment below!