2021 NFL Draft prospect rankings: Quarterbacks
Photo illustration by Nick Roy / theScore
theScore's Mike Alessandrini and Dan Wilkins break down the top quarterback prospects in the upcoming 2021 NFL Draft as part of a position-by-position series being released throughout April. Also included for offensive skill players is fantasy analysis from theScore's Justin Boone.
Top 50
QB | RB | WR | TE | OL
EDGE | DL | LB | CB | S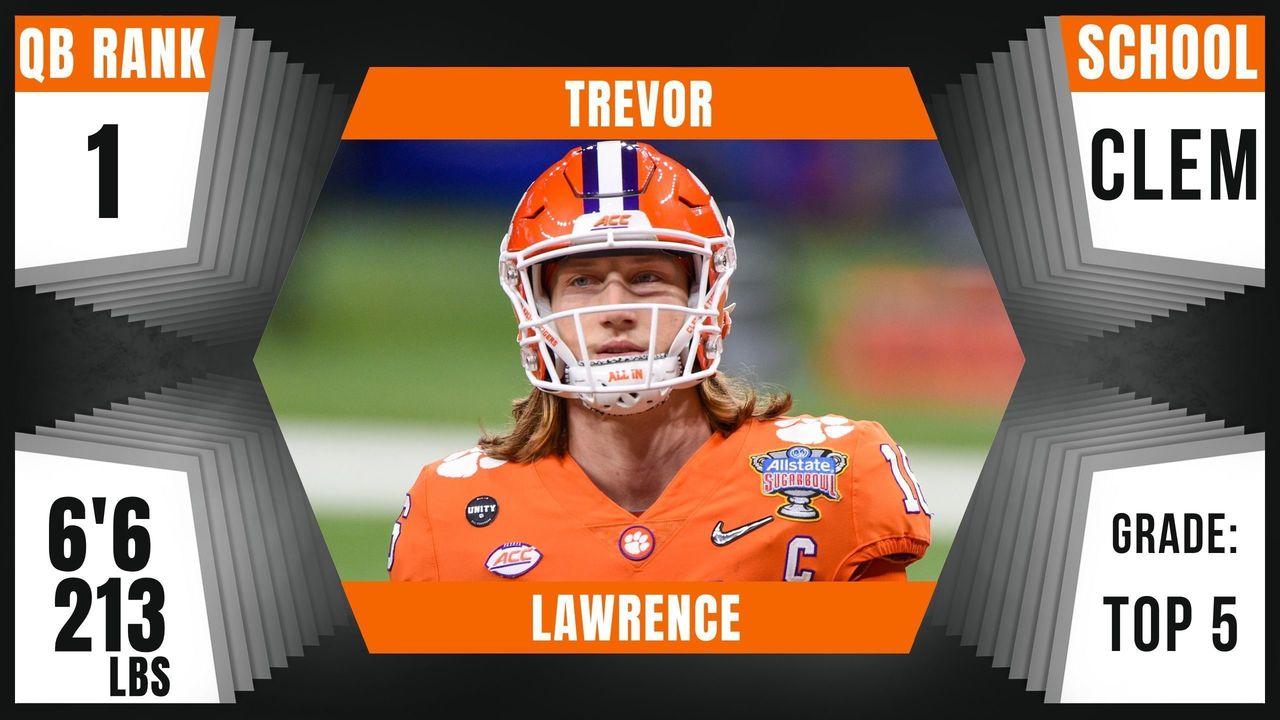 Key stats: 69.2 completion percentage, 3,153 passing yards, 24 TDs, 5 INTs, 8 rushing TDs
There's a reason Lawrence is heralded as a generational prospect and a shoo-in for the No. 1 overall selection. The kid has all the tools to succeed in the pros - his poise and pocket presence is advanced for a young quarterback, he displays absurd ball placement skills, and the 21-year-old is plenty athletic as a threat on scrambles. For all his strengths, Lawrence is an elite prospect due to how difficult it is to poke holes in his game. Clemson's offensive system and talent at receiver forced some aggressiveness and easy reads, but it's hardly a major area of concern. Lawrence sees the field very well and makes even the most complex areas of the position look effortless. Believe the hype.
Boone's fantasy spin: Lawrence is the complete package, giving him an elite ceiling as a pro. While many will focus on his arm talent, his skills as a runner will give a major boost to fantasy numbers. Nine of last year's top-10 fantasy QBs offered significant value with their legs - something the Clemson star proved he can provide after rushing for 766 yards and 17 scores over his final two college seasons. Lawrence will have an excellent chance to return high-end QB2 fantasy numbers in 2021, with an outside shot to sneak into the top-12 even as a rookie.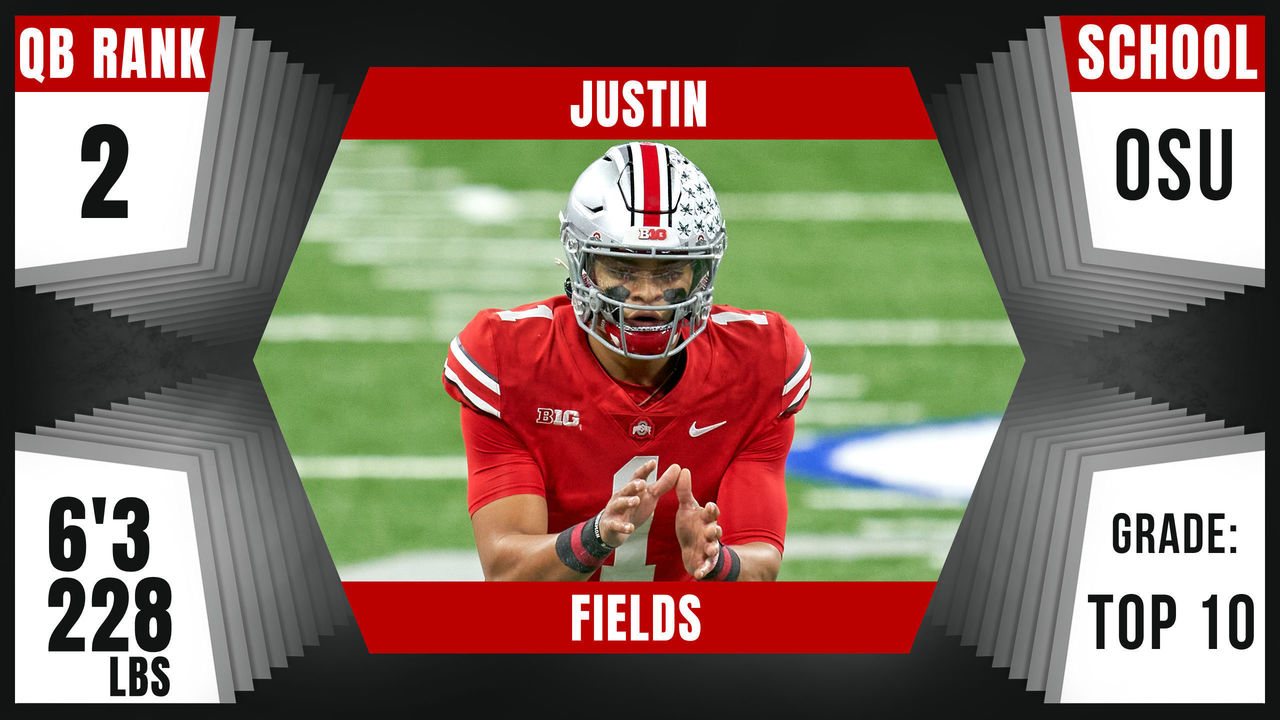 Key stats: 70.2 completion percentage, 2,100 passing yards, 22 TDs, 6 INTs, 5 rushing TDs
Don't let the narrative on Ohio State quarterbacks and their NFL success cloud your judgment on this one. Justin Fields is our No. 2 quarterback in this talented class because he's got potential superstar written all over him. Concerns about holding the ball too long in the pocket are valid - there are times where you'd like to see him just let it rip. But his athleticism and ability to improvise can compensate as he develops in that area. Everything else about his game, including the arm talent, ball placement, and toughness, is spectacular. If he lands in a system that properly utilizes his skills as a passer and runner, watch out.
Boone's fantasy spin: Fields' dual-threat ability will be key to his fantasy stock, especially early in his career as he continues to develop into a franchise passer. He has the speed (4.44 seconds in the 40-yard dash) to break long runs and the physical build to handle a decent amount of carries each week. Though the 22-year-old deserves to be one of the top two quarterbacks selected in the first round, he may benefit if he falls to a team like the 49ers, Panthers, or Broncos - three offenses loaded with skill-position talent and in need of a higher-upside starter under center.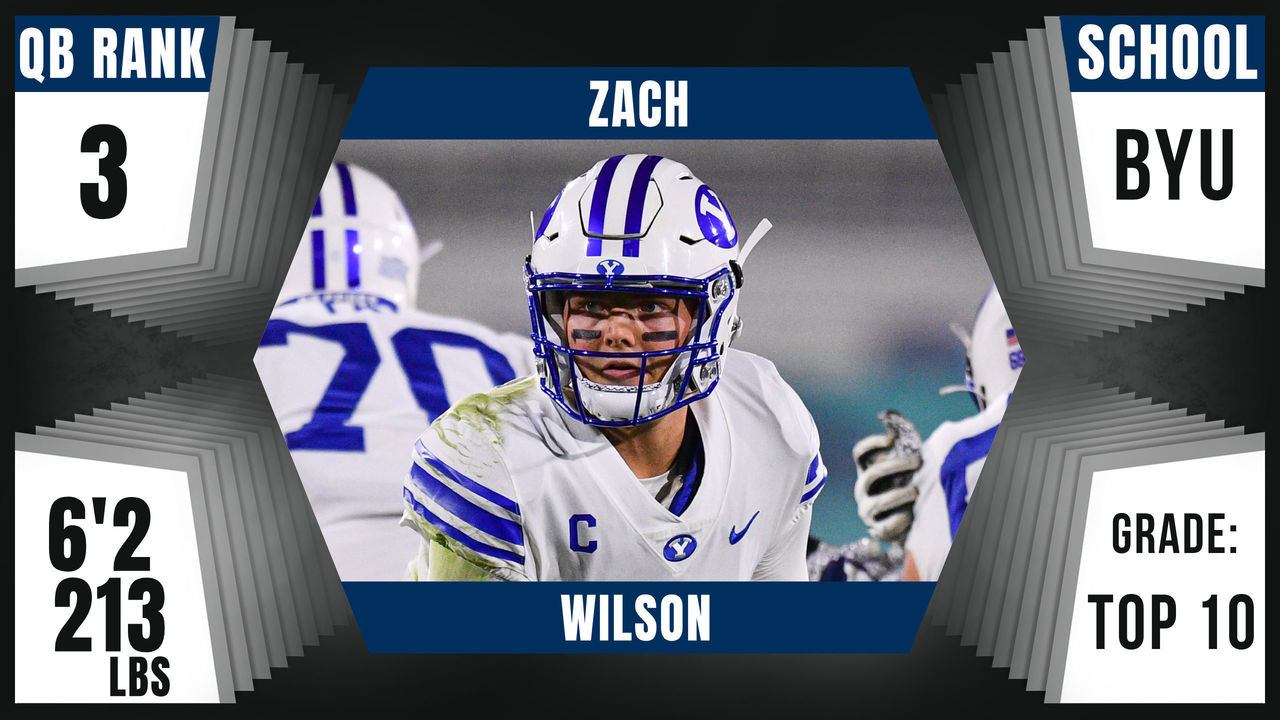 Key stats: 73.5 completion percentage, 3,692 passing yards, 33 TDs, 3 INTs, 10 rushing TDs
It's easy to fall in love with Zach Wilson's upside transitioning to the next level. His tape at BYU is filled with throws showing off the kind of arm talent and off-platform ability everyone has been looking for since Patrick Mahomes changed the quarterback position. There's some projection involved here, as Wilson benefitted from a favorable situation that rarely put him under any pressure - the NFL will present a new challenge in that regard. But the natural abilities are off the charts, and his production in a wide-zone system should theoretically allow for a quick transition in the right landing spot.
Boone's fantasy spin: While everyone wants to find the next Mahomes, it's important to remain realistic about pro comparisons. NFL front offices and fantasy managers alike can often forget that every prospect carries a wide range of outcomes. Wilson has enticing traits; he's poised in the pocket with a solid arm and the athleticism to extend plays when needed. But the odds have shifted dramatically toward him being the Jets' pick at No. 2. New York's pass-catching weapons have improved, but the 21-year-old would have to overcome a lot to be a fantasy starter in the first couple of years of his career, including having to deal with Pro Football Focus' 29th ranked offensive line last season.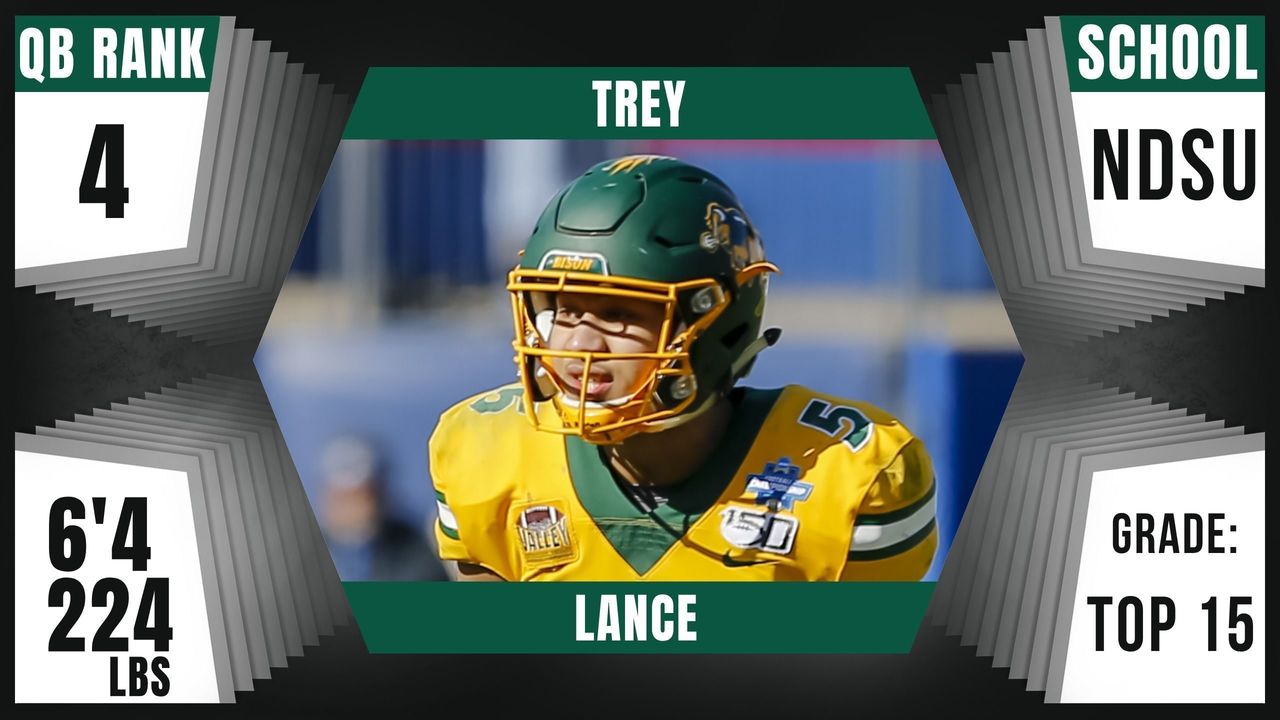 Key stats (2019): 66.9 completion percentage, 2,786 passing yards, 28 TDs, 0 INTs, 14 rushing TDs
One of the most intriguing and naturally gifted prospects in the entire 2021 class, Lance's projection is also among the most complicated. While raw, his unique tools (arm talent and athleticism) make him perfect for the modern game as he's also a legitimate weapon with his legs. Lance is already advanced at avoiding rushers in the pocket and displays excellent touch on deep passes, but you won't find many anticipatory throws on tape. The dual-threat quarterback was usually the best player on the field in college, and his experience going through multiple progressions is scarce as a result. Still just 20 years old with one full year of experience at the FCS level, Lance comes with his fair share of risk. However, the potential reward is even higher.
Boone's fantasy spin: With many prospects opting out for most or all of last season, the degree of difficulty evaluating this year's draft class is heightened. That's especially true with Lance, who suited up for just one less-than-memorable contest in 2020. However, fantasy GMs know the potential of a rushing quarterback with significant draft capital behind him. Finding a team willing to build around his skill set the way the Bills did with Josh Allen or the Ravens with Lamar Jackson would put Lance on the path to fantasy stardom.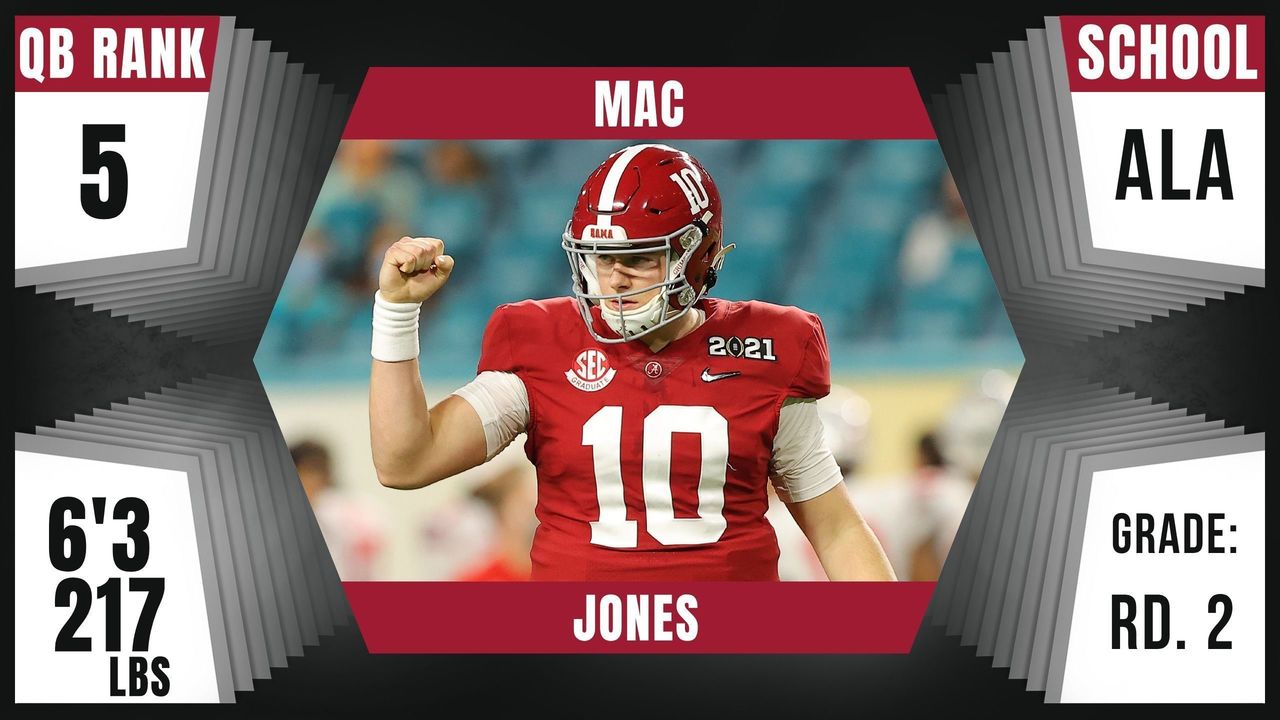 *Updated from previous rank (6)
Key stats: 77.4 completion percentage, 4,500 passing yards, 41 TDs, 4 INTs, 1 rushing TDs
Jones' draft stock soared after an incredibly productive 2020 campaign that saw him contend for the Heisman Trophy. There's a lot to like, most notably his accuracy, pocket presence, and ability to process multiple reads efficiently. Jones' comfort level in Alabama's offense was apparent. However, there are concerns regarding him being able to create outside of structure. He's an average athlete, doesn't possess the strongest arm, and will likely struggle to make NFL defenders miss both in the pocket and outside it. Jones has transferrable skills, just not enough to warrant first-round hype.
Boone's fantasy spin: Despite the hype around Jones, it's hard to get overly excited about him as a fantasy prospect. Non-mobile pocket passers need to be exceptional to post league-winning stat lines, and Jones doesn't display enough of those top-level attributes. The buzz around him will likely grow if he lands in San Francisco and becomes an on-field extension of Kyle Shanahan with the strong offensive infrastructure the 49ers have built. But he's well behind the top-four quarterbacks in this class in terms of career fantasy projections as a pro.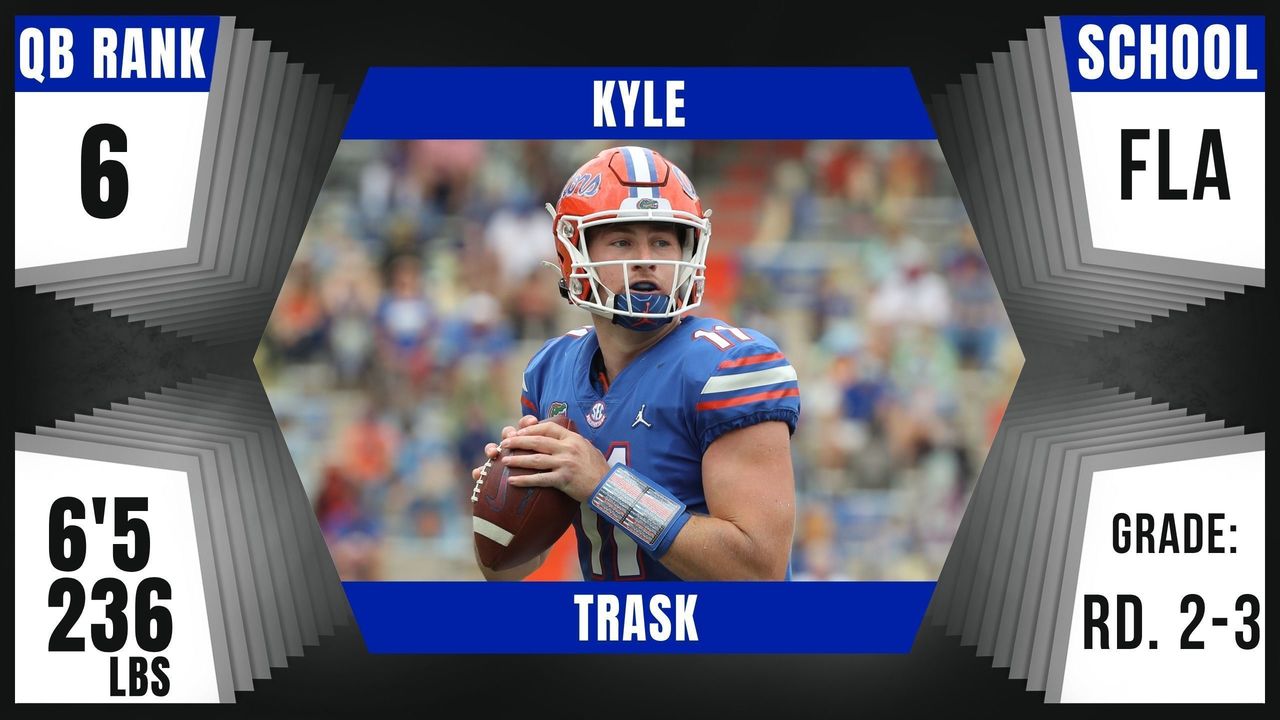 *Updated from previous rank (5)
Key stats: 68.9 completion percentage, 4,283 passing yards, 43 TDs, 8 INTs, 3 rushing TDs
Kyle Trask is an interesting evaluation. A lack of mobility stands out among his weaknesses - you just don't see many non-athletes thriving at the quarterback position in today's NFL. But don't sleep on his ability to extend plays with his subtle yet effective movements from within the pocket. The biggest question here is whether he can develop the efficiency in the underneath passing game to match what he's shown when he pushes the ball downfield. Trask has the upside of a future starter if he lands with a team that has a veteran quarterback in place and can afford to be patient with his progression early on.
Boone's fantasy spin: From a fantasy standpoint, Trask is the kind of low-ceiling, long-term project that fantasy managers are best to avoid unless he falls into an ideal situation with a premier play-caller and an organization willing to give him time to develop. That remains a possibility with plenty of teams looking for lower-investment succession plans at quarterback. Unless you're playing in a 2QB or superflex format, you likely won't need to consider the 23-year-old for your roster - at least not for a couple of years - and even then, you should aim higher.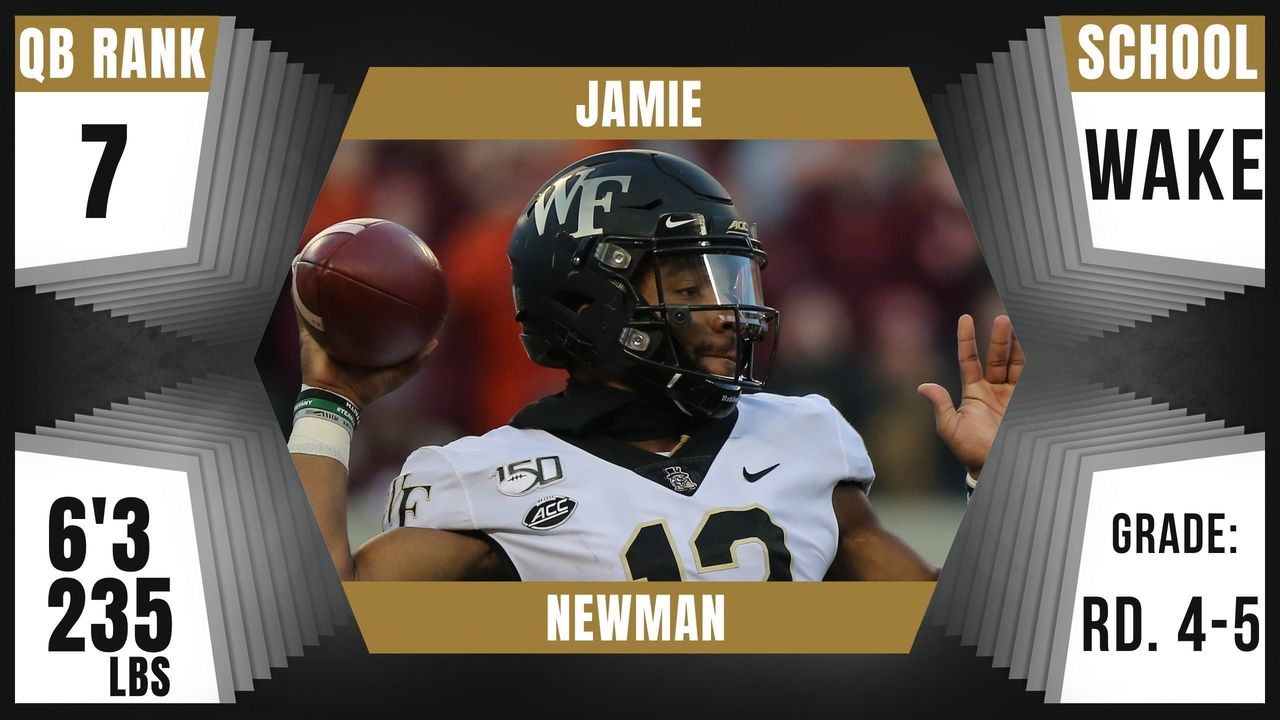 Key stats (2019): 60.9 completion percentage, 2,868 passing yards, 26 TDs, 11 INTs, 6 rushing TDs
We didn't get to see Newman in Georgia last season after he opted out, but as Wake Forest fans will attest, there's plenty of talent here. The senior's passes fly off his hand with velocity, and he's one of the better deep touch throwers in the class. Newman is also a tough runner who isn't the most dynamic but is difficult to tackle in the open field. Unfortunately, the mental part of his game is raw, and his overall accuracy leaves something to be desired. Still, Newman's upside makes him this year's most exciting quarterback prospect outside the top tiers.
Boone's fantasy spin: Outside of the top names in every draft class, very few quarterback prospects make a mark in the NFL. For every diamond that gets unearthed outside the first round like Russell Wilson or Tom Brady, there are countless other passers who remain backups their entire career. Keep that in mind as we consider the fantasy viability of the remaining QB prospects. Newman, who turns 24 in December, has a full complement of tools to evolve into a starter if everything goes his way. That road begins with his landing spot and draft capital, so we'll need to reassess his outlook post-draft.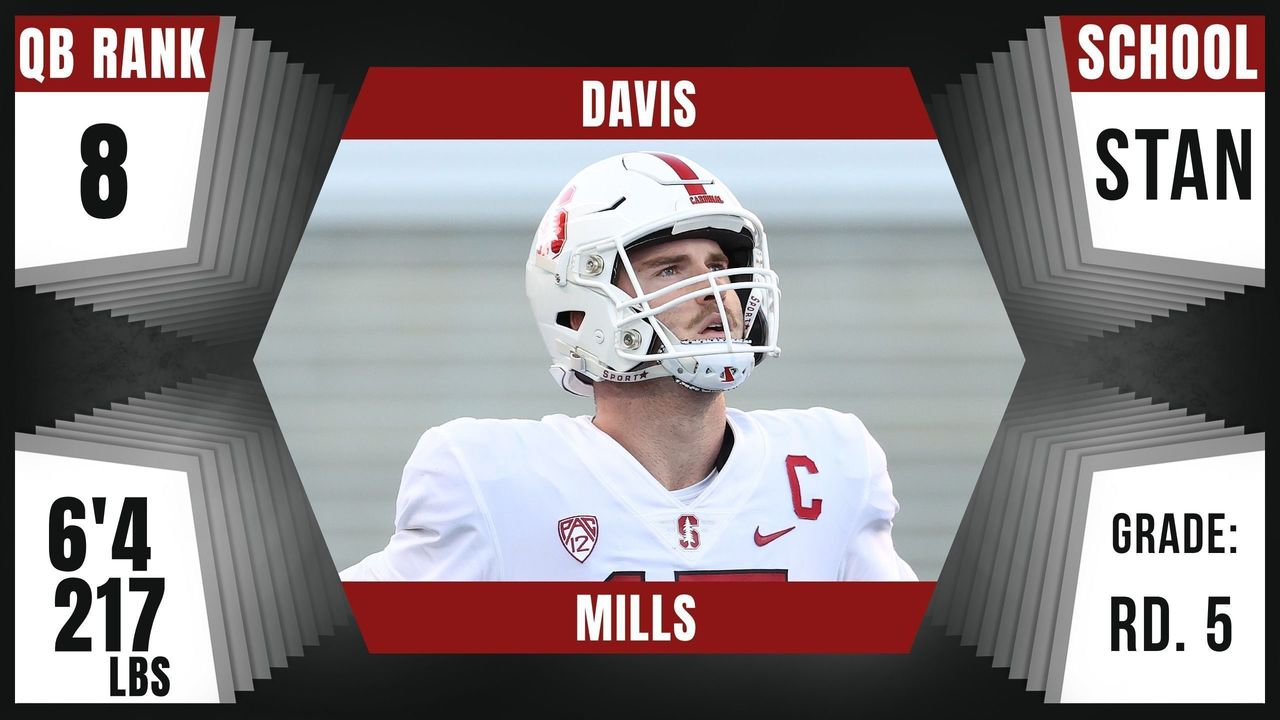 Key stats: 66.2 completion percentage, 1,508 passing yards, 7 TDs, 3 INTs, 3 rushing TDs
Limited experience complicated Davis Mills' evaluation. The above-average arm talent is there, and so is the processing speed to work the quick game in rhythm. He's also accurate when not forced to work off-script. The question is whether getting more reps can solve his issues when it comes to decision-making. Mills should be drafted with the idea of him having the floor of a solid backup and the potential for more if he has a strong supporting cast and the necessary time to develop.
Boone's fantasy spin: The deeper we go on this list, the longer the odds become for a potential star emerging. Even if Mills were thrust into the starting lineup as an injury replacement, he's a flawed prospect without a special trait and lacks the athleticism to boost his fantasy value.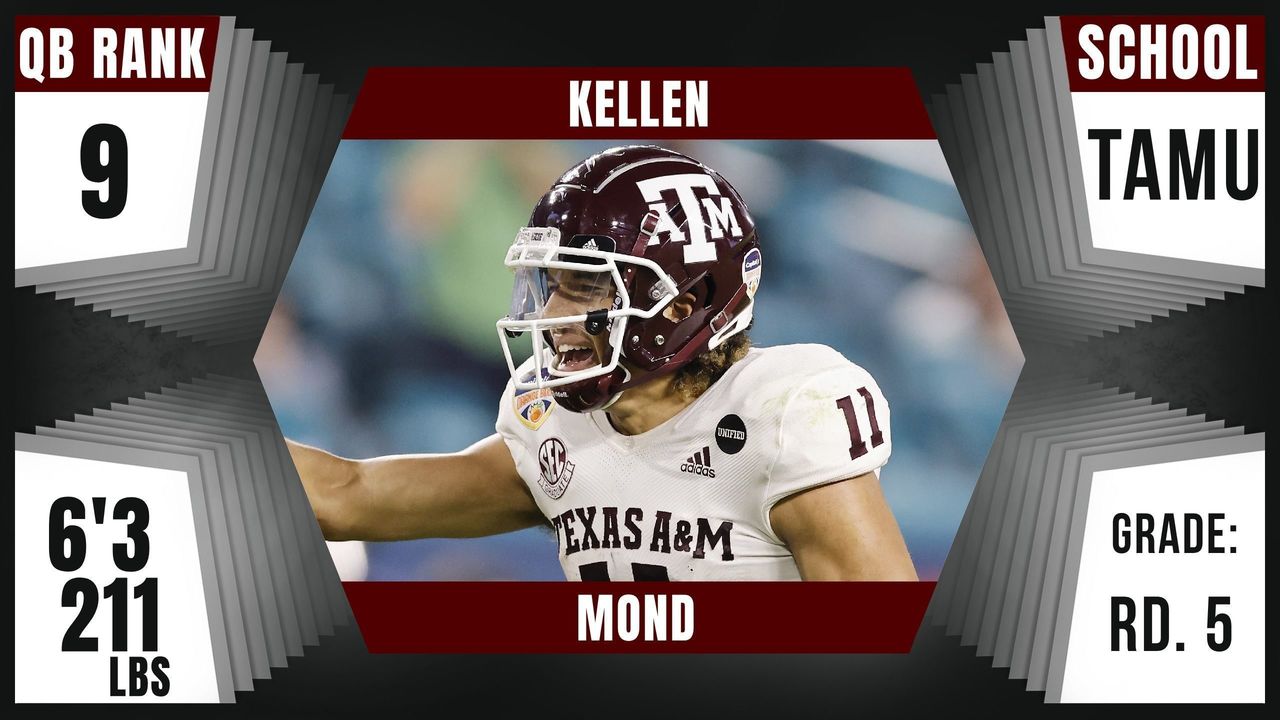 Key stats: 63.3 completion percentage, 2,282 passing yards, 19 TDs, 3 INTs, 4 rushing TDs
Mond possesses numerous traits that NFL teams value in quarterback prospects: he's smart, experienced, poised, and athletic. With this skill set, it's concerning that he never truly enjoyed a breakout season in college. Not the most naturally accurate passer and unable to wow anyone with his arm strength, Mond may have hit his peak already. The former Aggie profiles as a dependable long-term backup with the ability to start in a pinch, as he's experienced in many pro-style concepts and can produce in rhythm.
Boone's fantasy spin: Of the quarterbacks expected to go in the later rounds, Mond is intriguing as a Gardner Minshew-type dart throw. Like Minshew, Mond is a limited prospect whose poise on the field might make up for his inconsistency as a thrower. Despite being a four-year starter in college, Mond is still just 21 years old and should benefit from working with a new coaching staff. Keep him in mind when following Day 3 picks this year to see if he catches on with the right organization.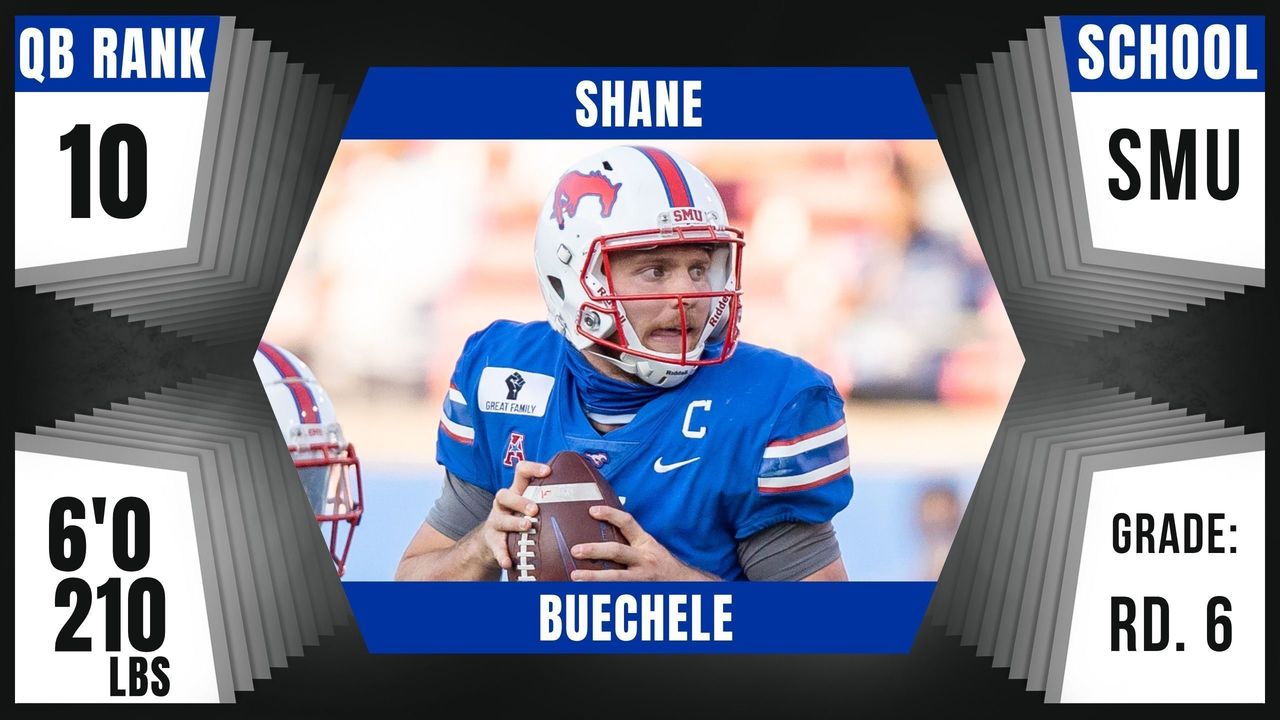 Key stats: 65.4 completion percentage, 3,095 passing yards, 23 TDs, 6 INTs, 2 rushing TDs
Looking for a backup quarterback who won't be shy about slinging it around the yard if he's forced into action? Buechele might be your guy. The SMU product is an interesting player in that he demonstrates the kind of off-script playmaking, aggressiveness, and improvisational skills that are valued in today's NFL. There's work to be done in terms of consistency with his ball placement, but there's a chance that pro coaching on footwork and mechanics could alleviate issues on that front. Either way, getting a backup that can do more than just run the system, and instead make plays on his own, has the potential to be great value on Day 3.
Boone's fantasy spin: Fantasy managers tend to develop an affinity for risk-taking quarterbacks, even when it's detrimental to their teams' success. As far as long shots go, Buechele is a fun one to root for, but he could struggle with the speed and pressure of NFL defenses - leading to more problematic mistakes. He's got a long way to go before becoming a competent backup, let alone a fantasy option.
Other notable prospects
Sam Ehlinger (Texas)
Brady White (Memphis)
Feleipe Franks (Arkansas)
Comments
✕
2021 NFL Draft prospect rankings: Quarterbacks
  Got something to say? Leave a comment below!