In a five-part series, theScore's football editors give a verdict on whether 2019 breakout players will continue their success in 2020.
First up are the quarterbacks.
Lamar Jackson, Ravens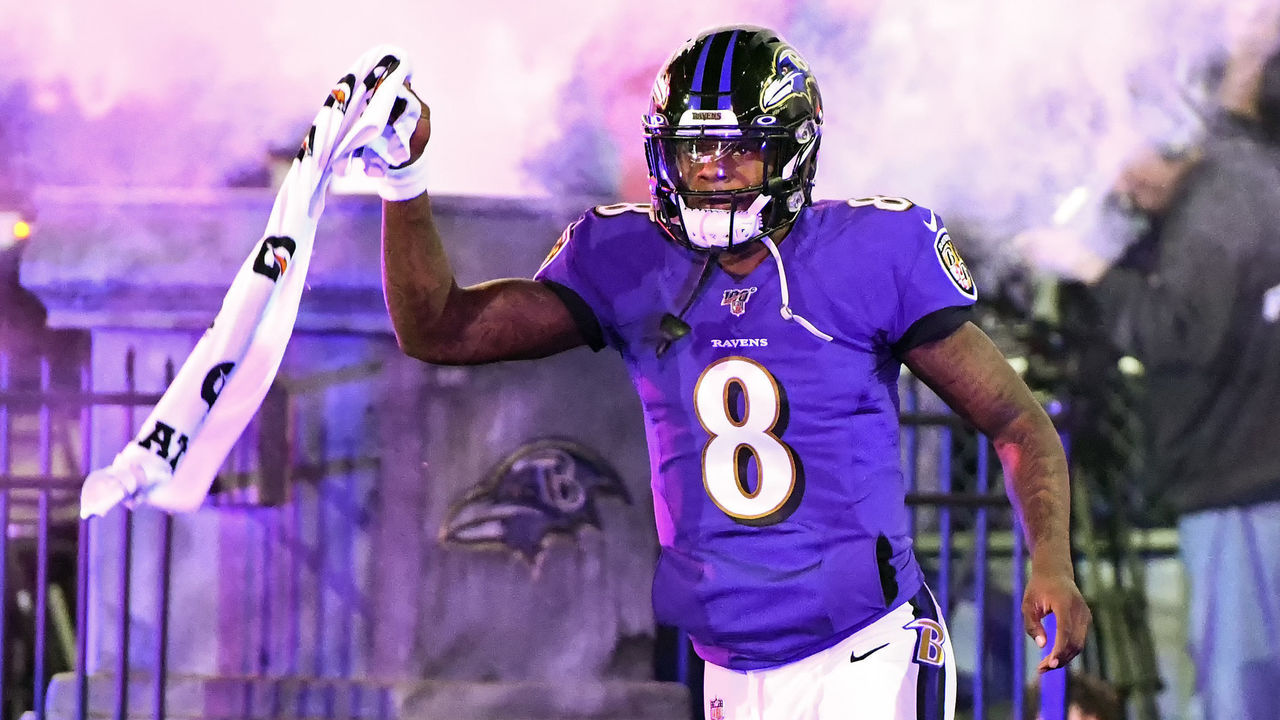 2019 stats: 3,127 passing yards; 36 TDs/6 INTs; 66.1% completion percentage; 113.3 passer rating; 1,206 rushing yards and 7 TDs
There are breakout seasons, and then there's the magical sophomore campaign Jackson put together in 2019. In just one year, the Baltimore Ravens star transformed into an MVP, embarrassing those who believed he was a running back masquerading as a quarterback.
Let's start with his unprecedented impact as a runner. His 1,206 rushing yards broke Michael Vick's quarterback single-season record by 167 yards, and Jackson played in one fewer game. The next closest quarterback in 2019 was Kyler Murray with 544 rushing yards. Jackson's average of 6.9 yards per carry was easily the league's top mark, and only nine other players (all running backs) eclipsed five yards per attempt, with Raheem Mostert leading that pack at 5.6 yards.
But by many metrics, Jackson was also in a class of his own as a passer. His touchdown percentage of 9% was by far the league's best (only two other passers exceeded 6.5%), while his red-zone passer rating of 112.7 led all full-time starters. Even in areas where Jackson didn't finish No. 1, he was near the top. He ranked third in passer rating, tied for third in adjusted yards per attempt, and second in first-down percentage per attempt.
When combining both elements of Jackson's game, only Patrick Mahomes and Drew Brees were arguably on his level in 2019. Jackson was first in ESPN's QBR (81.8), while Mahomes (76.3) was second, and Brees (71.7) came in third. In Football Outsiders' DVOA - which "represents value, per play, over an average quarterback in the same game situations" - Brees (39.8%) topped Jackson (34.2%), with Mahomes (31%) again rounding out the top three.
In more simplistic terms, Jackson was nearly unstoppable in 2019. It's not hyperbolic to say we've never seen his skill set before, and one of the NFL's most talented, well-coached, and deepest rosters will continue to support him.
Baltimore's defense ranked fourth in DVOA last season, and the team added rookie linebacker Patrick Queen and defensive end Calais Campbell to fix the unit's few issues. Additionally, receiver Marquise "Hollywood" Brown is now healthy and should help Jackson improve his deep passing game, and inserting rookie J.K. Dobbins into an already dominant rushing offense just seems unfair.
While Jackson could struggle to replicate his historic production in Year 3, that won't mean he's any less of a superstar. Mahomes went through the same process in 2019. The Kansas City Chiefs signal-caller's numbers declined after his MVP year in 2018, but his play was still elite - and he has the Super Bowl ring to prove it. Now, it's Jackson's turn.
Verdict: BREAKOUT
Ryan Tannehill, Titans
2019 stats: 2,742 passing yards; 22 TDs/6 INTs; 70.3% completion percentage; 117.5 passer rating; 185 rushing yards and 4 TDs
In what could become one of the biggest single-season outliers in NFL history, Tannehill took over for an ineffective Marcus Mariota and transformed the Tennessee Titans' offense into a run-and-gun juggernaut over 10 starts in 2019 (12 appearances). The ex-Miami Dolphins quarterback stunned the NFL while trailing only Jackson in passing touchdown percentage (7.7%), and finishing first in passer rating (117.5, which also ranked fourth all time) and yards per attempt (9.6). He also completed 70.3% of his pass attempts and threw an interception on only 2.1% of his throws.
He's set himself an incredibly high bar to reach again in 2020. Looking back at his six seasons starting in Miami, it's clear Tannehill's 2019 campaign was a significant deviation from the rest of his career. Because Tannehill didn't start all 16 games in 2019, let's focus on the efficiency stats from his 2,911 pass attempts over 88 starts with the Dolphins:
| TD% | INT% | COMP. % | YPA | Rating |
| --- | --- | --- | --- | --- |
| 4.2% | 2.6% | 63.5% | 7.0 | 87.0 |
To hammer home the point, here are Tannehill's highest marks in each category as a Dolphin, which form his best combined "season." For example, his best touchdown percentage came in 2018 when he threw 17 scores in 11 games, while his best yards-per-attempt average occurred in 2016:
| TD% | INT% | COMP. % | YPA | Rating |
| --- | --- | --- | --- | --- |
| 6.2% | 2.0% | 67.1% | 7.7 | 93.5 |
That manufactured "season" still doesn't come close to Tannehill's 2019 production, aside from a similar interception percentage (2.1%).
Of course, context is important. In seven years with the Dolphins, Tannehill was given little offensive continuity while working with four coordinators. In Tennessee, though, an underrated defense supports him, and a better offensive line than any he played behind in Miami protects the 31-year-old. He can hand off to human bowling ball rushing champion Derrick Henry, or throw to receivers who averaged the second-most yards after the catch in the league last season.
But while every quarterback needs help, it's fair to argue Tannehill fell into a perfect situation, and regression is inevitable.
Nick Foles, who posted the third-best single-season passer rating, just ahead of Tannehill, could be a very relevant comparison. Foles threw 27 touchdown passes against two interceptions in 2013, and that campaign is a glaring outlier in both his career and on the top 20 of the passer-rating list. Yes, Foles was named Super Bowl LII MVP, but he's at best an average starter who can get red-hot on occasion. Does Tannehill fall into that category, too?
He was certainly a passenger, rather a driving force, during Tennessee's shocking playoff run. He completed 15 passes over the team's first two postseason games while Henry ran rampant before averaging just 6.7 yards on 31 throws during a double-digit loss to the Kansas City Chiefs. The Titans weren't scared off, inking Tannehill to a four-year, $118-million extension instead of using the franchise tag, which was saved for the star running back.
Tannehill could make that deal worth it even if he never reaches his 2019 heights again, which is the most likely outcome. There have been late bloomers at quarterback, but it's rare for a passer to emerge as a top-five talent after turning 30 years old.
Verdict: FAKEOUT
Kyler Murray, Cardinals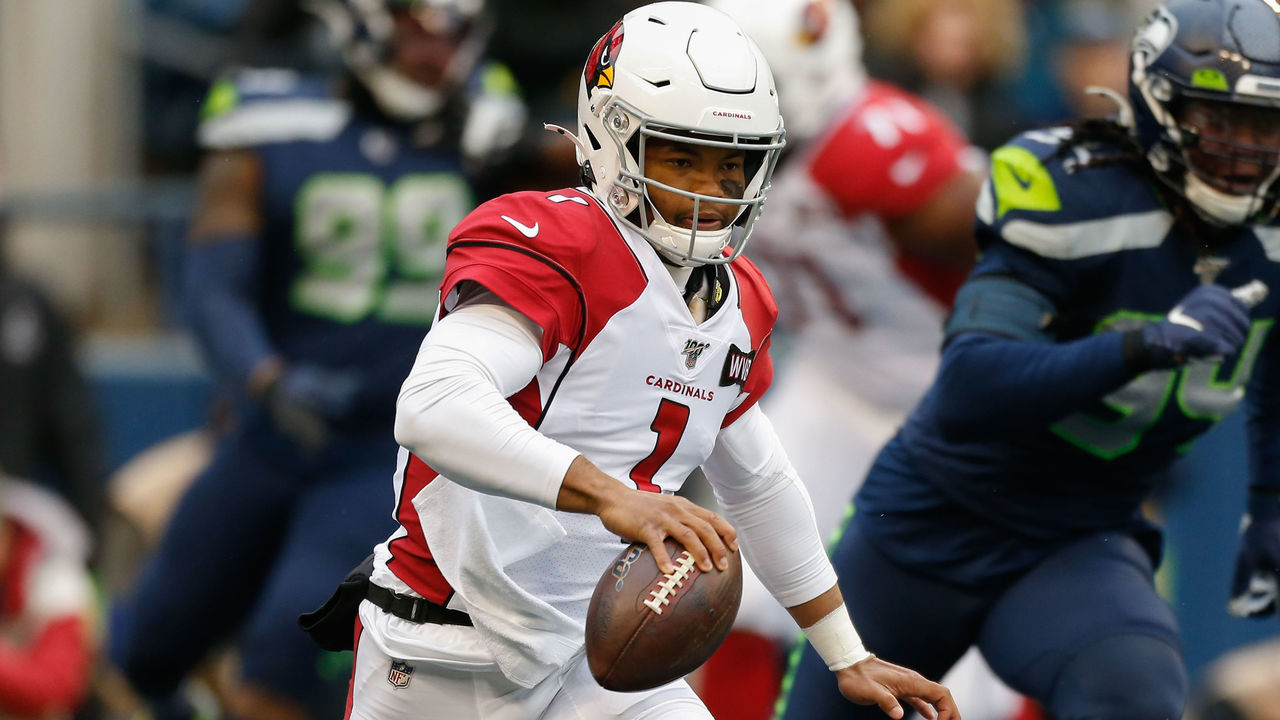 2019 stats: 3,722 passing yards; 20 TDs/12 INTs; 64.4% completion percentage; 87.4 passer rating; 544 rushing yards and 4 TDs
Murray won Offensive Rookie of the Year honors in 2019, wowing onlookers with his top-level arm talent and electric rushing skills. However, like most young quarterbacks in their first NFL seasons, Murray's performances were inconsistent week-to-week. He was especially erratic during the first half of the year, but then came on strong over the final eight contests.
The Arizona Cardinals quarterback threw just seven touchdown passes (and ran in another two) and was sacked 26 times in the first eight games, including an eight-sack outing against the Carolina Panthers. But the No. 1 pick found his feet in the second half despite his protection remaining poor, throwing for 13 scores and rushing for another two. Murray's interception total did jump from four in the first eight games to eight in the second half, but three of those picks came in one game against the Pittsburgh Steelers' third-ranked pass defense.
Murray ended the season ranked 15th in QBR, ahead of veterans like Aaron Rodgers and Tom Brady. His effectiveness as a runner fueled Murray's relatively strong finish in the metric, with the rookie trailing only the record-breaking Jackson among quarterbacks in rushing yards. While Jackson is a unique threat on the ground and he far outproduced Murray in 2019, the former Oklahoma standout came close to matching the MVP's per-game rushing average from 2018 (34 yards for Murray, and 43.4 yards for Jackson). Murray likely hasn't scratched the surface of his potential as a runner.
He also displayed elite downfield passing potential. Despite his diminutive size, he possesses great arm strength, and the quarterback's deep-ball effectiveness was clear, even with Arizona's lack of weapons. He ranked sixth in completion percentage above expected on 20-plus yard throws, according to Next Gen Stats. And while he took an alarming amount of sacks, Murray was often decisive and elusive when dropping back, taking 16 only hits during passing plays, a league-low among 16-game starters.
With superstar receiver DeAndre Hopkins now in the building to jump-start a pass-catching group that averaged the fifth-lowest yards after the catch in 2019, and with Cardinals head coach Kliff Kingsbury also through his own rookie struggles, Murray is primed for a true coming-out party in 2020. Could he become the latest second-year passer to take the league by storm?
Verdict: BREAKOUT
Gardner Minshew, Jaguars
2019 stats: 3,271 passing yards; 21 TDs/6 INTs; 60.6% completion percentage; 91.2 passer rating; 344 rushing yards
The Jacksonville Jaguars' 2019 campaign was nothing short of a disaster. After inking a big-money free-agent deal to be the final piece of the team's puzzle, Foles suffered an injury in Week 1 and played poorly in the other three games he started. Meanwhile, star corner Jalen Ramsey forced a trade to the Los Angeles Rams.
But the football gods saw the anguish of Jaguars fans and gifted them Minshew to keep their hopes alive.
After Foles was lost to a clavicle injury, 2019 sixth-rounder Minshew was forced into action. Few expected much from the former Washington State standout, despite his prolific final college season. But Minshew put together one of the better rookie quarterback campaigns in recent years. His 21 passing touchdowns tied him for the 12th-most all time among rookie passers, and Minshew's 91.2 passer rating ranked 13th. Moreover, he led the Jaguars to all six of their wins last season.
Minshew became one of the feel-good stories in 2019, and it would be fun for the entire league if the mustache king continues his upward trajectory. But progress isn't always linear, and environmental factors play a huge part in whether a quarterback can develop quickly.
Jacksonville did little to improve its below-average offensive line, traded away key defensive stars Calais Campbell and A.J. Bouye, and only added low-upside, injury-prone pieces on offense like Tyler Eifert and Chris Thompson. The Jaguars are now widely expected to be one of the NFL's worst teams in 2020.
But even if Jacksonville loaded up to give Minshew a boost in his sophomore season, there was plenty of bad play from him in 2019 alongside the good. While his interception total was low, Minshew recorded the third-most fumbles (13, losing seven). He also finished 26th out of 30 qualifiers in QBR, and 22nd out of 34 in DVOA. The QB struggled in key situations like third down too, when he completed just 32.3% of his pass attempts for a first down, just behind Devlin Hodges and only ahead of Joe Flacco and Case Keenum.
With arguably both a lame-duck head coach and general manager in Doug Marrone and David Caldwell in Jacksonville, star players like Yannick Ngakoue and Leonard Fournette eyeing exits, and only one difference-maker at receiver in DJ Chark, it's hard to come up with a worse place for a sophomore quarterback.
Minshew surprised nearly everyone by flashing real starting-caliber potential as a rookie. But unless the Jaguars' talent is far better than most predict, the 24-year-old will need more time to prove he's not a flash in the pan.
Verdict: FAKEOUT
Josh Allen, Bills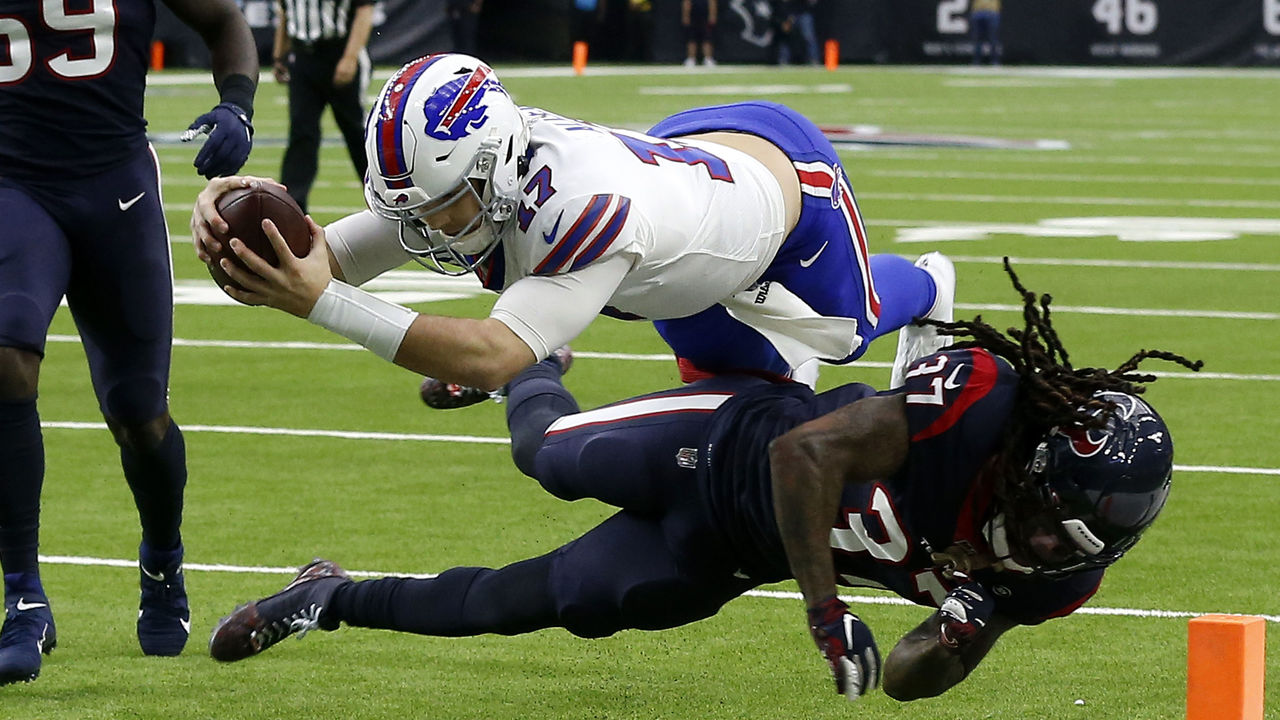 2019 stats: 3,089 passing yards; 20 TDs/9 INTs; 58.8% completion percentage; 85.3 passer rating; 510 rushing yards and 9 TDs
Allen's rookie season in 2018 was one to forget. In 12 appearances (11 starts), the No. 7 overall pick threw more interceptions (12) than touchdowns (10), completed just 52.8% of his pass attempts, and averaged 172.8 yards through the air per game. The Buffalo Bills quarterback ended the season ranked 24th in QBR and 32nd in passer rating out of 33 qualifiers. He was also 32nd in clutch expected points added on passing plays, showing that his better QBR finish was mainly due to Allen's rushing skill.
But, on the surface, Allen rebounded and logged a far more efficient sophomore campaign in 2019. In 16 starts, his completion percentage jumped six points, his interception percentage dropped from 3.8% to 2.0%, and his touchdown percentage spiked to 4.3% from 3.1%. Apart from rushing yards (and he still finished third in the league in that category among quarterbacks), Allen saw statistical improvement across the board. That all came as the Bills recorded their first 10-plus-win season since 1999, advancing to the playoffs for only the second time in 20 years. Yet it's probably too early to declare Allen a franchise quarterback.
While his raw production was decent, and a big improvement over Year 1, advanced stats still shine a light on the passer's struggles.
He finished 24th in QBR and 24th in passer rating out of 30 qualifiers in 2019. In DVOA, Allen ranked 28th out of 34 qualifiers, with only an assortment of over-the-hill veterans, backups, and rookies behind him. While his completion percentage improved, it still put him ahead of only Dwayne Haskins and David Blough. And Allen's accuracy was actually far worse than it should have been. He was expected to complete 62.2% of his pass attempts, according to Next Gen Stats, giving him the fifth-worst finish in completion percentage above expected (-3.7).
With a true No. 1 target in receiver Stefon Diggs now in the fold, many expect Allen to take a massive leap in his third year. But it's hard to look at his accuracy and advanced stats so far and see a quarterback ready to fully take advantage of a precise route-runner like Diggs.
And that's fine for now. With so many instant successes at quarterback lately, too many forget that most passers need years in the NFL to get up to speed. That especially applies to raw talents like Allen.
Buffalo can challenge in the AFC if Allen takes another modest step forward as a passer and continues his top-tier rushing production, as the Bills should still field an elite defense. If Allen produces a breakout season, it'll come in 2021 at the earliest.
Verdict: FAKEOUT
Stats courtesy: Pro Football Reference and Washington Post