There's no need to run through Tom Brady's resume; he's been the most accomplished quarterback for the greatest dynasty the NFL has ever seen. But after 20 years with the New England Patriots, Brady is on the brink of becoming a free agent for the first time in his career. It's safe to say his fate is going to be the dominant story of the offseason.
A number of factors have brought Brady and the Pats to this point. Where the two sides go from here is anyone's guess. Let's run through a list of questions to get everyone up to speed on where things stand - and where they might go from here. You may begin.
Do you really think Brady and the Patriots will get a divorce?
Not really? But also, maybe? The situation really does seem to be that knotty, at least right now.
Why?
Brady will be 43 in August, for one thing. And for as much as he's seemed to defy life's aging process, he sure as hell won't do that forever. Yes, Brady was reduced to throwing to Julian Edelman and a group of lobstermen from Kittery by the end of last season. Yes, New England has the league's oldest roster, and legendary offensive line coach Dante Scarnecchia has retired again. But Brady's also not playing at an elite level anymore. The Pats won 12 games in 2019, but they also got bounced on Wild Card Weekend for the first time in 10 years.
Is that what might lead to a separation?
Not exactly. This situation has been brewing for a few years. Brady has said on multiple occasions that he intends to play until he's 45, if not longer. And his competitiveness is legendary. Bill Belichick, in his role as head coach, understands Brady's value to the Pats in the here and now. But in Belichick's other role as general manager, he knows he has to weigh Brady's current value against sustaining a stable future for the franchise, in part by preparing for the day Brady's performance falls off a cliff. Belichick has famously avoided sentimentality when making personnel decisions; it's long been his preference to move on from a player a year too early than a year too late. Brady presents a genuine test of the limits of that philosophy.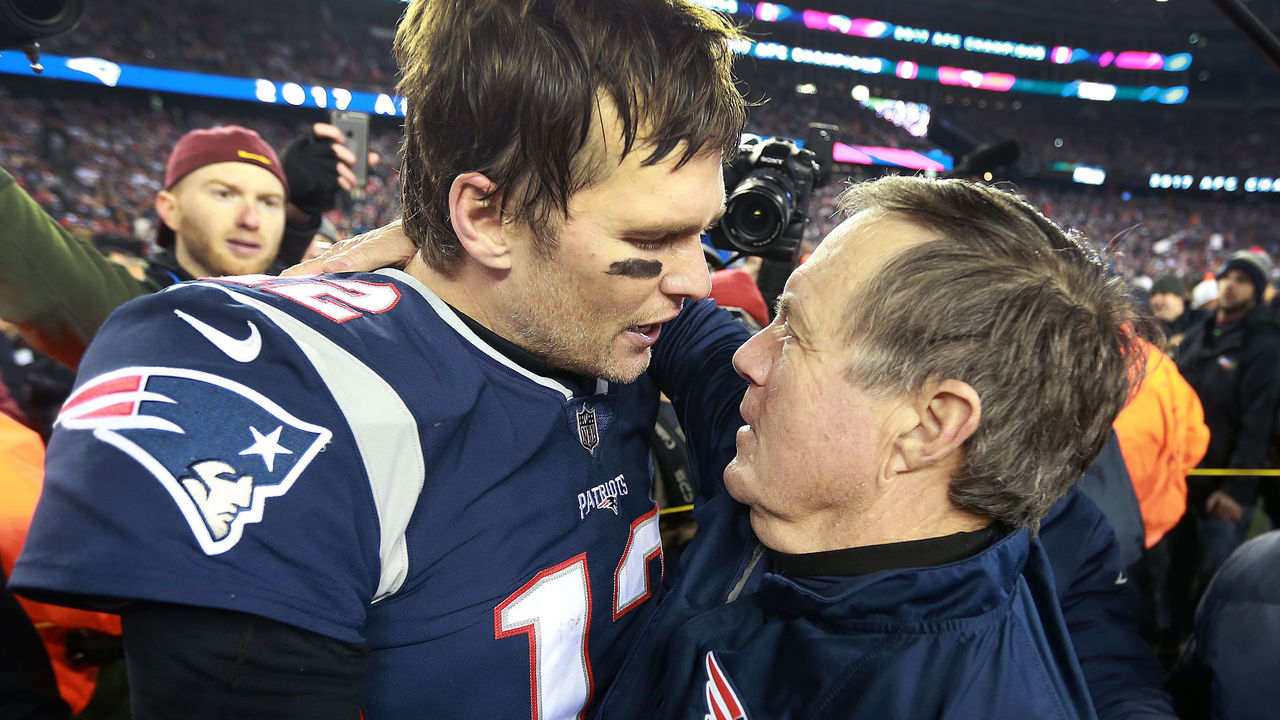 Ah. So how is all this playing out?
As Tom E. Curran reported for NBC Sports Boston, Brady has wanted a multi-year contract since before the start of the 2017 season, but the Pats have preferred to proceed on a year-to-year basis. It also became screamingly obvious last year how talent-deficient New England was at tight end and wide receiver, though the team did take fliers on Antonio Brown and Josh Gordon that didn't pan out. At the same time, Curran suggested that a deal similar to the two-year, $50-million pact Drew Brees received from the Saints in March 2018 might have been enough to keep Brady happy.
I'm confused. Wasn't the contract Brady signed last summer a two-year extension worth $70 million?
It was initially reported that way, but those figures were a mirage. Try to stay with me because it gets a little complicated. The Pats agreed to give Brady a raise from $15 million to $23 million in 2019 - still far below the top of the market. His cap number, because of a previous restructure, was going to be $27 million, but the new pact reduced that figure to $21.5 million. The deal extended Brady through 2021, but that part is an accounting gimmick: The 2020 and 2021 seasons are set to void on March 18, the last day of the current 2019 league year. Those 2020 and 2021 seasons will still exist strictly for cap purposes, however: $20.25 million of what Brady received last year was a signing bonus, which allowed New England to spread the cap hit ($6.75 million per year) through 2021. That money eventually must be accounted for, so if he were to sign elsewhere this offseason, a $13.5 million dead-money charge would hit the Patriots' cap in 2020. Got all that?
I think so. Is Brady really driving that hard a bargain?
Seems that way, at least for the moment. Remember, last summer he succeeded in getting the team to agree not to use the franchise or transition tag on him once the deal voids in March. So Brady clearly foresaw an opportunity for leverage this offseason, in part because New England does not appear to have an obvious successor for him.
Wasn't Jimmy Garoppolo supposed to be that guy?
He was! The Patriots selected Garoppolo in the 2014 second round with every intention of grooming him to take over - Brady was about to turn 37, after all. Garoppolo didn't get to play much, but he kind of proved himself capable when he won a pair of starts to open the 2016 season while Brady was suspended. But Brady came back and just ... kept ... winning, which complicated the team's succession plan. With Garoppolo's rookie deal set to expire after 2017 - which meant he, too, was in line for a big payday - the Pats decided to deal him to the 49ers. Though that wasn't what Belichick wanted to do.
Wait. What?
Oh, yeah. You missed that one? A few months after the trade, ESPN's Seth Wickersham reported that it was Kraft who made the decision to deal Garoppolo over Belichick's objections. Get a load of this:
Two weeks before the Nov. 1 trading deadline, Belichick met with Kraft to discuss the quarterback situation. According to staffers, the meeting ran long, lasting half the day and pushing back Belichick's other meetings. The office was buzzing. The meeting ended with a clear mandate to Belichick: trade Garoppolo because he would not be in the team's long-term plans, and then, once again, find the best quarterback in the draft and develop him. Belichick was furious and demoralized, according to friends. But in the end, he did what he asks of his players and coaches: He did his job.
Damn.
Yeah.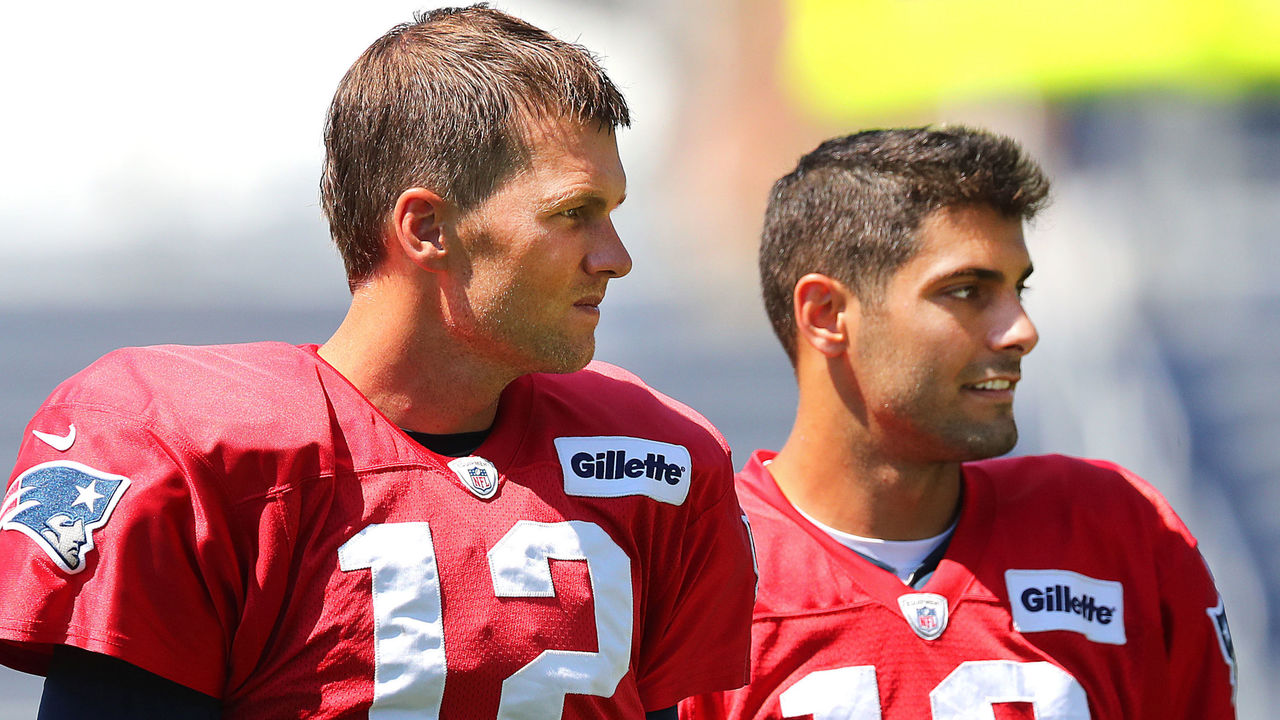 But hasn't Brady willingly taken less money for a long time?
He has, yes. NFL salary-cap experts have estimated that Brady has left anywhere from $25 million to approximately $40 million on the table by not insisting on getting top dollar. He's even admitted he's done this for the good of the team in a league with a salary cap, and the Pats have long had plenty of depth because they've prioritized spending on mid-tier veterans and on finding value at a low cost.
Has Brady always done that?
No, actually. In 2010, he signed a deal that made him the league's highest-paid player. But by 2013, he agreed to a renegotiation that knocked his annual salary down to free up cap space. In February 2014, he agreed to convert $24 million in future fully guaranteed money into a partial injury-only guarantee, which allowed Kraft to avoid putting all of the $24 million into escrow, as the CBA requires.
Do you think the Pats sweetened the pot on the side for him or nah?
There have long been rumors about this, but no definitive proof. The contours of the 2013 agreement came together when Brady flew across the country on Kraft's private plane. Around the same time, Brady bought land in the Boston suburbs on which he was able to build a mansion near Kraft's home, with Kraft and his son Jonathan providing support during the zoning-approval process. Was something related to that land purchase done to "compensate" Brady as an end-around on the cap? No one's proved that. And what about the fact that the Patriots are clients of Brady's personal lifestyle and training company? Per The Athletic's Mike Sando, the league investigated this and found no wrongdoing.
Is Brady still any good?
He is, but, his performance slipped last year, for sure - even taking his pass-catchers into account. He ranked just 17th in Total QBR (53.7). PFF has an adjusted completion percentage metric, which accounts for drops, throwaways, spiked balls, batted passes, and being hit when passing. Brady ranked 20th in both overall ADJ% (72.9) and ADJ% when throwing from a clean pocket (76.7). He was 21st in ADJ% when pressured (59.5). His advanced stats weren't any kinder (click to enlarge):
Additionally, PFF'S Sam Monson recently noted that Brady in 2019 had his lowest total of big-time throws in the last decade. But Monson was also careful to point out that the veteran still has plenty of potential. "Brady is still capable of making those big plays, even against good defenses," Monson wrote, "but again, all the signs point to him needing more help than he ever did before in order to get it done." That likely explains Belichick's reluctance to commit to him beyond one year.
Where do things stand now?
Brady has said the two sides have talked, but there hasn't been much movement. The morning of the Super Bowl, the NFL Network reported that the Pats are willing to offer more than $30 million (presumably for one year), but Curran has since reported that no parameters have been set and described the $30-million figure as "an albatross to the proceedings." There are deadlines approaching that will force some kind of reckoning.
How so?
The new league year begins March 18 at 4 p.m. ET. At that point, Brady's deal with New England voids, and he can become an unrestricted free agent. On March 16 at noon ET, the so-called legal tampering period begins, when teams can begin negotiating with players from other teams. Until then, the Pats still have an exclusive bargaining window with Brady. However, the scouting combine will take place from Feb. 23-March 2. Pretty much all of the league's cognoscenti will be in Indianapolis for most of combine week, which means there will be (wink wink) plenty of tampering going on (wink wink).
Where else could he play, really?
Lots of teams could make sense, actually. The Raiders no longer owe Derek Carr any guaranteed money, and they just moved to Vegas - who better to be the face of the franchise than Brady? The Chargers just decided to move on from Philip Rivers. Brady is tight with Titans head coach Mike Vrabel from Vrabel's playing days. Might the Titans take a run at Brady if Ryan Tannehill's asking price gets too steep? The Colts need a QB; the Bears probably do, too. And what might the Bucs do if they choose to walk away from Jameis Winston? Get ready for all kinds of dumb rumors. Hell, there's been one already!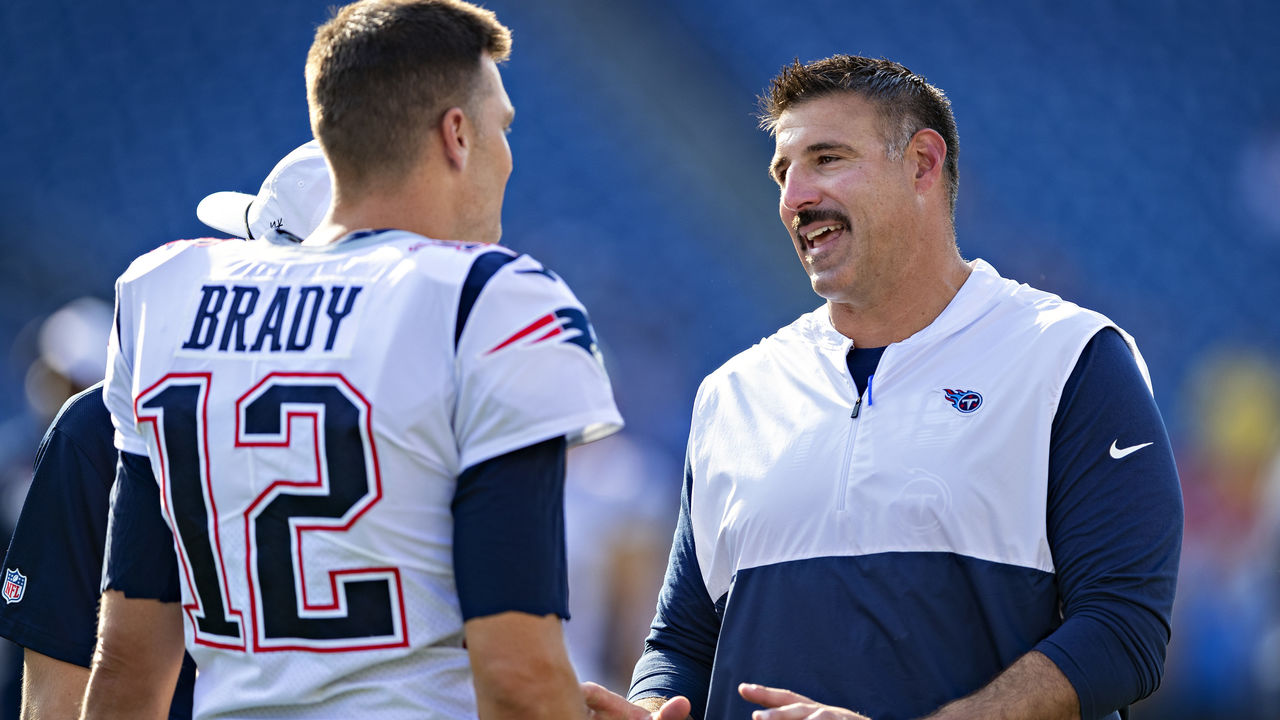 What was that?
Ex-Cowboys great Michael Irvin apparently heard from "very significant people" that Dallas might trade Dak Prescott to take a run at Brady. That's some Grade-A hearsay informed by vaguely sourced, anonymous speculation: a true classic of the NFL offseason newsmaking genre. But there's more to the timing angle here that you need to be aware of ...
OK ... in what way?
The draft isn't until late April, so the Patriots can't wait on Brady until then. But there also figures to be a lot of movement in the quarterback market once the tampering window opens: Rivers, Prescott, Tannehill, Brees, and Winston could all be out there for teams to bid on. (However, Prescott and/or Winston could get the franchise tag anytime between Feb. 25 and March 10, which could take them off the market before the bonanza begins in earnest.)
All kinds of weird stuff can happen during these negotiations, too. Former Jets GM Mike Tannenbaum recently told ESPN's "Get Up" that he sold Brett Favre on coming to the Jets by telling him he could fish on Mondays and Tuesdays at owner Woody Johnson's farm. Favre still wasn't convinced, so Tannenbaum had a pair of camo pants shipped to Favre to get the deal across the goal line.
Ha. Is Kraft going to intervene again?
Interestingly, according to NFL Network's Ian Rapoport, Kraft reportedly made it known that he wants Brady to test the market so that, if a deal with the Patriots does happen, the two sides know they were meant to stay together. But that plan has more potential pitfalls than meets the eye.
What do you mean? How?
Again, timing. Sports Illustrated's Albert Breer broke this down earlier in the week. Basically, Belichick's going to need some answers by March 18, if not before the 16th, because of all the possible domino effects. Breer recalled that by the time Wes Welker was able to gauge his value with other teams in 2013, the Pats had signed Danny Amendola to replace him. And last year, New England took a run at free-agent tight end Jared Cook - without knowing Rob Gronkowski planned to retire, which he did a few weeks after free agency ended. The Pats were outbid in their pursuit of Cook, but they might have bid harder had they known Gronk wouldn't be back.
Likewise, with all those other veteran QBs potentially out there, how long does Belichick wait to pull the trigger on Brady at the risk of missing out on a potential replacement he might want? It's all going to get tricky, but deadlines tend to have a way of forcing two sides to make a deal.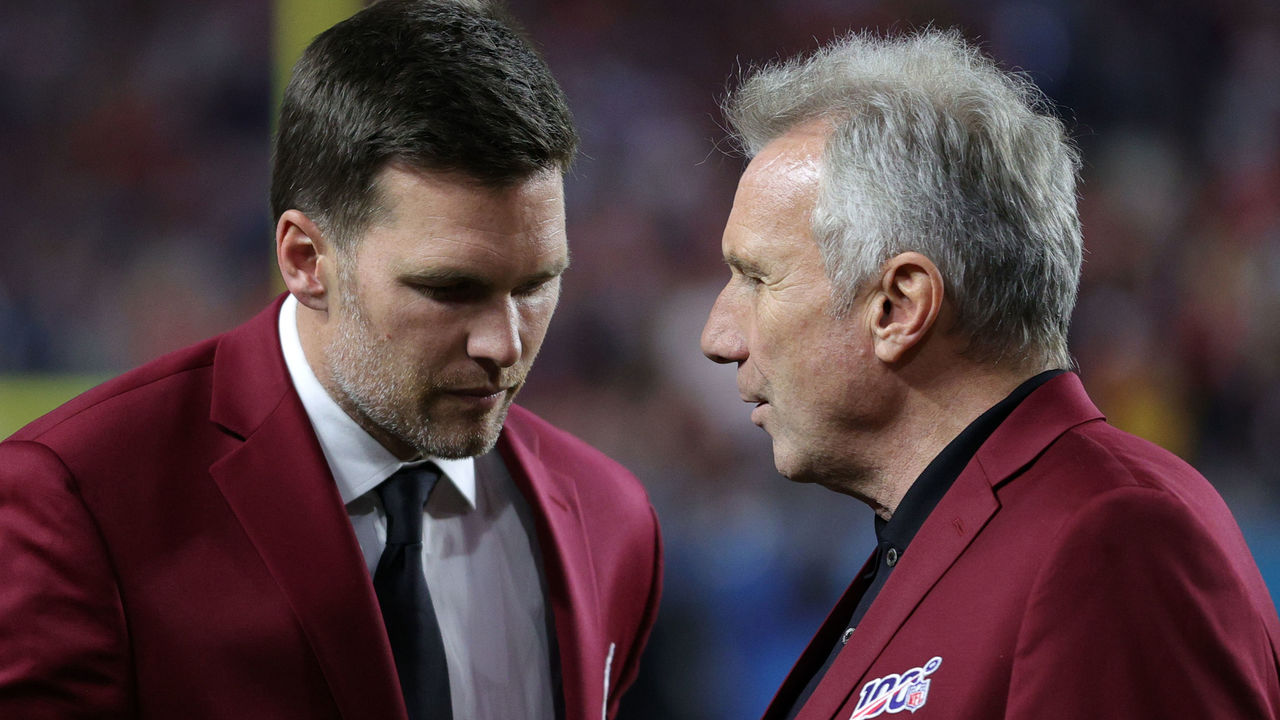 So what do you think will happen?
I know star quarterbacks have moved on in the past - Joe Namath to the Rams, Joe Montana to the Chiefs, Favre to the Jets and Vikings - but there's something unique about the Brady-Belichick-Kraft partnership that leads me to think they'll find a way to keep the band together for at least another year.
I have a hard time imagining Brady wants his last game in New England to be that wild-card loss to the Titans, or that he wants his last throw as a Patriot to be the pick-6 that sealed the defeat. If Belichick can get him some help, there's good reason to think he and Brady can make one more run at a title together. Then again, Brady put the mansion he had built next to Kraft's on the market last August; maybe he already knows he's out.
Dom Cosentino is a senior features writer at theScore.