Deshaun Watson demonstrates pitfalls of projecting college QBs
There's 12 minutes, 10 seconds remaining in the fourth quarter of a Week 5 game between the Chiefs and Texans at Houston's NRG Stadium. Trailing 26-13, Houston faces second-and-6 at the Kansas City 48-yard line. Under center is Deshaun Watson, the 22-year-old rookie quarterback making his fourth career start, against arguably the league's best (and, at the time, only undefeated) team.
Watson receives the snap before faking a handoff to running back Lamar Miller, but as he turns his gaze downfield to survey the landscape of his receivers, Chiefs lineman Rakeem Nunez-Roches scoots through the line unblocked. The pivot is seemingly dead to rights. But where most first-year QBs would be expected to cower like deer in the headlights, Watson instinctively shuffles to his left, miraculously avoiding a presumed sack, then heaves the ball downfield into the awaiting arms of receiver Will Fuller for a spectacular touchdown.
It's a sequence that perfectly encapsulates the intangibles Clemson coach Dabo Swinney cited when comparing Watson to Michael Jordan ahead of the 2017 NFL Draft. Watson also had a sterling resume after his three-year college career, which included vanquishing juggernaut Alabama on a last-second touchdown in the 2017 national championship game. He was a proven winner. But NFL minds evidently harbored doubts that his college success would translate to the pros, as Watson was the third quarterback off the board, after Mitchell Trubisky (Bears) and Patrick Mahomes (Chiefs), and the 12th player drafted overall in April.
Through six NFL games, including five starts, Watson appears to have plenty of that "other stuff" Swinney saw in his pupil. He ranks ninth league-wide in passer rating (101.1); fifth in DVOA (23.5 percent), an advanced metric representing value, per play, over an average QB; and first in ESPN's Total Quarterback Rating (80.7).
Mark Schofield, a quarterback analyst for Inside the Pylon, was high on the two-time Manning Award winner heading into the draft, believing Watson could overcome some of the limitations others had fixated on.
"Watson, for me, was my top quarterback in last year's class," Schofield said. "I thought a lot of the hesitation-slash-criticism that was levied his way in the pre-draft process - some of it was warranted, some of it I think was a little bit overblown. I think people, when you get down to it, really sort of overthought Deshaun Watson.
"But, at the same time, there were some red flags with him."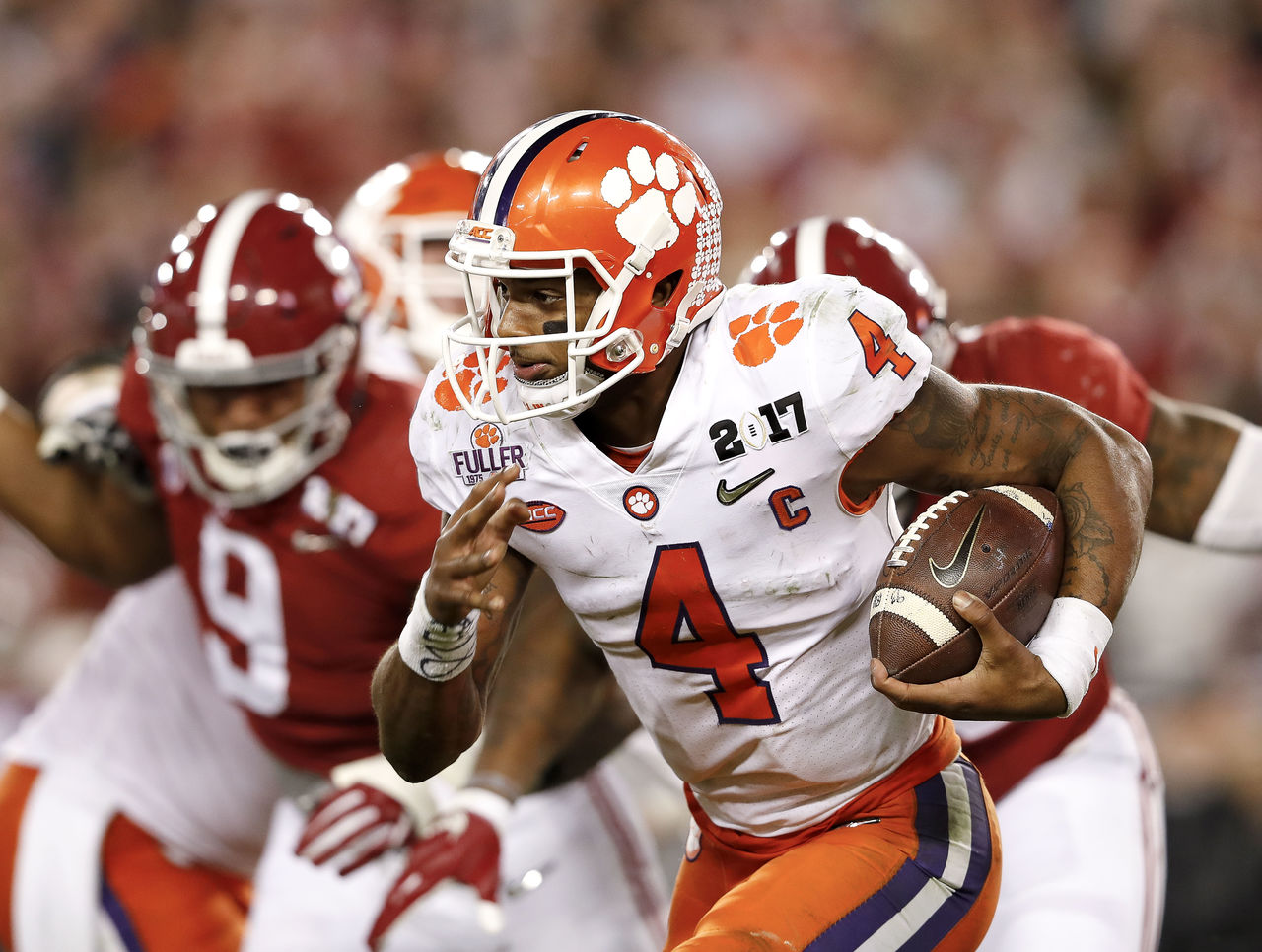 Watson was the 10th-most accurate FBS passer in 2016 by completion percentage, but tied for the second-most interceptions with 17. What's more, 14 of those 17 picks came when he was not under pressure, according to CFB Film Room.
Naysayers labeled Watson a "one-read" quarterback, incapable of smoothly working through progressions and the beneficiary of an uncomplicated offense. His velocity number (49 mph) at the NFL Scouting Combine was also alarmingly low, adding credence to the argument Watson would struggle on routes that require elite arm strength.
"People questioned his arm strength, questioned him being able to make throws to the boundary," Schofield said, "but if you watched him on film, timing routes - where he could use touch, placement, anticipation to an extent on routes to the boundary - that was when he was at his best. If he had to drill a throw into a tight throwing window ... not really for him."
Schofield sees Watson's early success in Houston as a perfect example of the importance of scheme fit. Texans coach Bill O'Brien is a disciple of the Erhardt-Perkins offensive system, utilized by the New England Patriots and considered a simpler study than the West Coast offense for young quarterbacks. Unlike Los Angeles Rams quarterback Jared Goff - who struggled mightily as a rookie in 2016 after converting from a spread offense in college to a conservative, pro-style system - Watson isn't being asked to drastically alter his style of play.
Matt Waldman, author of the Rookie Scouting Portfolio draft guide, said the Texans have further eased Watson's transition to the pros by "dressing up" their offensive concepts with play fakes, read-option fakes, and end-arounds, which play well to his strengths as a run threat and play-action passer.
According to Sharp Football Stats, Watson has actually been a more successful runner than Cam Newton this season when taking into account down and distance to go, averaging 7.2 yards on 28 carries.
Waldman slotted Watson within the top five QBs in the draft class, and expected the rookie to show flashes of a bona fide NFL starter.
"Where he's surprised me is that his drop game, while it's not perfect, his ability to really nail three- and five-step drops from under center, and really get into a good position early, is better than what we saw from Carson Wentz," Waldman said. "I would say it's even better than what we saw from Dak Prescott. And both Watson and Prescott didn't play under center in their offenses on a consistent basis while they were in college."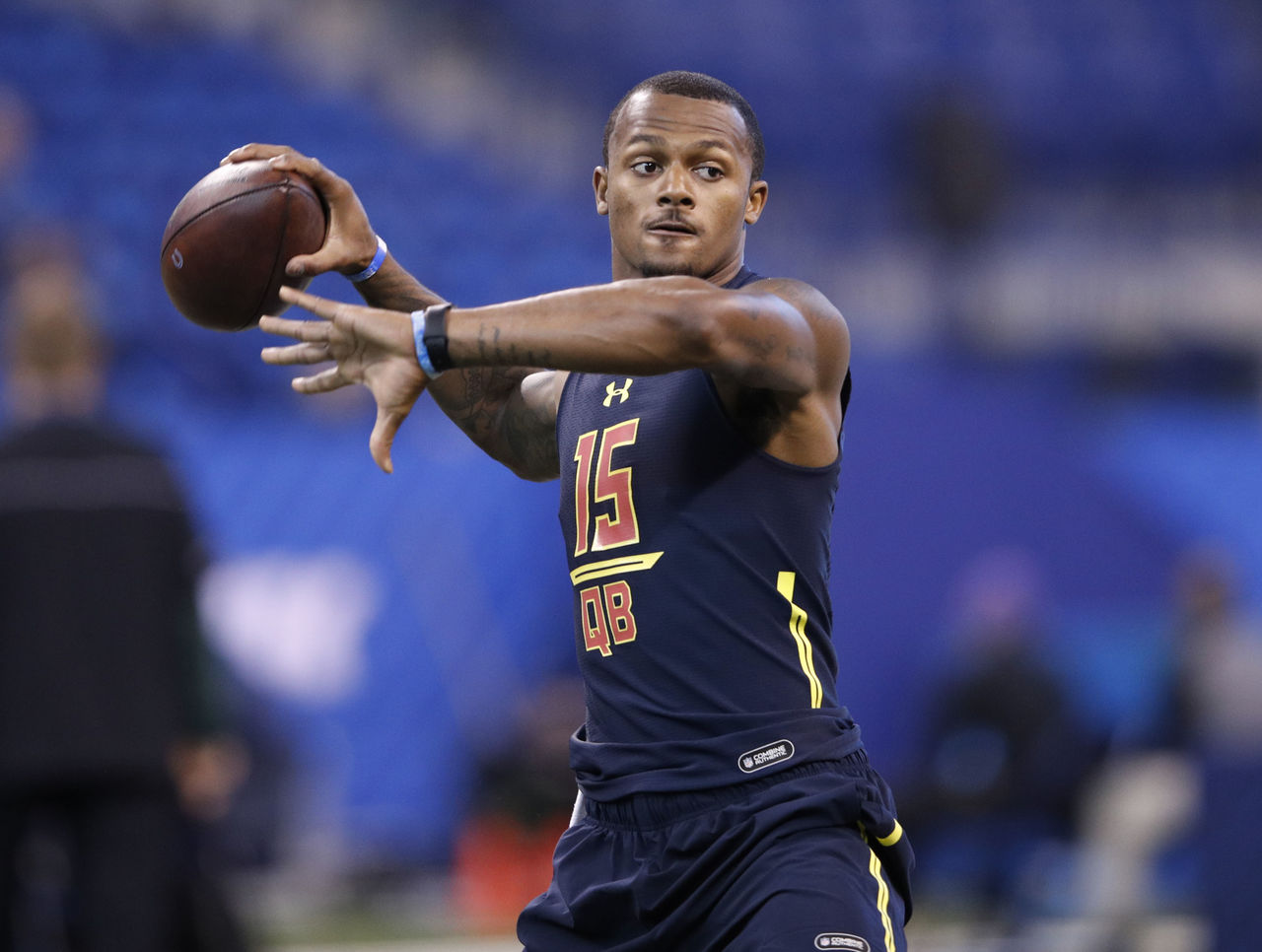 After becoming the first rookie quarterback in the Super Bowl era with three touchdown passes in three straight games, Watson's stock is soaring. But Houston's final 10 games following its bye week could be a stiff test, Waldman cautions, as teams begin to accumulate tape on Watson's habits and weaknesses.
It takes most quarterbacks two-to-three years to develop, if they ever do, Waldman said, and continuity in coaching, teammates, and scheme are vital.
"You have a better chance of predicting a coin flip than you do a first-round quarterback developing into a good player. And to me, one year doesn't do it," he said. "I like what Watson's doing, but I'm more of a long game kind of guy."
With multiple winless teams, including the perennially QB-starved Cleveland Browns, next year's quarterback-heavy draft looms large. However, don't expect consensus on the bevy of top prospects as scouts and analysts begin to pore over film in search of vulnerabilities.
Both USC's Sam Darnold and Wyoming's Josh Allen, two preseason darlings at the top of countless draft boards, have underwhelmed under the microscope, opening the window for Lamar Jackson (Louisville), Baker Mayfield (Oklahoma), and Josh Rosen (UCLA) to stake their claim as the top passer available.
"What I think we really saw during this last draft process was sort of the life cycle of quarterback evaluations, and we're seeing it play out right now," Schofield said. "Guys get put on pedestals; guys get anointed as the next sure thing. Going into last year, Watson and (former Miami quarterback) Brad Kaaya were pointed to as top-five draft picks and they fell throughout the process because people start digging in more, they start nitpicking, they start seeing things, and they turn on them a bit."
Although it's too early for a verdict, a handful of teams may come to regret talking themselves out of Watson.
"As far as some of the teams passing on him, I was a little bit surprised. I think some teams are definitely kicking themselves, at least right now," Schofield said. "I think if he continues on the path like he's shown so far, more and more teams will join that list."
(Photos courtesy: Getty Images)
Comments
✕
Deshaun Watson demonstrates pitfalls of projecting college QBs
  Got something to say? Leave a comment below!