Power 5 preview: 1 key name for each Pac-12 program
As the college football season approaches, theScore will preview the year for each Power 5 conference. After already hitting the ACC, Big 12 and Big Ten, today's look is at one key name for each team in the Pac-12.
Washington - Michael Penix Jr.
He might not be the best quarterback in college football, but you can easily make the argument Michael Penix Jr. is the most electrifying. The Washington star led all Power 5 passers with 4,641 yards and showed countless times that he can make throws that very few people in the country can.
It's clear from their time together at Indiana and last season with the Huskies that Kalen DeBoer and Penix are the perfect coach-quarterback combination. Add in the return of star receiver duo Jalen McMillan and Rome Odunze and it's no surprise Washington is a trendy pick to win the Pac-12 in its final season before a move to the Big Ten.
Penix also has Heisman potential and the 23-year-old likely won't have to wait long to see his name mentioned at the top of watch lists. Four of the Huskies' first five opponents ranked outside the top 90 last season in passer rating allowed.
USC - Alex Grinch
Obviously, Caleb Williams is the most important player to USC's title hopes in 2023, but not even the reigning Heisman winner could overcome the Trojans' defensive issues and deliver a Pac-12 championship last season. The incredibly poor performance by the defense down the stretch had many USC fans calling for coordinator Alex Grinch's job, but he returns with a vote of confidence from head coach Lincoln Riley.
"He's a really good coach, so he's going to make adjustments," Riley told Ryan Kartje of the Los Angeles Times in July. "All he cares about is winning and our defense playing to the level that we expect here which is a high, high-level defense, one of the best defenses in the country."
Just how bad did it get late in the year for USC? The Trojans allowed 35 or more points in six of their final eight contests. And, in the final four games, opponents scored an average of 42 points and gained 8.1 yards per play against the team.
USC grabbed Georgia's Bear Alexander, Texas A&M's Anthony Lucas and Oklahoma State's Mason Cobb from the transfer portal and return a number of players on the defensive side of the football. If Grinch can even field an average defense, the Trojans can compete for a national title. If he can't, there's simply no way he should return for another year in Los Angeles.
Utah - Brant Kuithe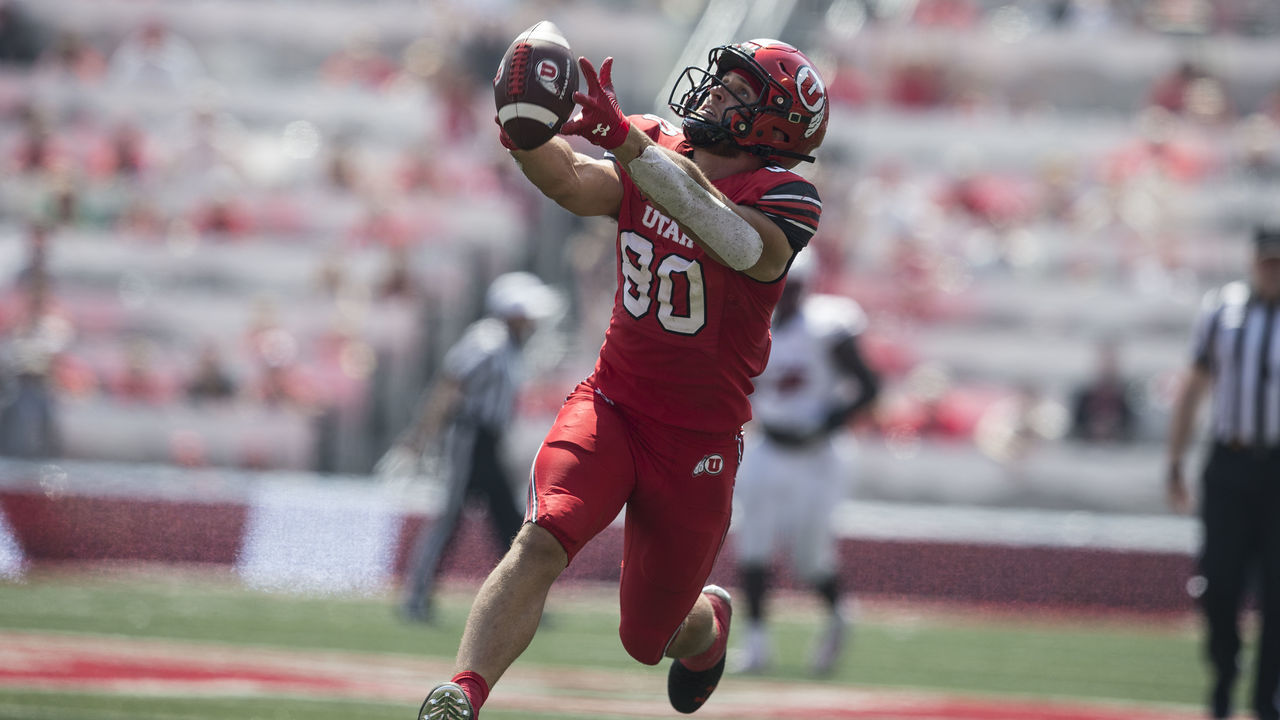 The lasting image from Utah's 2022 season is Dalton Kincaid torching the USC defense over and over again. The future first-round pick piled up an outrageous 16 catches and 234 yards in the regular season victory alone. He finished the season with 70 catches for 890 yards and eight touchdowns and was the focal point of the Utes' attack.
Kincaid may be gone, but a suitable replacement is already on the roster in the form of Brant Kuithe. The sixth-year tight end is back for one last run after tearing his ACL last season. Kuithe was a standout performer in his last full season, registering 50 catches for 611 yards and six touchdowns in 2021. He also has a strong history against Florida, Utah's Week 1 opponent. Last year's opener in The Swamp was one of the games Kuithe played before injury - and he piled up 9 catches for 105 yards and a score in that narrow loss.
Between Kincaid and Kuithe's production last season, it's clear Kyle Whittingham wants quarterback Cameron Rising to look to the tight end position on offense. The Texas native is primed for a huge campaign.
Oregon - Will Stein
Will Stein's importance to the 2023 Oregon season can be summed up with a quick look at Bo Nix's career stats. Nix was brilliant last year in his first campaign with Oregon after spending the first three seasons at Auburn.
| Season | Passing yards | Completion % | TD-to-INT | Rating |
| --- | --- | --- | --- | --- |
| 2019 | 2,542 | 57.6 | 16-6 | 125 |
| 2020 | 2,415 | 59.9 | 12-7 | 123.9 |
| 2021 | 2,294 | 61 | 11-3 | 130 |
| 2022 | 3,593 | 71.9 | 29-7 | 165.7 |
Perhaps the man most responsible for Nix's massive production jump was Kenny Dillingham, who parlayed an outstanding performance as offensive coordinator into the head coach job at Arizona State. Stein joins from UTSA to take over the offense and keep Nix playing at an elite level.
Stein will have plenty of weapons at his disposal as the Ducks' skill positions are all loaded in 2023. The running back duo of Bucky Irving and Noah Whittington return after combining for 1,837 yards and ten touchdowns last year. Star receiver Troy Franklin is back to lead that positional group with transfers Traeshon Holden, Tez Johnson and Gary Bryant Jr. adding impressive depth.
UCLA - Carson Steele
If one thing is clear from Chip Kelly's history as a college coach it's that he will get excellent production from the running back position. That's excellent for Carson Steele, who joins the UCLA program after an explosive 1,500-yard season at Ball State.
Steele will immediately be counted on to replace Zach Charbonnet from last year's outfit and to ease the transition for the quarterback room. Dorian Thompson-Robinson is done at UCLA, leaving highly-touted freshman Dante Moore and Kent State transfer Collin Schlee to battle for the starting job. A strong running game is a new quarterback's best friend, and it's a safe bet Kelly will lean heavily on Steele to make life easy for Moore and Schlee.
Oregon State - DJ Uiagalelei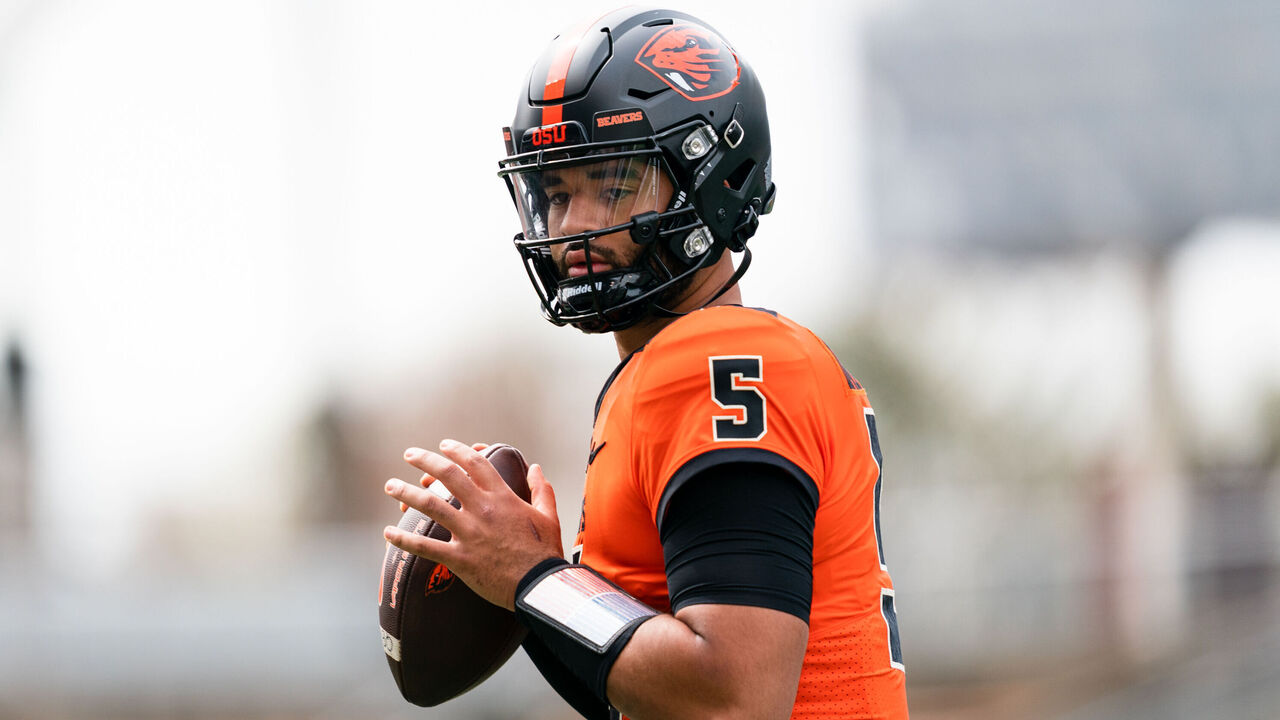 He's still rocking orange, but DJ Uiagalelei traded in his Clemson colors and moved all the way from the east to the west to join Oregon State. While some were puzzled by the decision, a closer look at the Beavers shows that Uiagalelei could be the missing piece to make the program into a Pac-12 title contender for 2023.
Jonathan Smith has posted a 17-9 record in the last two seasons with Oregon State and gave the program its first 10-win campaign since 2006 last season. Despite that success, the major thing missing from last year's outfit was the passing attack. The Beavers ranked a dismal 118th in the nation in passing yards per game at just 189. Uiagalelei threw for at least that number in nine games last year.
Uiagalelei clearly needed a change of scenery from Clemson and wanted a good fit with a creative offensive mind to rebuild his draft stock. Oregon State and Smith are a perfect match in that regard for the once highly-touted recruit.
Arizona State - Jaden Rashada
Dillingham hasn't coached a game at Arizona State but already delivered a huge victory in getting Jaden Rashada's commitment. The highly-touted quarterback has impressed mightily in fall camp - so much so that Dillingham already named him the Week 1 starter.
One only has to look at Bo Nix's 2022 effort to see what type of impact Dillingham can have on a quarterback. Rashada brings plenty of talent to Tempe - he was the second-ranked dual-threat quarterback in the Class of 2023.
Dillingham's first season comes with an almost unprecedented amount of roster turnover due to the transfer portal. There are at least 30 new players who came from a different program last season - a level of change that makes it almost impossible to have a productive start to the campaign.
However, the results almost don't matter if Rashada immediately flashes his immense talent. Fan bases are significantly more patient if there's a young star quarterback on campus - something Dillingham might need with a rough debut season ahead.
Washington State - Ben Arbuckle
From Drew Bledsoe to Ryan Leaf, Luke Falk and Gardner Minshew, we've grown accustomed to Washington State fielding prolific college quarterbacks over the years. It looked like Cameron Ward would be the next name on that list after he joined the Cougars following an explosive career at Incarnate Word. However, Ward struggled to adjust and eventually ranked 11th in passer rating in the Pac-12 among players who threw at least 100 passes.
Jake Dickert addressed the offensive issues by hiring Ben Arbuckle, who was the youngest Power 5 coordinator in the country at the time. Arbuckle is fresh off a season that saw his Western Kentucky quarterback, Austin Reed, lead the nation in passing yards. He has a very clear philosophy about his offensive expectations.
"With the quarterbacks, I have a saying in the room - 'Just throw that ball deep and good things happen,'" Arbuckle told Colton Clark of the Spokesman-Review in April. "I like our odds whenever the ball goes in the air."
Pushing the ball down the field was not something Washington State did very often in 2022. Ward finished last out of 12 qualified starters in the Pac-12 at just 6.5 yards per completion. Look for that to change as Arbuckle puts his stamp on the offense this year.
Colorado - Travis Hunter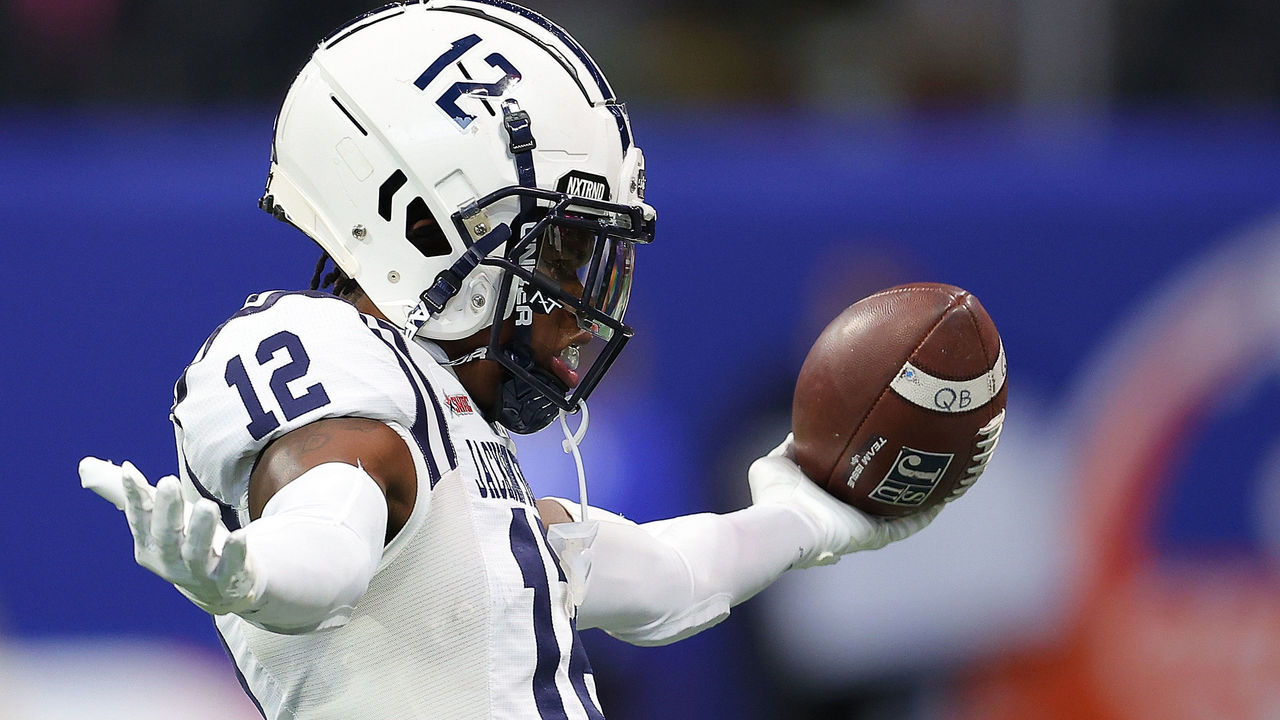 Colorado is a must-watch team this upcoming season based solely on the fact that Deion Sanders is stalking the sidelines. While Coach Prime won't be taking any snaps, he has a player who conjures up memories of Sanders on the field in Travis Hunter. The former five-star recruit shocked everyone by signing with Sanders at Jackson State out of high school and moved to Colorado to continue playing under him at the Power 5 level.
Hunter is as close to a lockdown corner as you get in college football, certainly helped by the fact his coach is one of the best to ever play the position. However, Hunter won't only make an impact on defense - he plans on getting plenty of snaps as a wide receiver this season.
Champ Bailey is perhaps the best recent example of a big-time prospect excelling at both wide receiver and cornerback. The Georgia star won the Nagurski Trophy in 1998 as the nation's top defender while also leading the team with 744 receiving yards and five touchdown catches. If Hunter can manage something even close to those numbers, he might just nab an invite to the Heisman ceremony in New York.
Arizona - Michael Wiley
There's no reason to expect Arizona's defense to improve drastically after it ranked 125th in the nation last year in points allowed. While plenty of transfers were brought in to beef up the depth, the explosive offense will once again have to keep the Wildcats in games during their final season in the Big 12. There are plenty of key figures on the offensive side of the ball, but running back Michael Wiley will be the engine that drives the team.
Wiley ranked second in the Pac-12 in yards per rush and 13th nationally during the 2022 campaign. He capped his season with an outrageous performance in the rivalry win over Arizona State, rushing for a whopping 214 yards and three touchdowns. Jayden de Laura is certainly an exciting passer, but he led the Pac-12 with 13 interceptions last season. A productive season from Wiley should help limit the chances de Laura has to take in the passing game.
Cal - Sam Jackson
All eyes in Berkeley are on Sam Jackson, the redshirt sophomore tasked with pushing Cal's maligned offense forward. The TCU transfer was the top-ranked quarterback prospect in the state of Illinois coming out of high school and gives the Bears a dual-threat option to keep the defense honest.
Jackson needs to shine if the Bears can reverse the trend of poor offensive play that has plagued the program recently. The offense has ranked in the bottom three of the Pac-12 in scoring every season but one since 2017. Jackson won't be the only fresh face tasked with executing a makeover, as Justin Wilcox hired Jake Spavital as the new coordinator in Berkeley.
Stanford - Troy Taylor
For the first time since 2007, Stanford doesn't have David Shaw on the coaching staff. It's now Troy Taylor's turn to return excitement to the Cardinal program after back-to-back 3-9 seasons. If Stanford opts for an approach similar to Taylor's Sacramento State teams, there will be intrigue in Northern California for the first time in a while.
Taylor's offense at the FCS level featured a run-heavy approach that lit up scoreboards and often used multiple quarterbacks. One threw for over 2,400 yards while the other rushed for over 900 and 19 touchdowns. There's a three-horse race for the starting position this season with the Cardinal, but there's no question the focal point of the offense is running back E.J. Smith.
The senior only played two games last year due to injury but averaged more than 100 yards per contest and found the end zone three times. Provided he can stay healthy, Smith should thrive in Taylor's system and breathe some life into the once-proud program.