Choose your own adventure: What's next for the Raptors?
Tim Nwachukwu / NBA / Getty Images
After losing franchise mainstay Fred VanVleet for nothing in free agency, the Toronto Raptors are once again at a crossroads. Let's examine the pros and cons of the three options before them.
Stand pat (for now)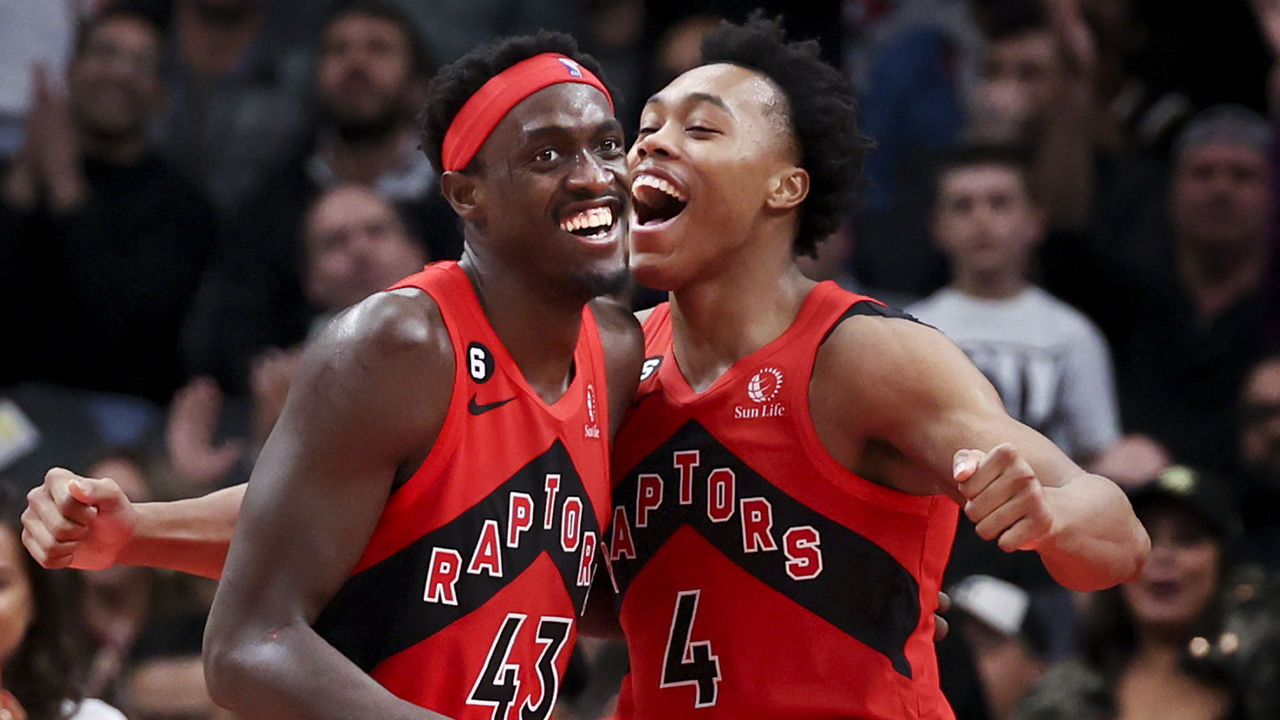 Given the front office's track record and the low percentage of transaction-related rumors that actually come to fruition, the most probable outcome may be that the Raptors head into training camp as presently constructed.
Though this option would've made more sense had VanVleet returned, one could still see the Raptors talking themselves into it. Perhaps team president Masai Ujiri, general manager Bobby Webster, and Co. want to see how a more cohesive team performs under new head coach Darko Rajakovic before radically overhauling the roster. With VanVleet out of the picture, perhaps the front office wants to evaluate what a trio of Pascal Siakam, O.G. Anunoby, and Scottie Barnes looks like with Barnes serving as more of a point-forward.
After trading a top-six protected 2024 first-rounder to acquire Jakob Poeltl - who was re-signed to a four-year, $80-million contract in free agency - it also wouldn't make sense to then limit the team's ability to compete in 2023-24.
Perhaps Ujiri and Webster believe that if everything that broke wrong last year for Toronto breaks right this time around, the Raptors can surge back up a competitive but wide-open Eastern Conference. If Barnes makes the Year 3 leap that was expected of him as a sophomore, and with a full-time center (Poeltl) around from the jump, there could be something to that.
But that type of blind optimism ignores some of the many basketball and roster-related reasons why the 2022-23 Raptors flopped to begin with. Chief among them: the team's dearth of shot-creation and shooting, which will only be exacerbated without VanVleet.
With few other capable guards, creators, or shooters on the roster, the undersized and overworked VanVleet struggled to replicate his 2021-22 All-Star performance last season. Still, even in a down year as a shooter and point-of-attack defender, VanVleet remained invaluable.
Between his IQ, playmaking, and sound work as a team defender, the 29-year-old still found himself in elite company when it came to impact metrics like ESPN's Real Plus-Minus and FiveThirtyEight's Wins Above Replacement. Free-agent pickup Dennis Schroder can get to the rim and will compete defensively, and rookie sharpshooter Gradey Dick brings an off-ball threat Toronto's offense desperately needs, but the league's 28th-ranked shooting team is replacing a guy who made 207 3-pointers last season with a career 33.7% shooter and a rookie.
Even in a league that's as balanced as ever, you really have to strain to picture this Raptors team competing for anything more than a playoff spot. Is trying to limit the damage of a traded draft pick worth the trouble of doubling down on a mediocre roster?
After watching VanVleet walk only months after refusing to trade him for pennies on the dollar, can the Raptors really afford to go into the season with both Siakam and Anunoby (plus Gary Trent Jr.) on expiring deals? Any leverage the team currently has in trade negotiations begins to erode once the season tips off and the trade deadline draws nearer. If the front office doesn't like the offers it's receiving for Siakam now, it'll hate them in February.
Standing pat may be a more likely outcome than Raptors fans care to admit, but that doesn't mean it's the right one. That brings us to the two bolder but wiser choices in front of Toronto.
Trade Siakam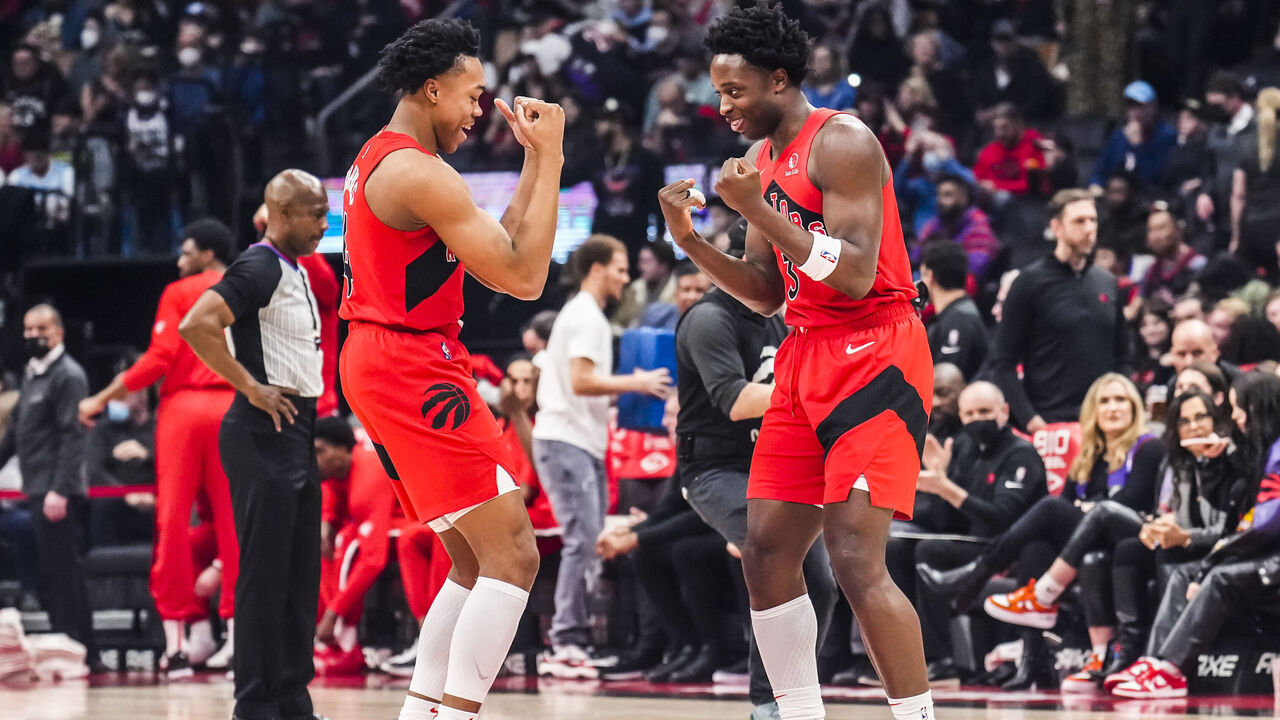 When Siakam missed out on a second straight All-NBA selection this year despite averaging 24.2 points, 7.8 rebounds, and 5.8 assists while leading the league in minutes, it appeared to be a blessing in disguise for the Raptors. Rather than qualifying for a supermax contract worth more than $291 million over five years, the extension-eligible star can instead tack on no more than approximately $192 million over four years to his current deal.
If the Raptors believed Siakam could live up to the value of that contract through his age-33 season, or if they were sold on the notion the team can win on a shared timeline between Siakam and Barnes, the extension would've been done by now. Instead, the two-time All-Star's name has been in trade rumours rather than extension reports.
In reflecting upon the lessons to be learned from Washington's mishandling of Bradley Beal's departure, I posited that while overpaying to retain a secondary or tertiary star makes sense for a team trying to maximize its fleeting window of title contention (or for teams who are confident the player will retain trade value), it's less feasible for non-contenders. As I wrote then, if you're a team in the middle of a noncompetitive window and the only way to retain a veteran secondary star is to pay him like a primary superstar, then you should rip the Band-Aid off and pull the trigger on a trade.
After failing to do so with VanVleet, the Raptors can't make the same mistake with Siakam.
Moving their best player for a combination of younger talent and draft capital would fuel the type of wholesale rebuild Ujiri has never been able to undertake in Toronto and better position the Raptors on Barnes' timeline. The 21-year-old is only entering his third season, and between rookie-scale contracts and extension rules, Toronto could have Barnes under team control through 2030 before he ever reaches free agency.
It could also open the door to allow Anunoby the offensive freedom and responsibility he reportedly craves, though it remains to be seen if the 3-and-D specialist is actually capable of handling such a task.
After hiring a new head coach touted for his player-development prowess, this seems to be the most logical option. Moving one of the league's great development stories and a star contributor from Toronto's 2019 title team would be difficult, but no harder than watching another champion depart in free agency.
Barnes' tantalizing potential makes trading Siakam justifiable, but it's not without significant risk. Potential and reality are rarely one and the same. If Barnes' stagnant sophomore season was an indication of what's to come rather than a mere blip following his Rookie of the Year campaign, trading Siakam would make for a sobering thought: The Raptors would be moving an elite secondary star in the prime of his career - who wants to remain in Toronto - in order to build around a younger player who's unlikely to ever reach the same heights.
In addition, that rebuild would start in a season where the Raptors don't control their own draft pick, as Toronto can only guarantee it keeps its first-rounder if the team finishes with a bottom-two record.
For the Raptors to go down this path, the front office must remain confident Barnes will hit the ceiling it envisioned when it drafted him fourth overall in 2021 and when he was the league's best rookie in 2022. If not, there's one more option ...
Trade Barnes to win now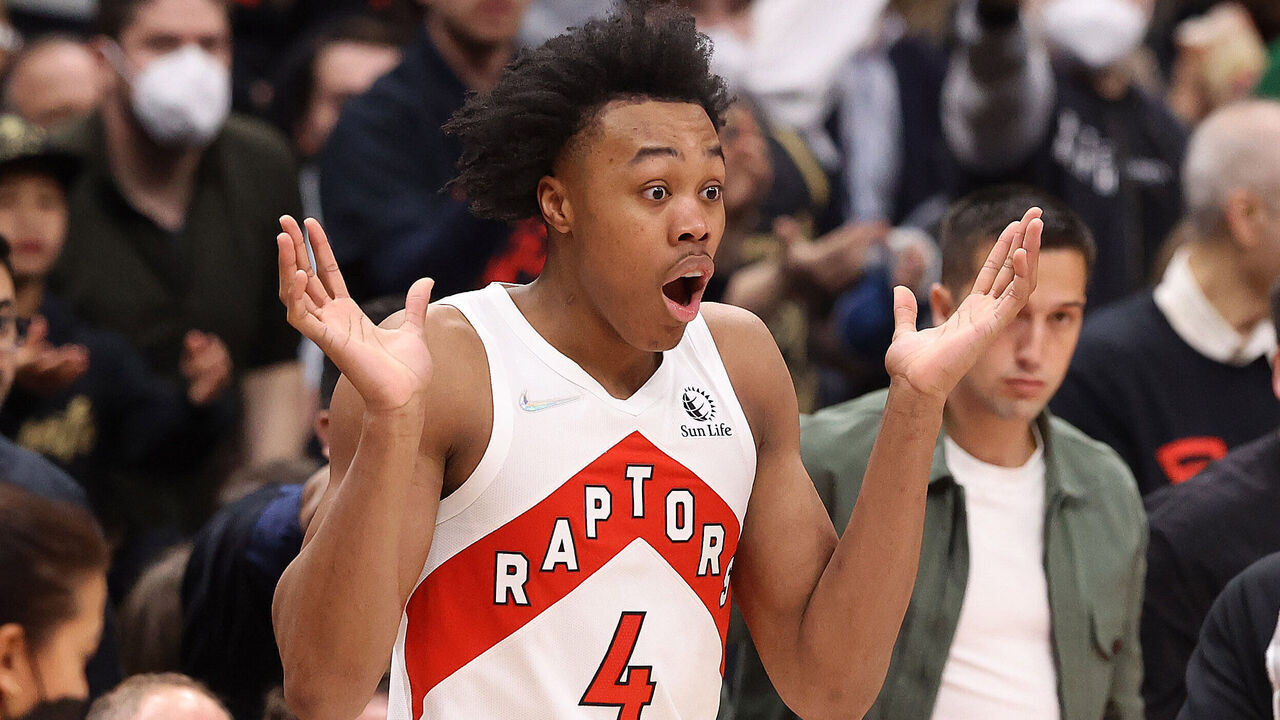 Admittedly, this seems like the most unlikely and nuclear of options. The Raptors were famously reluctant to include Barnes in reported trade talks for Kevin Durant a year ago, and Rajakovic sounds sold on the youngster. "Scottie is so talented that the future of the team can be built around him, and we will do that," the new head coach told Basketball Sphere, as translated by Eurohoops.
Still, given Ujiri's propensity for big swings and his well-documented mission to win again in Toronto, making a win-now splash shouldn't be completely ruled out.
Some fans may hold out hope that a deal for an upgraded star can be completed without Barnes, but that's wishful thinking. If the point is to win now, both Siakam and Anunoby are too valuable in the present, while neither carries the overall trade value Barnes possesses to net a game-changing star. Barnes would have to go, while Siakam and Anunoby would need to be paid.
The obvious name to consider is Damian Lillard. The longtime Trail Blazer will try to steer himself to Miami, but with up to $216 million remaining on his contract over the next four years, does anyone actually believe Lillard would hold out or quit if he doesn't get his way?
In a world where Portland trades Lillard to the highest bidder, as it should, the Raptors could definitely get in the mix by making Barnes available. Between Barnes losing some of his shine over the last year and Lillard being the perfect fit for Toronto, it's not outrageous to suggest that swapping team control of Barnes' 20s in exchange for Lillard's age 33-36 seasons makes more sense in 2023 than trading for Durant's age 34-37 seasons made in 2022.
Between Siakam, Anunoby, and Poeltl, the Raptors have the defensive infrastructure in place to protect Lillard while still being able to support him on the offensive end. Meanwhile, Lillard's shot-creation, pull-up ability, and three-level scoring would be the perfect offensive antidotes for a Raptors core best cast in a supporting role but grossly overtaxed without a star like Dame.
Think of it as a souped-up version of the Cavaliers trading for Donovan Mitchell last summer. Lillard is the slightly better star guard, while Toronto's veteran core is more battle-tested and ready to win than Cleveland's kids were at the time of that blockbuster.
Lillard's age, defensive issues, and a $63.2-million player option in 2026-27 make moving a youngster like Barnes for him a risky bet, but a core of Lillard, Siakam, Anunoby, and Poeltl could legitimately compete for a title in this uniquely balanced NBA. Even if you hold out hope for Barnes, it's unlikely the Raptors would ever be able to build a team as good as that around him.
Joseph Casciaro is theScore's senior content producer.