Breaking down the biggest deals from Day 2 of NBA free agency
Joe Murphy / NBA / Getty Images
The NBA offseason is officially here, as teams are now permitted to negotiate with free agents. Here's some quick-hitting analysis on the biggest deals reached on the second day of free agency.
Day 1 analysis can be found here.
Pacers sign Haliburton to 5-year, $260M extension
This was a no-brainer for the Pacers, who locked up one of the league's best young guards through 2029 (the extension kicks in for the 2024-25 season).
Since arriving in Indiana by way of Sacramento at the 2022 trade deadline, Tyrese Haliburton has emerged as the type of franchise-level star every organization craves. In earning his first career All-Star selection last season, the 23-year-old averaged 20.7 points, 10.4 assists, 3.7 rebounds, and 1.6 steals on 49-40-87 shooting. Haliburton also became the first player in history to average at least 20 points and 10 assists while shooting 40% or better from 3-point territory.
Though his defense leaves something to be desired, Haliburton has a combination of shooting, playmaking, and smarts that makes him a perfect fit in the modern game. The $260-million ceiling for this deal is reliant on Haliburton qualifying for a designated rookie extension and the salary cap increasing by 10% in 2024-25. To qualify for such an extension - worth 30% of the cap in Year 1 rather than the standard 25% for most max rookie extensions - Haliburton needs to make an All-NBA Team in 2024 (or win MVP or Defensive Player of the Year).
With a cap sheet devoid of any bad contracts, Haliburton now locked up, Myles Turner on a team-friendly deal, Buddy Hield on an expiring contract, and a number of good young players (like All-Rookie First Team member Bennedict Mathurin) still on their rookie-scale contracts, the future looks bright in Indiana. The Pacers, who traded a couple second-rounders to New York for Obi Toppin on Saturday, are also well-positioned to swing for the fences should a star trade materialize. - Joseph Casciaro
Hornets sign Ball to 5-year, $260M extension
LaMelo Ball's max extension (30% of the cap in Year 1 vs. 25%) is subject to the same parameters listed for Haliburton above, and was likely just as easy a decision for Charlotte as it was for Indiana.
Drafted nine spots ahead of Haliburton in 2020, Ball possesses higher upside but arguably a lower floor. Then again, that may simply be tied to his early-career injury history and the Hornets' incompetence. Limited to just 36 games last season due to ankle injuries, the 21-year-old averaged 23.3 points, 8.4 assists, 6.4 rebounds, and 1.3 steals, though his efficiency tailed off somewhat. The season prior, Ball was an All-Star as an NBA sophomore, serving as the best player on a 43-win team at only 20 years old.
However far you believe the Hornets to be from relevancy, they're a helluva lot closer to it with Ball in Charlotte's lineup. Barring injury, the Hornets have ensured that's exactly where the playmaking savant will be for the foreseeable future. - Casciaro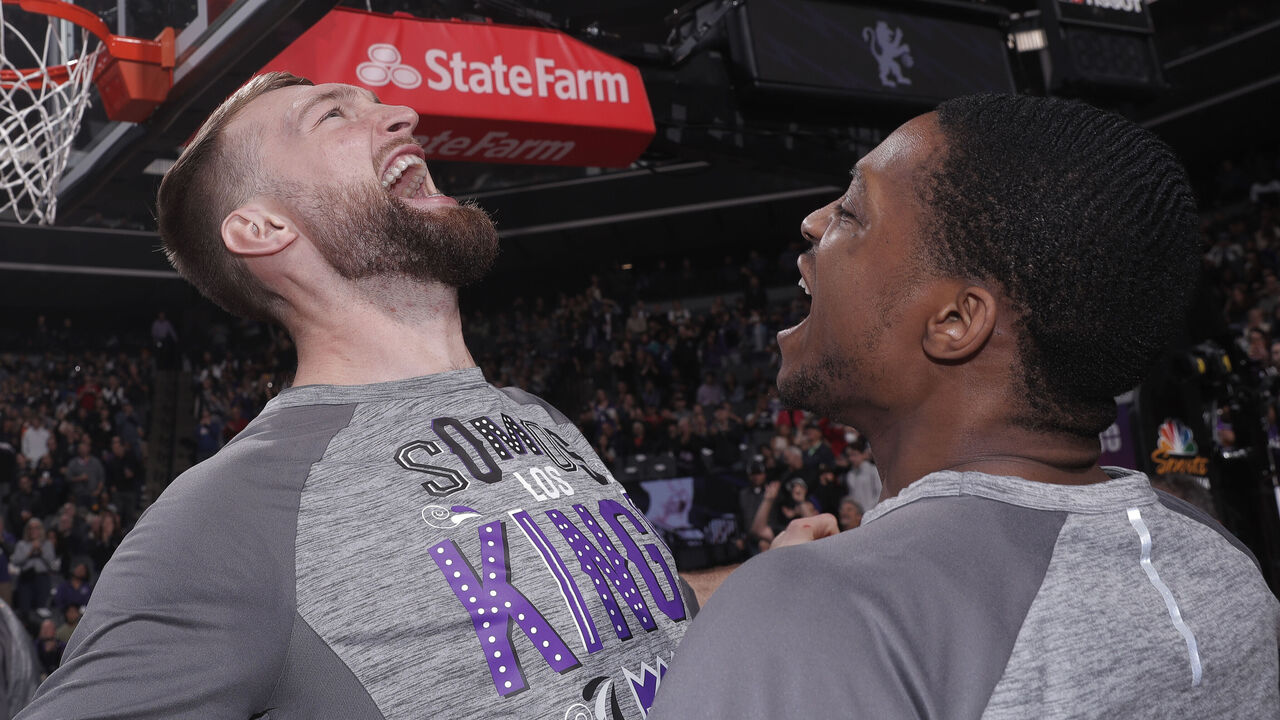 Kings extend Sabonis (5/$217M), sign Vezenkov (3/$20M), re-sign Len (1/$3.2M)
There's something gratifying about Haliburton and Domantas Sabonis getting max extensions on the same day after being traded for each other 17 months ago.
Sabonis' career-year and the integral role he played in delivering Sacramento its first playoff berth in 17 years have gotten the big man paid. Sabonis was set to play out the 2023-24 season on an expiring contract with a cap hit of $22 million before the Kings renegotiated and extended his deal, delivering the 27-year-old an additional $195 million as part of a $217-million pact that now runs through 2028. As an All-NBA center smack dab in the middle of his prime, he's worth every penny.
Though he isn't the shooter or rim-protector many envision when they think of a max-level center in the modern game, Sabonis had his fingerprints all over the Kings' league-leading offense. The 7-footer is Sacramento's hub, with his teammates playing off him in a dizzying array of dribble handoffs and screen actions. Sabonis led the Kings in total touches and topped the league in screen assists, but his box score stats were pretty darn impressive, too. He averaged 19.1 points, 7.3 assists, and a league-leading 12.3 rebounds on 66.8% true shooting. The only other players in history who've averaged 19, 12, and seven in a season were Nikola Jokic, Wilt Chamberlain, and Oscar Robertson.
In addition to Sabonis, the Kings have All-NBA guard De'Aaron Fox, All-Rookie sharpshooter Keegan Murray, and 24-year-old guard Kevin Huerter under team control through at least 2026.
If Sasha Vezenkov's shooting translates to the Association, Sacramento just added one of the league's deadliest sharpshooters to that mix, too. The Cyprus-born Bulgarian forward has been playing pro ball since he was 16 years old (with stops in Greece and Spain) and is no stranger to the spotlight. Vezenkov was the best player in Europe this past season, taking home EuroLeague MVP, All-Europe Player of the Year, and Greek League MVP honors after leading Olympiacos to a Greek League championship and the EuroLeague final.
The 27-year-old - who was drafted 57th overall by Brooklyn in 2017 - was also the EuroLeague's top scorer. In 54 games between Greece and the EuroLeague in 2022-23, Vezenkov averaged 17.4 points, 6.7 rebounds, two assists, and a steal in just under 27 minutes. He shot 66.6% from 2-point range, 40.9% from deep, and 80.3% from the free-throw line. And he's about to join the NBA's most efficient offense.
The Kings also re-signed reserve big man Alex Len to a veteran's mininum contract. Len wasn't exactly a rotation mainstay during the regular season, but he did give Sacramento some surprisingly solid playoff minutes off the bench. - Casciaro
Grizzlies sign Bane to 5-year, $207M extension
The sheer number may seem staggering for a non-All-Star, but that has more to do with the continued increase of league revenue and the ballooning salary cap that comes with it. Once you get past the initial sticker shock, you should come to the conclusion that Desmond Bane is absolutely worth it in the modern cap climate.
Bane's deal is a 25% max rookie extension, which is in line with his value. A 25-year-old who just averaged roughly 22 points, five rebounds, four assists, and a steal on 48-41-88 shooting in his third season - and a 25-year-old who has established himself as the No. 2 scorer on a perennial 50-win team - is pretty easily a max contract guy. - Casciaro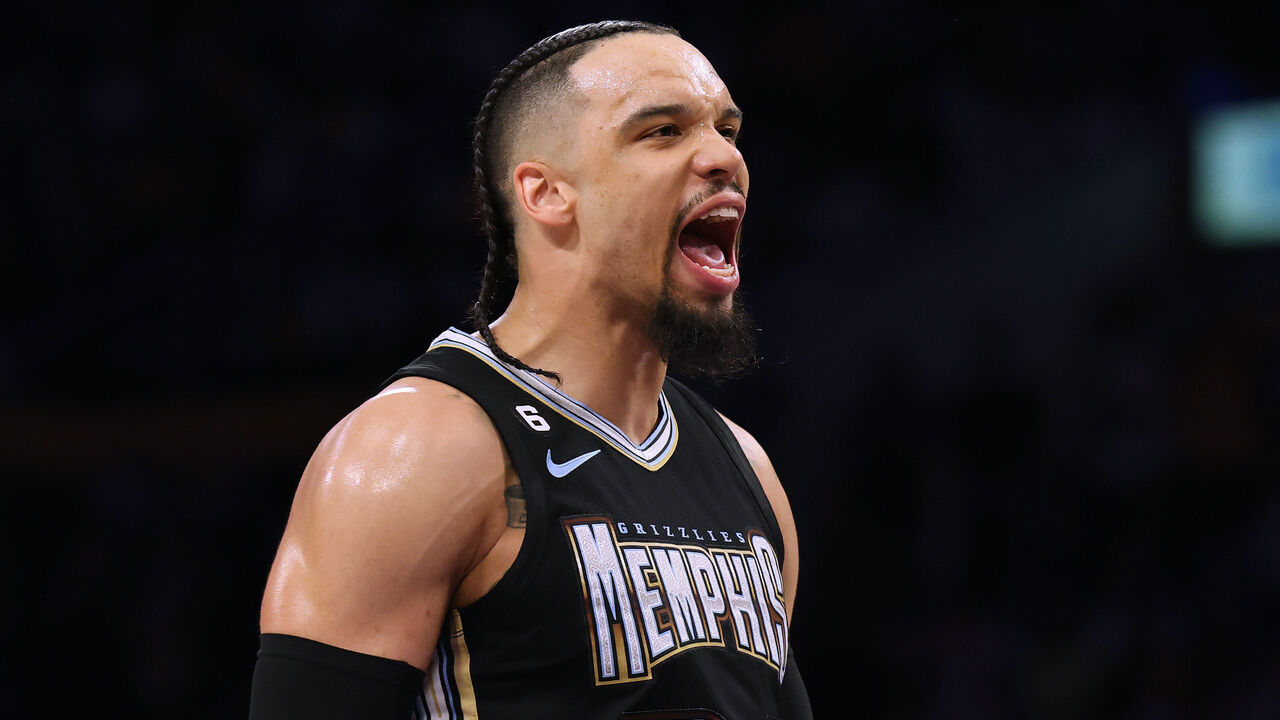 Rockets sign Brooks (4/$80M), Landale (4/$32M), Jeff Green (1/$6M)
Even if you can understand what the Rockets are trying to do by adding hard-working vets and bolstering their defense ahead of a season in which they don't control their own draft pick, it's hard to get all the way on board with the way they've gone about it.
Brooks is one of the best on-ball defenders in the league, and the Grizzlies were better with him on the floor in basically every season of his career. But he has serious offensive limitations - including shaky jump-shooting, nonexistent passing, and a proclivity for ball-stopping - that will make him a tenuous fit on a team that needs spacing and already has a bunch of guys who'll be competing for touches. In giving him a fully guaranteed $80 million, Houston wildly outbid the market after doing the same (albeit in a much more justifiable move) for Fred VanVleet.
The move for Landale is more understandable, especially because it's been reported that only the first year of his deal is guaranteed. He's a low-maintenance backup big who takes very little off the table; he'll set solid screens for the team's young guards and do a bunch of necessary dirty work. And getting Green for one affordable year to provide some frontcourt stretch, rim-running bounce, and veteran wisdom is an unambiguous positive. It's just hard to view the totality of the Rockets' day in those terms.
Yes, they had a ton of cap space, but they didn't have to use it all right now. As a rebuilding team (accelerated timeline or not), they could've made themselves a dumping ground for unwanted contracts and pulled in more long-term assets. Instead, they spent the day shipping out young players on rookie-scale deals like K.J. Martin, Usman Garuba, TyTy Washington, and Josh Christopher in order to help facilitate these signings. Houston used first-round picks on three of those guys within the last two years, and the other (Martin) was the best of the bunch.
They'll definitely be much improved next season, especially on defense. But the process of achieving that improvement has been more than a little head-scratching. - Joe Wolfond
Lakers re-sign Reaves (4/$56M), Russell (2/$37M), sign Hayes (minimum)
The Lakers completed a tidy two days of business by bringing back their last two important free agents after making some nice additions on Friday. Reaves is the headliner, and the Lakers bring him back on a steal of a contract after a breakout sophomore season in which he emerged as a high-level creator. With a blend of ball-handling craft, shooting, and downhill explosiveness, he put up an absurd 69% true-shooting mark, one that was bested only by a bunch of low-usage screen-and-drive centers … and Nikola Jokic. He's also an excellent passer and a quality point-of-attack defender.
This was the maximum amount the Lakers were able to offer him as a restricted free agent with only two years of service time. A team with cap space could've signed him to a bigger offer sheet, but the Arenas provision would've limited it to a heavily backloaded deal that begins at the mid-level exception before climbing as high as the rookie max. Such an offer would've topped out around four years and $100 million, a deal the Lakers still would've been wise to match, but one that would've made them uncomfortable. Fortunately for them, no team made such an offer, so they get to retain their third-best player on what's quickly going to look like one of the most team-friendly deals in the league.
The Russell contract is more equitable for both sides, but it's still a nice piece of work from the Lakers. Though opinions of him may have soured in the playoffs, he was a pretty transformative addition for the team at the deadline last season. And while the Gabe Vincent signing would've softened the blow of losing Russell, bringing him back is still vastly preferable, especially on a short-term deal with a palatable AAV.
Russell's pull-up shooting prowess, pick-and-roll playmaking, and off-ball gravity instantly made L.A.'s offense more organized and more dynamic than it was before he arrived. In 17 regular season games after the trade, he averaged 17.4 points and 6.1 assists while shooting 55.5% from 2-point range and 41.4% from deep. The Lakers put up a 120.4 offensive rating with him on the floor (the best on-court mark on the team by a wide margin) and outscored opponents by 12.2 points per 100 possessions.
Of course, Russell's limitations as a defender, penetrator, and high-value shot creator were exposed as the Lakers advanced deeper in the postseason. He performed well in the first round against Memphis but got progressively worse from then on, to the point that he was replaced in the starting lineup by the end of the West finals against Denver. That's why he was forced to take this short-term contract despite his relative youth and pedigree, though he at least did well to get himself a player option on year two.
As for Hayes, he provides decent center depth behind Anthony Davis after L.A. waived Mo Bamba. And on a minimum deal, it's a cheap flier to take on an elite athlete who went eighth overall back in 2019. But given how unrefined Hayes remains, and given Anthony Davis' injury history, the Lakers should still be out hunting for more and better insurance at that position. - Wolfond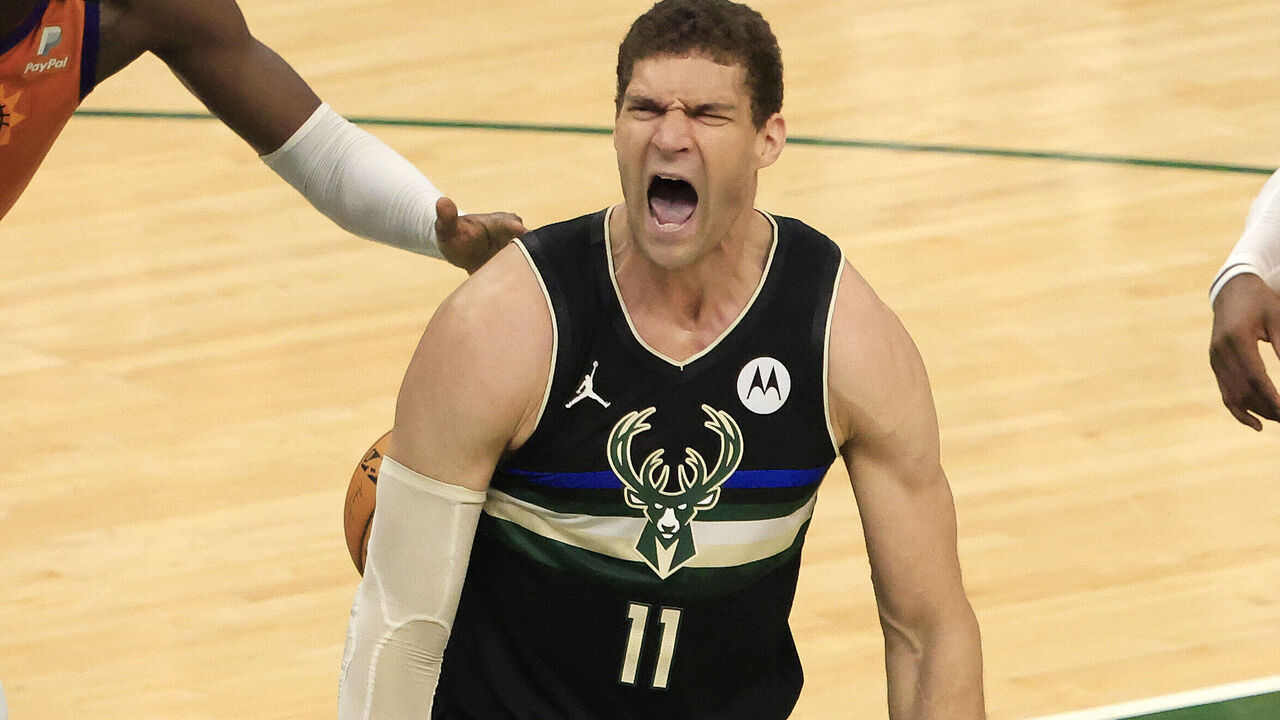 Bucks re-sign Lopez (2/$48M), Crowder (minimum)
With the free-spending Rockets threatening to poach him, the Bucks had to sweat out the possibility of losing their defensive anchor. The fact that they were able to bring back arguably the league's best interior defender on such a short-term deal, at an annual value that comes in only slightly above what inferior centers like Nikola Vucevic and Jakob Poeltl signed for, is a massive win, even if it pushes Milwaukee over the second apron.
Yes, Lopez is 35, but it's hard to fret too much about age-related decline when he just put together the best season of his career. He finished runner-up in Defensive Player of the Year voting after helping transform Milwaukee's scheme and captaining the back line of its third-ranked unit. He also had his most efficient scoring season (63% true shooting) thanks to a career-best mark from 3-point range coupled with his rediscovery of an old-school post game that's equal parts brutality and finesse. He's a perfect complement to Giannis Antetokounmpo at both ends of the floor. He may, however, decline over the next two years, and there's a long way to fall.
Either way, the Bucks simply couldn't afford to lose him with no replacement lined up. And when you think about what Lopez brings as both a rim protector and floor spacer, there's basically no replacement in existence. Losing him probably would've closed the team's championship window, but keeping him and Khris Middleton - who re-signed to a medium-term deal - should keep it open for a couple more years.
Crowder is an ancillary piece at this point, but the Bucks need depth wherever they can find it, and bringing him back on the minimum is really helpful in that regard. He was actually pretty decent for Milwaukee before falling apart and falling out of the rotation in the playoffs. His lateral mobility appeared to have taken a big hit, but he shot 44% from deep in 18 regular season games and should still be a capable defender of opposing power forwards. There's also a good chance he'll look better this year after a full training camp than he did last season coming off a nine-month holdout. - Wolfond
Knicks sign DiVincenzo to 4-year, $50M deal
After winning 47 games and advancing to the second round of the playoffs for the first time in 10 years, the Knicks managed to get better in the short term while adding more draft capital to their already impressive haul.
After letting Derrick Rose (who barely played last season) walk as a free agent, the Knicks traded Obi Toppin to Indiana for a couple of second-round picks, giving Toppin the opportunity for more playing time in the final year of his rookie-scale contract while clearing money off their own books. The Knicks then secured the services of Donte DiVincenzo by using their non-taxpayer mid-level exception. That's probably an overpay for the 26-year-old, but DiVincenzo does give New York everything a contender wants from a complementary piece.
DiVincenzo's a great perimeter defender who shot a career-high 39.7% on 5.3 3-point attempts per game last season with the Warriors. He's also a strong rebounder for his size. Among 74 players shorter than 6-foot-5 who played at least 1,000 minutes in 2022-23, the 6-foot-4 Villanova product ranked seventh in rebound rate (just ahead of Anthony Edwards), according to Stathead.
DiVincenzo, who'll reunite with former college teammates Jalen Brunson and Josh Hart, knows his role on offense, shoots the ball well, moves it when he needs to (though he does have some on-ball juice), plays hard, and defends. Even if they overpaid to bring him to the Big Apple, Knicks fans shouldn't be too concerned. - Casciaro
Magic re-sign Mo Wagner to 2-year, $16M deal
Trey Lyles set the benchmark for quality backup combo bigs when he signed an identical deal with the Kings on Friday. Wagner isn't quite the same caliber of floor spacer, but he can shoot a little bit and he's a great pick-and-roll finisher with some connective playmaking chops. He doesn't protect the rim or rebound the way you'd like a big man to do, but he brings defensive value in other ways. He's sneakily one of the best charge-takers in the league. He'll take very little off the table for an improving young Magic team. - Wolfond
Thunder sign Micic to 3-year, $23.5M deal
Vasilije Micic was initially drafted by the 76ers back in 2014, but his NBA rights were traded to OKC six years later as part of the Al Horford-Danny Green swap. The Thunder have reportedly been trying to bring him stateside ever since. Now 29, the 6-foot-5 Serbian guard is finally crossing the Atlantic.
Micic has played for Anadolu Efes of the Turkish league for the last five years and been one of the best guards in Europe during that time, taking home EuroLeague MVP honors in 2021. He's by all accounts a quality ball-handler and passer, and perhaps most pertinently for the spacing-challenged Thunder, he has a strong track record as a 3-point shooter (though we'll have to see how that translates to the NBA's deeper above-the-break arc). It may be tough for him to carve out consistent minutes in OKC's crowded guard rotation, but given the size of some of those guards and their ability to slide up to the wing, Micic should get a shot to contribute. - Wolfond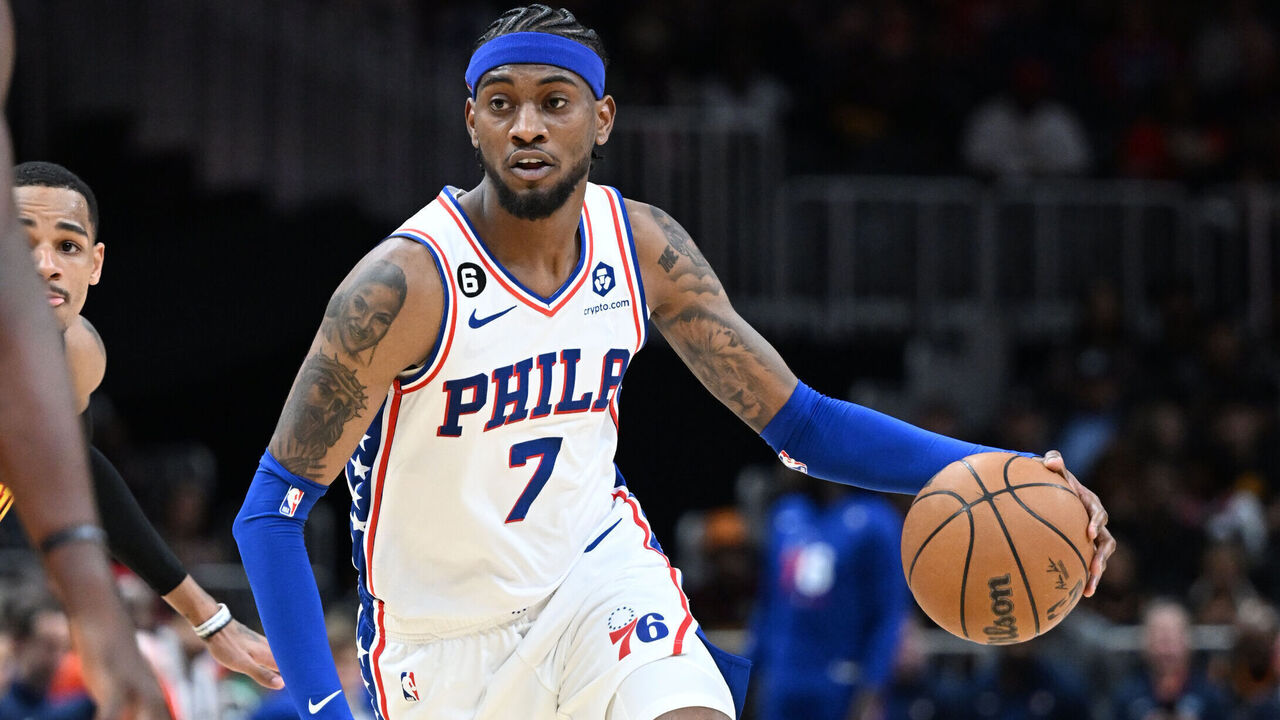 Raptors sign McDaniels to 2-year, $9.3M deal
Friday was a tough one for the Raptors, and they weren't going to be able to do anything to offset the damage of losing Fred VanVleet for nothing and then giving Dennis Schroder the full mid-level exception. But it's nice to get a win, even a small one, and that's exactly what this deal is for Toronto.
McDaniels gives the Raptors another rangy, versatile, 6-foot-9 defender, and while this team certainly didn't need another combo forward (especially one who can't create his own shot), you can't turn your nose up when a serviceable 3-and-D wing is available for the bi-annual exception. McDaniels' offensive game is still very much a work in progress, but he's a solid cutter who's shown hints of a pump-and-drive game to go along with a credible 3-point stroke. He shot 38% from deep for the Hornets two seasons ago, and he hit 40% for the Sixers (albeit in a tiny sample size) after being traded to Philly at last season's deadline.
If the Raptors decide to try and balance out their roster a bit by trading one of their nine thousand forwards for a guard, McDaniels will provide some solid insurance. - Wolfond
Mavs re-sign Dwight Powell (3/$12M), sign Exum (1 year)
Though the cost is minimal, Mavs fans will still find this underwhelming, especially if Dwight Powell continues to start for Dallas.
Powell is an uber-efficient interior big who can finish on the roll, has good hands, and does work on the offensive glass. The Canadian veteran posted a top-20 offensive rebound rate (11.8%) among the 263 players who logged at least 1,000 minutes last season. But Powell's limitations are tough to overcome as a center in the modern game, let alone as a starting center.
The 31-year-old doesn't protect the rim well enough on the defensive end or space the floor on the offensive end. Among 40 players who defended at least 300 shots at the rim last season, Powell's defensive field-goal percentage (65% allowed) ranked 36th, according to NBA.com.
On a more intriguing note, the Mavs also signed former top-five pick Dante Exum to a guaranteed one-year deal. Exum, who couldn't stay healthy or shoot well enough during a seven-year NBA run between Utah and Cleveland, is a defensive guard who shot 45% from deep over a two-year European stint with Partizan and Barcelona (though it's important to note the international 3-point line is 22 feet–1.75 inches at the top of the arc vs. 23'9 in the NBA). - Casciaro
Clippers re-sign Westbrook to 2-year, $7.8M deal
Given that Russell Westbrook averaged roughly 16 points, eight assists, and six rebounds last season - and that the Clippers seemed thrilled with his contributions after he joined the team off the buyout market - this may seem like a steal for Los Angeles. But if he wanted to remain with his hometown Clippers, the $3.8-million salary he'll earn next season is actually the most they could've offered him (the second year is a player option).
In addition, I'm still not convinced Westbrook actually makes the Clippers better. His shot profile wasn't much different with the Clippers than it was with the Lakers - he just made more of his jumpers. Plus, Westbrook was still woefully inefficient overall and remains one of the league's most turnover-prone players. Among 49 point guards who logged at least 1,000 minutes last season, Westbrook's turnover rate of 18.4% ranked 45th, according to Stathead.
Westbrook's ability to push the pace and get downhill were welcome additions to the team's attack. He's also durable, and he did seem more defensively engaged than he had been in years, so the price is fine, especially for a cap-constrained team. The player option seems like a bit much, though.
The real steal of the day for the Clippers was snagging high-flying, high-upside forward K.J. Martin from Houston for only a couple of future second-rounders. - Casciaro
76ers sign Beverley to 1-year, $3.2M deal
A veteran's minimum is the right deal at this stage of Patrick Beverley's career. Though he's still a defensive pest with some utility as a reserve guard, his shooting has fallen off a cliff. Over the first nine years of Beverley's career, he shot 38.2% from deep while finishing between 35% and 40% every year. Over the last two seasons, he's shot 33.9%, with opposing defenses often ignoring the soon-to-be 35-year-old.
If nothing else, it will be fun to see how new 76ers head coach Nick Nurse deploys Beverley in some surely funky and aggressive defensive schemes. - Casciaro
Heat sign Thomas Bryant to 2-year, $5.4M deal
Though he has a championship ring to show for it, Bryant struggled in Denver after coming over from the Lakers at the trade deadline, and his defensive limitations meant he didn't figure into the Nuggets' postseason rotation. Still, he's worth the flier for Miami, as Bryant is an efficient regular season big man, if nothing else.
He's an elite finisher inside who has averaged 10.1 points and 5.7 rebounds on 59.8% shooting over his six-year career. He's also dabbled behind the arc, where he shot 44.1% last season while attempting one 3-pointer per game. Perhaps Miami sees some stretch-five potential. - Casciaro
Nets sign Dennis Smith to 1-year deal
Six years and five teams since being a top-10 pick in 2017, Dennis Smith Jr. has quietly gone about finding a role for himself in the Association. Smith is legitimately one of the worst shooters in the league, which is tough to overcome when you're a point guard, but he's a solid playmaker and a great defender at the point of attack. For a Nets team that is in the business of finding upside that can help in the long run (either on the court or in a trade package), taking a minimum flier on the 25-year-old makes sense. - Casciaro