1 defensive question facing Heat and Nuggets in Game 4 and beyond
Mike Ehrmann / Getty Images
The Denver Nuggets took a 2-1 lead over the Miami Heat with a 109-94 win in Game 3 on Wednesday night. With a short turnaround before Friday's critical Game 4, here's the biggest question facing each team's defense in what's been a see-sawing tactical battle so far.
Should Miami keep blitzing Murray?
As has been established throughout this postseason run, and previous ones, there's no good answer for the Jamal Murray-Nikola Jokic two-man game. The best an opposing defense can hope to accomplish is find a wrinkle that throws them out of rhythm for long enough to erase a deficit or build a lead, before moving on to the next adjustment. Miami couldn't hold the pair at bay in Game 3, as both went off for 30-point triple-doubles (combining for 66 points, 31 rebounds, and 20 assists on 24-for-43 shooting) in Denver's big win.
After getting shredded by the duo's deadly dance in Game 1, the Heat made a decision. Knowing they couldn't take away Murray and Jokic, they decided to hone in on limiting Murray. Holding Jokic to just four assists in their Game 2 win was less about how they defended Jokic than it was about how they defended his pick-and-roll partner. They used Jimmy Butler as Murray's primary defender (a move that was made possible by re-inserting Kevin Love into the rotation to guard Aaron Gordon) and made the Nuggets guard see extra bodies at every turn, consistently engaging a third defender in Murray-Jokic actions.
Sometimes that meant having Bam Adebayo up near the level of the screen with a tagger pulling over behind him to disrupt Jokic's roll. More often, it meant keeping Adebayo in a shallow drop so he could maintain contact with Jokic and bringing over an extra defender from the strong-side wing or corner to stunt at or dig down on Murray when he drove or tried to get to his pull-up mid-ranger. Jokic went off for 41 points, but Murray managed only 18 on a measly 15 shooting possessions.
The Heat continued with that tactic at the start of Game 3: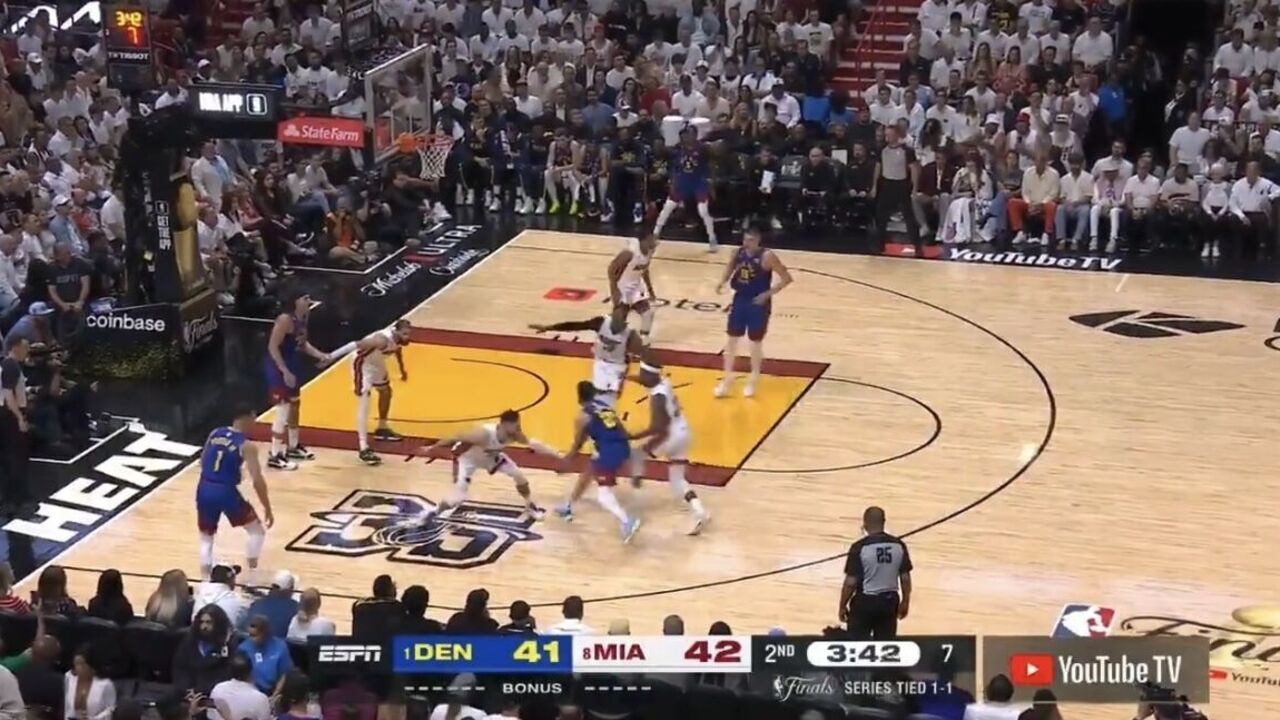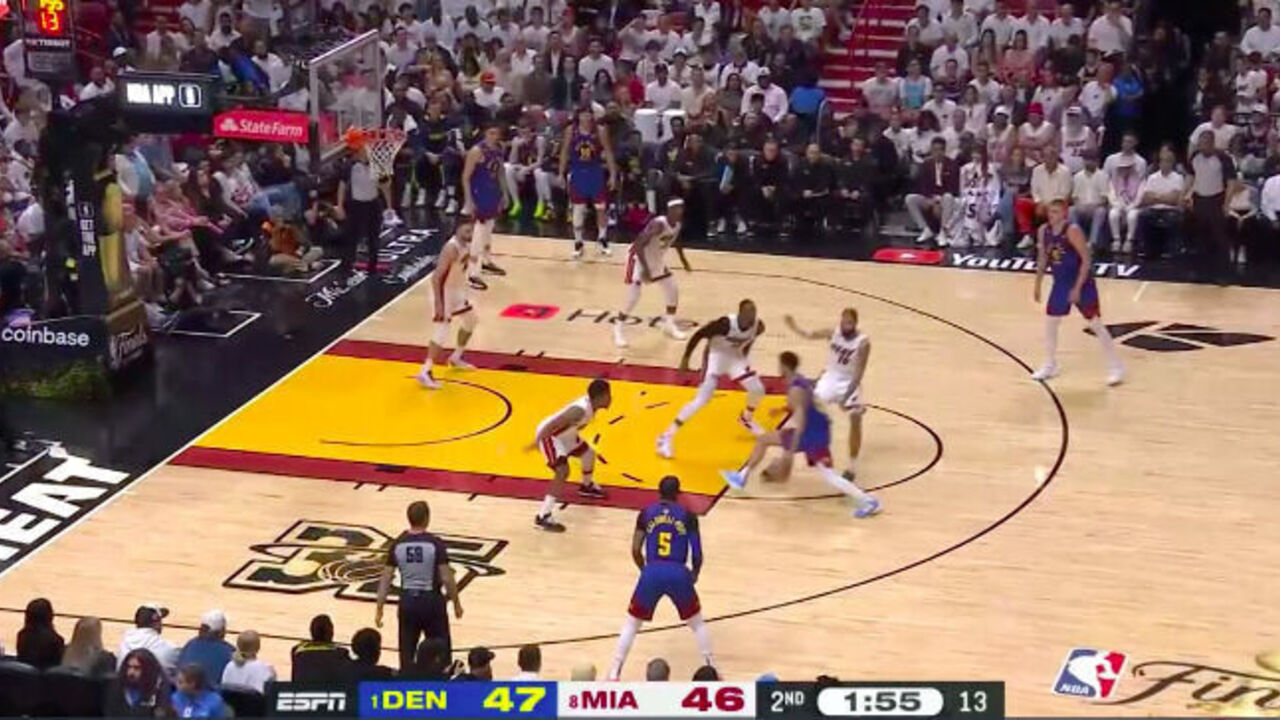 Denver was prepared for it. Murray was better at recognizing and beating the stunts when they arrived. (He scored on all three plays above.) The Nuggets also made a point of clearing away helpers on many possessions by moving their spot-up shooters off the wing or simply having Murray and Jokic operate on an empty side:
Murray topped his Game 2 scoring output before halftime.
Miami's answer was to amp up the aggression further, with Adebayo all-out blitzing Murray on ball screens and trying to push him back out toward midcourt. Blitzing a pick-and-roll that features Jokic as the screener and four-on-three release valve is playing with fire, to put it mildly. But the Heat, as they so often do, found a way to make a counterintuitive tactic work. At least for a little while.
The pressure threw Murray for a loop on a couple occasions and contributed to his postseason-high seven turnovers, six of which came in the second half. In a limited sample, blitzing is statistically the most successful ball-screen coverage Miami has thrown at Murray in the Finals, holding the Nuggets to just 0.75 points per possession, according to a source with access to Second Spectrum data.
The biggest key was Adebayo's activity level, which either forced Murray to retreat or closed off his pocket-passing tunnel to Jokic. Whether they were generating steals or simply funneling the ball away from Jokic and toward so-so shooters (like a well-covered Bruce Brown in the first clip below), the Heat were sporadically able to short-circuit the two-man machine that's been steamrolling everything in its path:
But the Nuggets still got a ton of good stuff playing out of those scenarios, even when they didn't score. For example, if Michael Porter Jr.'s jumper hadn't been locked in a cryo freezer in the Finals, getting him this shot - the result of a Jokic short-roll pass after Murray got trapped - would've been a terrific outcome: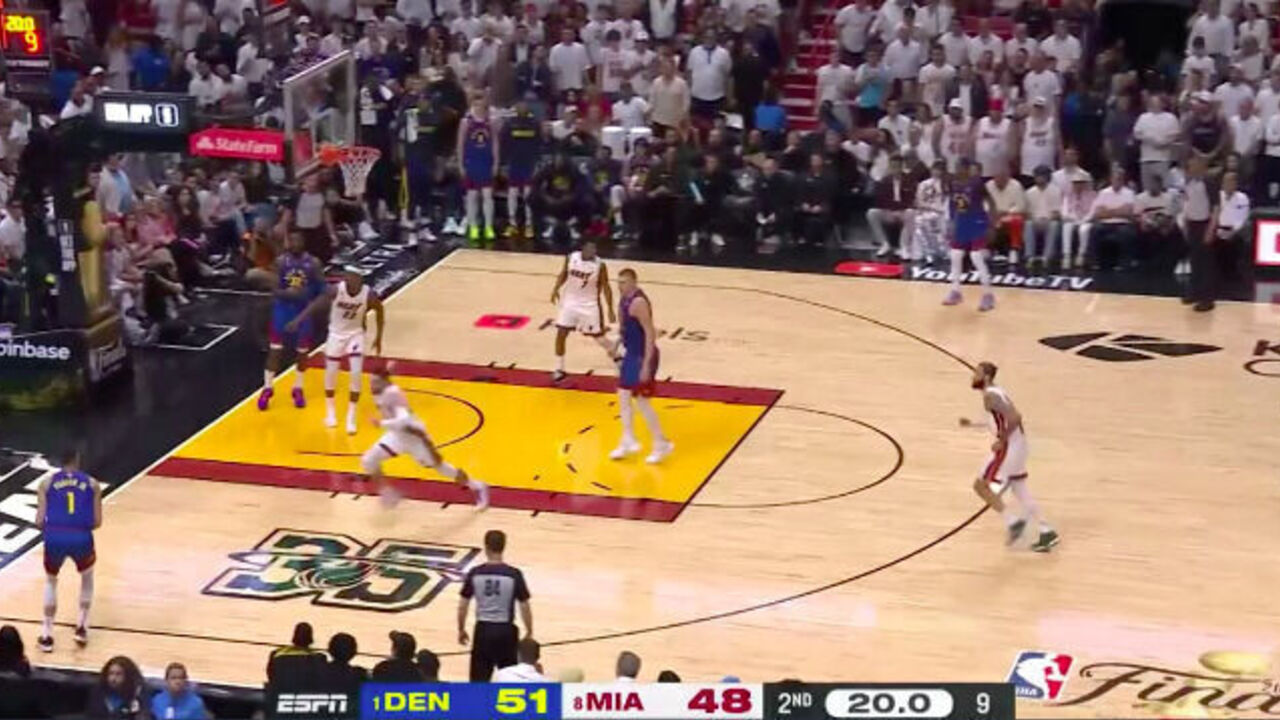 Denver also had a lot of success running screen-the-screener actions with Jokic popping toward the empty-corner side. The initial screener would cut through to the dunker spot, making it very difficult for Miami to rotate a third defender up to help on Jokic's pop. Gabe Vincent came up with a steal on one of those plays, but you can see on the two plays below how the Heat got burned whether they brought that rotation up from the baseline or simply had Adebayo try to recover to Jokic on the wing:
Like any coverage Murray, Jokic, and the Nuggets see, it's only a matter of time (and usually not very much of it) before they're able to uncover and exploit all the soft spots. But blitzing is as viable as anything else Miami has tried in this series. It's probably still a better option than switching, which is a coverage Jokic has absolutely brutalized on the rare occasions the Heat have resorted to it.
So, the Heat will probably continue to sprinkle in these traps in Game 4 and beyond while being careful to have their help pulled in early so as not to let Jokic roll into four-on-threes on the back side. Even if that opens up copious cuts and spot-up threes for Denver's role players, Miami will likely live with anyone other than Murray and Jokic beating them.
Can Denver keep switching against Butler?
The Nuggets cleaned things up considerably after a Game 2 defensive disasterclass, committing far fewer coverage breakdowns, communicating better on switches, and avoiding some of the overhelp that burned them in their first home loss of the postseason. They held the Heat to an unthinkable 8-for-23 (35%) at the rim in Game 3, which offset Miami's 18-point advantage from behind the 3-point line. But Denver still has a pressing question to answer regarding how they want to defend Jimmy Butler.
Aaron Gordon has done a masterful job, but the Nuggets have arguably been a bit too willing to switch Gordon out and let Butler attack a defender of his choosing. In Game 1, that was often Porter Jr., though Butler didn't do much against that switch and MPJ held up surprisingly well as a chaser in subsequent pick-and-rolls. In the last two games, Butler has turned his focus to attacking Murray and Kentavious Caldwell-Pope, and he's found a lot more success. He scored the bulk of his 28 points in Game 3 after getting one of those smaller players switched onto him.
Miami deserves credit for putting Denver's defense in compromising positions that make it hard to do anything but switch. For one thing, Butler has shown throughout the playoffs that he can punish defenders for ducking under against him by either beating them to the spot or rising up for clean pull-up mid-rangers. For another, the Heat set some of their ball screens for him so low on the floor that going under becomes functionally impossible. Credit guys like Kyle Lowry and Vincent, too, for laying solid screens on the much larger Gordon in those inverted pick-and-rolls:
For all that, the Nuggets will gladly live with Butler scoring 28 points on 27 shooting possessions with just four assists against two turnovers. The Heat excel when they're able to draw two to the ball and get it whipping around against a scrambling defense, so Denver playing the hedge-and-recover game against inverted actions would arguably play into Miami's hands more than switching does.
At the same time, the damage could've been a lot worse in Game 3. Butler's ability to bully Murray and Caldwell-Pope ultimately forced Denver to double him when he took those mismatches down into the post, and Miami got great looks out of those possessions. Butler's low assist total speaks more to his teammates' cold shooting than it does to anything the Nuggets did to limit his playmaking; his 13 potential assists were the second-most any player generated in the game behind only Murray's 16.
He also had a handful of "hockey assists" where his post gravity led to buckets two or three passes down the chain, and other plays in which the switch he generated spooked Denver so much that he drew two to the ball without even touching it:
Again, there were a lot of instances in which Miami's screen location and angles presented no better option than to switch. But there were certainly others in which the Nuggets could've worked harder to avoid it, either by going under or soft-hedging or using immediate switch-doubles to get back to their original matchups.
One way or another, it will be a fascinating battleground to monitor in the series moving forward.
Comments
✕
1 defensive question facing Heat and Nuggets in Game 4 and beyond
  Got something to say? Leave a comment below!