Joel Embiid will ultimately decide Nick Nurse's fate in Philly
Mark Blinch / NBA / Getty Images
The last time Nick Nurse coached a basketball game in Philadelphia, the former Raptors head coach raised eyebrows around the NBA with his candid and unprompted comments about his uncertain future in Toronto. Less than a month later, the 2019 champion was out of a job.
The last time Joel Embiid mentioned Nurse's name in public, the 76ers big man took an unprompted jab at him, and it wasn't the first time. Less than a month later, Embiid was left to lick his wounds after another embarrassing postseason showing.
As fate would have it, Embiid's embattled Sixers have now turned to Nurse with the hope that he can get the reigning MVP and his team over the hump.
The partnership makes all sorts of sense.
On an individual level, whatever perceived grudge Embiid held against Nurse was born out of competitive respect. After all, it was Nurse's Raptors - anchored by Marc Gasol - that flummoxed Embiid during a second-round series in 2019 (which ultimately ended on Kawhi Leonard's buzzer-beater). It was Nurse's game plan (and Gasol again) that held Embiid scoreless for the only time in his 447-game career later in 2019. Even in recent years, when 6-foot-7, 232-pound forward O.G. Anunoby has been Toronto's best option to guard the 7-foot, 280-pound center, Nurse's aggressive, help-heavy schemes have frustrated Embiid.
From a team perspective, Nurse makes sense for a squad that will be judged solely by what it accomplishes in the playoffs. It's not dissimilar to the situation the coaching journeyman inherited four years ago in Toronto.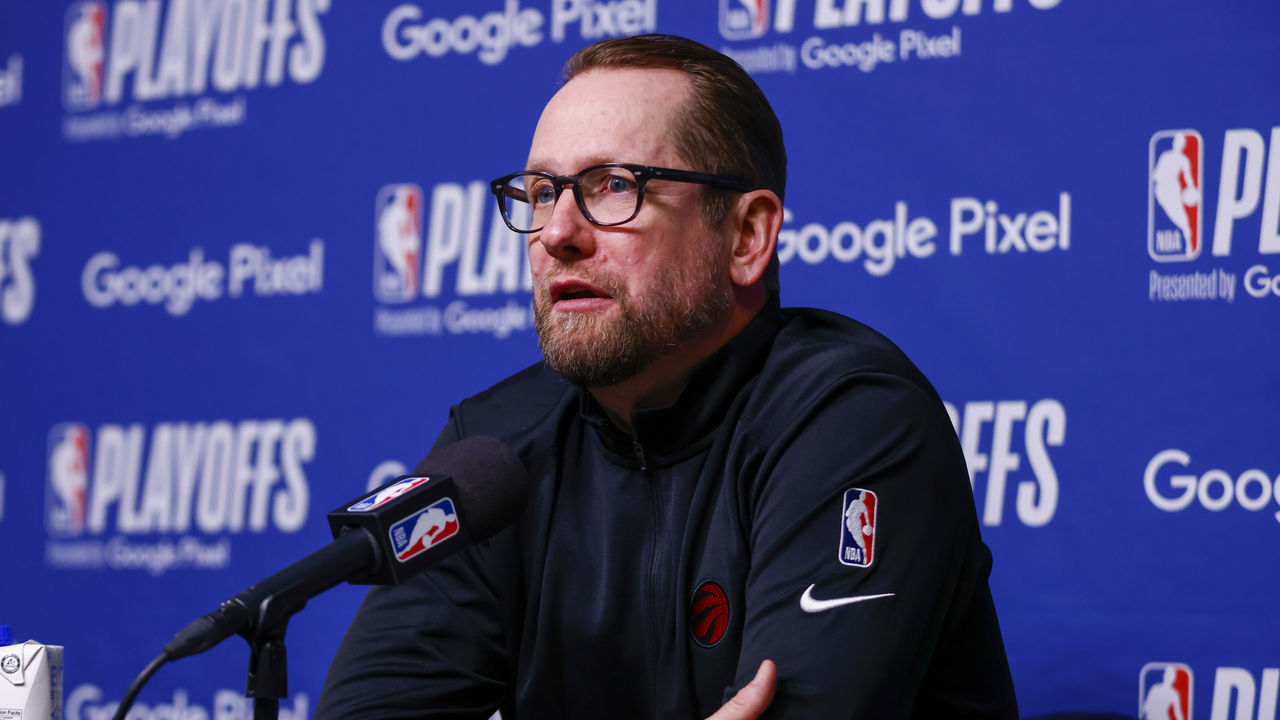 Nurse's attention to detail, defensive creativity, and ability to adjust possession to possession rather than just game to game make him the type of bench boss who excels in the postseason. If Mike Budenholzer is one of the game's great macro tacticians, then Nurse - who worked for 76ers president Daryl Morey with the Rockets a decade ago - is more the micro type. That matters in April, May, and June.
However, in failing to even guide the Raptors to the playoffs this season, some of Nurse's shine has worn off. Nurse won a championship as a rookie head coach, won Coach of the Year as an NBA sophomore, and milked every possible win out of an upstart Raptors team in his fourth year at the helm. The only blemish through four years was a pandemic-era, displaced season in Tampa Bay during the 2020-21 campaign, but few faulted Nurse for a season that ended with the Raptors clearly playing for lottery odds.
Toronto's 2022-23 season, in contrast, went completely off the rails. Though the Raptors are a flawed team without the requisite level of shot-creation, shooting, or rim protection, Nurse drew fair criticism for failing to maximize the talent at his disposal. His offense grew more stagnant and stale by the year. His defensive commitment to ultra-aggressive ball pressure compromised Toronto's defense in other areas. Nurse - once the mad basketball scientist who'd try anything to get stops - suddenly seemed resistant to change.
In Philadelphia, the insurance of Embiid's rim protection might only serve to embolden Nurse's aggressive principles. On the offensive end, perhaps the presence of a true superstar and more shooting around that star unclogs Nurse's attack. The Sixers were the best 3-point shooting team in the league this year (38.7%), while the Raptors finished 28th (33.5%) and posted the league's sixth-lowest 3-point attempt rate. Nurse should be much less reliant on forcing turnovers and offensive rebounds to manufacture points with Embiid at the center of things and more shot-creating ability at his disposal. That said, the presence of Tyrese Maxey will likely keep the head coach committed to some semblance of a transition game.
Some will question whether Embiid's body can hold up while playing for a coach known to task his starters with heavy minutes, but that concern is likely overblown. The inflated minutes of Raptors like Pascal Siakam and Fred VanVleet may have had more to do with the team's lack of depth and dearth of offensive initiators than it did with Nurse's stubbornness. When Toronto was competing for a title with a much deeper squad in Nurse's first season in charge, no Raptor finished higher than 18th in minutes per game.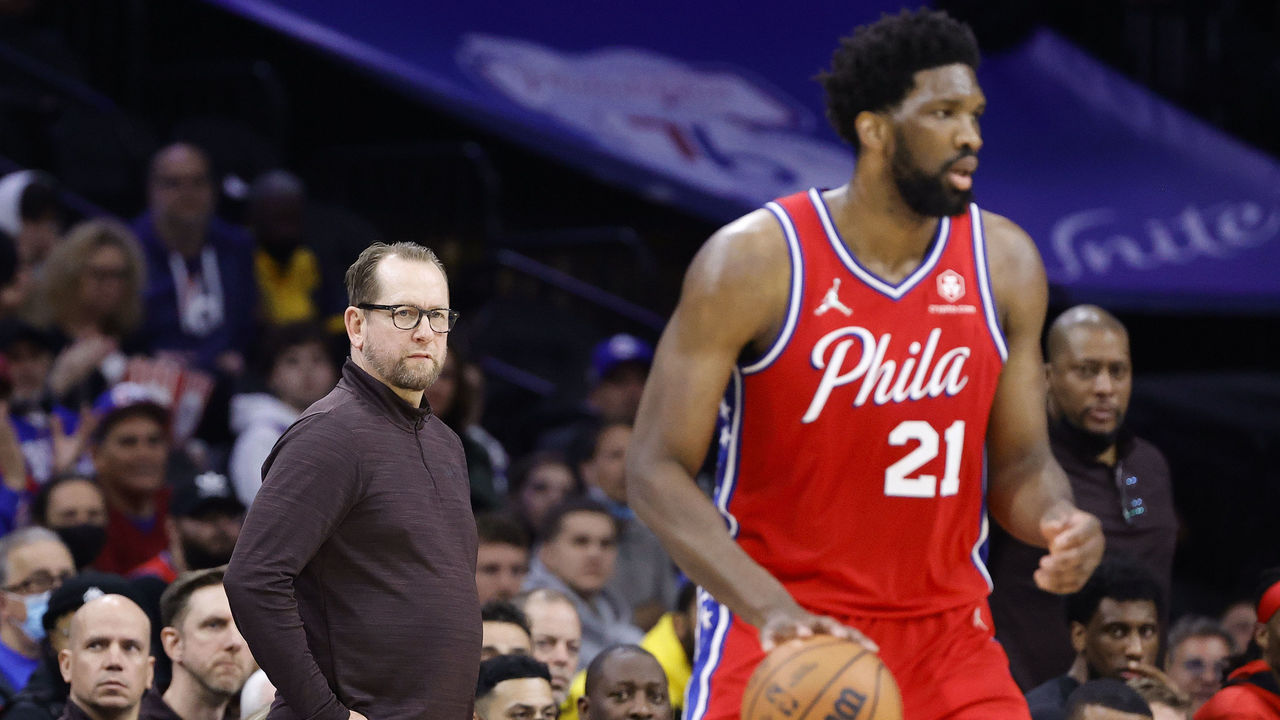 Of course, what Nurse's roster will look like for his first season in Philly is still up in the air. Embiid and Maxey will be there, and De'Anthony Melton should be back, but James Harden is set for unrestricted free agency. The future Hall of Famer may not be able to beat defenders off the dribble or create separation as consistently as he did in his prime, but losing the NBA's assists leader for nothing would be devastating for a capped-out team that can't afford to replace him.
Tobias Harris might be movable with only a year left on his contract, while P.J. Tucker is likely expendable if teams are willing to take on the roughly $22.6 million owed to the offensively challenged veteran over the next two years.
The Harden domino is the biggest to fall, and The Beard's future will set the tone for the 76ers' offseason. But Nurse's ultimate success or failure will fall on the shoulders of Philadelphia's biggest star, literally and figuratively. As great as Embiid is, that hasn't worked out so well for those who've come before Nurse.
After tanking to stockpile top draft picks and waiting out Embiid's first few injury-riddled seasons, the Sixers have made coaching and front office changes (Morey and Nurse are Embiid's fourth executive and third coach, respectively), swapped out Embiid's supporting stars, and shuffled through various role players. Embiid is the one constant, yet the league's fourth-longest conference finals drought endures.
The six-time All-Star has established himself as one of the best players on the planet between October and April, but Embiid has too often disappeared when the Sixers' backs are against the wall. In nine career games when facing elimination, he shot 38.8% from the field while committing 41 turnovers against just 18 assists. Unsurprisingly, the Sixers have gone 3-6 in those contests.
At times over the years, Embiid's teammates haven't gotten him the ball in the right spots. Sometimes the Sixers have just run into better teams. Oftentimes, Embiid is battling through a postseason injury. But at a certain point, the buck stops with the MVP.
How Nurse and Embiid get along will be fascinating to monitor. In addition to their personal rivalry, neither has been shy about calling players or teammates out over the years. Plenty of opponents and officials are sure to be rankled now that one of the league's foremost sideline complainers and one of the game's most frequent floppers have joined forces.
It's all just window dressing until the playoffs, though. That's what Nurse was hired for, and the stage Embiid still has to prove himself on. If the big man shows up next spring, Nurse's hiring will look like a slam dunk for Morey and Co. If he doesn't, Nurse won't fare any better than Doc Rivers or Brett Brown did.
Joseph Casciaro is theScore's senior content producer.