New-look Lakers could give LeBron another chance at a deep playoff run
Adam Pantozzi / NBA / Getty Images
This season's NBA trade deadline was dominated by seismic moves for superstars like Kevin Durant and Kyrie Irving. But the league's most improved team since - one that entered deadline day 13th in the Western Conference - didn't trade for an All-Star. In fact, it lost one.
Even with LeBron James sidelined by a foot injury, the Los Angeles Lakers have transformed from an early-season laughingstock into a feisty squad no one wants to see on their upcoming schedule.
Much ink was spilled about how poorly the Lakers had built around James and Anthony Davis over the last two years. Through the first half of the season, L.A. remained painfully devoid of quality NBA depth, shooting, or secondary creation, unless you believed Russell Westbrook's high-turnover, low-efficiency game fit the bill.
The Lakers had a laundry list of needs and limited assets or avenues to improve, and they seemed to be banking on an underwhelming 2023 free-agent class. Then, though perhaps it may prove far too late, general manager Rob Pelinka went to work.
Pelinka, whose performance in recent years made L.A.'s front office an easy target for criticism, found a way to quickly address virtually all of his team's needs. As part of a three-team deadline-day deal with Minnesota and Utah, the Lakers turned Westbrook, Juan Toscano-Anderson, Damian Jones, a 2027 first-round pick, and a 2024 second-rounder into D'Angelo Russell, Jarred Vanderbilt, and Malik Beasley.
They also executed a four-team trade with Orlando, Denver, and the Clippers that saw them turn Patrick Beverley and Thomas Bryant into Mo Bamba, Davon Reed, and a couple of second-rounders. Weeks before the deadline, the Lakers also dealt Kendrick Nunn and three second-round picks to Washington for Rui Hachimura.
But the deal that netted them Russell, Vanderbilt, and Beasley is what truly changed the trajectory of their season.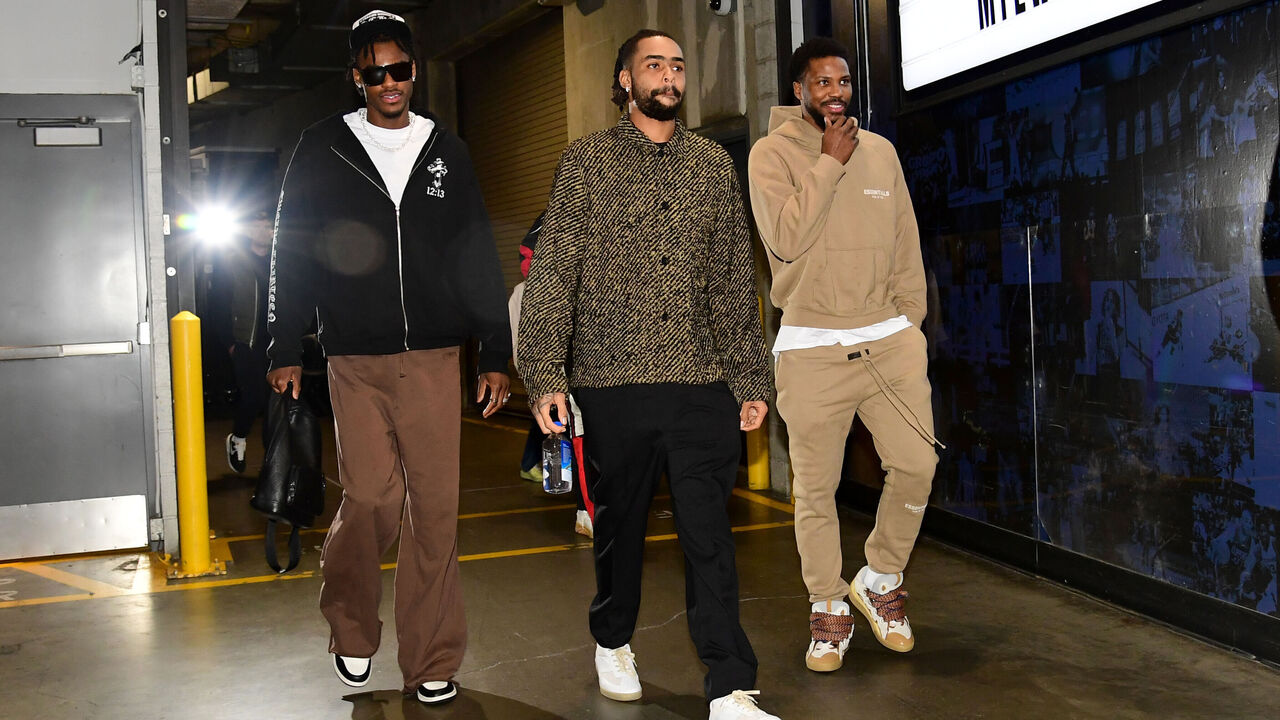 Though Russell can still have a quick trigger when hunting his own shot, his ability to both create for himself and his teammates has been a godsend for the Lakers' offense, especially with James sidelined. Eleven games into his second stint in L.A., Russell is averaging 18.6 points and a team-leading 6.4 assists per contest. He's also shooting 54.5% from 2-point range, 39.5% from deep on 6.9 3-point attempts per game, and 81.6% from the free-throw line.
Russell and Beasley have helped juice L.A.'s previously abysmal numbers from behind the arc. After ranking dead last in 3-pointers made per 100 possessions before the trade deadline (10.1), the Lakers are up to 22nd since Russell and Beasley debuted Feb. 11 (11.0) and 20th since Russell returned from injury March 10 (11.6). That improvement may seem modest, but it's notable for a team with an offense that needed a modernizing jolt.
Not to mention, the Lakers will be better equipped to take advantage of their new shooting prowess when James and his playmaking genius return to the lineup. Beasley, especially, should benefit from James' presence. The L.A. guard ranks fourth in catch-and-shoot 3-point attempts and third in 3-point shots per 100 possessions, behind only Steph Curry and Damian Lillard.
Meanwhile, Vanderbilt has brought the type of relentless energy and defensive versatility that fan favorites are made of. The 23-year-old gives the Lakers a low-usage defensive big who's just as comfortable guarding the league's best wings and perimeter players. In Wednesday's victory over Phoenix, Vanderbilt could be seen picking up Devin Booker full court.
Vanderbilt, who's under contract for less than $4.7 million next season, also leads the post-deadline Lakers in deflections and loose balls recovered, fueling what's been the league's stingiest defense since his L.A. debut.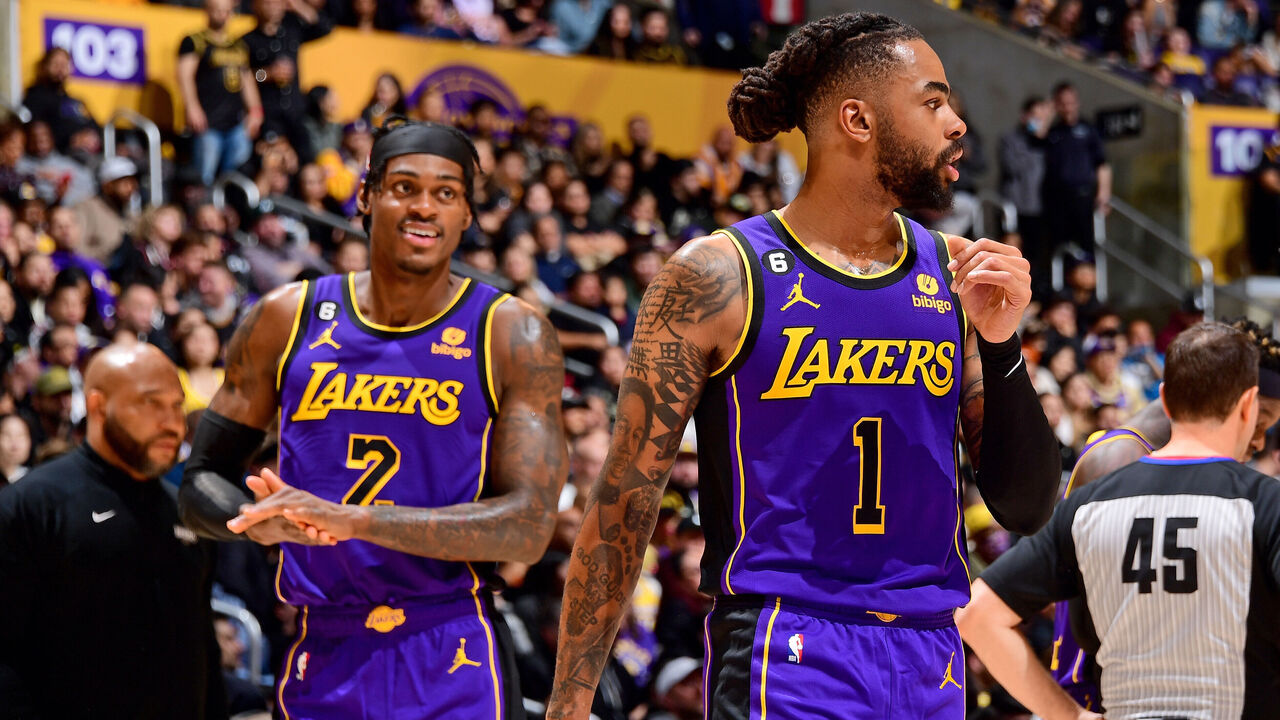 Los Angeles' success can't be entirely attributed to the newest Lakers. In addition to the stellar play of Anthony Davis, the team has gotten terrific two-way production from sophomore guard Austin Reaves. It's no coincidence that L.A.'s improved play has coincided with Reaves returning from a hamstring strain just two days before Russell, Beasley, and Vanderbilt joined the club.
After being sidelined for nearly five weeks, Reaves came back to a more balanced squad. With Westbrook long gone and James watching from the bench, Reaves has been thriving with additional on-ball opportunities.
Reaves has scored more than any other reserve since the deadline, but in Wednesday's victory over the Suns, he drew his first start since Jan. 4. The 24-year-old rewarded head coach Darvin Ham's faith with 25 points and a game-high 11 assists. He was also a game-high plus-18 in 38 minutes of action.
Reaves' uncanny ability to draw contact is proving especially frustrating for opponents, as he leads all wings in the percentage of his shot attempts resulting in a foul, according to Cleaning The Glass. He also ranks seventh in total free-throw attempts this month, with the rest of the top 10 made up of All-Stars.
With all elements combined - Davis at center, Reaves' ability to put pressure on the defense, Russell's shot-creation, Dennis Schroder coming off the bench, and capable shooters like Russell, Beasley, Reaves, and Troy Brown Jr. - the Lakers' offense suddenly makes a lot more sense around James, who's still averaging 29.3 points and 6.9 assists on 58.3% true shooting.
When combined with a stout defense, what they already have without LeBron has been enough to help them match Denver and Memphis for the West's second-best record (11-6) since Feb. 11. Nine of those 11 victories have come against West rivals currently ranked between second and 12th in the standings (Warriors, Pelicans, Mavericks, Thunder, Grizzlies, and Suns).
Perhaps most encouraging of all for Lakers fans is that with a competent supporting cast, the James-Davis duo once again looked dominant, albeit in a small sample size before James was forced to sit.
That L.A. was so inept to begin the campaign - despite James continuing to defy the limits of age and Davis enjoying his best season in years - is a knock against the front office's overall performance. It's also why, despite its general excellence over the last six weeks, this 10th-place squad remains in a dogfight just to make the play-in tournament. But it shouldn't be lost on us how rare it is for a team to successfully remake itself midseason the way Pelinka's Lakers have.
Given how compact the Western Conference remains, you could take the glass-half-full approach. Although the Lakers only hold a half-game lead on Utah and New Orleans entering Thursday, they're also within 2.5 games of fourth-place Phoenix and two games of sixth-place Golden State despite a terrible start. (And L.A. has already clinched the season series against the Warriors.)
The Lakers need to get James healthy, and they need to actually get into the play-in - let alone the playoffs proper - before visions of another championship can dance in their heads. But with an elite defense, legitimate depth, and shooters and playmakers around them, there should no longer be any questions about whether James and Davis can win with this team.
They can. The rest of the West should just hope the Lakers don't get a chance to prove it.
Joseph Casciaro is theScore's senior content producer.
Comments
✕
New-look Lakers could give LeBron another chance at a deep playoff run
  Got something to say? Leave a comment below!