NBA Power Rankings: Each team's most improved player this season
The NBA Power Rankings are selected by a panel of theScore's basketball editors.
This week, we're looking at each team's most improved player this season and how they impacted their respective squads.
1. Milwaukee Bucks (51-20)
Previous: 1
Name a category, and fifth-year guard Jevon Carter has probably posted his career high in it this season. Carter's 3-point shooting and defense have made him a constant, valuable fixture in the Bucks' rotation.
2. Philadelphia 76ers (48-23)
Previous: 5
It's absurd to consider last year's MVP runner-up as improved, but that's been the case with Joel Embiid. He's increased his points per game to 33.6, posting a career-high field goal percentage in the process.
3. Boston Celtics (50-23)
Previous: 3
While Jayson Tatum and Jaylen Brown deserve recognition, Sam Hauser has emerged as a key rotational player for Boston. He's a threat from three, shooting 41.5% from deep.
4. Denver Nuggets (48-24)
Previous: 2
Aaron Gordon has established new career highs in field-goal percentage (57.9%) and free-throw attempts (4.8 per game). His 43% mark on non-corner threes is a 9% increase from last season.
5. Sacramento Kings (43-29)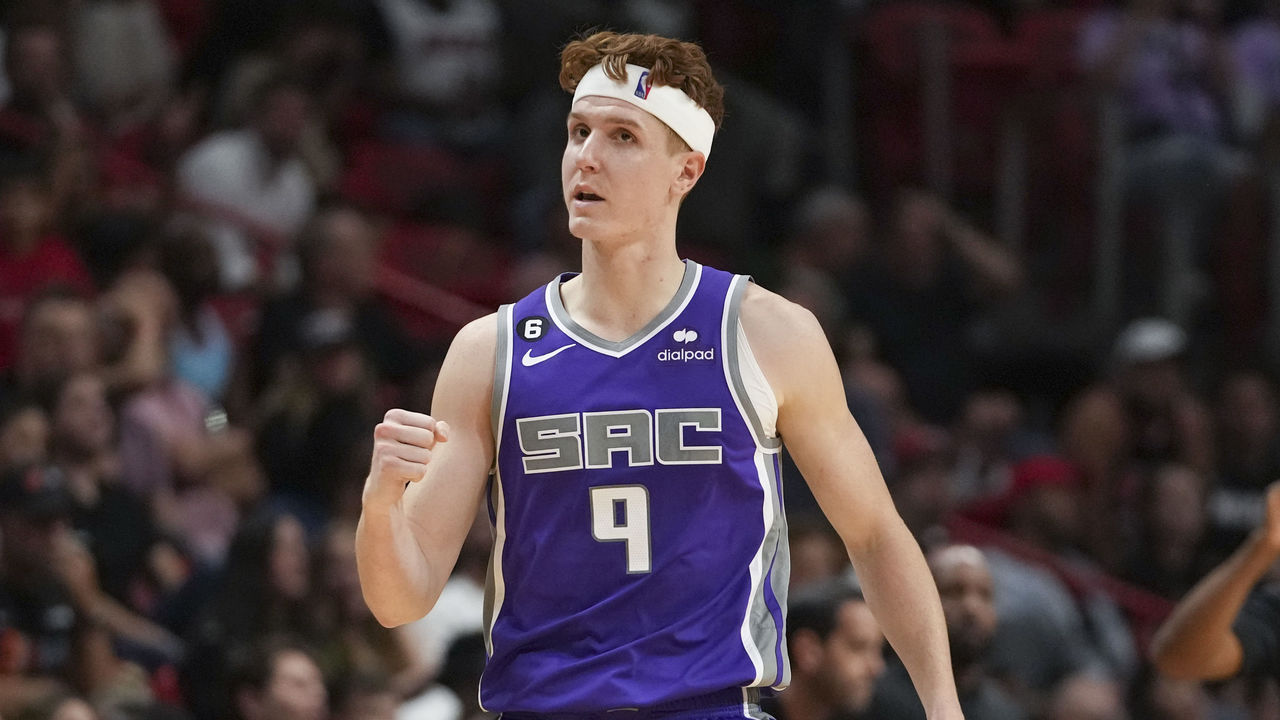 Previous: 10
A knee muscle injury will keep him sidelined, but Kevin Huerter has stepped up for the Kings. Averaging a career high in points, he leads Sacramento in makes from three, completing 2.7 per game on 41% shooting.
6. Memphis Grizzlies (44-27)
Previous: 7
Santi Aldama, fresh off a career-high 22 points in Monday's win over Dallas, is the Grizzlies' MIP. The Spaniard's nearly doubled his production across the board as a sophomore, and Memphis is 22-7 when he scores double digits.
7. Cleveland Cavaliers (46-28)
Previous: 6
Concerns over Donovan Mitchell failing to find his footing outside of Utah were misguided. The Cavaliers guard has produced some of the season's best offensive displays, including a 71-point outburst against the Bulls in January.
8. New York Knicks (42-31)
Previous: 12
Jalen Brunson has already made the Knicks' large offseason contract look like a steal. Brunson's points-per-game average has risen by over seven points while he paces the league's fifth-best offense in assists and 3-point percentage.
9. Phoenix Suns (38-33)
Previous: 4
Josh Okogie is better known for his defense, but the fifth-year guard has recently displayed some untapped offensive potential. Over his last 15 appearances, Okogie is averaging 14.1 points and shooting 38.1% from deep.
10. Miami Heat (39-34)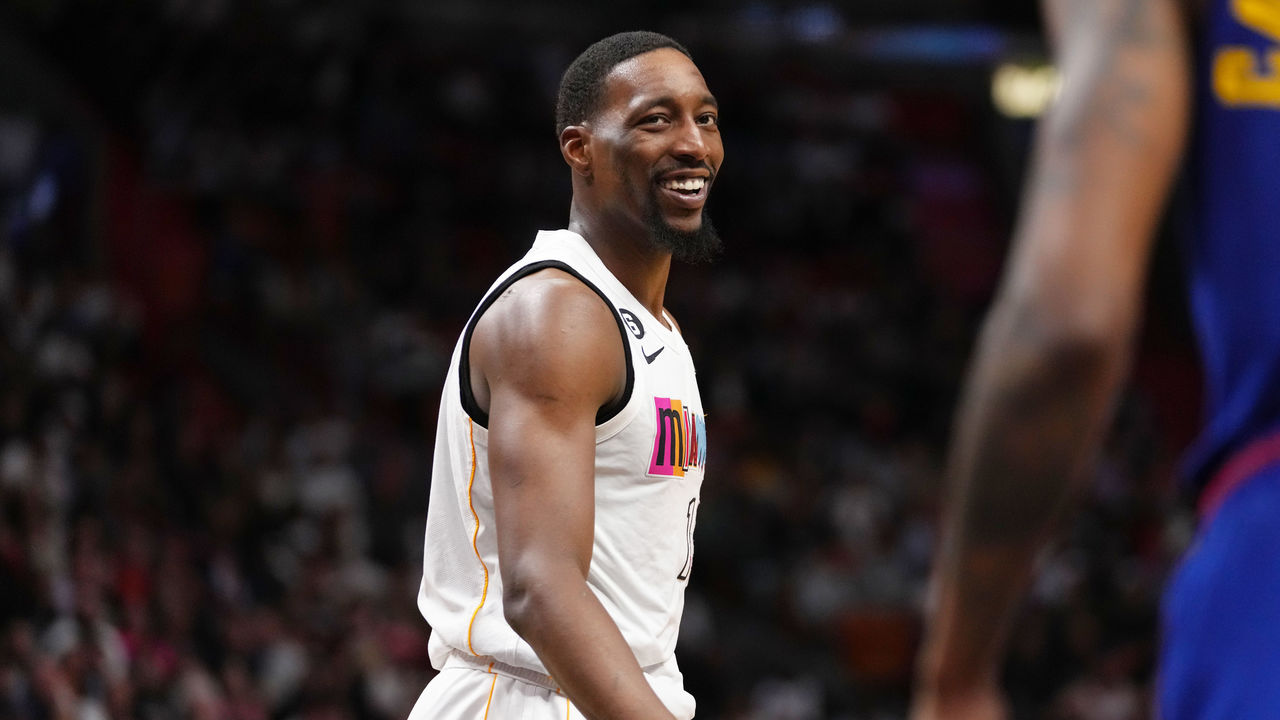 Previous: 11
Bam Adebayo has experienced an offensive upswing this season. The Kentucky product dropped 30-plus points in 11 games and has increased his efficiency on long mid-range attempts by 11%, per Cleaning the Glass.
11. Golden State Warriors (37-36)
Previous: 13
Donte DiVincenzo has become the ultimate role player in Golden State. He's one of just two players to average nine points, four rebounds, and three assists in under 27 minutes per game while making 40% of his threes.
12. Los Angeles Clippers (38-35)
Previous: 8
Can a team full of veterans with championship ambitions qualify? With Ty Lue defining roles for the Clippers' rotation, Ivica Zubac has seen more minutes this season. He's posting a career-high 1.3 blocks per game.
13. Minnesota Timberwolves (36-37)
Previous: 15
Anthony Edwards has taken the leap in his third season. He's pushing career-best tallies in nearly every statistic, including shooting percentages. With a personnel circus in Minny, Edwards has singlehandedly kept the ship afloat.
14. Dallas Mavericks (36-36)
Previous: 9
Josh Green is turning into an offensive force. Among qualified guards, Green ranks fifth league-wide in true shooting percentage. That places him just behind Steph Curry and Damian Lillard and ahead of Shai Gilgeous-Alexander.
15. Brooklyn Nets (39-33)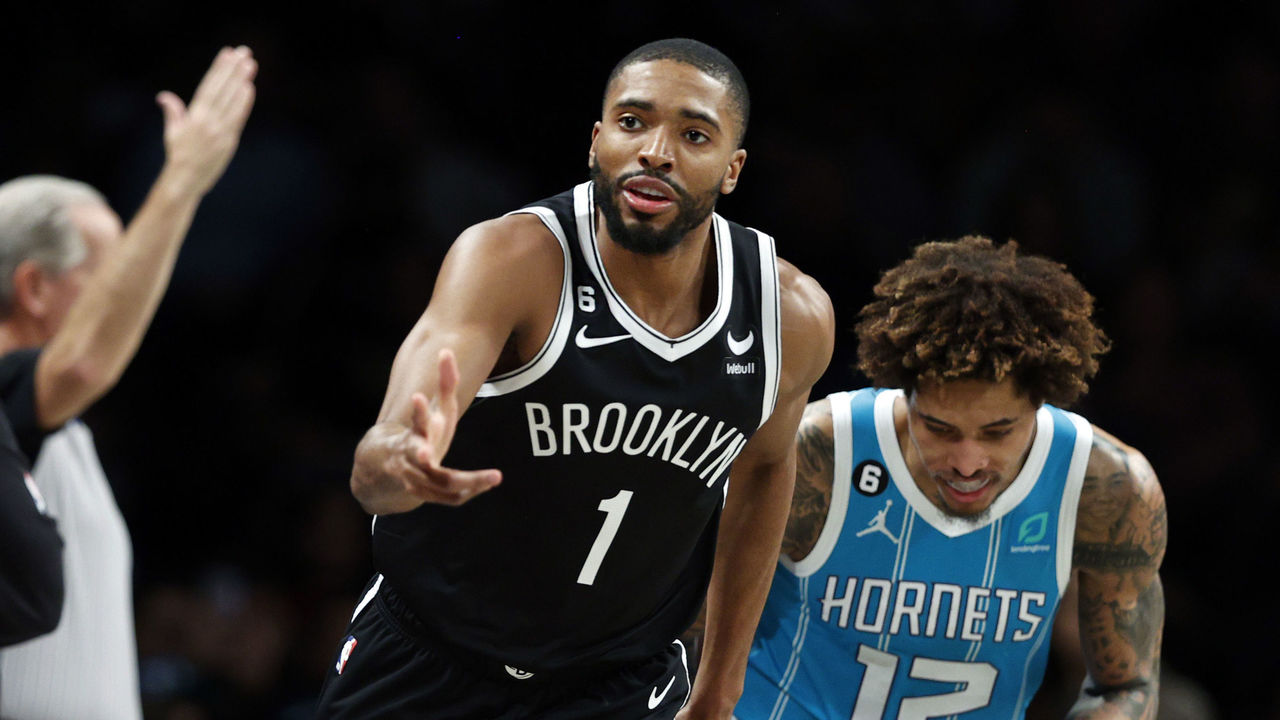 Previous: 16
Getting traded from the championship-contending Suns might have been best for Mikal Bridges. He's averaging 25.9 points over 16 games with the Nets, a significant improvement from 19.1 last season.
16. Atlanta Hawks (36-36)
Previous: 18
With Trae Young and John Collins regressing, De'Andre Hunter's respectable fourth-year strides have made him a better rebounder and free-throw shooter. He's given the Hawks' starting lineup a solid tertiary scoring option.
17. Los Angeles Lakers (35-37)
Previous: 17
Austin Reaves' rookie season wasn't a flash in the pan. The two-way guard leads his position in true shooting percentage. When you combine that with his defense, Reaves is a perfect complementary piece to the Lakers' roster.
18. Oklahoma City Thunder (36-36)
Previous: 19
Josh Giddey is getting things done for the Thunder. In his second season next to Gilgeous-Alexander, the Australian wing is posting a career-best 16.2 points per game while leading OKC in rebounds (7.9) and assists (6.1).
19. Toronto Raptors (35-37)
Previous: 23
Jakob Poeltl is much better offensively than he was during his first stint with the Raptors. He's shooting a sizzling 66.7% from the field and averaging 4.2 points as a roll man since being re-acquired.
20. Chicago Bulls (34-37)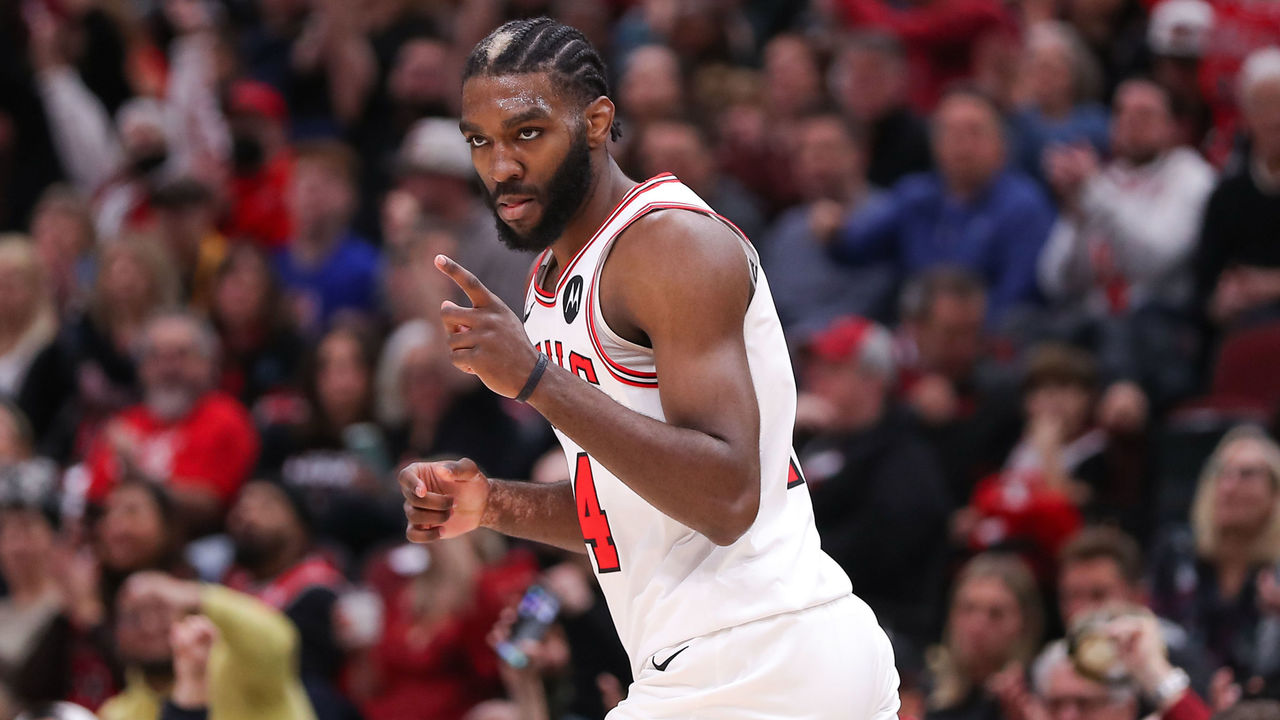 Previous: 26
It's hard to grasp Patrick Williams' improvement just by looking at his numbers. However, he's been more decisive offensively and continues to grow as a defender.
21. Utah Jazz (35-36)
Previous: 21
Lauri Markkanen's monster growth from last season with the Cavs could very well earn him the league's MIP award. Everything's come together for the Finnish forward in Utah, where he now looks like a bona fide star.
22. Indiana Pacers (32-40)
Previous: 24
Tyrese Haliburton is among the NBA's most improved players. He's provided elite point guard play in his first full season with the Pacers, ranking second in assists and earning his first All-Star nod.
23. New Orleans Pelicans (35-37)
Previous: 14
With Zion Williamson and Brandon Ingram hobbled, playing time has been available for second-year wing Trey Murphy. The 22-year-old is second on the team in makes and percentage from three, and he's a valuable rotation piece for the Pelicans.
24. Washington Wizards (32-40)
Previous: 20
The WIzards will likely reward Kyle Kuzma with a lucrative new deal this summer. Whether they should give him that contract is another matter, but Kuzma's averaging a personal-best 21.2 points on a career-high 28% usage rate.
25. Orlando Magic (30-43)
Previous: 25
It's refreshing to see Markelle Fultz flourishing after an ACL tear cost him nearly two full seasons. The former No. 1 pick resembles the talent he was projected to be, especially with a career-high 56.3% true shooting percentage.
26. Portland Trail Blazers (31-40)
Previous: 22
Damian Lillard is having the best-scoring campaign of his 11-year career. His improved efficiency at the rim and on long mid-range jumpers have contributed to an eight-point increase on last season's scoring average.
27. Houston Rockets (18-54)
Previous: 29
Alperen Sengun had his struggles as a rookie, but he's broken out as a sophomore. Nikola Jokic and Domantas Sabonis are the only other players averaging 14 points, eight rebounds, and three assists per game on 55% shooting.
28. San Antonio Spurs (19-53)
Previous: 30
Keldon Johnson has looked promising as the leading scorer for the tanking Spurs, averaging a career-high 21.8 points. The versatile wing can be a quality complimentary piece for the next good San Antonio team.
29. Charlotte Hornets (23-50)
Previous: 27
Nick Richards is carving out a role after playing sparingly in his first two seasons in the Association. He's tallied 11 double-doubles and given solid rim protection for a subpar Hornets defense.
30. Detroit Pistons (16-57)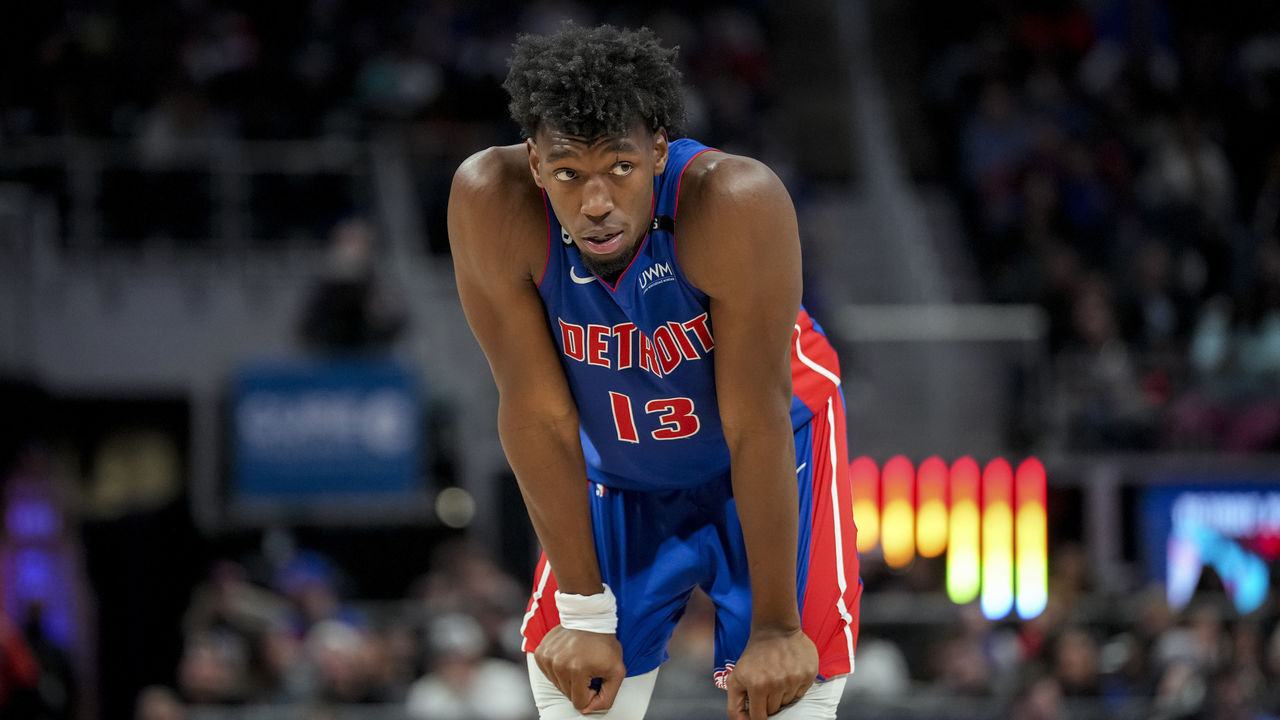 Previous: 28
Maybe this one's too early to call, but James Wiseman's move to the Motor City may have been the best thing for him. The former second overall selection's now averaging nearly a double-double after languishing in Golden State.