10 observations from the first 10 days of the NBA season
We're 10 days into the 2021-22 NBA season, and while extrapolating from such a tiny sample can be dangerous, there's still plenty of valuable new information to sift through.
Here are 10 observations from those first 10 days of action, courtesy of theScore's NBA writers Joseph Casciaro and Joe Wolfond.
Harden's not right
There are slumps, and then there's whatever James Harden is going through. Before finally breaking out against Indiana on Friday night, he was in the midst of a wretched stretch we're not accustomed to seeing from an all-time great as consistent as The Beard.
The scoring machine and creator can usually produce NBA offense in his sleep, but even after hanging a 29-8-8 line on the Pacers, he's shooting just 38.6% from 2-point range and posting the highest turnover rate of his career, coughing the ball up on 21.4% of his possessions. The easy explanation is that rule changes designed to stop rewarding foul-hunters like Harden will take time to adjust to - and Harden did seem to adjust on Friday, getting to the line a staggering 19 times - but officiating alone never told the whole story.
Through the first week and a half of the season, more than a handful of players have seen a greater drop in their foul-drawing rates than Harden, and none of them have seen the same overall decline in production. Not getting to the free-throw line also wouldn't explain why Harden's assist rate has plummeted.
Perhaps the answer lies in the postseason hamstring injury Harden has yet to fully recover from. The 32-year-old doesn't seem to have his usual burst, which helps him create advantages that he and his teammates use to exploit opposing defenses. Whether because of health, fitness, officiating, or other circumstances, if Harden's not beating his man as often, those advantages aren't there. He's having to rely on his floater more this season because he's getting to the rim less frequently than ever.
He'll have to figure things out if the Nets are to become the championship juggernaut we expect, rather than the team that currently ranks 25th in offensive efficiency. Kevin Durant didn't move to Brooklyn to have less help than ever, but with Kyrie Irving's return uncertain and Harden looking like a shell of himself, that's exactly the situation Durant is in. - Joseph Casciaro
Non-shooting guards as roll men
The Lakers are very much still in the process of trying to figure out what to do with Russell Westbrook in the half court.
They don't want to take the ball out of LeBron James' hands, but having Westbrook off-ball makes it very difficult for James and Anthony Davis to successfully run their two-man actions. Their pick-and-rolls often go nowhere because Westbrook's defender can help aggressively and bump Davis' roll without worrying about what the inert, non-shooting Westbrook will do when left unattended.
One potential solution L.A. has finally started to dabble with is using Westbrook as a ball screener and roll man for James. That leaves defenses with the difficult choice of either switching themselves into an unfavorable matchup with LeBron, going under the screen and risking him turning the corner, or sending two to the ball and letting Westbrook slip into space where he can go to work with a four-on-three advantage. They usually choose the last option.
Across the hallway at Staples Center, the Clippers have occasionally done the same with Eric Bledsoe, another attacking guard who garners zero respect as a spot-up threat. Opponents tend to hide weaker defenders on Bledsoe, which presents them that same difficult choice when he sets ball screens for Paul George:
The benefit of using Westbrook and Bledsoe in this fashion, especially late in games, is that it keeps them involved in the action and makes use of their downhill juice and playmaking chops, as opposed to having them stand off to the side doing nothing but cramp the spacing for their teams' big wing creators.
Brooklyn's Bruce Brown was one of the progenitors of this movement. For large chunks of last season, including the playoffs, the Nets used him as their primary ball screener and roll man, even though he's only 6-foot-4. And while he isn't the playmaker or downhill weapon Westbrook and Bledsoe are, his feathery floater made him an extremely effective pick-and-roll finisher (1.14 points per possession as a roll man last season).
While screening and rolling has historically been the purview of big men, we're increasingly seeing non-shooting guards do it, and do it well. - Joe Wolfond
Luka doing it ugly
The Mavericks' underwhelming roster construction continues to make Luka Doncic's already taxing job harder than it has to be.
Doncic has propped up poorly built Mavs teams since he set foot in the NBA, and he's single-handedly put a postseason scare in the Clippers two years in a row. But the way he wore down as playoff games and series extended should've made it obvious that he needs more help.
Tim Hardaway Jr. has mostly met the moment every time the Mavs have needed him, but he shouldn't be the second-most reliable option on a team that fancies itself a contender. Kristaps Porzingis' floor spacing and rim protection are beneficial when he's healthy, but the big man will never be the ideal pick-and-roll partner for Doncic.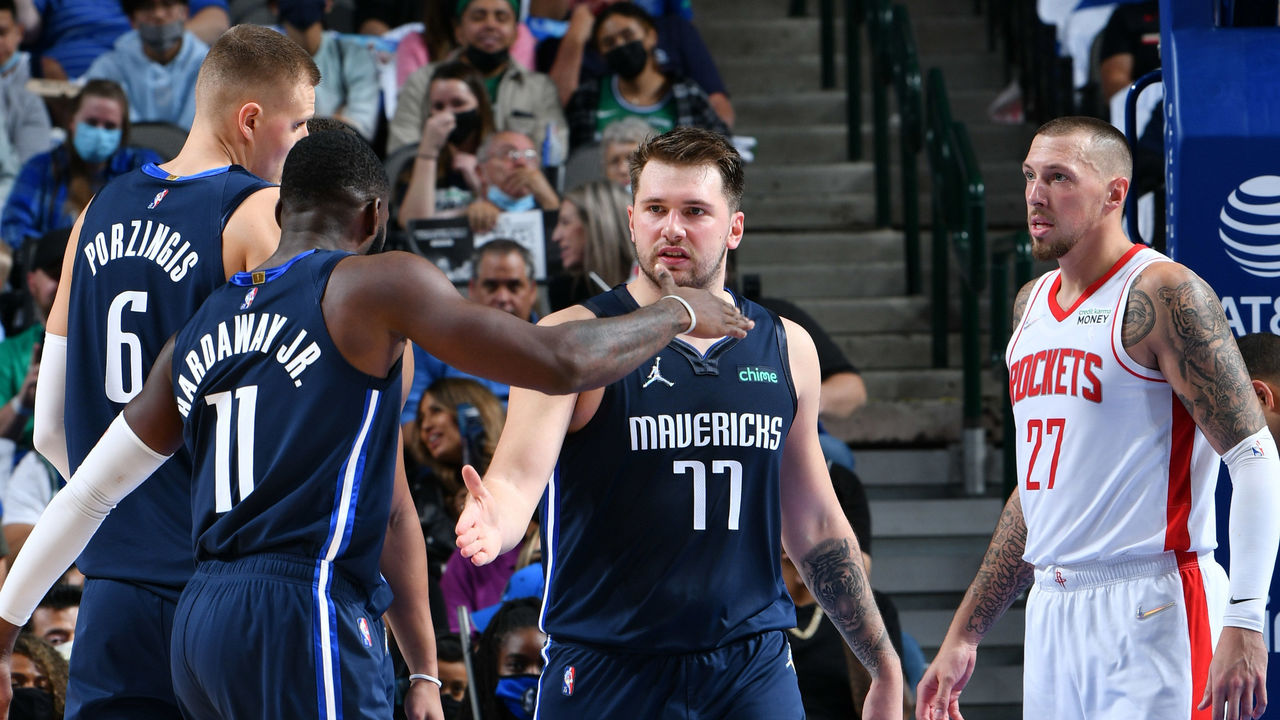 Doncic and the Mavs could also use a secondary offensive initiator, which is why I advocated in the offseason for the team to get in the mix for players such as Kyle Lowry, DeMar DeRozan, or even Kemba Walker. Instead, the Mavs came out with Reggie Bullock, Sterling Brown, Frank Ntilikina, and Moses Brown, while replacing coach Rick Carlisle with the less imaginative Jason Kidd.
Add it all up and the Mavs' reliance on Doncic is as glaring as ever in Season 4. The 22-year-old is still getting the job done, and he's often looked like the best player on the floor through Dallas' 3-1 start. But he's had to do it the ugly way. Doncic is using roughly 29 possessions per game, but he's producing less than a point per possession and shooting under 41% from the field. He's also turning the ball over more than all but three players leaguewide.
The Mavs owned the league's best offense two seasons ago, slipped to eighth in efficiency last campaign, and sit 22nd through 10 days this season. How much longer can Doncic be asked to turn water into wine? - Casciaro
Grizzlies opponents are chasing ghosts
Over the last couple years, the league has fallen in love with "ghosting," a practice whereby a would-be screener aborts his would-be screen and darts into space while the defense is still sorting out its ball-screen coverage. It's akin to "slipping," but typically pertains to shooters popping above the break rather than dive men veering toward the rim. And it's particularly effective against schemes that defend ball screens by switching or showing high.
Ghosting has been particularly ubiquitous this year. We've seen the Kings do it regularly with Harrison Barnes, the Sixers with Furkan Korkmaz, the Knicks with Evan Fournier, and the Blazers with Robert Covington, among many others. But no team ghosts more frequently, or with more fun variation, than the Grizzlies, surprise owners of basketball's fifth-ranked offense. With the dynamic Ja Morant handling the ball and dangerous movement shooters in Jaren Jackson Jr. and Desmond Bane flanking him, they tend to have a lot of success discombobulating defenses with those actions.
Jackson is a threat to launch a quick-trigger three as the ghost screener, but we've also seen him flow directly into a big-big pick-and-roll with Brandon Clarke, or into a dribble-handoff for Bane:
The Grizzlies also like to have Bane ghost the initial screen out of a Horns Flare setup, with a big man at the opposite elbow setting a flare screen for him on the pop. On the play below, Bane's ghost cut disoriented the Lakers enough to get Morant a step on Avery Bradley, while Westbrook retreated to Bane up top. Recognizing that Morant's drive was going to pull in help, Xavier Tillman abandoned his flare-screening duties and cut toward the basket, where Morant hit him with a lay-down pass for a dunk:
The purpose of ghosting is to sow confusion at the point of attack, where a split-second of indecision or miscommunication can be a defense's undoing. That's particularly deadly when the ball-handler has a first step as explosive as Morant's. - Wolfond
The rooks can play
If the first couple of weeks of the season are any indication, the 2021 draft class has a chance to be an all-timer. No. 1 overall pick Cade Cunningham hasn't even suited up yet and No. 2 pick Jalen Green has struggled to score efficiently, but the collective talent, upside, and NBA-readiness of this year's crop of rookies is a rare spectacle to behold.
Evan Mobley and Scottie Barnes, in particular, have been revelations thus far.
Mobley has terrorized opponents who dare test a jumbo Cavaliers frontcourt that pairs him with Jarrett Allen. The rookie has posted better early rim-protection metrics than Joel Embiid and Myles Turner while showing the mobility and versatility to hound smaller players in space.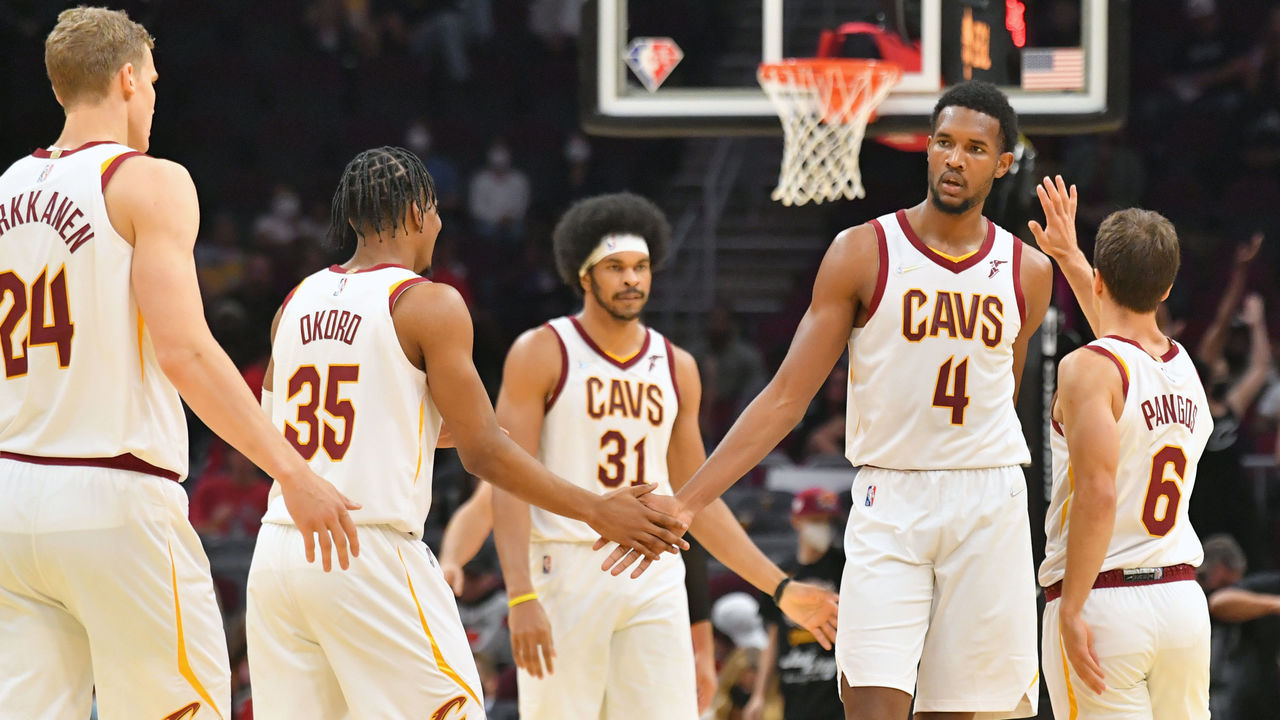 Barnes already looks like one of the league's strongest and most frustrating wing defenders, but what sets him apart is that the 6-foot-9 playmaker - whose individual offense was supposed to be a work in progress - is averaging 17.7 points on 60% true shooting.
Mobley and Barnes might have legitimate cases to be the first rookies since Tim Duncan to earn All-Defensive team honors.
Elsewhere, 19-year-old No. 6 pick Josh Giddey already looks like the perfect, do-it-all backcourt mate for Shai Gilgeous-Alexander in Oklahoma City, while 13th pick and "old" rookie Chris Duarte is averaging 18.7 points and shooting 40% from deep on nearly seven long-range attempts per game. - Casciaro
Miles Bridges, self-creator extraordinaire
Six games into the season, Miles Bridges is your extremely early front-runner for Most Improved Player. It isn't just the 23-year-old's scoring leap - from 12.7 to 25.5 points per game - but the manner in which he's now amassing his points that's astonishing. I mean, where did this off-the-bounce juice come from?
Bridges had a mini-breakout last season, but he did so while primarily playing as a small-ball big. He was still, by and large, a dependent scorer who did the bulk of his damage on cuts, transition leakouts, and dives out of the pick-and-roll. So far this season, he's been much more of an archetypal wing creator; a slasher who can also manufacture his own shot and who's comfortably launching threes off the dribble. For now, he's supplanted Gordon Hayward as the go-to scoring option on a Hornets team with the league's fourth-ranked offense.
He's pulling off the rare and difficult feat of dramatically upping his usage rate (from 17.2% to 25.6%) with basically no dip in efficiency (62.2% true shooting, down from 62.5%). To do that while also nearly doubling his rate of self-created 2-point baskets is hugely impressive.
Can he keep it up? Maybe not quite to this degree. But it's not like he's subsisting on outlier hot shooting. Bridges' 3-point percentage is actually down slightly from last season. The fact that he's doubled his free-throw attempt rate while most stars are seeing theirs dry up, and is still getting to the rim a ton despite now having to get himself there much more frequently, bodes very well for his ability to sustain some semblance of this incredible start. - Wolfond
New York's modernized offense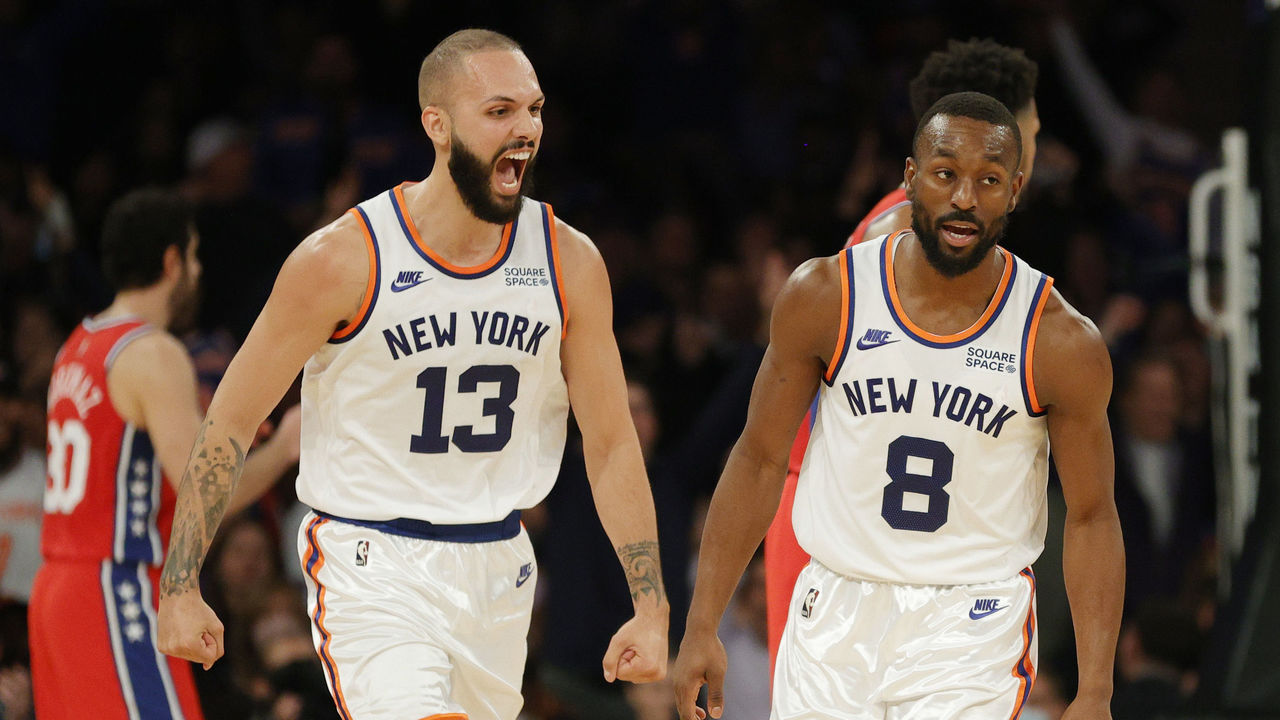 The Knicks scraped their way to a shocking No. 4 seed last season on defensive effort, Julius Randle's star turn, and an unsustainable string of shooting luck on both sides of the floor.
Through five games this season, coach Tom Thibodeau's team isn't resting on its offensive laurels, as New York's attack looks much improved and much more befitting of modern basketball.
The Knicks ranked in the top seven in the percentage of their shot attempts that came from mid-range and long 2-point territory last season. So far this campaign, only two teams have attempted a lower share of their shots from those inefficient areas of the floor. In addition, New York has jumped from 24th in 3-point attempt rate last campaign to sixth this season.
The Knicks can still do a better job of getting to the rim, but trading in a sizable chunk of long twos for threes is a big part of why they jumped from 22nd in offensive efficiency last season to fourth this campaign.
Don't discount the talent upgrade here, either. Evan Fournier and a late-career Kemba Walker may not have been the 2021 free-agency coup Knicks fans envisioned, but having them replace Elfrid Payton and Reggie Bullock is a seismic offensive backcourt enhancement. - Casciaro
Minnesota's stunning defensive turnaround
There have been plenty of impressive defenses on display early in the season - Miami's looks particularly terrifying - but none have been as surprising, or shown as much improvement, as Minnesota's.
After finishing 28th in defensive rating last year, the Timberwolves have rocketed up to third so far this season, having allowed 15.5 fewer points per 100 possessions than they did in 2020-21. Electric sophomore Anthony Edwards would tell you that ranking doesn't even do the Wolves justice; he thinks they defend better than any team in the league.
It's worth investigating just how the Wolves are doing this, given that they didn't make any sweeping offseason changes.
For one thing, the team's core three of Karl-Anthony Towns, Edwards, and D'Angelo Russell are all defending with more effort and focus. And that trio is getting plenty of support from Minnesota's defensive-minded role players, namely Jaden McDaniels, Josh Okogie, Patrick Beverley, and Jarred Vanderbilt.
The other factor at play is that head coach Chris Finch has revamped the Wolves' defensive scheme, bringing Towns up to the level of the screen in pick-and-roll coverage while emphasizing aggressive ball pressure and frenetic help rotations. McDaniels, in particular, has been key to making that scheme work thanks to his incredible instincts, length, and ability to cover ground while playing in the gaps.
Swarming ball pressure does have its downsides: The Wolves rank dead last in defensive rebound rate and 23rd in opponent free-throw rate, and they're surrendering more corner threes than any team in the league. But they're weathering those issues in large part because they're turning opponents over at the league's second-highest rate. (That defensive profile should sound very familiar to anyone who followed last year's Raptors, the team that employed Finch as an assistant before Minnesota snapped him up midseason.)
The Wolves lead the league in combined steals and blocks per game with 19.3, two more than any other team. While those counting stats are limited descriptors of overall defensive quality, they do speak to an extremely high activity level, which is a welcome change for a team that's been pretty lifeless at that end of the floor in the Towns era. It's genuinely disorienting watching the Wolves fly around like maniacs, with everyone including the long-maligned Russell making timely rotations, helping the helper, and plugging holes on the weak side.
Some regression is almost certainly in store. The Wolves have played a soft schedule and their opponents have shot just 28.6% from long range, including 27.8% on wide-open threes. If or when that regression does hit, there could be some uncomfortable questions about whether the team's offense, which currently ranks 22nd, can withstand big minutes from complete non-threats like McDaniels and Okogie - who've combined to average 5.8 points on 8-of-26 shooting and 2-of-12 from deep.
For now, though, the vibes in Minny are immaculate. - Wolfond
Leastern Conference no more
It's obvious the Eastern Conference is vastly improved this season. The absences of Kyrie Irving and Ben Simmons make the Nets and 76ers more vulnerable in the short term, but Brooklyn can still win a title without Irving if Harden finds his footing, and Philly figures to resolve the Simmons situation at some point. Antetokounmpo and the defending champion Bucks, meanwhile, look better than ever. Miami can compete with anyone on any given night. The Hawks are built to win now and in the future.
If those five teams play up to their capabilities, that means only one automatic playoff berth is left for grabs for a team like New York, Boston, or much-improved Chicago. And that's assuming those clubs can even hold off talented upstarts behind them.
The Wizards have been the league's most surprising team so far this season, with wins against Atlanta, Boston, Toronto, and Indiana already banked. The Cavs and Raptors could be two of the most improved teams by season's end, especially if Pascal Siakam is effective when he returns to Toronto's lineup. LaMelo Ball's Hornets might be the most exciting team to watch right now. A Pacers team that features Domantas Sabonis, Myles Turner, and Malcolm Brogdon, under the tutelage of Rick Carlisle, really might be the 13th-best team in this conference.
Only Orlando and Detroit look like nightly pushovers, and even the Pistons are sure to get a boost from Cunningham's eventual arrival, plus the recent return of Jerami Grant.
The real story of the suddenly competitive East is that for the first time since before the turn of the century, it looks like the NBA's better and deeper conference. Through 10 days of action, East teams are 9-5 in inter-conference play, while four of the league's top six teams by net rating - and 10 of the top 16 - reside in the East. - Casciaro
A leaguewide offensive downturn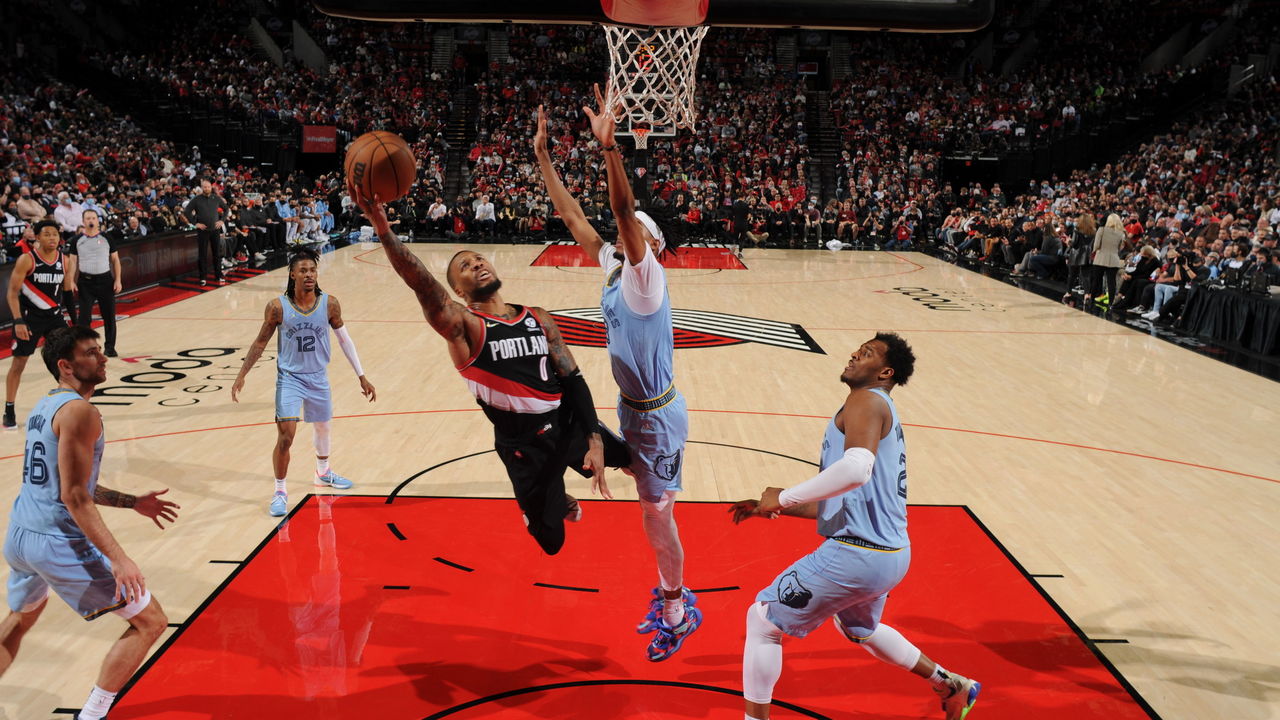 After shattering all manner of offensive records last season, the NBA has collectively seen a significant dip in scoring efficiency so far. By Basketball-Reference's metric, the league's average offensive rating is just 106.8 right now, down from its all-time high of 112.3 in 2020-21. Utah's league-leading mark (114.8) would've ranked 10th a season ago. Even accounting for the fact that offense tends to start slow and improve as the season progresses, that's quite a plunge.
The reinterpreted rules on shooting fouls, which have helped produce the league's lowest free-throw attempt rate in history, surely has something to do with that. There's also been a decline in jump-shot accuracy, with the average 3-point percentage falling from 36.7% to 34.3% and true shooting from 57.2% to 54.7%. Those two things probably have at least some correlation. It makes sense that with offensive players no longer being rewarded for initiating contact via unnatural shooting motions, defenders have been emboldened to get more aggressive about taking away space.
There's also a chance that playing in full, raucous arenas is having a psychological effect on jump shooters who spent much of last season firing away in empty or sparsely populated gyms.
Want one more possible explanation? Famed trainer Drew Hanlen suggests that the league switching its official game ball from a Spalding model to a Wilson has also had a profound impact. Despite the new ball being composed of the same materials as the old one, Hanlen believes the change could be behind some of the shooting slumps we've seen from marksmen such as Damian Lillard and Devin Booker.
Whatever the reason, or combination of reasons, it seems like the NBA's scoring boom may have hit a crescendo, and that the league could finally be moving back toward a more equitable balance between offense and defense. - Wolfond
Comments
✕
10 observations from the first 10 days of the NBA season
  Got something to say? Leave a comment below!