Sizing up the NBA's title contenders: Part 3
Dynasties often rule the NBA, but we're in an era of championship parity, in which six different teams have contested the last three Finals. This year, once again, features an uncommonly deep field of title contenders. Over the next three days, we're breaking down the reasons to believe in those contenders and the reasons to doubt them.
In Part 1, we looked at the league's five most obvious championship hopefuls. Part 2 examined the Eastern Conference's second tier. In Part 3, we explore a trio of West teams facing major injury questions.
Golden State Warriors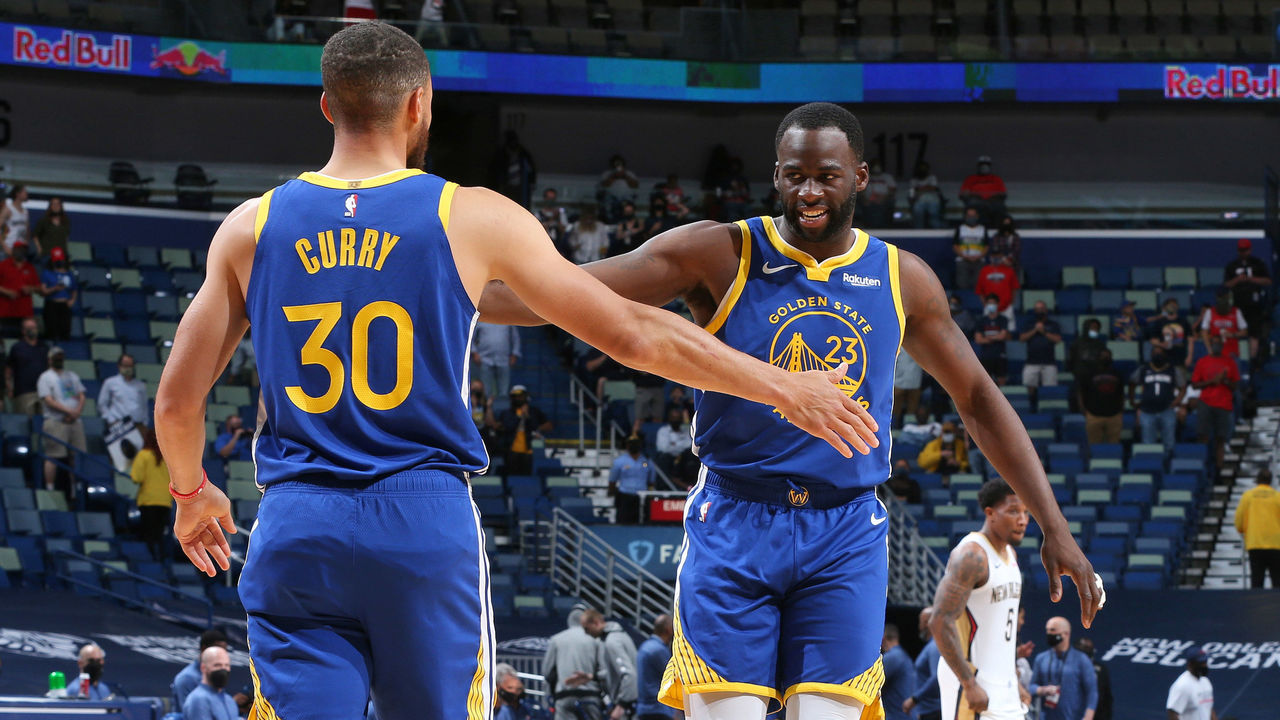 Reasons to believe: The Warriors' 2020-21 season ended without a proper playoff berth thanks to two heartbreaking losses in the play-in tournament, but the campaign was full of encouraging developments: Mainly, Steph Curry proved he's still an MVP-level offensive engine and Draymond Green proved he's still a diabolical disruptor capable of anchoring a top-five defense.
With Klay Thompson due back sometime in the first half, Jordan Poole poised to take another major step forward, newly acquired Otto Porter Jr. looking rejuvenated, and James Wiseman unlikely to be as shambolic as he was during his difficult rookie campaign, this should be a considerably better offense than the unit that Curry's otherworldly shooting and off-ball gravity could only drag to 20th in the league last season. Meanwhile, the defense should remain stout. With a good deal more shooting on the roster, it'll be much harder for opposing defenses to throw double- and triple-teams at Curry and get away with it.
For all Green's playmaking genius, his limitations as a scorer became problematic given what the Warriors needed from him. Because he couldn't prop up bench units or create his own advantages, he had to play virtually all of his minutes next to Curry. The Warriors instead relied on Poole to keep their transitional lineups afloat, so Poole and Curry played just 221 minutes together - which was a pity, because the team outscored opponents by 17.9 points per 100 possessions in those minutes.
If Thompson returns looking anything close to the player he was before his injuries, even on a minutes restriction, he'll significantly increase the amount of time Curry gets to play alongside another elite movement shooter and decrease the importance of Green's offensive flaws. The thought of replacing all of Kelly Oubre's minutes with a near-peak version of Thompson should have every Warriors fan salivating. So should the fact that this team is well-positioned to swing a blockbuster trade, with three lottery picks from the last two drafts on the roster and all but one of its own future first-rounders in hand.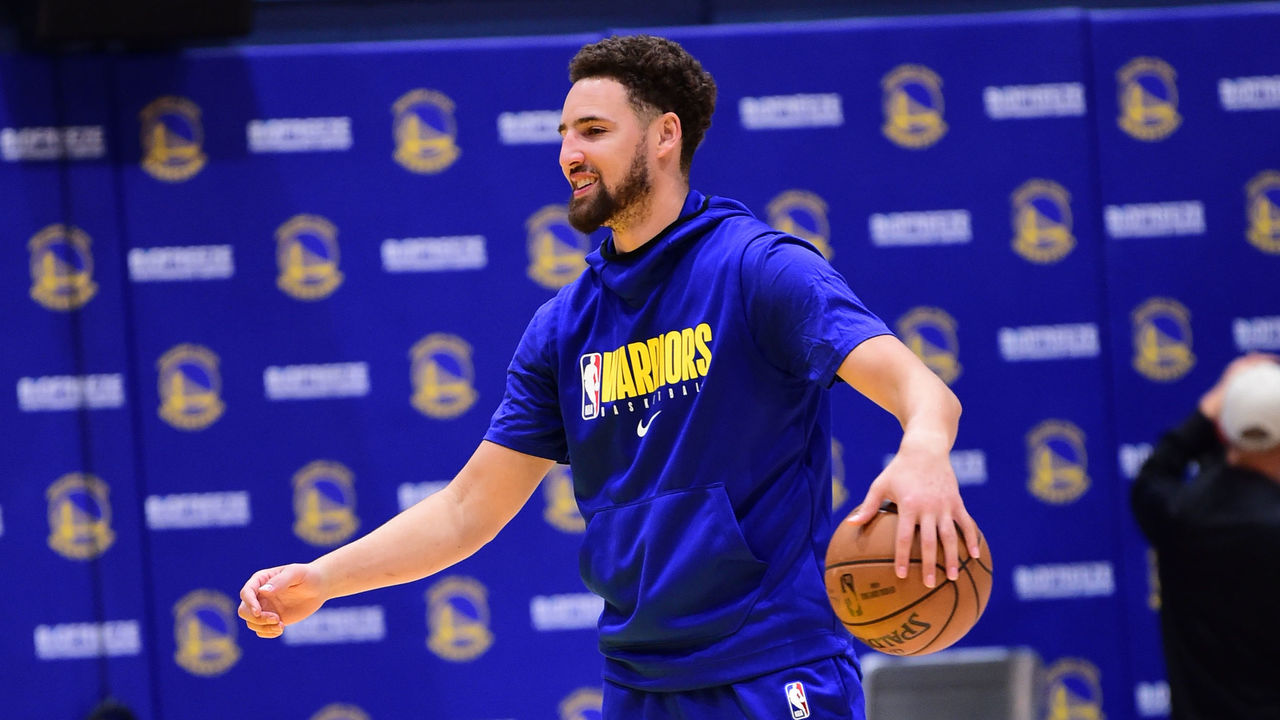 Reasons to doubt: How much can Thompson realistically be expected to contribute after suffering two major lower-body injuries and going two-and-a-half years between NBA games? If his off-ball movement and defense are compromised, the Warriors will run into a lot of the same issues they had last year, even if the jumper holds up.
Poole's development is encouraging, and Andrew Wiggins showed real growth last season, but otherwise, Golden State will be entirely reliant on either unproven young players or aging vets with injury histories and major regression potential. Any slippage from Curry (who'll turn 34 this season) or Green (who'll turn 32 and has already started to decline physically), and this team could crater on either side of the ball. Depth is still very much a concern.
Since Wiseman may need to be brought along slowly, Green will likely have to log fairly regular minutes at the 5 for the Warriors to be at their best. How much longer can he do that at a high level? What happens if this team runs into Nikola Jokic (or even Deandre Ayton) in a playoff series?
There also figures to be plenty of tension between the core's ambitions of competing now and management's apparent desire to develop the nucleus of the future, as well as between coach Steve Kerr's movement-heavy read-and-react principles and the need for some of those young players (like Wiseman) to find their footing in simplified sets.
There are just a few too many question marks here to feel confident in Golden State's ability to get back to the top of the heap. - Joe Wolfond
Los Angeles Clippers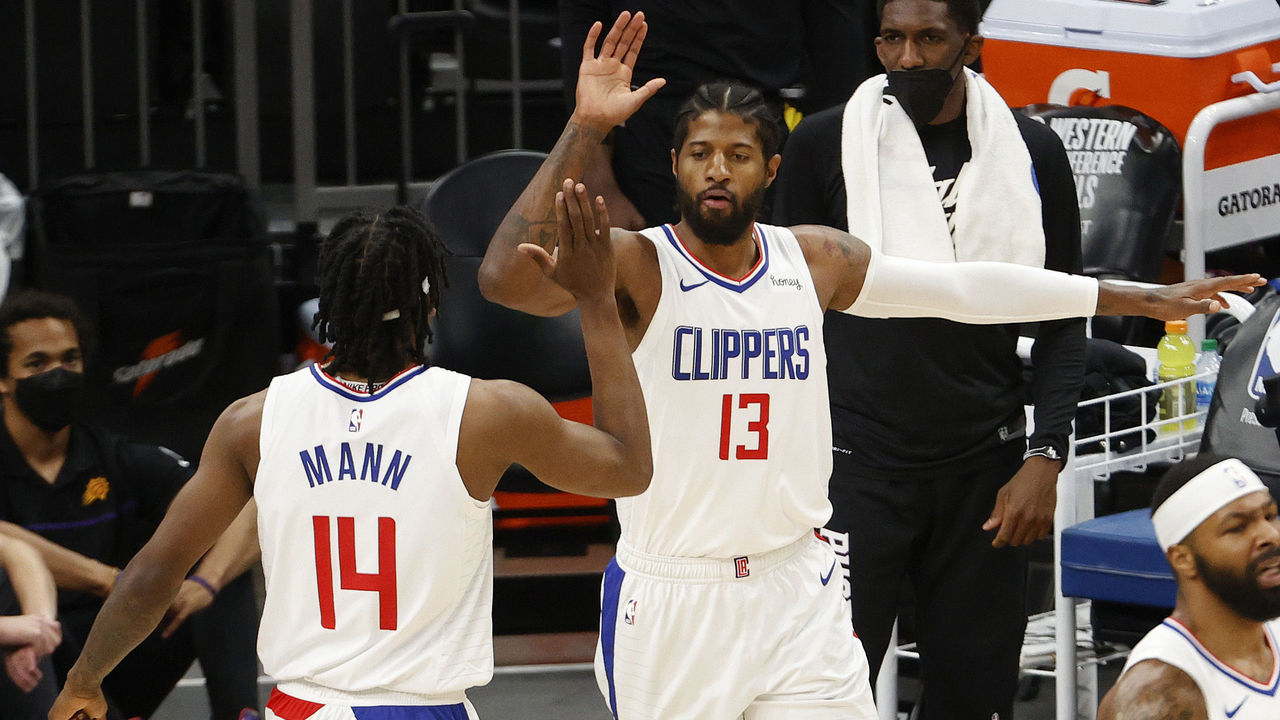 Reasons to believe: If Kawhi Leonard returns to the court and is in peak Playoff Kawhi mode by the time the postseason rolls around, the Clippers are fine.
That will be especially true if Leonard joins a resilient team that avoids the play-in tournament and qualifies for the playoffs proper thanks to an MVP-caliber season from Paul George, further development from Terrance Mann and Ivica Zubac, and a steady campaign from Reggie Jackson. Getting a bounce-back season from Eric Bledsoe would also give the Leonard-less Clips more off-the-bounce pop than anticipated.
Reasons to doubt: After inspiring, heroic runs from Jackson and Mann during the 2021 playoffs, resulting in the Clippers' first-ever trip to the West finals, L.A.'s background players could very well come crashing back to earth.
If that's the case, this supporting cast might be exactly what we thought it was (not great) before stunning us all last postseason, especially if Serge Ibaka fails to stay healthy again. As for Bledsoe, the more realistic scenario might be that he loses a step and further fades into a shadow of the player he once was.
Most importantly, it's far from certain whether Leonard returns at all this season. If Leonard sits out all year and the Clippers don't get some over-their-heads play from that aforementioned supporting cast, George may look around and find himself teleported to his last days in Indiana. At that point, PG would just be trying to drag an overmatched team to the play-in. - Joseph Casciaro
Denver Nuggets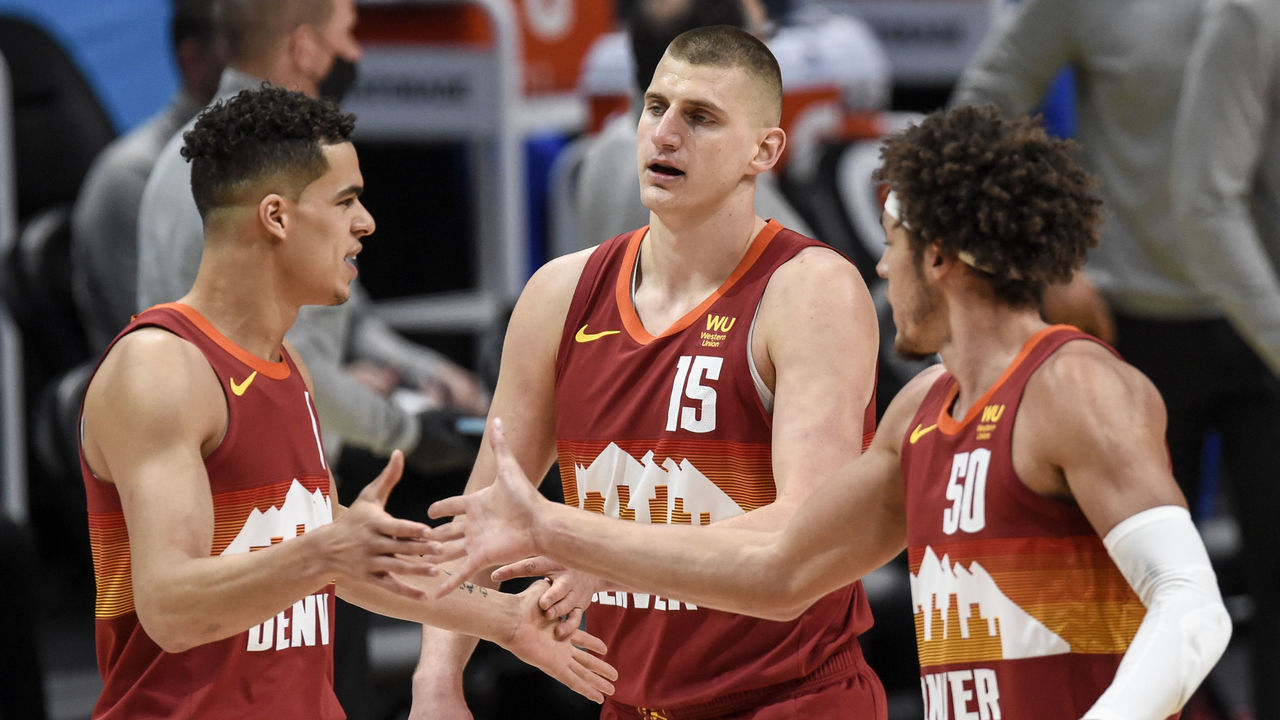 Reasons to believe: Though last season ended in a dispiriting sweep to the eventual West champs, the fact that the Nuggets went 16-8 (with a 116 offensive rating) without Jamal Murray in the regular season, and then knocked off a pretty good Trail Blazers team in the first round while starting Facundo Campazzo and Austin Rivers in the backcourt, is proof that Denver will remain a force to be reckoned with while Murray recovers from a torn ACL.
Having the reigning MVP certainly helps, especially when said MVP never gets injured. Nikola Jokic is basically an elite offense unto himself - a dominant three-level scorer who makes everyone he plays with a viable offensive weapon thanks to his league-best passing ability and vision. He also hasn't missed a game in more than two years, and on average, he's missed about three games per season since entering the league six years ago. In each of those seasons, excepting Jokic's rookie campaign, the Nuggets have finished top seven in offensive efficiency.
Even without Murray, the team's pieces fit together beautifully. Michael Porter Jr. is a killer off-ball complement to Jokic and one of the league's best pure shooters, coming off a sophomore season in which he posted a ridiculous .542/.445/.791 split. The newly extended Aaron Gordon demonstrated after a midseason trade how well he fit the team's style on both sides of the ball; he slotted in perfectly as a floor-runner and slot-cutter on offense while shoring up the defense as both a one-on-one perimeter stopper and a back-line helper behind the team's aggressive pick-and-roll coverage.
Will Barton and Monte Morris offer just enough on-ball juice to spell Jokic from time to time. Rookie Bones Hyland looks capable of stepping in and helping in that regard as well. And offseason signing Jeff Green, a hybrid stretch-big who can roll or pop, should do wonders for Denver's lineup flexibility and second-unit spacing. Murray or no Murray, the Nuggets can absolutely finish above the play-in fray, and possibly even snag home court. And if he's back come playoff time, there's no reason they can't be the West favorite they appeared to be before he got injured.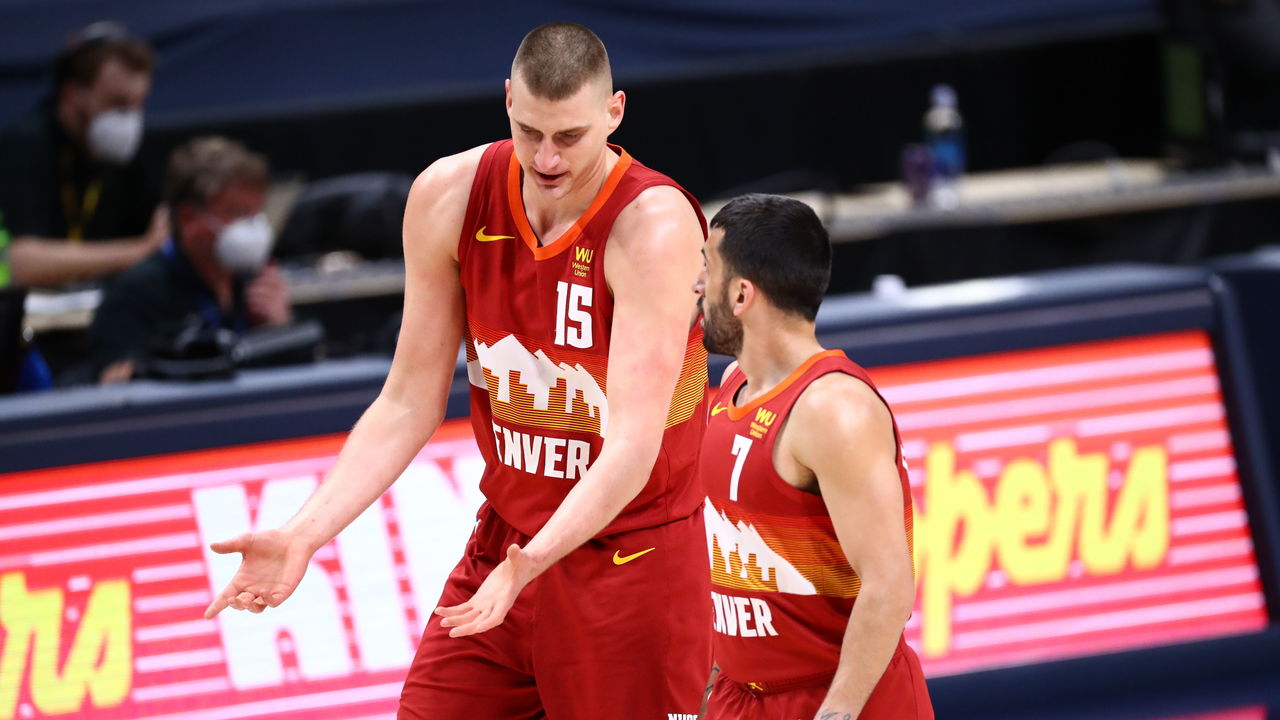 Reasons to doubt: There's no question the Nuggets can remain a competent team in Murray's absence, but to contend for a title, they need him back and operating near the peak of his powers. That feels like a lot to ask of a player whose game is predicated on movement and who'll be coming off a devastating knee injury, especially since he'd have little to no runway before the playoffs. Murray should be fine long term, but it's as likely as not that he returns in a limited capacity this season, or not at all. In that case, this team doesn't have enough shot creation outside of Jokic to be a real postseason threat.
Jokic effectively functions as a 7-foot point guard, but to be at his most effective, he needs to be able to start some possessions away from the ball. He needs actual guard-size players around him who can initiate and generate advantages and siphon away defensive attention. Jokic is excellent off the ball, but Denver can't take full advantage of those skills without a dual scoring/playmaking threat playing on the ball.
The Nuggets have complementary players who can score (Porter) and pass (Campazzo) at elite levels, but none who can do both. Although Porter has defense-bending gravity as a movement shooter, he's yet to prove he can be much of a playmaker or pick-and-roll operator. He logged a grand total of 40 shooting possessions as a pick-and-roll ball-handler last regular season and six in the playoffs.
Much as Gordon helped stabilize the Nuggets' defense, they're still going to be average at best on that end. They're small and flimsy at the point of attack, their second-best healthy player gets hung up on screens and frequently blows help rotations, and their center is such a poor rim-protector that their scheme pulls him away from the basket by design. Denver's opponents shot 68.5% in the restricted area last season, the highest mark in the league. That is to say: The offense will have to carry this team, and, in a Murray-less world, that puts too much on Jokic's shoulders. We saw that when he completely ran out of gas against the Suns last postseason. There's a good chance we'll see it again. - Wolfond
Comments
✕
Sizing up the NBA's title contenders: Part 3
  Got something to say? Leave a comment below!