NBA free agency: Breaking down every significant deal from Day 1
Julio Aguilar / Getty Images
Though new contracts can't be signed until Friday, the NBA's free-agency negotiation period is officially open. Here, theScore's NBA feature writers, Joseph Casciaro and Joe Wolfond, analyze every significant deal reportedly agreed to on Day 1.
Heat acquire Kyle Lowry in sign-and-trade (3 years, $87M) for Goran Dragic, Precious Achiuwa, 2nd-round pick
The Heat got their man, and all it really cost them was money.
OK, that's not entirely true. Achiuwa is a moderately intriguing prospect, and Dragic has been a huge part of the fabric of this team for a while. But Lowry is a massive addition who addresses the team's biggest roster needs, and by turning the deal into a sign-and-trade rather than taking him into space, the Heat can operate as an over-the-cap team with access to the full mid-level exception.
On top of being a seamless fit with the team's standard of maniacal work ethic, Lowry's playmaking and pull-up shooting should do wonders for an offense that was stuck in mud for most of last season. Miami became too dependent on Bam Adebayo as an offensive hub, which often left him to try and create something from nothing when teams snuffed out their split cuts and dribble-handoffs. Lowry's a killer off-ball mover and screener who can thrive in that motion offense, but he can also simplify things when necessary and give the Heat a more dynamic pick-and-roll element. He'll make Adebayo's life a whole lot easier.
Of course, giving three fully locked-in years at $30 million per to a 35-year-old is not a risk-free gambit. But with Jimmy Butler likely approaching the tail end of his prime and the league's competitive landscape fairly wide-open, it behooves the Heat to go all-in on the present. At worst, adding Lowry should take them to the fringe of contention.
It's hard to judge the deal from the Raptors' side without knowing what they'll wind up doing with Dragic, but it would be a bit head-scratching for them to go this route without a third team to take him on, as opposed to letting Lowry walk and getting to play with near-max cap space. Is Achiuwa really worth punting on a big free-agent pursuit? - Joe Wolfond
Heat extend Jimmy Butler (4 years, $184M), re-sign Duncan Robinson (5 years, $90M), sign P.J. Tucker (2 years, $15M)
Miami was by far the busiest team Monday: in addition to landing Lowry, the Heat also added P.J. Tucker, handed Jimmy Butler a max extension, and brought back sharpshooter Duncan Robinson. Re-signing veteran center Dewayne Dedmon plus pleasant surprises Max Strus and Gabe Vincent also helps fill out a roster in flux as we await the details of the sign-and-trade for Lowry.
A five-year, $90-million deal for Robinson might sound steep, but shooting remains at an absolute premium on the open market, and Robinson has emerged as one of the best shooters - and most dangerous off-ball players - on the planet. At 27, his prime is now locked up in Miami.
Tucker's about spent on the offensive end, where he provides little value, but he remains a game-changing defender who played a key role in the Bucks' second-round victory over Brooklyn, en route to Milwaukee's first championship in a half-century. For a team that's once again all-in like Miami, two years and $15 million is a fair price to pay for Tucker, who will combine with Lowry and Butler to make the Heat the fiercest and most physically taxing team to play against.
I don't quite understand the rush to pay Butler. Sure, the two-way star could opt out of his deal a year from now, and the Heat surely don't want to give Butler a reason to feel wronged after his experiences in Chicago, Minnesota, and Philadelphia, but if Miami competes as expected this season and presented Butler with a fair offer next summer after spending to surround him with more talent this summer, would he really be a flight risk? Miami obviously didn't want to risk finding out the answer to that question, and Pat Riley's Heat like to remind the NBA the franchise takes care of its own after contractual issues with Dwyane Wade a few years ago. Still, committing an extra $181.1 million to Butler through his age-36 season didn't seem pressing.
In any event, there's no denying the Heat are wholly committed to winning big in the short term, and if Butler helps deliver the next championship to South Beach, the extension will be considered a bargain. - Joseph Casciaro
Bulls acquire Lonzo Ball in sign-and-trade (4 years, $85M) for Tomas Satoransky, Garrett Temple, 2nd-round pick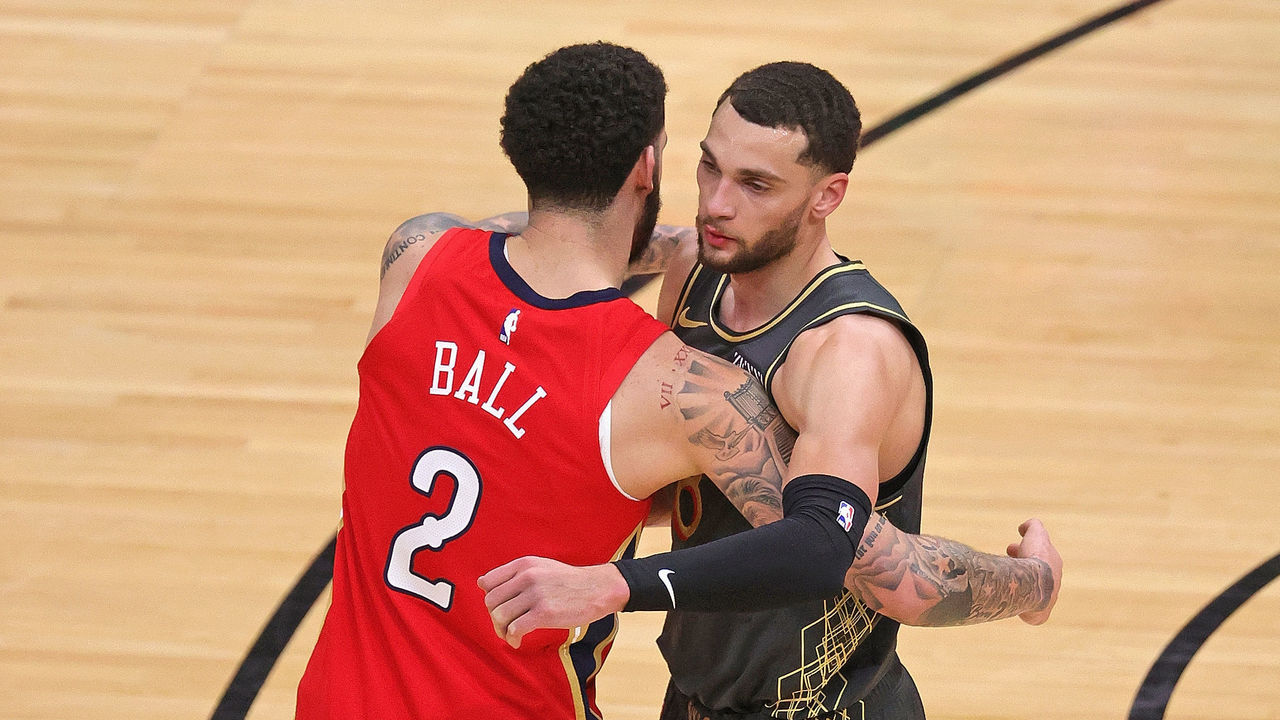 Chicago is giving Ball the Malcolm Brogdon/Fred VanVleet contract in a sign-and-trade with New Orleans. That's a pretty steep price tag based on his career production to date (he certainly isn't that caliber of player yet), but it's a bet on continued improvement from the 23-year-old, and a worthwhile gambit for a Bulls team that's in win-now mode and can really use the unique skill set Ball brings to the table.
His plus passing helps address one of Chicago's biggest offensive weaknesses, and his disruptive help defense should help shore up what was a pretty leaky unit last season. Meanwhile, his limitations as a scorer, self-creator, and half-court initiator shouldn't matter quite so much on a team with Zach LaVine and Nikola Vucevic.
Though he'll compound the Bulls' struggles getting to the rim and the free-throw line, Ball is an excellent connector who shot 40.2% on catch-and-shoot threes last season. He should fit nicely as a spot-up threat and secondary playmaker next to LaVine, while goosing Chicago's transition attack. - Wolfond
Pelicans acquire DeVonte' Graham (4 years, $47M) in sign-and-trade for 2022 1st-round pick (lottery protected)
I'm a little lower on the Pelicans' end of this three-team sign-and-trade web, even though I'm intrigued by the idea of Graham in New Orleans. For a team that reportedly came into this free agency period harboring hopes of luring a star lead guard like Chris Paul or Lowry, it's pretty disappointing to see it make at best a lateral move in the backcourt while shelling out a first-round pick.
You could argue Ball's limitations would've prevented him from ever being a long-term fit with Zion Williamson and Brandon Ingram, but his open-court playmaking will be sorely missed, and the team feels a bit less interesting without him. That said, Satoransky and Temple are solid in their roles (Satoransky is kind of like a Lonzo Lite), and Graham's ball-handling and volume 3-point shooting - especially his ability to shoot off the bounce - should pair nicely with the roll gravity and interior scoring prowess of Williamson and Jonas Valanciunas. We'll see if that's enough to get the Pelicans into the playoffs.
Graham's contract on its own is certainly fair value, though the inclusion of the pick might tilt this deal toward an overpay in totality. Good on the Hornets, who are set in the backcourt with LaMelo Ball and Terry Rozier, for recouping a first-rounder. - Wolfond
Knicks sign Evan Fournier (4 years, $78M), re-sign Derrick Rose (3 years, $43M), Nerlens Noel (3 years, $32M), Alec Burks (3 years, $30M)
Well, the Knicks are back, but not in the way Amar'e Stoudemire intended back in 2010, or the way Tom Thibodeau and Co. planned for after a stunning rise last season.
Under president Leon Rose and general manager Scott Perry, New York had mostly operated with an un-Knicks like level of poise and patience in team building, but Thibodeau and the front office may have bought into last season's surprising performance too heavily.
Viewed individually, none of their re-signings are gross overpays. Noel was tremendous defensively, especially in the absence of Mitchell Robinson. Burks shot better than 41% from deep. Rose played some of the most efficient ball of his career off the bench for New York after a midseason trade from Detroit, and has transitioned into becoming one of the league's better reserve scorers.
But giving all three multiple-year contracts was completely unnecessary, and the chances the trio all perform up to the value of their new contracts is slim to none, especially in the cases of Rose (33 when next season starts) and Burks (30). Rose, Noel, and Burks earning under $19 million combined last season was fantastic value for an overachieving team. Expecting approximately $35 million per year of on-court value out of the trio over the next few years is fool's gold.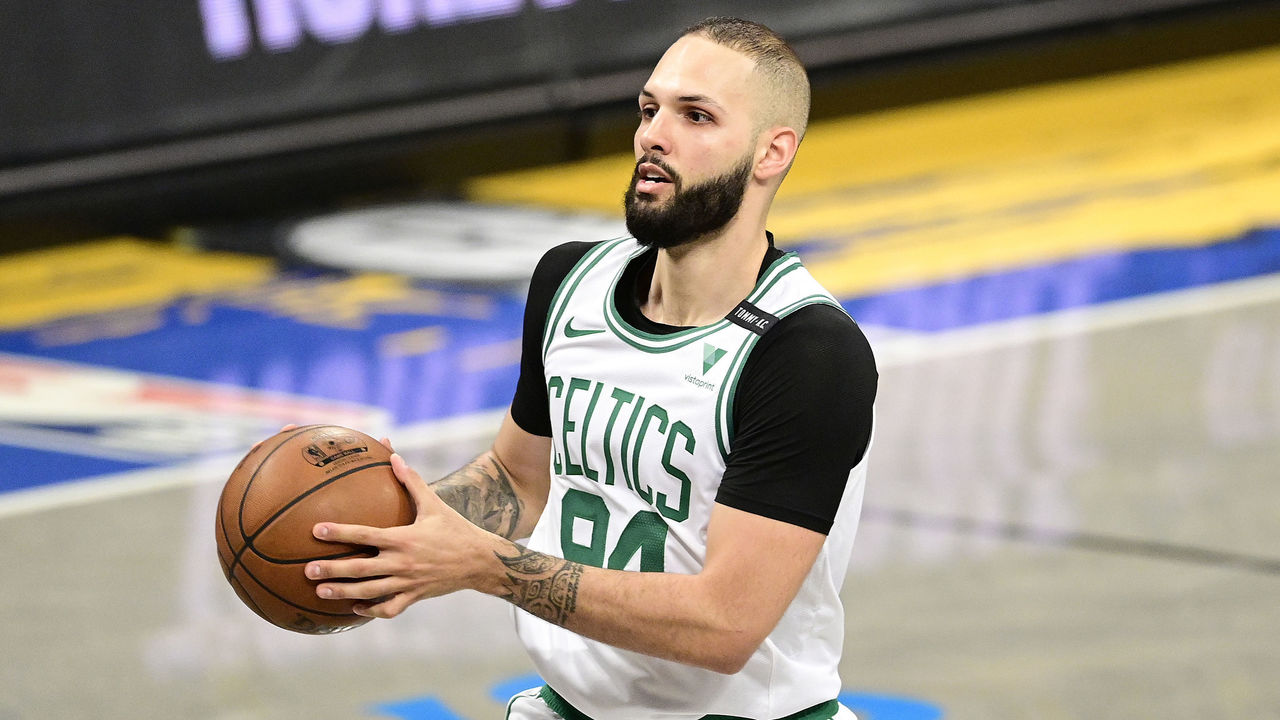 The Knicks didn't have to spend the cap space they'd previously protected if there weren't true difference-makers to be had, yet adding Fournier to the mix at an average of $19.5 million per year indicates they felt compelled to do just that. The Frenchman is a great shooter who can score in bunches and serve as a competent third option behind Julius Randle and RJ Barrett, but this team spent too much money without moving the needle an equivalent amount.
Even if the Knicks were to move Barrett and most of the team's young talent for Damian Lillard, a team led by Dame and Randle would now have much less flexibility than originally expected. And if the team comes crashing back to earth this season without making such a splash, remember that Randle's slated for 2022 free agency. - Casciaro
Jazz re-sign Mike Conley (3 years, $72.5M)
Given the way the rest of the market for veteran point guards shook out, this is great value for the Jazz, who retain a player they couldn't afford to lose.
Conley had a huge bounce-back in his second year in Utah, honing his pick-and-roll chemistry with Rudy Gobert to a fine point and becoming arguably the biggest driver of the league's third-most efficient offense. He shot the lights out from deep, took advantage of Gobert's roll gravity by dining out on floaters and skip passes to the corners, and gave the team a much-needed dose of ball-handling and playmaking next to Donovan Mitchell, If he'd been healthy in the second round, it's possible the Jazz would've won the West.
Of course, Conley wasn't healthy, and therein lies the sole point of concern here. He'll be 34 by the time next season starts, and 37 by the time this contract is up. He's missed 46 games to injury over the last two years. The durability questions are legitimate, and will likely only get louder over the life of this deal. Still, given the two-way value Conley brings, and the relatively modest price tag for that level of offensive creation, it's a more than worthwhile risk for a Jazz team that's desperate to get over the postseason hump and had no conceivable way to replace Conley's production. - Wolfond
Suns re-sign Chris Paul (4 years, $120M) and Cam Payne (3 years, $19M), sign JaVale McGee (1 year, $5M)
The reigning Western Conference champs retain their point-guard depth, while signing a competent backup center to replace Frank Kaminsky and fill in for the injured Dario Saric. Ho hum. It's obviously a massive commitment to Paul, who stands to make over $30 million in his age-40 season (though there are reports that the final year of the deal is non-guaranteed). But it shouldn't come as much of a surprise after he declined his $44-million player option for this season.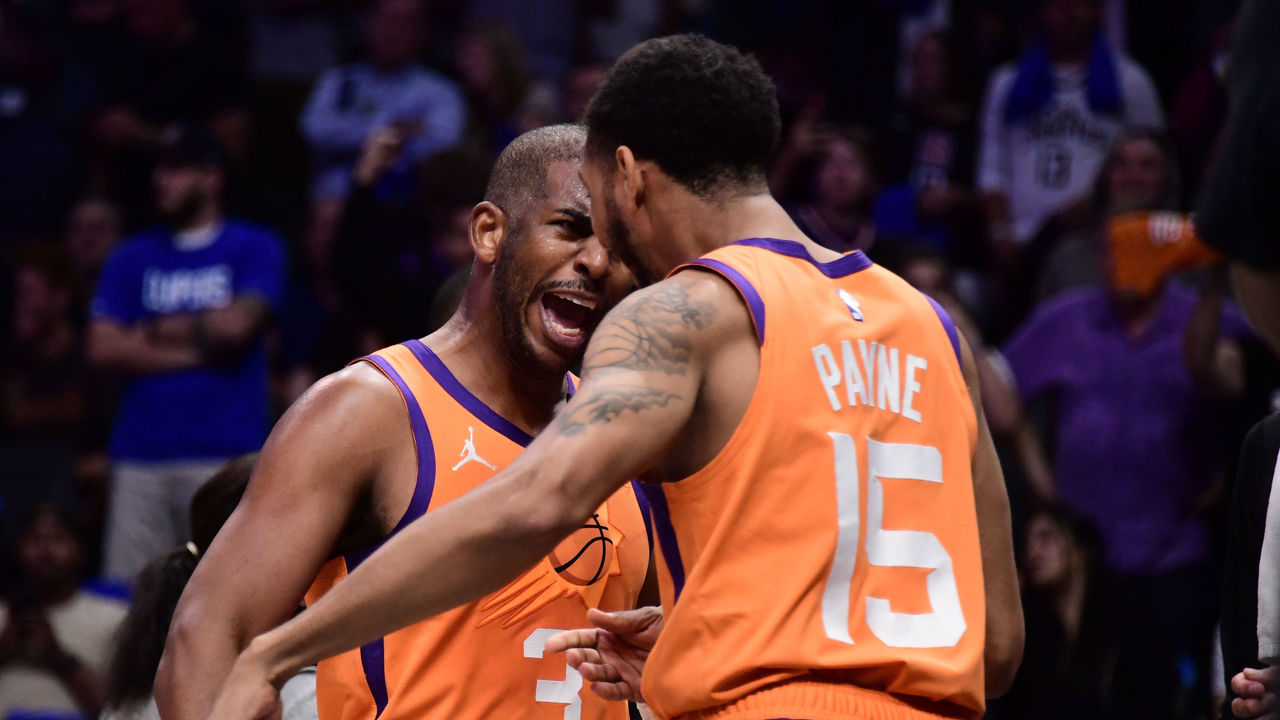 There's some downside risk and potential opportunity cost here, given how appealing Phoenix might've been as a free-agent destination now or in the near future. But while they could've signed a younger free agent to pair with their young core, they couldn't have signed a better one. Plus, with extensions potentially coming for Deandre Ayton and Mikal Bridges, that window may never even have opened. Paul remains an elite offensive organizer and still maybe the game's best mid-range shooter. It would've been tough to say goodbye to him after the heights he helped lead the Suns to after they spent a decade wandering the desert. Re-signing him was their surest path to staying in the title mix for the next two or three years.
Meanwhile, keeping Payne at this price is an absolute heist. This dude just averaged 20 minutes a game for a Finals team and came up with some huge performances in big spots along the way. He has his limitations as a creator and defender but this feels well below market value for a guard who can penetrate and shoot the way Payne can. Perhaps some allegiance to the team that rescued his career played a part. - Wolfond
Mavs re-sign Tim Hardaway Jr. (4 years, $74M), Boban Marjanovic (1 year), sign Reggie Bullock (3 years, $30.5M), Sterling Brown (2 years, $6.2M)
Dallas didn't make the type of splash with its cap space that I envisioned when I advocated for the Mavericks pursuing the likes of DeMar DeRozan, Tucker, and Otto Porter, but they quietly had a solid day.
Hardaway's emerged as Luka Doncic's most consistent supporting cast member, averaging better than 16 points per game while shooting better than 39% from deep over his first two full seasons in Dallas. Though his defense leaves something to be desired, at 29, Hardaway would've received this payday from someone had the Mavs not ponied up, and the team actually did well to keep one of its core pieces in place on what should be a surplus-value deal, especially in its early stages. After earning just under $19 million last season, Hardaway's reported first-year salary on his new deal - and the average salary - will actually amount to a pay cut.
In Bullock, the Mavs acquired an improved perimeter and wing defender who shot 41% from deep last season, and a player who can create offense both off the dribble and off the catch. At just over $10 million a year, Bullock checks a lot of boxes for Dallas at a reasonable price.
The Mavs will eventually need to make a big move to truly give Doncic the opportunity to contend for titles, but they've spent money wisely so far this offseason without sacrificing a ton of future flexibility. - Casciaro
Lakers sign Dwight Howard, Kent Bazemore, Trevor Ariza, Wayne Ellington to 1-year deals
Howard remains a serviceable backup center, and the Lakers will hope he provides the same type of defensive stability and rebounding that helped them win a championship a couple of years ago, while Bazemore and Ellington provide a shooting boost to a contending team that desperately needs it. Add in the return of Ariza - who looked cooked at times last season but remains, at worst, a capable defender with some shooting pop at 36 years old - and it doesn't seem like a bad start to free agency for L.A.
Unfortunately, the team hasn't yet done enough to replace the defensive contributions of Kentavious Caldwell-Pope and Kyle Kuzma, who were traded for Russell Westbrook. Losing Alex Caruso in free agency only further compounded the Lakers' defensive losses.
As presently constructed, the Lakers would enter the season with more star power, but perhaps a less functional roster with much less defensive upside than the one that finished tops in defensive rating last season. The fact they're reportedly banking on Bazemore filling a "major" role isn't encouraging. - Casciaro
Cavs re-sign Jarrett Allen (5 years, $100M)
After trading a first-rounder to acquire him, it always seemed likely Cleveland would go to great lengths to retain Allen. Even after the Cavs drafted big man Evan Mobley third overall, Allen can be a building block for a team that's quietly crafted one of the most intriguing young defensive cores in the league. Between Allen, Mobley, Larry Nance, and Isaac Okoro, the front office has flanked the small-ish backcourt of Collin Sexton and Darius Garland with a ton of size, toughness, and smarts. Allen is only 23 and already one of the league's better rim-protectors - he held opponents to 53.7% shooting at the rim last season.
The fit concerns will start to creep in at the other end. Mobley should have a versatile enough offensive package to slot in at the 4 in some lineups, but Allen's presence will limit what he can do as a rim-runner and post scorer when the two share the floor. And for as much defensive value as Allen can bring, history suggests that bigs who can't shoot or handle the ball or manufacture buckets in the post become difficult to play in the postseason. There's still time for Allen to develop those parts of his game, but those realities coupled with the team's stake in Mobley's development make it feel very possible that Allen winds up finishing this contract out with a different team. - Wolfond
Trail Blazers re-sign Powell (5 years, $90M), sign Cody Zeller (1 year)
The five-year term is a bit much, but retaining Norman Powell at an average salary of $18 million is fine value for the Blazers, who traded the younger (pending RFA) Gary Trent Jr. for (pending UFA) Powell at the trade deadline.
Given the team's current predicament - capped out, with limited assets in terms of young talent or draft capital - the Blazers had no chance to add a player as good as Powell without trading one of its two stars, one of whom (Lillard) they're currently trying to keep in Portland.
This remains a flawed, one-way roster with little chance of legitimate contention to satisfy Lillard, but Powell's averaged nearly 18 points per game on 48-41-86 shooting over the last two seasons. This might look like an overpay by the end of the contract, at which time the defensively overrated Powell will be 33, but the Blazers didn't have much choice.
If Zeller can ever stay healthy, he's a solid, physical big man who can score inside, pass, rebound, and sets good screens. A minimum-level gamble on the veteran was good business. - Casciaro
Kings re-sign Richaun Holmes (4 years, $55M)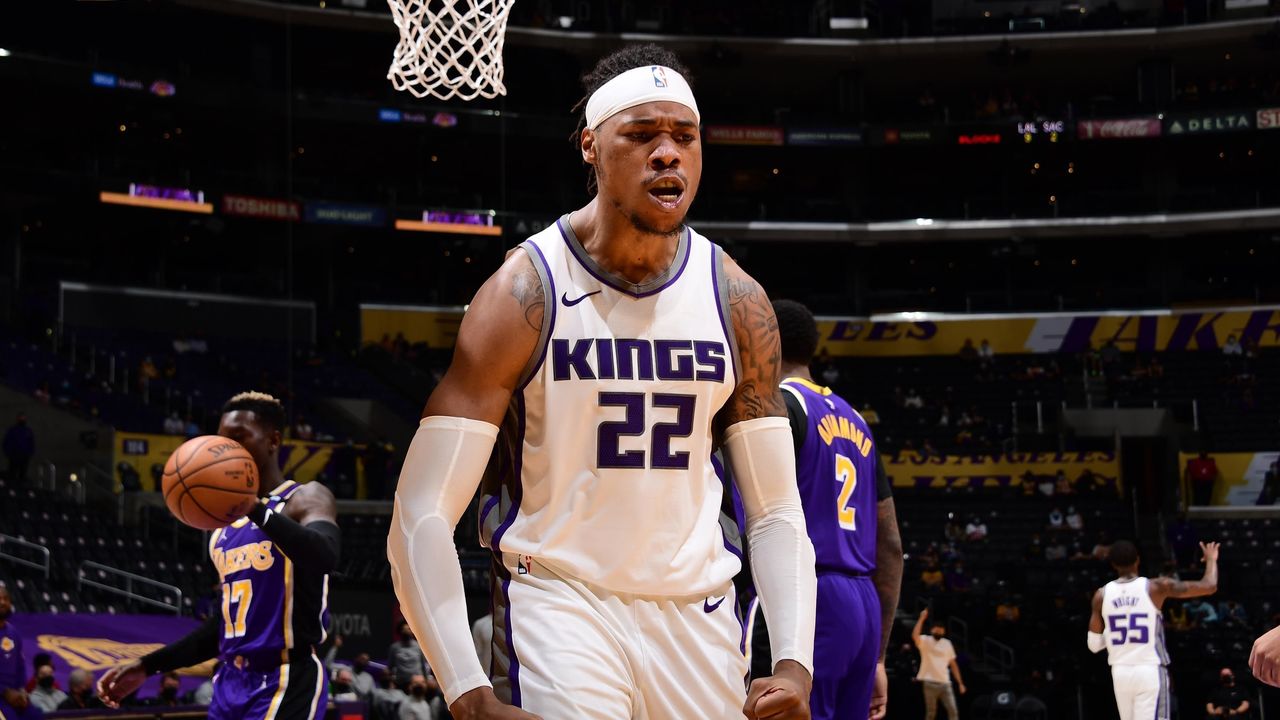 Given that the Kings only possessed Holmes' Early Bird rights, which capped what they could offer him in a deal that took them over the cap, it seemed likely that another team would outbid them. Holmes, after all, was coming off a hugely productive season in which he averaged 1.3 points per possession as a roll man, shot 61.4% on floaters, and hit nearly 80% of his free throws while playing capable back-line defense. He appeared to be one of the most coveted big men on the market.
But no suitor swooped in to best Sacramento's incentive-padded offer, which reportedly includes a trade kicker and a fourth-year player option. Those are not-insignificant concessions made in the name of dissuading other parties, but this is nothing but great news for the Kings, who are currently mired in a 15-year playoff drought. Holmes is 27 and still getting better, and he and De'Aaron Fox are natural complements who've developed a funky pick-and-roll synergy. If that playoff drought is going to end, Holmes will be a big part of the reason.
The signing does make it extra strange that the Kings decided to trade combo guard Delon Wright for washed-up big man Tristan Thompson a couple days ago, and signed center Alex Len earlier Thursday night. But that shouldn't take any of the shine off of a rare feel-good moment for the moribund franchise. - Wolfond
Raptors re-sign Gary Trent Jr. (3 years, $54M)
I doubt many people (the Raptors and Blazers included) envisioned Trent and Powell ending up with identical average salaries ($18M per year) when they were traded for each other months ago, but Trent's youth (six years younger than Powell) and shorter contract make his deal more palatable - and moveable - than Powell's would've been for a Raptors team in transition.
Trent's efficiency tailed off after a good start to his Raptors tenure, and like Powell, his defensive results have rarely matched his offensive upside, but there's no denying that upside exists. This is a 22-year-old who shot 39.7% from deep on nearly six 3-point attempts per game over the last two years, and who showed more flashes of being a multi-level scorer as a Raptor, exploding for 44 points on 17-of-19 shooting a couple weeks into his new surroundings.
Given Toronto's issues with half-court creation, the defensively capable Raptors will need that multi-level scoring to become more consistent after betting on Trent's offensive potential. - Casciaro
Nets re-sign Blake Griffin to 1-year deal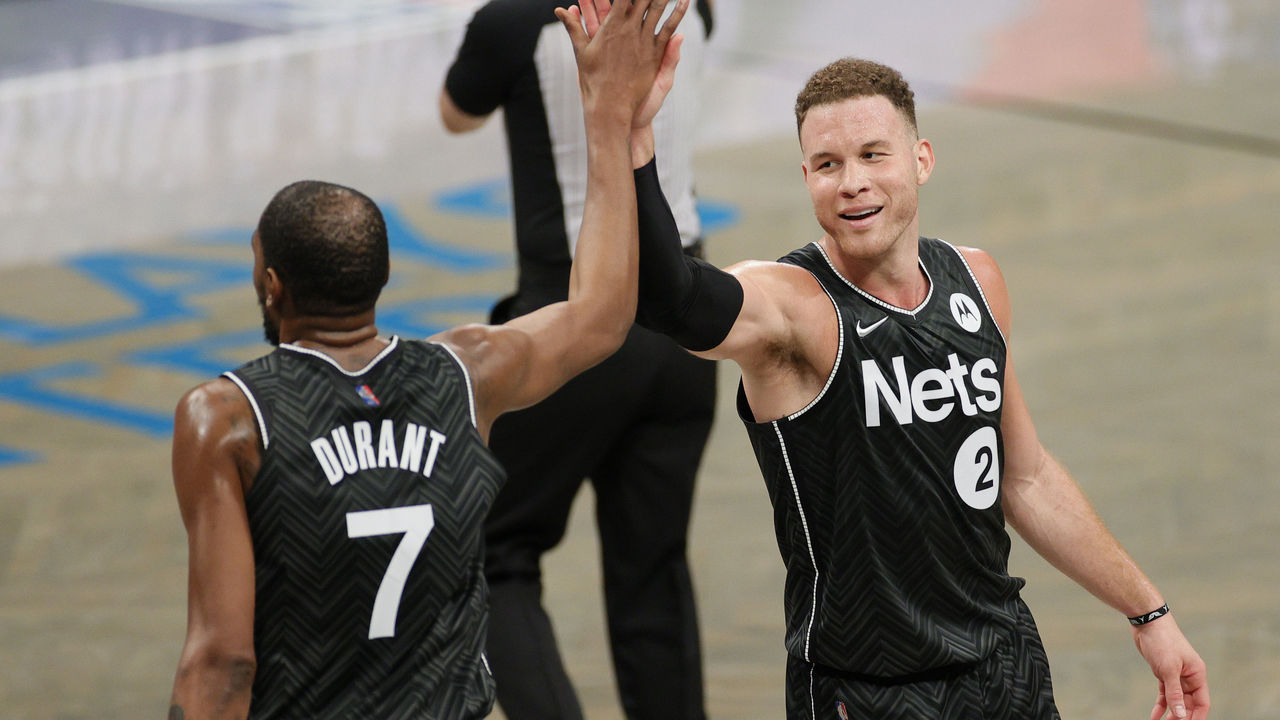 The terms of Griffin's deal haven't been reported, so it's unclear whether he signed for the minimum or for some portion of the taxpayer's MLE. Regardless, it's great value for the Nets if they get anything resembling the Griffin they got after signing him post-buyout last season.
After buckling under the burden of being a lead creator in Detroit, Griffin proved very adept at playing off of the gravity of Brooklyn's stars. With a significantly reduced workload, a buffet of open threes, and plenty of opportunities to cut behind a preoccupied defense from the weak side, he put up 61% true shooting in the regular season and 63.4% in the playoffs. He also played his best defense in years, often as a small-ball center.
Offering that lineup flexibility while stretching the floor and sprinkling in some cuts and high-post playmaking is all the Nets really need from him. If last season was any indication, that's a perfect role for him at this stage of his career. - Wolfond
Nuggets re-sign Will Barton (2 years, $32M), JaMychal Green (2 years, $17M), Austin Rivers (1 year), sign Jeff Green (2 years, $10M)
Denver retained Will Barton and JaMychal Green on short, somewhat team-friendly deals, while bringing Austin Rivers back after the veteran guard filled in admirably for the injured Jamal Murray.
Signing Jeff Green likely means the end of Paul Millsap's time in Denver, but getting Green at half of Millsap's 2020-21 salary is great value for the Nuggets. While he may not be able to replicate what he did in an ideal role with the star-studded Nets, Green's evolved into a versatile forward who can anchor small-ball lineups on the defensive end in a pinch, and shot better than 41% from deep on nearly four 3-point attempts per game last season.
If Murray returns to form in time for the 2022 postseason, the Nuggets will once again be poised to contend. - Casciaro
Bulls sign Alex Caruso (4 years, $37M)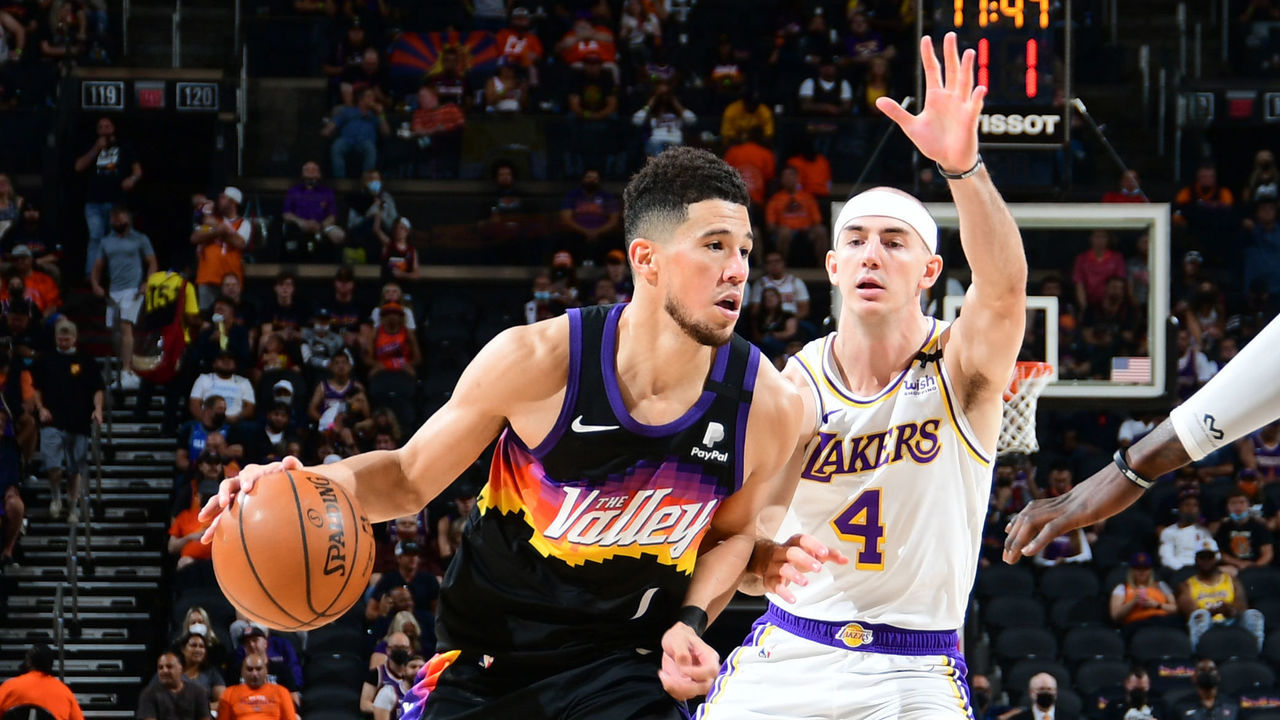 The Bulls badly needed to improve last season's point-of-attack defense - doubly important with Vucevic arriving and playing exclusively in a drop - and they've taken a big step toward addressing that need here. Because, man alive, can Caruso defend at the point of attack. He's a great screen navigator, has quick hands, reads passing lanes brilliantly, and excels in rear-view pursuit. The counting stats make this deal look like a reach, but for Chicago's purposes it's really not.
On top of his defensive acumen, Caruso made some real strides at the offensive end last season. He looked more comfortable handling the ball and creating for others, and hit 40.1% from deep (albeit on just 2.4 attempts per game). He'll have a role to play on the Bulls regardless, but if that shooting is real he can be a real impact contributor. - Wolfond
Pistons sign Kelly Olynyk (3 years, $37M), Cory Joseph (2 years, $10M), Trey Lyles (2 years, $4M)
Detroit's low-risk free-agent acquisitions won't make headlines, but the Pistons did well to add some shooting and high-IQ veterans around their young core and new lead ball-handler: No. 1 overall pick Cade Cunningham.
Olynyk, especially, is a great get for the Pistons, after the big man - known more for his shooting, playmaking chops, and defensive smarts - showed more individual creation than ever before during his brief stint in Houston following the trade deadline.
In securing the services of this Canadian trio, Detroit made Cunninghgam's job a little easier, took some pressure off the team's youngsters, and paid a paltry price to do it, as even Olynyk's contract contains a third-year team option. - Casciaro
Pacers re-sign T.J. McConnell (4 years, $35M), sign Torrey Craig (2 years, $10M)
This is a lot of money for a reserve, but McConnell was one of the best backup point guards in the league last season - the definition of a spark plug for the Pacers. He consistently gave them a jolt with his frenetic energy off the bench, whether he was hounding opponents for 94 feet and forcing turnovers in the backcourt, creating drive-and-kick looks with his dribble penetration, or hitting an incredible 54% of his pogo-stick mid-range jumpers. Maybe Indiana could've driven a harder bargain, but McConnell probably could've gotten mid-level money elsewhere, and with no cap space, it's not like the Pacers had a better way to spend that money.
Craig is a similarly unsexy but useful signing for the mini mid-level. Indiana has been light on quality wing defenders for a while, and while Craig's offensive limitations will cap his playing time, he'll come in handy in certain matchups. Because of their cap situation, the Pacers were never going to be a big player in free agency. If they do anything splashy this offseason, it'll be on the trade market. - Wolfond
Spurs sign Doug McDermott (3 years, $42M), Zach Collins (3 years, $22M)
I mean, sure?
McDermott had a sneaky-good season with the Pacers last year, continuing his evolution from 3-point specialist into well-rounded scorer with high-level cutting instincts and great finishing touch around the basket. Collins should theoretically still have some untapped potential, if he can ever get healthy. It's just … for a combined $21 million a year, what does this really amount to for a team in the Spurs' position? What are they even trying to do?
If the plan is to reset, why not use this space on young players with legitimate upside? They could take a swing at a RFA like Lauri Markkanen, who might be undervalued. If the plan is to remain competitive, I'm not sure McDermott on this contract plus a guy who can't stay on the floor is doing much for them.
In fairness, the Spurs do still have some space to play with. Maybe their vision will make sense when the dust fully settles. For now, it's hard to see it. - Wolfond
Rockets sign Daniel Theis (4 years, $36M), re-sign David Nwaba (3 years, $15M)
Though he's not a stretch-big, Theis has quietly become one of the league's most underrated big men; an interior bully who beats teams up inside and sets good screens for teammates. He's also a solid defender who offers some frontcourt versatility and switchability. An average salary of $9 million is fine (and moveable) for the 28-year-old, and I'm not as concerned as others with how Theis fits alongside Christian Wood and 16th overall pick Alperen Sengun. Even if he's more naturally suited to play center, Theis can play the 4 if needed beside one of Houston's younger bigs.
Nwaba has his offensive challenges, but he's a capable and committed defender who will outwork almost anyone. His positive energy is the type of attitude needed around a young team that will once again struggle to win games this season, and the third-year team option makes bringing him back a pretty easy decision. - Casciaro
Bucks re-sign Bobby Portis (2 years, $9M)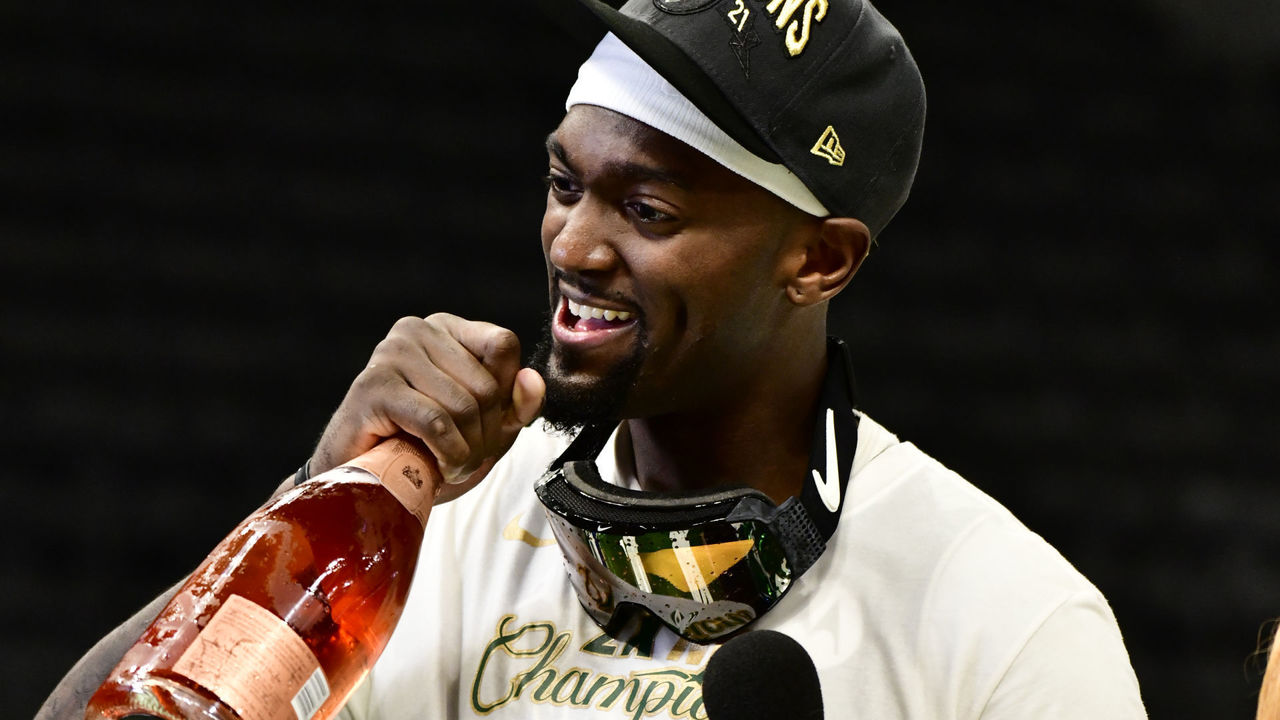 It's shocking that Portis signed for so little after seemingly rebuilding his value in Milwaukee and coming through with some massive moments to help the team to a championship. There were almost certainly richer offers out there for him.
The only logical explanation is that Portis was dead set on remaining in Milwaukee. Without possessing his Bird rights, this was the most the Bucks could offer him, but having him for another year means they'll have his Early Bird rights next offseason. The deal features a player option for Year 2 that will allow Portis to opt out and re-sign with the Bucks for more money and more term. Any way you slice it, his willingness to sign this deal is a huge stroke of fortune for a cap-strapped team that needs to find as much value as possible on the margins.
Even if it feels like Portis is selling himself a bit short, his desire to stay in the place where he rebuilt his career and became a champion is understandable. Here's hoping the partnership keeps paying dividends. - Wolfond
Clippers re-sign Nicolas Batum (2 years)
Batum's return from the basketball dead was a revelation for the Clippers and the NBA at large last season, as the versatile Frenchmen found his shooting stroke, and a healthier Batum was moving much better on both ends of the court than he had been in years.
After an impressive defensive season that also saw him shoot 40% from deep and appear in 86 games between the regular season and playoffs, the only surprise is that Batum settled for a reported minimum deal to remain in Los Angeles. Perhaps the ring-less veteran knows something we don't about Kawhi Leonard's eventual availability this season. - Casciaro
Warriors sign Otto Porter (1 year, vet minimum)
Golden State may have claimed one of the best value signings of the day by nabbing Porter on the minimum. That is of course contingent on him staying healthy, something he hasn't been able to do in any of the last three seasons. But a fully operational Porter is close to the platonic ideal of a 3-and-D wing.
Such a thing likely doesn't exist anymore. Pervasive injuries have sapped his speed and limited his side-to-side mobility as a defender. But Porter's still a knockdown shooter with the size and smarts to capably handle most defensive assignments on the wing. He can still drive a closeout effectively, and make productive passes on the move. Those are essential skills for this Warriors team, particularly if Kelly Oubre lands elsewhere in free agency. Even if the injury issues persist, there's no real risk here for Golden State. - Wolfond
Comments
✕
NBA free agency: Breaking down every significant deal from Day 1
  Got something to say? Leave a comment below!