Vindicated Giannis returned to Milwaukee to win the 'hard way'
Barry Gossage / National Basketball Association / Getty
Giannis Antetokounmpo would have been forgiven for leaving Milwaukee for greener pastures.
Antetokounmpo had watched his small market side dominate regular-season play in successive years only to come up short in the playoffs. Front office moves left something to be desired, and Milwaukee Bucks coach Mike Budenholzer was a frequent focal point of denigration and doubt.
Instead, Giannis was true to his word, and more specifically, a promise made in June 2014: "I'll never leave the team and the city of Milwaukee till we build the team to a championship level team."
Antetokounmpo penned a five-year supermax contract in the offseason, and his pledge came to fruition on Tuesday night. And from the look of things, the 26-year-old NBA Finals MVP did do it his way.
"I just couldn't leave," Antetokounmpo told reporters, courtesy of ESPN's Tim Bontemps following the 105-98 victory over the Phoenix Suns. "There was a job that had to be finished."
Consider that job finished - and in stellar fashion no less.
"Coming back, I was like, 'This is my city. They trust me. They believe in me. They believe in us.' ... Obviously, I wanted to get the job done," Antetokounmpo added after equaling Hall of Famer Bob Pettit's record with a 50-point performance in a Finals closeout game.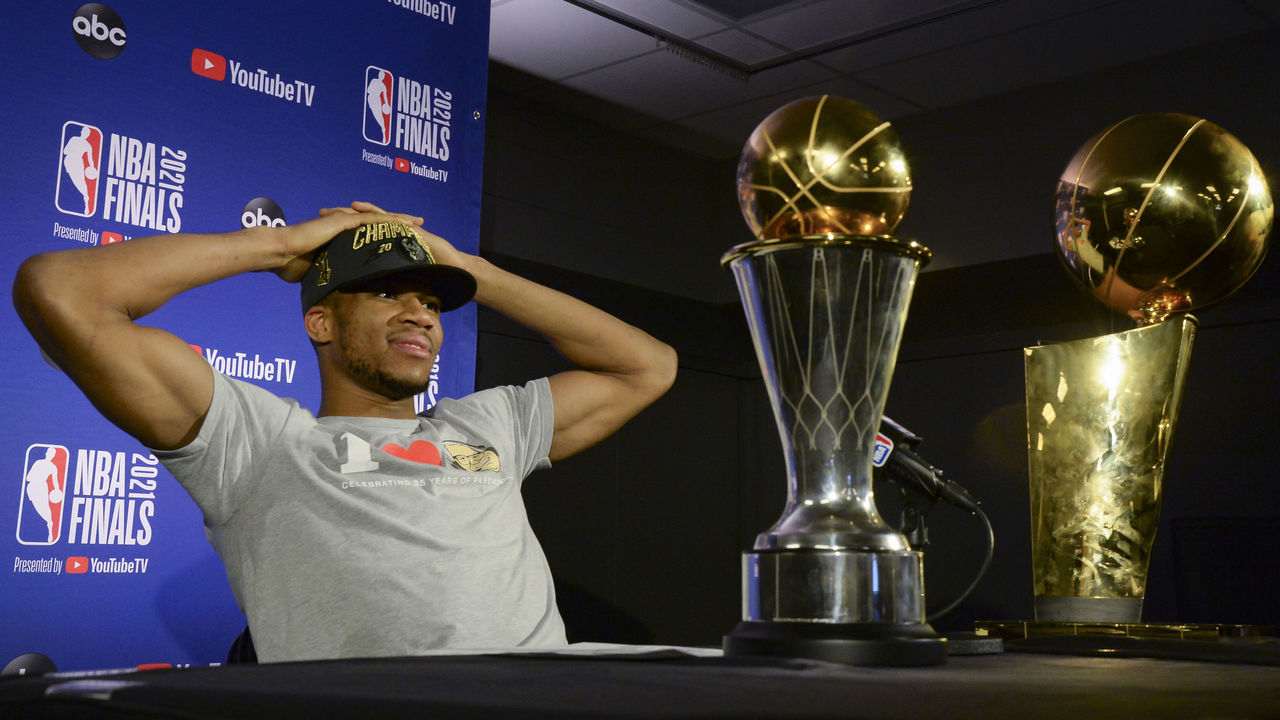 "But that's my stubborn side. It's easy to go somewhere and go win a championship with somebody else. It's easy. ... I could go to a super team and just do my part and win a championship," the two-time NBA MVP continued.
The Miami Heat popularized the "Superteam" trend in 2010 when LeBron James joined Dwyane Wade and Chris Bosh in Miami. Then, the Golden State Warriors took it to the next level in 2016 when Kevin Durant formed basketball's version of Voltron alongside fellow All-Stars Steph Curry, Draymond Green, and Klay Thompson. The Brooklyn Nets followed suit as the competitive balance in the NBA shifted to big market teams littered with marquee stars.
"But this is the hard way to do it," an emotional Antetokounmpo added. "And this is the way to do it, and we did it. We f------ did it."
Indeed the Bucks did. And in doing so, the franchise's prized and amiable cornerstone, Antentokounmpo, dispelled many doubts.
"Don't let nobody tell you what you can be and what you cannot do. ... Just believe, man. I hope I give people around the world, from Africa, from Europe, hope that it can be done. It can be done," a triumphant Antetokounmpo added.
"Eight years ago, eight and a half years ago, when I came to the league, I didn't know where my next meal will come from," he added. "My mom was selling stuff in the street. Now I'm here sitting at the top of the top. I'm extremely blessed. I'm extremely blessed. If I never have a chance to sit on this table ever again, I'm fine with it. I'm fine with it. I hope this can give everybody around the world hope. I want them to believe in their dreams."
Comments
✕
Vindicated Giannis returned to Milwaukee to win the 'hard way'
  Got something to say? Leave a comment below!