While hoops remain on hiatus, theScore's NBA editors will be compiling ultimate starting lineups for each team in the Association. The catch: Only players who have been in the league since the 1995-96 season can be included.
The Atlanta Hawks have experienced both their longest period of futility and a degree of postseason success over the past 25 years. From 1999-2007, Atlanta never made the playoffs and recorded five sub-30 win campaigns, including a league-worst 13-69 mark in 2004-05.
The Hawks followed that period up with 10 straight postseason appearances, becoming one of four NBA teams to accomplish the feat this century. In 2014-15, the club posted its first-ever 60-win season en route to the Eastern Conference finals, marking its first time advancing past the second round of the playoffs in 48 years.
Atlanta's best lineup since 1995 will feature players from both of those eras, as well as the mid-to-late '90s when the franchise was also a yearly playoff threat.
Guards
Mookie Blaylock
Blaylock's quick hands and ball-hawking skills made him one of the most tenacious defenders at his position. From 1995-99, he earned four straight NBA All-Defensive second-team selections and led the Association in steals per game twice.
The Oklahoma product's disruptiveness made him the ideal transition threat. Blaylock could easily jump-start a fast break off a steal and thrived in the open floor with his speed. The 6-foot guard was also an effective 3-point shooter, finishing within the NBA's top three in triples made during the 1995-96 and 1996-97 seasons, respectively.
Blaylock remains the Hawks' all-time leader in steals and threes.
Joe Johnson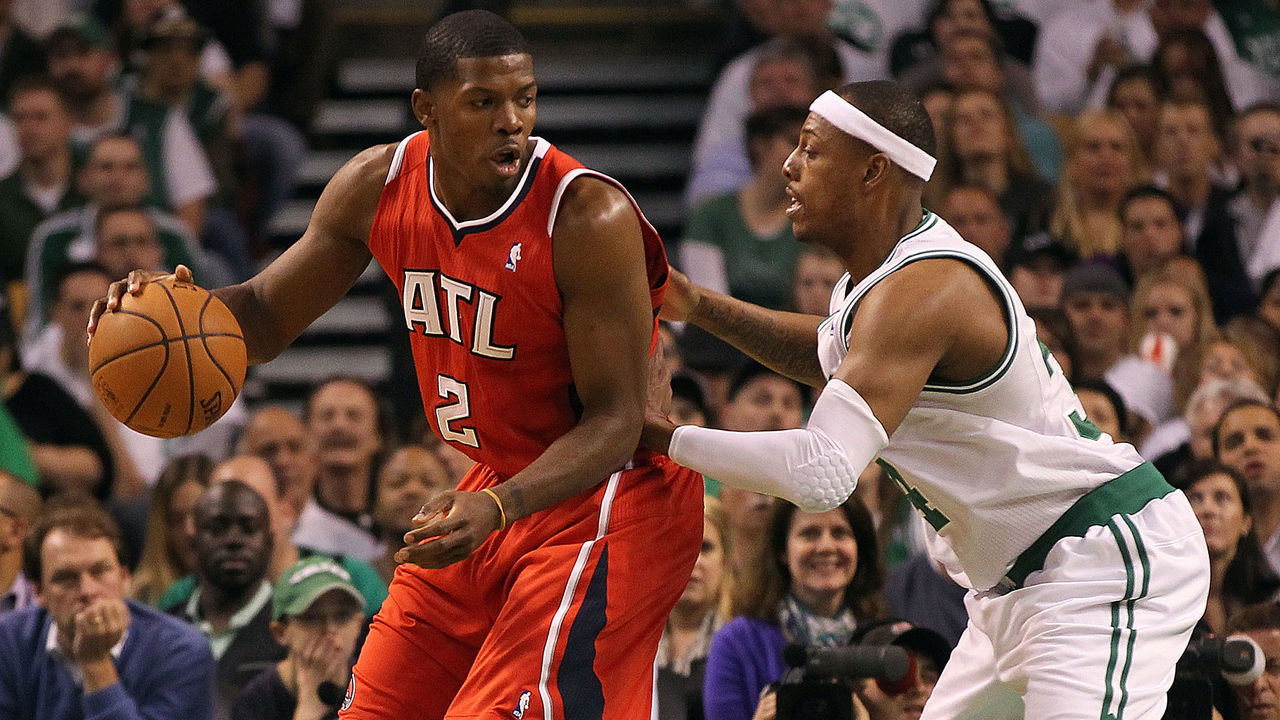 "Iso Joe" played an influential role in guiding Atlanta back to respectability. A year after posting the Association's worst record, Johnson led the Hawks to a 13-win improvement and was one of five players to average at least 20 points and six assists during the 2005-06 campaign.
The 6-foot-7 guard followed that season with six straight All-Star appearances and helped the club reach the playoffs five times. Johnson led Atlanta in scoring in each of his seven seasons, averaging 20.9 points across 508 appearances. As his nickname suggests, Johnson excelled in isolation plays, but he could also post up against smaller guards and spot up from distance.
Johnson's 10,606 points rank sixth in Hawks history, while he trails only Blaylock in 3-point field goals.
Forwards
Josh Smith
Most remember Smith for his tremendous athletic display in the 2005 Slam Dunk contest, when he scored three 50s en route to claiming the crown. But prior to Smith's moment in the league spotlight, the 6-foot-9 forward proved he was more than just a high-flyer.
Just over a month into Smith's 2004-05 rookie campaign, he became the youngest player in NBA history to register 10 blocks in a game, establishing himself as a bonafide rim-protector for years to come. Smith finished within the Association's top five in rejections per contest four times and was named to the NBA All-Defensive second team in 2009-10.
The Georgia native was also a consistent presence on the glass and developed into a reliable scorer, topping out at 18.8 points per game in 2011-12.
Paul Millsap
Millsap reached his peak in Atlanta, appearing in four All-Star Games in as many seasons. He was an elite post defender with the mobility to guard wings on the perimeter. Millsap had some of the quickest hands at his position, finishing in the 96th percentile or higher among bigs in steal percentage from 2013-16, according to Cleaning the Glass, and earning NBA All-Defensive second-team honors in 2015-16.
The 6-foot-7 forward also demonstrated his versatility on the offensive end with his playmaking and newfound 3-point stroke with the Hawks. In 2015-16, Millsap became the first player in league history to exceed 700 boards, 250 assists, 125 blocks, 125 steals, and 50 triples in one season, according to NBA.com's KL Chouinard.
Millsap holds the club's third-highest single-season mark for defensive win shares (6.0) and finished his Hawks tenure ninth in player efficiency rating (19.8), according to Basketball Reference.
Center
Dikembe Mutombo
Mutombo cemented his Hall of Fame credentials with a dominant two-way display in parts of five seasons in Atlanta. The 7-foot-2 center averaged 11.9 points on 52.9% shooting to go along with 12.6 boards and 3.2 blocks per game across 343 appearances for the Hawks. Mutombo earned his first All-NBA selection in 1997-98 and captured his first of two consecutive rebounding titles a couple of seasons later.
The legendary big man represented Atlanta four times at All-Star Weekend and twice led the Association in total swats. Mutombo also won a pair of Defensive Player of the Year awards and was bestowed the honor for an NBA record fourth time following his midseason trade to the Philadelphia 76ers in 2000-01.
In 2015, Mutombo became the third Hawks player in franchise history to have their number retired. He's second on the NBA's all-time blocks list.
Just missed
Trae Young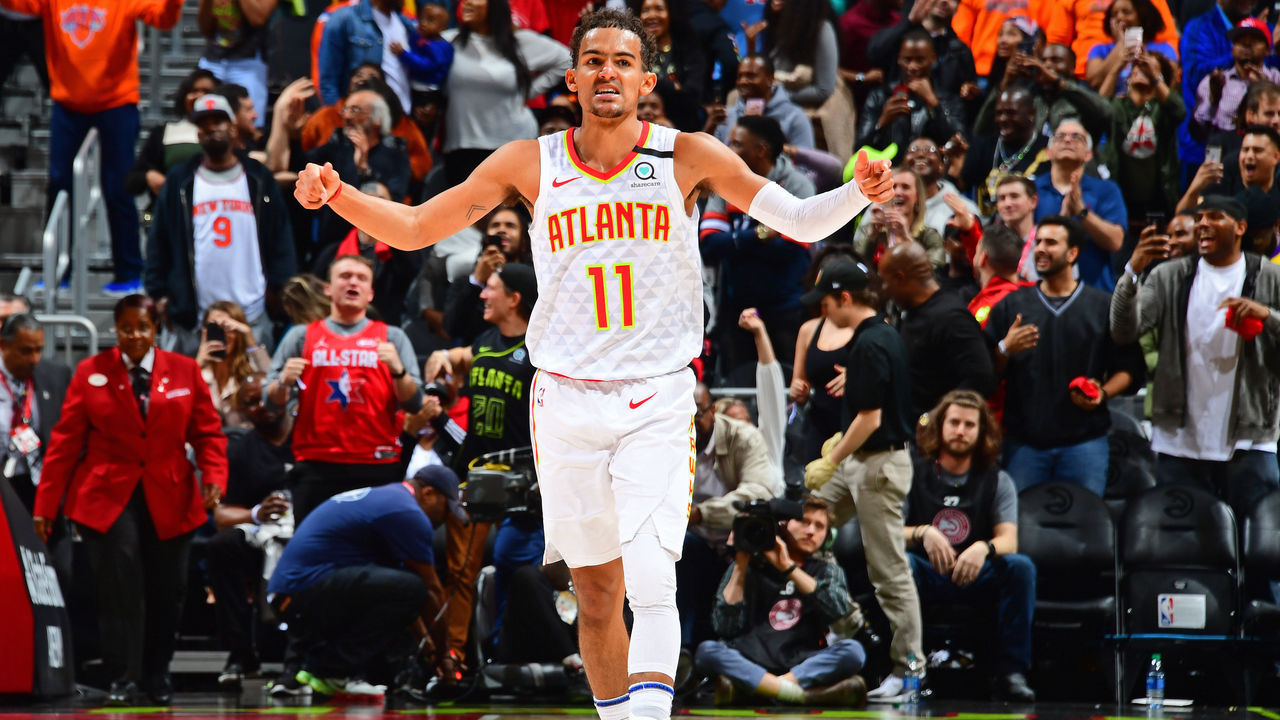 Young has a chance to be one of the best players in Hawks history if he maintains his blistering start. When the 2019-20 campaign was put on hold, the second-year guard was averaging 29.6 points and 9.3 assists, which made him the only player ranked within the top five in both categories. Young's unlimited shooting range and effectiveness in pick-and-roll situations have made the former Oklahoma star a lethal dual threat.
Al Horford
Leaving Horford off Atlanta's starting five was the toughest call on this list. He was an invaluable defender throughout his nine-year tenure and provided additional playmaking from the five-spot. Horford blossomed into a four-time All-Star and earned All-NBA third-team honors in 2010-11. The 6-foot-9 center recorded 14.3 points, 8.9 boards, and 1.2 blocks per contest across 578 appearances in a Hawks jersey.
Steve Smith
Smith was the lead option on a perennial playoff squad during the mid-to-late '90s. From 1995-99, the Michigan State product registered 19.3 points per contest, leading Atlanta in scoring in each of those four seasons. Smith made his lone All-Star appearance in 1998 and ranks fifth in team history with 549 triples.
Honorable mentions: John Collins, Kyle Korver, Shareef Abdur-Rahim