The San Antonio Spurs are in a world of trouble. They're 6-13, with the league's 26th-ranked defense, and a schedule that's only going to get tougher. Their 22-year playoff streak is in serious jeopardy.
The conversation around the Spurs has naturally turned to the possibility of their veterans being traded. Those vets haven't had a positive on-court impact this year, and with the team's season slipping away, it makes sense to pivot into a rebuild, which those vets are preventing. That's particularly true of DeMar DeRozan, whose presence is disrupting San Antonio's lineup configurations and blocking the union of Dejounte Murray and Derrick White - the team's could-be backcourt of the future.
DeRozan's a good player and, by all accounts, an exceptional teammate. He currently has the best true shooting percentage of his career (58.8), despite eradicating 3-pointers from his diet. But his age (30), contract status (a $27.7-million player option for next year), and limitations as an off-ball player and defender make it difficult to determine where he'd be a good fit.
If they're intent on moving him, the Spurs can probably find a team that will bite. But they likely can't expect much in return. Three potential DeRozan destinations stand out as being more sensible than the rest. Let's make a case for why those teams should - and shouldn't - swing for a trade.
Minnesota Timberwolves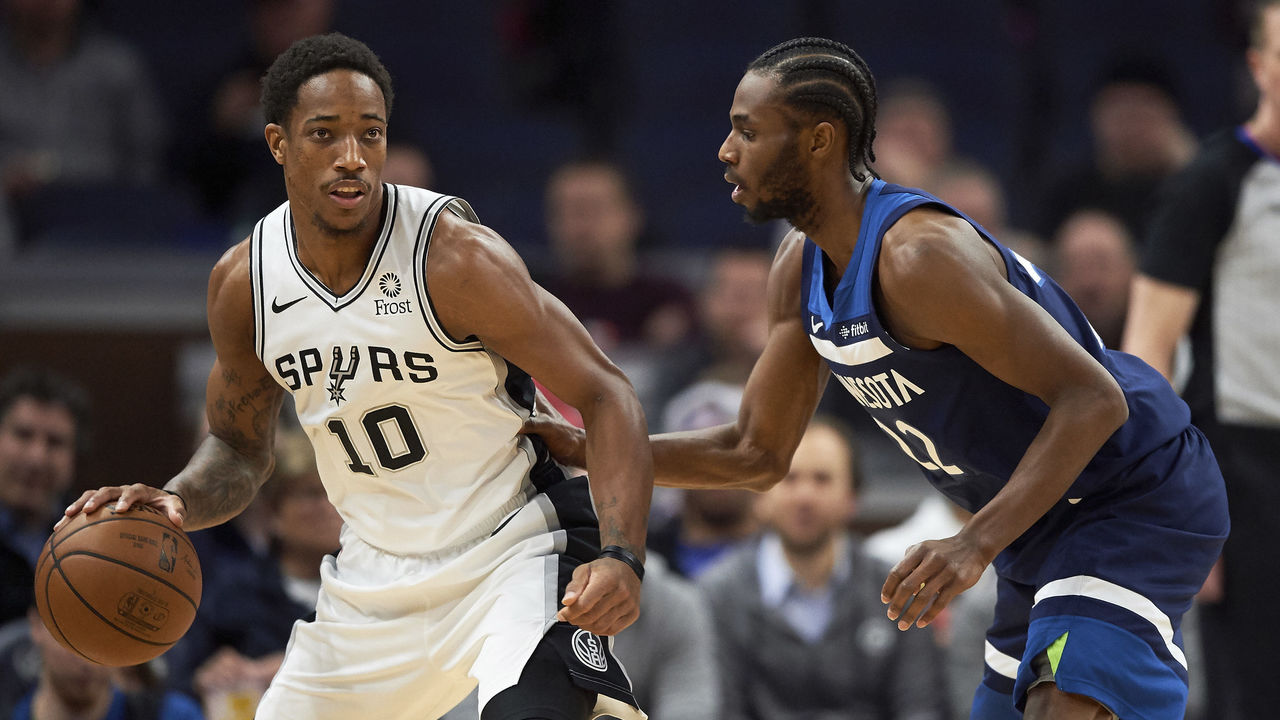 Why they should do it: What if Minnesota gave up its D'Angelo Russell pursuit and focused on DeRozan instead? Yes, Russell is quite a bit younger and has a higher ceiling, but DeRozan should cost far less to acquire and is arguably the better player right now. This would also be a great situation for him; no big man in the league is more conducive to the success of a player like DeRozan than Karl-Anthony Towns.
In a system that can put four shooters around him, with a center that plays on the perimeter as often as he plays inside, DeRozan could have a lot more success than he's had in San Antonio, where guys like Murray, LaMarcus Aldridge, and Jakob Poeltl are constantly crowding his space. The combination of DeRozan's driving prowess and Towns' 3-point gravity would make for a natural pick-and-pop combo, and the Wolves could also invert the floor, with DeRozan operating out of the post and Towns spotting up on the perimeter. DeRozan could absorb Jeff Teague's role (Teague would have to be outbound in the deal) and run the point in some jumbo-sized backcourts. It's not like Teague is stretching the floor with his 25% 3-point shooting on low volume this season.
It's worth considering whether this move would sidetrack Andrew Wiggins' encouraging progress, but I contend that he would still be equally effective - if not more so - if a handful of his on-ball possessions were redistributed. He's shooting 37.5 percent on threes off the catch and can be deadly when attacking a scrambled defense.
The Wolves' offense, for all Towns' brilliance, is actually lagging behind their defense at the moment, ranking 19th in the league. Head coach Ryan Saunders has modernized their system, but their secondary creation is so limited that Wiggins is taking 21 shots a game and frequently serving as a nominal point guard - not a role that his skill set has quite grown into yet. For now, DeRozan is the better playmaker and a more efficient self-creator.
Minnesota would need to ensure it preserves its defensive talent in a deal. Playing DeRozan and Wiggins on the wing without plus help defenders alongside them would be pretty dicey, but so long as Robert Covington and Josh Okogie were still around and Towns continued to protect the paint, the Wolves could survive. They'd be wagering that the offense could improve enough to make them a surefire playoff team in the West and a tough out in a first-round series, even with an average defense.
Could you build a palatable trade framework around Teague, Gorgui Dieng, and assets (something like a protected first-round pick plus a middling prospect like Keita Bates-Diop)? Even that might be too steep; the Wolves would still have a hard ceiling and might lose DeRozan to free agency in the summer. But if they think he might opt in, or they believe he'd be open to an extension at a reasonable figure, they should consider it. - Joe Wolfond
Why they shouldn't do it: You want to pair DeRozan with Wiggins in an offense where the transcendent Towns already doesn't get enough of the ball? No, thanks.
Wiggins has improved virtually across the board this season. While his newfound playmaking prowess and shooting make a potential partnership with DeRozan a bit more negotiable than it would've been last year, it's far from a perfect match.
Taking Wiggins off the ball isn't the worst idea, but it would have to be the right situation, and DeRozan ain't it. Wiggins' improved court vision this season is partly a result of his additional ball-handling opportunities running Minnesota's offense at times, especially in pick-and-roll situations. I don't like the idea of impeding that development to make way for a non-shooting volume scorer who doesn't play defense.
Towns is at the center of this argument. The Timberwolves' franchise star is enjoying another prolific season, but the team should be looking to increase his offensive usage. It would be ideal if Minnesota could surround Towns with more shooting and give Wiggins more supportive defensive teammates in the process. DeRozan doesn't help achieve either of those objectives and would take touches away from a more efficient offensive force. - Joseph Casciaro
Detroit Pistons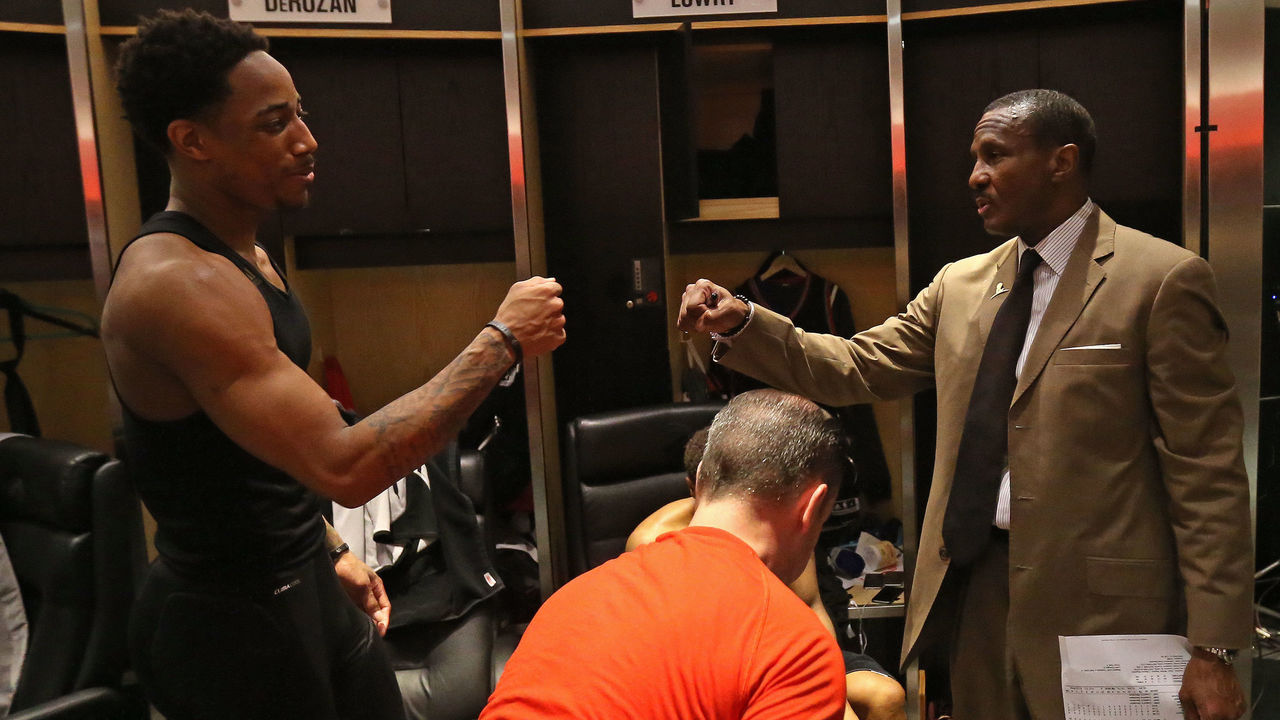 Why they should do it: Forget winning a playoff series - the Pistons haven't won a playoff game in 12 seasons. They're last in attendance percentage for the third time in four years. Their current roster is solid enough to compete for a playoff spot in the Eastern Conference, nowhere near good enough to compete for anything more meaningful, and a little too good to bottom out for a top pick.
A splashy acquisition usually doesn't make sense when it won't move the needle much, but if there's one team that could simply use a jolt of energy and relevance, for the love of God, it's Detroit.
The Pistons would have to give up a first-round pick in the deal. Could they also sell San Antonio on the shooting of Tony Snell, who has a $12.2-million player option for next season? Could they flip Reggie Jackson's expiring $18.1-million salary, clearing the way for them to turn their ball-handling duties over to DeRozan? Would one of those players and a first-rounder, in conjunction with Langston Galloway and Thon Maker, be enough for the Spurs? Would San Antonio demand Luke Kennard be included in any deal for the Spurs' leading scorer and leading assist man?
It's a challenging negotiation to project, but it feels like finding a new home for DeRozan is going to take a desperate team that might be more preoccupied with short-term gains and filling seats than any kind of long-term vision. The Pistons fit that bill perhaps better than anybody; can reunite DeRozan with Dwane Casey, who coached him to much success in Toronto; and can pair him with fellow East All-Stars Blake Griffin and Andre Drummond.
That might be enough to, I don't know, win a playoff game? - Casciaro
Why they shouldn't do it: The Pistons have been stuck on the treadmill of mediocrity for an eternity, and a DeRozan move seems likely to perpetuate that cycle.
Detroit wound up here in large part by prioritizing insignificant present-day wins (i.e., raising the team's ceiling from 36 wins to 42) over accumulating future assets. Outside of Drummond, the Pistons haven't drafted or developed an above-average starter since their mid-aughts glory days. The closest thing they currently have to a blue-chip prospect is Kennard. Is it worth it to pawn off another future asset for a player who would, at best, help them get to the first round of the playoffs? And how much better would DeRozan realistically make this team? Playing him with Griffin and Drummond could get awfully congested.
They're better off riding out this season, retaining and developing their small pool of young talent, and, if things continue to go sideways, gauging the market for Griffin and Drummond so they can kickstart an earnest rebuild. That may be a tough sell to a fan base that isn't exactly packing Little Caesars Arena, but the front office would at least be able to pitch a coherent vision of the future instead of another unceremonious first-round exit. - Wolfond
Orlando Magic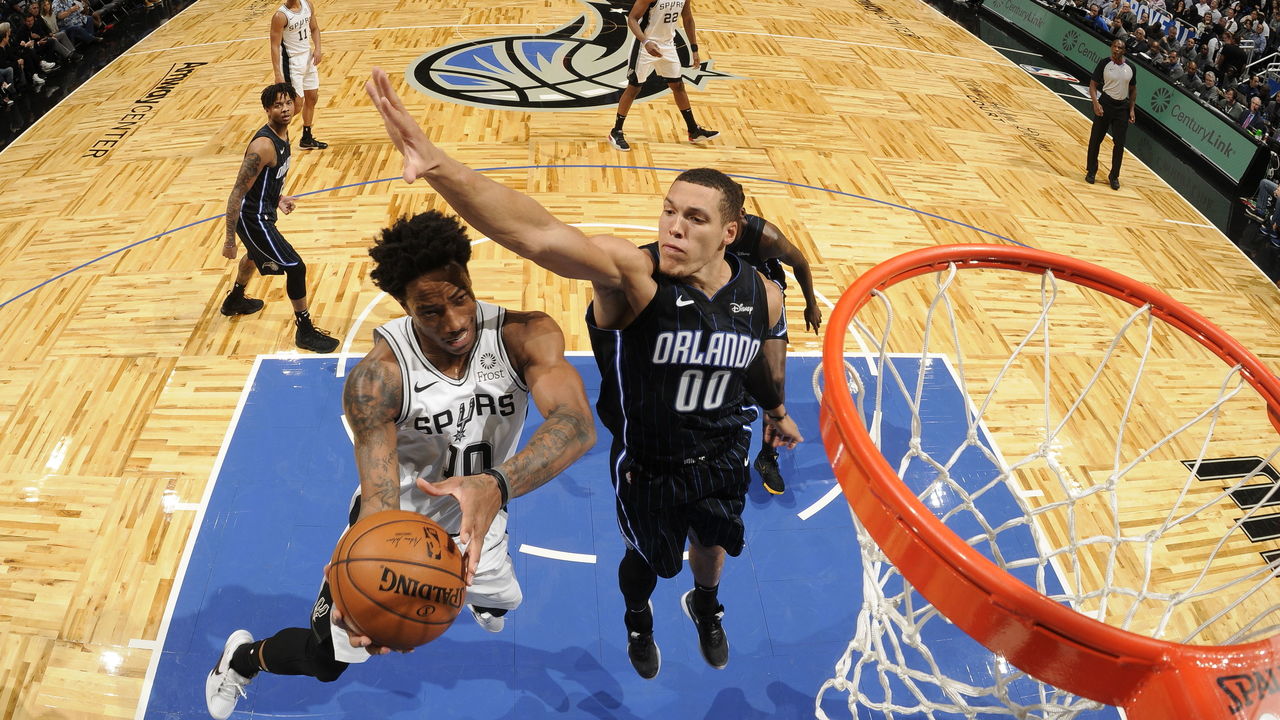 Why they should do it: To this point, Orlando is the only team that's actually been reported to have interest in trading for DeRozan, and it's easy to intuit why. The Magic have an excellent defense that's essentially going to waste because their 28th-ranked offense is starved for off-the-dribble shot creation. This is the rare team for which DeRozan actually makes sense as a primary playmaker, and that feels like a prerequisite for acquiring him.
The Magic simply don't put enough pressure on the rim, and DeRozan - who ranks third in the NBA in points per game off drives (12) and shoots over 67% from inside the restricted area - would provide a massive boost in that regard. He may not help their spacing issues, but his ability to create his own shot would bail them out of plenty of stagnant possessions in the half-court, where they score a paltry 87.9 points per 100 possessions, per Cleaning the Glass.
Similar to the prospect of him playing with Towns, DeRozan and Nikola Vucevic could work some nifty two-man action and inside-out, uh, magic. If Orlando wants an injection of scoring, it could do a lot worse than a guy who's been the highest-usage player for a top-nine offense each of the last seven seasons.
The big question is, what would Orlando give up? It's difficult to put a package together that matches salaries but doesn't include Evan Fournier, whose 3-point shooting has become indispensable to a team that lacks it. Aaron Gordon is having a disappointing season, but his youth and defensive versatility still make him too valuable to part with here. The Magic could wait to swing a deal until December, when Terrence Ross and Al-Farouq Aminu become eligible to be traded. Attach a bit more salary (Khem Birch, perhaps), along with a lotto-protected first-rounder, and maybe the Spurs go for it. - Wolfond
Why they shouldn't do it: DeRozan's shot creation, one-on-one abilities, and playmaking would all be heartily welcome on the perennially anemic Magic, but the fit isn't as seamless as it may appear.
While it's true that Orlando desperately needs some offensive juice and creativity, a big reason the offense is so blah is because it's stuck in the '90s. The Magic rank 22nd in the percentage of their field-goal attempts that come from 3-point territory. They rank 24th in the percentage of their field-goal attempts that come within 3 feet of the basket. Twenty-two percent of their shot attempts come from the dreaded area on the floor between 10 feet from the rim and the edge of the 3-point line. Only four teams' shot profiles feature more of those dead-zone attempts.
Would DeRozan's ability to get to the rim and draw fouls help unlock Orlando's attack? Sure, and you could argue that his playmaking out of the pick-and-roll would also get the Magic some cleaner looks from deep. But adding a ball-dominant, mid-range maestro who's gone 7-for-49 from downtown over the last two seasons combined does nothing to address the team's lack of actual shooters or its generally archaic offensive makeup.
DeRozan might only marginally improve the Magic's offense while detracting from the team's defensive strengths, keeping Orlando stuck in the meaty middle of the standings with no clear route to a more worthwhile outcome. - Casciaro