In their first matchup since an epic seven-game playoff series six months ago, the Toronto Raptors and Philadelphia 76ers produced another thriller Monday night at Scotiabank Arena, with the teams exchanging leads 12 times and finding themselves tied on nine occasions before Toronto ultimately edged out a 101-96 win.
A lot has changed in this matchup since Kawhi Leonard eliminated the 76ers with four bounces at the buzzer. He, Jimmy Butler, Danny Green, and JJ Redick have all gone elsewhere. New characters like Al Horford, Josh Richardson, Rondae Hollis-Jefferson, and Terence Davis have joined the fray. And on Monday, Toronto was playing without the injured Kyle Lowry and Serge Ibaka.
Still, the result looked familiar - a grimy, hard-fought battle eked out by the Raptors. What else can we take away from Monday's barn burner? Let's dig in.
Joel Embiid still has a Marc Gasol problem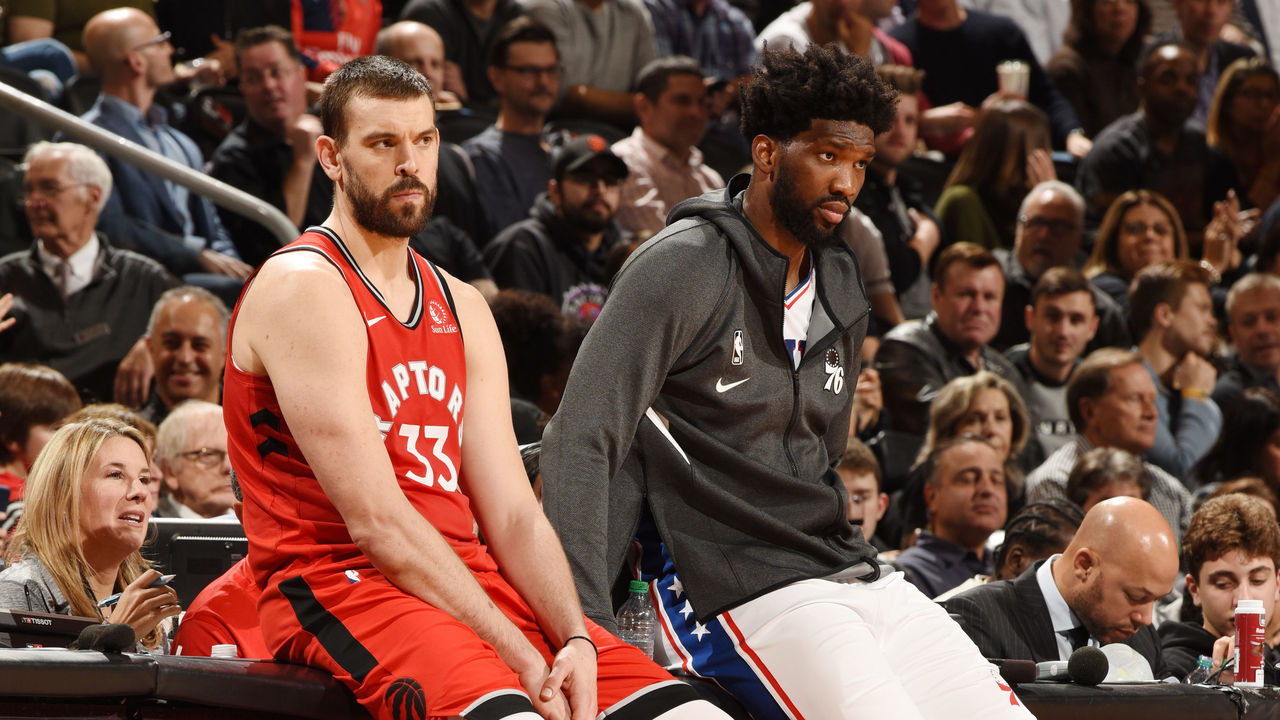 Anyone who tuned in for last season's second-round series - and anyone who's watched previous matchups between the big men dating back to Gasol's Memphis days - knows Embiid struggles to impose his usual physical will on a game when defended by the veteran Spaniard. Even so, it would be hard to believe what unfolded Monday if you didn't witness it.
Embiid was held scoreless for the first time in his career, going 0-for-11 from the field and 0-for-3 from the free-throw line while committing four turnovers with only two assists in 32 minutes of action.
If the Sixers' star center owns real estate in a number of his rivals' heads, then Gasol must own a five-tower development in Embiid's.
Following the loss, the 76ers stated that while Gasol remains an elite defender, the Raptors also sent extra bodies to double-team Embiid and were generally more aggressive than in the past.
"Oh yeah, for sure (it was different than the playoffs)," Embiid said of Toronto's defensive strategy. "Marc didn't help (off me) at all. Hard double-teams from the top while the ball was in the air (coming) to me. ... Defensively, (the Raptors are) everywhere. They're so long."
However, when you review the film of Embiid's touches, bricks, and turnovers, that theory doesn't exactly hold up. At times, he encountered some pretty standard help defense behind Gasol, but it's tough to find examples of the Raptors doubling with the ball in the air. The second defender usually arrived a couple of seconds after Embiid caught the ball - often after he hesitated due to Gasol's pesky presence.
Here's a good example of that, as Norman Powell joins Gasol to double Embiid after the catch:
The Raptors are an aggressive defensive team that will over-help because they trust their athletic, lengthy personnel to recover back out to shooters. But Embiid's fundamental issue in a matchup with Toronto isn't that aggressive scheme. Instead, it remains Gasol.
Embiid's inability to get past the former Defensive Player of the Year creates a number of problems for a Philly offense that usually dumps the ball down to the star big man when it needs a bucket. Gasol's presence makes Embiid indecisive and pulls him out of his comfort zone, which makes him easy prey for a Raptors team that's also outstanding at using smaller players to force turnovers on bigs who are in trouble down low.
Without Butler's one-on-one abilities or Redick's outside shooting, Embiid will have to solve his Gasol conundrum if the Sixers want to beat Toronto four out of seven times in a playoff series.
Philly turns to pick-and-roll amid offensive struggles
Despite an offseason roster overhaul, Philadelphia's half-court offense still has a lot of the same issues, which is likely to continue until the team finds a way to solve the tenuous fit of Embiid with Ben Simmons or puts more shooting around them.
One major difference is that last year, the Sixers had Redick, who was a vital lubricant for their squeaky offensive wheels. His off-ball movement, quick release, and dead-eye aim gave Philly an escape hatch for almost any sticky situation. He and Embiid worked a deadly two-man game that was the reason the Sixers led the league in both volume and efficiency on dribble-handoffs. Coach Brett Brown admitted the 2019-20 Sixers have no way to replace what Redick brought to the table.
"We don't have that type of player, really," Brown said. "That's not who we are this year. … There's now dust all over JJ Redick's playbook. We haven't really used anything I used to run for him. It's a different team with different skill sets."
This season, the Sixers have run a ton of their offense through the post (more than any other team by a country mile), but a matchup with Toronto isn't conducive to back-to-the-basket bruising. Redick's off-ball pull might have helped unglue the myriad Raptors who attached themselves to Embiid throughout the game. In lieu of that, Philly dusted off a scarcely used set to try and use the Raptors' aggressiveness against them: The Simmons-Embiid pick-and-roll.
That may not sound like some galaxy-brain strategy, but the Sixers run fewer pick-and-rolls than any team in the NBA and Simmons initiates them particularly infrequently. Coming into Monday's contest, he'd finished just 14 possessions as a pick-and-roll ball-handler across 14 games, totaling four points (all free throws) on those possessions, per NBA.com.
Against Toronto, he did so seven times and more than doubled his point tally on that play type for the season. With the Raptors pressuring him on the perimeter rather than sagging off him - and with Gasol clinging tight to Embiid - Simmons used the big man's screens to explode to the hoop:
"It's always a judgment of the proximity (to which) the defense is playing (Simmons)," Brown said afterward. "Some people don't guard him, some people get up and play. So you make your judgment based on that. I thought he did a really good job of playing downhill (in the pick-and-roll). I thought he was fantastic in that regard."
Philly kept setting ball screens for Simmons, often running pick-and-pops with the team's best shooters. The strategy helped him tally a season-high 14 assists.
In general, the Sixers struggle with this stuff because they don't have a go-to, off-the-dribble half-court initiator. (Richardson can do damage with his pull-up jumper, but he doesn't create much for others. Ditto for Tobias Harris.) That doesn't mean they shouldn't be sprinkling more pick-and-rolls and pick-and-pops into their offensive mix, particularly as a way to spring Simmons in the half court. Monday's game was an example of how it can work.
Sixers still make too many mental errors
Even as the 76ers have risen to contender status, they haven't been able to kick their turnover habit and a general propensity to be undone by brain farts.
Those "mental errors," as Simmons called them postgame, came back to bite Philly once again.
While there were positives when Simmons ran the pick-and-roll, it remains baffling that such a gifted playmaker - who can see over most defenses given his size - can make such inexplicable decisions with the ball in his hands. Simmons, who boasts the worst turnover rate of any qualified ball-handler this season, coughed it up seven more times in Monday's loss.
At one point in the third quarter, Simmons had what should've been an easy assist to a wide-open James Ennis under the basket: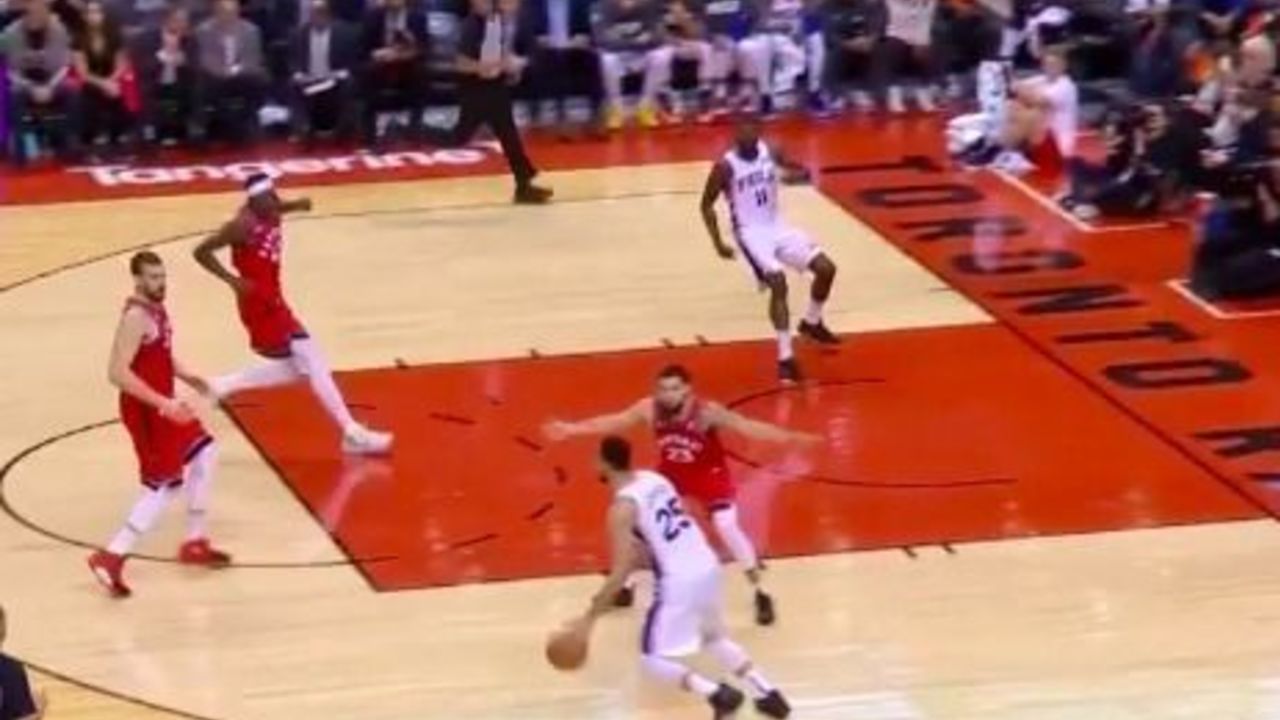 Instead, the play resulted in a Fred VanVleet steal because Simmons didn't make a pass until the coverage looked like this: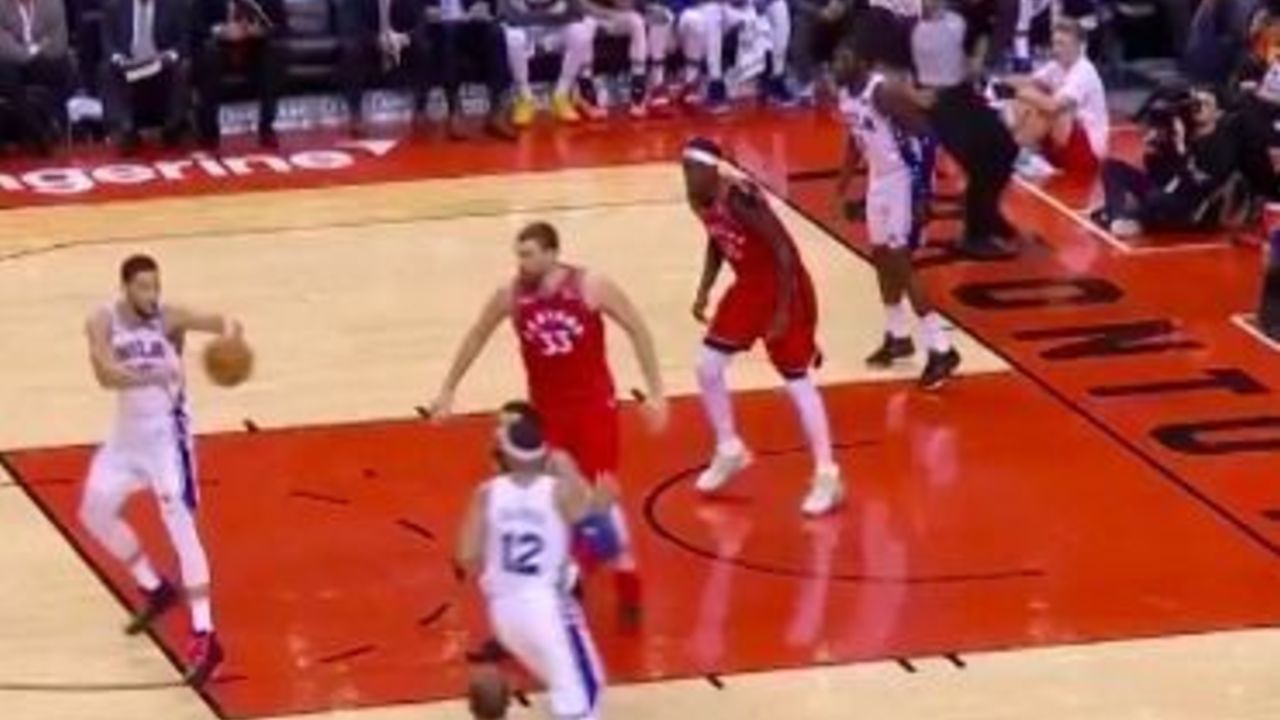 Credit the Raptors' length, which also played a part in Simmons' last two turnovers of the game, but some of it was just lazy passing. Simmons also made a couple of half-hearted, unsuccessful attempts to stop Toronto's fast breaks at various points in the game, and he fired a wild turnaround attempt from 33 feet out with Philly down by three and six seconds on the clock.
Embiid made a number of his own errors. Richardson, a career 82% free-throw shooter who was otherwise excellent on Monday, missed three straight freebies at one point after drawing a 3-point shooting foul.
Even contenders make mistakes, but the 76ers' uncanny and unfortunate ability to shoot themselves in the foot can't remain an issue year after year. It could very well be the difference in an evenly matched playoff tilt against a sharper East contender like Toronto or Milwaukee.
Siakam, Raptors still know how to close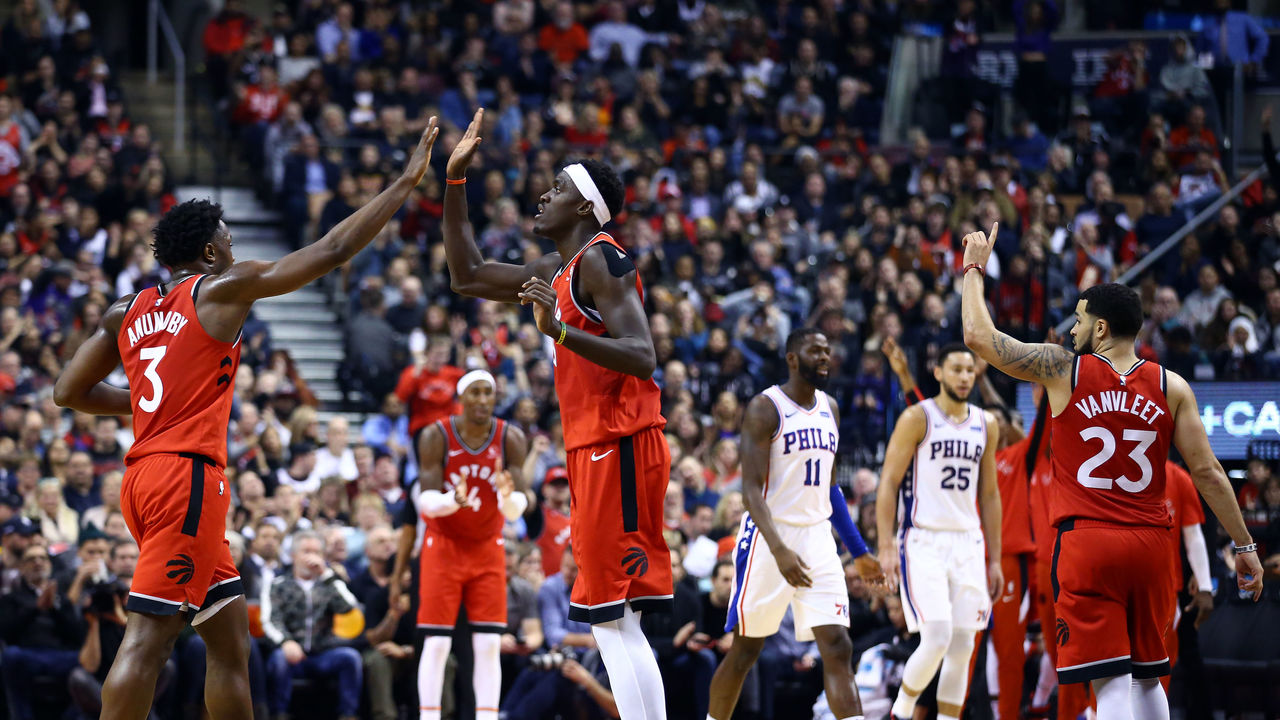 Unlike their mistake-prone foes, the Raptors were composed and precise and ruthless down the stretch of this game. Without their starting point guard, against a tough opponent capable of playing suffocating defense, they finished the game on a 10-0 run, holding the Sixers scoreless over the final four minutes and two seconds while forcing four turnovers.
The Raptors lost a few things when they lost Leonard: an emotional bellwether, an elite stopper, and one of the league's most devastating isolation scorers. One of the biggest questions coming into this season was how the Raptors would fare in crunch time without Leonard's calm dominance. In 2018-19, Leonard averaged 36.7 points per 36 minutes in the clutch while using 40% of Toronto's clutch possessions, per NBA.com. No one else on the roster had a usage rate above 18.9% in those situations.
Well, through 16 games of 2019-20, the Raptors rank fourth in the NBA with a 22.4 net rating in the clutch. At the defensive end, they're closers by committee and monstrous across the board. The late-game offense has been a bit more democratic, but it's usually been Pascal Siakam who's carried the team across the finish line.
Siakam did just that against Philly with multiple massive plays at both ends down the stretch. Those included the go-ahead 3-point play and a win-preserving steal - the former a grown-man finish through two of the best defenders in the world, and the latter a backpedaling breakup of a Simmons lob pass intended for Harris.
We saw Siakam isolate for a buzzer-beating layup against the Suns last year, but taking Horford off the bounce and finishing through contact while plowing into Embiid at the rim is something fundamentally different.
Siakam has scored 25 points in 25 clutch minutes this season, and he's done it on 36.1% usage and 59% true shooting. That's real superstar stuff.
Philly's size is a problem for Toronto on the glass
Given that Philadelphia entered Monday ranking top five in offensive rebound rate while Toronto ranked bottom five in defensive rebounding, the results on the glass shouldn't have been surprising: The Sixers grabbed a whopping 33.9% of their missed field goals in the game.
Due to the Raptors' elite rim protection, they can get away with poor defensive rebounding more than most other teams can, and they somehow outscored the Sixers in terms of second-chance points on Monday. Still, giving up so many offensive boards is flirting with disaster.
The Sixers are huge, and no East foe is better equipped to exploit this Raptors flaw than they are.