It took 15 games, but the Los Angeles Clippers finally got both of their superstar acquisitions in the lineup Wednesday night at Staples Center when Kawhi Leonard and Paul George shared the court as teammates for the first time.
Here are five takeaways from the team's 107-104 overtime victory over the Boston Celtics:
To stagger or not to stagger
One of the most interesting decisions coaches face when they have the luxury of employing two stars is how to stagger the duo's minutes.
There are two schools of thought. Other than when the pair is starting or finishing games together, some coaches prefer to keep their stars apart through the middle of games in order to ensure one of them is always on the court. The countertheory is that it's actually more beneficial to rest both stars together and maximize their shared minutes - which is when you can really overwhelm opponents.
Doc Rivers seemed to experiment with both options on Wednesday.
In the first half, Leonard and George logged just 8:14 of action together. The Clippers were only without both stars for 55 seconds, though, as Rivers often brought one to the bench when the other was checking back in. In the second half, the duo shared the court for 13:55 of 24 minutes, but the team went more than four minutes with both players on the bench; Rivers subbed both out about halfway through the third quarter. He later kept the duo on the court for all five minutes of overtime.
All told, the star pairing shared the court for 27:09 in a 53-minute game (compiling a net rating of +18.2), and Los Angeles had at least one of Leonard or George on the court for 47:56.
Given their prolific bench led by Lou Williams and Montrezl Harrell, the Clippers probably qualify as one of the few teams deep enough to survive sitting both of their stars at once in order to maximize their shared minutes. And given how little Leonard and George have played together thus far - and how cautious the team will continue to be in managing each player's load - it makes sense to get them as many minutes together as possible whenever they're both in the lineup.
The offensive distribution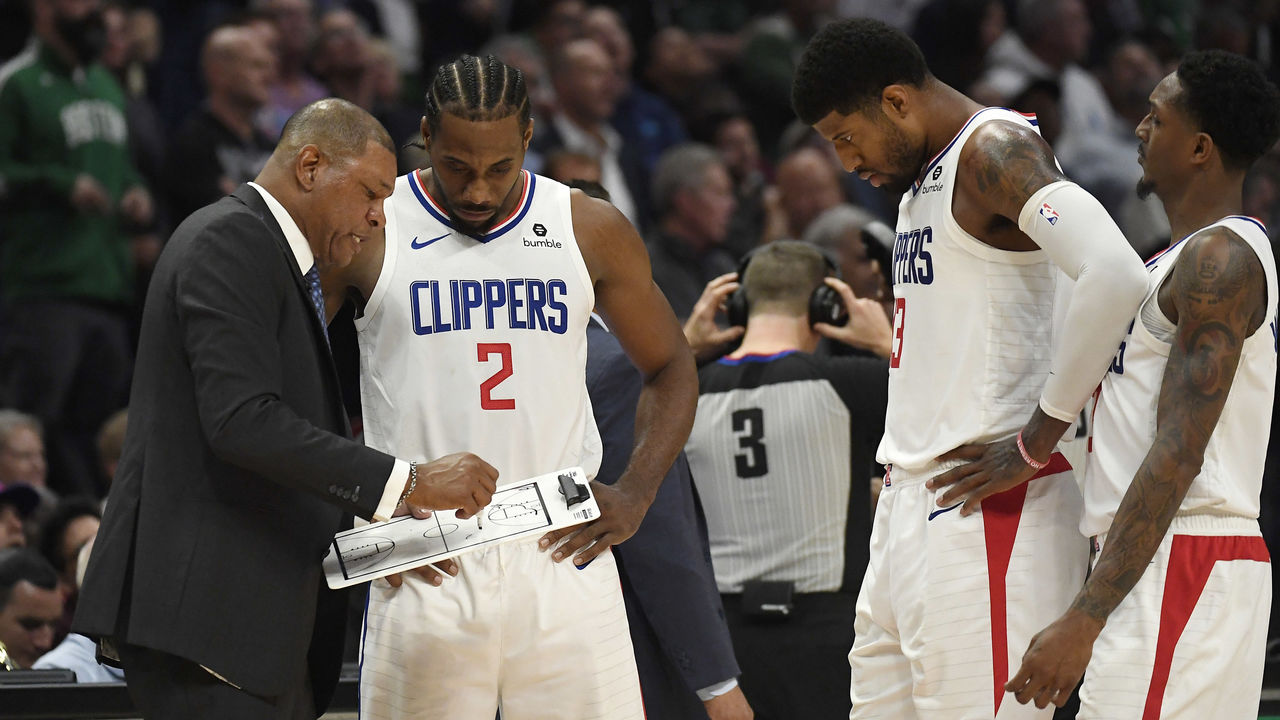 The Clippers' offense was predictably disjointed for stretches of Wednesday's game, with Leonard and George combining for 42 points and 10 turnovers on 15-of-35 shooting. The early results are less interesting than the process, though.
In terms of the starting five, Patrick Beverley looks like the point guard in name only - the offense will almost always flow through George and Leonard. Rivers will give both stars their chances to run pick-and-rolls, and both figure to get post-up opportunities and elbow touches.
Leonard's vastly improved playmaking likely means he'll run the show a little more to start games, as we saw early against the Celtics when most half-court possessions featured Leonard surveying the scene with the ball in his hands. Once Leonard hit the bench, George settled into more of an alpha role and even finished with a team-high eight assists.
If Wednesday was any indication, Williams will still be his ball-dominant self when sharing the court with his new superstar teammates, moving Leonard and George off the ball with a bit more frequency. That shouldn't be a problem. Both stars will still get their fair share of shots, and Williams has become a dynamite playmaker in his own right operating out of the pick-and-roll.
Defensive potential
The Clippers entered Wednesday's contest boasting the league's 11th-ranked defense. They should only go up from here, and the team's terrifying defensive potential was on full display against Boston.
With three all-world defenders in Leonard, George, and Beverley, the Clippers should be able to effectively shut down virtually any perimeter and wing threats. Harrell is undersized but incredibly active. Moe Harkless and JaMychal Green provide a solid combination of length and defensive smarts. Ivica Zubac isn't known for his defensive work, but he's been something of a revelation on that end through the first month of the season, and he'll benefit from having both Leonard and George in front of him.
Just look at how the Clippers suffocated Kemba Walker on Wednesday. Beverley, Leonard, George, and Harkless all got cracks at containing him. The Clippers trapped Walker on pick-and-rolls, and the odd time he broke free, Zubac was there to clean up the mess. Walker, who entered the game averaging 23.4 points and five assists on an effective field-goal percentage of 52.2, finished the night with 13 points, two assists, and six turnovers on 4-of-17 shooting.
To break the Clippers' defense, teams will need multiple offensive threats and will have to move the ball to keep Los Angeles off balance. That's easier said than done, however, when ball hawks like Beverley, George, and Leonard are on the court.
The closing lineup
It's tough to get away with Harrell at the five against teams with game-changing centers. But outside of those rare matchups - Daniel Theis and the Celtics are not one of them - the Clippers' closing five of Leonard, George, Williams, Beverley, and Harrell should be devastating.
After somewhat meandering through the game's first 43 minutes, Los Angeles seemed to flip a switch over the final 10. During that span, that closing five played nearly every second together (excluding about 45 seconds when Harkless replaced Williams for defensive purposes), outscoring the Celtics by 10 points and posting a net rating of +39.5 per 100 possessions, albeit in a small sample size.
The lineup features an impressive blend of shooting, playmaking, ball handling, and one-on-one shot creation on the offensive end.
Most teams would be worried sick about defending in crunch time with just one of Leonard, George, or Williams on the floor. Imagine having to fret about all three. Worse still, imagine stressing over Leonard and George only to watch Williams, Harrell, and Beverley plunge the dagger into your team without either star even touching the ball:
Leonard got the first crack to be the closer on a team with three elite individual creators, coming up short on a potential game-winning jumper at the end of regulation after a fairly straightforward isolation possession. It's safe to assume George and Williams will both get plenty of their own hero-ball opportunities as the season unfolds.
On the other end, the Clippers' closing unit has more defensive upside than any lineup outside of Philadelphia. One can squabble over the fact there wasn't a traditional rim-protector among the five Clippers that closed Wednesday's game, but preventing opponents from even getting to the basket is its own form of rim protection.
If Zubac can continue to hold his own on the defensive end or if the Clippers pick up a serviceable defensive big man between now and April, this team essentially becomes matchup-proof. If neither of those hypotheticals comes to fruition, the Lakers (Anthony Davis), Sixers (Joel Embiid), and Nuggets (Nikola Jokic) are potential contenders who might be able to expose Los Angeles' one glaring weakness.
Opposites attract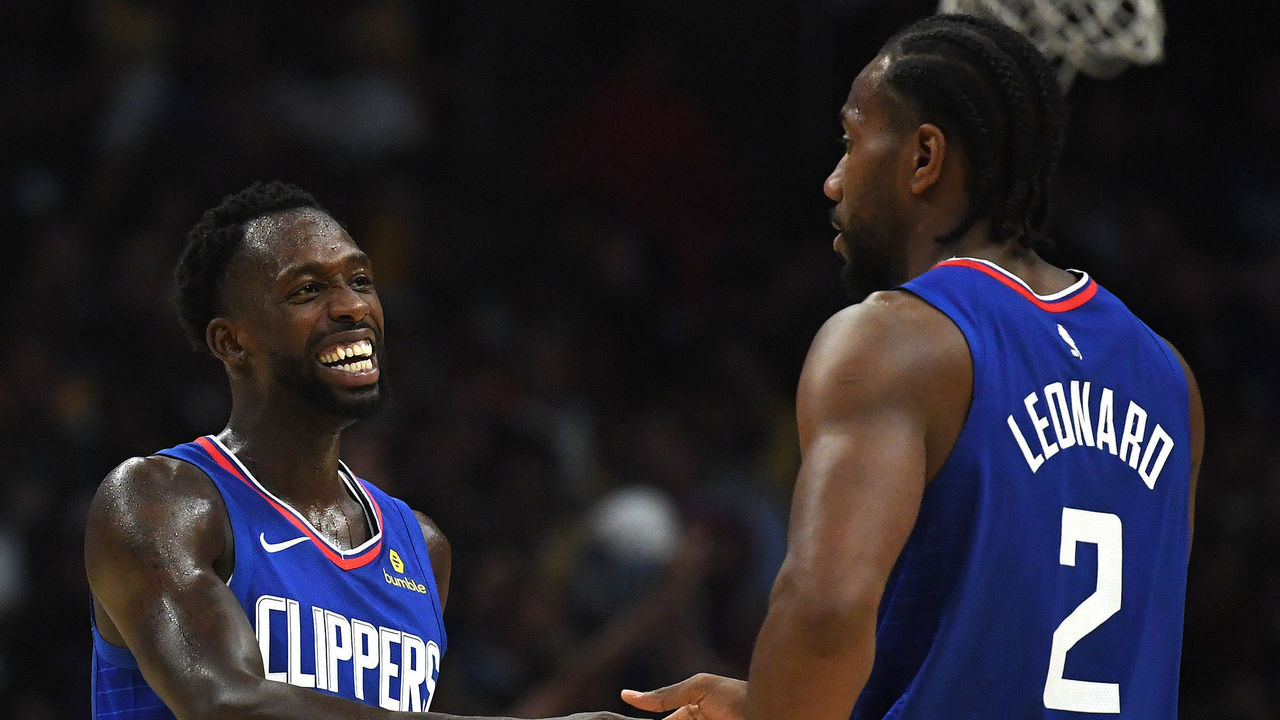 The juxtaposition of Leonard and Beverley's personas is simply too comical to ignore.
Beverley operates in a perpetual state of chaos, and it works for him. He's in your face, trash-talks opponents, physically hypes up teammates, and emotionally celebrates nearly every positive development on the court. At one point in overtime, Beverley reacted to an official review - not the result of a review, but the fact they were going to review - with the same vigor you'd expect from a player who just drew a big charge.
Leonard, meanwhile, can't even be bothered to feign excitement about the type of poster dunk some players would consider the highlight of their season, and celebrated his game-saving, superhuman block on Walker with the enthusiasm of an accountant:
Safe to say Beverley was a little more amped about it. Both are gems in their own way.
Joseph Casciaro is theScore's senior basketball writer