Late in the third quarter of Wednesday's game between the Minnesota Timberwolves and San Antonio Spurs, Andrew Wiggins sized up defender Derrick White on the perimeter. Wiggins then began his drive into the paint and hit White with a spin move.
As the one-on-one play developed, Spurs guard Patty Mills seemed to assume Wiggins would be operating with the same tunnel vision that's defined his career, so he abandoned his man to cut off the drive.
There was just one problem for San Antonio: Wiggins is seeing the court better than ever this year, and as he completed his spin, he found a cutting Jake Layman over a maze of defenders for an easy Timberwolves bucket.
The assist - Wiggins' seventh of the game - would have looked familiar to anyone who's been watching the Timberwolves' 7-4 start to the season.
Over the last 10 days, Wiggins has recorded at least five assists in five consecutive contests. To put that in perspective, the longest such streak of his six-year career had been a measly two games - something he accomplished only once, in his 2014-15 rookie season.
Untapped potential
Since being drafted No. 1 overall in 2014, Wiggins has become one of the NBA's most polarizing players. His raw talents have never been in doubt - he can jump out of the gym, get his shot off over just about anybody, and has the tools to be an impact defender - but his ability to fulfill that potential certainly has.
Still, the tantalizing skills that Wiggins would tease during random stretches of action convinced his supporters to keep the faith. Perhaps the biggest of those supporters was Timberwolves owner Glen Taylor, who signed off on a five-year, $147-million extension for Wiggins two years ago.
All the while, nearly every aspect of Wiggins' game appeared to be stagnating or regressing. He toggled between maddeningly passive and the worst kind of aggressive - the type that results in low-IQ basketball and craters a team at both ends of the court.
But 11 games into his sixth season, Wiggins appears to be writing a new chapter. The 24-year-old is averaging better than 25 points, five rebounds, three assists, and one block per game - numbers that only 28 NBA players have posted over the last 47 seasons.
You'd be forgiven for wanting to see more than just a few weeks of inspired basketball to be convinced that Wiggins has turned a corner, but there are reasons to believe this hot start is much more than unsustainable numbers.
The playmaking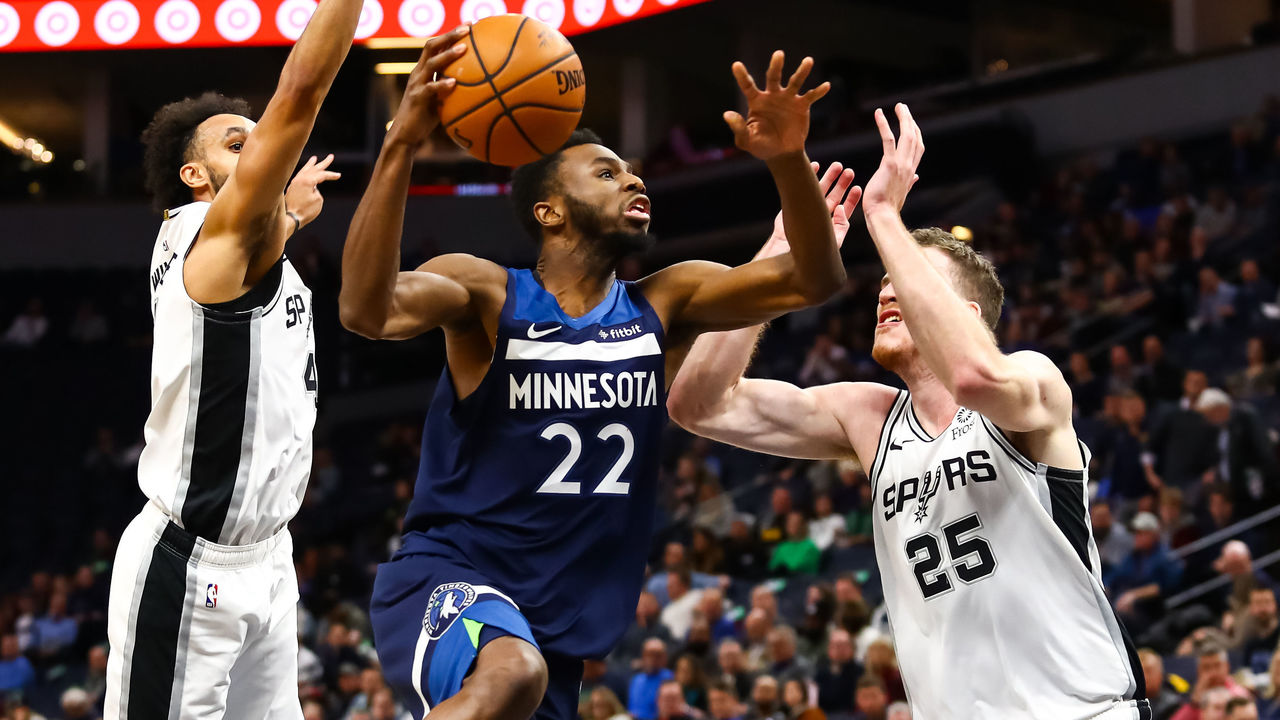 It's not just that Wiggins is racking up assists like never before, which is partly dependant on his teammates. He's simply moving the ball more in general.
Through his first five seasons, Wiggins averaged 24.2 passes and 4.6 potential assists per game. This season, those numbers are up to 35.5 and 7.2. And even with the increase in ball movement and an uptick in usage, Wiggins has managed to post the lowest turnover rate of his career (2.0 per 100 possessions).
Early-season injuries to point guards Jeff Teague and Shabazz Napier might prove to be blessings in disguise, as it's allowed Wiggins to develop his playmaking while running Minnesota's offense.
"I feel like I just kind of opened up and seen more (as the point guard), and learned a little bit in that short period of time," Wiggins said after Wednesday's win over the Spurs. "Now when (Teague and Napier) are back, I can still do that. I know where the help is coming from, I know where the open man is going to be."
The Wolves have also turned Wiggins loose in the pick-and-roll this season, and the early results have been promising. Of the 47 players who've averaged at least five possessions per game as the ball-handler in pick-and-roll situations, Wiggins ranks 23rd with 0.92 points per possession. That might be smack-dab in the middle of the pack, but it also makes Wiggins a more efficient pick-and-roll player thus far than Lou Williams, Jamal Murray, and Kawhi Leonard.
Pick-and-roll ball-handler frequency
| Season | Wiggins pct. |
| --- | --- |
| 2015-16 | 18.9% |
| 2016-17 | 32.1% |
| 2017-18 | 23.5% |
| 2018-19 | 26.5% |
| 2019-20 | 39.3% |
It's still frustrating that a player with Wiggins' explosiveness doesn't get to the free-throw line more often (his rate of 0.23 free-throw attempts per field-goal attempt is the lowest of his career), but it's encouraging to see him putting more pressure on opposing defenses this season.
After recording 7.9 drives per game in 2018-19 and never averaging 10 drives in any of his first five years, Wiggins has driven 13.8 times per game this season - an almost unprecedented year-over-year increase. And again, it's not like he's merely using these drives to force his own offense. Wiggins is bending the defense and finding the openings that a compromised opponent provides.
The shot selection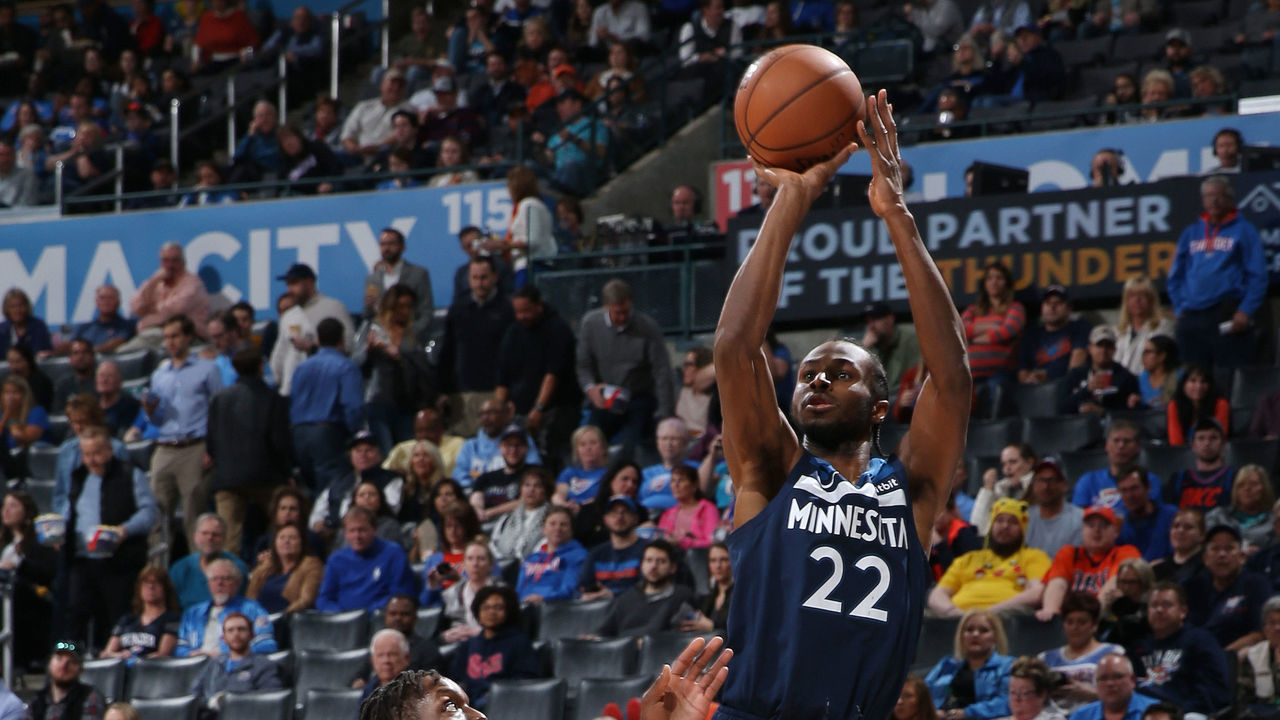 Much of the frustration with Wiggins' offensive game in previous seasons boiled down to his less-than-ideal shot selection. He didn't take enough 3-pointers, and he settled for far too many long twos after using his dribble to essentially go nowhere. Wiggins can still take even more threes - especially if he continues to shoot 36% from deep - and he's never going to completely rid himself of ill-advised shots like this one, but the numbers support the eye test when it comes to his improved overall shot profile this year.
Location of Wiggins' shot attempts
| Location | Years 1-5 | Year 6 |
| --- | --- | --- |
| 0-10 feet | 44.1% of FGAs | 48.2% of FGAs |
| Mid-range + long 2s | 35.9% of FGAs | 20.4% of FGAs |
| 3-pointers | 19.8% of FGAs | 31.3% of FGAs |
The fact that Wiggins is currently shooting better than ever from every range defined by Basketball Reference (career highs of 36.1% from distance and 47.8% overall) likely isn't sustainable, but if he remains committed to replacing more of those long twos with threes and attempts at the basket, his efficiency should continue to benefit.
Wiggins' smarter offense and increased efficiency have proven especially valuable in the clutch. In games separated by five points or less in the final five minutes, the Timberwolves star has posted a certifiably insane effective field-goal percentage of 71.4 this year.
Again, that level of efficiency is undoubtedly unsustainable, but we also can't chalk it up to small sample size. Wiggins' 21 clutch-time field-goal attempts rank fourth in the league, and he's converted on 13 of them (61.9%). The rest of the top 10 in clutch-time attempts have combined to shoot 78-of-194 (40.2%).
In a running theme, the key is that 17 of Wiggins' 21 clutch-time attempts have come in the paint or from behind the arc.
There's a D in Andrew
Wiggins' defense still leaves something to be desired, but there have been fewer lapses in effort and focus on that end of the court this year. He's still getting beat too often, but not because he's looking the wrong way or falling asleep in the half court, and not because he's slow when getting back in transition.
Meanwhile, Blocks and steals can sometimes overrate a defender's impact, but take a look at the list of players Wiggins' size or smaller who've averaged at least a block per game - something the 6-foot-7 swingman is doing right now. It's not a fluke that the names found on that list are nearly all defensive game-changers, and it's perhaps the first piece of tangible evidence that a serviceable NBA defender does lurk within Wiggins.
The big picture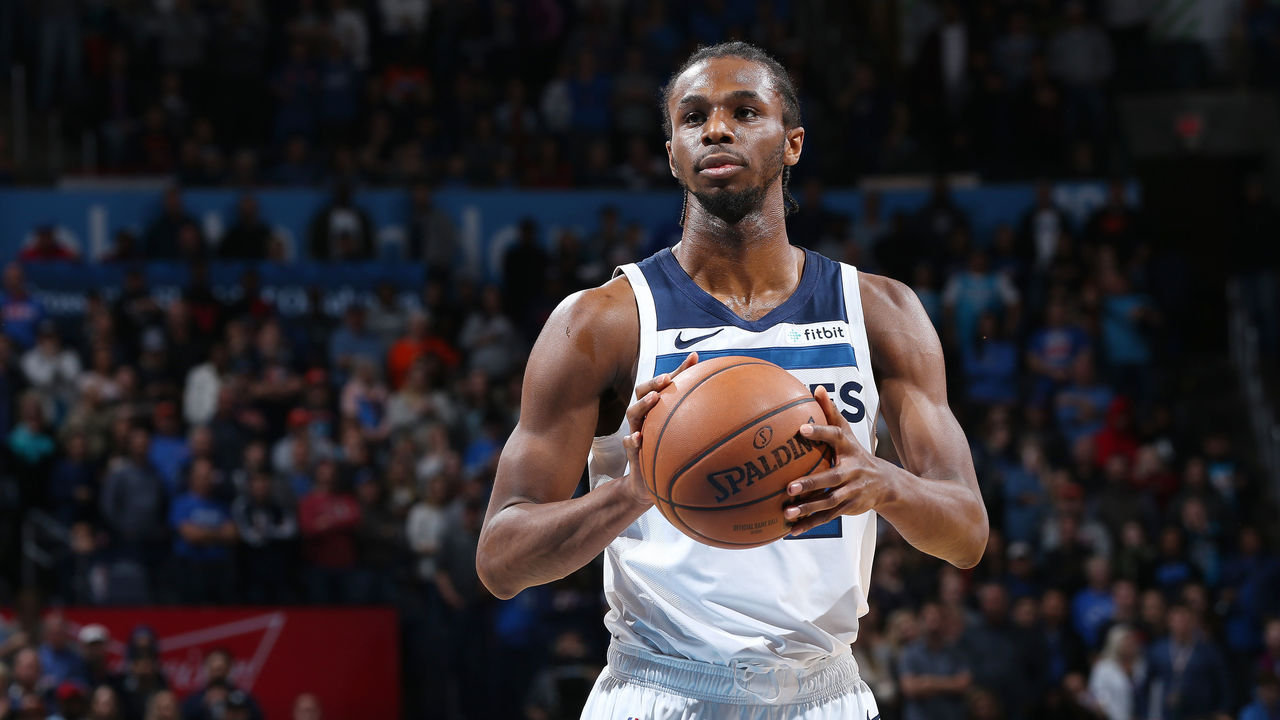 Whether it's the blocks or the clutch-time efficiency, Wiggins' numbers will likely regress at some point, and he may not join the elusive 25-5-3-1 club. That doesn't matter, nor should it be an issue if he never becomes the ideal No. 1 option on a contending team. Towns' transcendent offensive game should take care of that in Minnesota.
What's more important is that for the first time in Wiggins' professional career, the process behind his game can serve as a model for sustainable success.
Minnesota with Wiggins on, Towns off
| Season | Net rating |
| --- | --- |
| 2017-18 | -6.91 |
| 2018-19 | -3.13 |
| 2019-20 | +1.34 |
That's exciting for NBA fans in general, but especially for the Timberwolves, who simply wouldn't be able to survive in the West while getting nothing of value from a player who takes up so much of their cap space.
With this version of Wiggins supporting Towns, however, the Wolves may finally be able to aim for something beyond mere survival.
Joseph Casciaro is a senior basketball writer for theScore.