Well, that was scintillating.
With all due respect to the 317-point shootout between the Rockets and Wizards earlier this week, the NBA delivered its first instant classic of the 2019-20 season on Friday night in Dallas, with LeBron James and the Los Angeles Lakers outlasting Luka Doncic and the Mavericks 119-110 in overtime.
Here are some takeaways from a whale of a game.
James, Doncic put on a show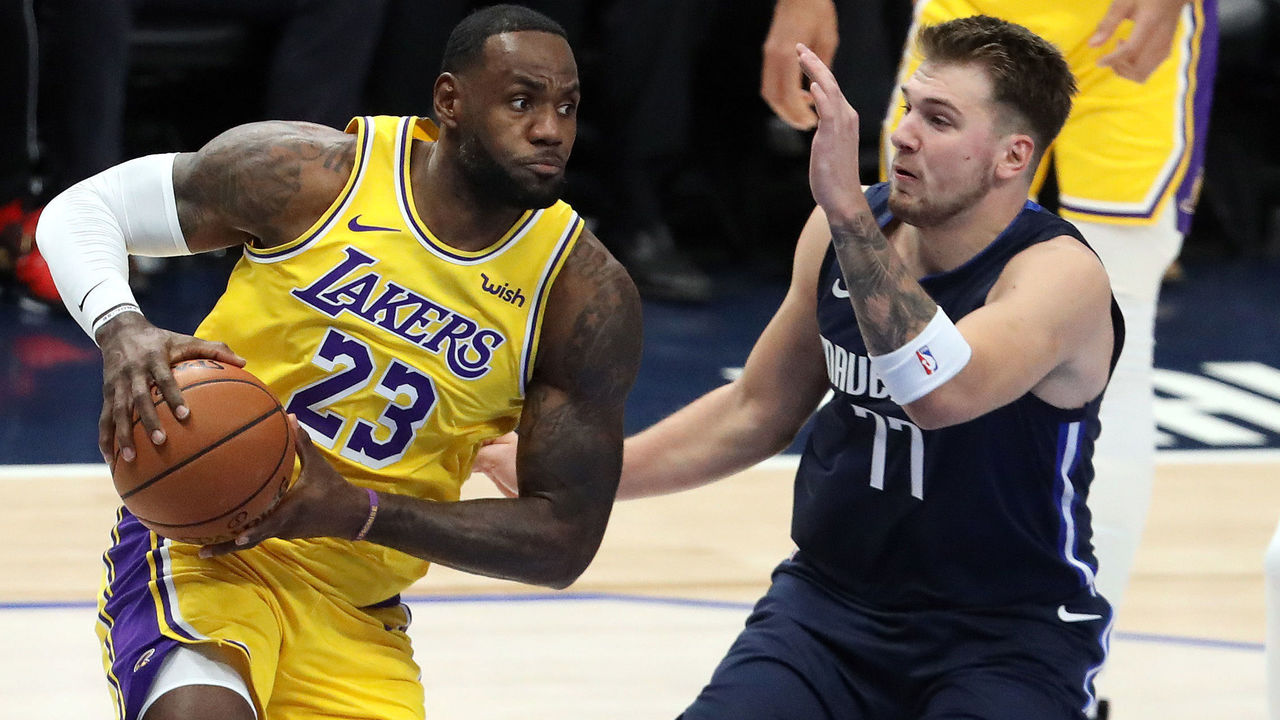 Nearly fifteen years separate James and Doncic, but you wouldn't know it after watching this sensational matchup on Friday night. James looked nothing like a 34-year-old who has logged 56,000-plus NBA minutes over his 17-year career, and Doncic looked a helluva lot wiser than any 20-year-old sophomore should.
James finished with 39 points, 16 assists, 12 rebounds, four steals, and a block on 57-44-82 shooting, all while posting a game-high plus-15 in 43 minutes of action. He also outscored the Mavs single-handedly in the overtime period.
In terms of consistent two-way play, it might've been the most engaged we've seen LeBron during a regular-season game in years, lending credence to the notion that this campaign is going to be a revenge tour for him after Los Angeles' disastrous 2018-19 season.
Doncic, meanwhile, poured in 31 points and a career-high 15 assists with 13 rebounds and a block in 38 minutes, which included an absolute gem of a third-quarter performance.
Though they combined for 70 points and a dizzying array of individual highlights (and 10 turnovers), the most mesmerizing moments from each star came through their playmaking brilliance.
James threaded bounce passes off pick-and-rolls with a surgeon's precision, and he found shooters on the perimeter all night. And Doncic couldn't have placed his lobs any better if the Lakers had allowed him to walk the ball over to his teammates.
What a memorable duel between one "bad motherf-----" and perhaps the baddest motherf----- to ever do it.
AD shows off his whole arsenal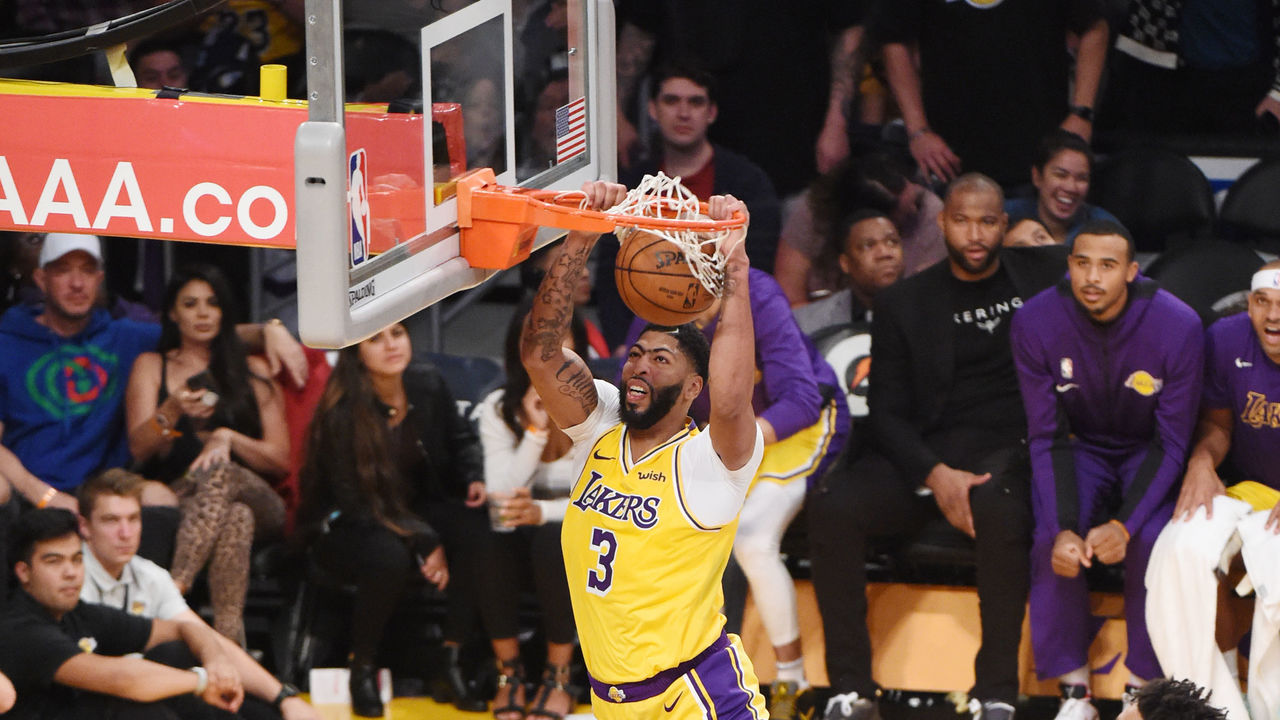 James' and Doncic's triple-doubles may have overshadowed Anthony Davis' performance, but the Lakers needed all of his 43 minutes, 31 points, eight rebounds, two assists, two steals, and two blocks.
Davis' complete offensive repertoire was on display during a 15-of-28 shooting night, as the big man scored in a variety of ways. A powerful finish on a lob from James. A jab step to knock Kristaps Porzingis off balance before powering through the Latvian for a ferocious two-handed jam. An offensive rebound and putback in a crowd with multiple Mavericks. A driving hook shot from six feet out. A spin move to create a layup for himself after catching the ball on the block with Dwight Powell on him. A crossover into a 15-foot fadeaway.
What a bag of offensive tricks the 6-foot-10 Defensive Player of the Year candidate showed. Davis was only missing his 3-point stroke on Friday while going 0-for-5 from deep.
Head coach Frank Vogel should look to milk more from a James-Davis pick-and-roll instead of posting Davis up as often as the Lakers are right now. But I'd bet the Lakers will rely on that unstoppable two-man game when they truly need it later in the season and in the playoffs.
For now, with both Davis and James on the court, L.A. is scoring 110.4 points per 100 possessions and outscoring opponents by 13.4 points per 100 possessions.
One star missing in action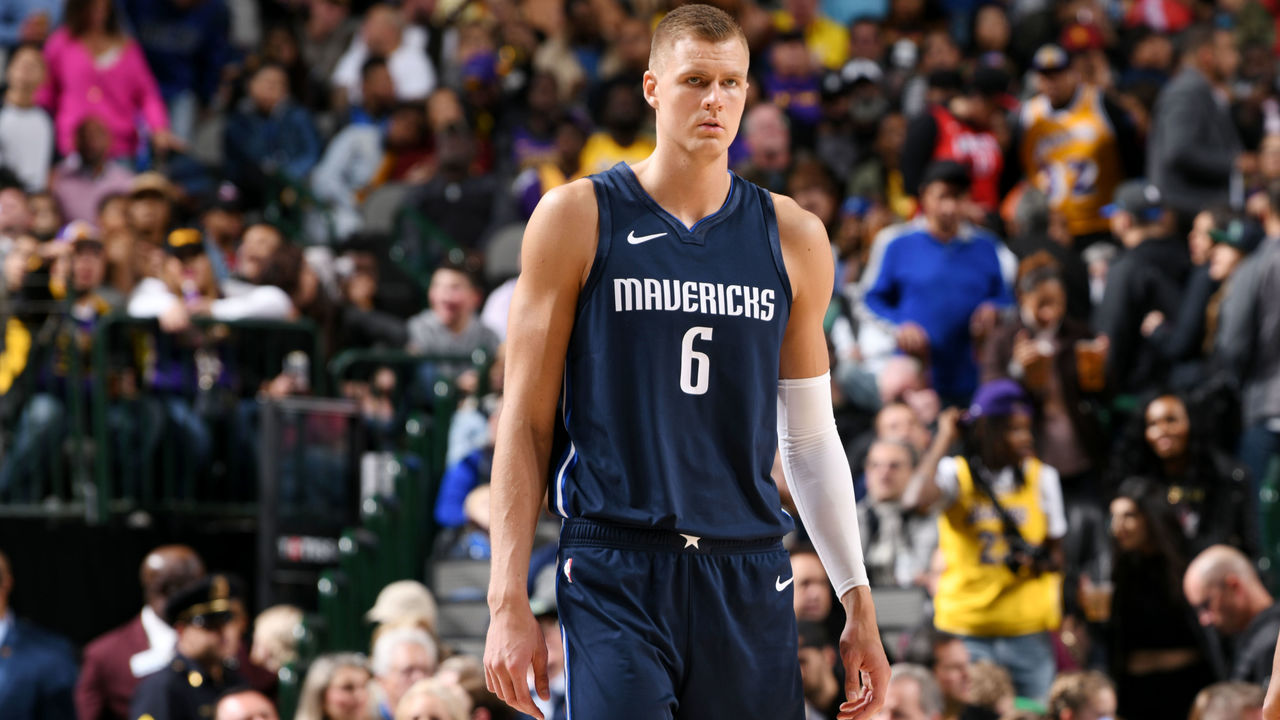 The one star we haven't mentioned in a positive light yet is Porzingis, and that's because the Mavs' big man may as well have been invisible down the stretch.
After a strong first half, Porzingis scored just four points on 1-of-8 shooting in the second half and overtime, compiling a minus-24 during that time. He wasn't getting himself involved on the offensive end and appeared to have lost much of his first-half bounce cleaning the glass. The 24-year-old also simply wasn't up to the monumental task of guarding Davis, which is why Dallas often put Powell or Maxi Kleber on the six-time All-Star.
However, we should still go easy on KP.
He was playing in only his fifth game after a 20-month layoff due to a devastating knee injury, and there have been enough flashes from the former All-Star early this season - including in the first half of this game - to provide optimism. Porzingis logging 37:25 of floor time on Friday - the most time he's played on an NBA court since Jan. 14, 2018 - is cause for celebration in its own right.
Though his shooting and on-off splits have yet to inspire, Porzingis is now averaging 21 points, eight rebounds, 2.6 assists, and two blocks less than two weeks into his return. Entering Friday's contest, he was also limiting opponents to an anemic 38.5% shooting at the rim, according to NBA.com.
The Unicorn is going to be just fine once he gets his legs back under him.
Why was Doncic in the game after headshot?
The elephant in the room following an awesome night of star-studded basketball is the Mavs allowing Doncic to finish the game after Dwight Howard's chin cut the back of his head in the fourth quarter.
Though Doncic heroically assisted on a go-ahead 3-pointer in the final minute after suffering the injury and continued to gut it out in overtime, Dallas' franchise player was noticeably woozy on the court and on the bench. However, he never retreated to the locker room for an isolated assessment.
Here's to hoping Doncic is no worse for wear aside from the cut. Letting the 20-year-old play on during an early November game - no matter how caught up in the moment both player and team were - is a bad look for the Mavs.
Dwight and the Lakers got away with one
OK, maybe there are two elephants in the room.
The league will almost certainly admit to a pretty egregious officiating error when this game's last-two-minute report is released on Saturday.
Howard clearly impeded Seth Curry while the Mavs guard was trying to close out on Danny Green before the 32-year-old splashed home the game-tying triple, sending the contest to OT.
Asking officials for perfection is unrealistic. But asking one of three refs to notice what millions of non-professionals were able to see in real-time - on a game-breaking play at the buzzer, no less - is reasonable.
Dallas could be in the thick of a tight playoff race near the bottom of the West. Hopefully, this botched call doesn't come back to bite them.
The Mavs are good, but they're young ...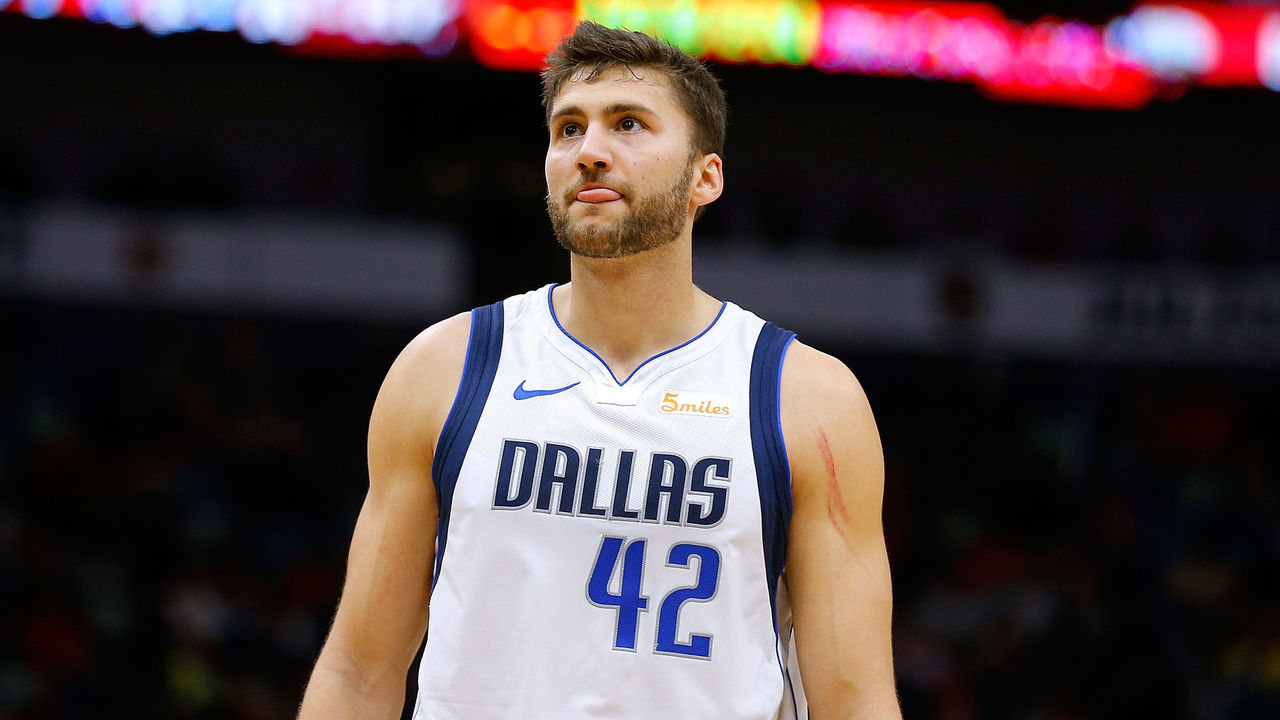 ... And young teams make mistakes during what often feels like the worst time. Officiating error aside, the Mavs made a couple of brutal decisions during the possession when Green tied the game.
For one, they should've fouled and sent L.A. to the line for two shots in what was a three-point game, rather than allowing the Lakers a chance for the tie.
Secondly, if the Mavs weren't going to foul, they absolutely didn't need to send help to protect the rim against a driver while leading by three in the dying seconds. No good can come of that, as Kleber - the culprit in this case - could've created an and-1 situation for the Lakers had James gone up to make a play at the rim. Even worse, he left the corner open for Green, a cold-blooded 3-point marksman.
Dallas executing sharper defensively wouldn't have allowed the possession to progress to a point where Howard was able to get away with an offensive foul.
The Mavericks can be very good very soon, but the details along the margins matter, and the young Mavs must learn to walk before they can run in the wild West.
Concerns about Lakers' depth were overblown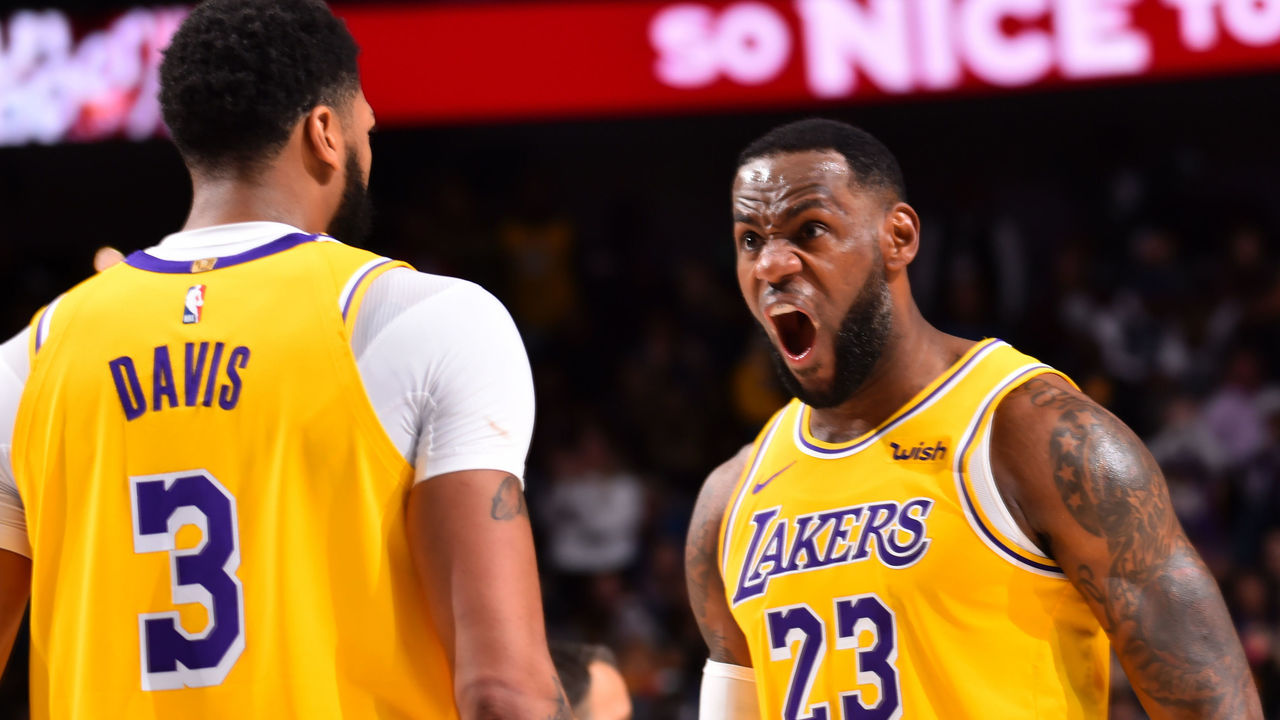 The Lakers could definitely use more ball-handling, and as is usually the case with a LeBron-led team, they're likely toast if King James is sidelined. But preseason concerns about the team's depth may have been unfounded.
There's only one team in the league (Clippers) that can match the Lakers' star power at the top of their roster. The Lakers are fueled by a decent amount of shooting around James and Davis, and the team finally got Kyle Kuzma back in Friday's win after the forward had been shelved with a foot injury. They also possess an excellent defensive pairing in Green and Avery Bradley that can ensure James doesn't have to guard the opposition's best perimeter players.
Meanwhile, Howard has been an impressive defensive force off the bench, and Alex Caruso is capable of providing the reserve unit with some offensive pop. Yes, Kentavious Caldwell-Pope has been wretched, and no one knows what to expect from Rajon Rondo when he rejoins the fold. The Lakers would also probably like to add another piece or two to shore up their bench, but that shouldn't be a problem as the season unfolds and vets become available. What they have at the moment is fine for now, especially in a supporting role for two transcendent superstars.
It's just a couple of weeks into the season, and the Lakers already own a share of the West's best record, the league's third-ranked defense, and the NBA's No. 1 net rating.