The Golden State Warriors were already off to a woeful start, and the road back to respectability was looking like an uphill climb even before another embarrassing home loss on Wednesday.
But with Stephen Curry, Draymond Green, and D'Angelo Russell at their core, and the injured Klay Thompson potentially returning at some point in the second half of the season, there was still a faint hope that the five-time defending Western Conference champions could be a sleeping giant.
Whatever remained of that hope came crashing down with Curry on Wednesday night. Falling awkwardly on a drive to the basket against the Phoenix Suns, the two-time MVP broke his left hand. Further testing will determine whether his broken second metacarpal requires surgical repair, but based on standard recovery times for such an injury and recent history across pro sports, Golden State can likely expect four-to-six Curry-less weeks.
That may not sound like the end of the world, but for this Warriors team, even a month without Curry would be disastrous.
If one thing has become apparent over the first 10 days of the Warriors' season - other than the fact they own the league's most porous defense - it's that this team lacks sufficient NBA talent to compete on a nightly basis. Even before Curry's injury, Kevon Looney and Willie Cauley-Stein were among the Warriors' five best available players, and both have only played once this season because of their own ailments. If two of your top five talents in 2019-20 are centers, you're in a world of trouble - especially if you have almost no rotation-caliber depth beyond the starting lineup.
Green is a dynamic two-way talent, and Russell's shot-creation and playmaking can be incredibly helpful. But the Warriors' ability to remain competitive despite an obviously flawed roster was always going to depend on Curry's brilliance.
Even as he struggled to start the season - a career-low offensive rating of 106 points per 100 possessions - Curry's on-court value was unmistakable. The Warriors entered Wednesday's game performing more than 10 points per 100 possessions worse with him on the bench. (Those numbers admittedly look less dismal after the leftover Warriors cut their 29-point deficit at the moment of Curry's injury down to a final margin of 11.)
With Curry out and Looney still sidelined, the Warriors' starting five likely consists of Russell, Green, and three of the following four players: Cauley-Stein, Alec Burks, Glenn Robinson III, and Eric Paschall. Perhaps head coach Steve Kerr will reluctantly prioritize pick-and-rolls to tailor the offense to Russell's skill set, but that won't make up for an overall lack of talent.
If you thought the Warriors' first four games were hideous, buckle up. Things are about to get much uglier. Golden State plays the Spurs and Trail Blazers on this current four-game homestand. After that, it's the Rockets, Timberwolves, Jazz (twice), Lakers, Celtics, and Mavericks during a 10-game span that features eight on the road. This team is already 1-3 in a conference where it might take 45 wins or more just to sneak into the playoffs.
The postseason is just about out of the question, and there's virtually no chance the Warriors bring Thompson back for meaningless basketball this season. Next year - and beyond - is all the Warriors should be concerned with now.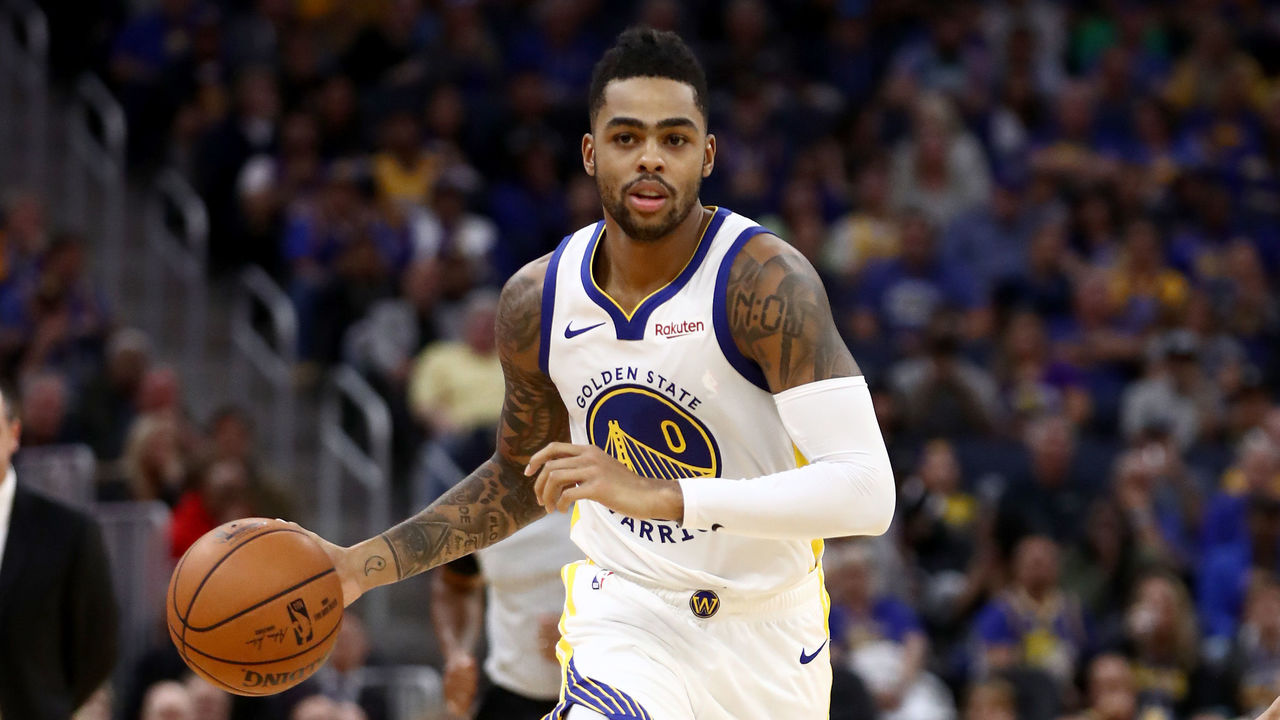 What assets do the Warriors have to work with? Curry (signed through 2022) and Thompson (signed through 2024) aren't going anywhere, and it's tough to think of many teams that would line up to shoulder the remaining four-plus years of Green's contract. The rest of Golden State's players are either on cheap deals or offer limited upside. That leaves one name for the team to dangle in trade talks: Russell.
From the moment the Warriors shockingly acquired him in a sign-and-trade at the onset of free agency, reports have swirled that the team plans to explore Russell's trade market once the Dec. 15 moratorium passes. Doing so makes even more sense now that the Warriors won't be competing for anything of significance this season; the focus should be flipping Russell for a package that can either better balance the roster in the short term or provide the longterm upside the franchise currently lacks beyond its Big Three.
Thompson will be back at full strength next season, and the team might catch some lottery luck (its 2020 first-rounder is top-20 protected). If they can engineer a successful Russell trade, perhaps the Warriors can return to their formerly lofty status in 2020-21.
That's a long time away, though, and a lot of variables have to fall in Golden State's favor. A year can feel like an eternity, especially in a league where the balance of power can shift rapidly. After all, the Warriors effectively lost Thompson, Curry, and Kevin Durant in the span of six games.
The Warriors still have 78 games to play in 2019-20. But a team that's grown used to playing into June likely just saw its season end before the calendar even flipped to November.