The NBA is a superstar's league, but there's also a subsection of secondary stars and role players who can tilt the balance of the title race in any given season. Here are 10 such players for the 2019-20 campaign.
Note: We did not include stars who could swing the season via trade, like Chris Paul, or injured stars with uncertain recovery timelines, like Klay Thompson and Victor Oladipo.
Without further ado ...
Ben Simmons, 76ers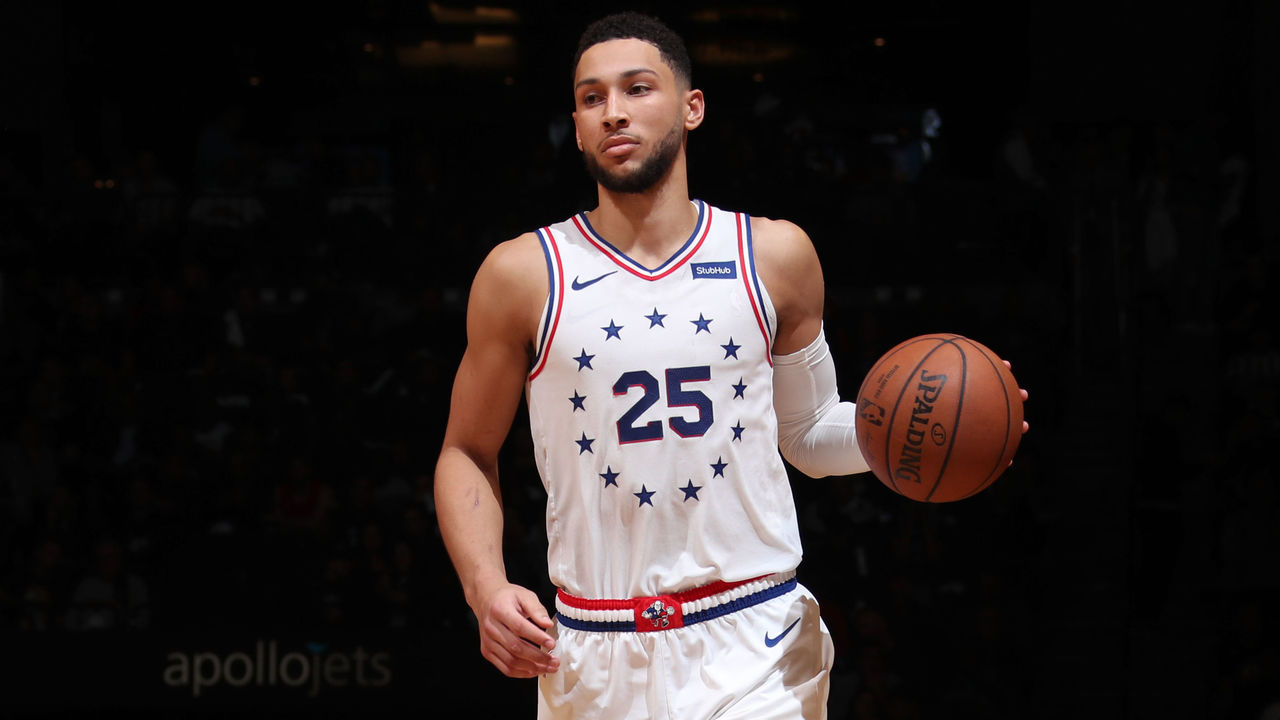 Before we get to the broken jumper mocked 'round the world, it's important to remember just how good Simmons already is even without any semblance of shooting range.
Through two seasons, the 23-year-old has averaged 16.4 points, 8.5 rebounds, 7.9 assists, and 1.6 steals on an effective field-goal percentage of 55.4. He's started 160 of Philadelphia's 162 games during that time, helping the 76ers to the second round twice in two years after the franchise had missed the playoffs altogether for five straight seasons. He's a 6-foot-10 point guard whose exceptional vision is aided by being able to see over any defense, and he can competently defend at least three or four of the five positions on the floor.
Simmons is already the second-best star on a team that can absolutely compete for a championship this season, but the catch is this: His lack of range and his preferred pace of play doesn't quite mesh with Philly's undeniable superstar, Joel Embiid.
With Jimmy Butler in Miami, Simmons will dominate more of the ball again this season, and the threat of a jumper would help him immensely in those situations. But it's what that jumper could do for Embiid and the Sixers when Simmons is without the ball that could help swing things for Philly. The team is overly reliant on Embiid, who rightfully commands much of the opposing defense's attention. Any ounce of extra space for Embiid down low would be an obvious win, and defenses beginning to respect Simmons off the ball would be a nice start.
He doesn't need to become an overnight sensation from behind the arc or start pulling up in transition, where he's already a deadly finisher. Instead, Simmons just needs to knock down the occasional open 3-pointer - or any jumper beyond 10 feet for that matter - and be confident enough to let those shots fly when he's left hilariously open.
If he can do that, his already enviable game will take a mammoth step toward full-blown superstardom, and the questionable offensive fit within Philadelphia's roster will be less of a concern. - Joseph Casciaro
D'Angelo Russell, Warriors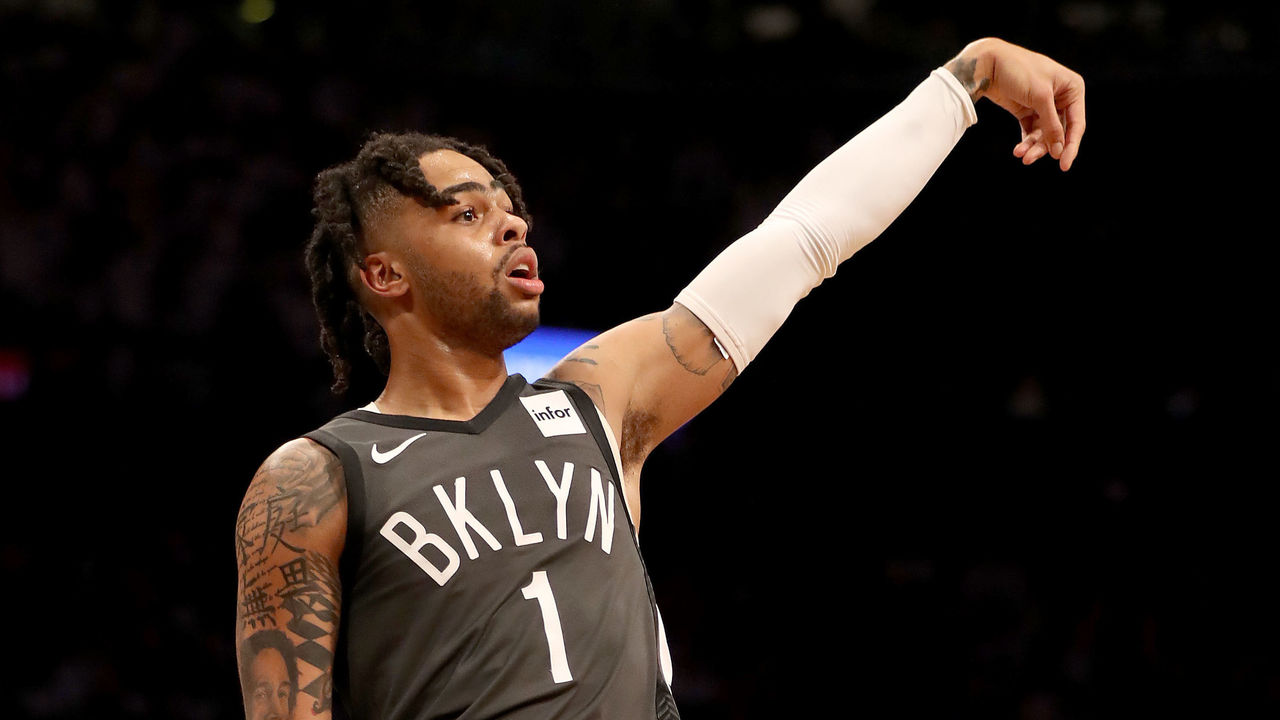 Russell's overall improvement last season may not have been as drastic as his statistical jump indicated, but the 23-year-old did show off a much better feel for the game. This year, the Warriors will hope they can put the ball in Russell's hands and trust that good things will happen - with or without Stephen Curry on the court.
With Curry and Draymond Green running pick-and-rolls in Steve Kerr's read-and-react offense, and with Curry's otherworldly range keeping defenses off-balance, the Warriors should still be able to score efficiently. But with Kevin Durant in Brooklyn, Klay Thompson sidelined until at least the All-Star break, and a concerning lack of depth on the roster, Golden State no longer boasts the devastating attack that the league has become accustomed to. Russell's on-ball creation could help inch the offense close to that level once again.
Only Kemba Walker ran more pick-and-rolls than Russell's 11.4 per game last season, and while Russell's 0.89 points per possession as the ball-handler in those situations left something to be desired (67th percentile league-wide), he's never run an offense with Curry's gravity around to help. Russell should be a more efficient all-around player this year, and he could help the Warriors unlock Curry as the league's most dangerous off-ball threat.
Sure, he might struggle flying solo when Curry isn't on the court, but given the Warriors' stunning dearth of backcourt playmakers, Russell's presence may be the only thing that keeps this team out of the lottery.
The durability of Curry and Green, and the potential return of Thompson, are the most important factors for the Warriors in 2019-20, but Russell's on-ball talents - and his potential in-season trade value - could mean the difference between a maxed-out playoff team and a championship contender. - Casciaro
Jamal Murray, Nuggets
What does the perfect Nikola Jokic co-star look like?
It's someone who can cut, the better to take advantage of Jokic's laser-guided passes. It's someone who can shoot, thus opening the middle of the floor for Jokic, dissuading opponents from double-teaming him and turning his bruising post-ups into lose-lose propositions for the defense. It's someone who can capably handle and pass the ball, so the burden of quarterbacking the offense doesn't fall solely on Jokic's shoulders, and so there's someone who can pick up the considerable playmaking slack when Jokic is on the bench. And it's someone who can defend well enough to cover for Jokic's lack of foot speed by staying attached to ball-handlers in the pick-and-roll, so the Joker isn't routinely being stranded on an island trying to guard two guys at once.
Murray has done all of those things sporadically while sprinkling in moments of brilliance in every area other than defense. The Nuggets obviously believe in his ability to be that perfect Jokic complement, which is why they lavished him with a five-year max contract this summer despite a body of work that, to this point, has not come close to justifying it. He and Jokic already have balletic offensive chemistry - particularly in dribble-handoff and (often inverted) pick-and-roll scenarios - but in order for Murray and the Nuggets to reach their apex, he needs to become far more consistent across the board. He needs to be a better facilitator, be more discerning with his shot selection, get to the free-throw line more often, and bump up his pedestrian (by lead-guard standards) 53.8% true-shooting mark. Perhaps more than anything, he needs to be more locked in and physical as a point-of-attack defender.
Murray is still just 22, and he's shown the skills - and the moxie - to be the player the Nuggets have banked on him becoming. If he can take that leap in his fourth season, he'll transform Denver from a cute regular-season team into a bona fide championship contender. - Joe Wolfond
Pascal Siakam, Raptors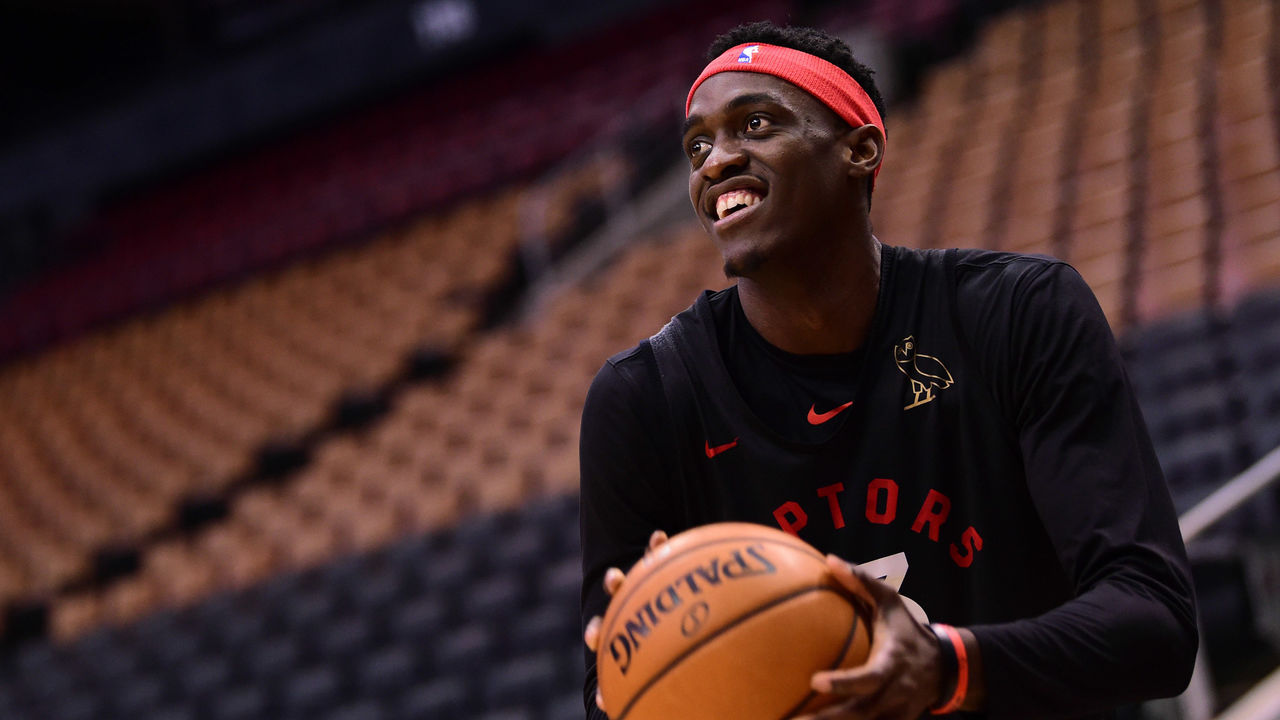 It's not often that last season's Most Improved Player is a safe bet for another sizeable statistical leap, but nothing about Siakam's journey has been ordinary.
The Cameroonian power forward wasn't even playing basketball a decade ago, looked like a raw rim-runner two years ago, and is now on the cusp of a maximum contract extension after averaging 16.9 points, 6.9 rebounds, and 3.1 assists on 55-37-79 shooting in his third season as a pro - a campaign that saw him emerge as an invaluable component of Toronto's championship run.
Now, Siakam and the Raptors will get to further test just how limitless his all-around talents are.
Siakam will become the team's primary offensive option in Kawhi Leonard's wake, and he has the tools to become prolific in that role. He's already a devastating finisher, if not an unorthodox one inside, who knocked down more than two 3-pointers per game last season. His playmaking and vision for a big man make him a fascinating option as somewhat of a point forward, and he has All-Defensive potential as a Swiss Army knife on that end of the court.
The next step for Siakam is cementing his pull-up jumper and in-between game on the offensive end, which will make life as a No. 1 option a lot easier. Last season, he attempted only 0.8 pull-up attempts per game, of which he converted just 38.1 percent.
"Most of the things I don't do well, it's just because I haven't done it," Siakam said of his rapidly developing skills during training camp earlier this month.
The Raptors are going to give him every opportunity to test that theory this season. If he flourishes and touches his All-NBA ceiling, the Raptors still have the type of supporting cast that can get them back to Finals contention. But if Siakam proves to be an overmatched secondary or tertiary star miscast in a primary role, the defending champs will look more like pretenders. - Casciaro
Caris LeVert, Nets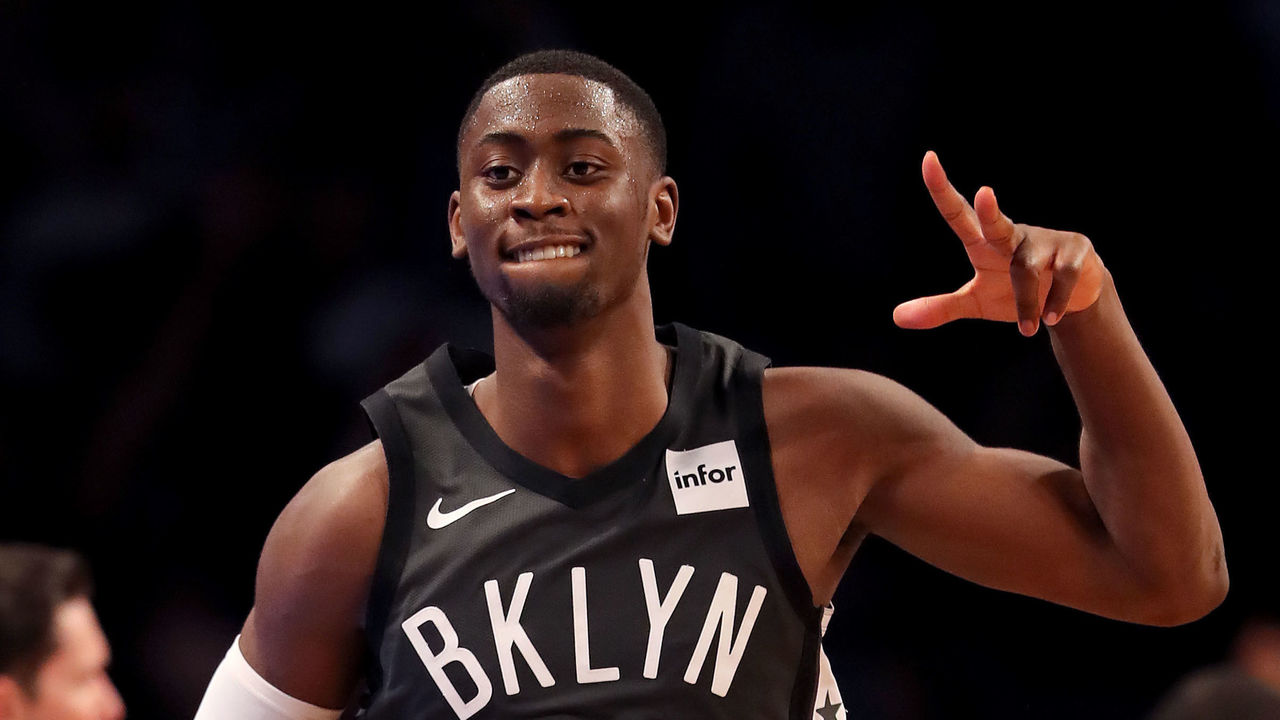 LeVert's 2018-19 season can be neatly broken down into three acts. He started out looking like a Most Improved Player front-runner before a nasty ankle dislocation sidelined him after 14 games. He returned to action in February and predictably struggled, but then worked his way back into early-season form just in time for the playoffs, where he was easily the best Nets player in a five-game loss to the 76ers.
| Act | Games | Points/36 minutes | TS % | Usage % |
| --- | --- | --- | --- | --- |
| Pre-injury | 14 | 22.2 | 55.7 | 26.1 |
| Post-injury | 26 | 16.1 | 47.3 | 21.9 |
| Playoffs | 5 | 26.1 | 61.2 | 26.9 |
There are plenty of reasons to believe in LeVert's upside. He has size, handles, footwork, and feel; he can pass, finish at the rim, and defend multiple positions. There is a natural patience to his game. He maintains a live dribble that he uses to prod, juke, and feint until the defense gives something away. He preys on lumbering bigs when he gets a switch. And in a postseason series that featured D'Angelo Russell, Jimmy Butler, Ben Simmons, and Tobias Harris, LeVert was the most dynamic pick-and-roll orchestrator.
There are also plenty of red flags dotting LeVert's three-year NBA run. He's missed an average of 26 games per season after an injury-marred college career. His efficiency has dipped in inverse correlation with his usage, culminating in last year's underwhelming 50.9 true-shooting percentage. He has a shaky jumper and no floater to speak of. He shot just 31.2% from 3-point range and 35.6% on 2-pointers outside the restricted area last season. (His playoff surge was driven largely by an unsustainable 46.2% mark from deep.) To successfully share a backcourt with newcomer Kyrie Irving, he'll need to hit spot-up threes at a rate that keeps defenders honest while adapting his off-ball movements to Irving's arrhythmic dribble dance.
With Kevin Durant almost certainly out for the year, this stop-gap campaign in Brooklyn will give LeVert - who just inked a three-year, $52-million extension - every opportunity to prove he's the player who bookended last season with a flourish. If he picks up where he left off, the Nets should have the East's best backcourt, compete for the 3-seed, win a playoff series, and set the stage for a thrilling 2020-2021. (Alternatively, LeVert could be the centerpiece in a trade package for a third superstar.) But if he doesn't - if his jumper remains sketchy or if the injury bug bites again - the Nets could scuffle, and their long-term outlook could get murky. Either way, much of their future hinges on LeVert's development, starting now. - Wolfond
Kyle Kuzma, Lakers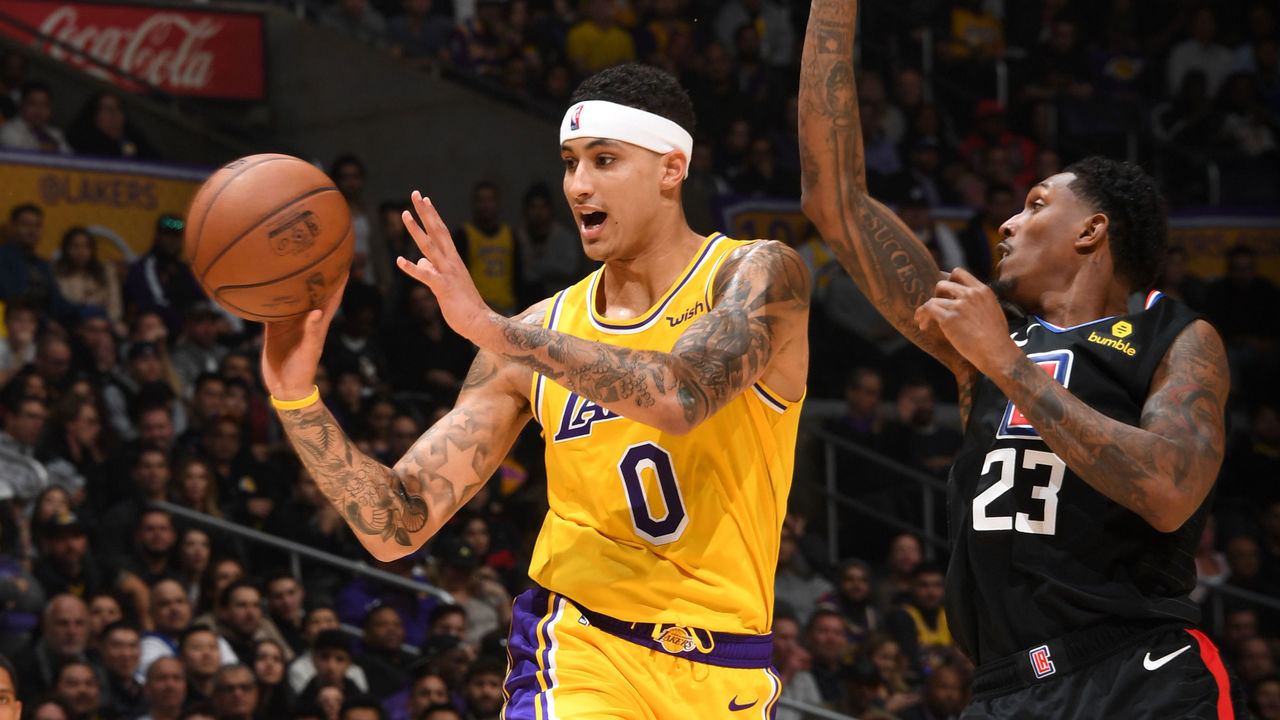 The Lakers don't need Kuzma to live up to the lofty standards some will place on him after he was reportedly the closest thing to untouchable in the Anthony Davis trade talks. They don't need him to be Chris Bosh or Kevin Love, the star big men who rounded out historic Big Threes built around LeBron James in Miami and Cleveland. They simply need him to be a dependable third option on offense who can act as somewhat of a safety valve for James and Davis while continuing to develop as a shot-creator.
Kuzma has averaged better than 17 points per game through two seasons, and he was often the most consistent of Los Angeles' up-and-down youngsters during that time. However, James and Co. will need more pop from him to fulfill their championship potential.
For one, Kuzma needs to be more like the rookie stretch-four who shot 36.6% from deep than the sophomore who barely cleared 30%. Second, given that the rest of L.A.'s supporting cast fits more of the 3-and-D and catch-and-shoot molds, the Lakers will need Kuzma to make plays for himself. But thus far in his career, more than 57% of his 2-point field goals have been assisted. James can't be the only perimeter or wing player on this roster who's capable of creating his own shot if the Lakers want to survive four rounds in the spring.
James and Davis should get Kuzma better looks than he's ever seen in the past. Can he reciprocate in some way? - Casciaro
Jayson Tatum, Celtics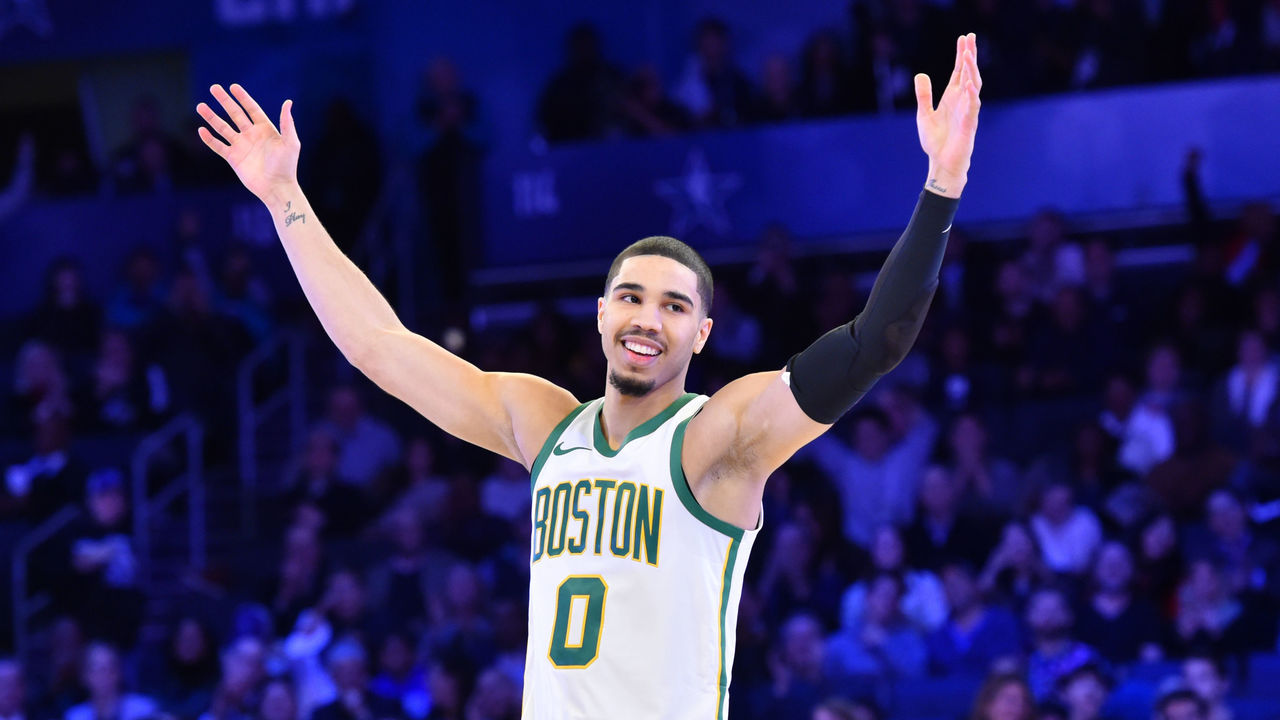 For all the talk of personality clashes, Kyrie Irving's mercurial leadership, and having "too much talent," last season's Celtics flopped because, quite simply, their players were collectively worse than they were roundly projected to be. Their young players, in particular, fell short of expectations, and Tatum was the poster boy for that developmental stagnation. Instead of building on a promising rookie campaign, he came back as virtually the same player, but with less optimal shot selection.
After drinking a bit too much of the Mamba-laced Kool-Aid, Tatum's isolation possessions and mid-range attempts spiked, while his free-throw rate, at-rim attempt rate, true-shooting percentage, and impact metrics all nosedived. He didn't grow as a playmaker, and his attempts to expand his off-the-dribble game mostly led to inefficient self-creation. He scored 0.63 points per isolation possession (placing him in the 17th percentile) and shot 36.8% on pull-up mid-range jumpers, of which he inexplicably attempted more than four per game.
But let's not overcorrect. Development is often non-linear, and Tatum still has a chance to be really, really good. The bones of a two-way stud are already in place: He's a liquid 6-foot-8 wing with a 6-foot-11 wingspan, a sweet stroke, a solid handle, crafty finishing ability, and the strength and speed to guard three positions. Even amid Tatum's sophomore slump, the Celtics outscored teams by nearly seven points per 100 possessions with him on the floor.
Getting back on the right track is all about trimming the fat from his shot diet - attacking more decisively off the catch, making a concerted effort to get all the way to the rim rather than pulling up from mid-range, and striking a better balance between hunting his own offense and creating for others. With Irving out of the picture, replaced by the more agreeable (and only slightly less talented) Kemba Walker, Tatum could be poised for a delayed breakout.
If that happens, the Celtics should more closely resemble the team many projected them to be before last season, when Tatum was pegged as a potential second-year All-Star. They could be the third-best team in the East and give the Bucks or Sixers a run for their money. On the other hand, if it turns out Tatum really has plateaued, the Celtics would profile as a middling team with a suddenly not-so-exciting future. - Wolfond
Kristaps Porzingis, Mavericks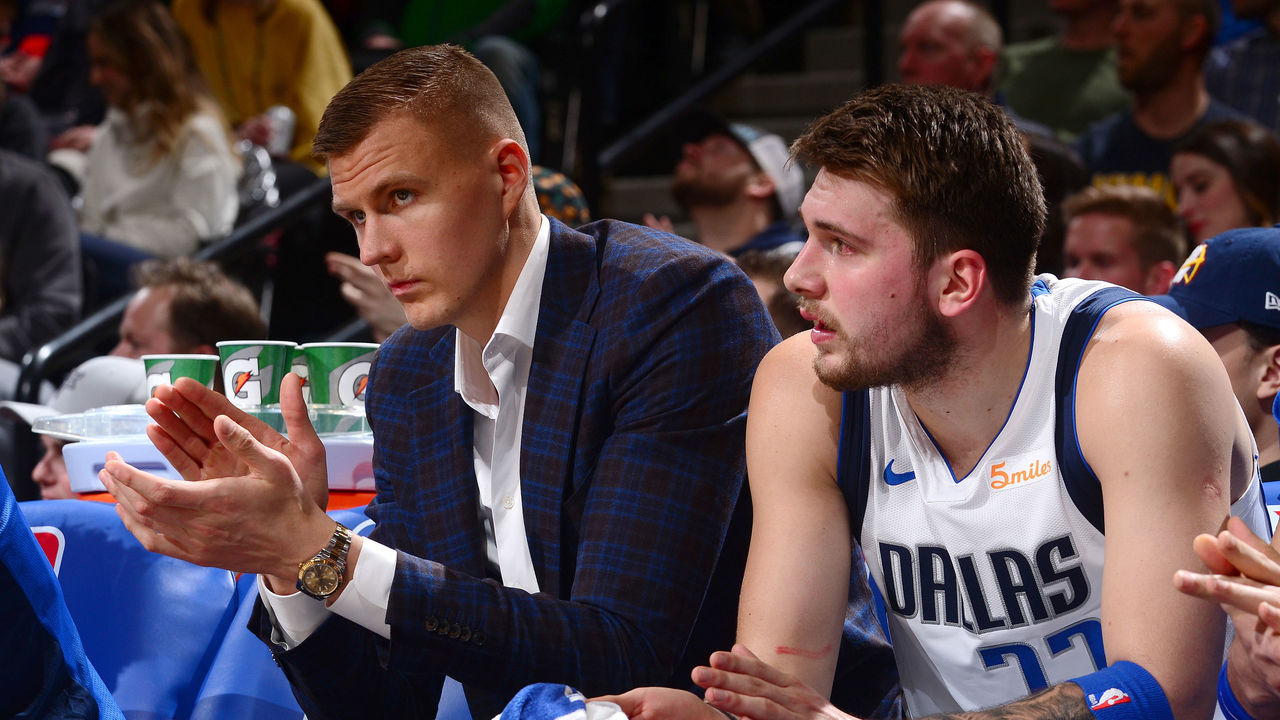 It's been 20 months since we've seen Porzingis in a regular-season game after the big man tore his left ACL on Feb. 6, 2018, so you may have forgotten about the mesmerizing skill set that earned him his 'unicorn' moniker.
In 48 games during that 2017-18 campaign, a 22-year-old Porzingis averaged 22.7 points, 6.6 rebounds, and 2.4 blocks. The 7-foot-3 Latvian also shot better than 39% from deep on the offensive end while posting the best rim-protection metrics in the league on the defensive end. In short, he was blossoming into a two-way monster with transcendent upside. It should never be forgotten that the Knicks traded him to clear cap space for another fruitless free-agency period.
In any event, Porzingis is back to basketball now, and the Mavericks have locked him up through 2024, giving him the type of contract stability New York never would. Dallas has also paired him with Luka Doncic, a potentially transcendent international talent in his own right.
Doncic's production and on-court value are safer bets this season, given that he isn't coming off a long layoff from one of the most devastating injuries a basketball player can suffer. But Porzingis is the X-factor on this team. If he can even come close to looking like the guy we saw two years ago, the Mavericks will suddenly find themselves with two All-Star-caliber players who likely haven't even approached their primes.
If that's the case, forget just trying to end a four-year playoff drought. The Mavs will be able to dream a lot bigger. - Casciaro
Dejounte Murray, Spurs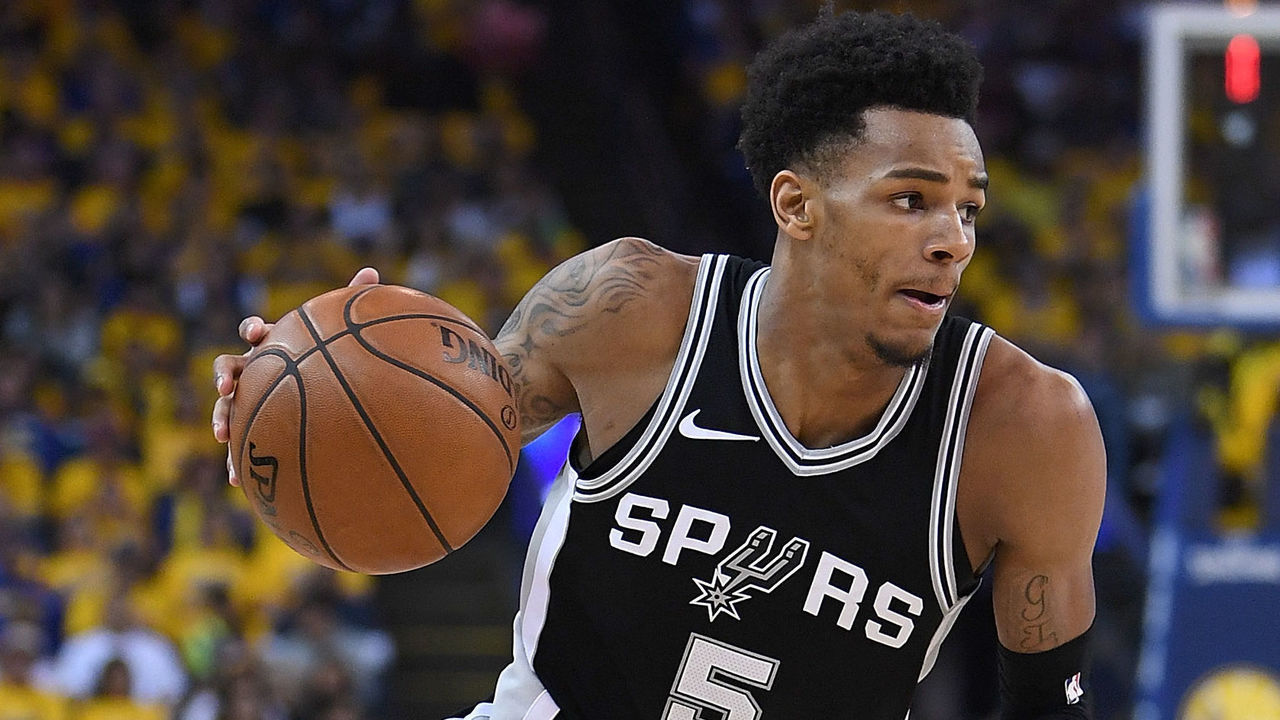 To make an All-Defensive team in one's second season is no small feat, and true to his reputation, Murray is a monster on that side of the ball; a wiry, octopus-armed ball hawk who can swallow guys at the point of attack or stand them up in the post.
Before he tore his ACL last preseason, there was a ton of buzz in San Antonio about the leap Murray was about to make at the other end of the floor. The question that now shrouds his delayed third season is whether the injury derailed or merely briefly interrupted his progress. Will his defense be the same? And is he still primed to be an offensive difference-maker?
The Spurs are stylistically anachronistic and extremely light on shooting, as they appear set to roll out a starting lineup with exactly one legitimate 3-point threat. They need Murray to mesh with DeMar DeRozan and LaMarcus Aldridge, and they need him to help bend the walls of what's been a staid offense ever since Kawhi Leonard's quad flared up two years ago. Murray's jumper has been slow to develop, but he's at least made strides in the mid-range area.
Murray can also contribute in other ways. He's a solid playmaker, and the last time he was healthy, he was the league's most prolific offensive rebounder among point guards - an uncanny skill that forced the historically crash-averse Gregg Popovich to let him hit the offensive glass, transition defense be damned.
Is it that crazy to think that with a Murray leap, this team could jump into the fringes of the West's contender class? The Spurs won 48 games with the league's sixth-best offense last season. Their 20th-ranked defense is what held them back, and they just added one of the best perimeter defenders in the league. If this year's Murray is the player he was expected to be in 2018-19, San Antonio can be a force to be reckoned with. - Wolfond
Domantas Sabonis, Pacers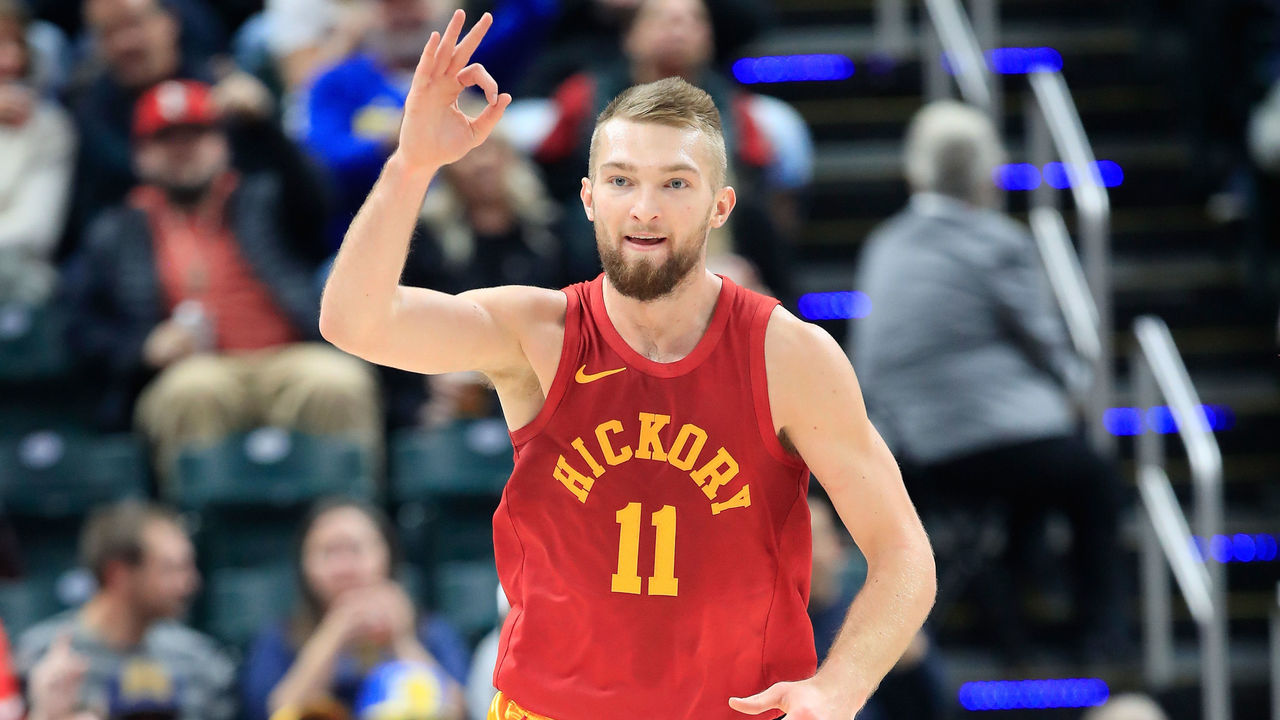 Without Victor Oladipo to start the season, everyone on the Pacers will be saddled with additional responsibilities. Sabonis is the player most likely to rise to the challenge.
He and frontcourt companion/counterpart Myles Turner are in a strange spot, because each guy's progress and potential is always being measured against the other's. Turner got paid last summer, and Sabonis is now extension-eligible, but conventional NBA wisdom suggests it doesn't make sense to devote more than $40 million to two guys who primarily play the same position and would optimally overlap scarcely, if ever. (Just ask the Utah Jazz.)
Sabonis is the more enticing long-term piece because of how offensively polished he is after just three seasons. The 23-year-old brings a rare combination of force and finesse. He can devour smaller dudes on the block, and he's one of the nastiest, most relentless screen-setters in the league. But he also has soft hands, deft touch around the hoop, and the ability to make instantaneous reads and flick precise passes out of the post or the short roll.
To make up for their lack of off-the-bounce creation in Oladipo's absence, the Pacers will need Sabonis to be an offensive hub they can play through. They'll need him to initiate more from up top and add some outside-in to his inside-out game. If he does, the Pacers can stay afloat until Oladipo returns and really take off once he does. Sabonis could give them a legit second pillar on which to build while turning Turner into one of the best trade chips in the league (allowing Indiana to target a much-needed wing upgrade).
If all that comes to pass, it's not so fanciful to envision the Pacers jumping into the Bucks/Sixers tier in the East. But if Sabonis stagnates, the Pacers will be back where they were last season: A middling team with a dearth of offensive initiators and a frontcourt bottleneck to which there is no obvious solution. - Wolfond