With this season presenting what looks like the most level NBA championship field since The Decision, we're assessing the bona fides of eight legitimate 2019-20 contenders. What will propel them to the title this year? What will prevent them from winning it? Let's examine both sides.
Previous entries in the series: Milwaukee Bucks | Golden State Warriors | Utah Jazz | Philadelphia 76ers | Houston Rockets | Denver Nuggets | Los Angeles Clippers
Today: Los Angeles Lakers
Why they'll win the championship
Months away from his 35th birthday and entering season No. 17, there's still no one in the NBA who raises a team's floor like LeBron James. And, from a pure basketball perspective and with all due respect to Dwyane Wade, Chris Bosh, Kyrie Irving, and Kevin Love, no superstar teammate has ever been a better fit beside King James than Anthony Davis.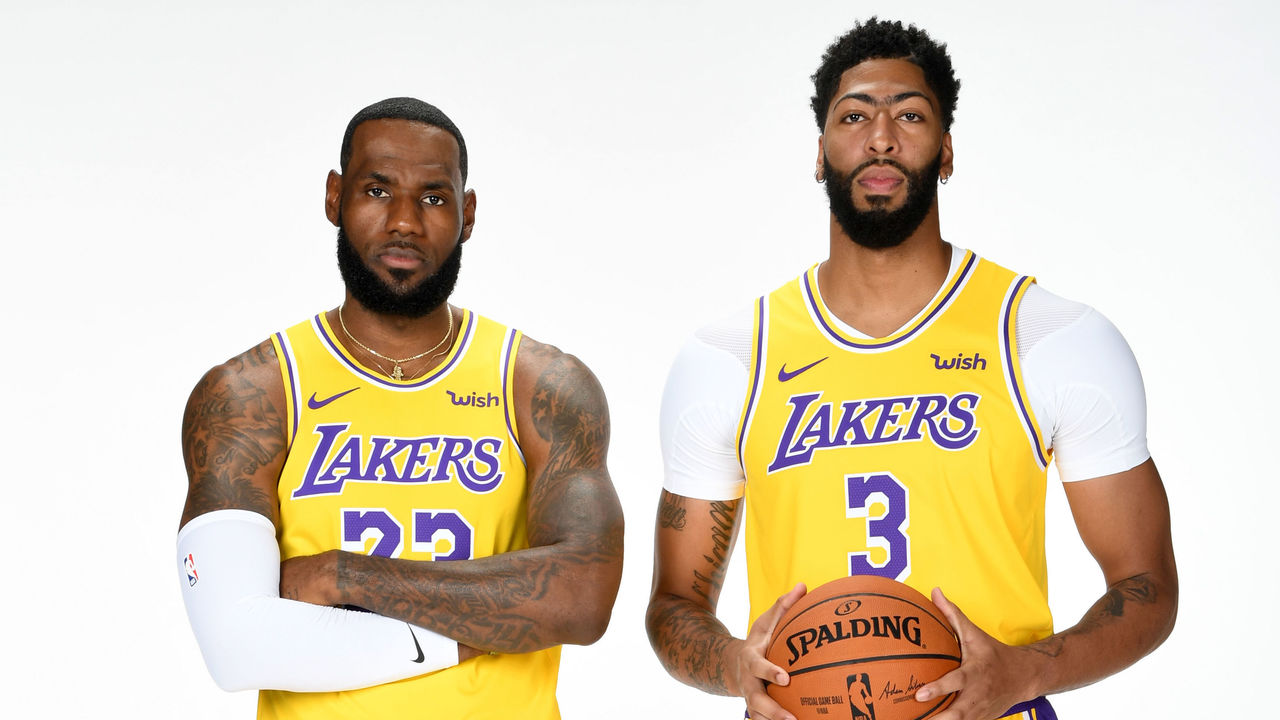 James and Davis should immediately form one of the league's deadliest pick-and-rolls. If the Lakers get even a modicum of shooting around that combo, Los Angeles could sleepwalk its way to an elite offense. In the wake of last season's shooter-less catastrophe, the good news is that seven of L.A.'s 12 non-James, non-Davis roster spots now belong to players who shot better than 35 percent from deep last year or have shot above-average from deep for their careers.
Two of the most important newcomers in that regard - Danny Green and Avery Bradley - will also help on the other end of the court. Both swingmen have historically been deployed to guard opposing teams' most potent offensive weapons; if the Lakers roll out lineups with James, Green, and Bradley sharing the court, Frank Vogel can hide James on defense. That may sound blasphemous on the surface, but we know what to expect from James' defensive play at this stage of his career. During the regular season, it leaves something to be desired.
With Green and Bradley in the defensive backcourt and Davis protecting the rim, James should be able to focus most of his attention on the offensive end - a scary prospect for opponents after he averaged 27.4 points and 8.5 assists on an effective field-goal percentage of 56.0 in a "down year" last season. And that was without Davis around to collect easy buckets.
The X-factor here is Kyle Kuzma. Pundits have mocked the Lakers' valuation of 24-year-old since reports emerged that the team preferred not to move him in any deal for Davis, and the truth is L.A. doesn't need Kuzma to become a star. But it does need him to become a more consistent contributor. As the clear No. 3 option behind two superstars in an obvious offensive hierarchy, bet on Kuzma becoming just that.
Kuzma's shooting tailed off last season, dipping from 36.6% from behind the arc as a rookie to just 30.3% as a sophomore. But the fact remains: On bad, dysfunctional teams featuring few other capable options, Kuzma has managed to average over 17 points per game on slightly above-average efficiency over his first two seasons as a pro. He's also shown an ability to create shots for himself, and those shots will come a lot easier with James and Davis around, particularly when Kuzma plays as a small-ball four with Davis at center.
The Lakers' talent drop-off after James and Davis is stark, but there's enough rotation-caliber depth on both sides of the ball to support the two supernovas. In many cases, the two best players on the floor will both be wearing purple and gold; if Davis and a rejuvenated James stay healthy, one has to wonder if we're all overthinking this whole "wide-open title race" thing.
Why they won't win the championship
Last season showed us James is human after all. And 35-year-old humans who've racked up more than 56,000 NBA minutes over the last 16 years can't be expected to survive the grueling, eight-month slog to a championship, can they?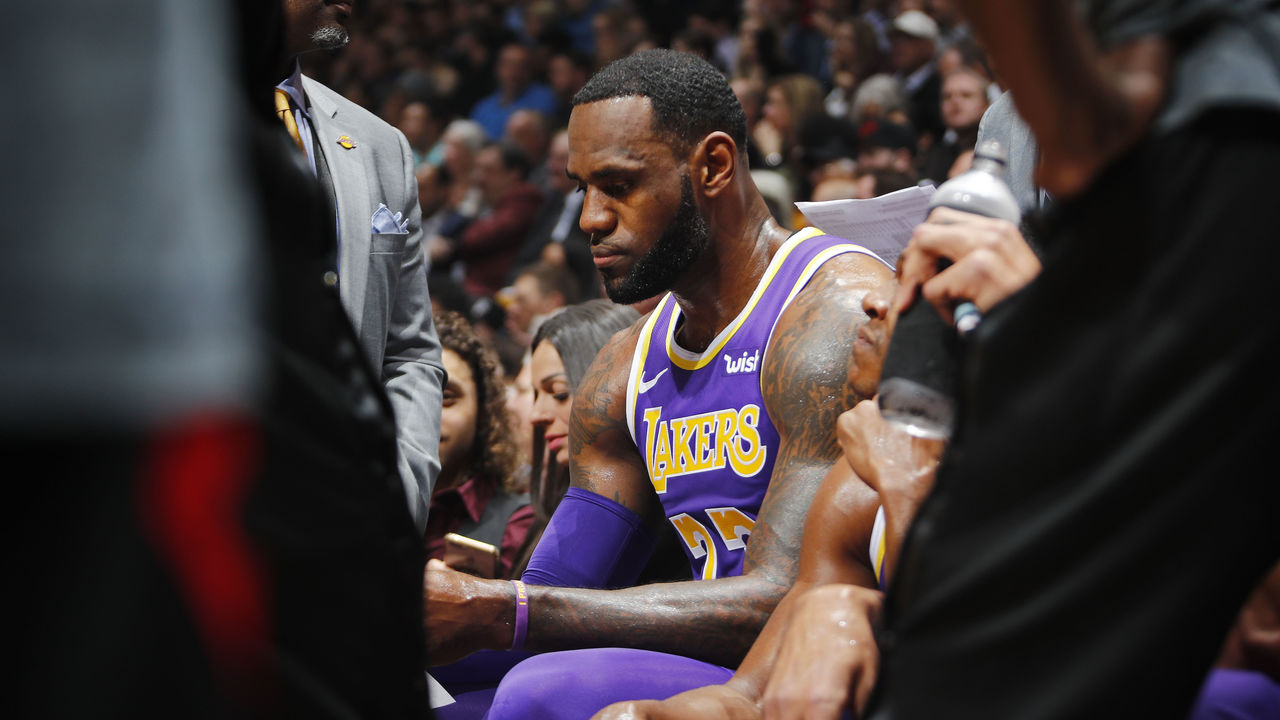 If the answer is anything but yes, the Lakers are in trouble. As stupefying as Davis' skill set is, his seven-year tenure with the Pelicans demonstrated that a flawed team centered around The Unibrow is quite beatable; without James, the Lakers' roster is undeniably worse than most of the supporting casts that surrounded Davis in New Orleans. The big man himself, meanwhile, has missed an average of 15 games per season over the course of his career, and Kuzma is currently working through a stress reaction in his left foot.
Of course, every team deals with the specter of catastrophic injury. But if there's a facet of the game that could derail even a fully healthy Lakers squad, it's playmaking. Davis and Kuzma are capable of breaking defenders down individually. But beyond James, Rajon Rondo, and perhaps one of Alex Caruso or Quinn Cook, who else on L.A.'s roster can put the ball on the floor and make plays for teammates?
Another concern is whether the Lakers deploy their best lineup when it matters most. Davis has said he's willing to play center but still prefers playing as a power forward, and all indications suggest the Lakers will start one of JaVale McGee or Dwight Howard at the five. That's a fine approach at the beginning of the season, but when the playoffs roll around and the margin for error is slim to none, Vogel - or whoever's coaching the team come springtime - needs to be rolling out L.A.'s best five-man unit as often as possible.
Barring something unforeseen, that unit likely consists of James, Davis, Kuzma, Green, and Bradley. The coaching staff will need to ensure McGee and Howard understand it's for the greater good, and Davis must accept that, too.
Joseph Casciaro is a senior basketball writer for theScore.