It's late September in Quebec City, and a horde of media members are crammed into a tight hallway outside a gymnasium at Laval University's physical education center. The gathering, murmuring in English and French, is waiting for access to the second day of training camp for the NBA champion Toronto Raptors.
When the doors finally open, an unmistakable tune is playing inside the gym, beyond the familiar sounds of bouncing balls and squeaking sneakers; it's the theme song from "Rocky."
Rocky Balboa, of course, is perhaps the defining symbol of an underdog - an unknown contender who gets the unlikeliest of shots at the heavyweight championship. He usually wouldn't represent a team that's less than four months removed from celebrating a title, yet that's the irony of the 2019-20 Raptors.
Indeed, even as the defending champions, they now find themselves cast as the ultimate underdogs.
The elephant in the room, or rather no longer in the room, is Kawhi Leonard, the Finals MVP who helped the Raptors slay the mighty Golden State Warriors in June, only to take his talents home to Los Angeles in July.
A number of players were crucial to Toronto's title run - Kyle Lowry, Pascal Siakam, Marc Gasol, Serge Ibaka, Fred VanVleet, and Norman Powell - but Leonard was the driving force. It was his presence, and the historic postseason performances he authored, that allowed the Raptors to realize something seemingly unimaginable.
In Leonard's wake - which also swept Danny Green to the Lakers - what remains of Toronto's roster is the most mysterious defending champion in recent NBA memory.
Sure, the 2011-12 Mavericks had lost integral pieces of their championship core by the time the new season tipped off, but Dirk Nowitzki, their Hall of Fame superstar, remained. And the 1998-99 Bulls had lost Michael Jordan to retirement (for the second time), but they'd also lost Scottie Pippen, Dennis Rodman, and Phil Jackson. Those Bulls were no mystery. Everyone knew they would stink, and they did.
The most comparable defending champion to these unpredictable Raptors was probably the 1993-94 Bulls, who were dealing with the loss of Jordan for the first time. Those Bulls went on to win 55 games before bowing out in Game 7 of the second round. For now, as rival fans serenade the Raptors with preseason chants of "over-rated," and former players turned broadcasters predict Toronto will either barely make the playoffs or miss them altogether, even that level of success seems far off.
This backdrop helps explain why the Raptors, despite the gaudy jewelry they'll receive before Tuesday's season opener, still speak like a team fighting to break through rather than one trying to fend off the hunters coming for its crown.
"If I had to describe (the mood of the team) as one word, I would say hungry," Gasol said. "We all understand what Kawhi meant to the team and how well he played in the playoffs, but we also understand how good we can be. You look at the roster, all of the players that make up this team, at some point in their careers, they've been overlooked. For us, it's nothing new."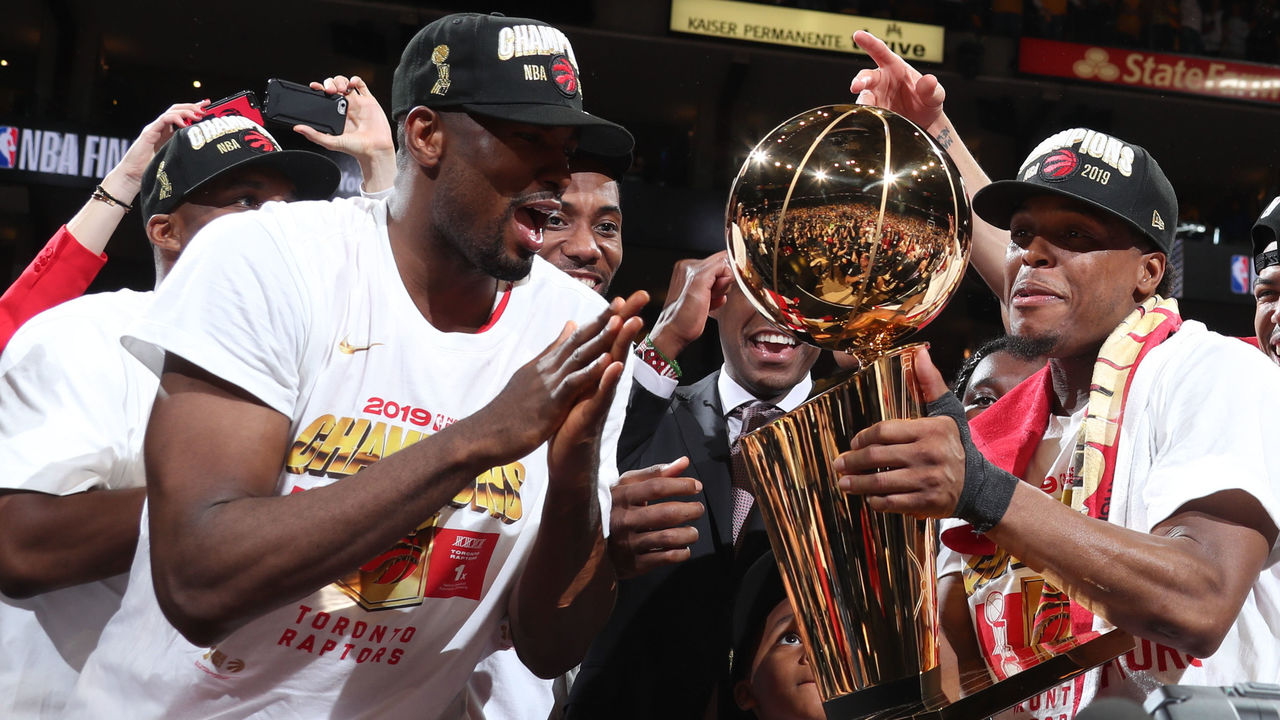 The mystery of this season's Raptors will be solved by the answers to a few key questions. First and foremost, is Siakam a No. 1 option?
As a proven secondary scorer and an All-Defensive Team candidate on a title winner, Siakam's already worth the four-year, maximum extension he signed this week. Proving that he can be a bona fide primary scoring option, however, is what could elevate the Raptors from pretenders to contenders again.
There are reasons for optimism. Siakam averaged 16.9 points and 3.1 assists on 55-37-79 shooting last season, and he posted a sparkling effective field-goal percentage of 57.5 when Leonard was off the court. Still, playoff opponents found some defensive success against Siakam by putting bigger bodies on him (like Joel Embiid), dropping back, and daring him to beat them from the perimeter or the mid-range area.
Siakam, who attempted more than 70% of his regular-season field goals within 10 feet of the basket and knocked down just 37% of his attempts between 10 and 16 feet during the playoffs, took notice.
"I think the mid-range is something that I'll have to do," he said. "If you want to be one of the top scorers, you've got to be able to score in different ways. It's trying to find ways to score off the dribble, attacking. Whatever the defense is giving me, it's taking advantage of that and being able to make a play no matter who is in front of you."
Another burning question concerns two of the team's veteran stars. Can Lowry and Gasol take on larger scoring roles at this stage of their careers now that both have moved up the pecking order in Leonard's absence?
For his part, Lowry remains a plus-minus king whose on-court impact is undeniable. And with Toronto's back against the wall at various points in the playoffs, the five-time All-Star found the offensive aggression his team needed, not to mention a 26-point, title-clinching performance in Game 6 of The Finals. However, he'll also turn 34 in March, and his ability to get to the rim and break down defenders off the dribble seems to have diminished over the last couple of years. Lowry can still pick apart opposing defenses with his clairvoyant playmaking, but the Raptors will need more of his scoring on a nightly basis, and not just from the perimeter.
Gasol, meanwhile, looked downright allergic to hunting his own offense at times during the playoffs, and like Lowry, he only seemed content to let it fly when the Raptors desperately needed it. But he's also only eight months removed from averaging 15.7 points over 53 games with the Grizzlies while finishing 22.7% of Memphis' possessions while on the floor. Plus, a 33-point performance against Australia in the FIBA World Cup semifinals last month provided the Raptors with additional hope that the Spanish legend, who will turn 35 in January, can still fill up the basket when called upon.
"Marc, as you know, is not somebody who leads by scoring," said Sergio Scariolo, a Raptors assistant and Team Spain's head coach. "But when it was time to step up and score, like in the semifinal against Australia, he did it. We really needed somebody attacking the basket and finishing, and he did it."
Regardless of his individual offense, the Raptors are banking on a full season of Gasol's playmaking vision working wonders for teammates.
"He was able to create easy baskets for most of our (Spain) players who weren't too good at creating their own baskets," Scariolo added. "We didn't have too many (creators) this year, and we won (the World Cup).
"Marc's passing ability made easy plays. We didn't have our typical go-to guys. We were playing a little bit more in an open way, with more cuts, more backdoors, more back-picks. It worked because he's so generous and so unselfish. His main concern is trying to help his team win."
Gasol envisions a similarly diverse offense coming together in Toronto. "We're all gonna have to fill (Leonard's) void collectively, not only one or two guys," he said. "We're gonna play as a team, and create high-quality shots for one another."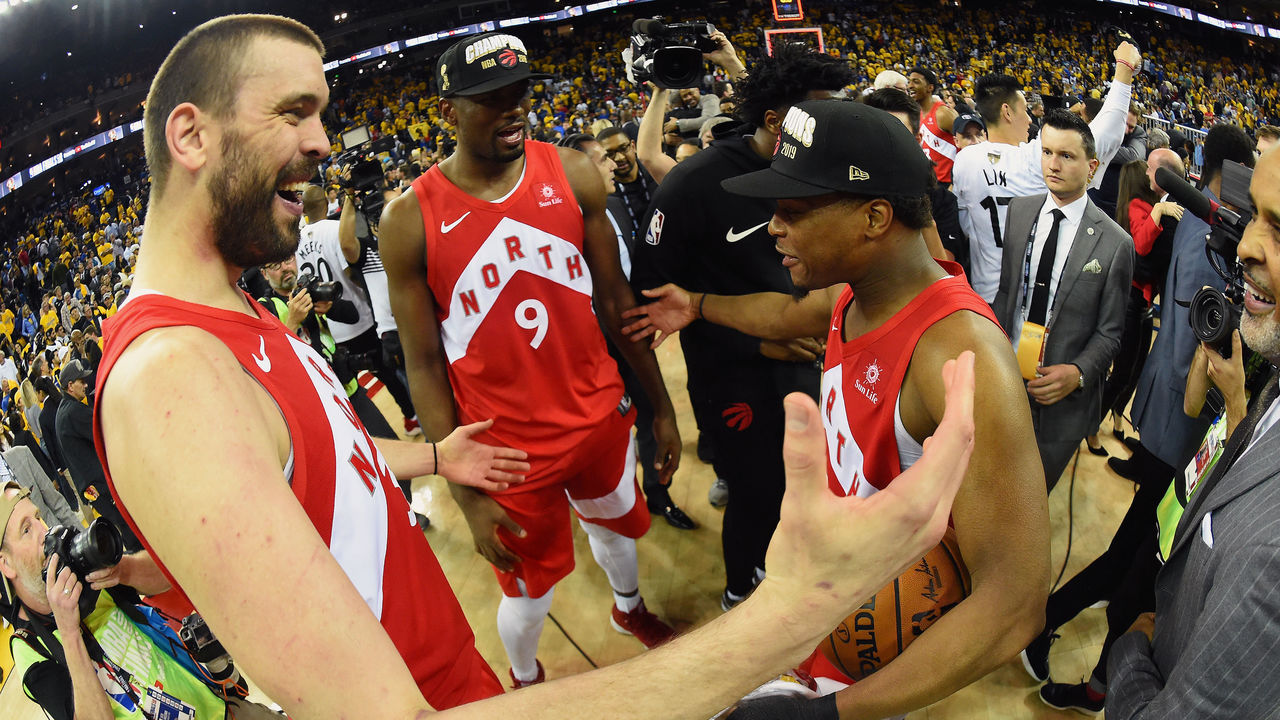 Many of those high-quality looks figure to come from behind the arc. But when the Raptors responded to losing Leonard and Green - who combined for 310 3-pointers last season - by signing the wretched shooting duo of Stanley Johnson and Rondae Hollis-Jefferson, the team's range (or lack thereof) became an obvious talking point.
It appears those concerns may have been overblown. Of the Raptors' seven key rotation players heading into the season, five own a career 3-point shooting percentage of at least 35%, while the two who fall short - Siakam and Powell - combined to hit 38% from deep last year. The undrafted rookie who figures to start the season as Toronto's eighth man, Terence Davis, converted better than 37% of his threes at Ole Miss last season, and the players expected to make up the Raptors' opening-night rotation combined to shoot 42.5% from deep during the preseason.
Any worries over volume, meanwhile, might be addressed by the fact that the Leonard-less Raptors figure to get more shots up, period, this season, thanks to an increased pace of play.
| Raptors | Pace | 3PA/100 poss. |
| --- | --- | --- |
| 2018-19 / Leonard on | 100.3 (16th) | 32.2 (15th) |
| 2018-19 / Leonard off | 102.3 (9th) | 33.9 (9th) |
| 2019-20 / Preseason | 111.0 (3rd) | 32.6 (15th) |
If the Raptors seem like a mystery on the court, the contractual status of their key contributors makes them almost as tough to pin down off of it. The team entered camp with four of its top seven players entering contract years, and with a fifth - Siakam - in the middle of negotiations for a long-term deal. Lowry and Siakam have since signed extensions, but Gasol, VanVleet, and Ibaka remain slated for unrestricted free agency next summer, while Lowry remains the topic of trade rumors, even with the extra year now tacked onto his current deal.
That level of uncertainty - both in the short and long term - can derail even the best of teams, but VanVleet insists any chemistry concerns are nonsense.
"It's all about personality and team culture, and me, Marc, Kyle, Serge, Pascal, are some of the most unselfish guys you can find," he said.
"We all have an understanding that we have to win. If we all do well together, it's going to help us more than one guy having a great year but we suck. I got my (current) contract off of eight points (per game) or whatever, so I get it. I think we all understand that. Kyle and Marc set the tone. They don't care about it, so everybody else has to buy in, too. If those two guys were like 'F everybody else, I gotta get mine,' then I'd be like, 'Shit, I gotta get mine, too.' But if we all stay on the same page about all needing to play well and needing to win, if we do it together, everybody eats."
That all-for-one mentality is something VanVleet says has become the essence of these Raptors.
"It starts from the top," he said. "Masai (Ujiri) is 'Win by any means.' We've seen it with the trades and moves he's made, so our culture is winning first. Then breaking it down, we're gonna be a family, we're gonna work, we're gonna play defense, we're gonna play together, we're gonna play the right way."
At media day, Johnson said VanVleet told the former Pistons and Pelicans player something important about the Raptors: "We work here."
When asked what that message meant, VanVleet explained, "There's a thing around the league, in basketball in general, the 'too cool for school' stuff, you know what I mean? Especially with the way social media's going, with the Instagram workouts. But being 'too cool' don't work in the NBA, man. It was a conversation we had in a summertime (workout), the energy was a little lacking, and everyone was just going through the motions, and I was just like, 'Yo, that's not gonna get it done. We work here.'
"That's what has made us great," VanVleet continued. "We bust our ass and go out there and play as hard as we can. It's not about how many one-legged step-backs you can shoot or make. Run the floor, get an offensive rebound, score eight or nine points, grab four or five rebounds. You've got to fit your role. Do that. Come in and work every day. Every guy that's come through here, that's come in early and stayed late, it's paid off for them."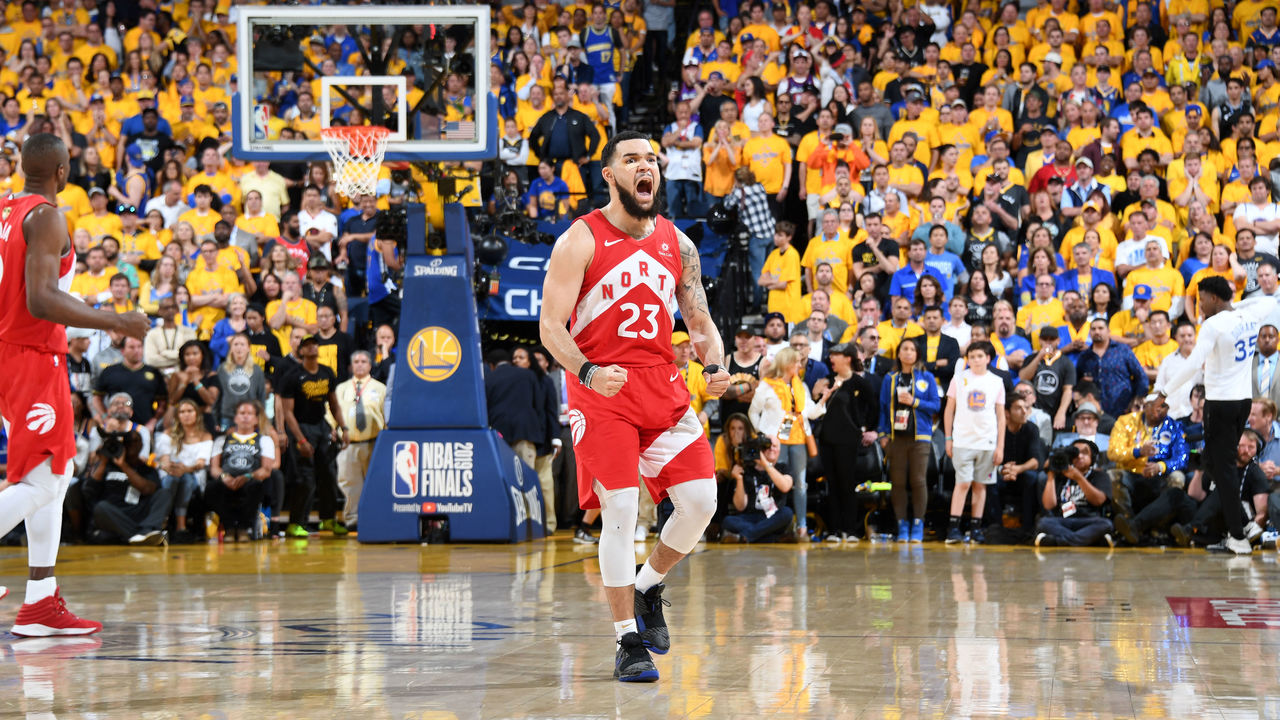 Whether newcomers like Johnson, Hollis-Jefferson, and Davis fall in line will determine the roles they carve out for themselves in Toronto's title defense. But with the seven-man core of Siakam, Lowry, Gasol, VanVleet, Ibaka, Powell, and OG Anunoby, the Raptors believe they have the answers to all the questions skeptics are asking with Leonard and Green 2,500 miles away.
The makings of an elite defense are in place, with enough basketball IQ, playmaking, and shooting to cobble together a respectably efficient offense around a burgeoning star in Siakam. The Raptors like their chances.
To the outside world, though, the second that championship banner finds its place in the rafters Tuesday night, the Leonard-less Raptors will become little more than another star-less team starting from the bottom. Spend a little time around them, however, and you get the sense they prefer it that way.
"Last year was the same, right?" Ibaka mused Monday when it was mentioned that no one's betting on a Raptors repeat. "And guess what," he added, bursting into laughter.
He didn't need to finish that thought to make his point. Leonard's gone, but the champs are still laughing. There are just fewer believers around to hear them.