The Toronto Raptors had a championship within their grasp Monday night.
Up 3-1 in The Finals, playing at home, and after trailing the Golden State Warriors for virtually all of Game 5, the Raptors had finally surged ahead in the fourth quarter thanks to a jaw-dropping stretch of play from Kawhi Leonard, who spearheaded a 14-5 run with 12 points, three rebounds, and an assist in the span of three-and-a-half minutes.
His last bucket in that run, a push shot in the lane, put Toronto up six points with just over three minutes to play. The Warriors looked exhausted. The 20,000 fans inside Scotiabank Arena could taste it. Perhaps the Raptors could, too. Champagne and championship garb were being wheeled into the home team's locker room. That coveted gold ball was right there. And then, it wasn't.
In the end, the Warriors lived up to their name. They clawed back from the brink, closed the game on a 9-2 run, and sent the series back to Oakland for Game 6. Having lost Kevin Durant in the second quarter, and carrying just a 6.7 percent win probability, a lot had to happen for Golden State to steal the victory. Here's how it happened:
A pair of questionable decisions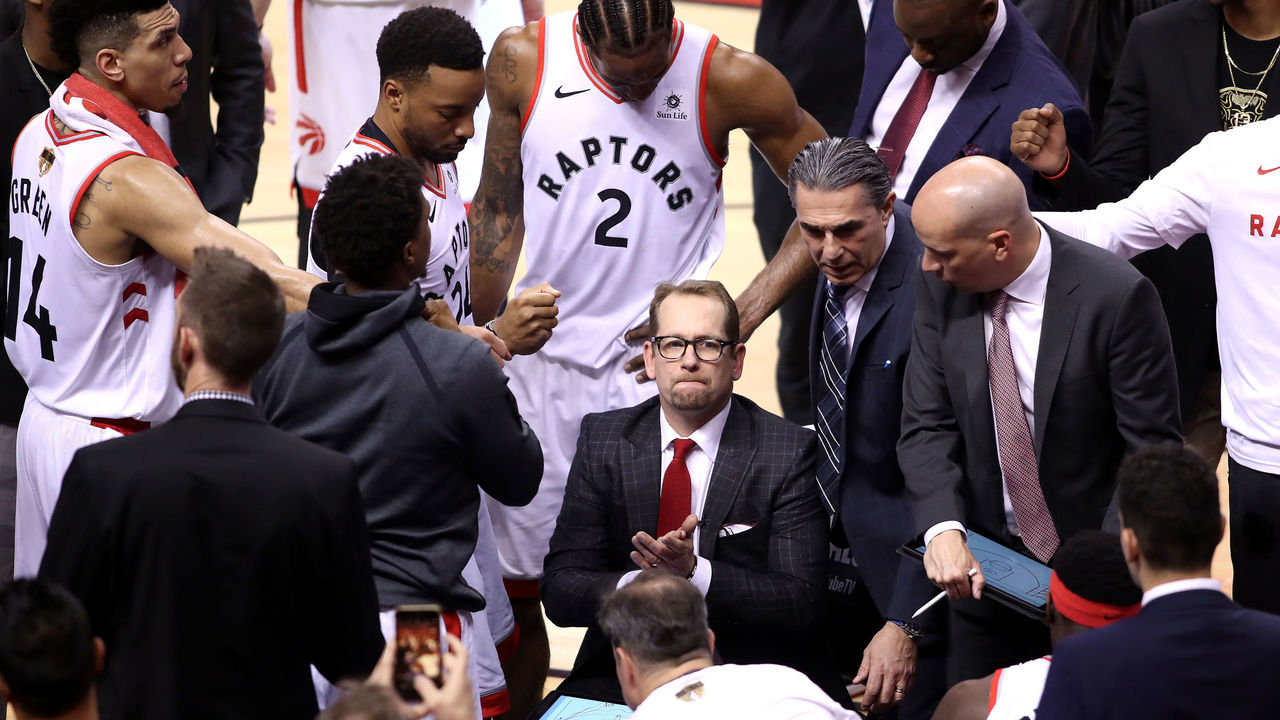 At the 3:05 mark of the fourth quarter, Raptors coach Nick Nurse looked at his players, decided they could use a breather, and opted to use two timeouts in succession, which he would have lost at the three-minute mark, anyway.
In a vacuum, it was a sensible decision. But in the aftermath of the loss, it raised a lot of questions. The Warriors had just one timeout of their own left, and Nurse allowed them to reset, catch their breath, and diagram the plays that followed without having to burn it.
Perhaps most curiously, Nurse didn't use the timeout to get Pascal Siakam back into the game. Yes, Siakam had been struggling through a tough offensive night, and his bricked corner threes had cramped the Raptors' spacing. But they had built a nice lead, and they could've ridden their defense to the finish line. Leaving arguably their best defender on the bench seemed like a curious choice.
A trio of Warriors 3s
It's not like the Warriors executed flawlessly on offense down the stretch. In those last three minutes, they got called for cylinder interference, a backcourt violation, and an illegal screen. And yet, they still scored nine points over their final six offensive possessions thanks to a trio of 3-pointers from Klay Thompson and Stephen Curry.
The Raptors had done a terrific job all series of neutralizing Golden State in the half court, namely because Curry and Thompson are the only shooting threats they've taken seriously. For both players to shake free for those three triples, in such a tight game, when the Raptors' defense was ostensibly keyed toward taking away their space on the perimeter, required guile and precision on the Warriors' part, and some negligence on the part of the Raptors.
The first one, for Thompson, was created in large part by Draymond Green. The play started out with Curry handling the ball and Green coming up to set a screen for him. But that turned out to be a decoy, and as the Raptors moved to trap Curry, Green slipped the screen and immediately went into a down screen for Thompson. That freed Thompson to receive the ball from Curry, but Green's work wasn't done. He flipped the direction of his screen to rub out Leonard, which gave Thompson the clean look he needed:
Ordinarily, Kyle Lowry would've been in position to step up and contest the three, but because he'd trapped Curry on the other side of the floor, he couldn't recover in time. Norman Powell, who was guarding the far less threatening Quinn Cook in the near-side corner, may have been able to get there sooner, and arguably should've rotated up to Thompson: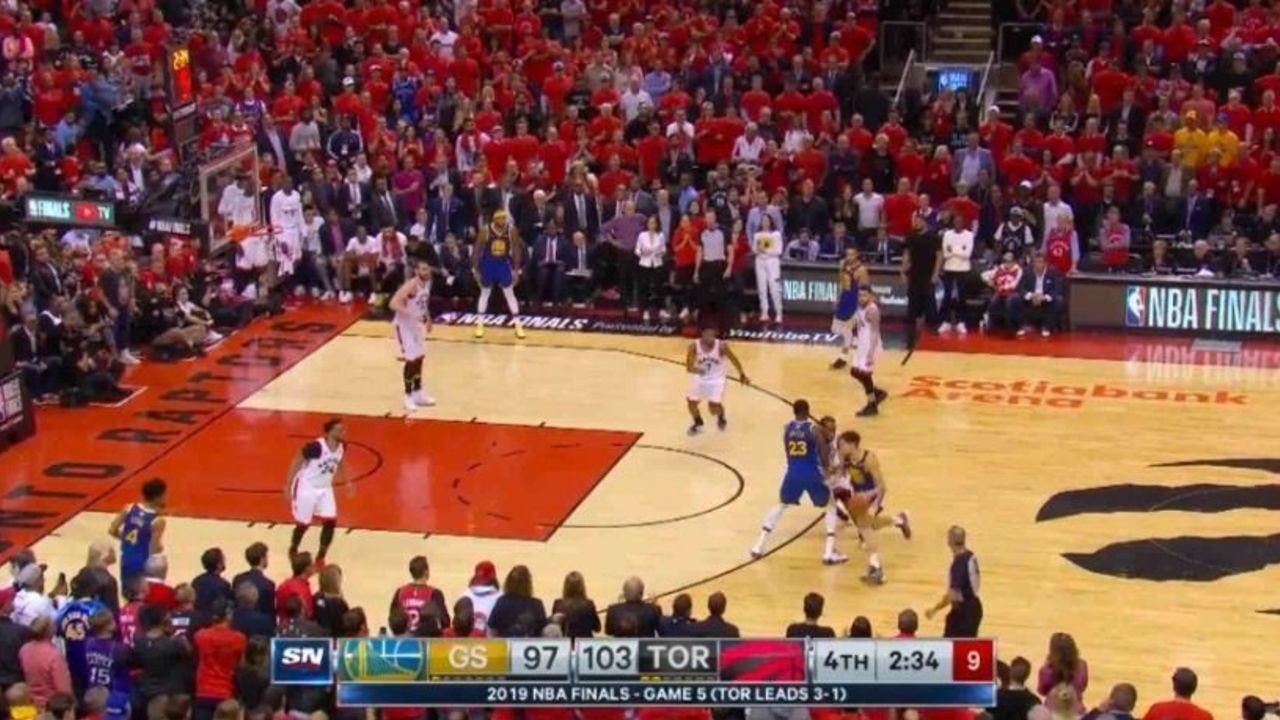 But that's a tough read to make in real time, given how quickly the play developed.
Curry got the second 3-pointer out of a floppy set. Fred VanVleet was trailing him, as he's done to great effect all series, but Curry was able to shed VanVleet a bit more regularly in this game than he had in the previous four. This time, Curry gave up the ball on the right wing and looped through the paint to the other side. VanVleet was deterred just enough by DeMarcus Cousins' butt screen that Curry got the sliver of daylight he needed to nail a quick-trigger three off the catch:
The Raptors typically have their screen defender jump out at Curry and Thompson on these off-ball actions, but in this case, Gasol declined to do so. Maybe he thought VanVleet was trailing closely enough, or maybe he was wary of leaving Cousins free to roll to the hoop with an empty strong-side corner and only Danny Green available to offer any help at the rim. Meanwhile, Lowry was also in decent help position, with a chance to rotate away from the non-threatening Andre Iguodala up top: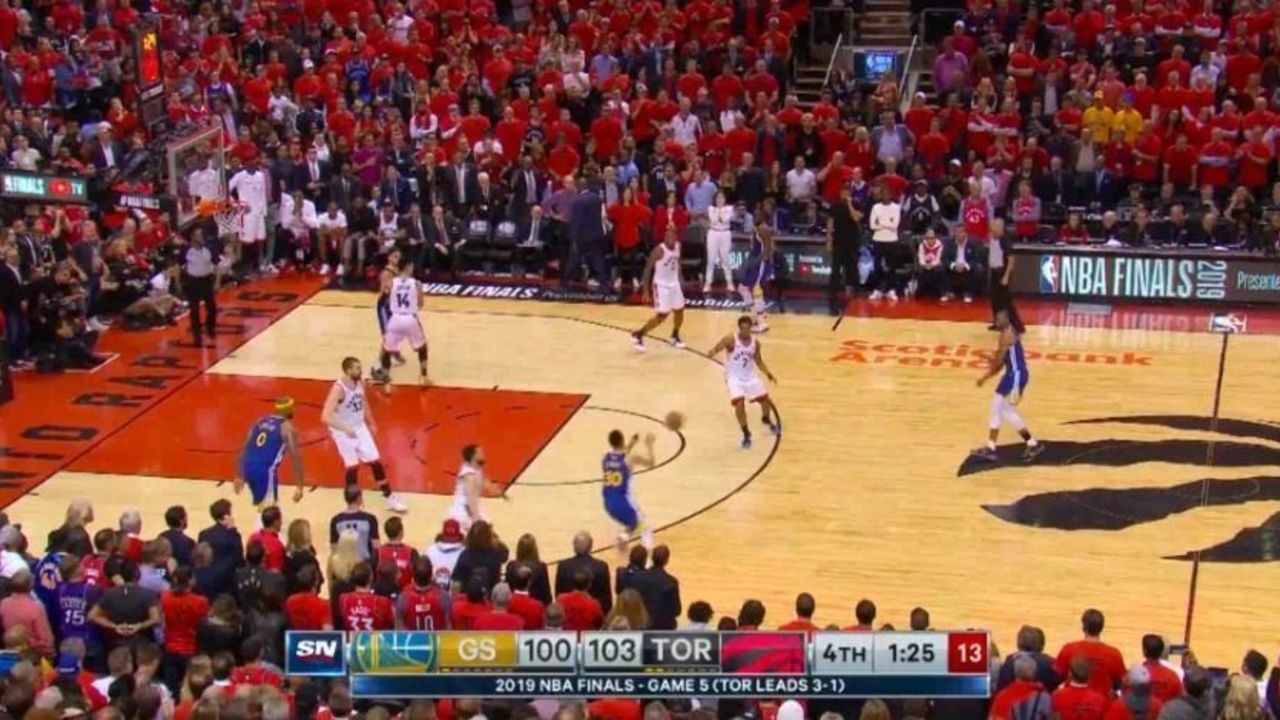 Again, a rotation like that is really difficult to make, given how little time Curry needs to set himself and shoot after the catch. And the truth is that he had to make a pretty tough shot. Still, the Raptors could've worked harder to try and force the ball into someone else's hands.
Finally, the Warriors set up Thompson for the go-ahead three by running off a Raptors miss and attacking a scrambled defense. Iguodala snuck behind the back line, and Curry found him under the basket after beating VanVleet off the dribble and forcing Lowry to step up. That prompted Leonard to help down off of Thompson to prevent an Iguodala layup, but Iguodala saw the help coming and fired a touch pass out to Green, who immediately rifled a swing pass to the open Thompson. Thompson patiently waited out Leonard's wild closeout, and gave the Warriors a lead they wouldn't relinquish:
With Leonard crashing so deep into the paint, somebody else - in this instance, probably Danny Green - could've tried to rotate over to Thompson in time. Green was probably close enough to close out under control, although Cousins was in position to hit him with a screen: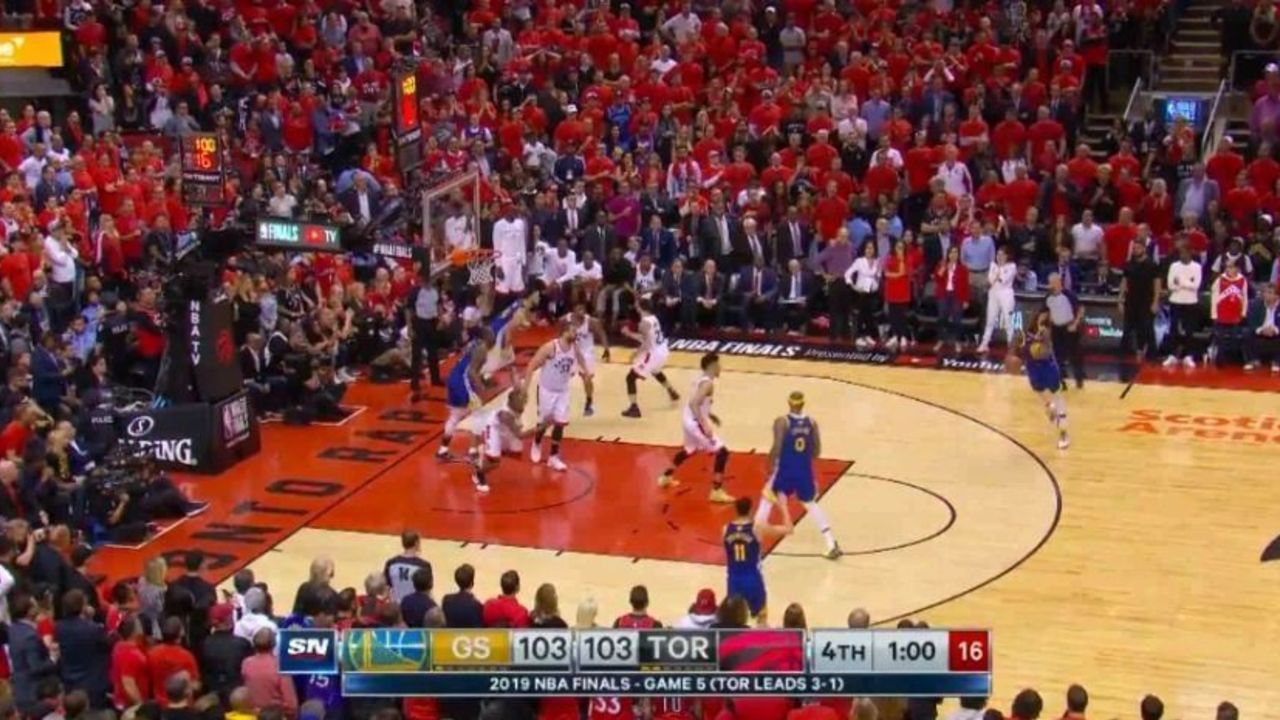 This one, more than the other two, just came down to great Warriors execution. The ball beat Leonard's desperate recovery because Iguodala and Green both moved it instantaneously, with passes that had a ton of steam on them.
Again, it's fair to wonder if Siakam - the Raptors' best closeout guy - could've helped them on these defensive possessions.
Raptors' offense dies on the vine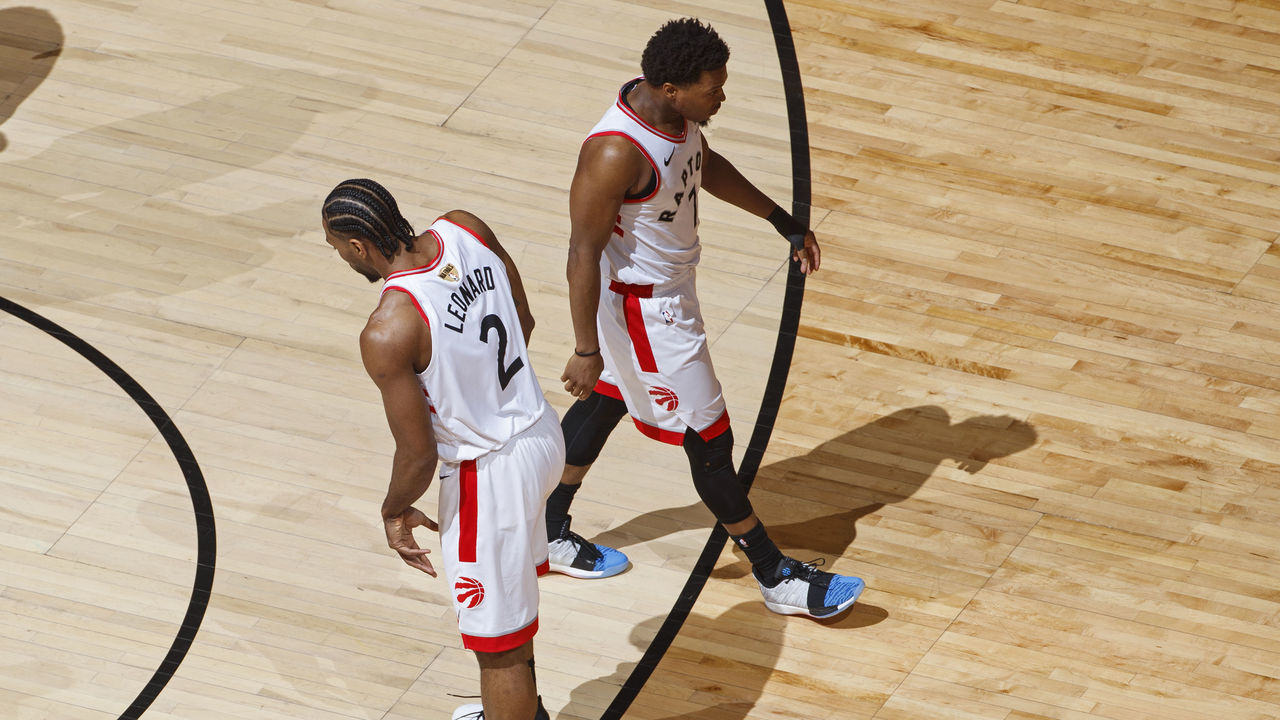 The Raptors would've weathered that Splash Brothers barrage if they could've mustered more than two points over that final three-minute stretch. Unfortunately, their own offensive execution left much to be desired, and with the Raptors milking the clock on every possession, the Warriors' defense locked in. Toronto's only basket came in the final minute, when Lowry attacked Cousins on a switch (a reliable source of offense all game), beat him cleanly off the dribble, and drew a goaltending violation.
For Leonard, that fourth-quarter run looked like it would be the capstone to a legendary postseason, but he didn't score again in this game. He did come out of the timeout hungry to keep it going, but a refreshed Thompson shut him down in isolation, and Leonard wound up forcing a tough turnaround jumper that caught all air. Later, he came up short on a pull-up three, and was otherwise taken out of the action by Golden State's overloaded defense.
Lowry didn't have much better luck down the stretch. He missed a wide-open wing three out of a well-executed corner action with Leonard, which would've put the Raptors back up six with just over two minutes to go. He also ran a pick-and-roll with Marc Gasol and hit him with a great pocket pass on the roll, but Gasol couldn't finish over Cousins at the rim (the NBA later said there should've been a foul called on the play).
In only one instance did Lowry actually make a bad decision, but that decision stuck out like his sore left thumb. After Leonard bailed on a drive, Lowry tried to rescue the possession. He rejected a Gasol screen up top and burst into the lane, with Cousins dropping down to help and Iguodala trailing. But Lowry seemed to psych himself out just before arriving at the basket, chucking the ball back in Gasol's direction with just two seconds on the shot clock, sailing it into the backcourt for a turnover.
Lowry's best option often is to pass when he has bigger defenders trailing him, but realistically, Gasol would've barely had time to get a shot off here anyway. Lowry had an angle to at least put something up at the rim: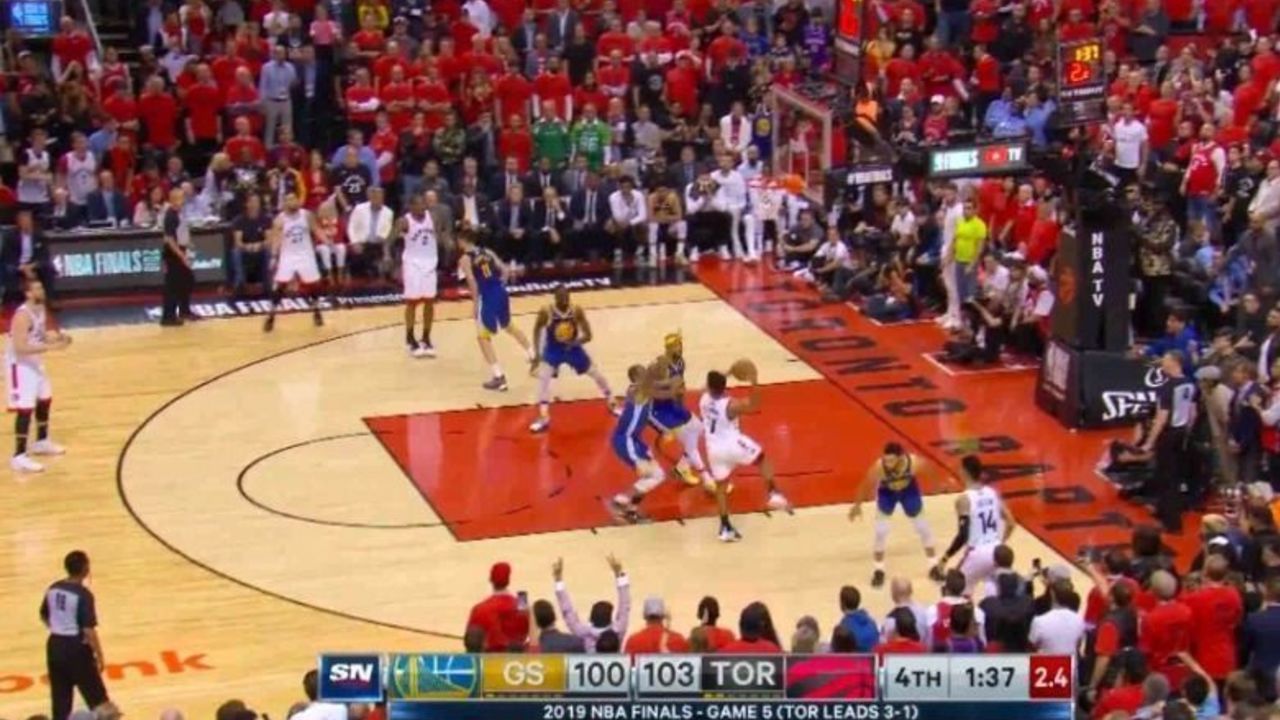 History likely won't remember it, but Lowry was having an excellent game until that final stretch, in spite of some poor outside shooting. He was carving the Warriors up in the pick-and-roll, was aggressive driving to the hoop, threw some outstanding bounce passes, and made a highlight-reel block on a Cousins three before taking the ball the other way for a layup when the Raptors desperately needed a lift. He kept his team afloat during a run across the late third and early fourth quarters with Leonard on the bench. This game should've marked one of his crowning achievements. Alas.
The last play
After Nurse opted to use those two timeouts earlier, he strangely opted not to use the one he had remaining with 16 seconds left in regulation. The previous possession had produced a Warriors dead-ball turnover, so the Raptors would be going against a set defense regardless. Nurse opted to let them play.
We'll never know if a timeout would have made a difference, but the play materialized too slowly, almost as if the Raptors were tied rather than trailing by a point. A VanVleet-Leonard pick-and-roll went nowhere, and as Leonard drove right with about five seconds on the clock, Iguodala smartly stepped up to double-team, knowing the Raptors had minimal time remaining to swing the ball around and beat the defensive rotations. Leonard pitched the ball back to VanVleet, who had to decide whether three seconds was enough time to attack a Shaun Livingston closeout.
Part of the issue is that the Raptors' spacing was a bit off, with Gasol and Lowry standing in close proximity on the left baseline. It seemed like Gasol was trying to set a flare screen to free up Lowry in the corner, but Draymond Green worked his way to the other side of the screen, essentially sealing himself between Gasol and Lowry. At that point, Gasol could've slipped off Green and been wide open under the basket: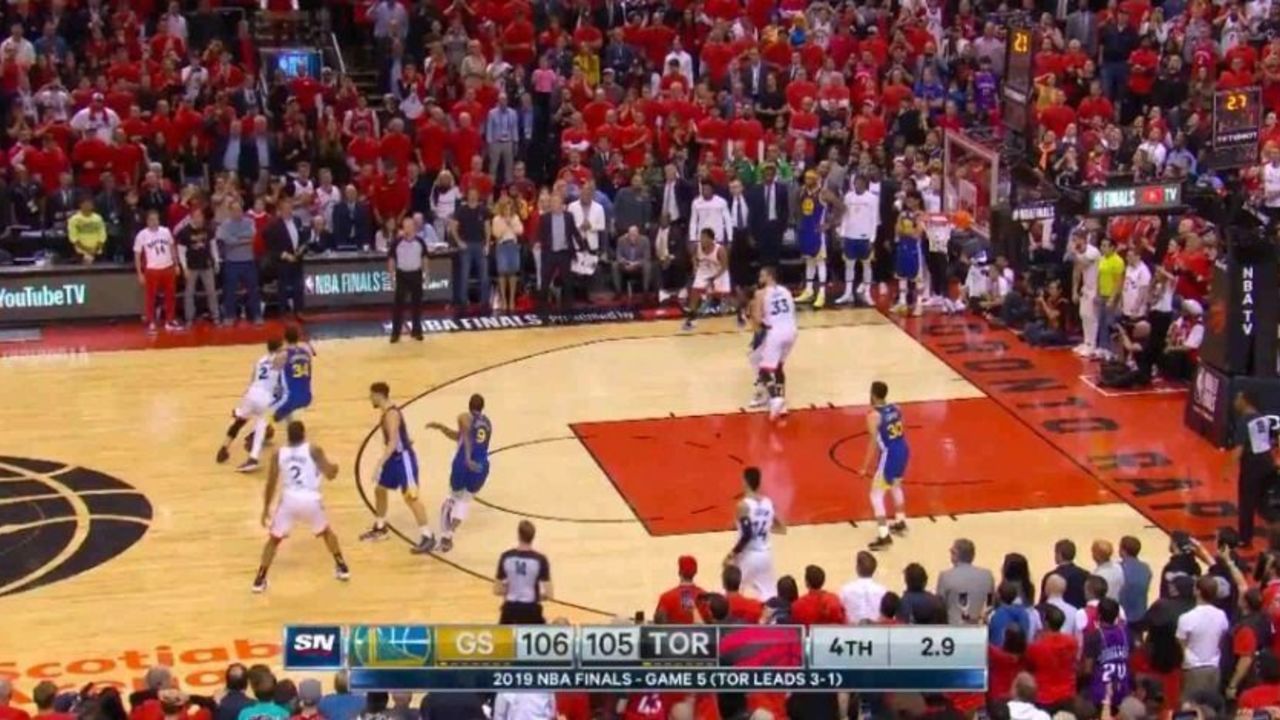 But neither he nor VanVleet seemed to realize it in time, so the ball went to the corner instead. Green was right there to get a piece of Lowry's shot:
And that was that. With a combination of Warriors ingenuity and Raptors butchery, a series that had looked all but over three minutes ago had suddenly swung back to the West Coast.
The Raptors should still be comfortably favored to win The Finals, but they'll have to regroup - and clean a bunch of stuff up - before re-entering the hothouse of Oracle Arena.