In "Split decisions," theScore's Nick Baldwin weighs in on the hottest topics in mixed martial arts.
This week, Curtis Blaydes lost a marquee heavyweight bout against Derrick Lewis, falling via second-round knockout in UFC Fight Night's main event. Belal Muhammad stepped in to face Leon Edwards in the March 13 headliner after Khamzat Chimaev's withdrawal. And a fight between former women's bantamweight champion Holly Holm and Julianna Pena was booked for May.
Let's discuss.
How big of a setback was Blaydes' loss to Lewis?
Blaydes is in a bit of a dilemma after seeing his four-fight winning streak come to a halt.
For starters, being on the wrong end of a highlight-reel knockout is never good, especially when you were winning the fight before the finish occurred and heavily favored to win. This was the most devastating loss of Blaydes' career, and we can only hope he fully recovers.
A defeat like this also sets the 30-year-old back further than it would for other fighters due to some outside factors.
Blaydes spoke out against fighter pay last year, and he's been vocal about sticking with his wrestling-based style even though it's not very fan-friendly. In other words, he's not in the UFC's good books. UFC president Dana White was critical of Blaydes' performance against Alexander Volkov last June and said he has "the wrong attitude."
It's absolutely fair that a title shot isn't in Blaydes' immediate future. It's not fair that he'll find it extra difficult to work his way back up to that opportunity because he's not a fighter the UFC is looking to push. But that's the reality of the situation.
Looking at the bigger picture, it's possible Blaydes' days on the UFC roster are numbered. He has one fight left on his current contract, and it wouldn't be a surprise if the promotion parted ways with him if he falls short again (or simply doesn't impress the bosses).
This isn't to say Blaydes can't bounce back or become a UFC champion one day. He's clearly one of the best fighters in his division (keep in mind, he's only lost to Lewis and Francis Ngannou), and he's still very young by heavyweight standards. Blaydes needs to avoid losing more than the average fighter because the UFC likely won't give him much leeway.
Each of his fights moving forward will be very important, especially his next one. The UFC doesn't seem to be in a rush to stay in the Curtis Blaydes business, so it's up to him to give the promotion a reason to keep him around.
Does Edwards have more to gain against Muhammad than Chimaev?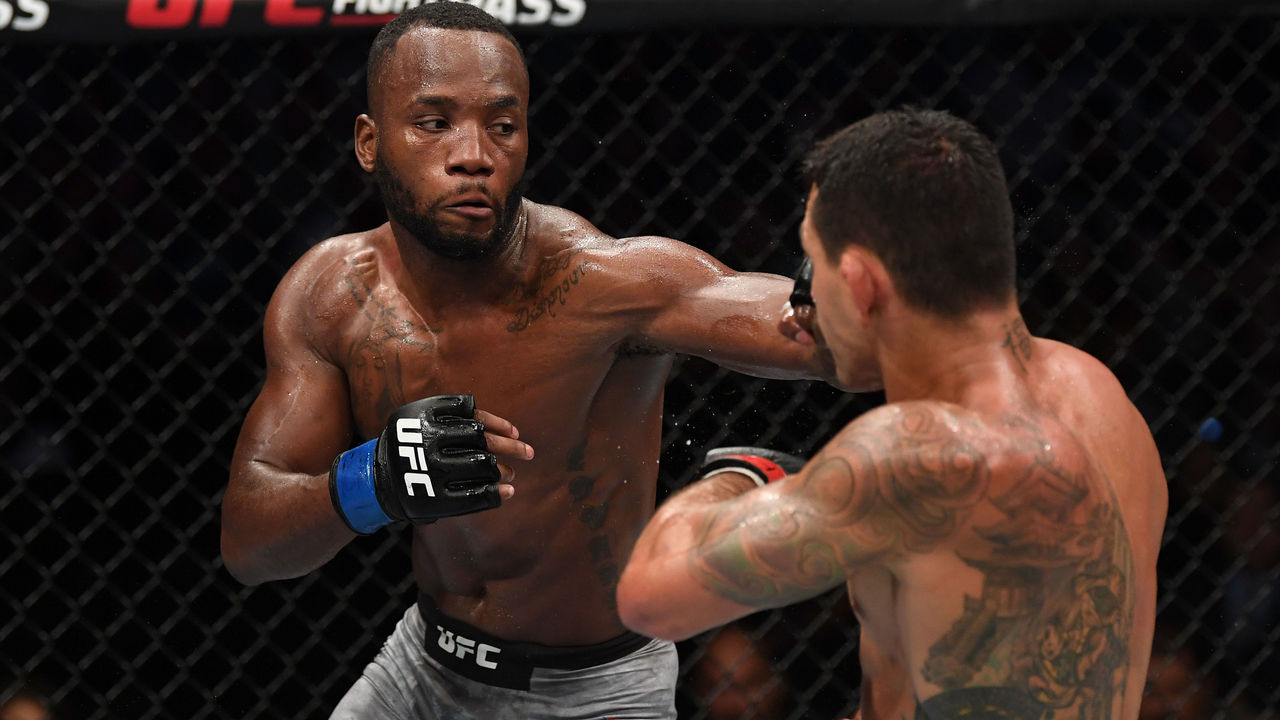 Edwards definitely would have more to gain if he was fighting Chimaev. Muhammad ranks slightly higher and is much more proven than Chimaev, beating solid competition throughout his 12 UFC appearances. But remember, this is prizefighting. Perception is everything.
Chimaev shook up the MMA world in 2020 after starting his UFC career with three straight finishes. Meanwhile, Muhammad is still trying to gain notoriety despite his impressive 9-3 stint in the Octagon. Chimaev's hype likely made the original March 13 main event a title eliminator, with the winner going on to face welterweight champion Kamaru Usman. But now, a title shot for Edwards is far from guaranteed if he beats Muhammad.
At least Edwards still gets to compete next month, which is arguably the most important thing for his career at this point. The No. 3-ranked welterweight hasn't stepped into the cage since July 2019. He's faced a ton of bad luck since then, with three fights getting canceled due to COVID-19 (four if you count Chimaev's latest withdrawal).
If the 29-year-old beats Muhammad and gets back some of the momentum he developed by winning eight fights in a row, that'll be better than sitting out even longer. The stakes in his return bout aren't as high as they previously were, though.
Is Holm-Pena an ill-advised matchup?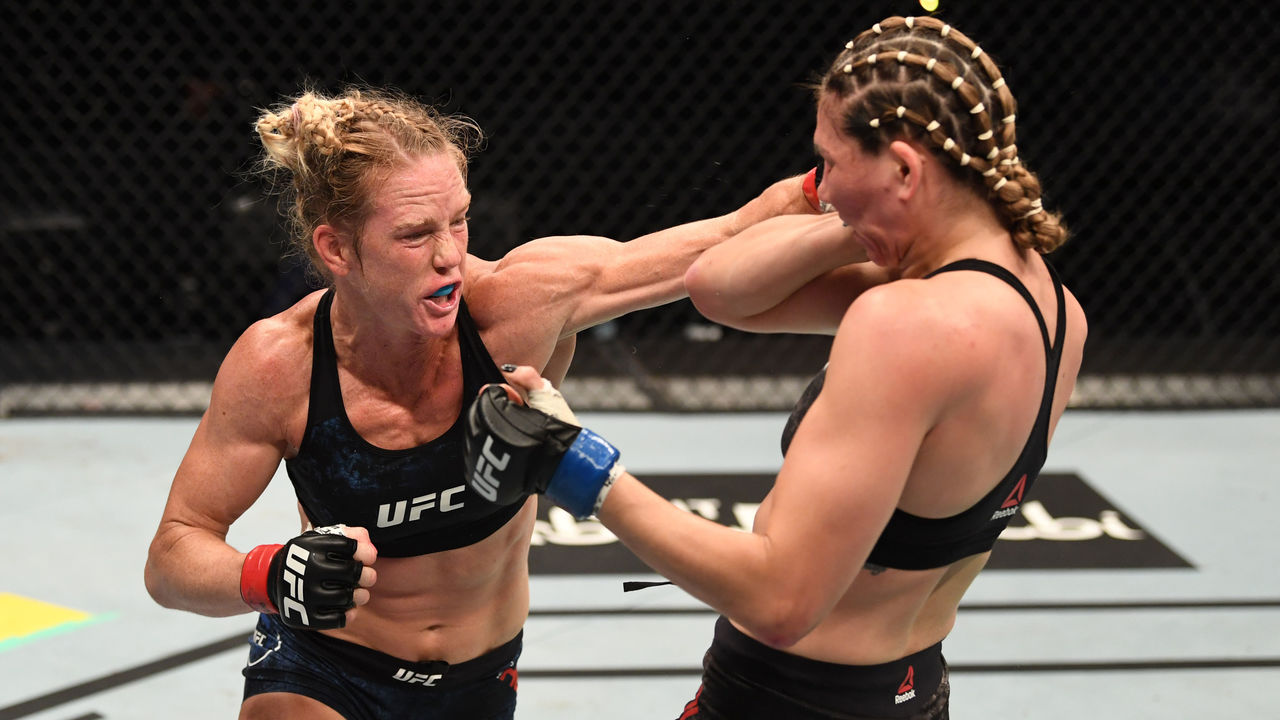 Yes. Very much so.
Holm challenged Amanda Nunes for the women's bantamweight title less than two years ago. She also fought for the women's featherweight belt twice in 2017 against Germaine de Randamie and Cris Cyborg. She lost all three outings, so fans aren't in a rush to see "The Preacher's Daughter" get another title shot anytime soon.
Meanwhile, the women's 135-pound weight class needs all the contenders it can get. Nunes has laid waste to the division since taking the throne in 2016, defending the title five times. Aspen Ladd, Irene Aldana, and Pena are the highest-ranked contenders who have yet to face the Brazilian champion. Though they don't appear to present Nunes with too big of a challenge on paper, at least they're fresh matchups.
That's until Holm goes out there and beats them.
Holm is coming off a lopsided victory over Aldana in October, and now she's facing Pena in another winnable contest. The former champ is still an elite fighter, so all this is doing is killing off a handful of much-needed contenders in favor of a fighter who's had four UFC title shots. And what for? So the promotion can book Nunes versus Holm again and again and again?
The UFC can't deny Holm another title shot forever, I get that. But it hasn't been that long. It would've made more sense to book Ladd against Pena to determine a No. 1 contender and Nunes' next challenger. At least that way you're only killing off one contender and not all of them.