Twenty years ago Monday, Joe Siddall showed up to McCoy Stadium a little earlier than usual.
After 13 seasons in the minor leagues, the journeyman catcher - whose modest career was highlighted by four brief, intermittent stints in the big leagues, split between the Montreal Expos, Florida Marlins, and Detroit Tigers - felt it was time to pack it in. He was 32. Almost two years had passed since his last major-league game. Only an unexpected call from the Boston Red Sox had compelled him to forego retiring the offseason prior, but he was now playing only sporadically with their Triple-A affiliate, the Pawtucket Red Sox, and his prospects of earning a call-up were decidedly slim. The time had come.
So, following a series of late-night phone conversations with his wife, Siddall arrived at the ballpark in the early afternoon on June 1, 2000, planning to retire ahead of his club's game against the Charlotte Knights, the Triple-A affiliate of the Chicago White Sox.
"People sometimes hear the athletes say that they kind of know when it's time," Siddall, now a Toronto Blue Jays broadcaster, told theScore, "and it was just one of those things that (I) felt in my body, like, 'It's time.' I got a wife and four kids at home. She's trying to handle everything while she's working. Why am I almost, you know, (being) selfish?"
However, before he could tell his manager, Gary Jones, of his decision, Siddall spotted the lineup card hanging in the clubhouse. To his surprise, he was in it, batting ninth and catching for an ascendant young right-hander named Tomo Ohka, a Japanese phenom named the organization's minor league player of the year in 1999 after going undefeated in 24 starts split between Double-A and Triple-A. Siddall decided to postpone his announcement.
"I was like, 'Oh, jeez,'" Siddall said. "I said, 'You know what? Maybe I'll just hold out.' I'll wait until after the game and go in, win or lose, and let him know the news and they can get a catcher in for the next day and make the move."
Ultimately, thanks to that impromptu deferral, the final game of Siddall's career proved to be among the most memorable. "It's up there," he said. Instead of packing up, Siddall helped Ohka make history, ushering the 24-year-old through one of the most singularly commanding pitching performances that professional baseball has ever seen: a 77-pitch perfect game, one of only five perfectos in the 138-year history of the International League.
"What a perfect way to finish," Siddall said. "It wasn't like one of those 15-strikeout, dominating performances. He just got outs. And he did it all ways."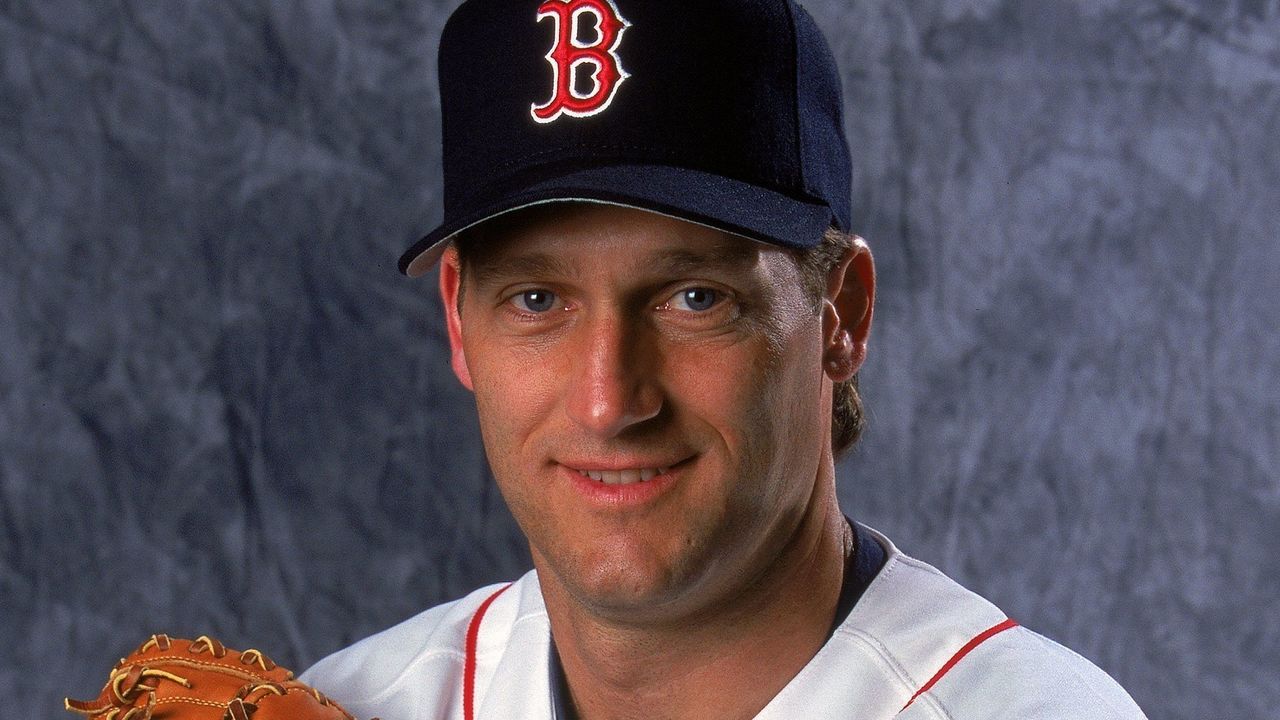 By the summer of 2000, Ohka was increasingly overqualified for Triple-A. The Red Sox - in the midst of a fruitless bid for a third straight postseason berth - soon realized it, too, summoning Ohka to the big leagues shortly after the All-Star break and watching him instantly emerge as the club's second-best starter behind Pedro Martinez. (Despite spending half the season in Boston, Ohka was named the organization's top minor leaguer in 2000 for a second straight season, a testament to his dominance in Triple-A.) As such, Siddall was content to leave the burgeoning stud to his own devices as they warmed up that night.
"We did not talk much," Ohka, who would ultimately spend 10 seasons in majors, said in Japanese. "He was a veteran catcher. I thought he was the kind of catcher who could notice if the pitcher had what it took to do the job on any particular day. But he did not say anything particular at the time, so I decided to throw as I always did."
Which is to say, Ohka pounded the strike zone - or rather, the edges of the strike zone, inviting plenty of swings while avoiding hard contact, frustrating Charlotte's hitters with a barrage of seemingly hittable pitches that just managed to miss the barrels of their bats. Through the first four innings, the Knights managed to lift only two balls out of the infield and were often getting themselves out on their first or second pitch from Ohka, who complemented his fastball with a slider and a dastardly splitter.
"Not only was Tomo coming right after these hitters," said Siddall, "but he was locating stuff on the inside and outside corners. And any hitter will tell you, those are tough pitches to handle. He would just stand on the edges - I call them free outs, or easy outs, because they're the pop-ups and ground balls because guys weren't squaring balls up because the pitches were located so well.
"He would pound guys in. He'd go away. He'd hit his spots. I just remember not having to move much. … And as the game progressed, he got better and better with that location."
Ohka didn't get into a three-ball count once. Only twice did he find himself in a two-ball count. By the fifth inning, after Izzy Alcantara put Pawtucket ahead with a solo shot in the bottom of the fourth, Ohka began to consider what was brewing, even though he wasn't terribly impressed with his own performance to that point.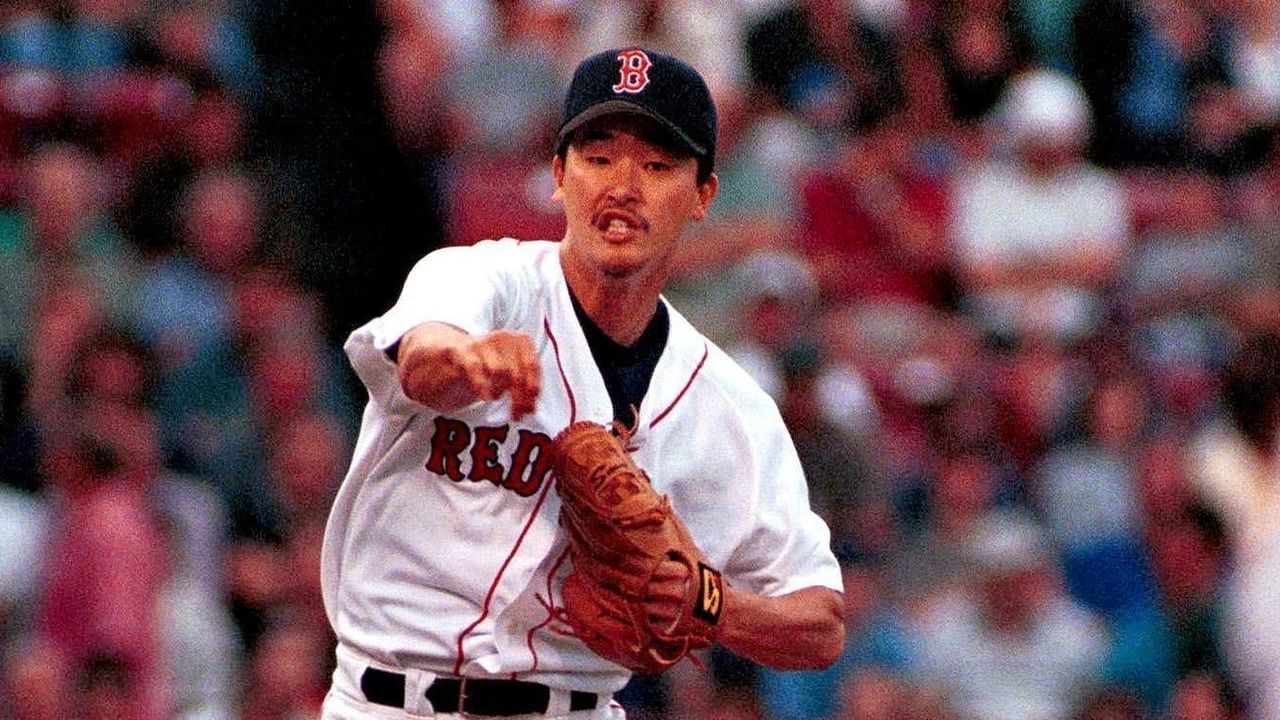 "As a matter of fact, I didn't feel I was pitching particularly good that day," Ohka said.
Regardless, the Knights couldn't touch him. The fifth unfolded without incident. In the top of the sixth, a tricky grounder off the bat of Liu Rodriguez threatened to spoil Ohka's bid, but Pawtucket's undersized shortstop - a future World Series MVP named David Eckstein - preserved the perfecto with an impressive play. Well, impressive to some, at least.
"The American media praised that play, but I thought he could make that play without difficulty," Ohka said.
By the top of the seventh, with the stadium now taut with anticipation, Ohka had barely broken a sweat, and neither the magnitude of the situation or the increasing intensity of the robust crowd (by minor-league standards, at least) of 7,909 fazed him.
"I would consider myself a fairly chill guy, a very even-keeled type guy," Siddall said. "Well, if you think I am; Tomo Ohka is about as even-keeled as they come.
"He was the kind of guy, I remember saying, you would never know if he was down 5-0 or up 5-0. He just went about his business. … So when you have a guy like that, it makes it easier because now you don't have to play psychologist for him because he's so good at it himself."
Three more easy outs followed, with Ohka retiring the top three hitters in Charlotte's lineup via a pop-up and two strikeouts. The meat of the Knights' order was just as hapless in the eighth, which went strikeout-groundout-flyout. Three outs now stood between Ohka and history. Yet, as the electricity sizzled throughout the stadium in the bottom of the eighth, wherein the Red Sox tacked on an insurance run, Pawtucket's dugout remained deathly quiet.
"You don't discuss anything when you're in cruise control like that," Siddall said.
Out came Ohka for the ninth. He retired the leadoff man, Rodriguez, via a flyout to center field. The next batter, Mike Caruso, an everyday big leaguer for the previous two seasons, grounded out to short. One more to go. In his bid to avoid becoming a footnote in the history books, Knights manager Nick Leyva opted to pinch hit for his nine-hole hitter Brandon Moore, sending Jeff Liefer - who would go on to hit 18 homers with an .833 OPS for the Chicago White Sox the following year - to hit in his stead.
"When you get that close, when you get down to that last out … you want to make sure you're calling the right pitch," Siddall said. "You want to make sure you're set up in the right spot. And you want to make sure he executes his perfect pitch."
He did. Ohka, just as he had all night, enticed Liefer to swing at a pitch he couldn't drive, inducing a harmless grounder to second to secure the perfect game and his spot in the history books. The stadium erupted. Ohka was mobbed by his teammates. Ben Mondor, the late owner of the Pawtucket Red Sox, had champagne delivered to the clubhouse. Relief overcame the young hurler.
"After I made the perfect game, I said, 'I did it' through an interpreter according to the AP or other press," Ohka said. "But in reality, I rather felt strongly that, "Oh, I'm glad it's finally over."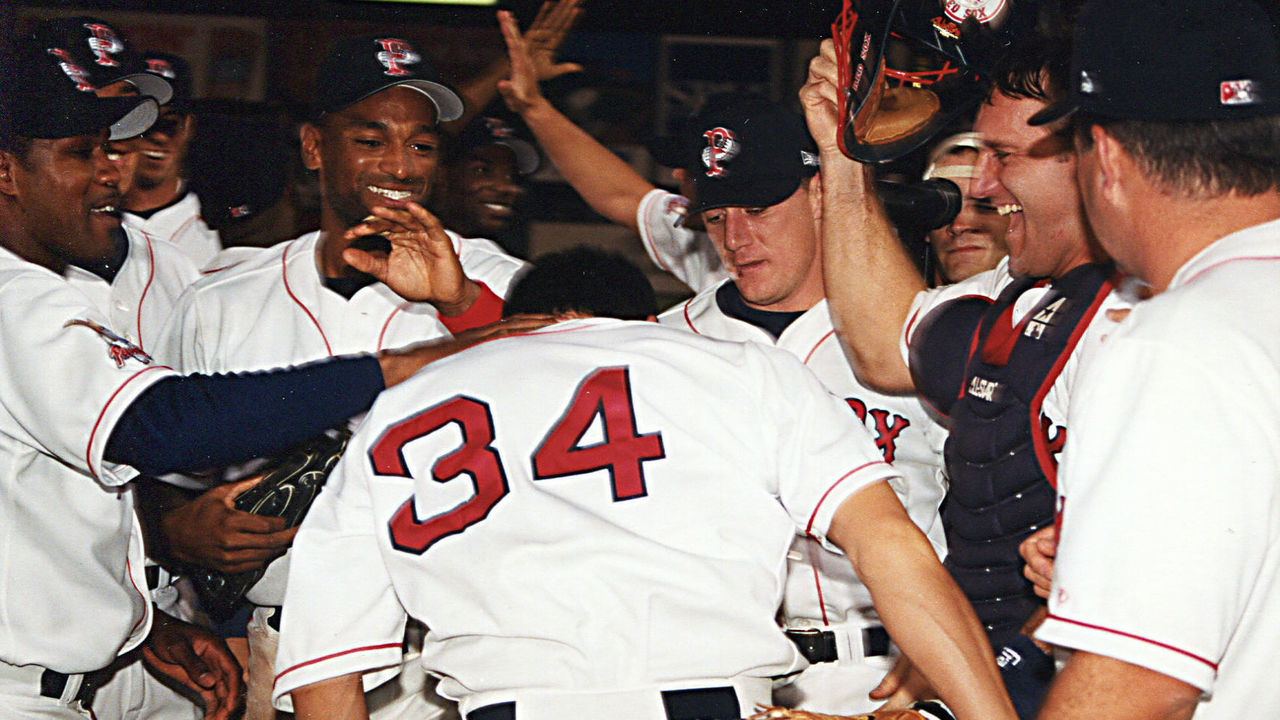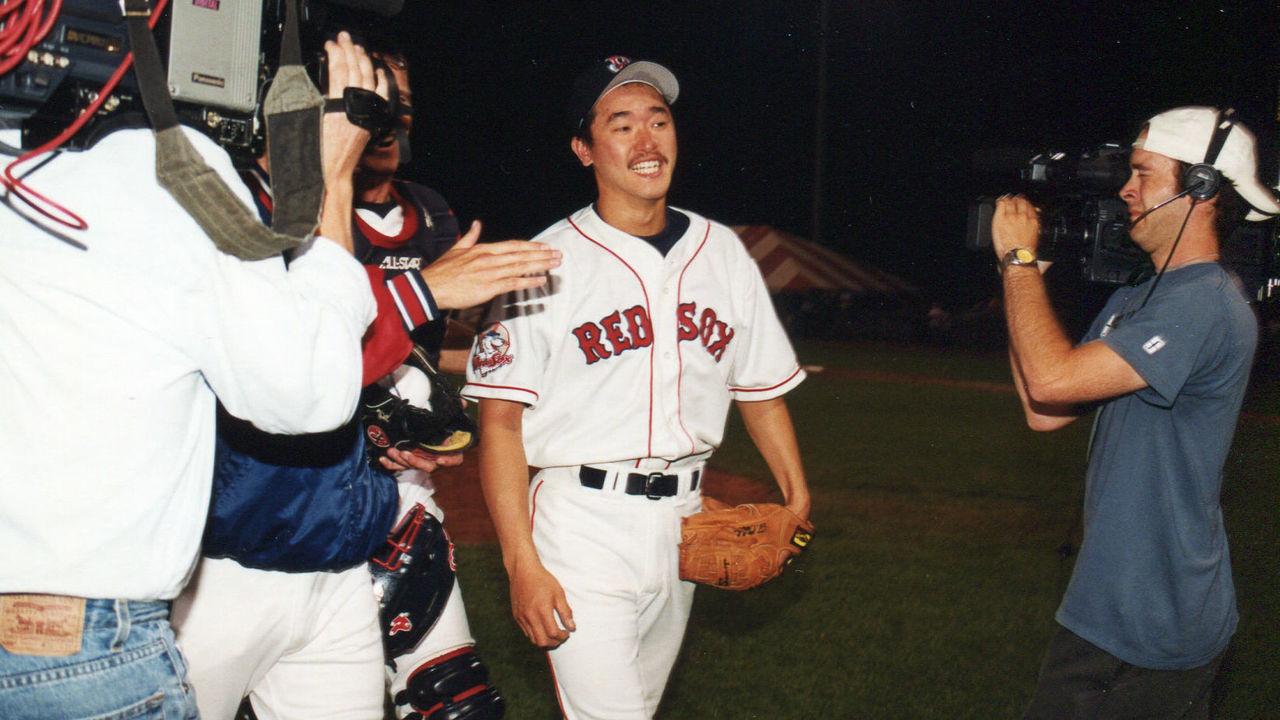 And Siddall, for his part, had secured a storybook ending to his career, an improbable final chapter that ultimately forced him to delay his retirement plans until the following day.
"I'm just thinking to myself, 'I can't rain on this parade, right?'" Siddall said. This is a great moment for him and for the team and for the town. For the Red Sox. For everything. I kind of almost remember sitting back a little bit in my locker during the celebration, not as an outcast but obviously I had other things on my mind. So I waited. Came in the next day real early and explained the news and what had happened. But who would've ever drawn this up, to finish your career on a perfect game?"
(Note: Ohka's quotes were obtained in Japanese by Kozo Abe, and translated into English by Robert Whiting. theScore is grateful for their assistance.)
Jonah Birenbaum is theScore's senior MLB writer. He steams a good ham. You can find him on Twitter @birenball.