More than the mafia: Winning Serie A helped Napoli show the city's true colors
Julian Catalfo / theScore
Every time Michelangelo Iossa walked out onto the streets of Naples with his 15-year-old son, they'd find a clue that the biggest celebration in decades was in the works.
Iossa, a local journalist and reporter for Corriere della Sera, one of Italy's oldest newspapers, was 15 himself when Serie A club Napoli won the first of their only three Italian championships. His son Luigi always asked him what it was like back then when Diego Maradona, the rebellious Argentine playmaker, led the team to titles in 1987 and 1990.
With every makeshift altar, every candle lit for Maradona, and every flag draped over a balcony, Luigi could finally understand what winning does to this tribal metropolis.
"I always said, 'Luigi, when we win the Scudetto, you will see the greatest celebration possible,'" Iossa recalled in an interview with theScore. "It's more than a world championship, it's more than a European championship. It's like the Carnival in Rio de Janeiro or the Dia de Muertos in Mexico City."
The three million people who reside in and around this working-class city had lots of time to prepare. Daniele "Decibel" Bellini said the usually superstitious Neapolitans allowed themselves to start celebrating as early as January.
"When you win 5-1 at home (against 36-time champions Juventus) in January and you beat them again in Torino (in April), you know who you are," Bellini, Napoli's famous stadium announcer of 15 years, told theScore. "You know you are the best team in the championship. Maybe in that moment the people began to understand who we are and how much energy we have."
By March, Napoli were leading Serie A by 15 points. Two months later, they were champions.
It wasn't supposed to be this easy. People half a world away weren't supposed to care.
Born out of a dying dream
Napoli had come close in previous years. In 2017-18, under then-manager Maurizio Sarri, considered by many as the architect of the club's recent success, the team earned 91 points, enough in most seasons to win the Scudetto.
Except that year, Juventus went ahead and posted an astonishing 95 to clinch another title.
But being competitive was an achievement in and of itself for a club that had gone bankrupt as recently as 2004 with unpaid debts as high as €70 million. Napoli had to start over again in the third division, just one above the amateur ranks. Though the team continued to draw crowds of more than 50,000, its existence was irrelevant to almost everyone outside the city limits.
"At that point, to watch Napoli, you'd have to go on this website, and you wouldn't even watch the game. You'd watch the commentators watch the game and see how they'd react," Carmine Guadagno, co-founder of Napoli Club Toronto, told theScore.
Film producer Aurelio De Laurentiis saved Napoli when few, if any, investors would drop as much money as he did on a defunct institution without a training facility or players. He was filming a movie with Gwyneth Paltrow, Judd Law, and Angelina Jolie when he decided to buy Napoli out of bankruptcy for €37 million. De Laurentiis took a more budget-conscious approach in the years that followed, maintaining an average payroll while flipping the club's best players for significant profits.
Success in the Italian Cup - a knockout tournament between teams in the first three professional tiers of Italian soccer - wasn't enough to restore the club to the heights Maradona had achieved with it. Serie A remained Napoli's elusive objective, and everyone was ready to give up on their dream before the season started.
During a transformative summer, De Laurentiis showed the exit to players many had viewed as pillars of the club - including forward Dries Mertens, defender Kalidou Koulibaly, and former captain Lorenzo Insigne, who later joined Toronto FC in Major League Soccer - as part of measures to reduce the club's wage bill. Worse yet, the owner signed replacements no one had heard of before. Protests interrupted preseason training, and a number of fans stole head coach Luciano Spalletti's car, vowing to return it only if he skipped town.
Now Spalletti's about to take a sabbatical, and they'd do anything for him to stay.
From New York to Naples
The people of Naples aren't used to anyone from anywhere other than Naples taking an interest in their city. So when The New York Times' European correspondent, Rory Smith, flew out to interview Napoli's breakout star, Khvicha Kvaratskhelia, local writer and professor Iossa had to know the real reason for Smith's trip.
"When I saw Rory, I asked myself, 'Why is one of The New York Times' most important writers taking a plane from New York to Leeds in England to Naples in Italy to meet Kvara for 40 minutes to do an interview?'" Iossa said. "Kvara is not (Paris Saint-Germain star Kylian) Mbappe. He's not (U.S. President Joe) Biden. He's not the president of European parliament. Why did a man travel from New York to Leeds and Naples to see Kvara? What's happening to Naples in terms of the point of view of non-Italian journalists?"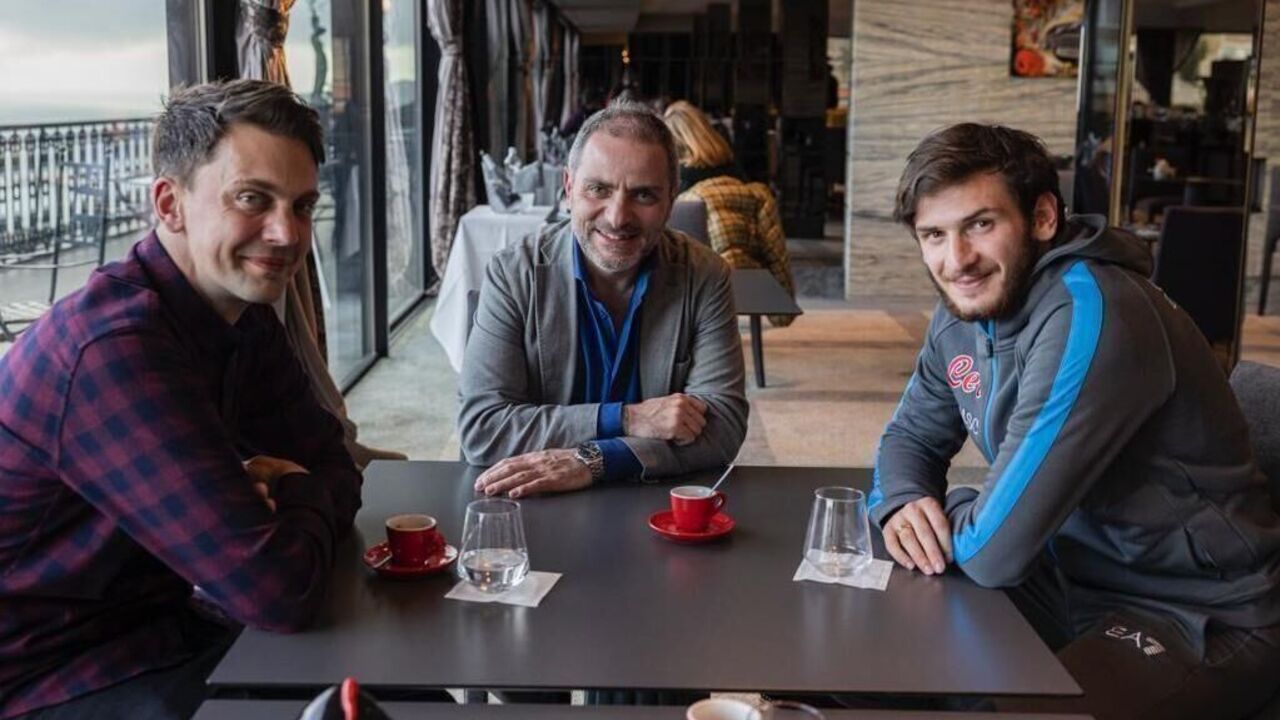 Iossa was a teenager when Maradona helped Napoli beat Michel Platini's Juventus and Silvio Berlusconi's revolutionary AC Milan side to the Serie A title. The coverage back then, he said, was focused squarely on Maradona, an "extraterrestrial football player" and larger-than-life figure with a quasi-religious following who single-handedly put Naples on the map.
"We transformed Diego Maradona into a god," Iossa said. "There's no religion in it, there's no superstition in it, it's another category. He's a protector of the city and of the team."
The reaction was different this year. People viewed Napoli as a whole, not through the lens of a single player. The sudden rise of Kvaratskhelia - a 22-year-old from Tbilisi who showed negligible promise as the Georgian league's joint-fifth-highest scorer last season - was only part of the underdog story.
"I would tell the kids of tomorrow about Kvaratskhelia from Georgia, (leading scorer Victor) Osimhen from Nigeria, (defender Min-Jae) Kim from South Korea, all guys from different countries, different cuisines, different mentalities, but if you are all together, you can do something special," Bellini said.
That such an international team coalesced in Naples - often described in Hollywood as a mafia-infested city with an intolerance of foreigners - is more revealing than the title itself.
'Shootouts in the streets'
Italy is a country united in name only, and Naples often finds itself on the outskirts of the country's priorities. It's poorer than the financial centers of Milan and Torino, lacks the romanticism of Venice and Florence, and is far more hectic than Rome. Naples suffers from damaging stories about its criminal underbelly, and many natives end up leaving in search of employment.
"The feeling is that you're always last because you were born disadvantaged," Roberto Saviano, the best-selling author of "Gomorrah," an insider account of life in Naples under the rule of criminal organization Camorra, wrote in Corriere della Sera. "Knowing you can either leave behind the city, your family, and your affections, or make do with what there is: struggling public services, dilapidated schools, administrators who think of themselves as kings. Not even national politics can put a stop to it."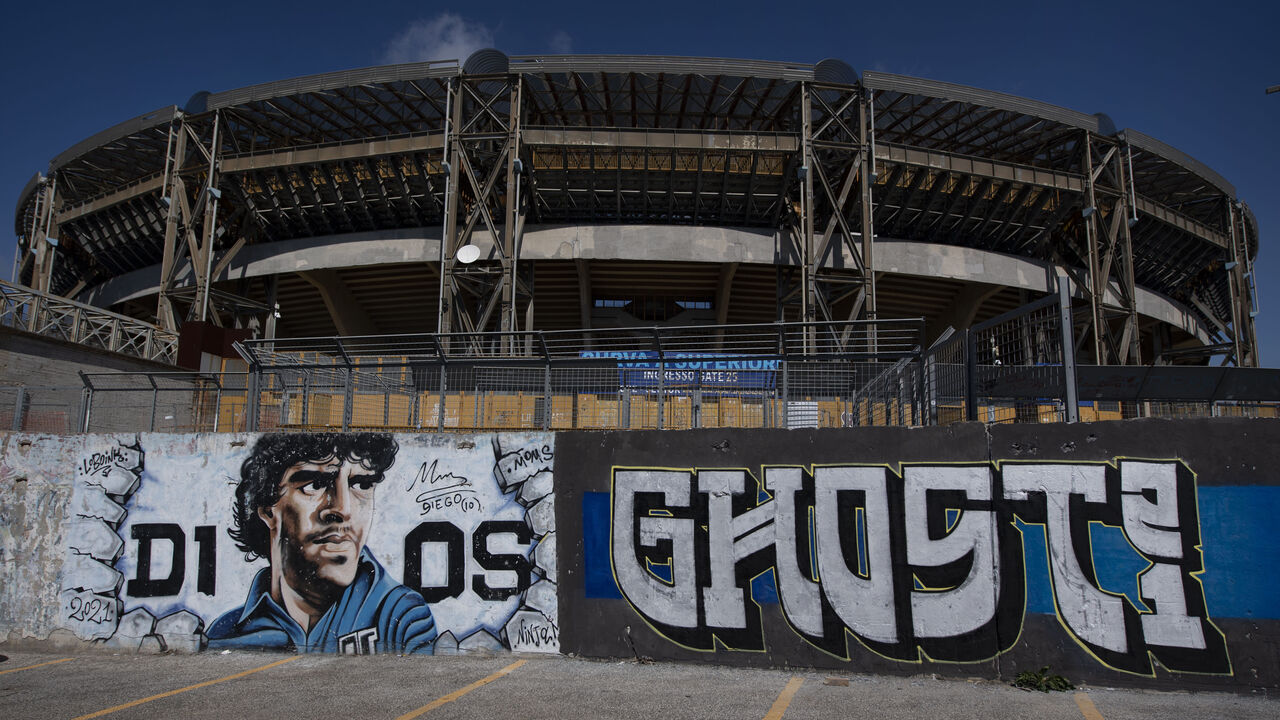 The team has faced similar disadvantages. It's played its games in a rundown, government-owned, 1960s-era stadium that requires an estimated €50 million in repairs and is now up for sale despite owner De Laurentiis' best attempts to get the municipality to pay for renovations. The financial discrepancy between teams in the north and south is another obstacle to overcome. Napoli's payroll is less than half of Juventus, and southern cousins Salernitana and Lecce rank 11th and 14th, respectively, out of Serie A's predominantly northern 20 teams.
But the look and feel of southern Italy - with its depressing concrete structures, abandoned buildings, impoverished boroughs, and public battles against political corruption - give people the wrong impression about Naples. Michele Borrelli, the 30-year-old who runs his own ticketing service for tourists looking to watch Napoli live, has had to answer question after question about all the crime, garbage strikes, and shootings that only seem to happen in Naples.
"They want to come to Napoli, but they say, 'Will I be safe in Napoli? Because my friend in the north tells me that there are shootouts in the streets and there is mafia everywhere.' I get these messages a lot," Borrelli said. "I have to tell them it's fine. It's just a normal city. Maybe it's a little bit crazy, but in a good way. There's a little bit of chaos. Napoli is a bit raw, but it's not more dangerous than Rome or Milan or any other city in the north."
That's what makes this title so sweet to everyone who supports Napoli.
A week after they clinched the title, hardcore fans known as ultras unfurled a banner of the Italian shield upside-down, causing confusion on social media and national television. But it was entirely intentional. To hang a banner of an institution upside-down is to protest its existence, and it's tradition, as with any spoil of war.
Below that banner read another with very particular phrasing: "Champions in Italy."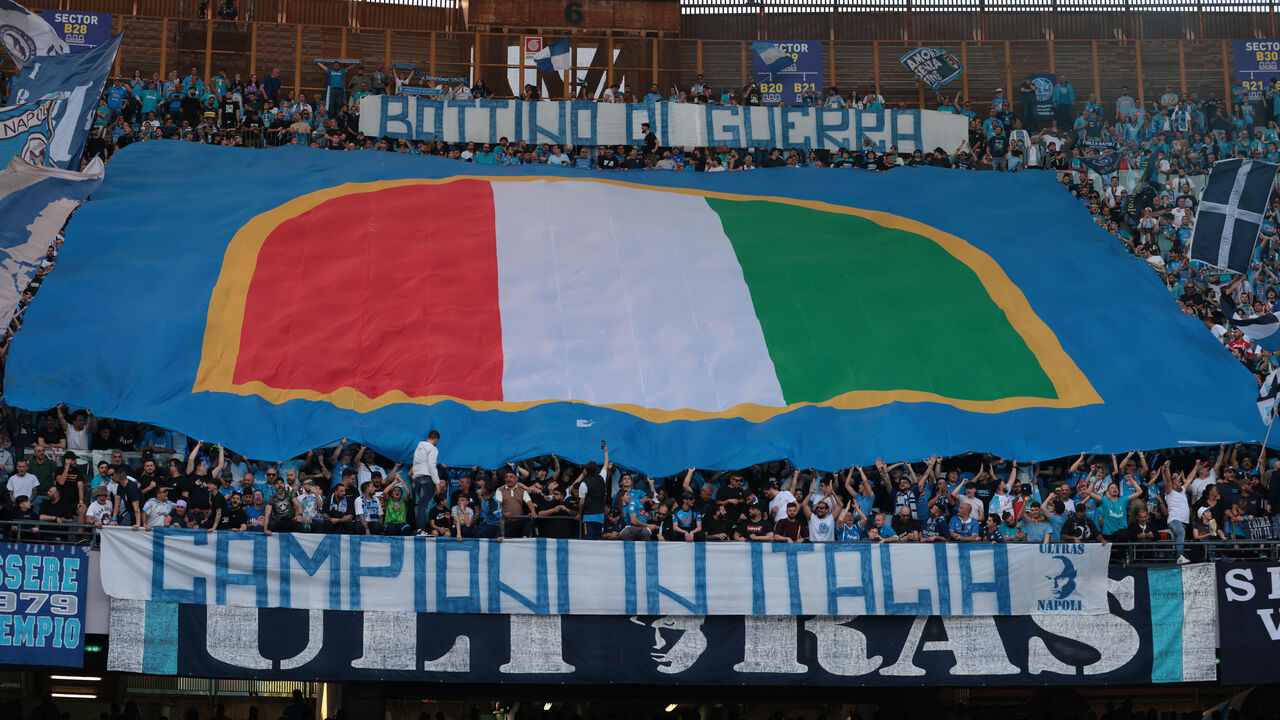 "It was a way of saying, 'We don't identify with this country, you are you and we are us,'" Borrelli, who usually sits among the ultras, said. "It was a little bit of a joke, too, to say, 'We stole the Scudetto from you.'"
It's also why people in the city find it hard to believe anyone would ever like them back.
"I give out tickets at a wine bar outside of the stadium," Borrelli continued. "All the tourists come there, I meet them, we speak a little bit, and then they go to the stadium. And a lot of locals in that bar, after I spend five or 10 minutes there, they come to me and say, 'Look, can I ask you a question?' What do you do?' And I tell them. They ask me, 'Are these people Napoli fans?' I said, 'Yeah.' And they ask me, 'Why?' They were shocked. People from abroad can love this city and can love the team even if they have no connection to it."
Celebrating with ultras
Most of the 80 people who show up to watch Napoli in a cafe bar off a major highway in Brampton, Ontario, have no direct connection to the club. Though some of Napoli Club Toronto's members have roots in southern Italy - namely in the provinces of Puglia, Calabria, and Sicily - it's not what guides their passion for the team.
"You don't have to be Neapolitan to support Napoli," Guadagno, the club's co-founder, said. "Napoli chooses you. We have one member who's Canadian born and bred. Big Napoli fan. He's been a part of this club since we started in 2019. It's not a matter of ethnicity, it's a matter of lifestyle."
Why too would a man from Iran travel to Naples just to sit with Borrelli and the rest of the ultras during a match against Fiorentina? Ultras are often described as brutes who control everything from the flow of drugs in the city to the sale of tickets, and they were sitting just a few seats away from the section's kingpin. But instead of suspicious glares, the man received hugs.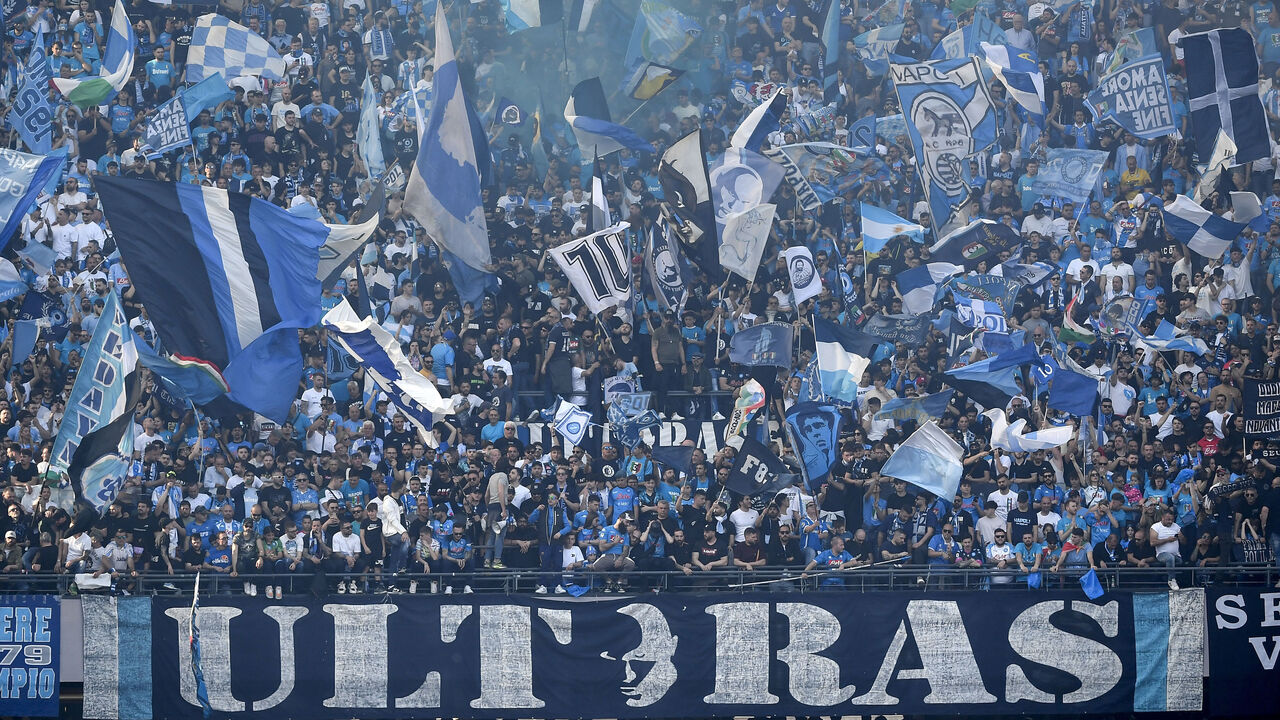 "Tourists get treated much better than locals. Not as locals, but much better," Borrelli said. "They get offered free beers, free snacks, everything for free. They get celebrated, they get gifted scarves, because we're not used to being appreciated in Italy."
As long as people are curious about the city and arrive with an open mind, Naples feels a lot less like a place of seedy activity and more like a family. It truly is a complicated place, far from traditional Italian living, far from the curated experiences tour guides offer in Venice, Florence, and Rome where the menus are in English and authenticity is difficult to find. Neapolitans speak their own version of Italian, not some ancient dialect passed on from hilltop family to hilltop family but a serviceable language spoken every day between the richest and poorest in the city. It's real, it's raw, and it's spectacular.
Maybe this year's Scudetto will change the narrative. Tens of thousands from abroad are traveling to Naples this week in hopes of getting a ticket to Napoli's final game of the season on Sunday. Borrelli himself had to stop accepting requests. And while they have as good of a chance of landing one as they do winning the lottery, people are going there just to feel what it's like to be Neapolitan.
Comments
✕
More than the mafia: Winning Serie A helped Napoli show the city's true colors
  Got something to say? Leave a comment below!