It will be an absolute shock if France and Germany don't walk out of this group unscathed, as the Dominican Republic and Jordan are two of the tournament's weakest participants.
The French squad should be listed among the medal favorites, with six players currently signed to NBA rosters and a few other overseas gems prepared to suit up. Rudy Gobert will be the team's heart and soul and should receive plenty of support from Evan Fournier and Nicolas Batum along the perimeter. There's a reason Les Bleus are currently ranked third in the world.
France will meet its stiffest competitor during the group's opening day, clashing with a German squad led by lightning-fast point guard Dennis Schroder. The inconsistencies that have plagued the Oklahoma City Thunder reserve during his professional career are rarely seen against international competition, as Schroder has developed into a force when representing his nation.
The Dominican Republic will be leaning on several lesser-known commodities as it moves forward without two NBA stars. With an ability to finish around the basket and occasionally hit shots from the perimeter, Eulis Baez is the likely go-to scorer.
Jordan, unfortunately, ranks as arguably the worst team in the tournament, but the possibility of a scoring explosion from former G League standout Dar Tucker gives it a boost in watchability.
Group Schedule
| Date | Matchup | Time (ET) |
| --- | --- | --- |
| Sept. 1 | Dominican Republic vs. Jordan | 4:30 a.m. |
| Sept. 1 | France vs. Germany | 8:30 a.m. |
| Sept. 3 | Germany vs. Dominican Republic | 4:30 a.m. |
| Sept. 3 | Jordan vs. France | 8:30 a.m. |
| Sept. 5 | Germany vs. Jordan | 4:30 a.m. |
| Sept. 5 | Dominican Republic vs. France | 8:30 a.m. |
Dominican Republic
Projected starting 5
| Position | Player |
| --- | --- |
| PG | Gelvis Solano |
| SG | Juan Miguel Suero |
| SF | Sadiel Rojas |
| PF | Eulis Baez |
| C | Eloy Vargas |
Key player
Without Karl-Anthony Towns and Al Horford, the Dominican Republic will need to rely on veteran big man Eulis Baez as the top option for a relatively weak squad.
The 37-year-old has a wealth of experience playing for his country and remains a rotational staple in the Spanish League.
France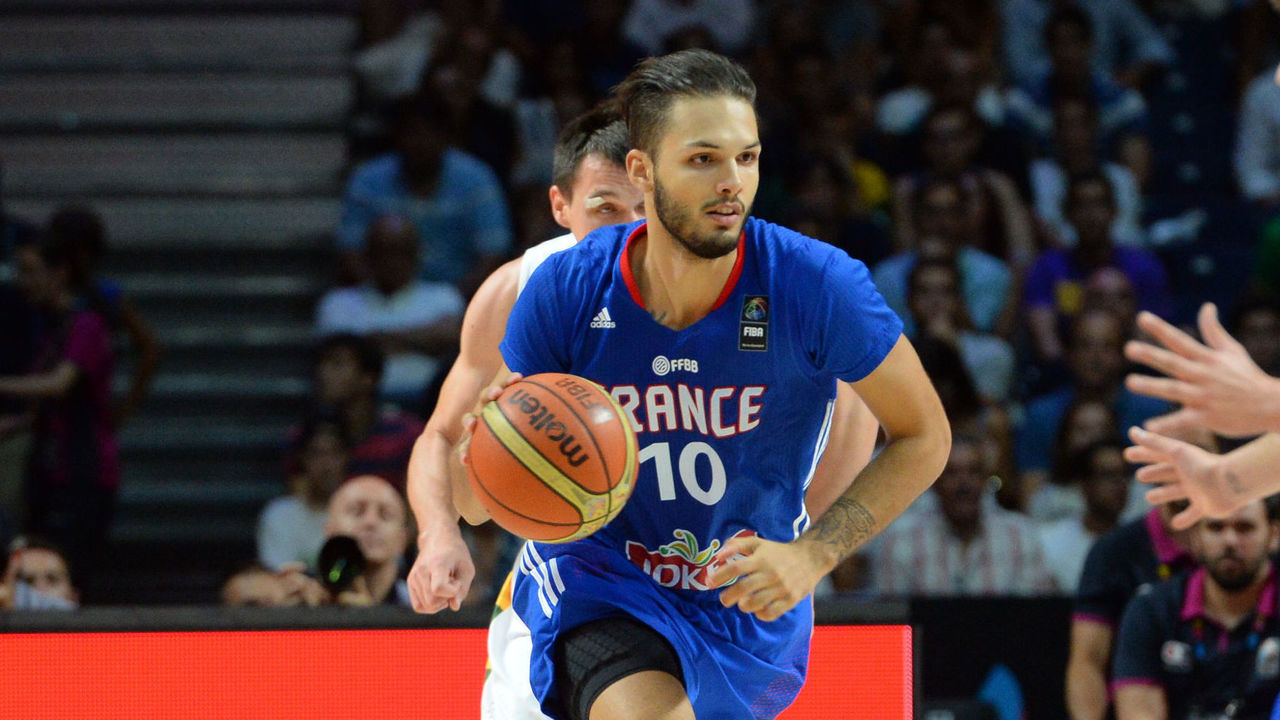 Projected starting 5
| Position | Player |
| --- | --- |
| PG | Nando De Colo |
| SG | Evan Fournier |
| SF | Nicolas Batum |
| PF | Louis Labeyrie |
| C | Rudy Gobert |
Key player
France features several high-level stars and a few bright up-and-coming prospects. But this team will fully rely on the defensive acumen of Rudy Gobert, who's coming off of his second straight Defensive Player of the Year award in the world's best league.
The star big man will have a strong supporting cast and can lean on the versatility of Nicolas Batum and the scoring of Evan Fournier, allowing him to focus on - and dominate - the defensive end. Gobert will play like a linebacker, protecting the paint and vocalizing any issues he sees from the inside as he does for the Utah Jazz.
Germany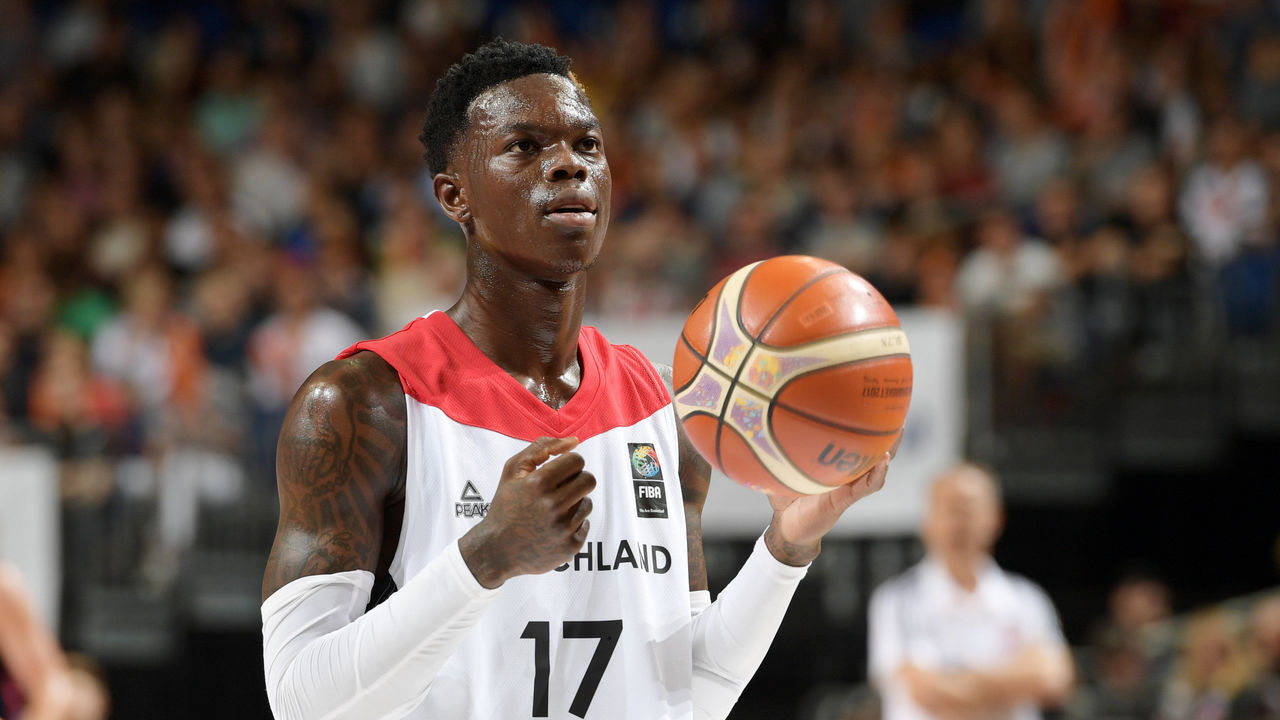 Projected starting 5
| Position | Player |
| --- | --- |
| PG | Dennis Schroder |
| SG | Paul Zipser |
| SF | Niels Giffey |
| PF | Maxi Kleber |
| C | Daniel Theiss |
Key player
The entire offense will run through Dennis Schroder, as the Thunder point guard can find creative ways to get to the basket in halfcourt sets or aggressively accelerate in transition for easy scores. The German star is a sneaky All-Tournament candidate - if he can push his countrymen into the deeper waters of the knockout rounds.
Schroder has developed into a solid NBA backup but still suffers from an inability to consistently utilize his strengths against stiffer competition. That generally isn't the case on the international level; the 25-year-old shined during EuroBasket 2017, averaging 23.7 points on 48-39-89 shooting splits through seven games while demonstrating a massive departure from his usual inefficiencies in the NBA.
Jordan
Projected starting 5
| Position | Player |
| --- | --- |
| PG | Jordan Al-Dasuqi |
| SG | Fadi Ibrahim |
| SF | Dar Tucker |
| PF | Zaid Abbas |
| C | Ahmet Duverioglu |
Key player
Dar Tucker will likely be the lone bright spot for Jordan. The former DePaul star has turned into a dominant scorer wherever he's played and enjoyed a 58-point single-game explosion during a short stint with the G League's Reno Bighorns (now the Stockton Kings).