How did Ronaldo fare in his first 5 matches in Saudi Arabia?
Cristiano Ronaldo said the project at Al Nassr was more enticing than multiple offers from European clubs. The Saudi Pro League was "very competitive" and thus enticing as the next step in his storied career.
The Portuguese superstar signed for Al Nassr on Dec. 30, 2022. Ronaldo stressed - publicly and repeatedly - that his main motivation during the autumn of his career was to play at the highest level. But then, as potential suitors dwindled after his tumultuous and disappointing World Cup showing, he opted to join a club that had an average attendance of just over 8,000 for the 2021-22 campaign. Money talks - and its voice is particularly loud when the contract is reportedly worth €200 million per year. Suddenly, Ronaldo adding to his Champions League scoring record and challenging for other top European honors wasn't as important.
Strange as it may be to get used to, Ronaldo, 38, is now fully ensconced with Al Nassr, bringing his signature goal celebration and legions of fans along with him to Saudi Arabia. But how has he fared so far?
Here's a game-by-game analysis and overall conclusion of Ronaldo's opening five league matches for Al Nassr, starting with his debut against Al Ettifaq.
Jan. 22: Al Nassr 1, Al Ettifaq 0
Venue: Mrsool Park
Attendance: 22,862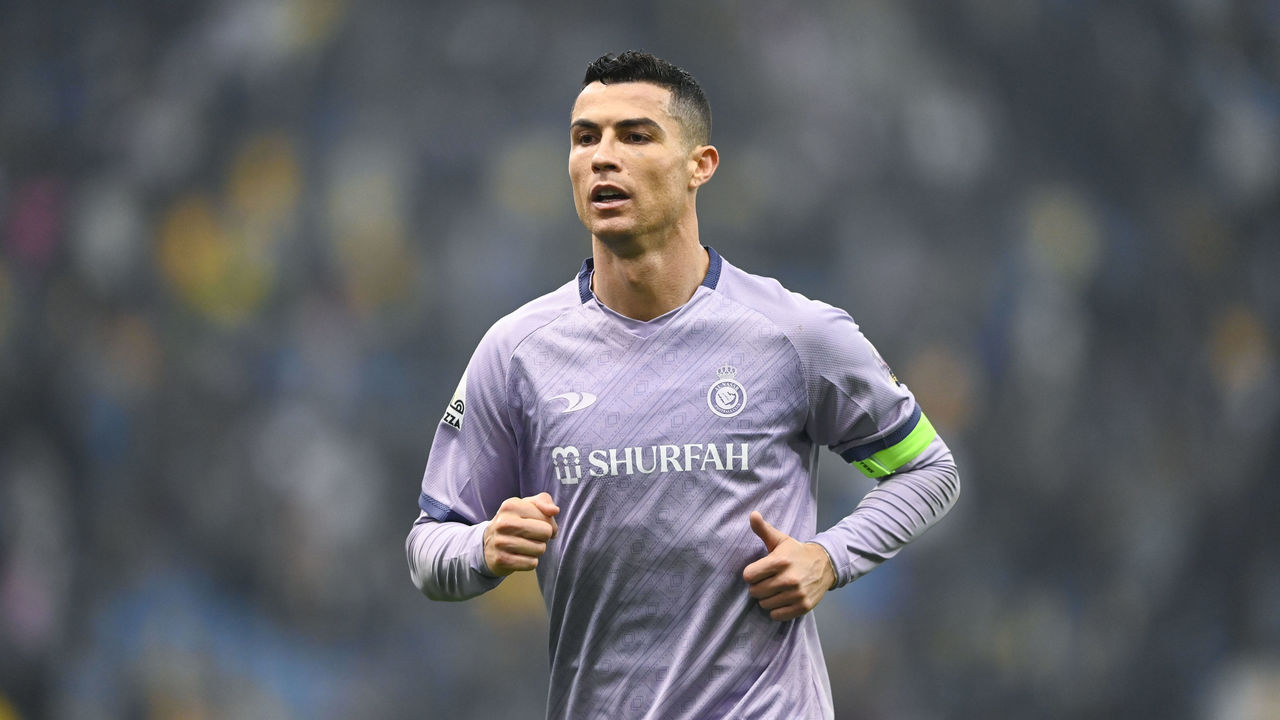 Al Nassr supporters, who turned out in droves for Ronaldo's official unveiling at the club, had to be patient. His debut in the league was delayed by a suspension stemming from his spell at Manchester United. When it finally arrived in the 1-0 home win over Al Ettifaq, it was a mixed bag. Immediately installed as captain by manager Rudi Garcia, Ronaldo led the line, playing alone up front in a 4-2-3-1 formation. He sometimes looked isolated and unable to link up with Brazilian attacking midfielder Talisca, the team's incumbent talisman and leading scorer in the Saudi Pro League this season. Ronaldo had just three touches inside the opposition penalty area.
But there were encouraging flashes, including literal ones when he stood over a first-half free-kick and seemingly every fan in the stadium quickly whipped out their phones to try and catch a potentially memorable moment. His effort, however, missed the target. Ronaldo had a couple of looks at goal - an early shot from just outside the area was deflected away for a corner - and he nearly notched an assist for Pity Martinez early in the second half but was ultimately unable to mark his debut with a goal contribution.
| MINUTES PLAYED | 90 |
| --- | --- |
| Goals | 0 |
| Assists | 0 |
| Shot attempts | 3 |
| Shots on target | 0 |
| Chances created | 1 |
| Duels won | 1 |
| Passes attempted | 27 |
| Passing accuracy | 85.2% |
Rating: 6/10
Feb. 3: Al Fateh 2, Al Nassr 2
Venue: Prince Abdullah bin Jalawi Sports City Stadium
Attendance: 17,631
Sandwiched between his debut against Al Ettifaq and his second league match versus Al Fateh, Ronaldo featured in a Saudi Super Cup loss to Al Ittihad. Following that contest, Garcia could sense that his players were trying a little too hard to find their illustrious new teammate on the pitch. "It's very important that the players play normally and don't always try to give the ball to Cristiano," he explained, imploring them to make the "right decisions" in the final third of the field. The message seemed to get through. Al Nassr looked more at ease with Ronaldo headlining the team, and the veteran forward himself seemed more comfortable in his new surroundings.
There were the first real glimpses of a blossoming partnership with Talisca when, in the 24th minute, Ronaldo latched on to a deft flick from the Brazilian before unleashing a left-footed strike that careened off the post and into the net. But, despite his protestations and insistence that he was onside, the flag was up, and the goal was chalked off. Then, prior to the halftime interval, he smashed a close-range effort against the crossbar when it appeared easier to score. It looked like the wait for his first Al Nassr goal would go on, but in typical dramatic fashion, Ronaldo dispatched a penalty in the 93rd minute to salvage a point for his side. He was up and running.
| MINUTES PLAYED | 90 |
| --- | --- |
| Goals | 1 |
| Assists | 0 |
| Shot attempts | 4 |
| Shots on target | 1 |
| Chances created | 2 |
| Duels won | 7 |
| Passes attempted | 25 |
| Passing accuracy | 72% |
Rating: 6.5/10
Feb. 9: Al Wehda 0, Al Nassr 4
Venue: King Abdulaziz Sports City Stadium
Attendance: 27,102
The penalty against Al Fateh opened the floodgates in a big way, as Ronaldo followed up that outing with his most dominant showing to date in Saudi Arabia. Just four days after his 38th birthday, Ronaldo scored all four goals - two on either side of the halftime break - in Al Nassr's comprehensive triumph against Al Wehda. The quartet of goals saw him surpass yet another impressive milestone, bringing his career tally in domestic leagues to 503.
For the first time in a long time, Ronaldo looked like the best version of himself on the pitch. There was a familiar element of precision about his first two markers, one with either foot. After slotting home another spot-kick for his maiden hat-trick in Saudi Arabia, he capped the memorable performance by showing off a burst of pace on his final tally, something that was a hallmark of his game for so long but had appeared to desert him over his final season at Manchester United and, more glaringly, at the World Cup. Each time the ball hit the back of the net, the crowd, in unison, joined Ronaldo in blaring out his famous "Siu!" celebration.
| MINUTES PLAYED | 90 |
| --- | --- |
| Goals | 4 |
| Assists | 0 |
| Shot attempts | 9 |
| Shots on target | 6 |
| Chances created | 2 |
| Duels won | 3 |
| Passes attempted | 31 |
| Passing accuracy | 80.6% |
Rating: 9.5/10
Feb. 17: Al Nassr 2, Al Taawoun 1
Venue: Mrsool Park
Attendance: 22,347
Facing the sternest challenge of his opening five league matches in Saudi Arabia - based on the league table - and doing it without the suspended Talisca, Ronaldo eschewed his scoring responsibilities and turned provider, crafting a pair of assists in a 2-1 victory that saw him often drop deeper to facilitate play. Ronaldo shared a moment with former Real Madrid teammate Alvaro Medran in the tunnel prior to kickoff, and, at one point, it seemed as though the Spaniard would come away from the match having stolen the spotlight from his ex-Madrid peer.
Ronaldo set up the opening goal of the contest with a defense-splitting pass from just inside his own half that sent Abdulrahman Ghareeb clean through in the 17th minute. Medran equalized with a thumping close-range volley just after halftime, sweetly connecting with a cross to find the roof of the net. But Ronaldo had the last laugh when, while standing inside the six-yard box in the 78th minute, he blocked a shot from teammate Luiz Gustavo - remember him? - that appeared as though it was creeping into the bottom corner. Luckily, Ronaldo's block turned into the perfect layoff for the nearby Abdullah Madu, who reacted quickest and found the net. Initially ruled offside, replays showed Ronaldo was clearly onside when Gustavo took his shot, and the goal was awarded after a lengthy VAR check.
| MINUTES PLAYED | 90 |
| --- | --- |
| Goals | 0 |
| Assists | 2 |
| Shot attempts | 4 |
| Shots on target | 3 |
| Chances created | 4 |
| Duels won | 7 |
| Passes attempted | 35 |
| Passing accuracy | 77.1% |
Rating: 8/10
Feb. 25: Damac 0, Al Nassr 3
Venue: Prince Sultan bin Abdulaziz Sports City Stadium
Attendance: 13,434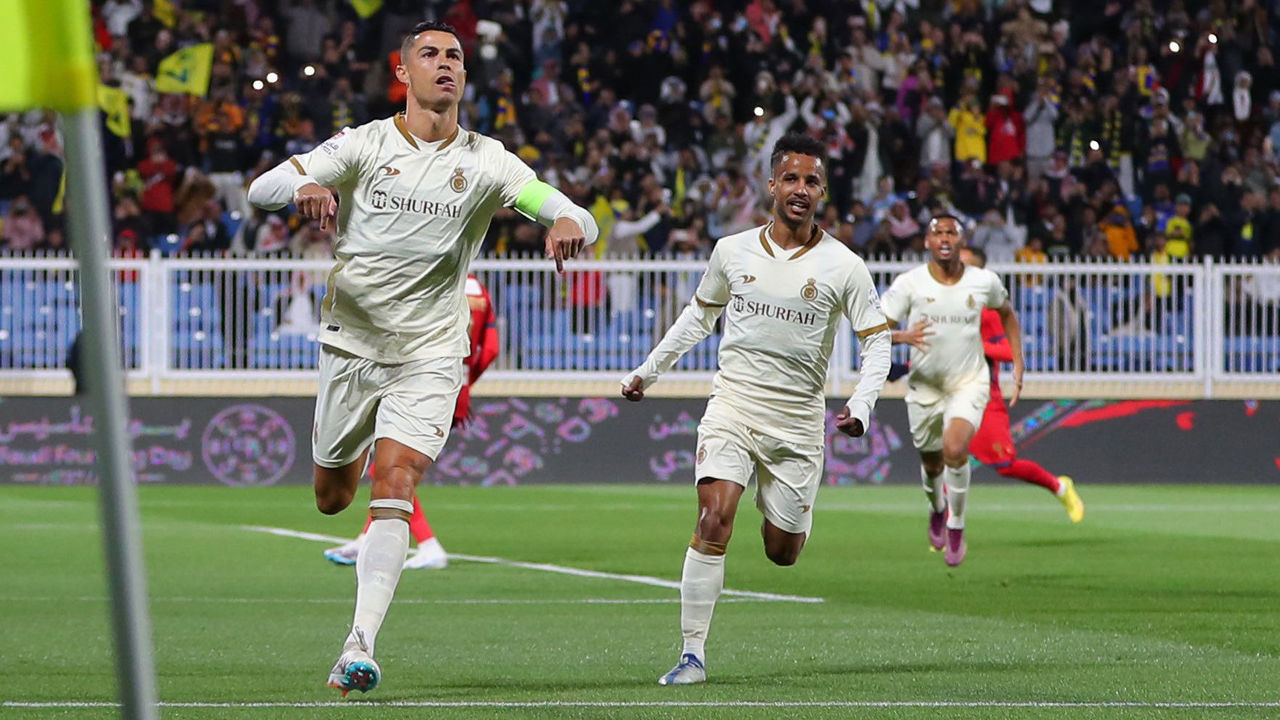 Ronaldo's performance against Damac made it official: He was on a heater. The decorated forward bagged his second hat-trick in three games, staying red-hot and leading Al Nassr to another win. He came within inches, literally, of another four-goal performance, but his fourth tally of this contest was (correctly) chalked off for a tight offside call. No matter, the damage was already done well before that point; Ronaldo scored all three of his goals in the first half at the Prince Sultan bin Abdulaziz Sports City Stadium.
Ronaldo was a constant threat, with a team-leading nine touches inside the opposition penalty area and six shot attempts. He sandwiched a ferocious penalty and close-range tap-in with his best goal of the evening when, while surrounded by three defenders, he rifled a left-footed shot from just outside the area that left Damac goalkeeper Moustapha Zeghba rooted to the spot.
| MINUTES PLAYED | 90 |
| --- | --- |
| Goals | 3 |
| Assists | 0 |
| Shot attempts | 6 |
| Shots on target | 3 |
| Chances created | 3 |
| Duels won | 1 |
| Passes attempted | 24 |
| Passing accuracy | 91.7% |
Rating: 9/10
How has Ronaldo fared in his first five matches?
First, a necessary disclaimer: Yes, this all comes with the caveat that, with respect to the Saudi Pro League, the level of competition is a step down from what Ronaldo has previously experienced. There's no hiding that fact. But, ultimately, all we can do is judge his performances at face value. With eight goals in five league games - he's already only five shy of the league lead for the campaign - there's no denying that Ronaldo has been an immediate hit at Al Nassr. At an even more basic level, the fact that we're talking about the club and league at all is proof of his enormous impact.
Al Nassr in the 2022-23 Saudi Pro League:
| Before Ronaldo | Stat | Ronaldo's debut onward |
| --- | --- | --- |
| 11 | Games played | 5 |
| 25 | Goals scored | 12 |
| 6 | Goals against | 3 |
| 2.4 | Points per game | 2.6 |
| 1st | League standing | 1st |
Garcia appeared to let it slip that Ronaldo will look to return to Europe once his Al Nassr contract expires in 2025. On this evidence, why not?